Best Nursing Bras for Breastfeeding Moms
Disclosure: This post may contain affiliate links, which means I may receive a small commission if you click a link and purchase something. Please check out my disclosure policy for more details. All opinions are my own!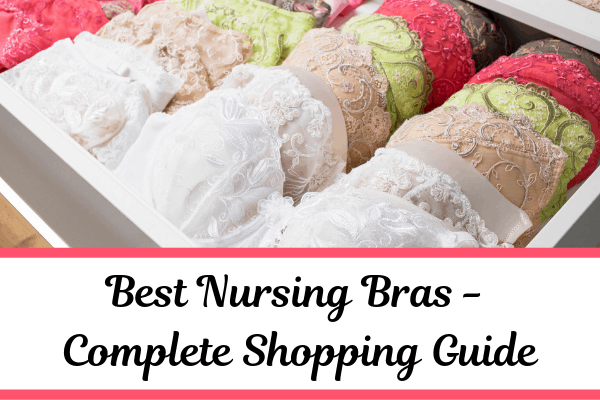 Best Nursing Bras
Finding a nursing bra you love can be a challenge. That's why you need the best nursing bras buying guide!
Is your nursing bra functional? Is it comfortable? Is it cute?
There are also a lot of different situations where you might need a different type of nursing bra.
For example, when I go to sleep I want a completely different bra than when I'm working out. Am I right?
Thankfully – you don't have to worry anymore!
Here's your complete nursing bra buying guide to finding the nursing bra of your dreams!
Our Top Pick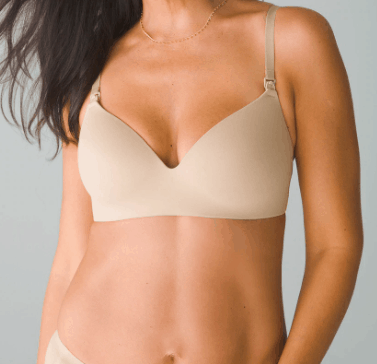 Wireless Nursing Bra - Soma
This buttery soft nursing bra is seamless and extremely supportive.
Larger busted? This is one bra that should be able to hold you up and help you feel secure, even while in the breastfeeding stage!
Buy Now
We earn a commission if you click this link and make a purchase at no additional cost to you.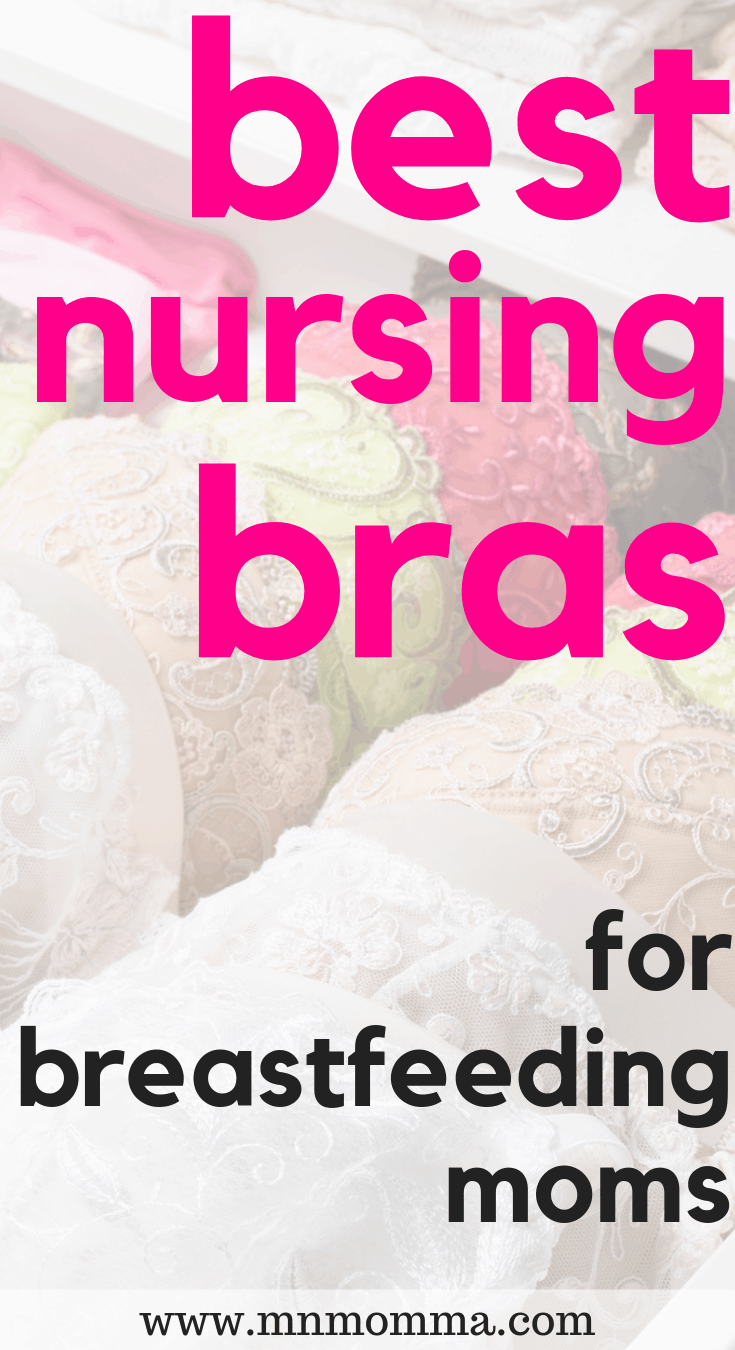 <— Save this post for later! Pin it!
Which Nursing Bra Is The Best?
In my opinion, the best way to know which nursing bra is truly the best is to try them all.
Sound a little extreme? Definitely.
That's why it's so important to find nursing bras with the best reviews.
Here's a list of the highest rated best nursing bras:
TOP PICK: Soma Wireless Nursing Bra
Runner-Up Nursing Bras:
Compare Nursing Bras
When it comes to comparing nursing bras, there's a few things you need to remember:
Fit
The fit of your nursing bra is extremely important. If your nursing bra doesn't fit correctly, you could hinder your milk supply, or end up with clogged ducts or mastitis.
Here's a few popular nursing bra brands and their nursing bra size calculators:
Motherhood Maternity: Nursing Bra Size Guide
Medela: Nursing Bra Size Guide
Medela: Nursing Bra Size Guide
Kindred Bravely Nursing Bra Measuring & Fitting Guide
Style/Use
You'll need to decide what you're buying your nursing bra for.
Is it for every day use? Sleeping? Working out? Pumping?
Certain activities will definitely have different nursing bras that will be the most comfortable and will work the best for your body. Keep this in mind while you shop!
Below, you'll find the best nursing bras for different situations. If you're in a hurry, you can jump to them by clicking these links:
The best nursing bra for…
Price
You'll want to pay attention to the price of your nursing bras. It's important to try to find something in your budget.
Chances are you're going to need a few good nursing bras to get you through your breastfeeding time.
That being said, you'll need to weigh the cost of having one really great nursing bra, to having several moderately priced ones.
Quality
The quality of your nursing bra is important. Higher quality is more likely to be more comfortable, a better fit, and last longer.
Things to keep in mind:
How long do you plan to breastfeed?
Do you plan to use this nursing bra again for future babies?
How many nursing bras will you need to buy?
✔️ Best Nursing Bra Runner Up
So which nursing bra is really the best? If I had to choose just one – this would be it.
✔️ This nursing bra is also Amazon PRIME eligible, meaning you'll get it in 2 days! Several sizes also have free returns to help you find your correct size.
After all my research, over 1700+ reviews, and the fact that this one is a best seller – it's definitely worth giving it the award of best nursing bra winner.
Rating of this nursing bra = ⭐⭐⭐⭐½ 4.3/5 (1700+)
This nursing bra also qualifies as the "✔️ Best Nursing Bra for the Money".
The price is also right with this nursing bra. It comes as a 5 pack – making each bra less than $10 each! You can also choose from several color sets depending on your preference.
Consumer Reports Nursing Bra Winner
While consumer reports does not recommend a specific nursing bra – they do have some great suggestions when it comes to choosing a nursing bra.
Here's the basics:
Choose a nursing bra that's comfortable for your changing breast size
Get professionally fitted if possible
Look for bras made from a good material (100% cotton or a blend of cotton and a stretchy synthetic)
You can check out Consumer Reports' full suggestions here.
Best Nursing Bras 2021 for…
Finding the right nursing bra really depends on what you'll be wearing your nursing bra for. Here are just a few popular situations/activities where you might be wanting a specific type of nursing bra…
Best Nursing Sports Bra
If you're planning to workout and there's the potential you'll need to feed your baby during – you're going to want a nursing friendly sport bra.
Trust me, trying to make a normal sports bra work is a PAIN.
3 Best Nursing Sports Bras:
Best Cute Nursing Bralette
Bralettes are super popular now. They look great paired with a cute shirt or tank.
So what's a new mom supposed to do? Give up those shirts they previously wore with other bralettes? Thanks to this company, you don't have to!
Pros:
Cute, lace design
Comes in several colors and styles
Stretchy band to accommodate potential changes in size
Cons:
Best Underwire Nursing Bra
Whether you're going to work or just feel like you want a bra with a little more structure – there's going to come a time where you'll want an underwire nursing bra.
Pros:
Cons:
Does not come in all sizes
Best Nursing Bra for Sleep
The best nursing bra for sleep is one that's comfortable and easy to use in the dark.
Another vital part of a bedtime nursing bra? It needs to keep everything in place.
This nursing bra is extremely highly rated and loved. And the perfect nursing bra for sleeping.
Pros:
Soft & comfortable
Removable padding
Wireless
5 pack of bras for a great price
Cons:
Not a lot of extra support
Best Nursing Tank Top Bra
A nursing tank top bra is exactly what it sounds like – a tank top with a nursing bra built in.
These nursing bras can be exceptionally helpful if you want to keep your layers to a minimum or just prefer some extra coverage. Think: hot summers, or outfits you need to wear a tank top with anyway.
Hint: some of these tanks even come in a "slimming" fabric – something many postpartum moms LOVE.
Okay, so what's the best nursing tank top bra?
Pros:
Slimming material
Super comfortable
Adjustable straps
Wireless
Removable pads
Cons:
Top is ruched, so you may want to wear something over it if you don't like the look
Best Nursing Bra for Pumping
A nursing bra that you can also use for pumping is huge. You need to have a bra with holes or fabric that opens up for a place to hold your pump flanges in place.
It's also important that your pump fits you right, before worrying about finding a nursing bra.
This nursing bra is a best seller.
Pros:
Hands free
10″ adjustable velcro back to get a great fit
Works with all major breast pump brands
Zips in the front – easy to put on
Optional straps
Moderately priced (which I think is great for a quality pumping bra!)
Cons:
Due to lines in the fabric where your pump goes, you'd be able to see this bra through your shirt. You probably won't want to wear this bra all day.
Popular Nursing Bra Brands
Most Wished for Nursing Bras
Sometimes it helps to see what other new moms are choosing for their favorite nursing bras. Check out the nursing bras that are on the top of most new mom's baby registries!
See Today's Most Wished For Nursing Bras!
Nursing Bra Buying Tips
There's a few key tips to keep in mind when buying a nursing bra…
Know Your Nursing Bra Size
Your size may change depending on when you choose to buy your nursing bra.
Many women start to notice their breasts change in size during pregnancy. This is likely to change AGAIN once your baby is born and your milk comes in.
If you're choosing to buy your nursing bra before your baby is born, be sure to choose a nursing bra that accommodates several sizes or is easily adjustable.
Comfort is Key
When you start to breastfeed, your nipples and breasts will likely be more sensitive and/or sore than you're used to. Having a great, supportive bra is vital during this time.
You're already recovering from having a baby, the last thing you want to worry about is having an uncomfortable bra.
You'll Want A Few GOOD Nursing Bras
If you find a nursing bra you LOVE, buy two (or three) – trust me.
Your baby is bound to spit up on you, or you may have an unexpected leak and need to change bras mid-day.
Do yourself a favor and ease your stress by being prepared with several great nursing bras.
Where to Buy Nursing Bras
There's a long list of great places to buy nursing bras. But every bra in this article can be found at one of these two places:
Nursing Bras: The Best Sellers
Just want to see all the best selling nursing bras? Check them out right here.
Best Nursing Bra Winners This Year