How to Organize Baby Clothes (Yes, even those outgrown ones you just can't get rid of!)
Disclosure: This post may contain affiliate links, which means I may receive a small commission if you click a link and purchase something. Please check out my disclosure policy for more details. All opinions are my own!
Now that we're settling into life with a new baby, I finally had time to do a little organizing of baby clothes!
Trust me, I desperately needed to organize baby clothes.
I hate to admit this (and don't tell my sister), but my little girl's nursery was a MESS of clothes.
Even my 2-year-old was telling me so – whoops.
All those sweet outfits we got as gifts were sprawled out on her rocking chair waiting for me to decide where they were going, what I was keeping, and what had to be sent back to Target.
This is a common postpartum problem, right? Tell me I'm not the only one!
Well…. not anymore!
I finally tackled the baby clothing mess and got baby's closet organized in no time. (And it took way less time than I expected!)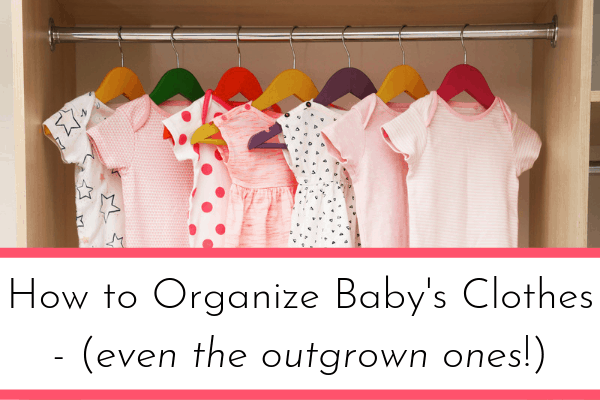 How to Organize Baby Clothes
When organizing my baby girl's clothes, I created an organization system I didn't know I needed with my first baby – but man, is it good.
My baby's closet feels so much less overwhelming and I know exactly what I have in each size for my girl. 
So what exactly is it?
It's a nursery closet organizer. You simply download, print, cut, and done! Your baby's closet is organized!
It has cards to hang in the closet for sizes Newborn through 4T – so you should be set for quite a while!
So here it is – and I've got a copy of it for you. Oh yeah, and it's free for you – enjoy! 🙂 
If you're hoping for a more themed or bright closet organizer (like the one I used for my little girl below ❤️), click here (or the button below) to upgrade yours for ridiculously cheap – (I'm talking less than your cup of coffee cheap)!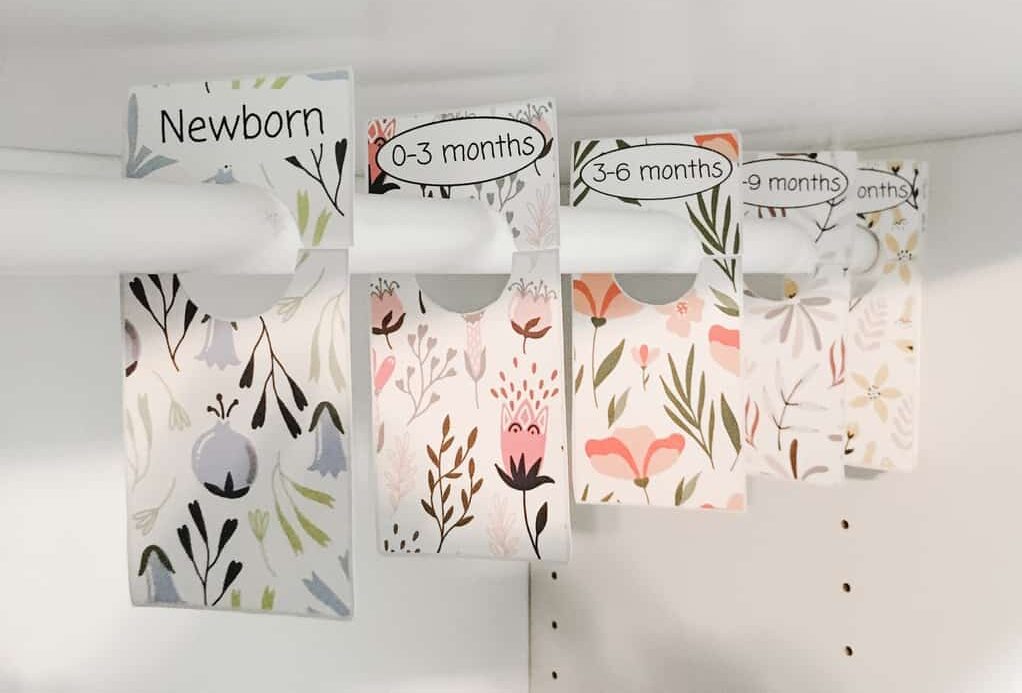 Use a Printable Nursery Closet Organizer
Organizing your baby's nursery will not only look better, but it'll also help you feel better.
One of the best ways to start with organizing a nursery is to organize baby clothes.
There's no doubt you probably have a few different clothing sizes on hand that need to get sorted through, and a few special occasion outfits that just don't fit next to everyday onesies.
So let's get started! Here are the basic steps to follow: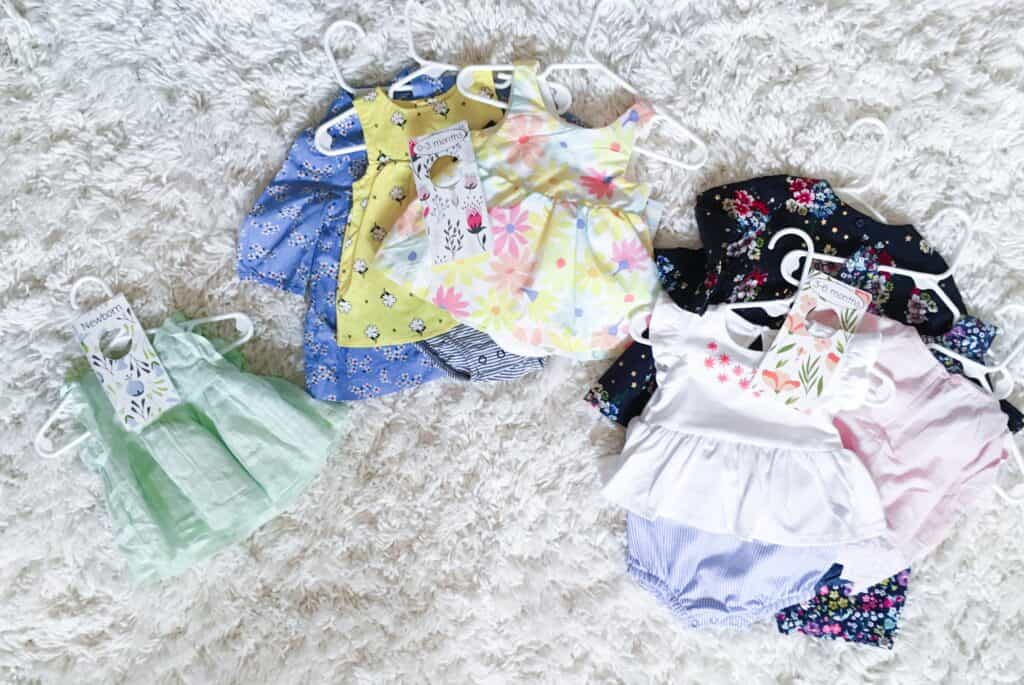 First things first, start by sorting your baby's clothes by size.
Once you see what you have in each size, you can choose what you're keeping and what you'll be returning.

Trust me, you really don't need 20 onesies

Hang up your closet organizers in order from Newborn to 2T
Put the clothes on hangers and place them in the correct spot.
If you want to be very organized (and impress your friends ;)), you can further organize your baby's closet by trying one (or more!) of these options:

Sort your clothes by activity (every day wear, church clothes, etc.)
Hang shirts first, then hang pants, then dresses
Sort your shirts by color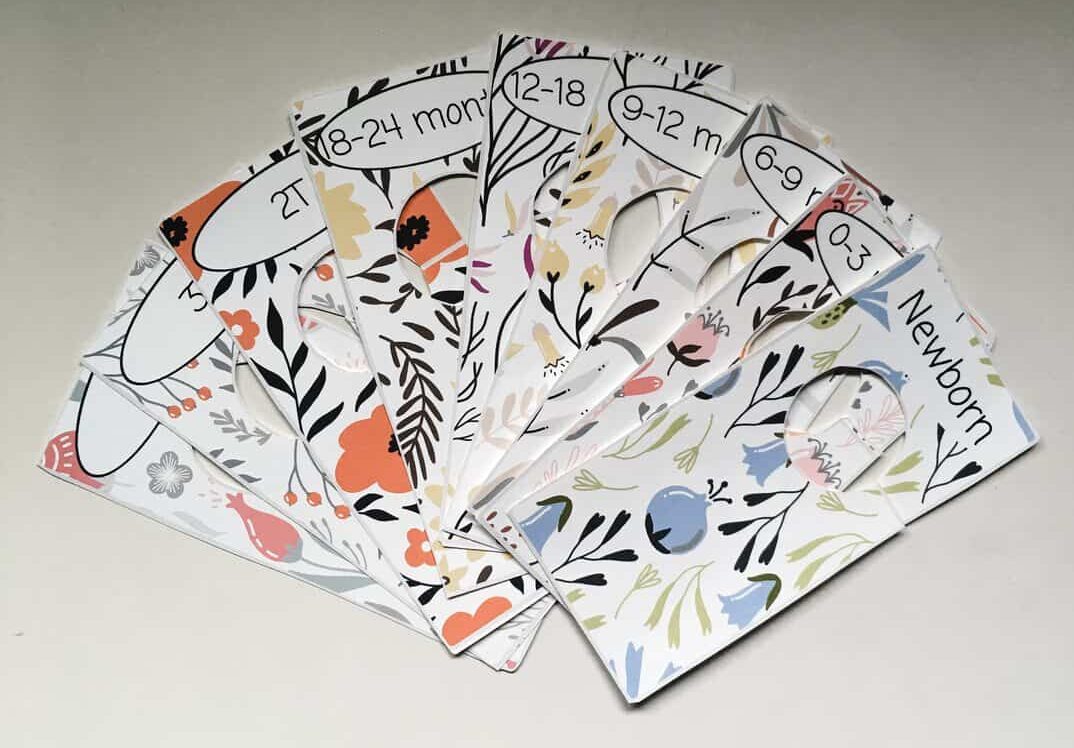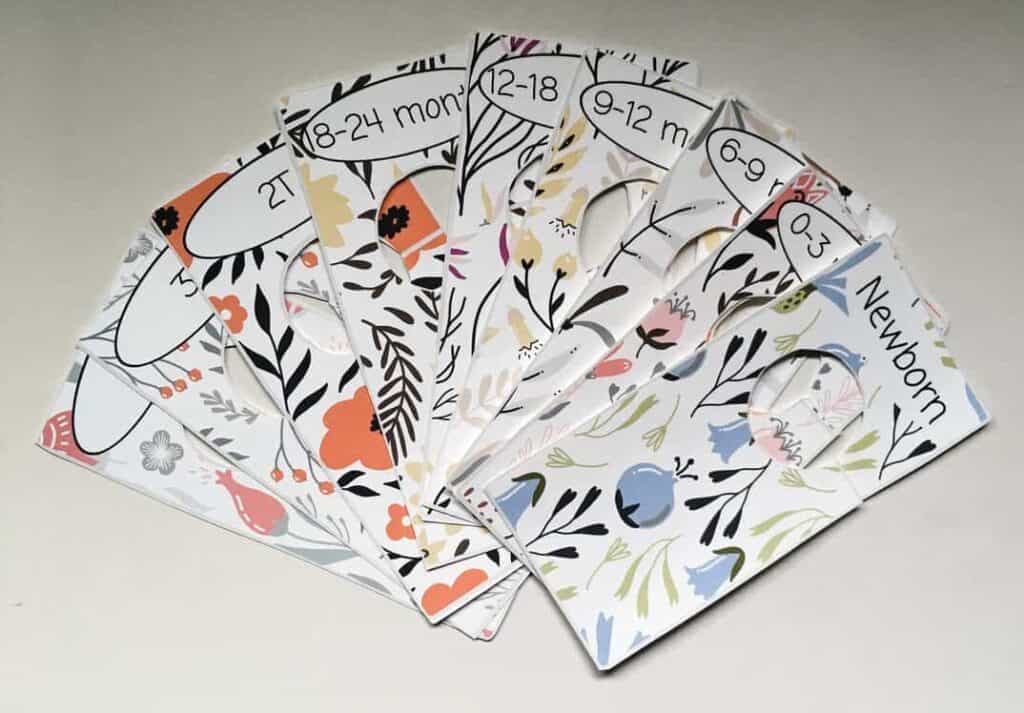 What to do with Outgrown Baby Clothes
Let's face it – much to the dismay of us mommas – baby's grow fast.
They need lots of clothes for all those spit-up episodes and potential blowouts. Yikes!
So what's a mom to do when your baby outgrows their adorable clothes?
You've got two options:
You can re-sell them or donate them.
You save them for another baby!
Even if you're not planning to have a new baby for sure, maybe you want to save them for a friend, or even just hold on to them for a little while, while you decide.
There's no reason to be too hasty. 😉
If you've decided to go with option #1, you can be all done reading now and get yourself donating!
If you're all for option #2, read on about how to organize baby clothes that your little one has outgrown.
How to Organize Outgrown Baby Clothes
Now that you have to do something with your baby's outgrown clothes – it's time to do a little more nursery closet organization.
Here's what you'll need:
Totes (clear or colored)
Dresser drawer organizer (optional)
Printable labels or paper and a marker
Tape
Storage space (garage, attic, closet, under the bed, etc. – have a plan!)
The best way to start organizing your baby's outgrown clothes is again, by size.
While you're sorting through the clothes for sizes, you'll want to make sure every thing is clean.
Trust me on this one. You don't want to pull out a onesie a year later to find it has a yellow poop stain left on it that you forgot to throw in the washer an extra time!
Choose Your Tote
Choose the right tote. Make sure you have a tote that's going to be easy to store.
I prefer shallow totes that can slide under a bed and are easily hidden.
A tote like this is one of my favorite. It has wheels for sliding and comes in a four pack.
If you prefer just buying one tote at a time – I'd recommend trying this one!
Choose the Right Size Tote
Also try to choose a tote that will be the right size for the amount of clothes your baby has.
It's easier to put everything in one tote, rather than two (a problem if your tote is too small) – and nicer to have only one clothing size per tote (a problem if your tote is too big).
How to Fold Baby Clothes – The Right Way
Once everything is clean, fold it nicely and add it to your tote. This video is perfect for figuring out how to fold those little baby clothes (including onesies!).
Fill & Organize Your Tote
Once you have your tote chosen, sort your tote by clothing type.
For example, start on one end and work your way down your tote with sections of:
shirts/onesies
pants
jammies
dresses
socks
diapers
Or, you can use a dresser drawer organizer, like this one, to help keep everything separated.
Label Your Tote
Now that your tote is filled, it's time to label it properly!
You have two options:
Grab a piece of paper and a marker (I love these colored sharpies – hello, extra organization and no smears!) and write the clothing size on the paper. Then attach it to your tote with tape.
Print one of these sets of free tote organizers – then attach it to your tote with tape.
Store Your Baby's Clothing Tote
Make sure you have a place to store your baby's clothing totes. One of the last things you want to do is organize your tote, only to have it sit out in your baby's room looking like clutter.
If you're not sure where to store your tote, consider these ideas:
Top of baby's closet
Under the bed/crib
Attic
Basement
Storage room
Garage
Storage Unit
How to Keep Baby Clothes Organized
Don't forget to grab your free tools to organize your baby's nursery! Trust me, having these on hand will make learning how to organize your baby's clothes SO EASY.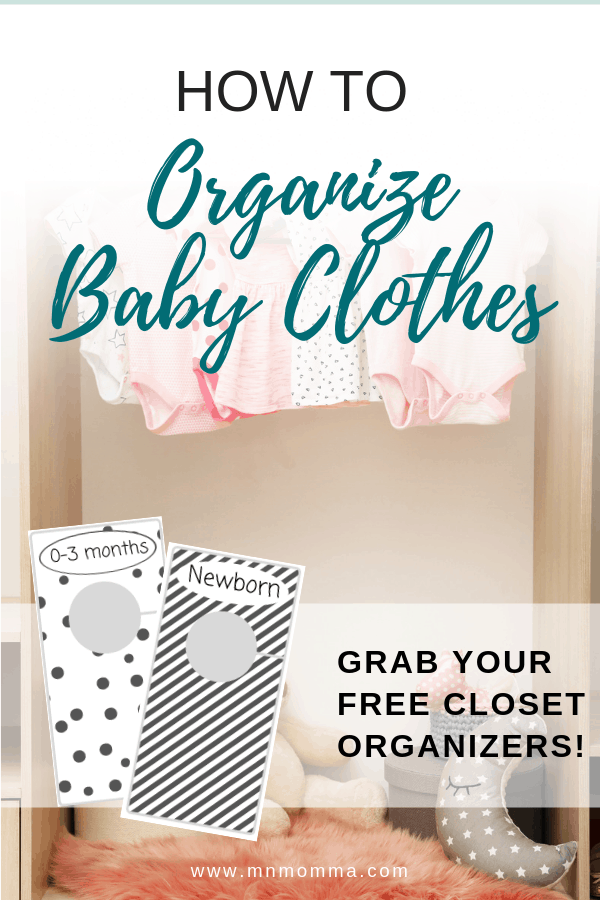 <— Pin it! Save this for later!