21 Cool & Unique Gender Reveal Ideas for Fun, Expecting Parents
Disclosure: This post may contain affiliate links, which means I may receive a small commission if you click a link and purchase something. Please check out my disclosure policy for more details. All opinions are my own!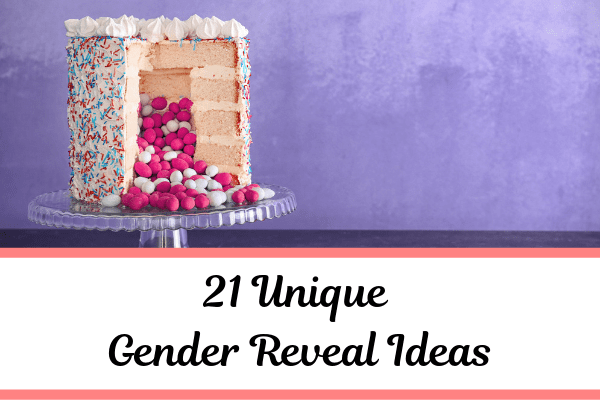 Gender Reveal Ideas for Parents
There are so many fun parts to expecting a baby (okay, and hard parts) – but finding out your baby's gender can be a huge, fun surprise halfway through your pregnancy.
With our first baby we waited until he was born to find out his gender. But with our second, we opted to see what the other side was like and find out while I was pregnant.
I did know one thing was for sure though.
If we were going to find out our baby's gender, it was going to be done in a cute gender reveal – not just at the hospital.
Click here to jump to the full list of 21 Unique Gender Reveal Announcement Ideas!
Reasons to Find Out Your Baby's Gender
There are many reasons people like to find out their baby's gender ahead of time. But here's a few of the most common reasons you might be feeling that push to find out baby's gender:
Preparations for Baby (room, toys, clothes)
Being prepared can be such a good feeling.
When you decide to find out your baby's gender ahead of time you have about 20 weeks to decide on your baby's nursery, choose a name, or just become accustomed to the idea that you're having a son or a daughter.
And while you can definitely do these things when you don't find out your baby's gender, you can prepare gender specific items like a blue wall, a pink blanket, or using your great grandma's middle name.
Surprise Halfway Through
Whether you find out your baby's gender early or you decide to wait until the day your baby is born, it's going to be a surprise.
One surprise you just get a little bit earlier than the other!
And for some expecting parents, they just can't wait any longer to learn more about their growing little one.
Reasons to Wait to Find Out Baby's Gender
The Best Surprise
I can't tell you how many times we were told "there are so few good surprises in life" and finding out your baby's gender is definitely one of those fun surprises.
Gratification
You just spent 9 months making a baby and you finally get to meet him or her! You made it through pregnancy and labor and delivery, and now you get a little gift of a precious baby.
Finding out if you have a son or daughter in that hectic, beautiful moment of meeting your little one for the first time can just add to the excitement.
Variety of Gender Neutral Gear
A benefit of waiting to find out your baby's gender is that you probably won't get all blue or pink items at your baby shower.
This is especially helpful if you're planning to have more kids.
Sometimes the Ultrasound Is Wrong
While most of the time the ultrasound is right, there's still a chance that they got it wrong.
We've all heard stories of babies being born the opposite gender of what their parents thought they would be.
While this is another surprise, you may find yourself returning all those pink clothes and repainting the nursery in a hurry!
Deciding Who To Share the Baby's Gender With
Deciding who to tell about your baby's gender is a personal choice. A lot like the one of deciding when to tell people you're expecting.
So let's get down to your options.
Just you OR your husband know
Some couples don't know what to do when one person wants to find out baby's gender and the other doesn't.
If you're both set in your ways, one compromise is to let one of you know and let it be a surprise for the other one.
I'll be the first to admit this isn't for me.
If I don't know, I don't want my husband to get to know either!
And if I knew – I can only imagine the pressure to not use "he" or "she".
However, for couples with the right personalities, this method can work perfectly.
Just you and your husband know
This route seems a little bit easier.
Once you find out your baby's gender you and your husband can enjoy your little secret together.
Whether you even tell anyone you found out is completely up to you – no one has to know, and that way no pressure to spill the beans.
Just baby's grandparents know
Here's the real question, how good are your parents at keeping secrets?
If you know everyone can keep quiet, sharing your baby news with your parents may be just enough to let you share the excitement, without feeling like everyone already knows.
Share it with the world!
If you just want to share your exciting news – do it!
You might opt to throw a party announcing your baby's gender with friends and family or simply call them all after your ultrasound. The choice is yours!
Gender Reveal Ideas
Whether you decide to have a gender reveal party or just do a mini gender reveal announcement between you and your husband – these ideas are too cute to miss.
Make sure you snap a picture too as these ideas offer some great gender reveal picture ideas.
1. Cake & Cupcakes
These gender reveal cakes are amazing!
Whether you decide to make one on your own or have someone else do it so you're in on the surprise, this gender reveal idea is sure to be delicious.
From filling the inside of the cake with candy, using colored frosting, or colored cake – you'll be surprised no matter what.
How to be surprised yourself: ask your ultrasound tech to write the gender down and seal it in an envelope. Bring it to your bakery and give them the letter.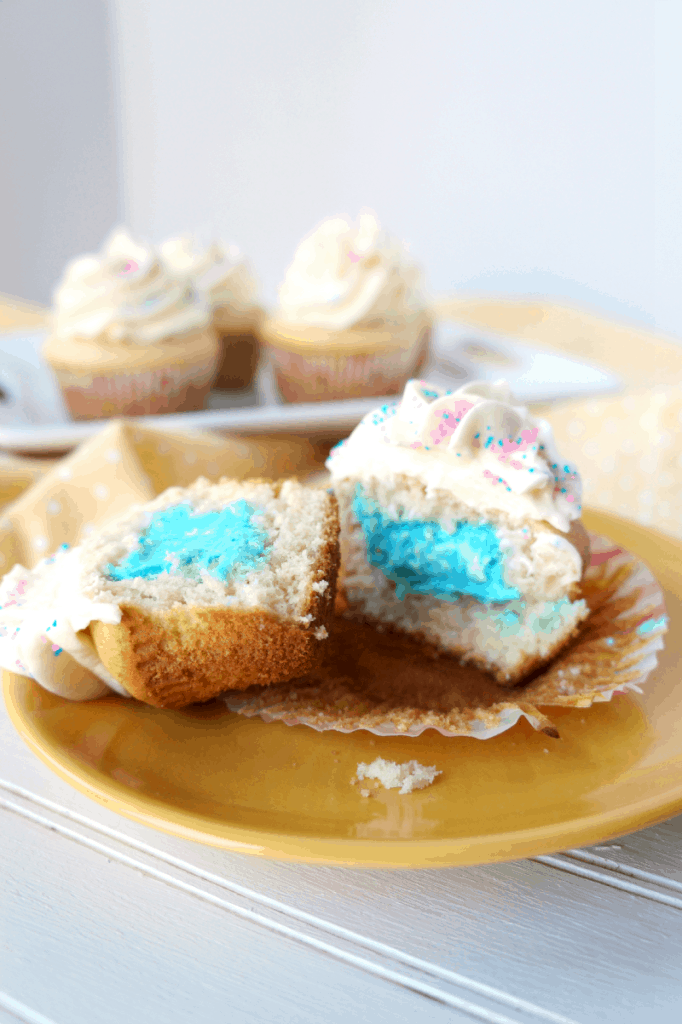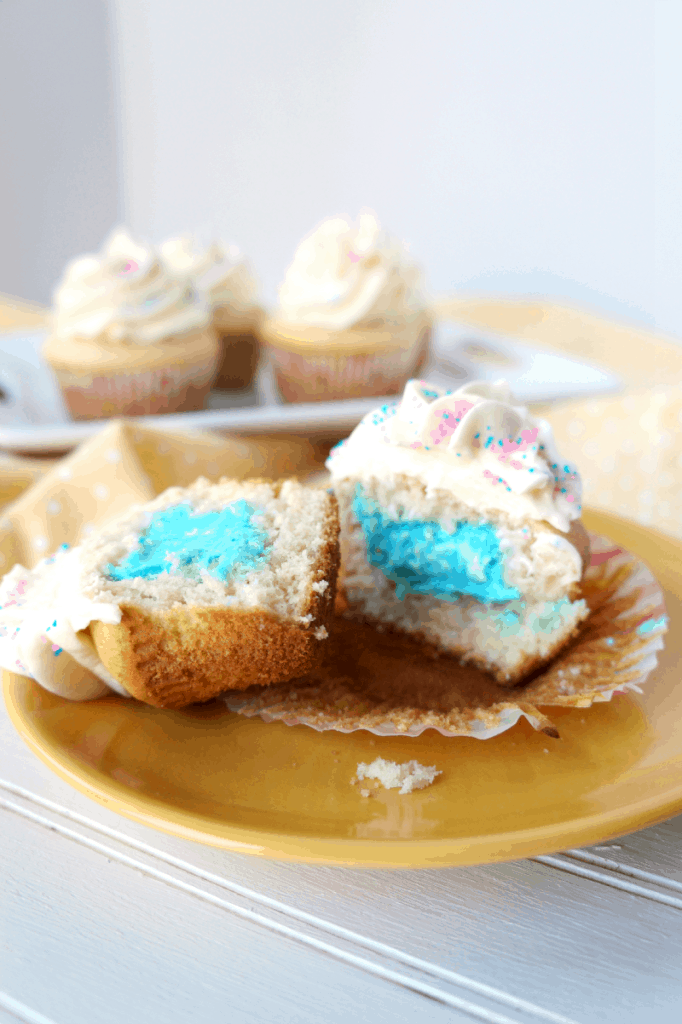 2. Cookies
These aren't your regular cookies…for gender reveal cookies you need a cookie that can have something hidden inside!
These cookies can spill out candies, sprinkles, or frosting to help share your baby surprise!
Tastes of Lizzy T did an amazing job with these fun and simple gender reveal cookies!
3. Doughnuts
Mmmmm, a delicious filled doughnut. This idea is perfect for a morning gender reveal party!
Find some doughnuts filled with blueberry or raspberry jelly and you're in business.
Bonus points in they're shaped like something baby related!
Hunger, Thirst, Play shows you how to make some delicious gender reveal doughnuts on your own!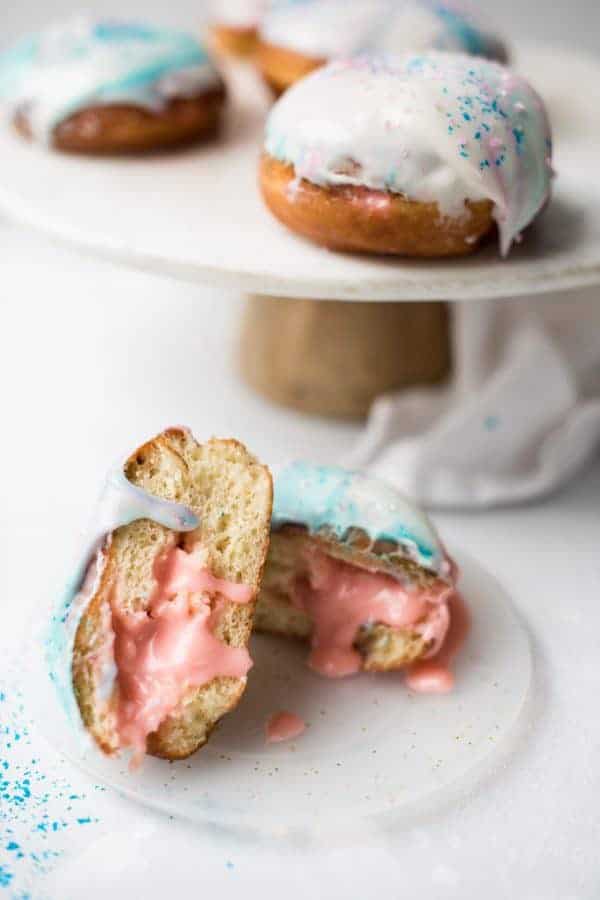 4. Bubble Gum
If you're a bubble gum connoisseur, chances are you'll be able to tell this one as soon as the gum hits your taste buds – but your friends won't!
Blow a bubble and snap a picture to share your baby's gender!
Let Me See You Sparkle Photography nailed this one with this adorable gender announcement picture.
5. Fortune Cookies
There are several places you can go to get a personalized fortune cookie. Have them made for your guests and enjoy a treat after dinner one night!
How to be surprised yourself: ask a friend to take the note from the ultrasound tech or doctor and have them made for you.
Check out Mom, The Intern's too cute announcement using a fortune cookie!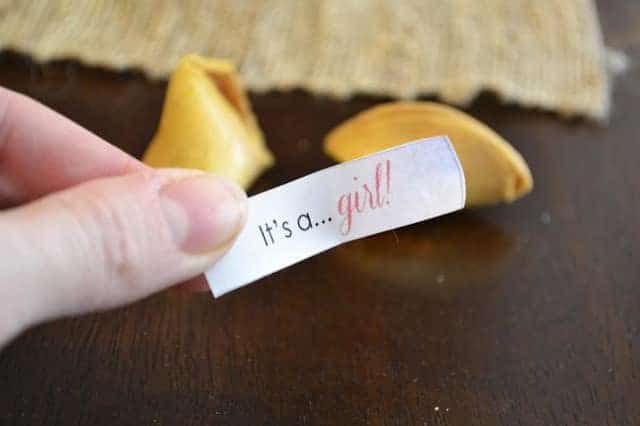 6. Balloon Box
A box filled with balloons of pink or blue that float up – can you get more dreamy?
Have a friend do the hard work for you and package your box up. Open it together to find out if you're having a boy or a girl!
Check out The Thinking Closet's big reveal!
7. Pinata
Whether it's filled with confetti or blue or pink candy – everyone loves a good pinata! Pull a string or take a whack at it to let the results fly.
8. Smoke/Colored Powder Explosion
Sometimes you need a big explosion of color.
Use these colorful powders for a bright and creative surprise and watch as your backyard fills up with gorgeous colors of pink or blue!
9. Confetti Cannon
I'm a confetti and sparkles girl all the way and this gender reveal announcement is all about glitz.
Grab some of these fun confetti poppers for all your guests and on the count of 3 – toss the confetti!
You might have a mess, but you'll be so excited you won't even care.
You can also use this adorable balloon that spills confetti everywhere when you pop it!
10. Silly String
Did I just say mess? Maybe you want to try this gender reveal idea outside.
Give your guests, or you and your husband silly string that's pink or blue and when you say "go", spray!
The chaos and squeals won't cover up the fun surprise that's waiting when you see pink or blue.
11. Darts
Here's a gender reveal ideas you can either DIY or buy pre-made!
To make your gender reveal dart game, just fill some black balloons with paint or confetti and hang them up!
Take turns throwing darts at the board until someone hits a balloon, spilling pink or blue paint all over.
If you'd rather have a pre-made dart game, give this one a try!
Tip: use several shades of pink or blue and save the canvas for your baby's nursery – hello abstract art with a meaning! (If it turns out anyway ;))
12. Party Game
If you're hosting a gender reveal party, a game can be a fun way to get all your guests involved!
You can use the dart idea or pinata idea to invite all your guests to participate.
Or you can simply have them enter their names in a drawing based on their guess of boy or girl and the winner gets a fun prize!
Here's a few of my favorite gender reveal party games to get your guests involved:
The Jelly Bean Game – have your guests guess the number of pink and blue jelly beans that fill a jar. The color that matches baby's gender will have slightly more!
13. Golf Balls
Did you know they make golf balls that explode color?
Well, if golf is your thing this gender reveal could be perfect for you! Just take a swing and poof! Your baby's gender is revealed.
14. Baseballs
Just like the golf ball method, you can take aim at this specially made baseball and once it's hit, pink or blue dust goes every where!
15. Scratch Off
Are betting and gambling your thing? You can order these gender reveal scratch offs from Amazon or make your own scratch offs to reveal your baby's gender!
How to be surprised yourself: if you have a crafty friend ask if she'd be kind enough to make the scratch offs for you. Otherwise many companies will let you bring or mail in your letter with the gender on it and make the scratch off for you.
16. Gingerbread House Decor
Do you or your kids make gingerbread houses every year? Build your house together and as a surprise add sweet pink or blue sprinkles as a dusting on the snow to spread the news and reveal your baby's gender to your family!
Tip: to keep it even more of a secret, cover the outside of your sprinkle container with black paper.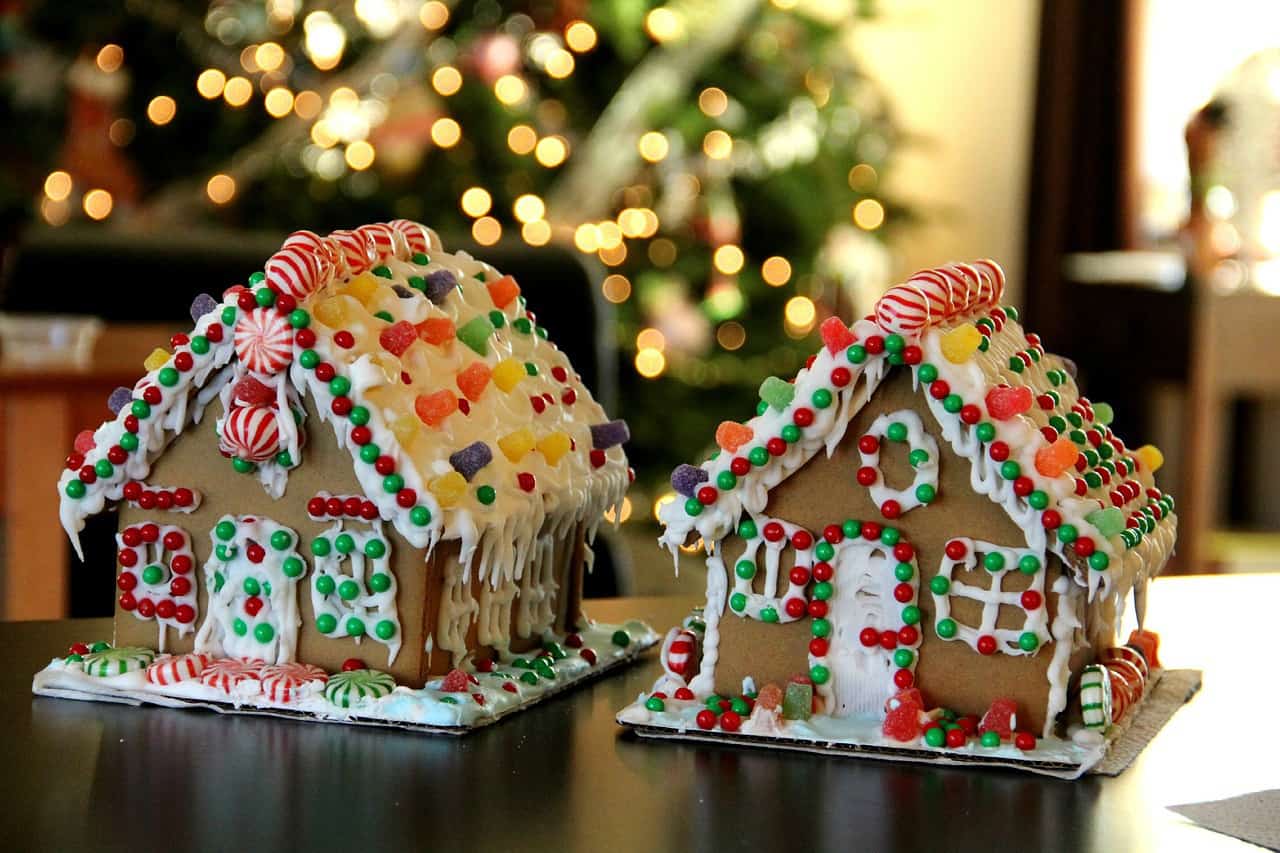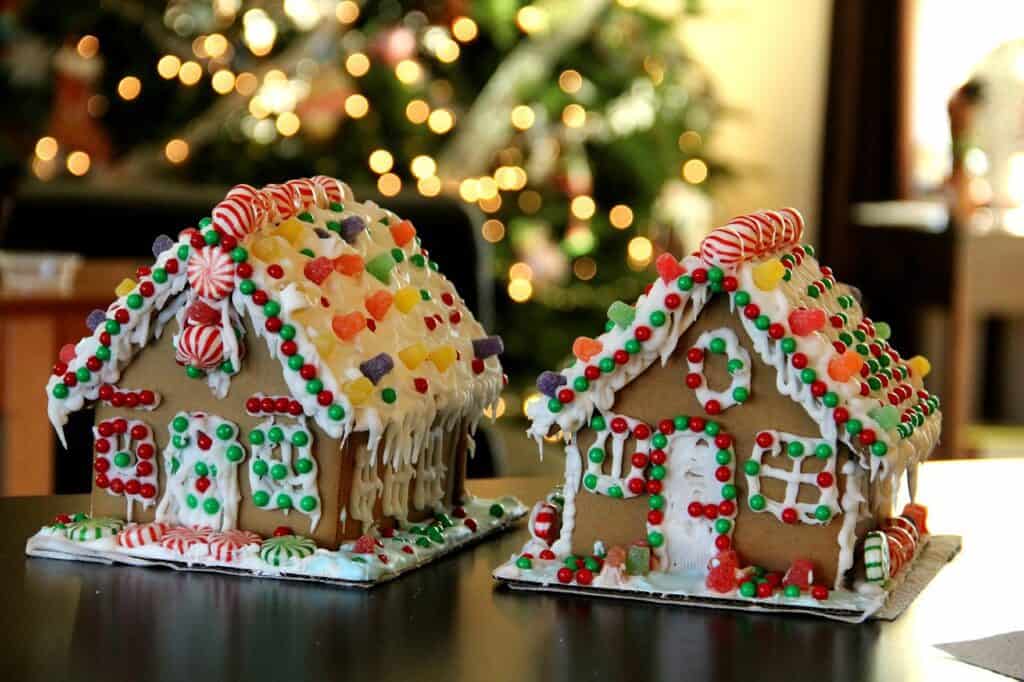 17. Christmas Tree – Light It Up
For this Christmas themed gender reveal idea, use pink or blue Christmas lights and share your big news about your new son or daughter!
You can make an announcement about the tree lighting, or wait and see if your guests notice the theme!
How to be surprised yourself: ask a friend to string the lights for you and plug your tree in once you get home.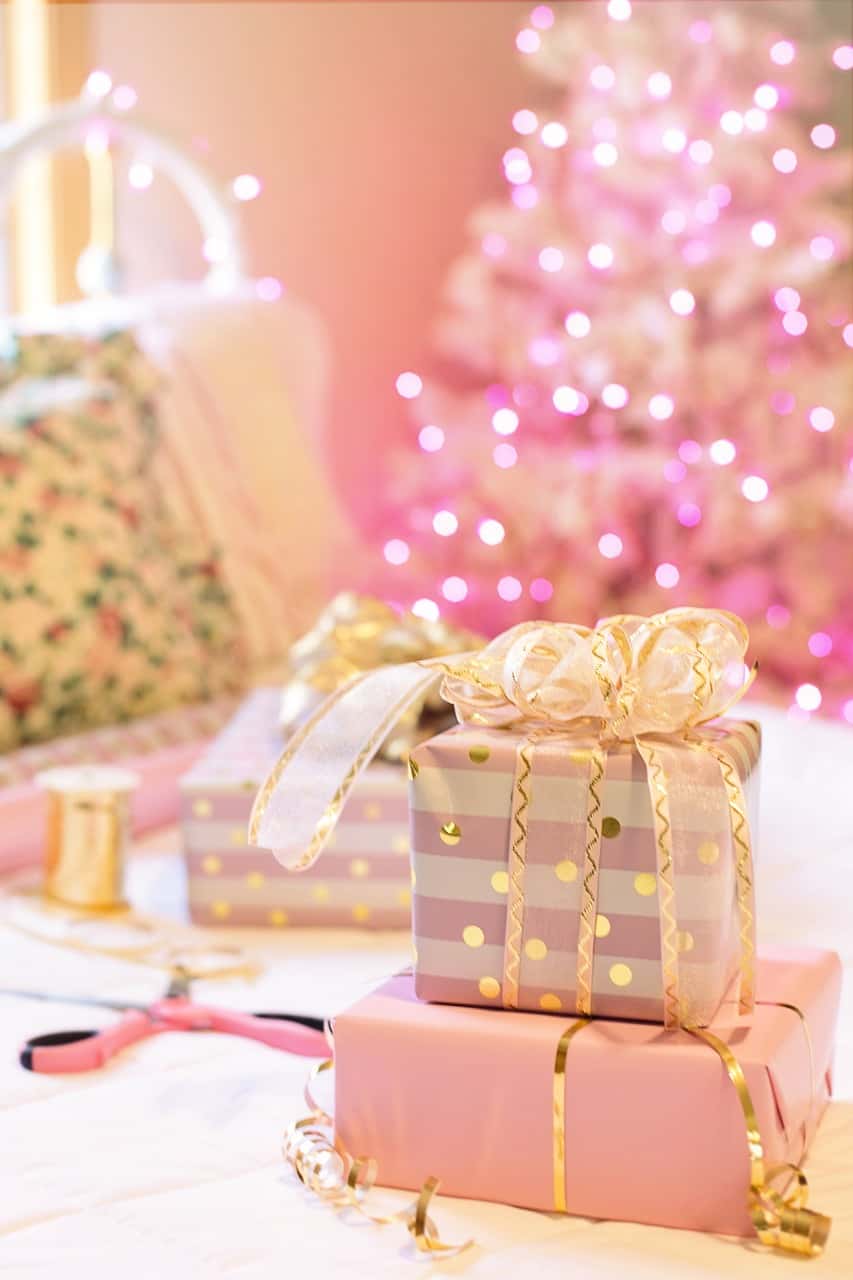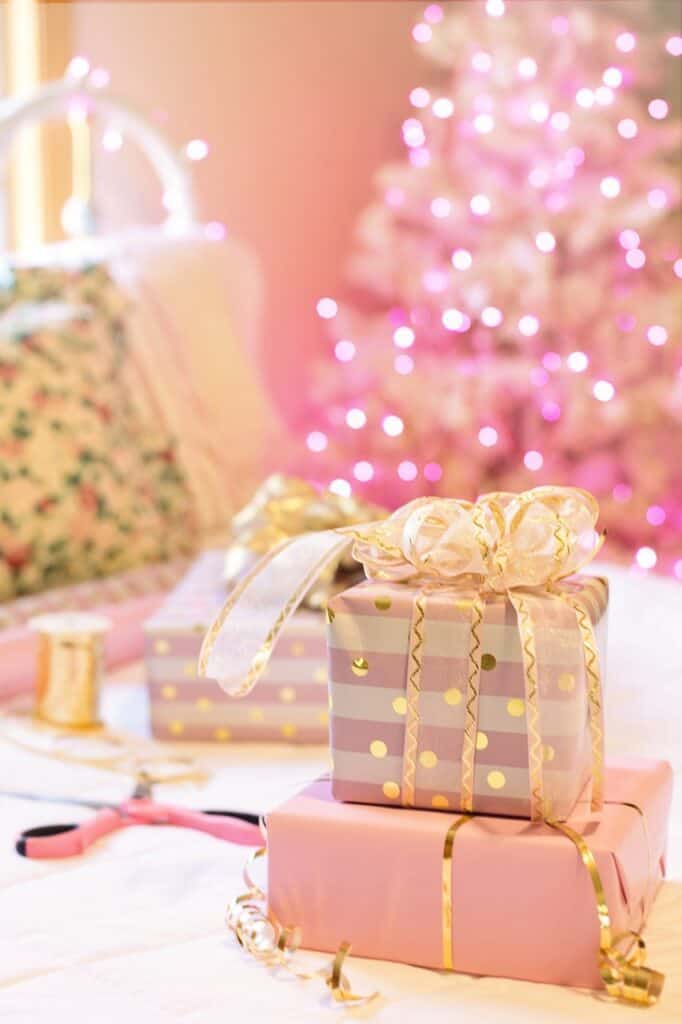 18. Candle
You can now order candles that burn a specific color. For a simple, yet sweet, reveal – light your candle together and see what's in store for your future!
19. Sparklers
Did you know that sparklers can burn different colors?
I love the magic of fireworks so this idea just might be my very favorite. (Which explains why we decided to do our gender reveal with these!).
Light your sparkler and watch for blue or red to signal your sweet new baby's gender.
These are the exact sparklers we bought and used for our reveal! Pssst – these were also the SAME brand we used for our wedding, they worked great!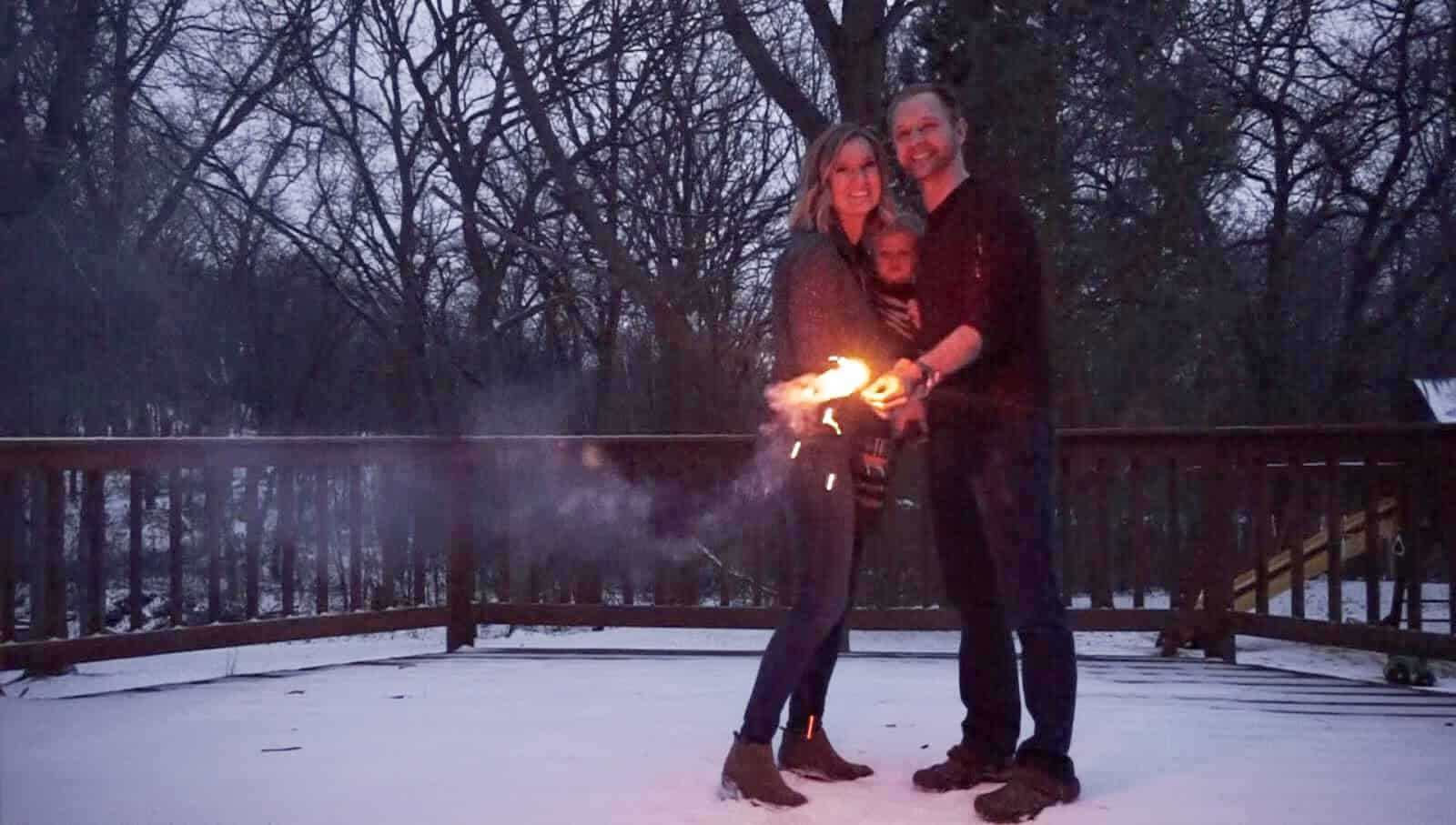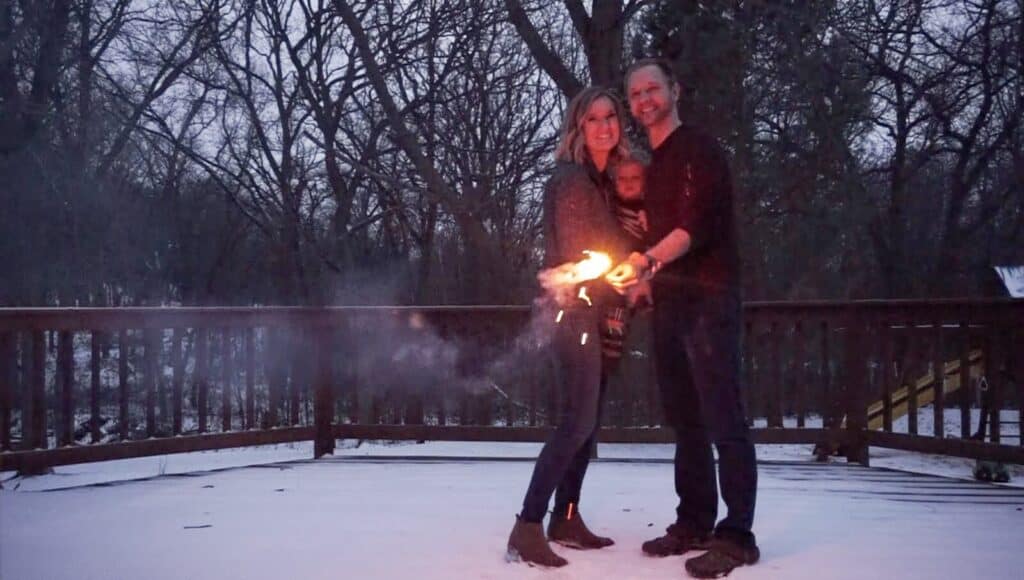 20. Paint
Paint wars are messy. BUT when else do you have an excuse to throw paint at each other?
Whether you really get into a paint war or you sweetly just put your hands in it – using paint in your announcement is growing in popularity (and makes for a great photo op!).
I absolutely love Courtney's paint gender reveal announcement – they even saved the canvas – check it out!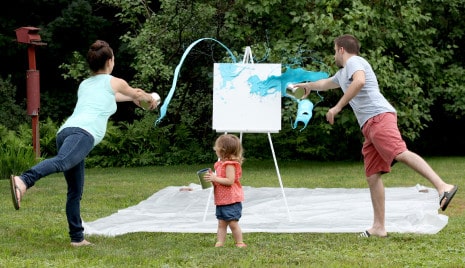 21. Special Shirt/Outfit
This reveal is so sweet and special.
Whether you dress your little one in a shirt that reveals if they're having a little brother or sister, or you and your husband get shirts that say "Support Wildlife – Raise Boys" – these shirts make for a fun keepsake.
Gender Reveal Picture Ideas
Whether you are making your gender reveal as simple as just letting the doctor tell you or as extravagant as a big party with all the extras – make sure you snap a picture or get a video.
It'll be so fun to look back on the moment you found out you were having a son or daughter.
Also, be sure to share your favorite gender reveal ideas! I'd love to hear more and see your creativity!
21 Unique Gender Reveal Ideas for Parents