How to Have A Virtual Baby Shower
Disclosure: This post may contain affiliate links, which means I may receive a small commission if you click a link and purchase something. Please check out my disclosure policy for more details. All opinions are my own!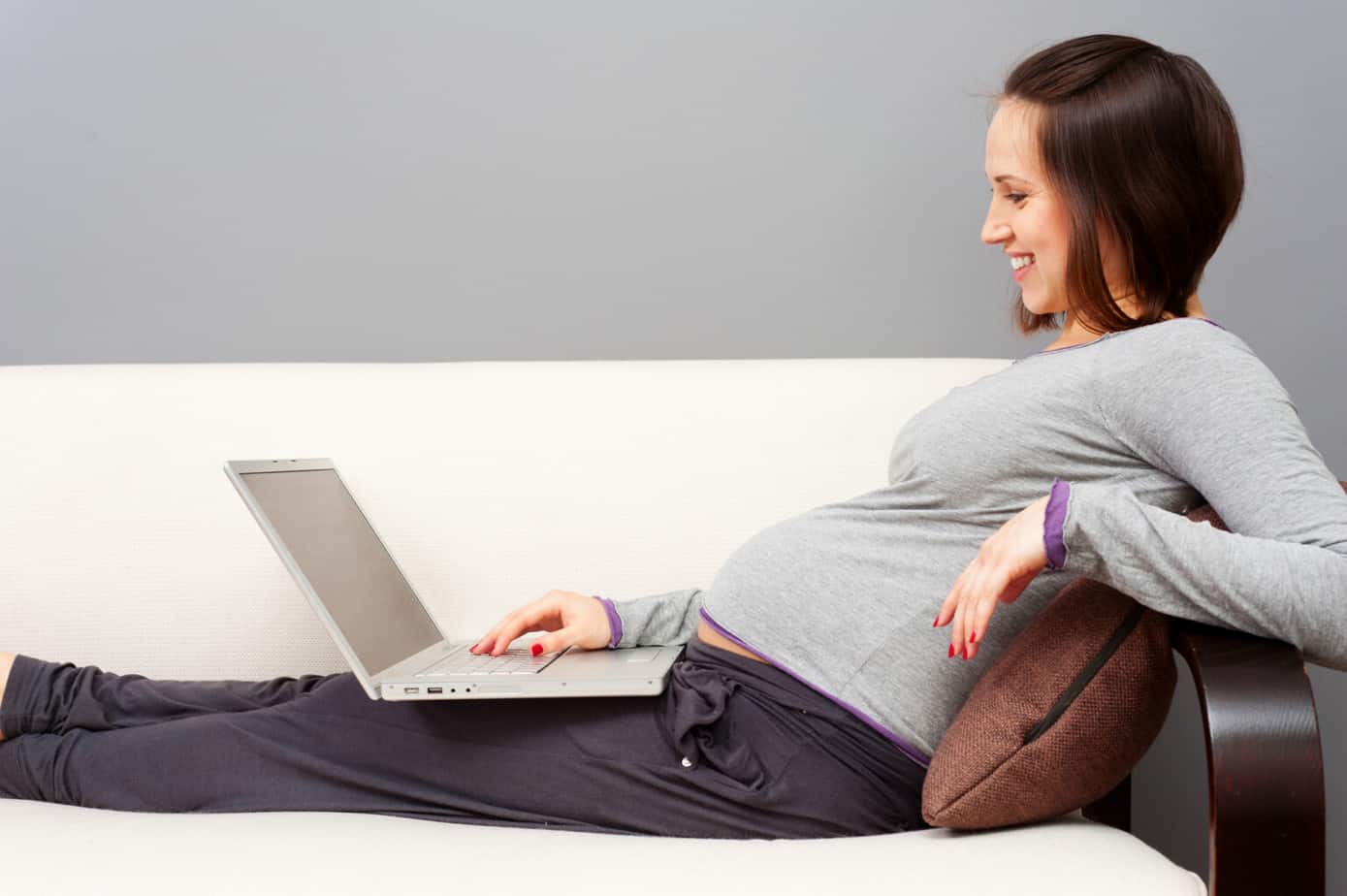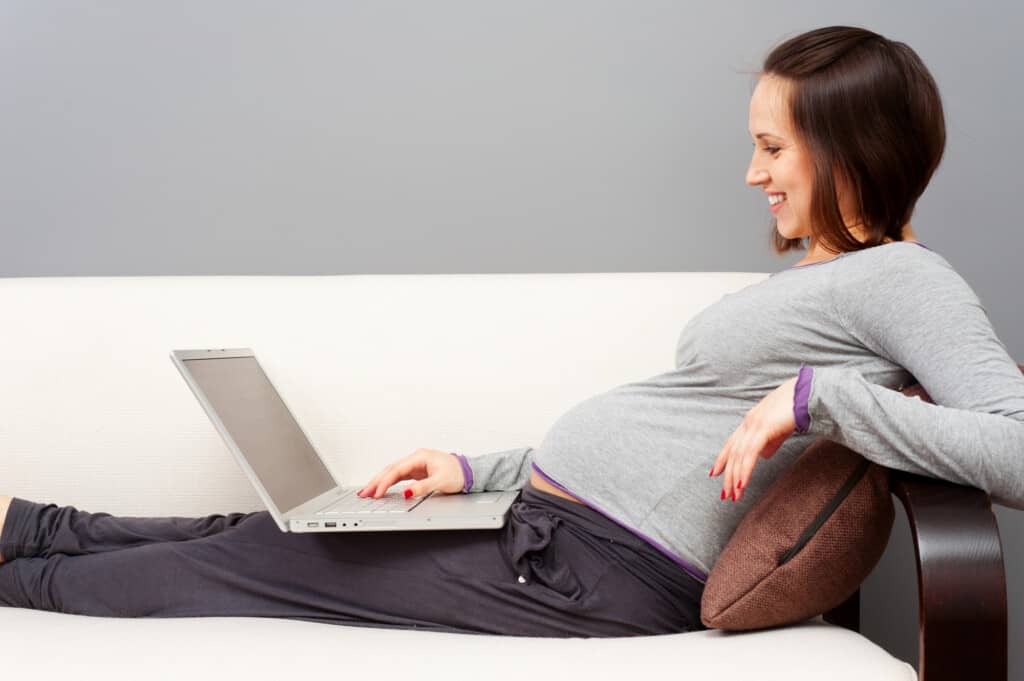 Tips for Throwing a Virtual Baby Shower
When you Google "virtual baby shower", one of the first things you get is "is it tacky?". In certain situations, I completely agree that I prefer a real in-person baby shower. However, these days, you could be hosting a virtual baby shower for a really good reason!
Maybe your baby shower got canceled, you're stuck on bed rest, or maybe you just live states away from your family and friends. Either way, did you know that it's not impossible to have a baby shower?
Thankfully, technology offers a ton of ways to have a virtual baby shower when you can't get together. I'll walk you through all the ways to have a great virtual baby shower that's still fun, cute, and full of love!
What's a Virtual Baby Shower?
First things first. What's a virtual baby shower anyway?
Well, a virtual baby shower is a baby shower over the internet. Your virtual baby shower will probably occur over a video chat with friends and family and might consist of games, gift opening, and fun conversations.
A virtual baby shower allows guests from all over the world to get together to celebrate an expecting mom and her new baby, without anyone ever having to leave home.
Virtual baby showers may not be a mom's first choice when it comes to baby showers, but sometimes it's the best fit and can be personalized to meet the expecting mom's likes and personality.
Create the Guest List
One of the best parts about having a virtual baby shower is that the sky's the limit when it comes to your guest list.
No more worrying about if you should send an invitation to your relative 500 miles away. You can just send it!
Based on the expecting mom's preference, you can choose to have a small group or a large group for your online baby shower.
Both groups have their advantages. Small groups will offer more chances for conversation, but big groups let everyone you love be a part of the action.
Choose a Platform for Your Online Baby Shower
There's a lot of different platforms you can use for your online baby shower. Check out the table below to figure out which one might be right for you!



# of Guests
Cost
Pros
Cons
Zoom
100
Free
Available on almost any device (mobile, tablet, computer).Guests don't need to download anything.
Can secure your meeting with a password.
Only 40 min. max with the free account
Skype
50
Free
Available on almost any device (mobile, tablet, computer). Up to 4 hours of video calls per day
Requires a download
Web Baby Shower
Unlimited
$79
Ready to go and easy. ✅ Allows you to create and customize your own baby shower webpage, create invitations, has virtual games already created and ready to use.
Expensive. Does not have it's own video service – you'd need to use another one of your choice.
Duo
8
Free
Can easily use on smartphones, tablets, computers, and Smart DisplaysCan be used on both Apple and Microsoft products
Limited number of guestsRequires a download
FaceTime
32
Free
Built in to iPhones
Hosts and guests must have an Apple product
Facebook Messenger
50
Free
Built into Facebook
Must have Facebook

Facebook Live
Only video of you – hundreds can see you and comment
Free
Built into Facebook. Easy to start the meeting and keep everything in the same baby shower group.
Must have FacebookYou can't see your guests, only they can see you
Set Up Your Online Baby Registries
After choosing which platform you want to use, it's time to set up your online baby registry.
Don't worry, you don't need to have your baby registry complete right away! But, I have found that it's a great idea to get a few items on your registry before you send out invitations to your guests.
The first thing many people like to do is look at your baby registry, so be sure you have something for them to check out!
Check out this post for more tips on Baby Shower Registries (+ the freebies you can get from them).
There are many baby registry sites out there that you can use, but here are a few of the top used baby registries:
Amazon – my favorite, did you know you can add things to your Amazon registry from ANY online store?
SoKind.com – This site is pretty awesome. Instead of traditional gifts, think of soKind.com as "experiences". Guests can offer "babysitting", "baby proofing", "doula classes", "prenatal classes"
Send Invitations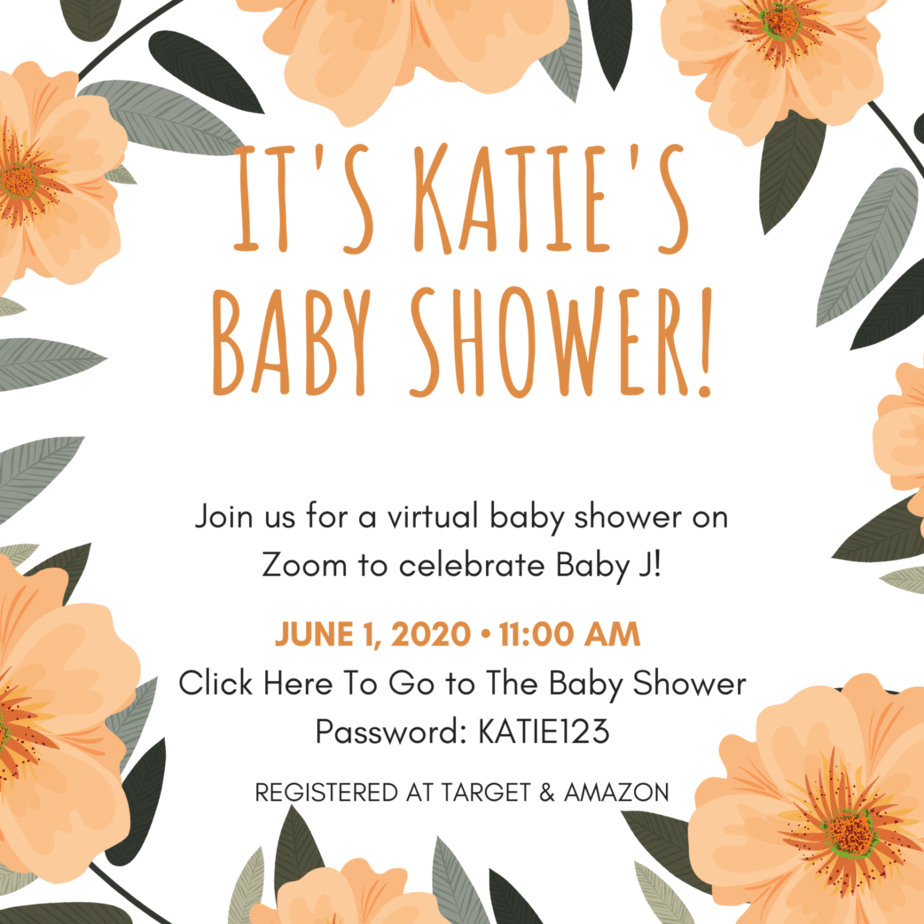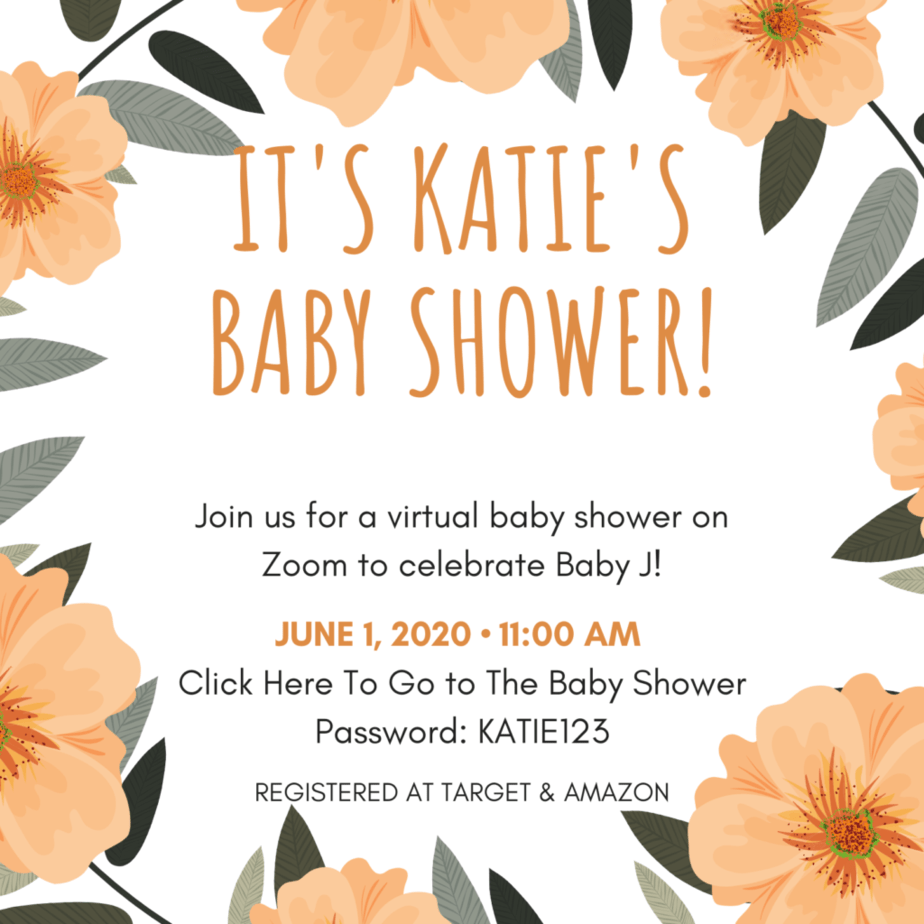 Now it's time to let your guests know about your virtual baby shower. You have a few options here:
Make sure you don't forget to include these important details in your invitation:
Date and time of the party
That it's a "virtual" or "online" party
Links to your Baby Registry(ies)
Share the gender if you know it! This can help with gifts you receive
Have Introductions Online
Now that you have notified your guests of the party's date and time, it's time to prepare for the party! When your online baby shower starts, you'll want your guests to become acquainted with each other. Most ice breakers for baby showers require you to physically be together so try to come up with something easy that guests can do from home!
Some ideas include:
Say how you know the expecting mom
Give a guess for mom's due date
Give a baby name suggestion that starts with the same letter as your own name (but not the same name!)
Play Virtual Baby Shower Games
If you hate baby shower games, this is your chance to get away without playing any and no one will say A THING. But if you want a few baby shower games, you absolutely can! You just need to choose your baby shower games strategically.
Pro Tip: Keep in mind, that if you have a favorite paper/pencil game – it doesn't have to be eliminated! Just send out the virtual pdf copy to your guests ahead of time (either via email or a facebook group). Have them print the game board off or make the games fillable using pdfescape – check out the how-to video on this page or sign up below to access Subscriber Resources to view!
Here's some great virtual baby shower games for your party:
Baby Shower Bingo – great for during the gift opening!
Baby Shower Jeopardy – get it here and then share your screen with all your guests when it's time to play. (learn how to share your screen on Zoom here)
Guess How Big Momma's Belly Is – let your guests guesses come in through the chat available or have everyone write their guess down and show it up on the screen
Baby Shower Pictionary – Get one of these big sticky paper pads for the wall and let the host draw pictures. Whoever guesses it right gets a point! Go 5-10 rounds and see who the winner is!
Baby Predictions and Wishes – These are more sweet keepsakes for the mom to be than a game. Have your guests fill these out and email or mail them to the new mom!
Find more baby shower game ideas here! Most can be modified to be played virtually.
Virtual Baby Shower Prizes
If you're wondering how to give away prizes for your virtual baby shower games, worry no more! Gift cards make GREAT prizes.
Whether it's an Amazon gift card so your guests can get whatever they want or a $5 gift card to Dairy Queen for some ice cream (the expecting mom's latest craving!).
Gift cards can be mailed or delivered via email. 
For more ideas check out these baby shower prize ideas or these specific for co-ed baby shower prizes.
How to do Gift Opening at a Virtual Shower
Oh gift opening, it can be so fun to see what new things you received for your baby and yet can be so awkward to just have people sit and watch you open gifts.
No? Just me?
Learning how to do a gift opening at a virtual shower doesn't have to be horrible.
Plus, your grandma would love to see your face when you open that sweet blanket she's been making for your new baby – so just do it. Okay?
Just set your webcam or phone up so your guests can see you and make sure you're recording (if you haven't been "live" already). Open your gifts and say your thank yous, just as you would normally do at an in-person baby shower.
Tip: Make things more fun for your guests by having them take out their Baby Shower Bingo Card and playing along as you open gifts. As always – don't forget good gift etiquette and send your thank you notes as soon as you can (Hello, Bump! has an amazing baby shower thank you note section to keep you organized!)
Related: Best Baby Shower Gifts for Under $10 (That Moms Actually Want!)

Virtual Baby Shower Ideas
Hopefully, these online baby shower ideas helped you plan your perfect virtual baby shower. While it might not be the baby shower you envisioned, these tips should help you to personalize your shower and make it the best it can be!
Did you or a friend have a virtual baby shower? I'd love to hear about your experience below!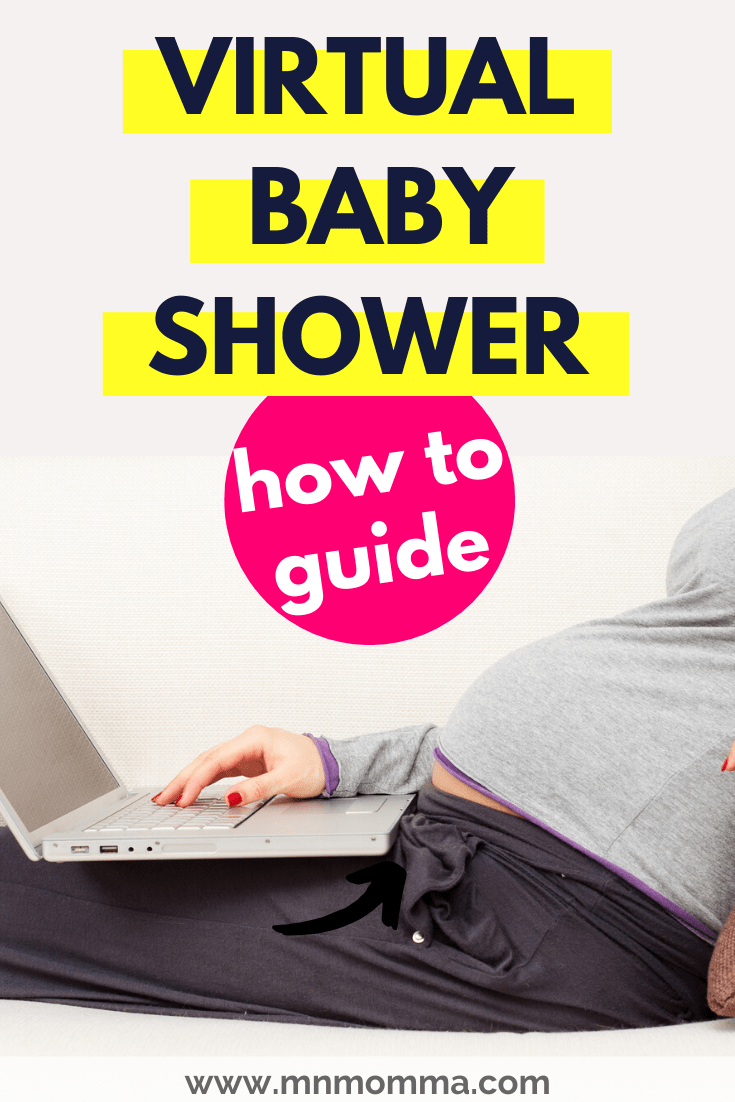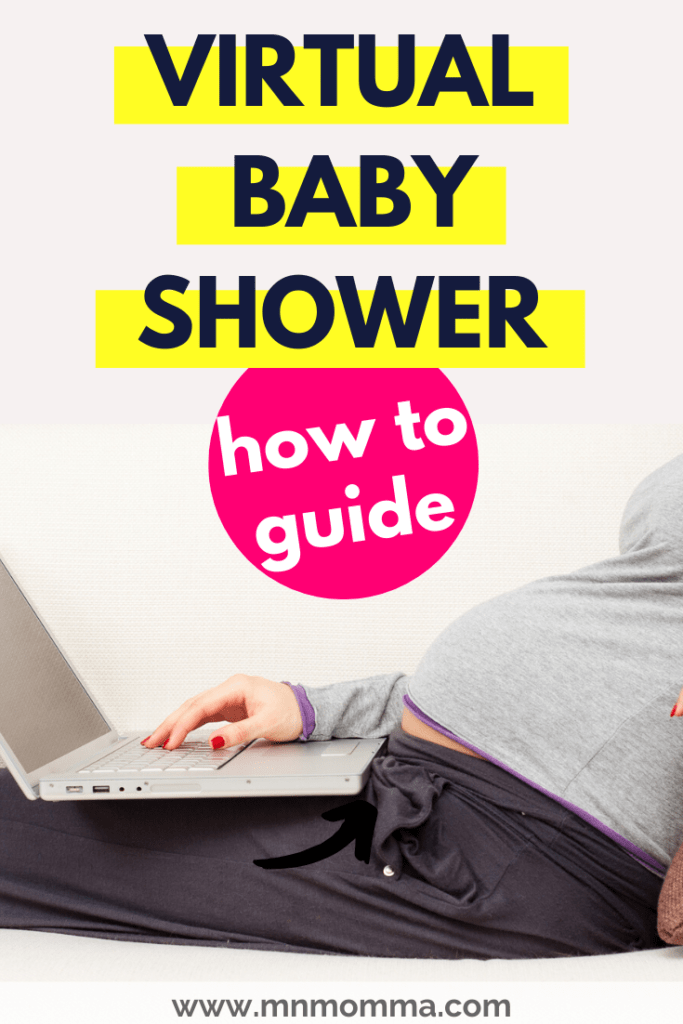 <— Save this post for later! Pin it!