Inexpensive Baby Shower Gifts: 10 Baby Shower Gifts Under $10 (That Moms Actually Want)
Disclosure: This post may contain affiliate links, which means I may receive a small commission if you click a link and purchase something. Please check out my disclosure policy for more details. All opinions are my own!
Inexpensive Baby Shower Gifts for Moms
You're invited to another baby shower. And finding inexpensive baby shower gifts isn't always easy.
Maybe you want a great little something to go with your big gift, because it's just not quite enough…
Or hey, maybe you're on a budget!
I get it!
Thankfully, inexpensive (or dare I say cheap) baby shower gifts can be found! And some are actually extremely useful for new moms.
Here's the list of inexpensive baby shower gifts that moms actually want and will love!
Related: The Complete List of Newborn Essentials
Related: How to Have A Virtual Baby Shower (When You Can't Get Together)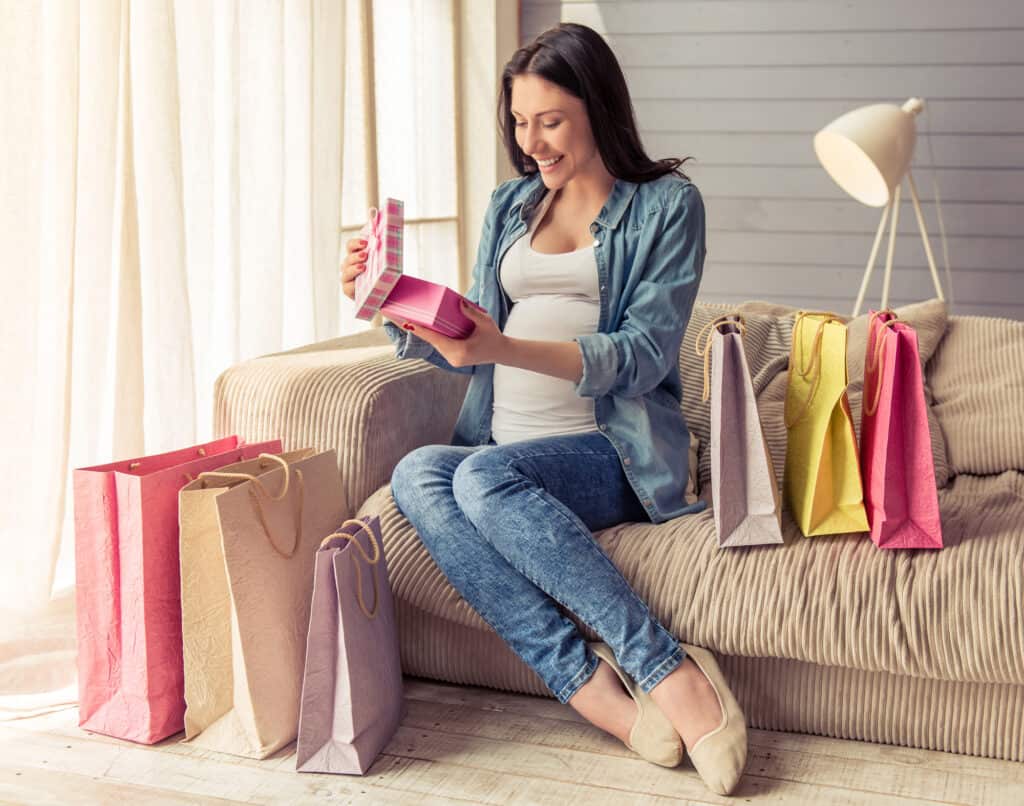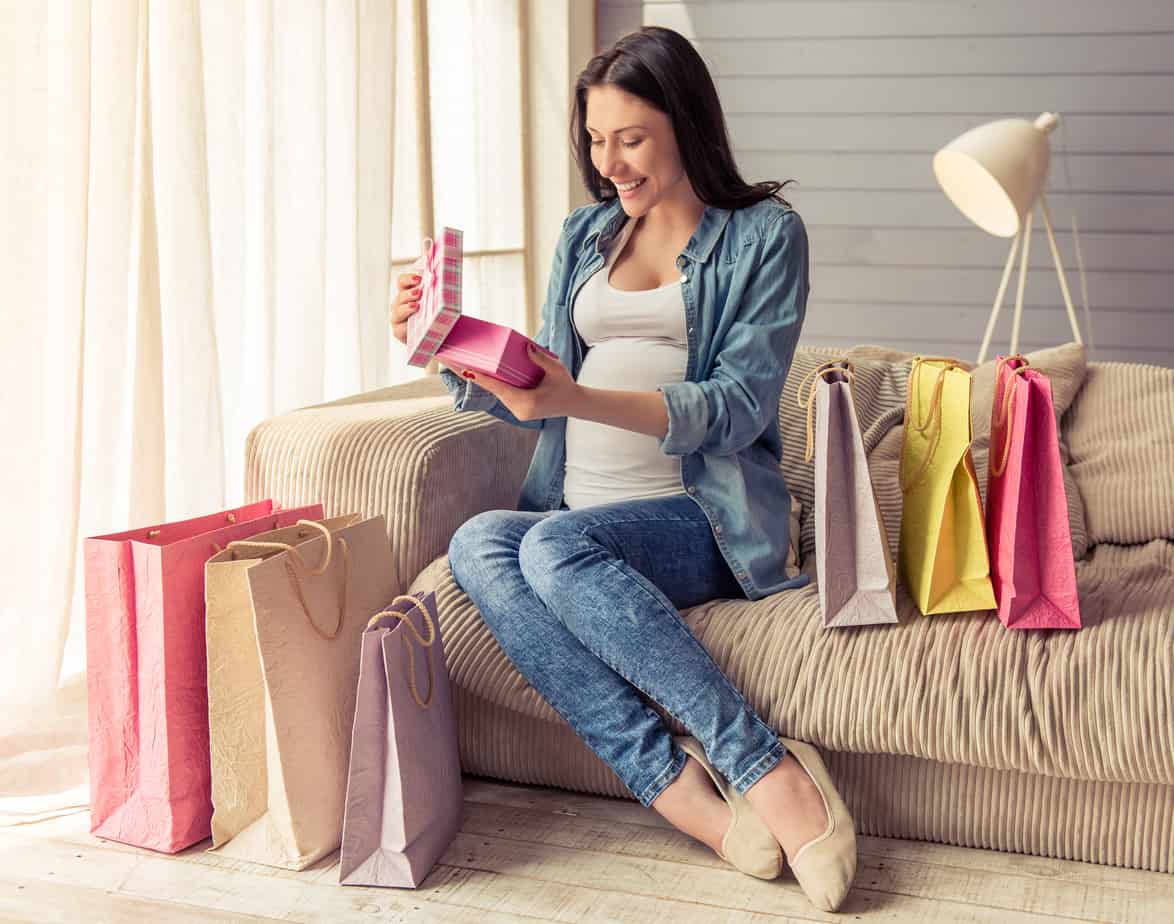 10 Best Baby Shower Gifts Under $10
Whether you're trying to come up with baby shower gift basket ideas, on a tight budget, or just need one small thing to complete your gift, these 10 best baby shower gifts (under $10) are going to be lifesavers for you.
As a new mom myself, I can tell you I would have appreciated EACH of these gifts, and been so grateful to add them to my collection of baby goodies!
So here we go…the best gifts for new moms under $10: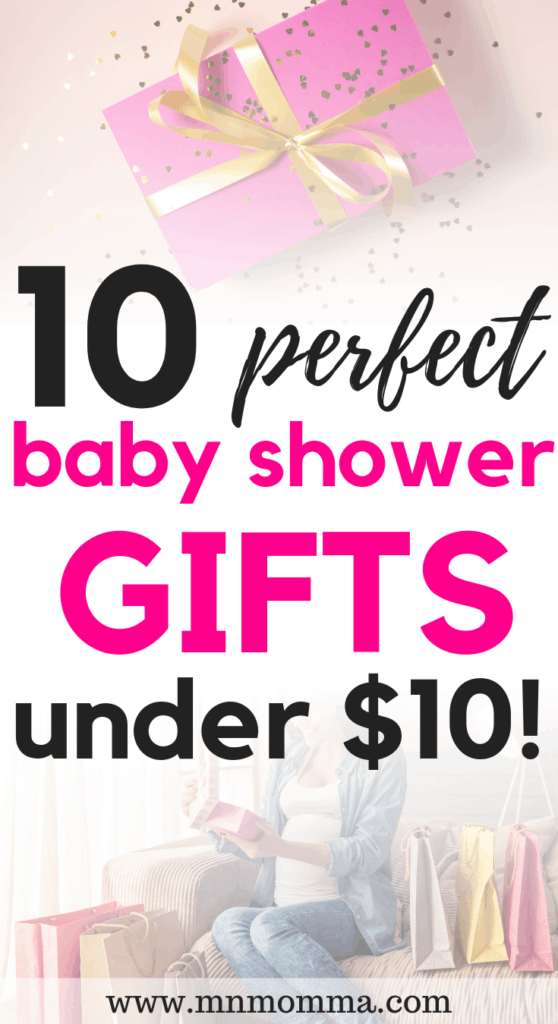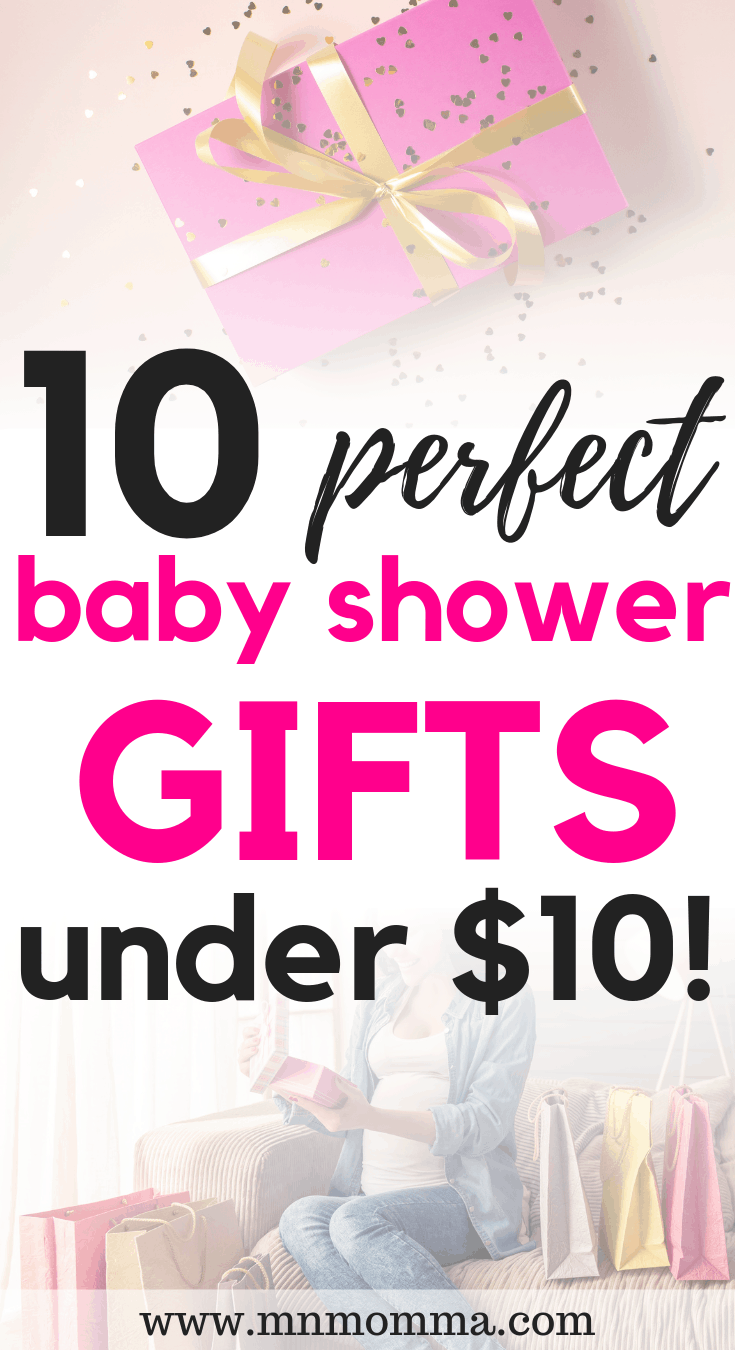 <—- Don't have time to read this all now? Pin it!
Did you know:
"Parents can count on spending close to $50 per week on diapers, formula and baby food alone." – Parenting.com
You don't need me to tell you that diapers are ESSENTIAL to baby life.
And as a mom, if you're telling me I don't have to be the one to buy all of them – I just might hug you.
So when in doubt, add the diapers.
Always add the diapers.
You can't go wrong and you can almost always find a small pack to add to any gift to make it the perfect inexpensive baby shower gift.
✔️ If you're looking for name brand diapers under $10 that will arrive with free 2 day Amazon Prime shipping – this is the one for you!
As a mom, I can tell you that pacifiers seem to go missing all the time. But especially when you really need them.
Save a new mom some time searching by getting her a few extra pacifiers to have on hand – bonus points if you also get her a pacifier clip to keep better track of it!
✔️ Chances are good you can snag both these pacifiers and clips together for just over $10 and get them in two days with Amazon Prime!
Unfortunately, babies aren't always the best at keeping their clothes squeaky clean — as a new mom who just bought the cutest outfit in the neighborhood — that can be a problem.
Buying a new mom a set of baby bandana bibs as an inexpensive baby shower gift might just be one of the most well thought out gift ideas.
See these are great for drooly babies, spitty babies, and even babies that are starting new foods and you forgot your regular bib.
Plus, they're adorable – so instead of baby ruining his or her outfit, mom can now accessorize with a cute bandana bib instead!
✔️ Bandana bibs can range greatly in price, but this set is under $10 and gender neutral – perfect for a new mom to be!
4. Desitin – Diaper Rash Cream
If you're looking for inexpensive baby shower gift basket ideas, you should consider making a whole diaper themed basket!
Grab the diapers mentioned above, a set of wipes, and don't forget a travel size diaper rash cream. Unfortunately, most parents are going to need it at least once or twice for their baby.
❗TIP: We swear by the blue boxed Desitin. It has worked like a charm at getting rid of diaper rashes fast for our kiddos.
Did you know that parents should start brushing their baby's teeth as soon as the first tooth erupts?
It's true!
And a toothbrush is something many moms forget to buy on their own until they see that first little tooth pop through — which is what makes it such a great frugal baby shower gift idea!
✔️ Not only is it priced right, but this banana toothbrush is also a great teether for babies working on getting new teeth. It's also extremely highly rated and purchased!
Not only does a cute baby bath towel have the adorableness factor going for it, but it's actually really useful!
Baby towels are typically soft and cozy, but a little bit smaller so moms and dads can wrap their babies up easier.
The baby towels that come with hoods are even better, because they let parents dry baby's hair more easily!
✔️ A few of these cute animal themed towels are often on sale for less than $10, so don't be afraid to click around until you find one you like that's the price you want!
Here's another idea for making a cute, frugal baby shower basket – a bath basket!
Just grab a bath kit that includes the basics, like shampoo, baby body wash, and lotion and combine it with a cute towel, and maybe even a pacifier or two!
This is another baby product that gets used so frequently that the mom to be will be grateful to have any extra on hand to use! Besides – who doesn't love snuggling a baby fresh from a cozy bath?
Whether mom plans to formula feed, exclusively pump, or even occasionally pump breast milk and give baby a bottle – she's going to need a great bottle brush!
This is the bottle brush we got, and I love it.
The little suction cup bottom, keeps it neatly in place by your sink and the brush itself does a superb job of getting in all the hard to clean places of a bottle.
It's also the #1 best selling bottle brush on Amazon – so that can't hurt either!
Some baby's are fountains and other's rarely spit up, but chances are good a new baby will spit up at least once.
That's where these soft burp cloths come in handy!
You'll make a new mom's day by getting her something that she'll truly use often – and these muslin burp cloths could be it.
As a mom to two, very spit up prone babies, burp cloths were all over my house – and it was such a lifesaver to have more than one.
✔️ Check out this 4 pack of super soft burp cloths for less than $10!
A mini diaper bag dispenser is the baby product the expecting mom probably didn't know she needed.
At least that's how I felt.
But my oh my, do I LOVE these now!
New parents can simply hook the diaper bag dispenser to their diaper bag for easy on the go access.
A bonus?
These fight odors, so your baby's stinky diaper won't stink up the trash so much!
These are my favorite ways to use them:
If baby poops and we're out and about.
If baby has a blowout while we're out.

I'll just take her clothes, throw them in a bag, tie it up, and know it's separated from other things (and not stinking) in the diaper bag.
Bonus Gifts: Baby Shower Gifts Under $20
If you're okay spending a little more than $10, these gifts still fall under the category of "frugal baby shower gifts" at less than $20.
A silicone breast pump is something every breastfeeding or pumping mom should have!
These help catch leaking breast milk, while also helping to draw out extra breast milk to help moms build a freezer stash.
The great price, and awesome benefits make this my #1 inexpensive baby shower gift for moms.
While new parents won't be using this grape cutter for several months – I can't rave about it enough.
THIS IS AMAZING.
This gadget cuts up grapes and grape tomatoes into quarters so toddlers can safely eat them.
It saves parents a ton of time when preparing meals for little ones, especially if you have a grape lover like we do!
Say goodbye to uncomfortable tummies! I wish this product was around when my toddler was a baby, because it. Has. Changed. Our. Lives.
The Windi helps to relieve baby's gas by opening up a space and allowing a path for the gas to escape.
The first time we used it, our newborn had major relief and was able to fall asleep almost instantly right after. She was SO much more comfortable.
Note: The picture only shows one, but these come in a pack of 10!
Here's how it works:
While some people might shudder at the idea of sucking boogers out of your baby's nose – The NoseFrida has honestly got things figured out.
The NoseFrida helps parents get those unwanted boogers out of baby's nose quickly and easily!
It's also super easy to travel with for busy moms. Just throw it in the diaper bag and go!
One more thing.
Stop fretting. 🙂
The NoseFrida comes with a barrier piece to make sure none of the little boogers end up anywhere near your mouth (here's all the FridaBaby details).
Baby Shower Gift Basket Ideas
One perk to buying great, cheap baby shower gifts is that you can combine them to make a baby shower gift basket!
Using the items listed above you could create several gift baskets for an expecting mom including:
Ultimate Diaper Basket
Cozy Bedtime Basket
Drooly Baby Basket
Comfort Baby Basket
Shopping for Frugal Baby Shower Gifts
Don't forget that frugal doesn't have to mean useless!
The inexpensive mom and baby products shown in this post are some of my favorite and most used baby products! Many of them I use daily for my own kids!
If you have other favorite frugal baby shower gift ideas – share them in the comments below!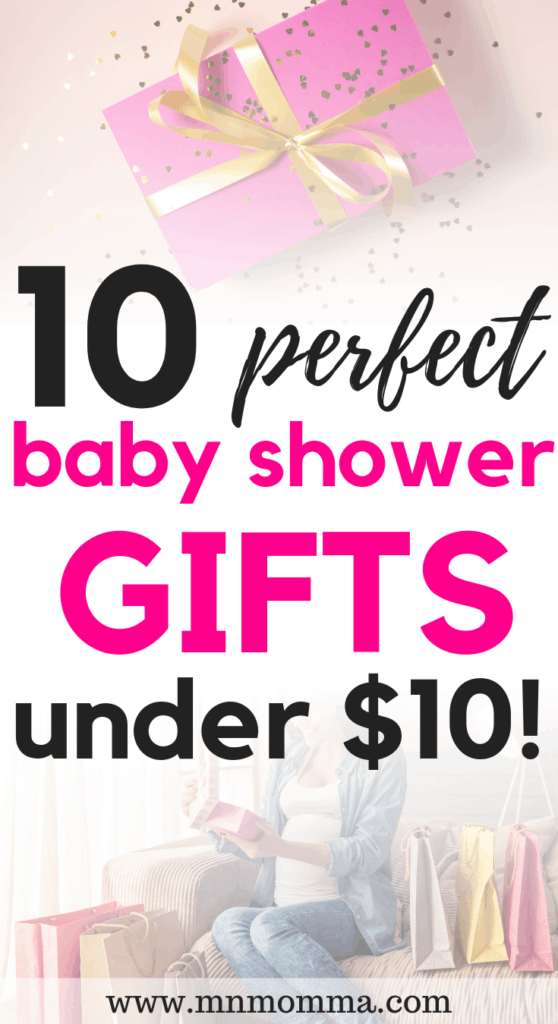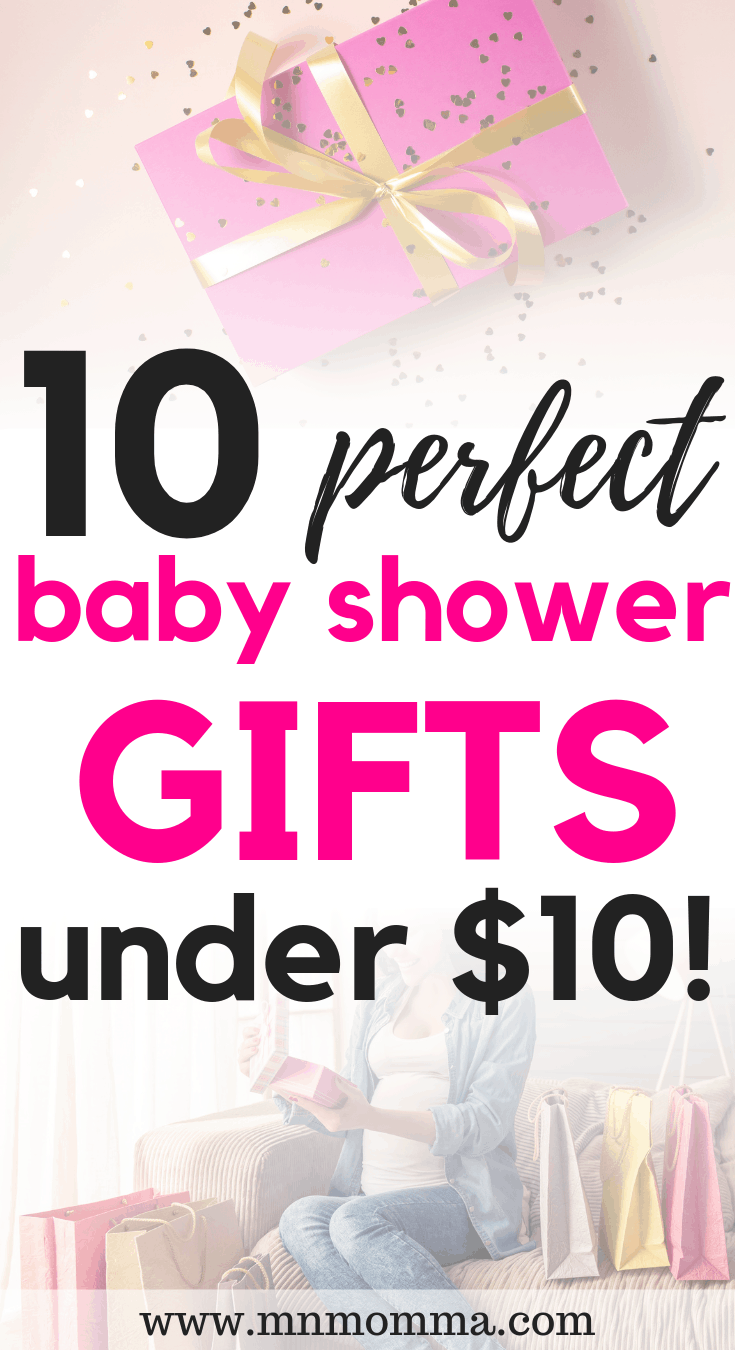 <—- Pin it! Save this post for later!