Newborn Essentials: What You Need, What's Nice to Have, & What You Can Forget
Disclosure: This post may contain affiliate links, which means I may receive a small commission if you click a link and purchase something. Please check out my disclosure policy for more details. All opinions are my own!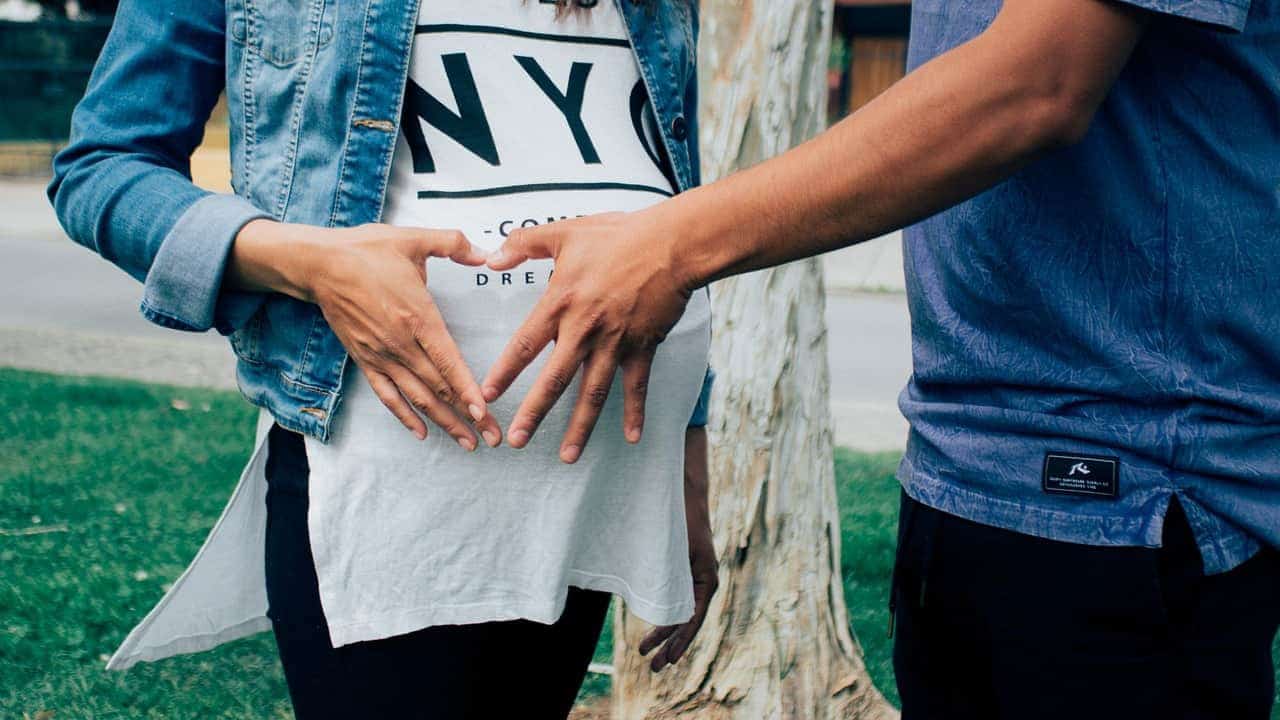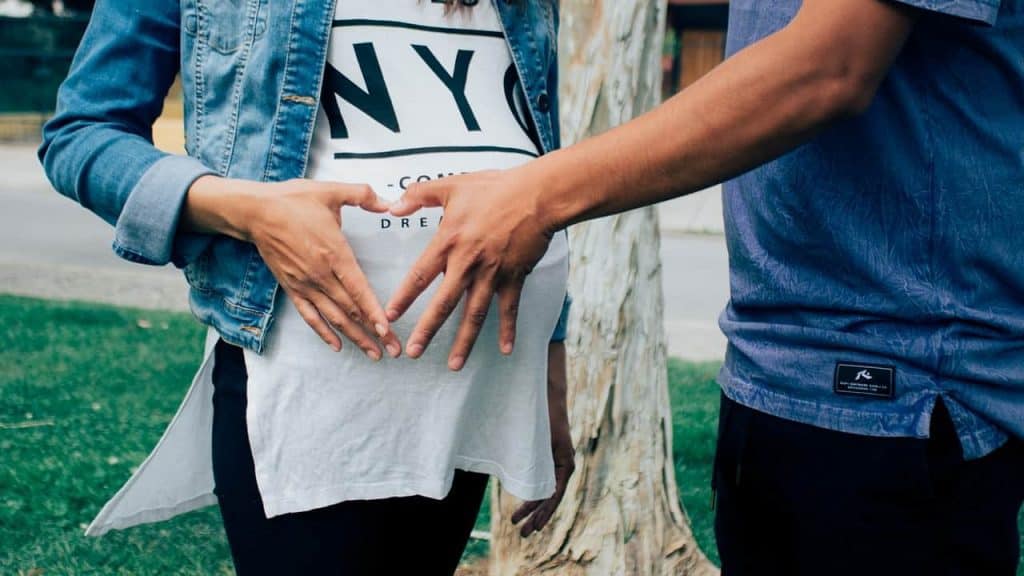 Pin
Have you ever looked at ALL the baby products out there? There are so many brands and products all claiming to be the very best essentials, that it can be incredibly overwhelming.
I've decided to help break down the list for you into products you need, what's nice to have, and what you can wait on (at least until your little one is bigger).
You'll notice that I don't list items like a high chair in the necessities, because you won't need that in your baby's first month.
This list is also great to go by while creating a baby registry (I recommend Target and Amazon Baby Registry
), or for those looking to get a very useful gift for a new parent!
Related: 13 Things I Wish I Had With My 1st Baby
Our Must Have
Infant Optics Video Baby Monitor
This award winning baby monitor promises that your baby monitor is secure, while also offered features like pan, zoom, 2-way talk, and recharging capabilities.
This top rated video monitor is a must have to add to your list for baby.
Buy Now
We earn a commission if you click this link and make a purchase at no additional cost to you.
09/26/2023 10:09 am GMT
Everything You Need For Your Newborn
Every photo in this post will send you to that exact product. I've done the heavy lifting for you so you don't have to search all day for what you want. Now, let's shop some baby products!
What You Need
A place for your baby to sleep

A bassinet – and eventually a crib! My little one always used a bassinet next to our bed that we had borrowed from my sister.
2-3 Sets of Sheets & Waterproof Mattress Covers

Your little one will inevitably spit up or pee out of his/her diaper at least once during the night. Make sure you always have a clean sheet at hand so you can deal with the washing in the morning.

Car Seat

The hospital needs to see your baby secured in a proper car seat before you're allowed to take your new bundle of joy home! You'll have two options – an infant carrier or a convertible car seat. Shopping for car seats can be overwhelming, but remember, if the car seat is being sold in the United States it had to meet strict safety guidelines. If you're buying a used car seat, make sure it wasn't in an accident and is not expired. For more car seat tips HealthyChildren.org provides a great resource, just click here.

Infant Carrier: So much easier to carrier your little one in and out. Typically holds up to 30 lbs.
Convertible Car Seat: Stays in your vehicle. Many grow with a child and hold him/her from 5-50 lbs.
Diapers & Wipes

Stock pile if you can! Look for coupons and deals. My favorite way to stock pile diapers is to buy from Target when they're running their baby essentials sale. The deal is typically spend $100 get a $25 gift card. Always buy the largest boxes to get the best deal.
Breast Pump & Breast Milk Storage Bags (if you're pumping)

If you're planning to pump or want to build a freezer stash of milk make sure you have these. Be sure to check with your insurance as you can usually get your pump for free or at least at a discount! I've tried a couple milk storage bags and the Lansinoh Breastmilk Storage Bags are by far my favorite. Be sure to write the date of your pumped milk on the bag before freezing it! One, last helpful must have – don't forget nursing pads. I swear by Bamboobies Ultra-Absorbent Overnight pads. These are so soft and reusable. I found the disposable ones so uncomfortable and loved these as an alternative.
Bottles and formula if you plan to formula feed (or teach your baby to eat from a bottle)

Be sure to find the right formula for your little one and check the bottle flow. Many bottles come with ages/stages based on milk flow.
Swaddles/Blanket

If you're a good swaddler, you can use a blanket. However, these new SwaddleMe swaddle sacks are so easy they make any parent a good swaddler!
The HALO SleepSack is also incredibly easy to use and leaves your little one's legs more room
If your baby needs his/her hands up while swaddled, the Love To Dream Swaddle UP is worth a try! Our little one was always trying to escape his normal swaddle and needed his hands by his face – so we gave this a try! As a bonus, your baby will look like the cutest little teddy bear.
Baby Bouncer/Swing/Rock n' Play

Sometimes when you're cooking or getting ready, your little one just needs a place to hang out. You love your baby, but there are times you need your hands free. A baby Bouncer/Swing/Rock 'n Play does not have to be extravagant, but can be so helpful. Many come with cute little toys for baby to look and reach for, and also have a vibrating setting. Your little one just might love this as a nap location. I also love the portability of the 3 I've linked here! If you think you might be moving seat around the house or even to grandparents for the weekend, portability is an awesome feature to have.
Baby Wearing Carrier

There are so many different types of ways to wear your baby and some are more comfortable for certain people. Your baby will love being close to you and as they age, they'll love the front seat view of all the action in front of them.
Stroller

You need your exercise and your little one needs fresh air! Enjoy going for walks together and not having to carry your little one's car seat. Look for a travel system like this one, that combines your car seat and stroller. I absolutely love that our car seat snaps right into the stroller for an easy transition from the car. I also like being able to change the baby's position in the car seat to either facing me or facing out. Let's be honest, wouldn't you rather look at that cute face while you're walking instead of having to look around the front?
Diaper Bag

Your little one comes with some baggage. You'll want to make sure you have a cute bag to put all their diaper and feeding necessities in. While you can use any bag you like, my favorite is the Petunia Pickle Bottom Boxy Backpack! My husband has no qualms carrying it (ours is even pink!), it has loads of space inside, and the front folds down into a changing pad – which is my FAVORITE feature.
Baby Bath Tub *

You might be able to skip this one all together! We have a large farmhouse sink that we always gave our little one baths in. It was perfect for him and one less baby item to have around the house. If you don't have a large enough sink or are bathing your baby on your own, you might find it easier to have a small baby bathtub. Also check out the Blooming Bath if you're thinking of bathing your baby in the sink!
Diaper Rash Cream

Your baby will likely end up with a diaper rash at one point or another. It's so nice to have this on hand so you're not running out to get it in a panic. The blue tube of Desitin Diaper Rash Cream Rapid Relief works best for us!
Baby Monitor

Make sure you can keep an eye or ear on your little one. You can either get an Audio Baby Monitor for only listening to your baby – which is more economical, or choose a Digital Video Baby Monitor and spend a little more. Personally, I love being able to see what my baby is up to without having to sneak into his room! We bought this one to stay frugal ($80), but still have the video feature. So far it works great, and we've loved it! If you want even more control, try the Infant Optics DXR-8 Video Baby Monitor. For safety reasons, if you use a wi-fi or internet connection for your baby monitor make sure it has a password on it.
Nasal Aspirator/Nose Frida

Baby cold are rough. And getting the boogers out of their noses? Yikes. As a nurse I know how much better they breathe when those tiny airways are opened up. That's why it's important to clear them with a nasal aspirator (your hospital might give you one for free to take home) or with a Nose Frida. I know, it looks gross, but I swear, it works amazing!
Humidifier

Humidifiers can help a baby get through a cold and breathe easier. Cool mist is often recommended as they won't burn a child if it spills; however, be sure that it gets cleaned properly as cool wet air is more likely to breed bacteria.
Ask your doctor which is best for your baby.
Pacifier – if you're planning to use them – and pacifier clips

Some parents are strictly against the use of pacifiers. However, the American Academy of Pediatrics does state that the use of pacifiers in the first 6 months of life can help reduce the risk of SIDS. The full article with benefits and complications can be found here. Pacifier Clips also help your little one not lose the pacifier while out and about – saving so much cleaning of dropped pacifiers.
Clothes:

Typically:

6-8 onesies
6 pairs of pants
3 pairs of jammies
4 pairs of socks
2 hats (depending on the time of year your baby is born)
mittens (depending on the time of year your baby is born)
Nice To Have
Boppy Pillow

Some new moms will swear by the Boppy Nursing Pillow and Positioner. While it's certainly a nice addition, especially while breastfeeding, you can also just use a couple pillows.
Toys/Play Yard

Rattles and black and white images will be a couple of your little one's first toys. However, if your baby comes home and there aren't toys to play with right away, don't worry! Your baby's going to be most interested in faces – especially yours!
Baby Nail Clipper

The small size of the Baby Nail Clipper is perfect for little fingers. However, if you're really in a pinch, the regular size will work – just be careful!
Changing Pad & Cover

You can technically change your baby anywhere, but having a changing station can be extremely beneficial. Make sure you buy a cute changing cover – probably two, because one is guaranteed to get poop or pee on it at least once – to go with your Changing Pad. This Plush Diaper Changing Pad Covermay be the cutest one I've ever seen!
Rocking Chair/Glider

Perfect for snuggles or when your little one just won't go back to sleep and you're both tired! A comfy rocking chair is just what you need.
Pack 'n Play

If you're planning to travel a Pack n Play is the perfect on the go crib. Many even come with an optional bassinet portion for your little one.
Grass Drying Rack & Accessories

We love this Boon Grass Drying Rack. It's cute and practical. Perfect for drying bottles for your little one. Plus, the cute twigs are great for hanging bottle covers and nipples.
Sound Machine

White noise will help your little one sleep. While in the womb, he/she is used to a soft rumble of noises and often find it soothing. If you don't buy a sound machine, there are free apps available on your phone or kindle as well! However, we LOVE this one and have one for each of our kids. They travel well and are super simple!
On The Go Diaper Bags – LESS THAN $4!
Nursing Cover/Car Seat Cover

Isn't it cool that these can exist as one item now? If you're a nursing mom, these covers can be so helpful and may make you feel more comfortable nursing in public. If not, the car seat cover is super cute on it own! Keep in mind, if you live somewhere cold it can be helpful to have a warmer car seat cover to keep your little one cozy! Large coats and snowsuits should never be worn while your little one is buckled into his/her car seat.
Products You'll Want (but can wait on if you're in a pinch!)
Don't get me wrong – I still love and use these products, but they're not items you'll need right away with your baby. That being said, don't be afraid to add them to your registry, but if you're budget is tight – you might want to wait on these.
You'll find that some of these will be absolute necessities for babies, while other babies will never touch them depending on their baby and their preferences.
Bandana Bibs

These are a must at our house! Some babies spit up – a lot. While others never do. The same goes for drooley babies. I suggest you wait on these, unless you're doing it just because you like the style – then – by all means, add it to your must haves!
Diaper Warmer

Our little one hated having his diaper changed when he first came home. I have a feeling it was due to the cool wipes. I almost bought a diaper warmer for him, but right before I did he got over it and was fine. If your little one is sensitive to the cold, I think this would be a great investment!
Alternative: use your hands to warm the wipes slightly before using them.
Diaper Pail

Poop stinks. However, I think I can promise that you'll never be able to lean down and smell fresh flowers coming from a pail of poopy diapers – no matter how good it is. If you do buy a diaper pail, just be aware that many often have special refill kits you need.
Alternative: use a garbage can that has a lid that seals and stick one of these Munchkin Arm and Hammer Nursery Fresheners in the top. These will need to be replaced after awhile as well.
Bottle Warmer

You should never put a bottle in the microwave because it can heat unevenly and create hot spots in the milk – thus making a bottle warmer an intriguing product.
Alternative: place the bottle under warm running water or in a bowl of warm water to warm it quickly and safely.
Bottle Sterilizer

You want your baby to stay as healthy as possible and sterilizing bottles is a great way to remove germs!
Alternative: There's an awesome article here on how to sterilize bottles. We use the boiling method.
Future Products You'll Love
Jumperoo

There are so many toy options with a Jumperoo! Your little one will stay busy with all the toys, spinning, and jumping. Try to stay away from walkers or jumpers with wheels as these can be dangerous for little ones. For more info, click here for an article from Mayo Clinic.
More baby toys

As your little one grows he/she will become more interested in toys and objects around them.
Kelty backpack carrier

When your little one weighs enough he/she can ride in the Kelty! We absolutely love ours. The Kelty Child Carrier is perfect for longer walks or hikes.
Whew! You made it through the list!
Be sure to add your favorite items to your Amazon Baby Registry. Just for creating the registry and ordering/receiving one item off your list, you get a free welcome baby box!
Shop Amazon – Create an Amazon Baby Registry
Make sure to subscribe below for your FREE Complete Newborn Essentials Checklist!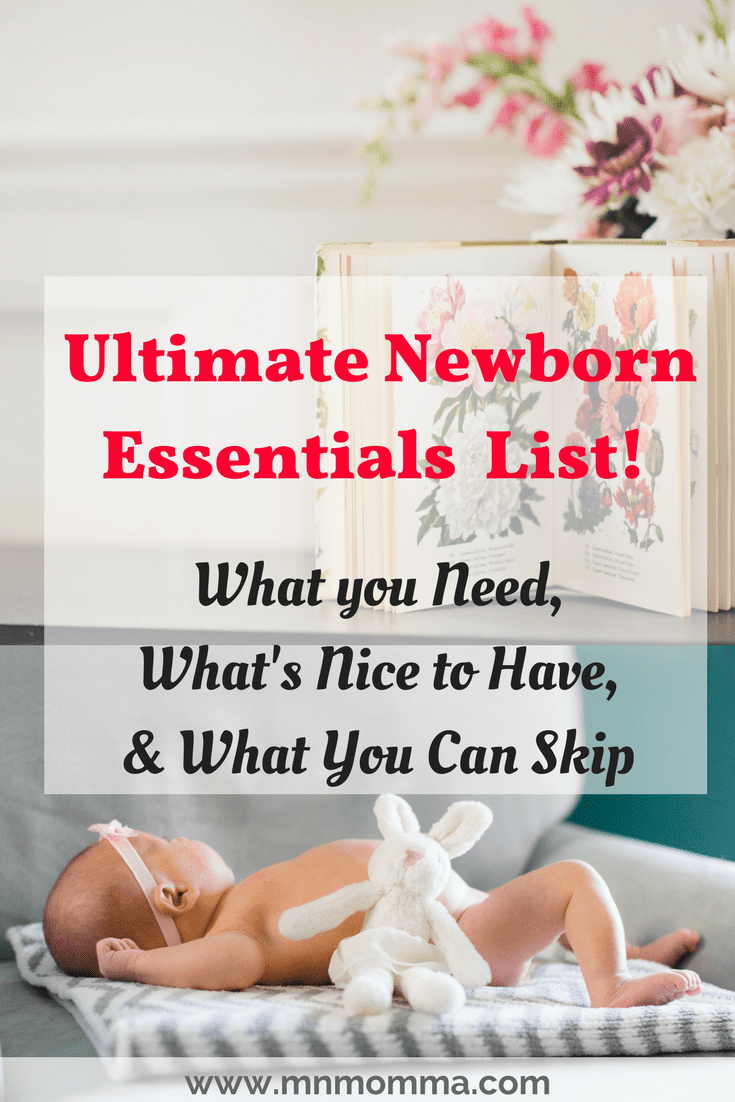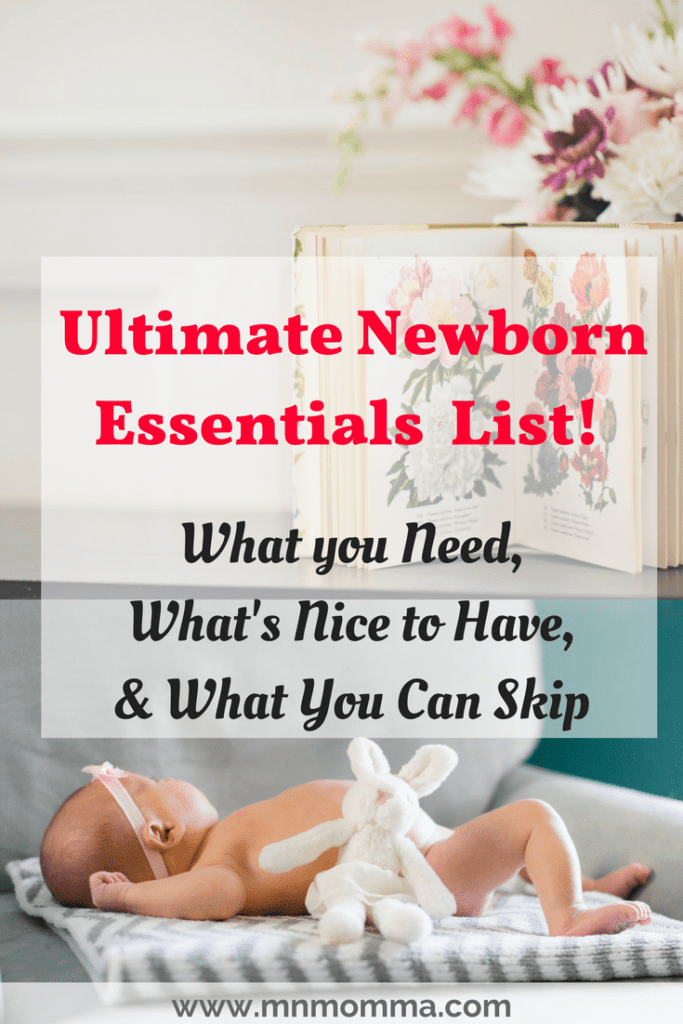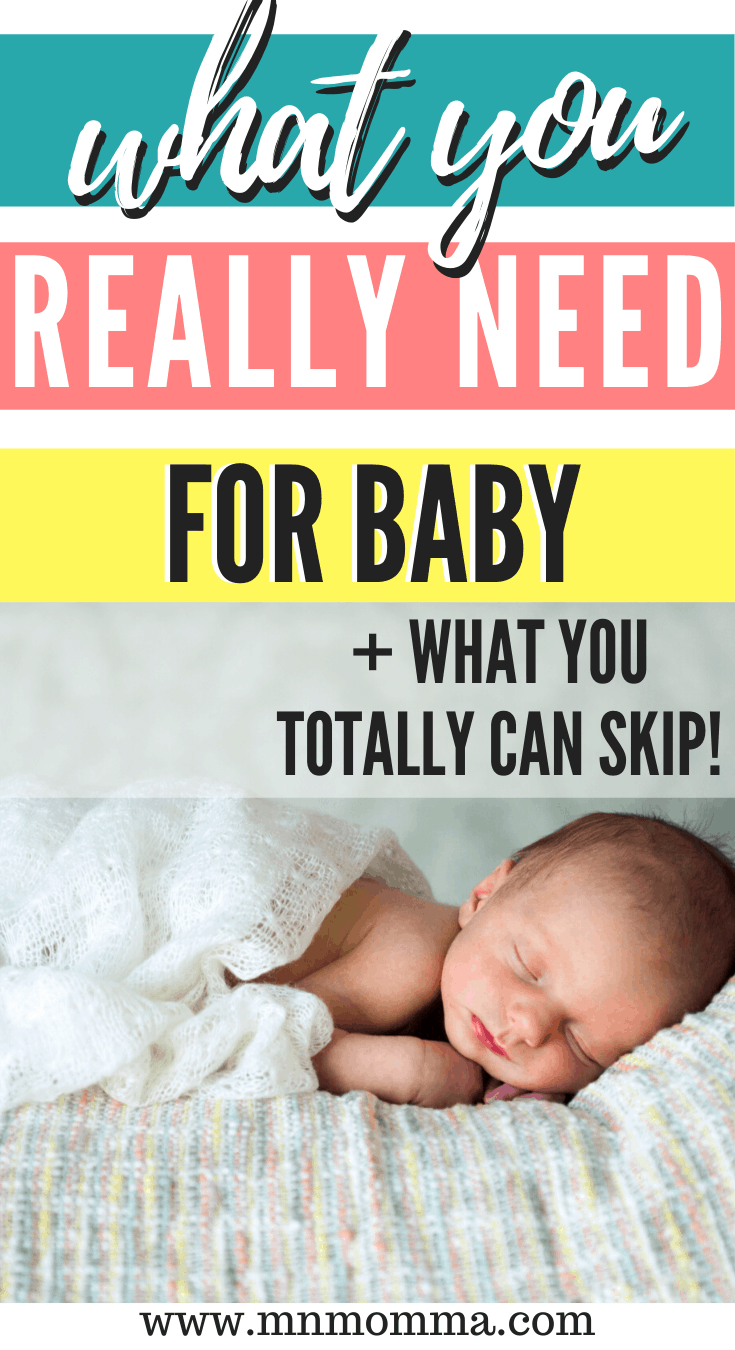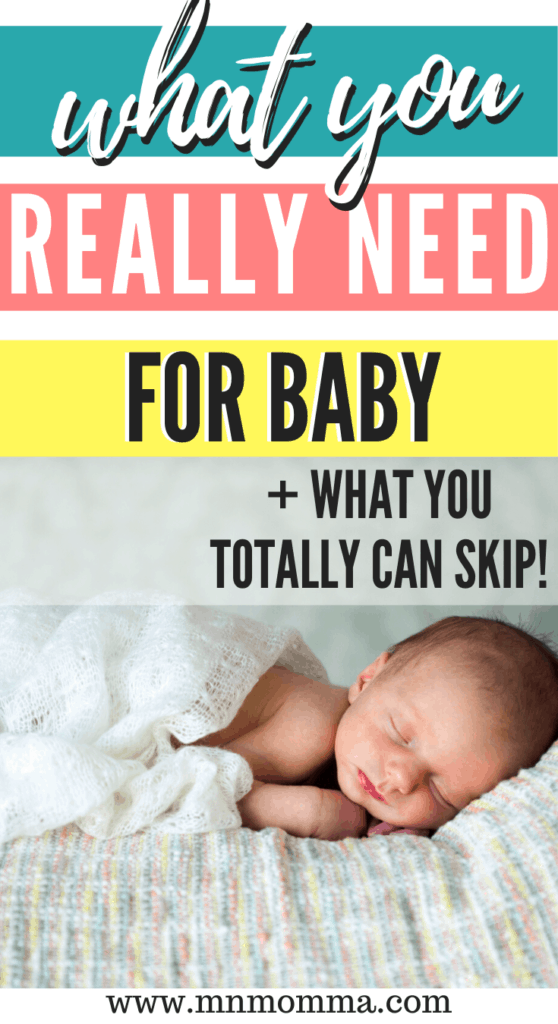 <—- Don't lose this post! Pin it!