Creating an Etsy List (aka Etsy Baby Registry!)
Disclosure: This post may contain affiliate links, which means I may receive a small commission if you click a link and purchase something. Please check out my disclosure policy for more details. All opinions are my own!
You've seen all those adorable personalized nurseries, but where are people buying all that cute stuff?!
Meet Etsy. I'll teach you how to quickly use Etsy to make your dream nursery decor list, plan cute baby outfit lists, or even smart home organization or decor wishlists.
Sometimes big box stores just don't have the personalization or special touches you've been dreaming in your head for baby's nursery or wardrobe.
If you're looking for a personalized name sign, a onesie with baby's last name on it, the perfect framed print in that saying you can't find anywhere, or pretty much any other personalized items, Etsy's probably got you covered.
Related: How to Make the Ultimate Amazon Baby Registry
Related: The Best Baby Shower Thank You Card Ideas (& What to Write!)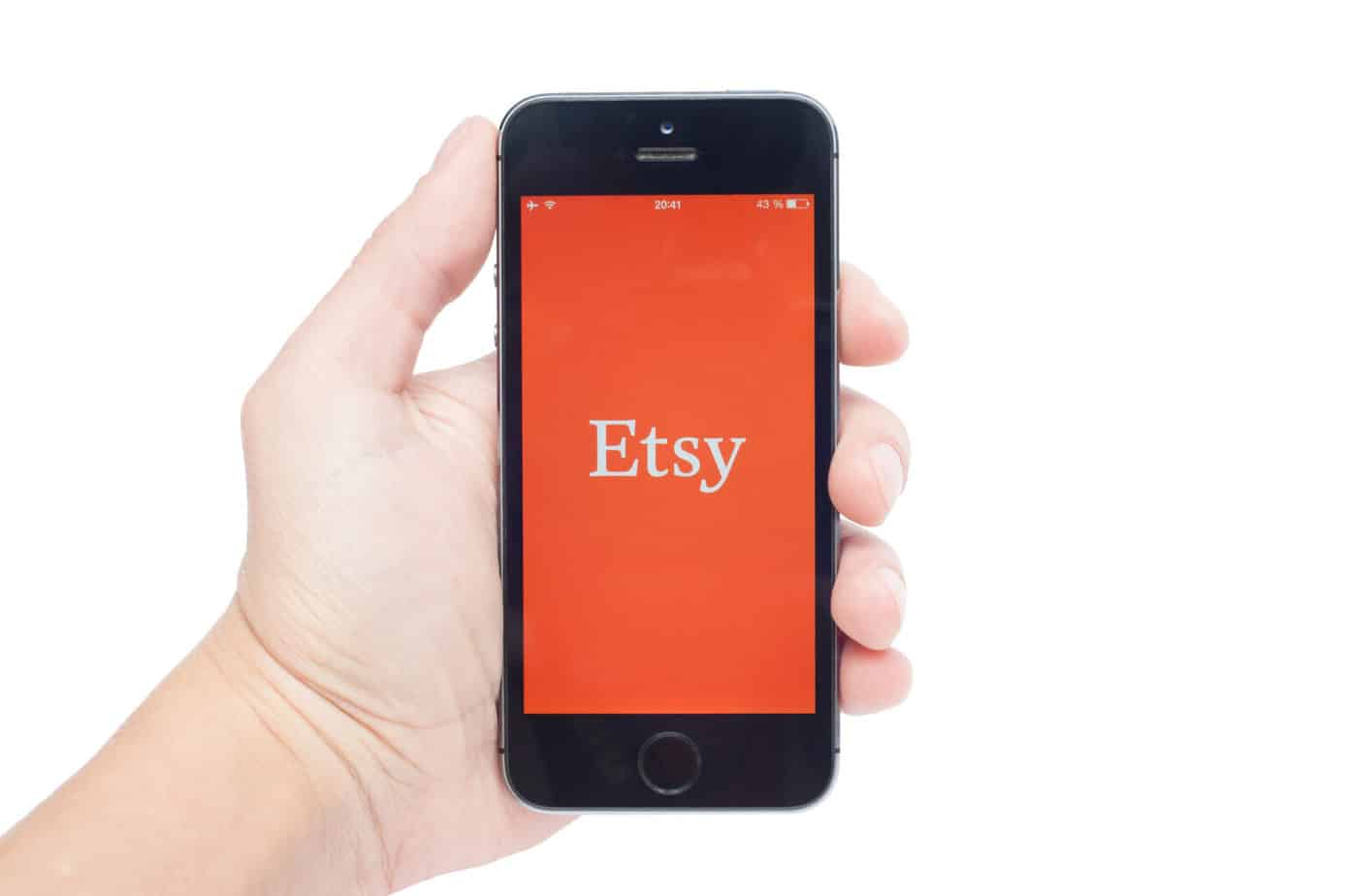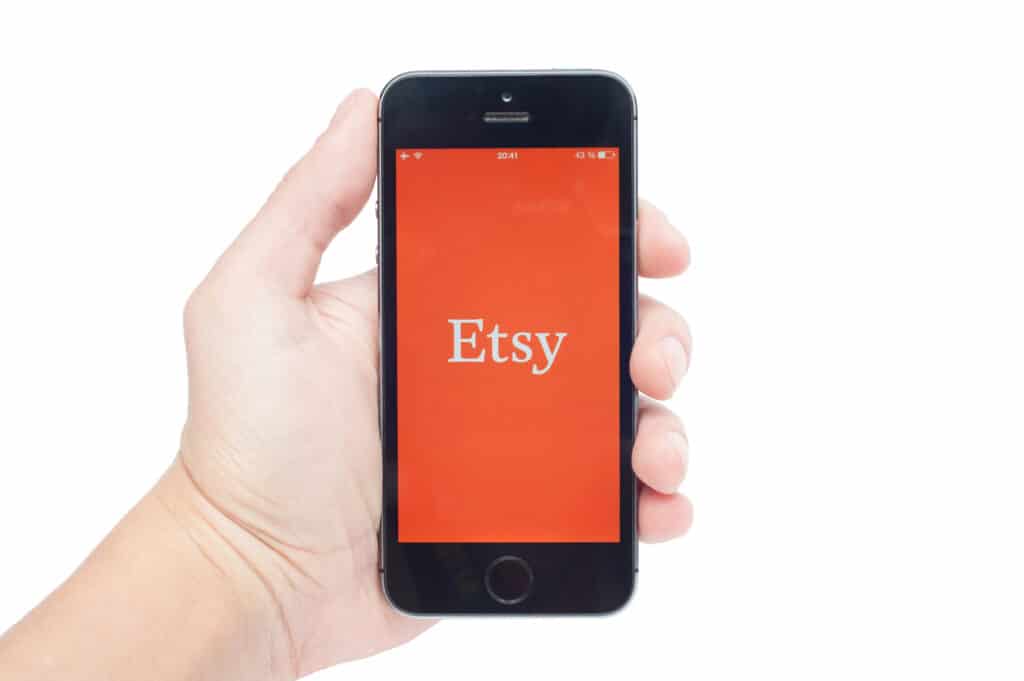 What is Etsy
Etsy is an online shopping platform for people to buy and sell goods. Usually you'll find handmade, personalized products that you can't find anywhere else!
As far as parenting/mom life goes, I love to shop for:
Personalized onesies or shirts
Baby headbands
Personalized jewelry
Home decor/organization
Special one of a kind gifts
I've created a list of my favorites right here for you to find and see for yourself what Etsy has to offer!
Benefits of Making an Etsy List
Etsy has tons and tons of things to shop for, and sometimes…it can be a little overwhelming.
#1 – Organization
Creating a wishlist is a great idea to keep your wants organized and see all your favorite products together.
Think of like making a mood board for your baby's nursery. You can put the floral print, next to the gorgeous hand crafted mobile, while also seeing how your favorite crib sheets fit in to the mix.
You can also search your favorites to find that cute onesie you saved last week.
#2 – Share It Like A Registry
Another benefit of creating a wishlist is to share it with others – like a baby registry! You can make your wishlists public or private, but if you choose public, you can send the link to your friends and family!
This can be a great option when you just can't find that perfect item in store anywhere or want to support small businesses.
#3 – Updated Notifications for Wishlist Items
Got a few favorites on Etsy that you've been watching?
I just figured out that if you've favorited an item and added it to your list, Etsy will add a little notification when you're logged in to let you know if it's on sale!
It'll look like this: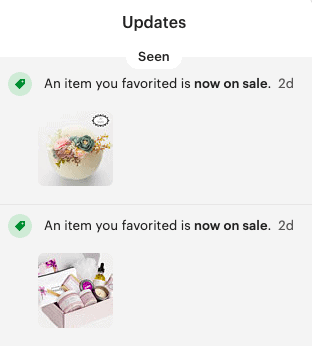 How to Make a List on Etsy (Wishlist Ideas)
So how do you make a list on Etsy?
Good news, it's incredibly easy!
To find your list after you've created it, just go to any page on the Etsy website. Look for the heart symbol in the upper right corner and click it!
Create an Etsy account and login.
Start your search.
When you find something you love, just click the little heart button in the top right corner of the picture.
When the notification pops up on the bottom that your item has been favorited, click "add to list".

After clicking add to list you'll see the current lists populate and have the option to create a new one.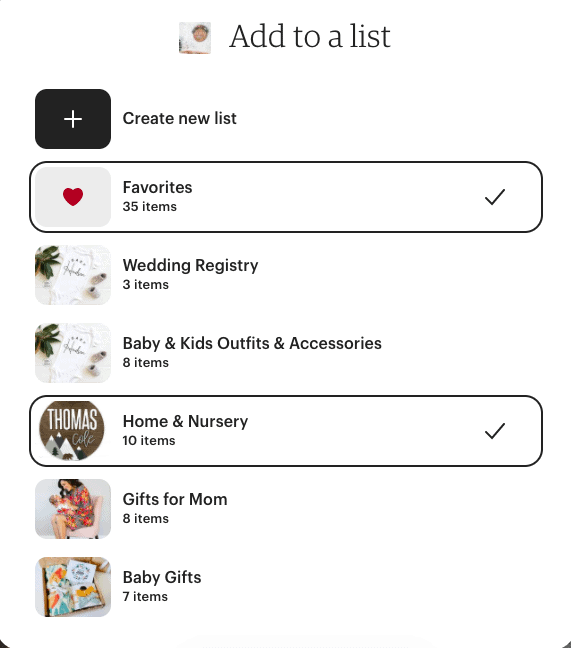 When you need to go back and find your list(s), simply click the heart button in the upper right corner of any Etsy page.

You'll see your Favorites List page and be able to edit, make your page private/public, and share your page from there.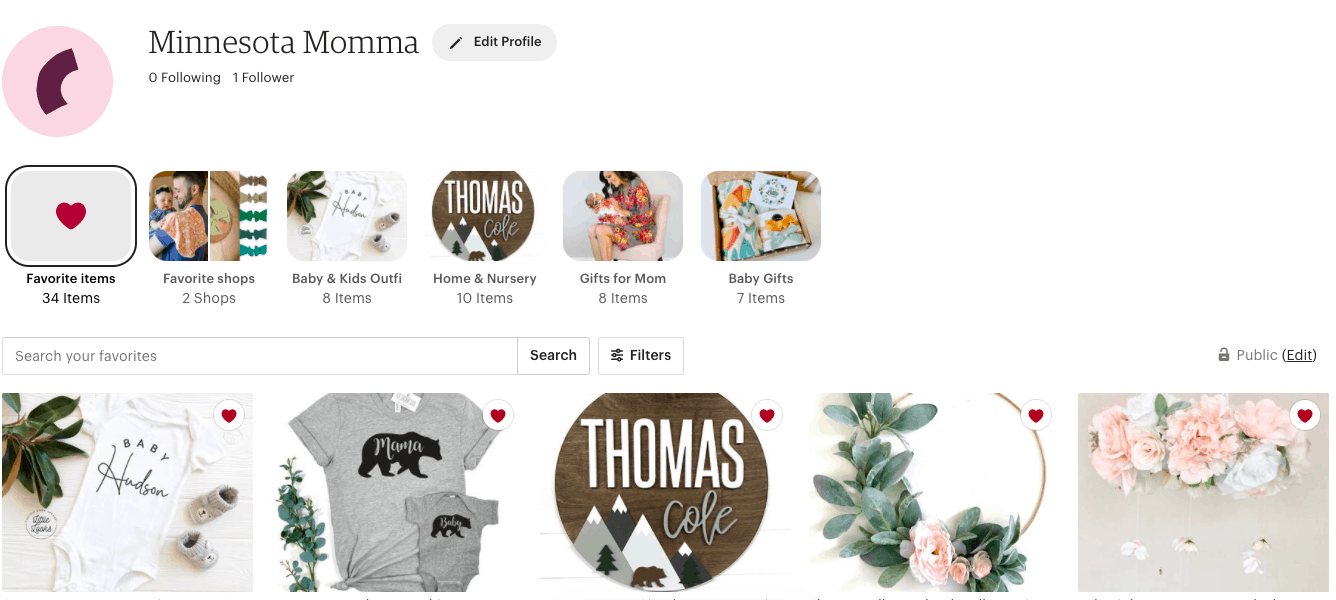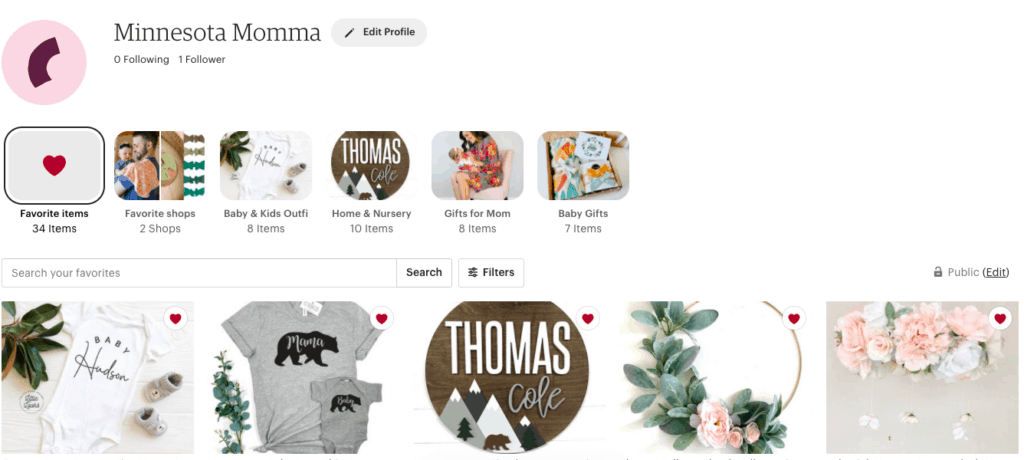 You did it!
My Etsy Wishlists
I've currently created 4 Etsy wishlists for you to checklist! Save them to yours if you love them or just see how Etsy lists are made.
Can I Make An Etsy Baby Registry?
Yes and no. Etsy currently has the capability to create a wedding registry that works just like most other registry sites.
You can set your event date to your baby's due date and share your registry similarly to how you'd share your Etsy Lists.
You can even track items you want, what's been purchased, and more.
While this works great, unfortunately, I haven't been able to find a way to name it something other than "Wedding Registry".
So if you're cool with your guests clicking your "wedding registry" for your baby registry, then you'll be good to go!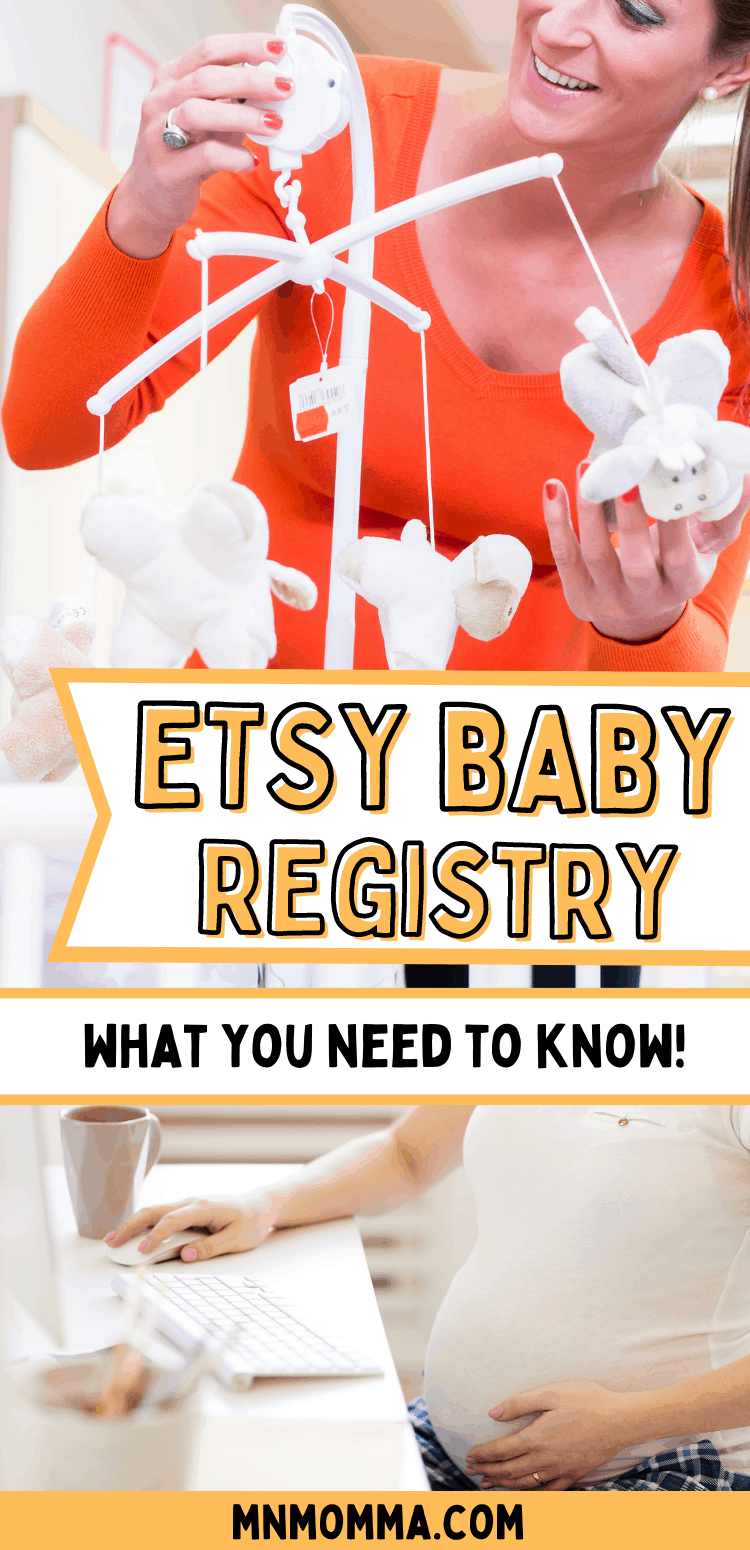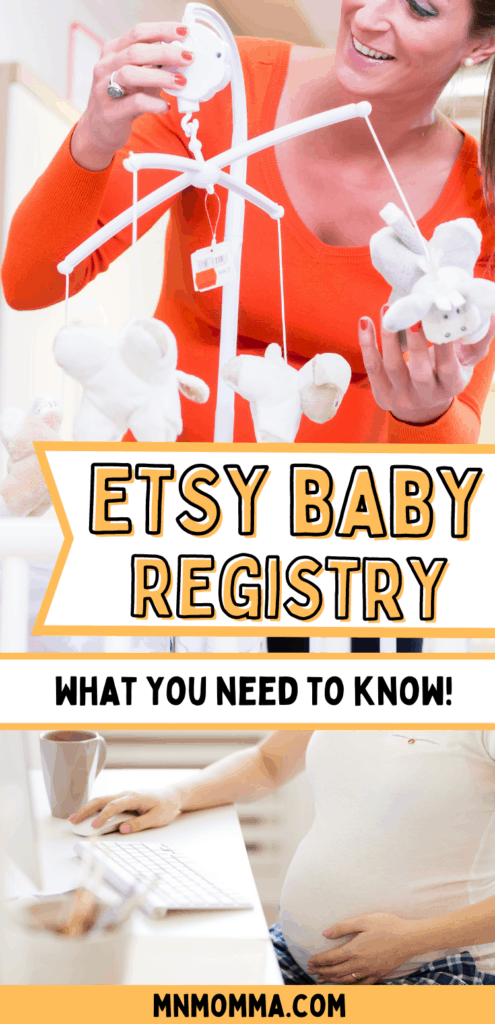 <— Pin it! To save this post for later!