DIY Breastfeeding Basket: How to Set Up a Portable Breastfeeding Station
Disclosure: This post may contain affiliate links, which means I may receive a small commission if you click a link and purchase something. Please check out my disclosure policy for more details. All opinions are my own!
The Breastfeeding Basket Essentials You Need (especially in those first few weeks!)
Are you planning to breastfeed your baby? By creating a breastfeeding basket or portable breastfeeding station, you'll have all your essentials in one place!
Trust me, once you start breastfeeding you'll realize how helpful it is to not have to worry about getting up to get something once you've started feeding your baby.
Your breastfeeding essentials basket will have everything you need in one spot and you can really focus on your time nursing your baby and building that sweet bond!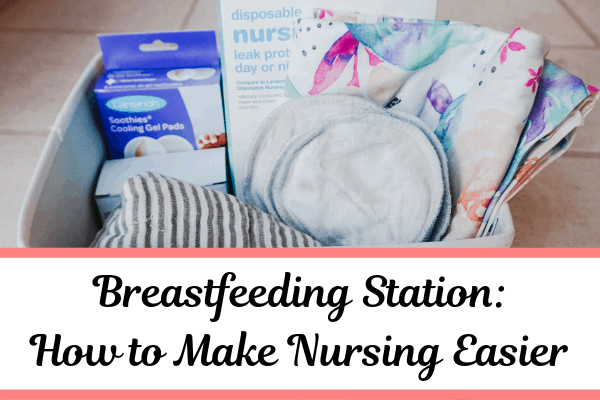 Why You'll Want a Breastfeeding Station
With baby #2 arriving soon, it's time I started working on my breastfeeding kit.
Hello 3rd trimester nesting stage!
Since I've breastfed once before, it helps to look back and know what I actually found helpful, what my breastfeeding must haves were, and what I wouldn't mind never looking at again.
Don't get me wrong, one of the biggest perks to breastfeeding is that you really don't need anything except you and your baby.
That being said, there are some really great breastfeeding products that are inexpensive and can be total life savers – especially while you're just getting used to feeding your new baby.
Here's What My Breastfeeding Station Looks Like

So here's my breastfeeding essentials basket – all ready to go for our little one's arrival!
Breastfeeding Basket/Station Essentials List:
nursing pads
nipple cream
snacks
water bottle
burp cloth
disposable nursing pads
soothies
ice packs
Vitamin D
nursing necklace
tissues
haakaa pump
nipple shields
hair ties
nursing cover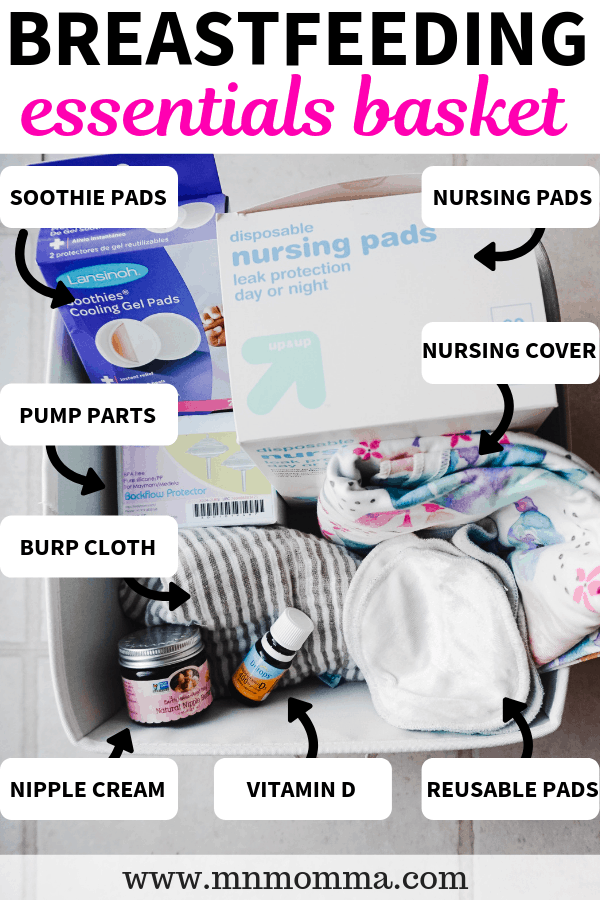 Breastfeeding Station Essentials
Depending on your breastfeeding and pumping preferences and needs, some of these breastfeeding essentials won't be necessary. However, you should definitely consider most of them, as they can be huge lifesavers while you're feeding your baby!
Basket or Tote
I feel like I always need to talk about why it's important to have a cute tote. You're going to be seeing this basket or tote A LOT. And in my opinion, you've done a lot of hard work momma, you might as well have something that holds all your breastfeeding supplies that looks cute.
Make sure your basket is small enough that it's easy to move around and be a portable breastfeeding station. It's also much easier to put away a small basket rather than a huge one.
However, keep it large enough to hold all your essentials!
Amazon has some really cute totes as well. I love all the designs and colors available for this one.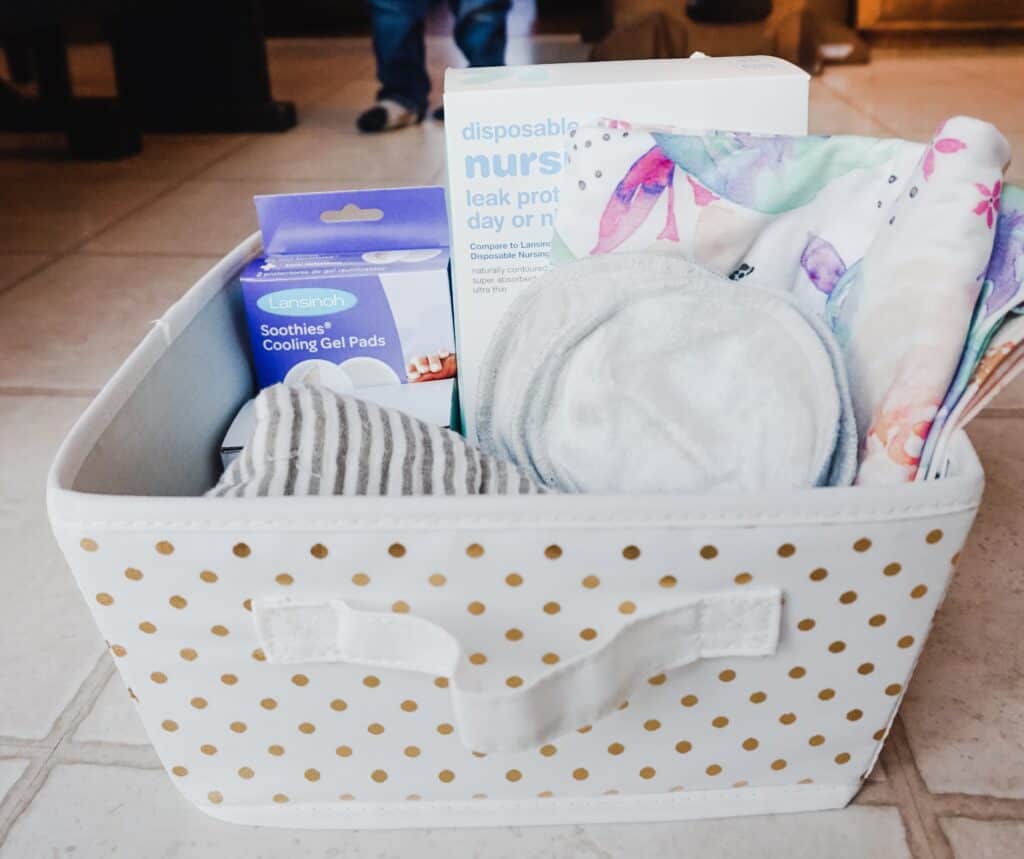 You can find the same cute basket I used right here from Target! It'll definitely get reused in my little girl's room once I'm done breastfeeding.
Nursing Pads
Whether you choose to go with disposable or reusable nursing pads – you'll want to be sure you have a couple stashed in your breastfeeding kit.
I always thought I'd be a disposable nursing pad kind of girl, but the ones I had were not working for me at all. Once that scratchy surface touched me and the pad had trouble staying in place, I was done.
But.
For some moms they work awesome. And there's definitely something to be said about the benefit of never having to wash them – just throw about your nursing pad and you're done!
However, I found that reusable nursing pads were the best for me. They just seemed to work better and were so much softer!
When it comes to nursing pads, I absolutely love THESE. I use the overnight version 24/7 and never have any issues with them getting soaked through. They're soft, comfortable, and stay put. Which is just what I want when it comes to nursing pads.
Nipple Cream
While breastfeeding should never be painful, that doesn't mean you won't be sore and uncomfortable when you start. Nipple cream can be extremely soothing and help you heal while you continue to breastfeed.
While you can choose a variety of products to use, or even use breast milk itself, this one worked great for me. It had good reviews and was natural – so safe for my baby to nurse even if I had just put it on. (I've already purchased it again for baby #2!)
This nipple cream is also super small and easy to throw in your breastfeeding kit, your diaper bag, or your purse for on the go.
Related: How to Fix Nagging Breastfeeding Problems
Soothies
Soothies. Are. Awesome.
Soothies are simply peel and stick cooling relief pads for your nipples.
I had never thought or heard of these before I had my first baby. Thankfully, my lactation consultant in the hospital gave me a couple to try – and oh my – they provided such great relief!
What I love about these soothies is that they are reusable for up to 72 hours. So no more worrying about grabbing a new one every time you take them off and put them back on again.
You can get yours from Amazon Prime in two days right here. These might have been my favorite breastfeeding product as a new nursing mom.
Haakaa
The Haakaa (or silicone breast pump) is another one of my all time favorite products.
The Haakaa breast pump requires no extra work from you, but helps catch any extra milk from the opposite breast your baby is feeding from.
Trust me, even if you don't notice much wasted let down breast milk, the suction from the silicone pump will pull some out. If you use it at every breastfeeding session with your baby, you could save an extra bottle of milk a day.
Did I mention it's really cheap and the work you have to do is SO minimal. You can read all about how to use it and more on why I love it so much at the related link below.
Related: How the Silicone Breast Pump Will Totally Change Your Pumping Strategy
Nipple Shields
Some moms never need to worry about using nipple shields, while others find them super helpful.
If your lactation consultant suggested you use nipple shields to help your baby latch (even if it's just occasional), make sure you throw one in your breastfeeding kit. It'll make life so much easier when you're not looking for one when your baby is giving you all the hunger cues!
Vitamin D
Some pediatricians recommend that newborns get Vitamin D drops daily. If this was suggested by your physician, having them in your breastfeeding kit is the easiest and most convenient option.
Vitamin D drops are applied to the mom's nipple before starting the breastfeeding session to help make sure baby gets the medication ingested easily and quickly.
Nursing Necklace
There's a good chance your newborn won't be fiddling with a nursing necklace, but as you continue to breastfeed and your little one gets bigger, chances are good she'll start to get more distracted by her surroundings.
This is when a nursing necklace, like this one, can have a great impact! Nursing necklaces are helpful to keep little hands busy while breastfeeding, rather than looking around or focusing on other things in the room.
Burp Cloth
It seems to be a fact that some babies are just more prone to spitting up than others.
But even if your baby doesn't usually make a mess, you never know if YOU'RE going to be the one to make a mess with an unexpected let down on the opposite side or a little breast milk dripping. This is why I always made sure to have a burp cloth or tissues close by for easy cleanup.
And…I love the prints on these, so it makes them hard to resist!
Hair Ties
If you have long hair, it can be nice to get your hair out of the way during a nursing session.
These are my new favorite hair ties since they work great, but won't ruin your hairstyle by causing that dreaded ponytail crease. Just throw a few in your breastfeeding kit and call it good!
Snacks
Some moms are ravenous during breastfeeding – and rightfully so! It takes a lot of energy and calories to produce breast milk and feed a hungry newborn.
Try to keep some healthy, easy to grab snacks in your breastfeeding basket.
If you find you feel you're not producing or pumping enough breast milk, these lactation cookies were so easy to just grab and go and really worked wonders when my milk supply started to drop.
Related: Healthy Breastfeeding Snacks You Actually Want to Eat
Related: The Best Tasting Lactation Recipes to Boost Your Milk Supply
Water Bottle
When I would breastfeed or pump, I was ravenous for water.
Seriously, I could not get enough and I needed it NOW.
Keep a filled water bottle in your breastfeeding kit and don't be afraid to drink the whole thing during your breastfeeding session. Staying hydrated is key to breastfeeding and pumping!
Look at the size of your breastfeeding kit and put the largest water bottle inside that you can – this will help prevent you from having to get up while feeding if you need a refill.
If water isn't your favorite, try infusing your water with fruit to add a little more flavor. You can either try a special water bottle like this one, or grab a Mio electrolyte flavoring to add to your water.
Our Top Water Bottle Picks:
50 oz Stainless Steel Tumbler - Water Bottle
36 Hours Cold – Large Insulated Mug for Cold and Hot Drinks, Dishwasher Safe. Great water bottle for staying hydrated all day!
Buy Now
We earn a commission if you click this link and make a purchase at no additional cost to you.
09/26/2023 12:14 am GMT
Insulated Tumbler - Water Bottle 24oz
These are a top pick and we love them! They come in a variety of sizes, keep your drinks cold all day, and will fit in your car's cup holder.
Buy Now
We earn a commission if you click this link and make a purchase at no additional cost to you.
09/26/2023 12:20 am GMT
Nursing Cover (totally optional)
Having a nursing cover at your breastfeeding station is totally optional. I liked having one just in case we had guests over and I needed to feed our little guy.
Keeping my nursing cover in my breastfeeding basket also gave me an easy, go to spot to keep the nursing cover – and kept me more organized than just having it around the house!
Breastfeeding Station Extras
While your breastfeeding basket is easy to fill – if you choose to have a complete breastfeeding station, there are a few more items you might want to have on hand.
Breastfeeding Station Extras:
Preparing a Breastfeeding & Pumping Station The Easy Way
Try not to stress too much about your nursing station. You'll quickly find out what you really want in your nursing basket and be able to set up a breastfeeding station you love in no time.
Shop this post!