Disclosure: This post may contain affiliate links, which means I may receive a small commission if you click a link and purchase something. Please check out my disclosure policy for more details. All opinions are my own!
Since so many people shared interest in the Silicone Manual Breast Pump, I thought it deserved its own post to show all its glory and give a short how-to.
How I Found Out About This Magic Product – The Silicone Manual Breast Pump
I first ran across the pump when I was on Facebook and saw a friend recommend it. She said she started using the pump when her little one was born and within the first month had a freezer stash of over 300 ounces!
I don't know about you, but I was super impressed with that number. This was a momma I trusted and that was a number I wanted in my freezer too.
Now, I can't promise those same results and I definitely did not get them personally by using this little pump.
HOWEVER. I only used the pump 1-2 times a day and I started using it when my little one was about 5 months old.
I am completely certain that if I had used it with every feeding and started while my supply was first establishing I would have had much more milk to freeze.
The Results That Made Me a Believer in the Silicone Manual Breast Pump
The results I did get?
My very first time using this little guy, I was able to get about 3 ounces.
Every time after that, I usually ranged anywhere from ½ an ounce to 4 ounces.
That may not seem like a lot to some people, but if you're a pumping momma, you know that every little bit matters.
Imagine adding all those ounces up at the end of the day, or even the end of the week! That's some major milk to add to your stash. And I don't think any momma will be complaining about that.
How does the Silicone Manual Breast Pump work?
The Silicone Manual Breast Pump doesn't use any batteries or extra tubing. Easy, right? The ideal world for every mom!
You simply squeeze the pump and apply it to one of your breasts (ideally while your baby is nursing on the other side).
Once you've got it applied, slowly let go of the pump and it should stay compact, suctioned in place.
As your baby eats, the let down process will occur and the pump will catch any milk that may have otherwise been wasted in your nursing pad.
So you don't normally leak while pumping? The suction created by the pump that keeps it in place will also help draw out more milk creating a natural "pump".
How cool is that? No extra work for you while you enjoy your time with your baby!
How to Apply The Pump
To me this is the only down side to using this pump. It can be a little tricky to secure in place, especially at first. A few times, I ended up having to hold it in place with one hand because it kept losing suction on me.
I watched a few YouTube videos to try to get it right. So if you're struggling, you are not alone!
Start by latching your little one.
Then squeeze the pump and place it on the side that your little one is not eating on.
Release your grip on the pump and it should stay compact, creating a suction.
As milk is drawn out the suction may slowly decrease. This should only happen once or twice while you're pumping (but may occur more if you're just figuring things out).
A few tips to ensure the pump stays in place:
Here's the big one! Gently squeeze near the bottom of the pump.

If your pump has a little boat on it, that's where you should squeeze with your thumb and first two fingers.

Try not to squeeze with your whole fist.

Don't twist it or squeeze too hard. This can cause the top of the pump to change shape, so when you release your grip, it has a difficult time staying attached.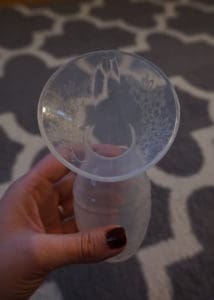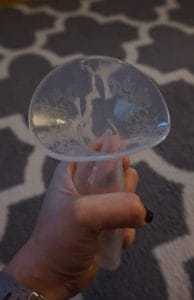 Be sure to squeeze your pump like the first picture, not the second.
Just as a suction cup needs a little liquid to stick sometimes, so does the pump. If you wet the top portion slightly, you may have better luck.

The older your little one is, the more likely they are to try to grab the pump. Do your best to occupy those little hands with something else.
Keep in mind, your milk is liquid gold! That being said, I never trust the suction too much. If I'm getting up out of my chair, I make sure to hold the pump in place. It's not worth losing that milk (even if you didn't have to work too hard for it).
The best part about this pump? Okay, I have three.
One.
It is SO EASY.
I'll be 100% honest – I am lazy when it comes to my pumping.
I don't want to get connected to a bunch of tubes and then connected to the wall and feel all tied up. I do this enough having to pump at work, because I do believe a double electric pump is the most efficient.
But at home while feeding my baby on the other side? Give me easy.
Two.
The cost.
At the price of this pump, I was completely comfortable trying it out to see if it would work for me. You'll almost always find it for less than $15. Sometimes for even less than $10.
I also recommend you try Amazon Prime 30-Day Free Trial for the free two-day shipping. When it comes to baby items, I feel like I need products like this yesterday, so the sooner the better.
If you're looking for just the pump – no bag, no cover, no extras – you can find it here
for only $7.99 (yeah, I'm loving that price too!) and free shipping with Amazon Prime!
This is the best deal I've seen for the pump and if you're curious about the Silicone Manual Breast Pump, it's a great one to try!
Three.
The size.
The Silicone Manual Breast Pump is small. And that's all it is.
You'll need something to store and refrigerate your milk after it's pumped (I just use a small tupperware and throw it in the fridge to add to throughout the day), but otherwise this is it!
No batteries and no heavy bags of equipment. If we're going on a weekend away and I'm trying to pump more milk, I'll simply throw it in O's diaper bag and we're good to go!
Silicone Manual Breast Pump Final Review: Totally Worth It
This awesome pump is definitely worth a try, especially for the low price. I have a special little place in my heart for this pump, and just want to shout it from the rooftops!
Let me know if you have good luck with it as well!
Oh! And to keep track of all that newly pumped milk (woohoo!!) – make sure you grab my free milk inventory log when you sign up for my newsletter! You'll have access to my entire resource library with other great freebies as well!