Disclosure: This post may contain affiliate links, which means I may receive a small commission if you click a link and purchase something. Please check out my disclosure policy for more details. All opinions are my own!
We all love IKEA and the IKEA nursery hacks are just as amazing!
Reasonable prices, a huge selection. But the IKEA hacks? Yeah, I know. They can be pretty unbelievable. Now imagine the one spot for all the best IKEA nursery hacks. Thankfully, I've got you covered!
Related: IKEA Hacks for Kids
Related: DIY Dollar Store Hacks for Your Baby
I also know that if you don't live close to an IKEA store, the shipping can be a killer. I've tried to find you the same IKEA product on Amazon or a frugal look-a-like version to save you a little money. Because that makes everybody happy, right? I know I love when a deal gets even better!
As promised, here's the best of the best in Ikea Nursery Hacks that you need to see! If you're anything like me, you'll be tempted to try ALL of these for your baby's nursery.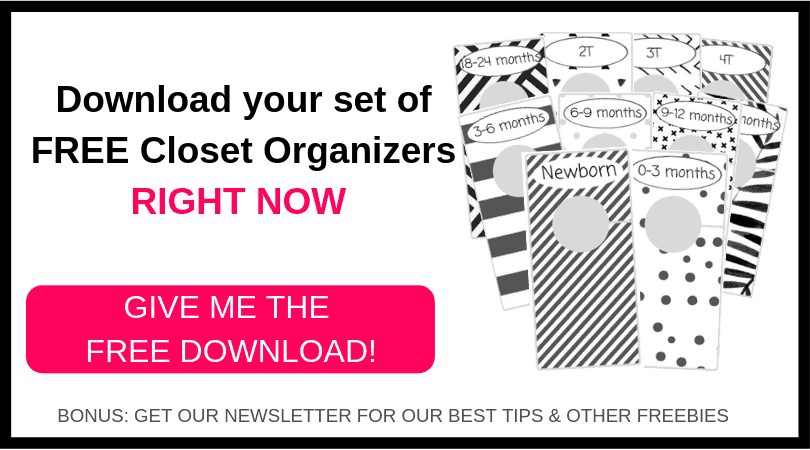 IKEA Nursery Hacks
1. The Ultimate Diaper Station – An IKEA Nursery Hack for all Parents
No baby's nursery is complete without a diaper changing station, and to say I adore this one is an understatement. Wendy Correen did a beautiful job with this IKEA nursery hack, check out the details to make your own right here on her site!
Get the cart on Amazon with free shipping here!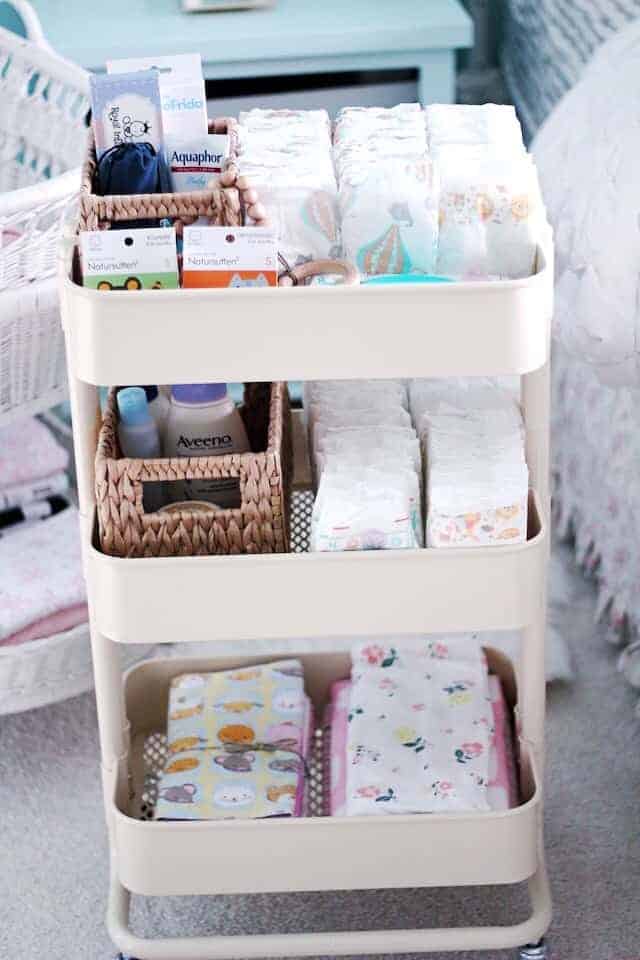 2. The Cozy Rocking Chair
Are you dreaming of nights rocking your baby to sleep? As a mom, I know how comfortable those chairs need to be, but they also need to be cute! Interiors By Kenz gives a great tutorial right here to make your own for less than $350! This IKEA baby idea couldn't get any sweeter.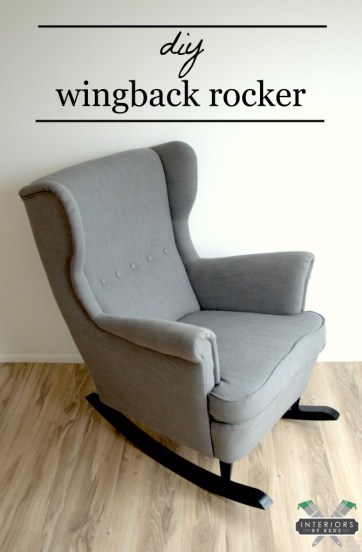 3. The Rustic Changing Table/Bookcase
Changing tables can be created from almost any piece of furniture at the right height. But, be careful! A changing table is usually one of the biggest pieces of furniture in your baby's nursery, so be sure to set the right tone with it. This IKEA changing table hack from Young House Love is amazing. They're so creative and I love the wood along the outside! Check out their how to here!
Here's a similar bookcase from Better Homes and Gardens on Amazon – free shipping with Prime!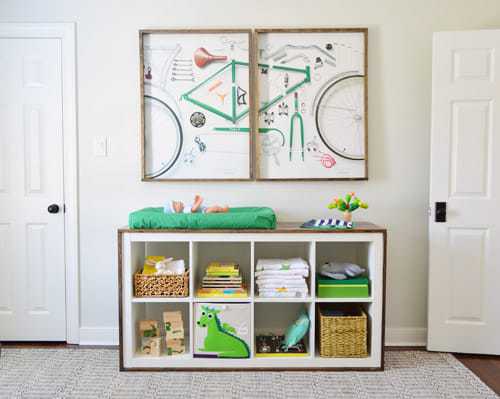 4. The Beautiful White Changing Table – AKA The Easiest IKEA Nursery Hack
If you're looking for something a little more dainty and simple, this one from Project Nursery is gorgeous! This IKEA nursery hack is insanely simple, the hardest part will be following the IKEA instructions. Check it out here.
Frugal Find: check out this lookalike dresser here!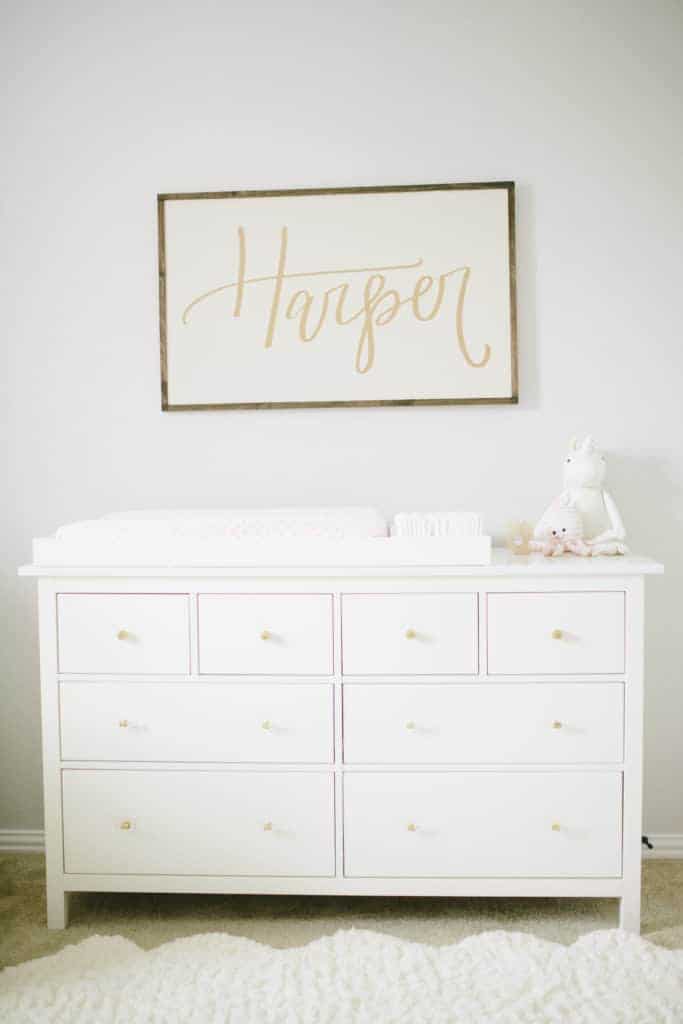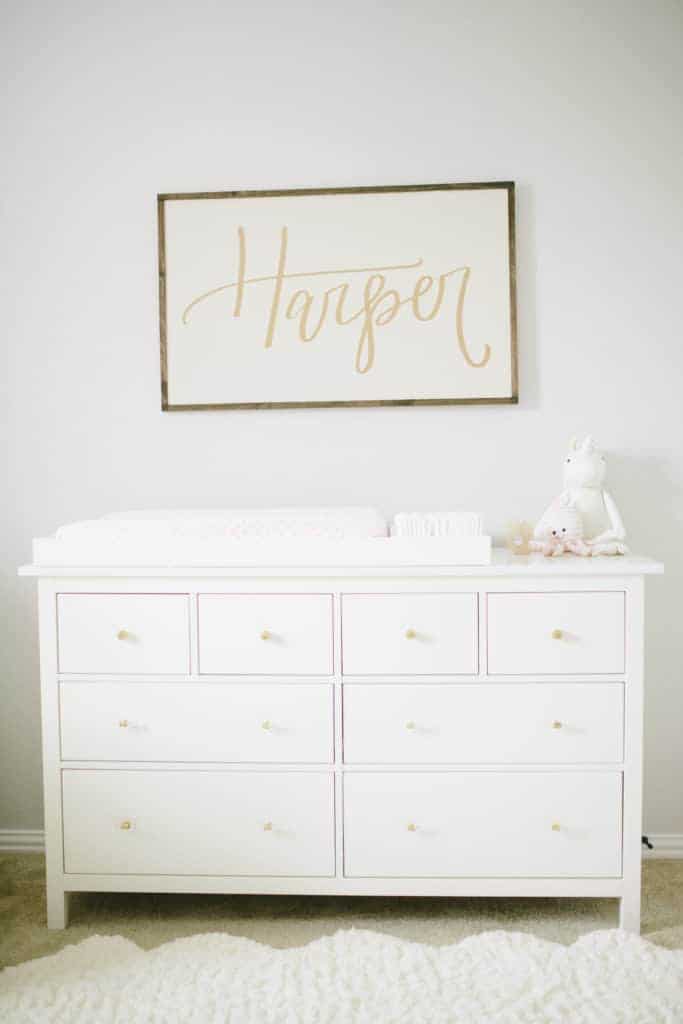 5. Beautiful Closet Organization
When it comes to a closet, there's nothing as pretty as clean and organized. Erinn did a gorgeous job organizing her little one's closet and shared one of her IKEA nursery hacks here on Strawberry Swing and Other Things.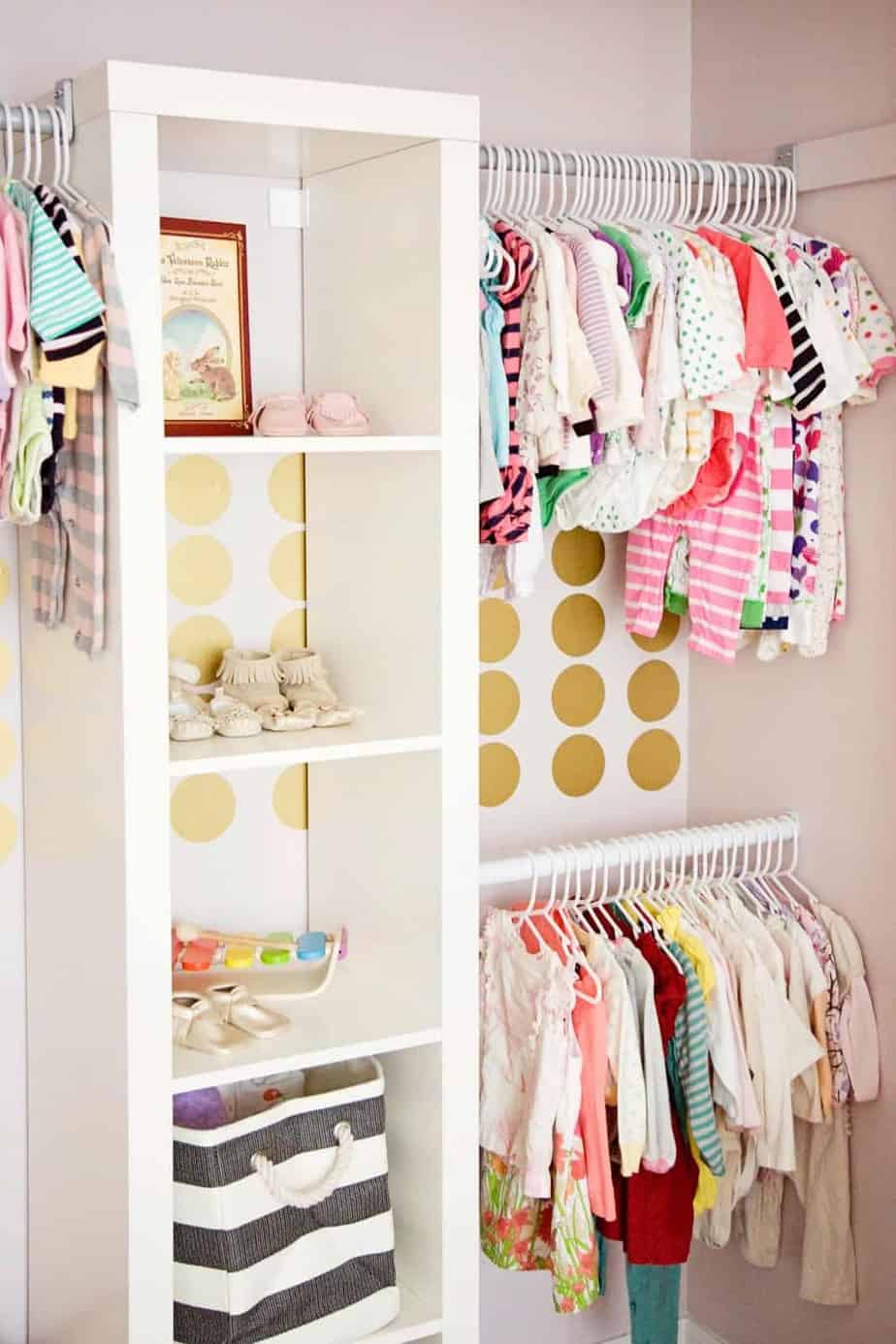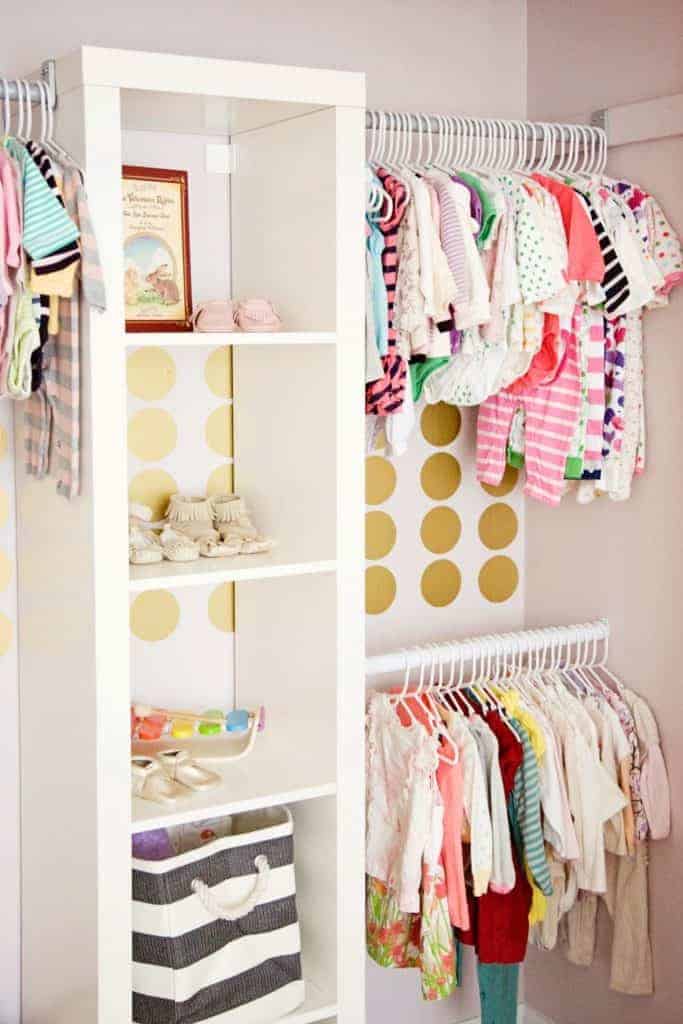 6. The Wardrobe Shelf
Ready to show off the cutest clothes for your adorable little one? This wardrobe shelf is one of my favorites and it's on my "want list" for the new nursery. I absolutely love it! As a bonus it's so simple. Credit to Tabitha and her awesome husband on this beautiful creation! Check it out on Fresh Mommy Blog!
Save on shipping! Find the Ikea Lack Wall Shelf on Amazon here!
7. Float Away Bookshelf
These cloud bookshelves are perfect to match an up, up, and away theme, or an adventure theme. I love the creativity put into this nursery bookshelf from IKEA! This IKEA nursery hack can be found on Petit and Small by DecoPeques – make sure you check it out here!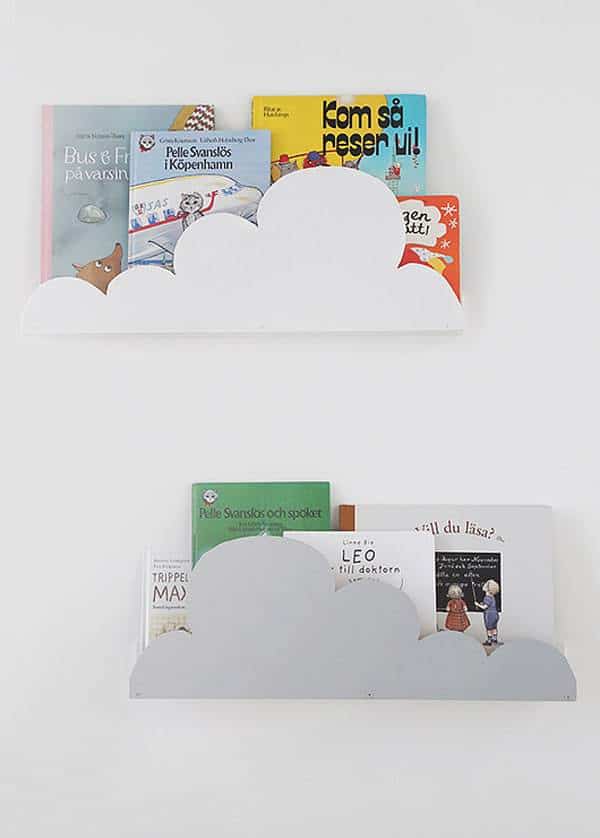 8. Spice Rack Book Shelves
When it comes to IKEA nursery hacks, it seems like bookshelves are a must. So why not one more? I love the simplicity of these bookshelves. So easy and affordable! Citymom.nl shows so many variations and colors it's impossible to not find the perfect one for your nursery. Check it out here!
Amazon – Ikea Bekvam Spice Rack, Birch, Set of 4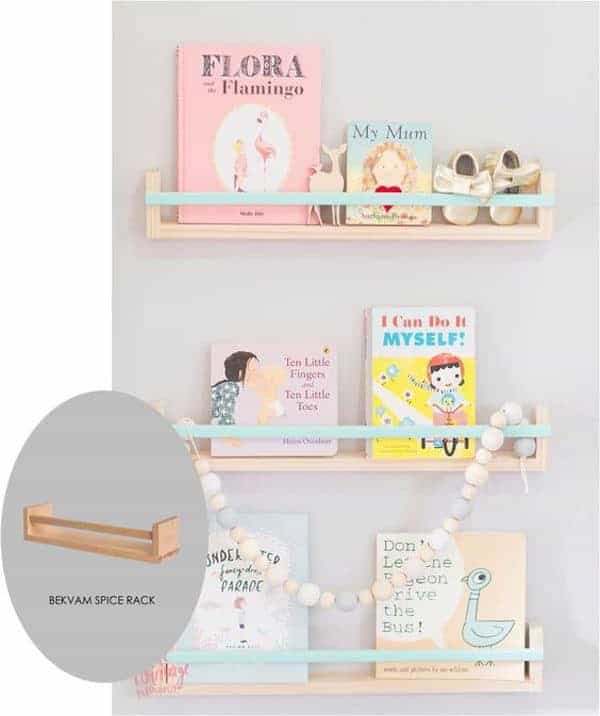 9. The Perfect Reading Nook
Okay, okay. I know your baby won't be sitting in this corner reading on her own. But you can be snuggled in the corner reading with her! Reading is so important early on, and doing it in a cute and cozy reading nook is even better they say. Okay, I made the second part up. But it's way more fun. Check out this amazing window seat by Viviane Panagos at ish & chi. Of all the IKEA nursery hacks, this one is a must.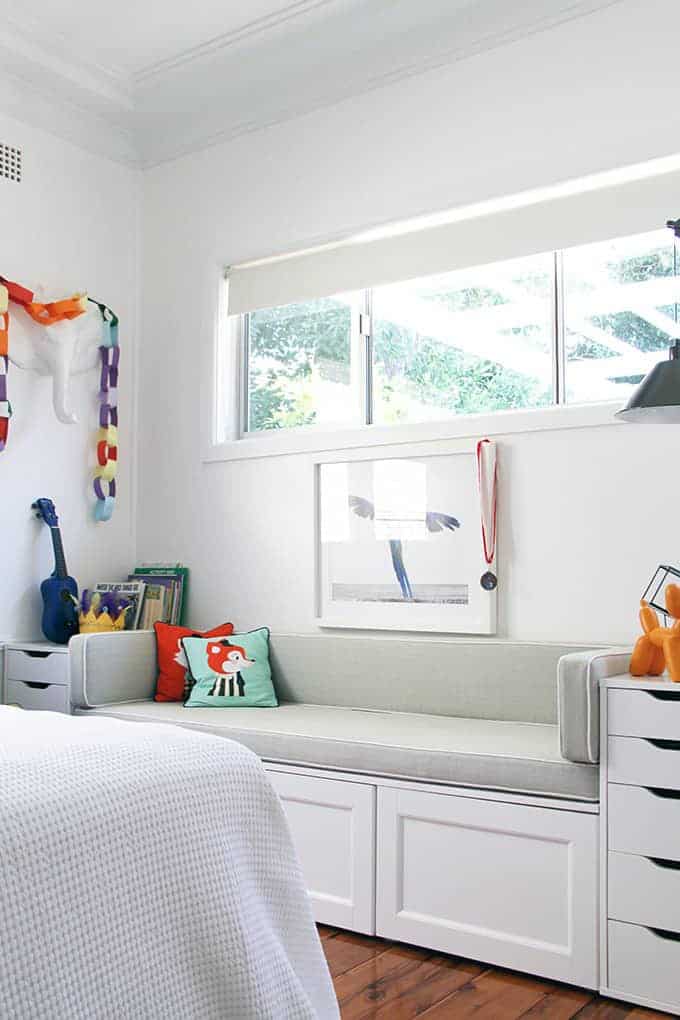 10. Jars, jars, jars
Imagine these adorable jars holding pacifiers or baby burp cloths. They'd be perfect for baby bath toys as well! Check them out here at Tell, Love, & Party for the super easy how-to!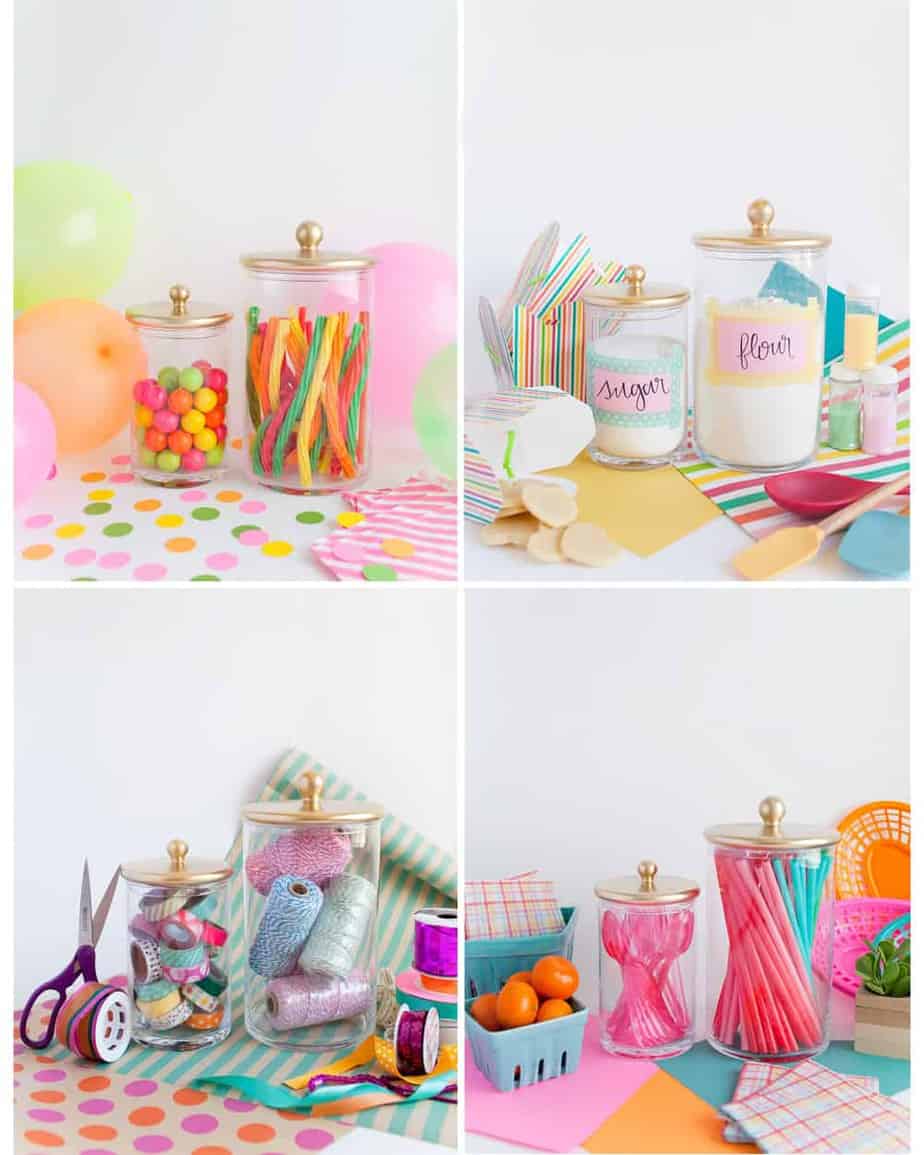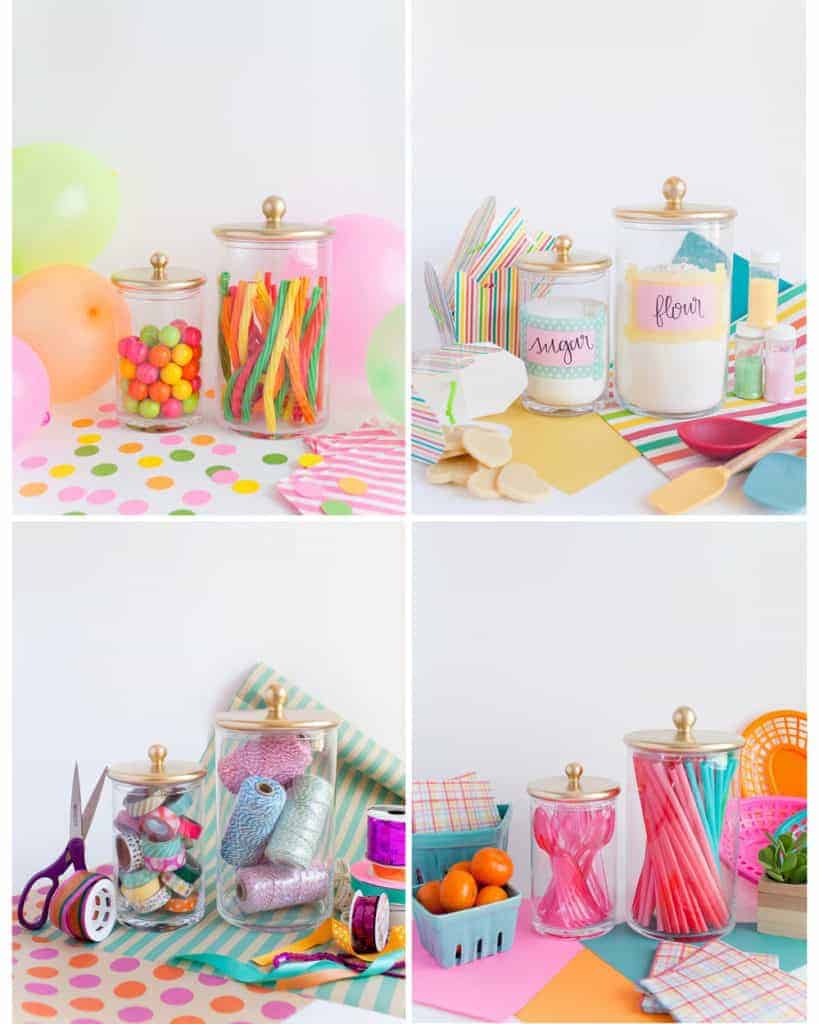 11. Floating Shelves Storage
Sometimes it's hard to make storage spaces look beautiful. This Ikea nursery hack does it all. Pretty, simple, and smart. Check out Sugar & Cloth for the details!
12. Perfect Pouf
In all the baby nursery magazines you see a gorgeous pouf that fits perfectly with the nursery theme. Not only did Kristi Murphy make this pouf fashionable, she also made it budget friendly! Click here for the how to details on her blog. This one's another must have for my new nursery – I can't wait!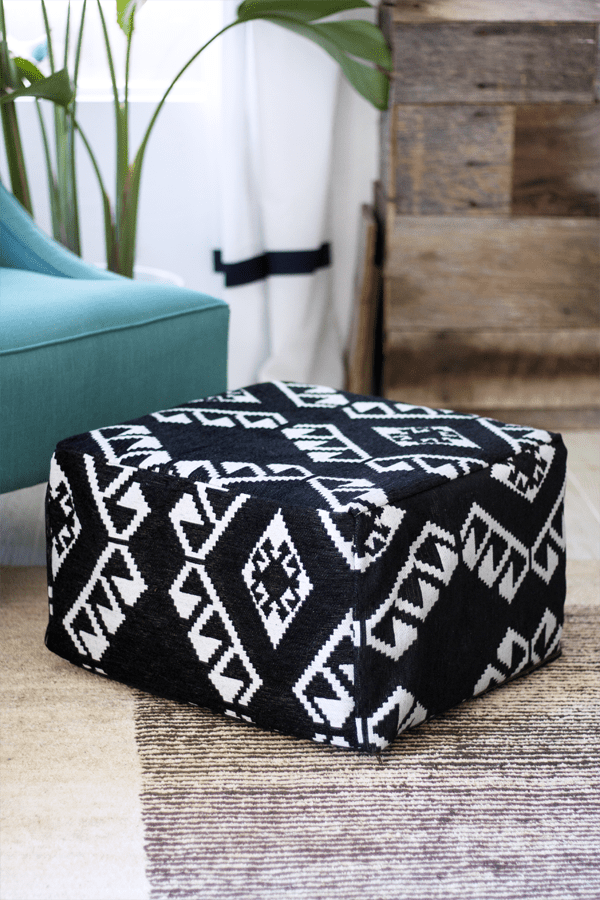 13. Mirror Mirror
I love this mirror. So much. It's so simple, but makes such a statement. Check out this IKEA nursery hack here on Elsa Noblet's page Super Minimal!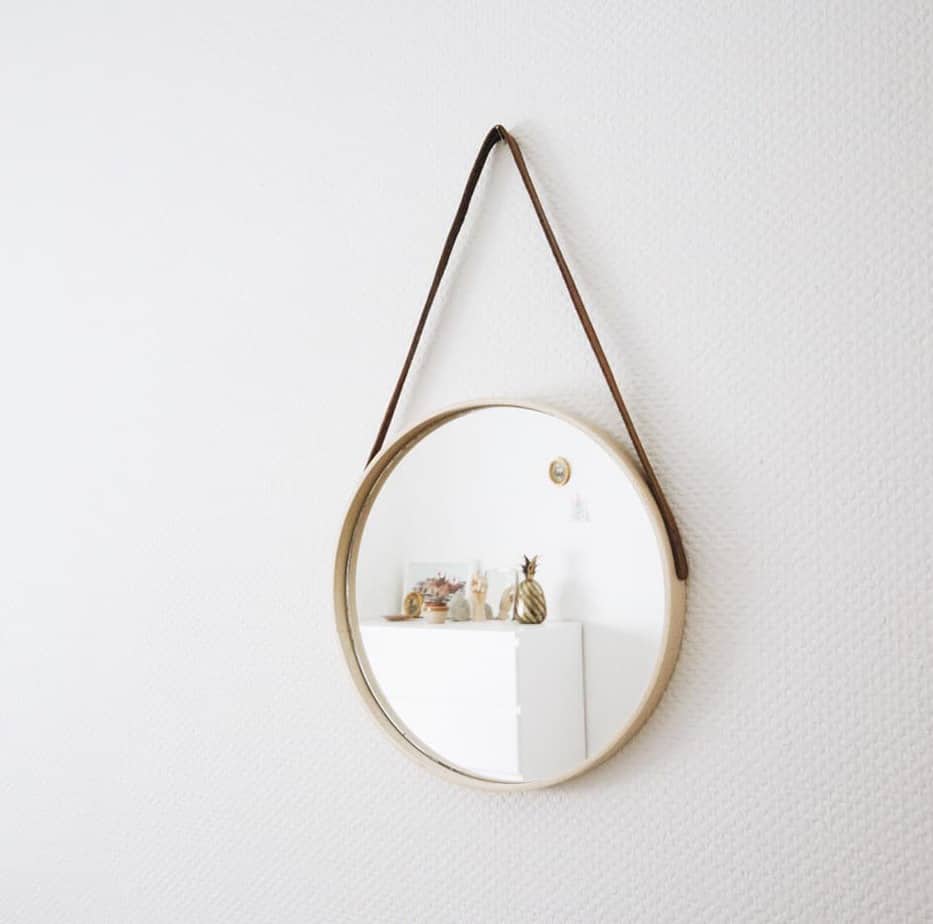 14. Stools
I know your baby won't be using a stool anytime soon, but these are perfect for as they grow and make a cute decoration in the mean time. This Little Street did a beautiful job with these stools and her DIY instructions are perfect. Check it out here!
Amazon – IKEA BEKVAM Wooden Utility Step by Ikea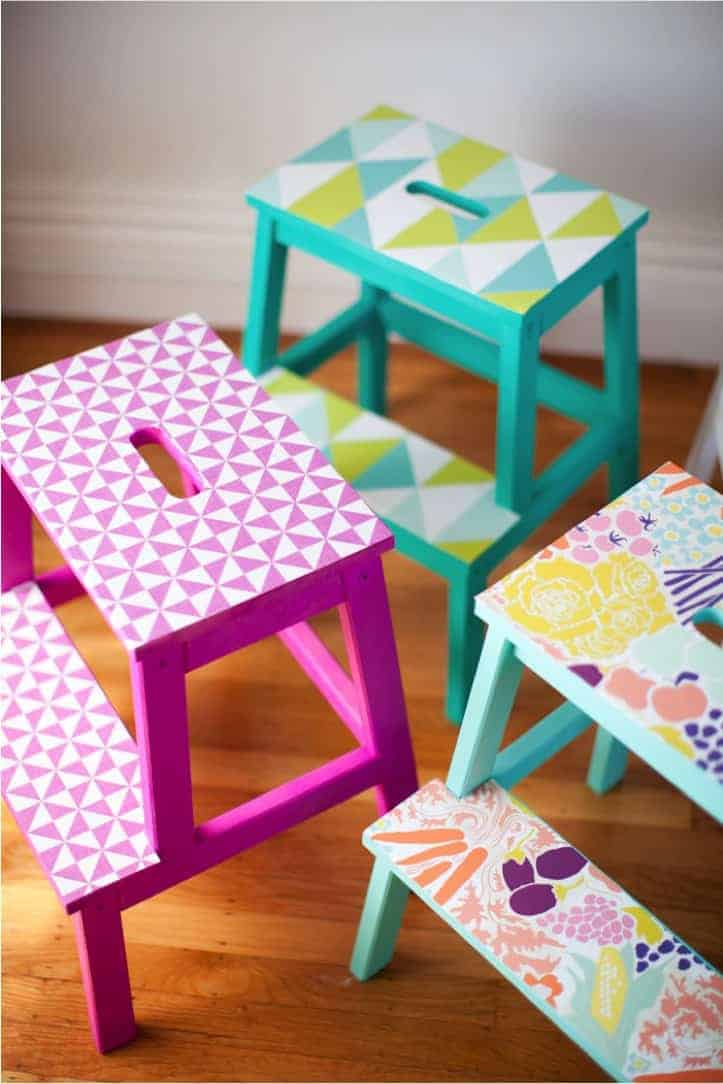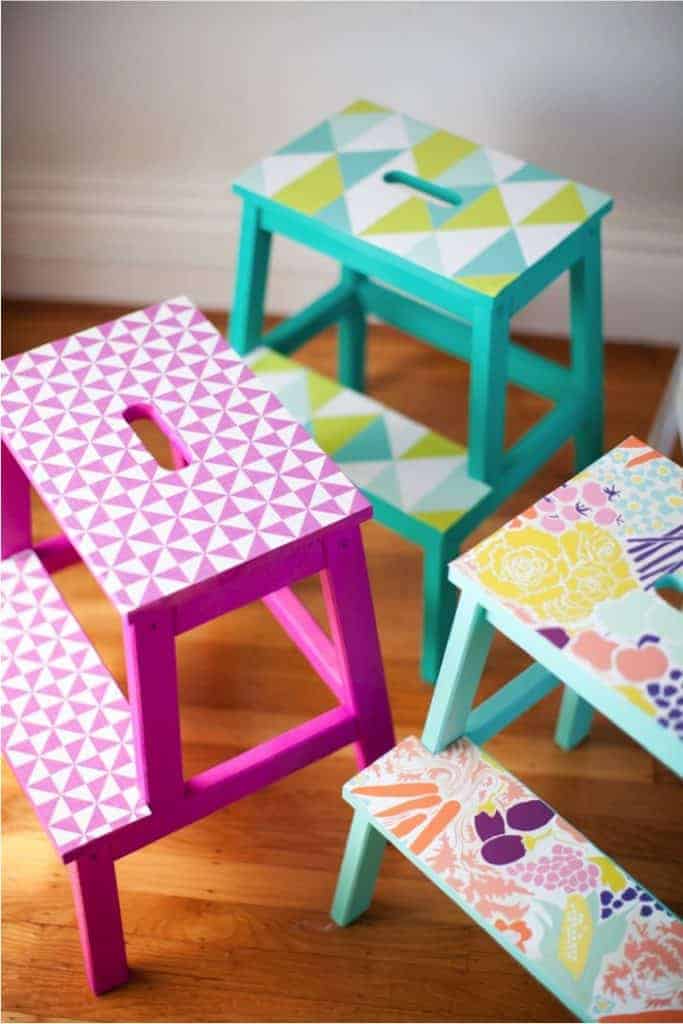 15. Curtains
Curtains help set the tone for the whole room. Add some pop to your nursery with this cute IKEA curtain hack from Beckham & Belle.
Amazon – Ikea LENDA Pair of curtains with tie backs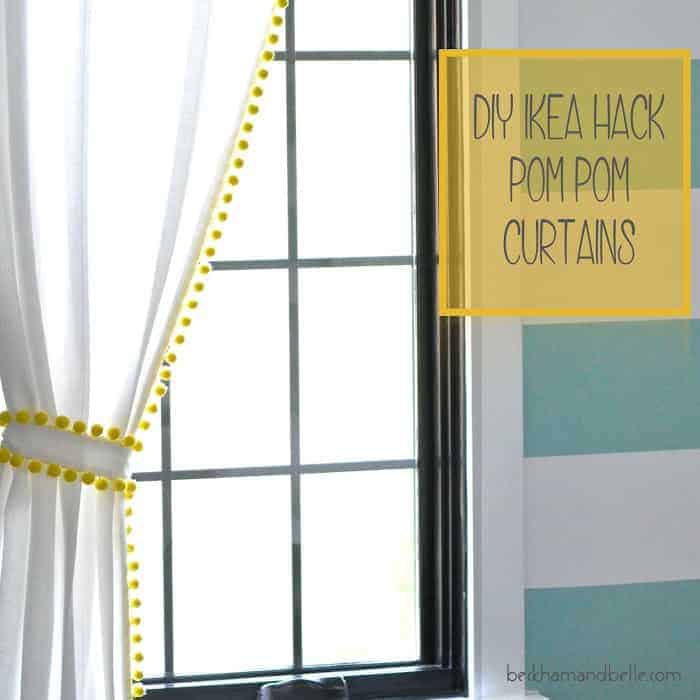 16. Stand out Crib
Creating a stand out crib can be a bit of a challenge. This is a crib unlike any I've ever seen before and the hack was done for $20. Check out Mandi's amazing creation at Vintage Revivals here!
Amazon – Ikea Gulliver Convertible Crib White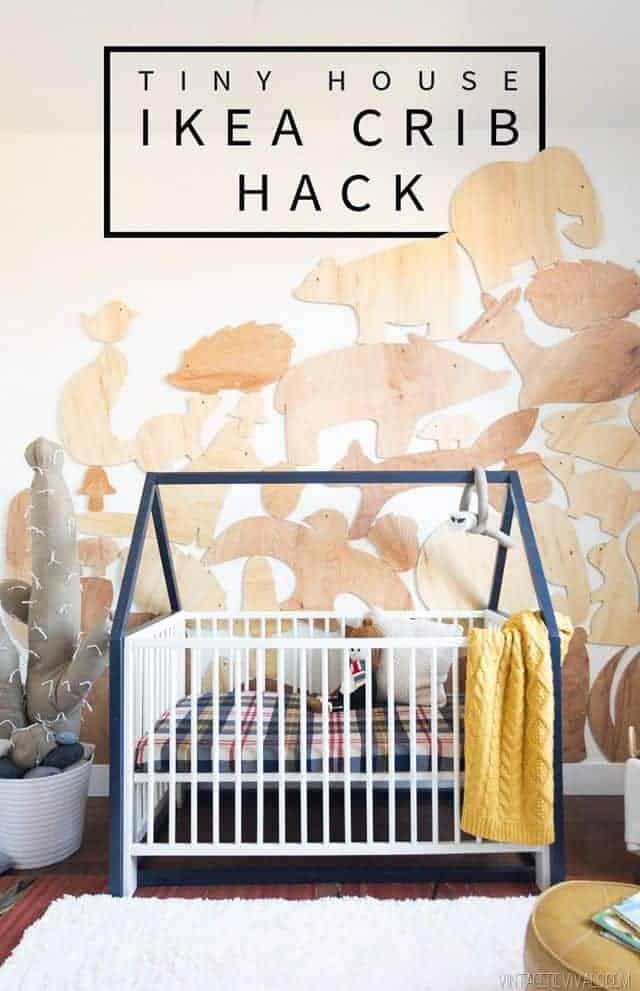 17. Plush Crib Upgrade
Check out this beautiful Ikea nursery hack – it's so soft and looks high end. I love it! Louice did a great job – check out the full instructions on her site here!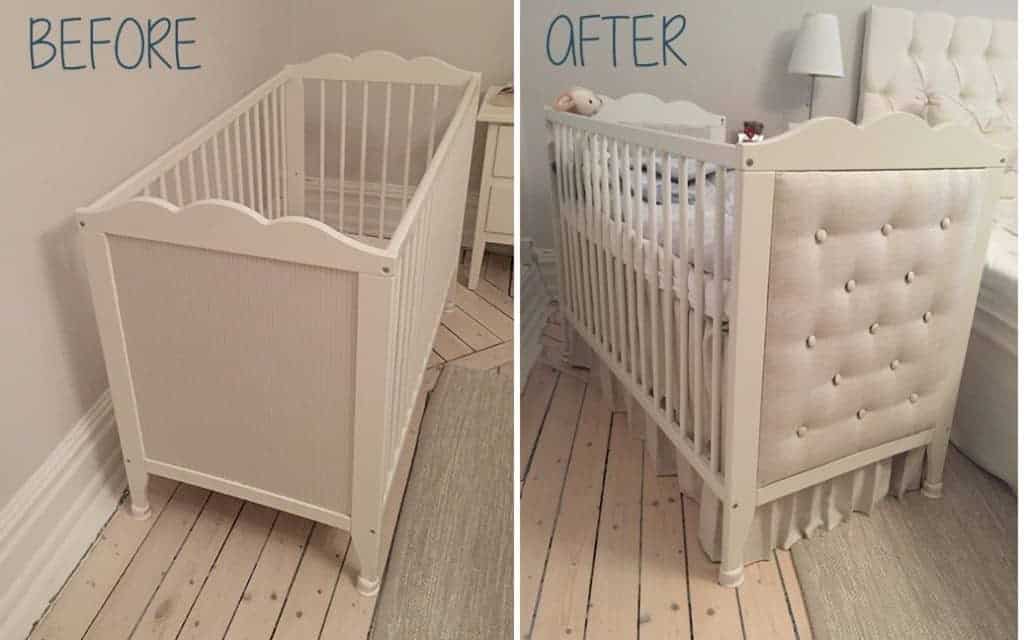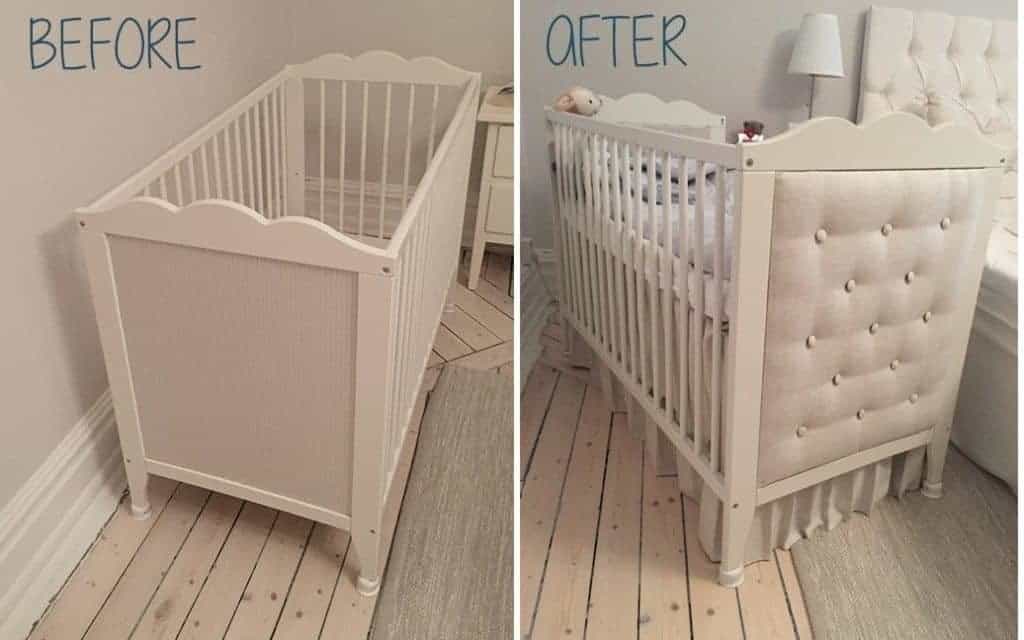 IKEA Nursery Ideas
These IKEA nursery ideas will make your nursery stand out at a price that's hard to resist. As a bonus, many of these Ikea nursery hacks are simple and easy, even if you're not "crafty". These amazing bloggers/DIY-ers have done the hard work and created these easy to follow tutorials. Trust me, you got this!
If you're still trying to figure out your nursery theme, check out my post, Creating the Perfect Nursery on a Budget.
Looking for more? Now that we've covered IKEA baby, don't miss these amazing IKEA hacks for kids!