18 Adorable DIY Nursery Bookshelf Ideas for Baby's Room
Disclosure: This post may contain affiliate links, which means I may receive a small commission if you click a link and purchase something. Please check out my disclosure policy for more details. All opinions are my own!
Getting ready to set up your baby's nursery is such a fun part of nesting and prepping for baby.
If you're looking for some adorable DIY nursery bookshelf ideas that will add a touch of charm and organization to your little one's room – you've come to the right place.
As a mom myself, I know the importance of having a well-organized space for all those precious children's books!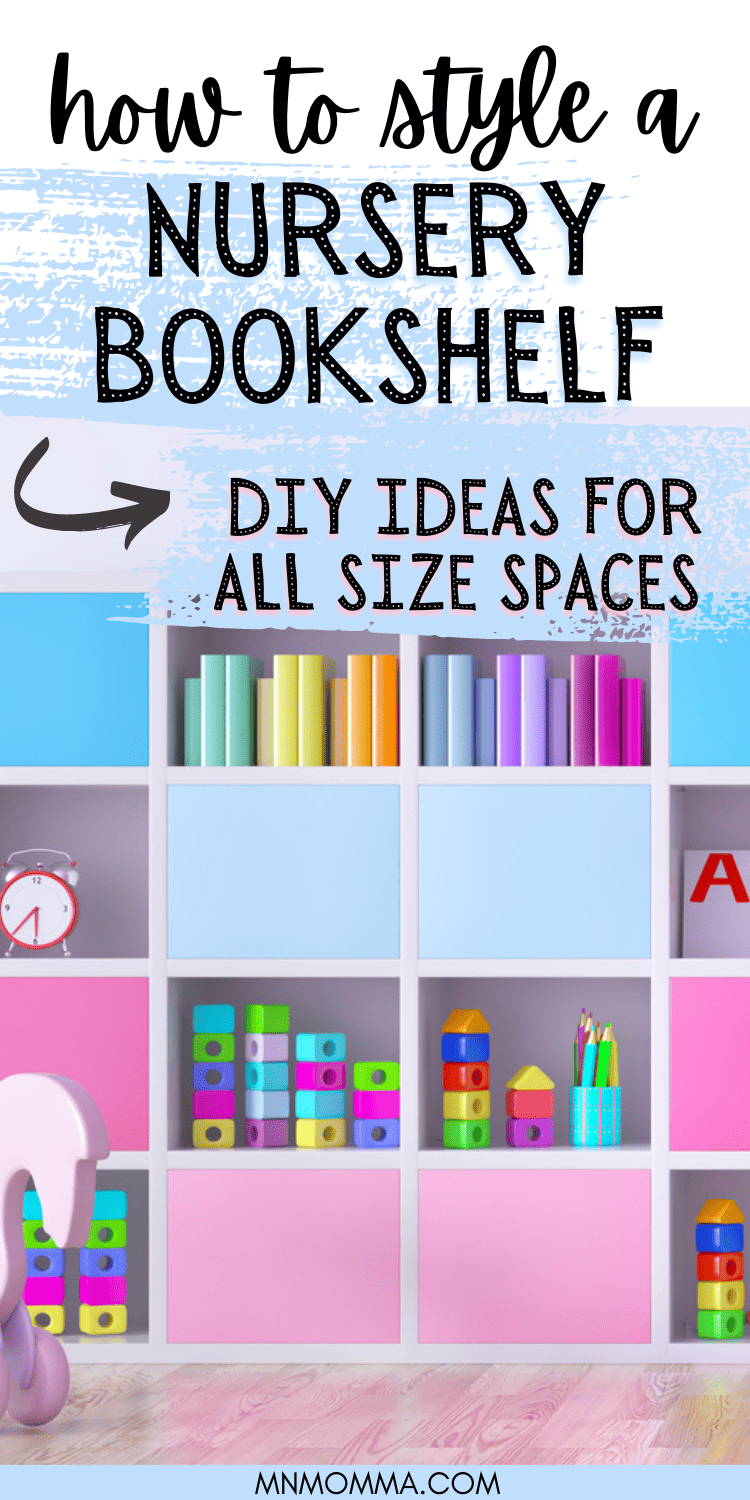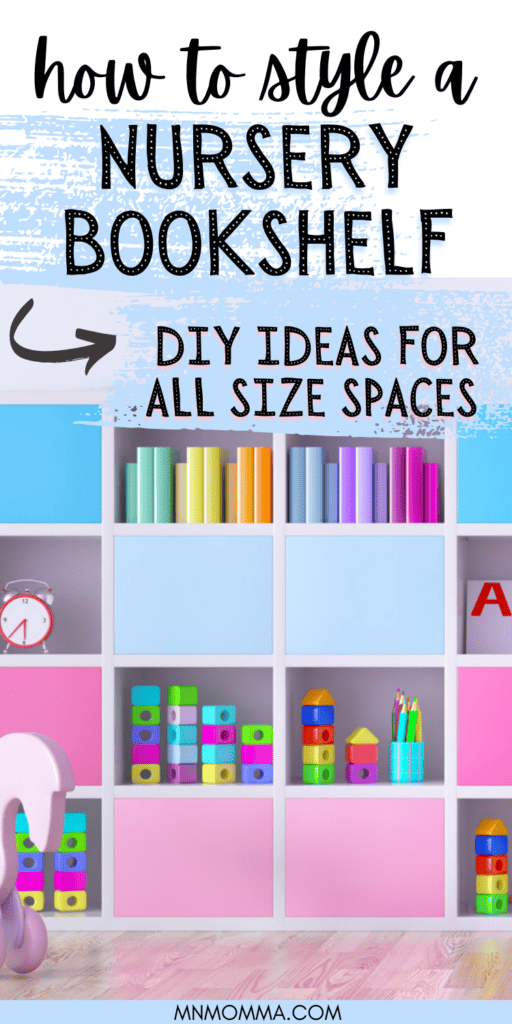 <— Pin it! Save this post for later!
How to Style A Bookshelf In A Nursery
One great way to display your baby's books is by incorporating nursery shelves into the room's decor.
You can choose shelves in different colors to match your nursery theme or opt for a classic look with wooden shelves.
If you choose to go with shelving, you have the option to highlight certain books for holidays (think a Christmas themed book collection for the month of December), or maybe a color theme where this month is all green colored books.
The variety and change out of books can keep your little one interested in reading as they grow and help you not get stuck reading the same 2 books every single night. 😉
Personally, I went with a set a clean, modern cube organizer in my kids' nursery to be able to use for books and as storage shelves. While I love this idea, if I were to do it again, I think I'd opt for a nursery bookshelf to showcase a few fun books each month.
Maybe it's the kid in me who loved to pretend check library books in/out, but I love this idea.
Where to Put Nursery Bookcases and Shelves
Depending on the size of your nursery, you'll have to decide on where to put the bookcases or shelves.
You want to keep the baby books in reach, but not clutter up your space (especially in a small nursery or apartment).
​Here's a few of my recommendations:
​Do you have a rocking chair you see yourself using a lot? Next to a cozy chair is a great place to keep picture books in reach for cuddly bed time routines with your baby or toddler.
Speaking of easy access, another great addition to your nursery is a wall bookshelf near the changing table.
This way, you can have all your child's favorite books right at hand for those precious bonding moments during diaper changes.
Even shorter on space that those ideas?
Try adding a small, but secure shelf to the back of baby's nursery door to store baby's books.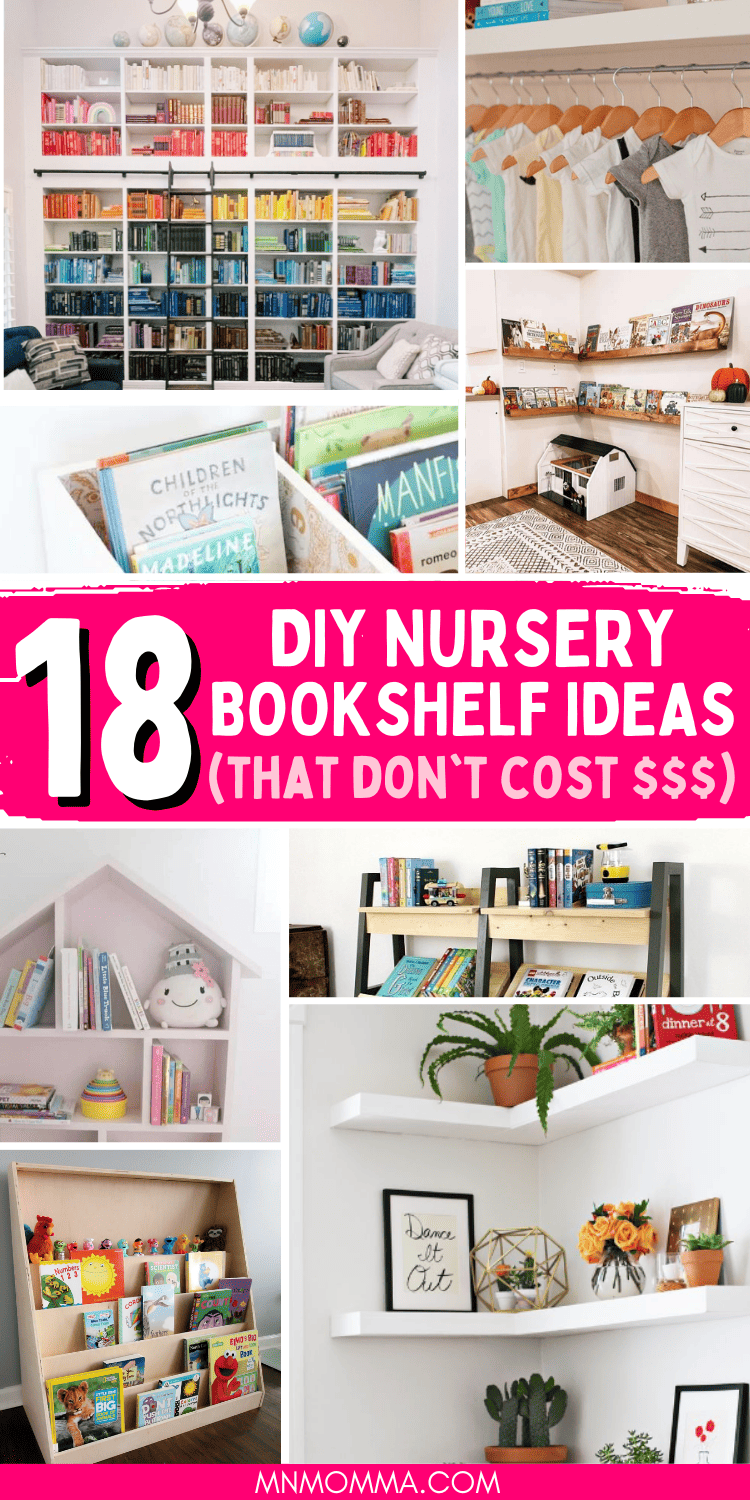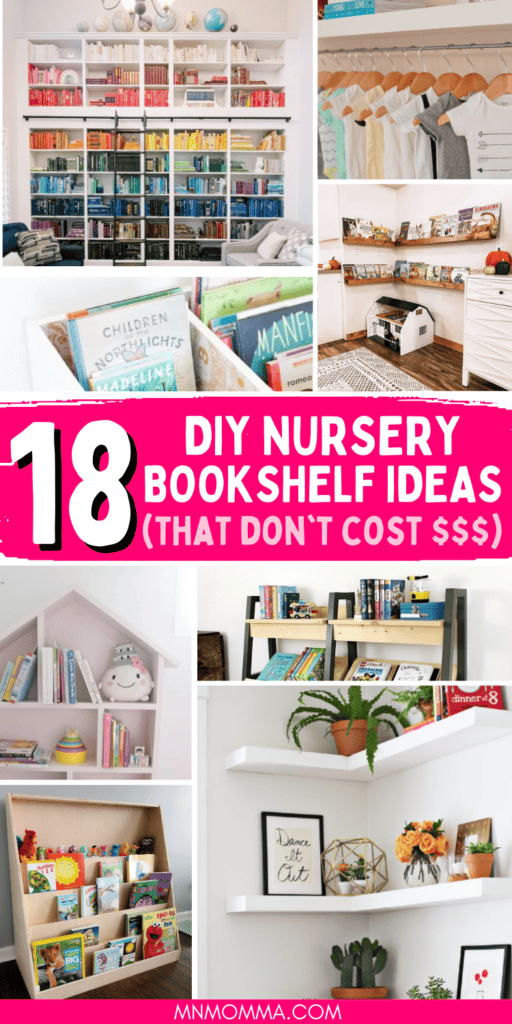 18 DIY Nursery Bookshelf Ideas
1. Floating Wall Bookshelf – Cloud Style
Make your playroom complete with these adorable big clouds mounted on the wall to give you a great spot for book storage. All of a sudden your toddler or children's books are a part of the room's design and not sprawled across the room! Check out the tutorial on Petit and Small by DecoPeques!
2. Simple & Sweet Bookshelf
Now, let's talk about an easy DIY project that will give you extra storage and a fantastic display for your baby's books.
Have you heard of using IKEA spice racks as bookshelves?
It's a genius idea!
With just a little bit of wood glue, paint, and a few screws, you can turn these small shelves into picture ledge shelves that are perfect for showcasing your child's favorite books.
Plus, they're at the perfect eye level for your little one to pick out their own book during reading time.
It's such a good idea, and you can find tutorials online that walk you through the process step by step. The Citymom.nl gives some great ideas for fun colors and designs that you can check out here!
✔️ Amazon – Ikea Bekvam Spice Rack, Birch, Set of 4
3. Nursery Library Wall
Have you ever considered creating a library wall?
It's like having your very own home library in your child's room!
You can install a series of shelves in different shapes and sizes along one wall, creating an endless array of possibilities for displaying books, plush toys, and other meaningful items.
To achieve a more cohesive look, consider painting all the shelves and the backs of the shelves in white, which really made the books and soft toys pop.
It's the perfect solution if you have less space but still want to have a lot of books within easy reach.
This rest of this nursery can be seen here.
4. Wooden Crate Wall
If you're looking for a more unique nursery shelf idea, why not consider repurposing picture frames or small crates as bookshelves?
Feel free to browse your local craft store or hobby lobby and get inspired!
By attaching the frames or wooden crates to the wall, you not only create additional storage space but also give your baby's nursery a personalized touch.
You can even mix and match different items to create a cohesive look that fits your style.
This design is by Creating Really Awesome Fun Things.
5. Dual Purpose Bookshelf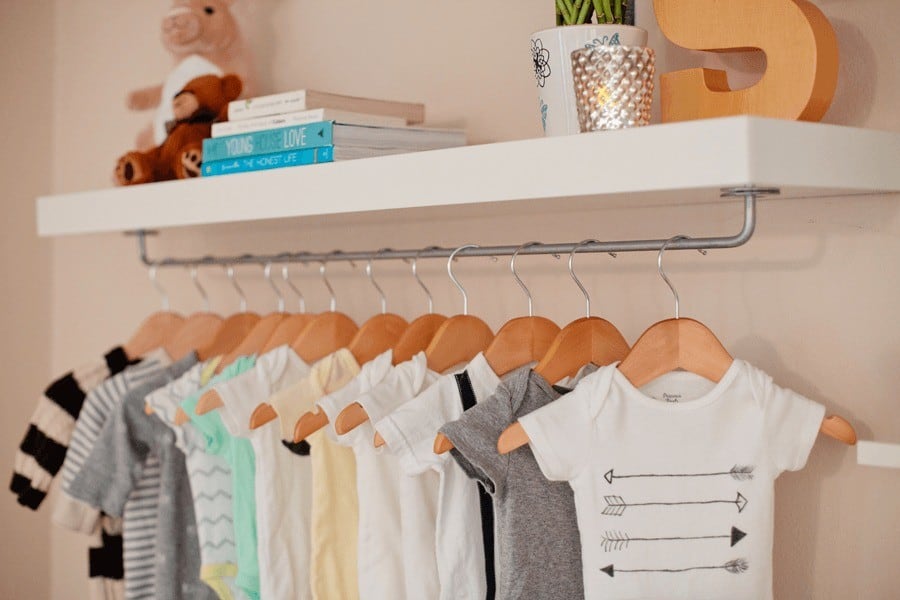 I love that this bookshelf serves two purposes in your baby's nursery: a clothing rack and a bookshelf.
Add your baby's cutest clothes to the metal hanging rack and style a few of their favorite board books to the top shelf.
As a bonus – it's SO simple.
Check it out on Fresh Mommy Blog!
✔️ Save on shipping! Find the Ikea Lack Wall Shelf on Amazon here!
6. Modern Bookshelf
I am IN LOVE with this modern DIY bookshelf for your baby's nursery or playroom.
It's the perfect height for little hands to reach, while still being modern, cool, and can be completed in a different color that fits your nursery theme.
Check out the how to's at Jaime Costiglio.
7. House Bookshelf
This little house bookshelf is totally adorable and deserves to be on every best nursery bookshelf ideas list.
Check out Love Create Celebrate for the step by step instructions to DIY this sweet nursery bookshelf.
8. Unique Geometric Bookshelf
I GUARANTEE nobody is going to have this nursery bookshelf in their home.
This one of a kind design is so fun and with the right colors and nursery theme will be a huge decor centerpiece for your baby's nursery.
Check out Rain On A Tin Roof for the how to guide.
9. Old School Montessori Bookshelf
I call this the old school bookshelf because it's the ones I remember from preschool.
I love how this bookshelf highlights favorites and is the perfect height for busy toddlers.
Charleston Crafted has the instructions on their site to follow.
10. Pottery Barn Inspired Bookshelf
This Pottery Barn look-a-like is simple and beautiful.
​The Martin Nest has a super easy to follow DIY guide along with a list of the supplies you'll need (spoiler: this project seems do-able even for beginners!).
11. Book Bin
If you have the space, this book bin is a great idea!
It feels just like you're browsing the kids' section of the library and is SO cute.
Check out how to build your own at This Little Street.
12. Rustic Bookcase/Changing Table
You know that I love unique nursery shelf ideas, and any time you can make one piece of furniture function for two purposes is a huge win – especially in a small space or apartment.
This amazing bookcase doubles as a changing table (and IKEA hack for your nursery).
Young House Love will show you exactly how it's done and how to wrap an IKEA dresser in wood to make a gorgeous focal point.
13. Floating Hidden Bookshelf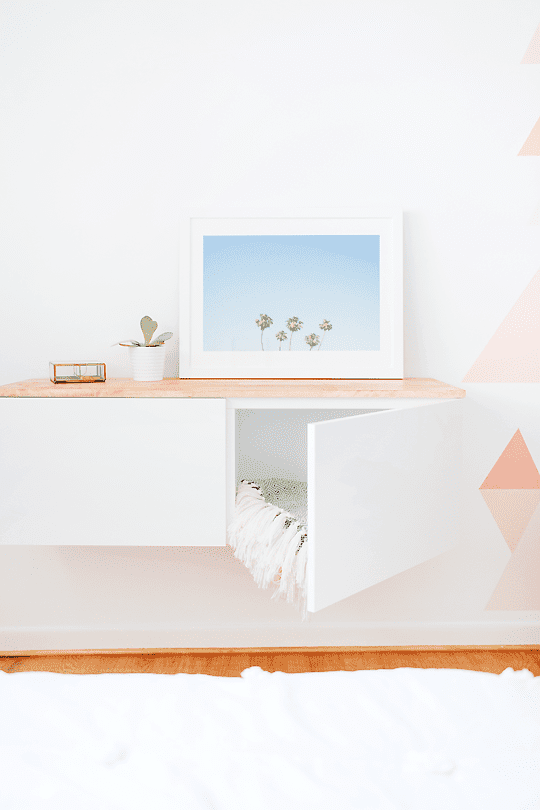 Sometimes you don't want your bookshelf on display.
Maybe you prefer something more understated since you already have some big decor pieces in your nursery.
This floating shelf storage piece is simple, minimal, and beautiful.
Check out Sugar & Cloth for the details!
14. Reading Corner Bookshelf
This little reading corner is incredible.
It's beautiful, rustic, and makes a huge impact on the space.
​Check out Eryn Whalen Online for her guide on how to make this cozy corner bookshelf.
15. Space Saving Bookshelf
This space saving bookshelf from Yellow Bliss Road is genius.
If you have small spaces to work with, this is the best way to still get the beautiful nursery bookshelf you've been wanting.
The plans are super simple and they do a great job of walking you through this do it yourself bookshelf for baby's books.
16. Floating Corner Shelves
Do you have a corner of the nursery where you've had a hard time deciding what should go there?
These floating corner shelves are an easy way to finish off a room and give it just that little extra that it needs.
Floating shelves look sleek without being too busy.
Check out the DIY instructions at A Beautiful Mess.
17. Beautiful Library Bookcase
​We've talked a lot about small spaces, but what if you have a big wall you're looking for ideas for?
This may be the most beautiful DIY bookcase wall I've ever seen.
I mean, I feel like Belle in Beauty and the Beast when she sees his library, know what I mean?
Anyway…if you have the space, this DIY wall bookcase is absolutely incredible.
Check out how they did it, and how you can too, at At Home With Ashley.
​I'm still picking my jaw off the floor.
18. Simple DIY While Bookshelves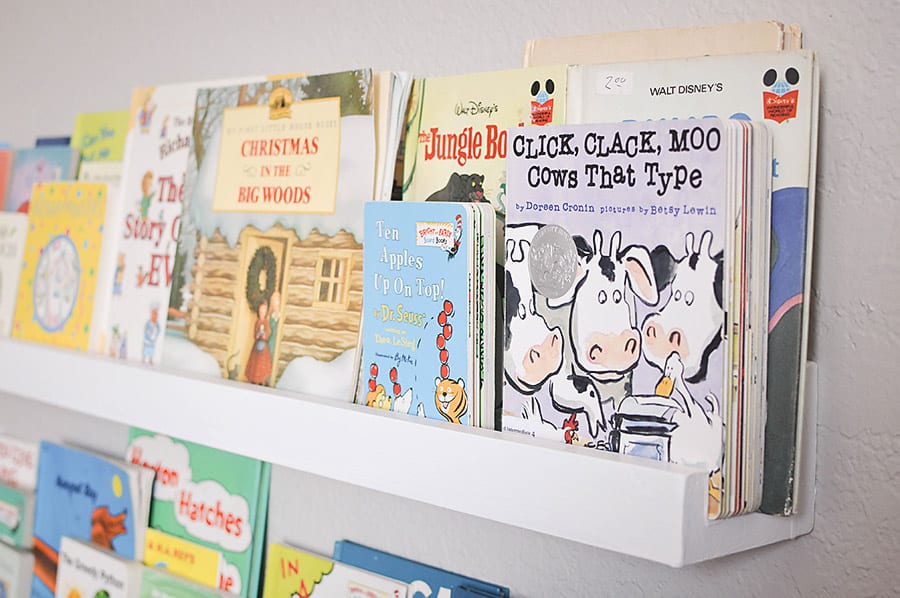 This set of nursery bookshelves is simple, sweet, and can be make in different sizes.
I love how these shelves highlight certain books, while still holding many more behind them to make them not only cute, but also totally practical.
I'm also a big fan of the classic white paint, but you could paint these any color or find creative ways to make them work with your nursery theme.
Check out the simple how to do it yourself guide at Our Hand Crafted Life.
FAQ
How high should bookshelves be in a nursery?
When it comes to the height of bookshelves in a nursery, it's important to consider accessibility and safety.
The goal is to give your child the opportunity to read books any time they'd like, so ideally, the shelves should be at a height where your child can easily reach and interact with their books.
For younger babies, you can place lower shelves or incorporate floor-level book storage to encourage exploration and independent play.
As your child grows, you can gradually raise the shelves to a height that suits their height and ability to reach the books comfortably.
Do you need bookshelf in nursery?
Having a bookshelf in a nursery is not a necessity, but it can be a wonderful addition.
It provides a dedicated space for organizing and displaying your baby's books, making them easily accessible during reading time.
It also adds a decorative touch to the room and encourages a love for reading from an early age.
Have you heard the statistic that just having books in your home can make your child smarter? Why not give them all the opportunities we can!
That said, if you have limited space or prefer alternative storage solutions, there are other options available, such as wall-mounted book ledges or storage baskets.
What do you put on shelves in a baby room?
When it comes to what you can put on the shelves in a baby room, there are endless possibilities.
Here are some ideas:
Children's books: Of course, the primary purpose of the shelves is to store and display your baby's books. Arrange them in an organized and visually appealing manner, or swap them out regularly to keep the shelf feeling "fresh".
Soft toys and plush animals: Add some cuteness to the shelves by placing soft toys and plush animals alongside the books. They can serve as adorable companions or decorative elements.
Picture frames: Showcase your favorite memories by placing picture frames on the shelves. It adds a personal touch to the nursery and allows you to reminisce about special moments.
Decorative items: Consider adding some decorative items that fit the nursery's theme or color scheme. This could include small figurines, art pieces, or decorative letters.
Storage bins or baskets: If you need additional storage for diapers, blankets, or other baby essentials, you can use storage bins or baskets on the shelves to keep things organized, easily accessible, and still somewhat "hidden" from view.
Baby's keepsakes: As your baby grows, you can display some of their meaningful items, such as their first pair of shoes, a special blanket, or a favorite toy. It adds a personal touch and sparks fond memories.
Remember, safety for babies and kids is SO important, so ensure that any items placed on the shelves are securely positioned and won't pose a risk to your baby. Avoid placing heavy or breakable objects within their reach that they could pull over on themself.
The items you put on the shelves should reflect your personal style, the nursery theme, and create a warm and inviting atmosphere for you and your little one.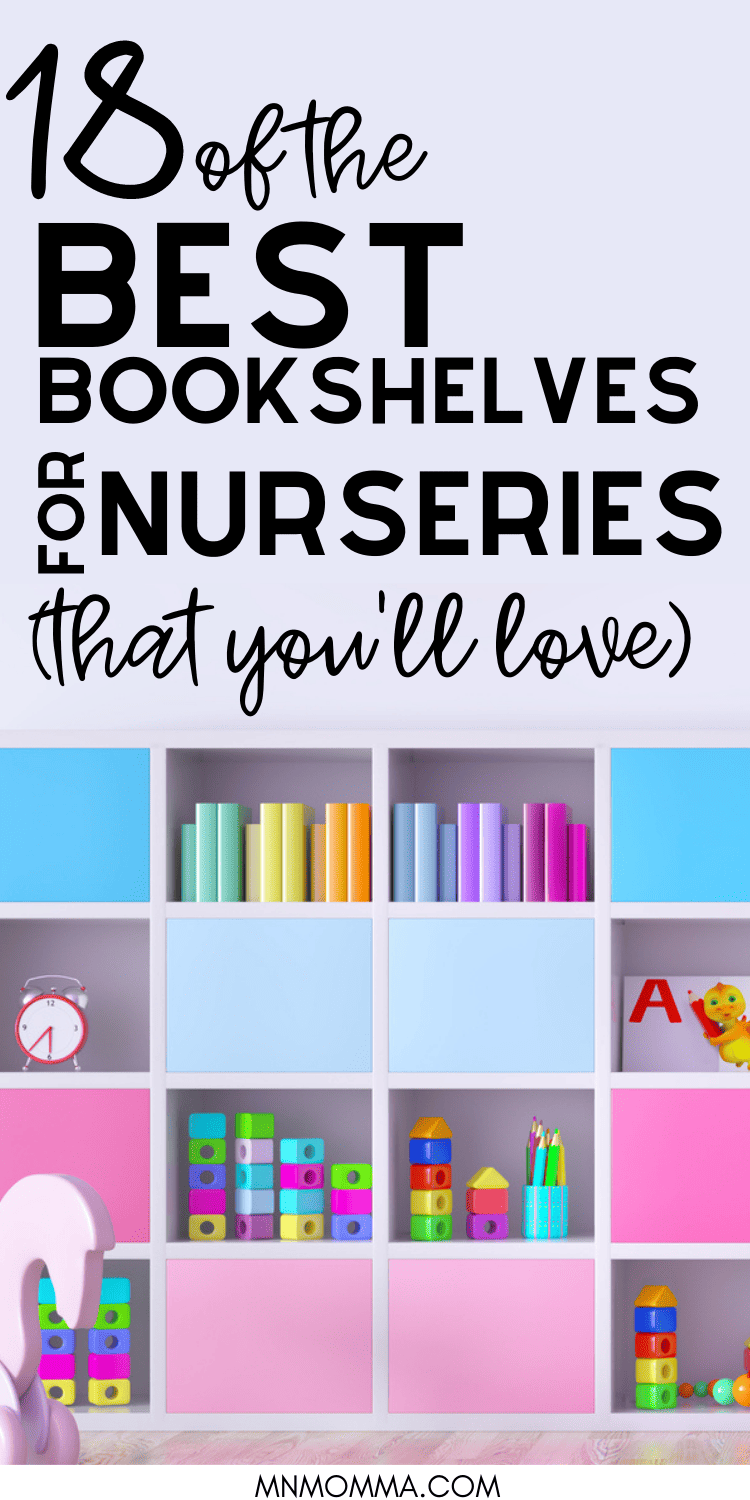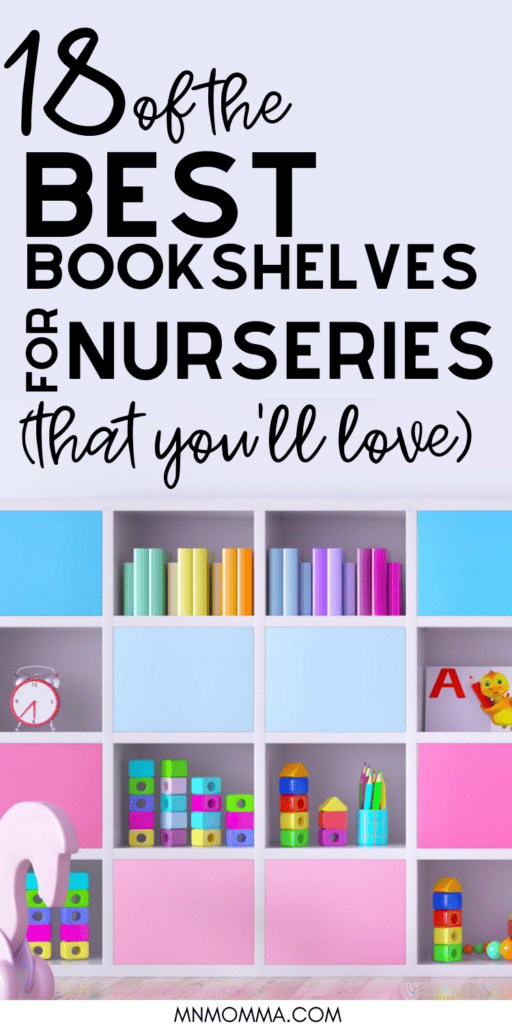 ​Bookshelf Ideas for Baby's Room
To wrap it up, these nursery bookshelf ideas are not only practical but also add a touch of charm to your baby's room.
Whether you're going for a classic look with wooden bookcases or getting creative with repurposed items, there's a perfect nursery shelf decor idea out there for you.
Remember to consider the size of your space, the color scheme, and how you can incorporate natural elements like wood boards or white hooks to create a more cohesive and inviting environment.
Related: