DIY Floral Mobile for Nursery
Disclosure: This post may contain affiliate links, which means I may receive a small commission if you click a link and purchase something. Please check out my disclosure policy for more details. All opinions are my own!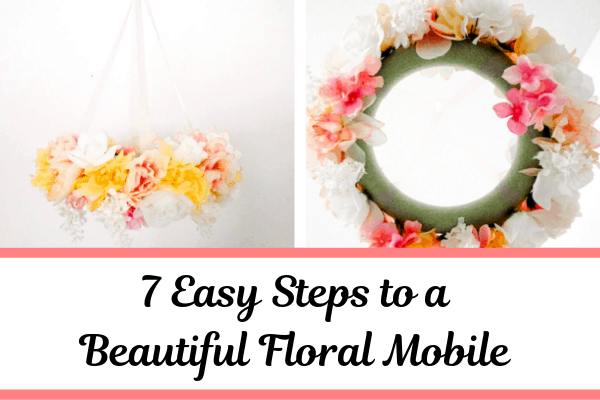 Creating a nursery for your baby doesn't have to be expensive. Believe it or not, everything I used to create this DIY floral mobile for baby girl came from the dollar store.
And I can't get enough of it! The whole project took me less than an hour and was so easy.
If you want to skip the DIY, etsy has some beautiful floral mobiles that you can choose from.
I also recommend checking out Hobby Lobby for flowers if you're not finding the colors or selection you want near you.
Related: IKEA Nursery Hacks You Need In Your Baby's Room
Related: DIY Dollar Store Hacks for Your Baby
Why a Baby Mobile is Beneficial
You might be wondering why a baby mobile is beneficial for your little one. Well, believe it or not, they're not just for looks!
A baby mobile in your little one's nursery can actually help your baby with several developmental milestones. According to BabyMobile.com, these include:
Developing Motor Skills
Visual and Sound Stimulation
Relaxation
Educational
Baby Girl's Nursery Ideas
I'm so excited to share our little one's nursery with you!
We decided to find out the gender for our baby this time around and it's been so fun not having to worry about staying gender neutral with the decor.
My baby girl's nursery inspiration was simple and sweet. I went with a pink and white theme, with touches of gold.
Okay, now that you've seen baby girl's nursery – and hopefully gotten some girl nursery ideas – here's how I made my homemade floral mobile for baby's nursery.
DIY Floral Mobile for Nursery
Supplies:
1 – foam wreath (10-16 inches will work best)
10-15 flowers
2 yards of ribbon
Glue gun & glue sticks for it
String/fishing line (optional)
Scissors
Ceiling hook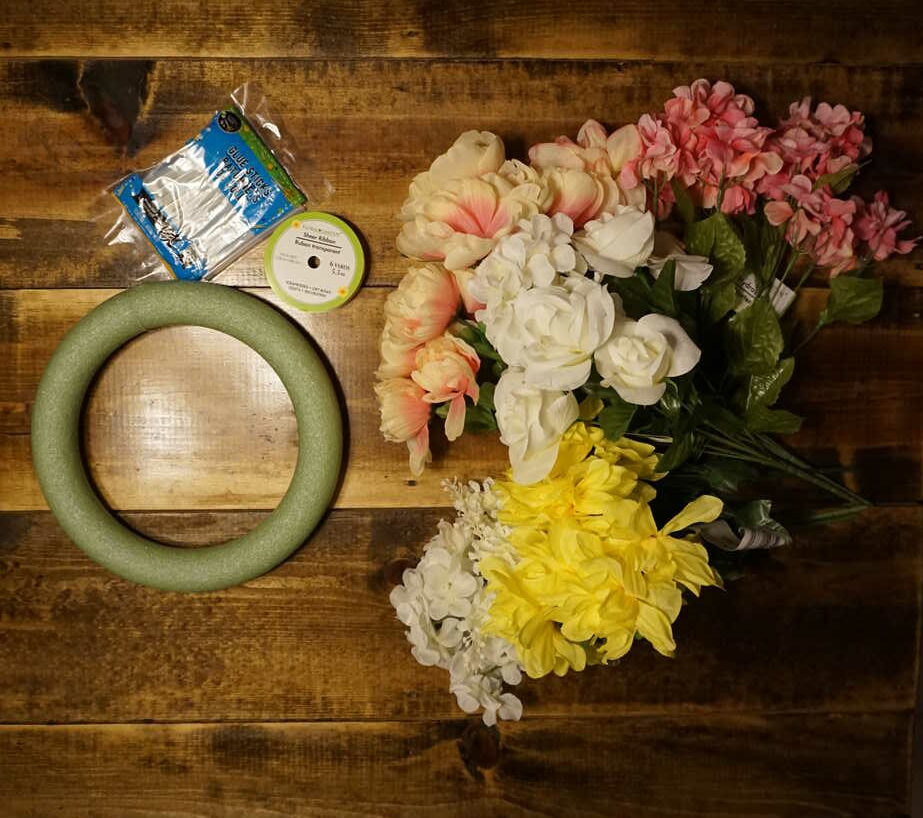 Step 1:
Cut your ribbon into 4, 18 inch strips.
These strips of ribbon will be used to hang your mobile, so they can be as fancy or as simple as you'd like.
Be sure to cut as precisely as possible to make sure your mobile doesn't hang crooked.
Step 2:
Attach each piece of ribbon to your foam wreath with hot glue. You'll want to wrap the ribbon under your wreath so the long end comes out along the outside of your wreath.
Be sure to space them as evenly as you can for a symmetrical and balanced look.
*I used a 10 inch wreath and it was perfect for the look I wanted.*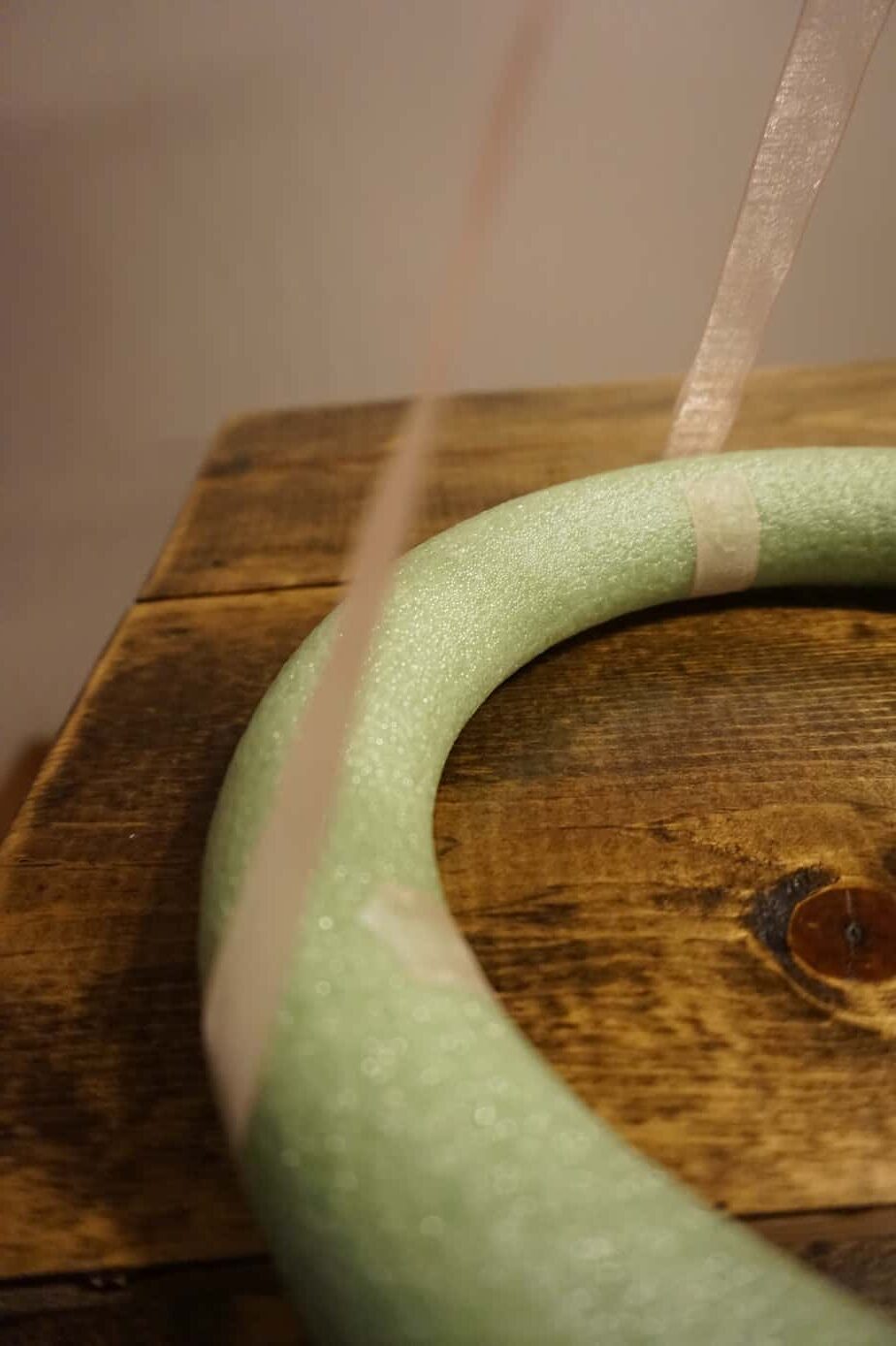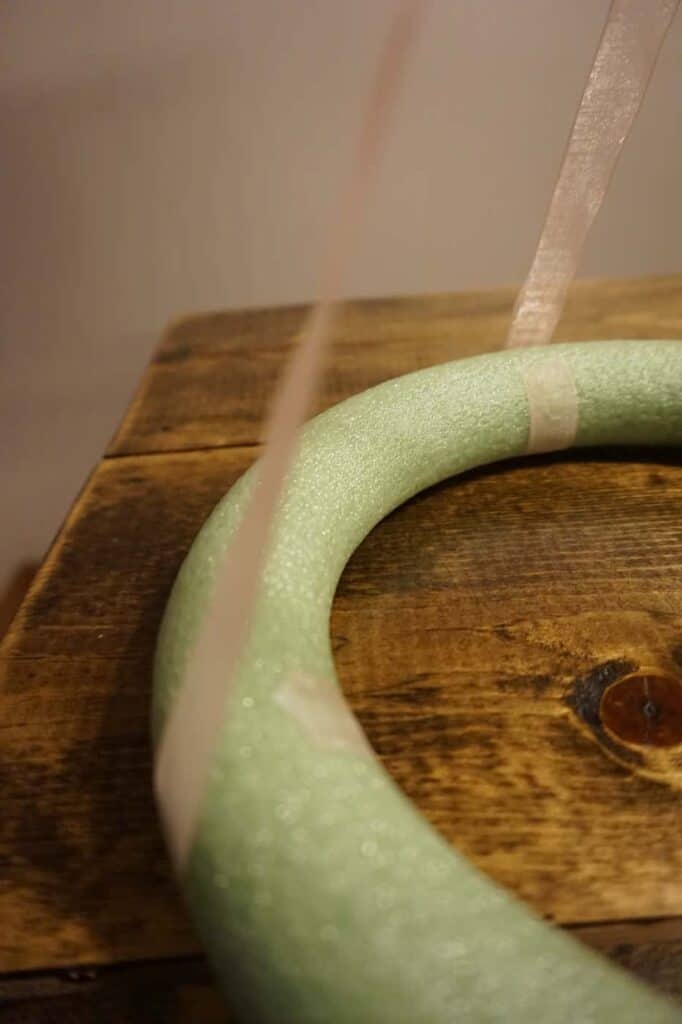 Carefully wrap each ribbon under your wreath and glue.
Step 3:
Secure your ribbon ends together above your wreath.
To do this, I used the hot glue to glue the top piece of each ribbon together. Then I cut a small piece of leftover ribbon to create a loop – and secured that with hot glue to either side of the combined ribbon.
To cover the glue, carefully wrap another piece of ribbon around that spot.
Step 4:
Pull the flowers apart from the stems. This should easily be able to be done by hand.
Gently grab the base of the flower and pull. You may want to keep some of the greens to add to your mobile later depending on the look you're going for.
If your flowers do not easily pull away from the stems, cut them about a 1 cm from the base of the flower.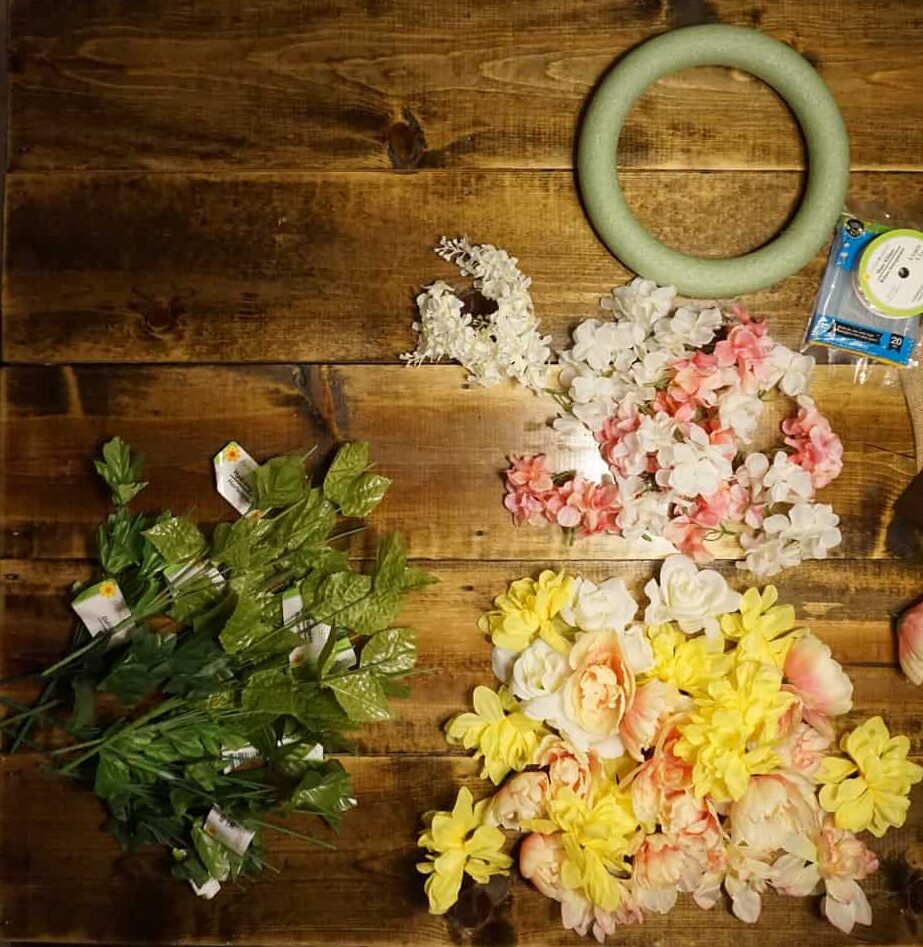 Step 5:
Add your flowers to the wreath!
I recommend starting with the largest flowers and then working your way to the medium sized ones, and then the smallest ones.
The best trick to get your flowers to stay is to push the green nub that's left on the back of the flower into your foam wreath. Then pull it out, add some hot glue to the tip, and reinsert into the same spot.
This should help hold your flowers in place securely.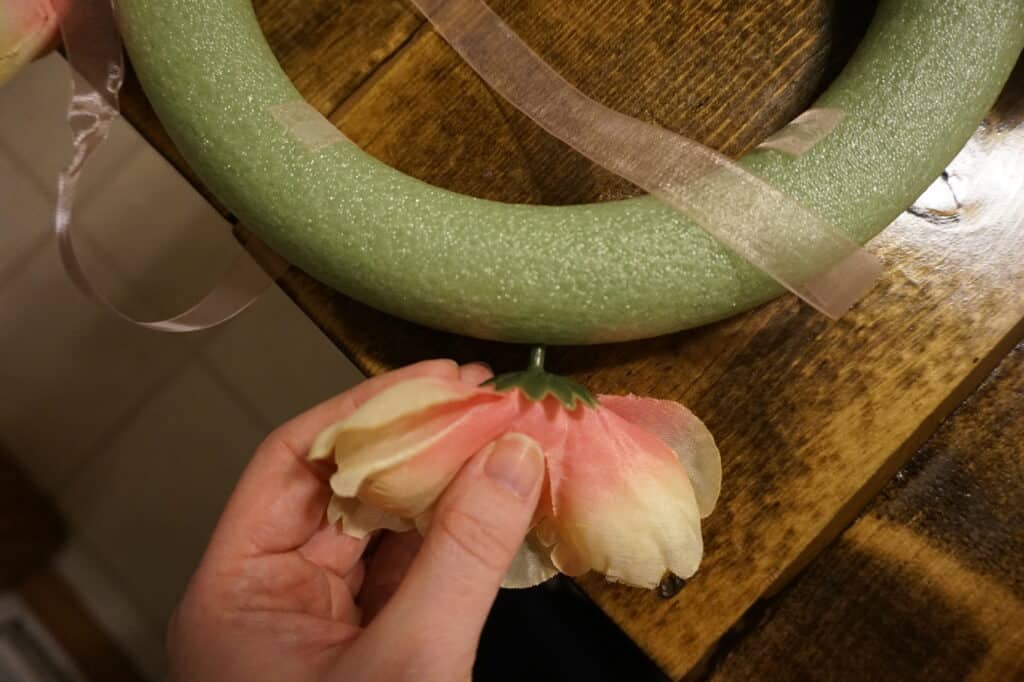 Feel free to make your flowers look symmetrical or random – depending on the look you're going for.
Continue adding flowers until the sides of the wreath are covered.
Do not feel like you need to cover the entire top or inside of your wreath. This part likely won't be seen. However, if you have extra flowers and want to keep going, feel free!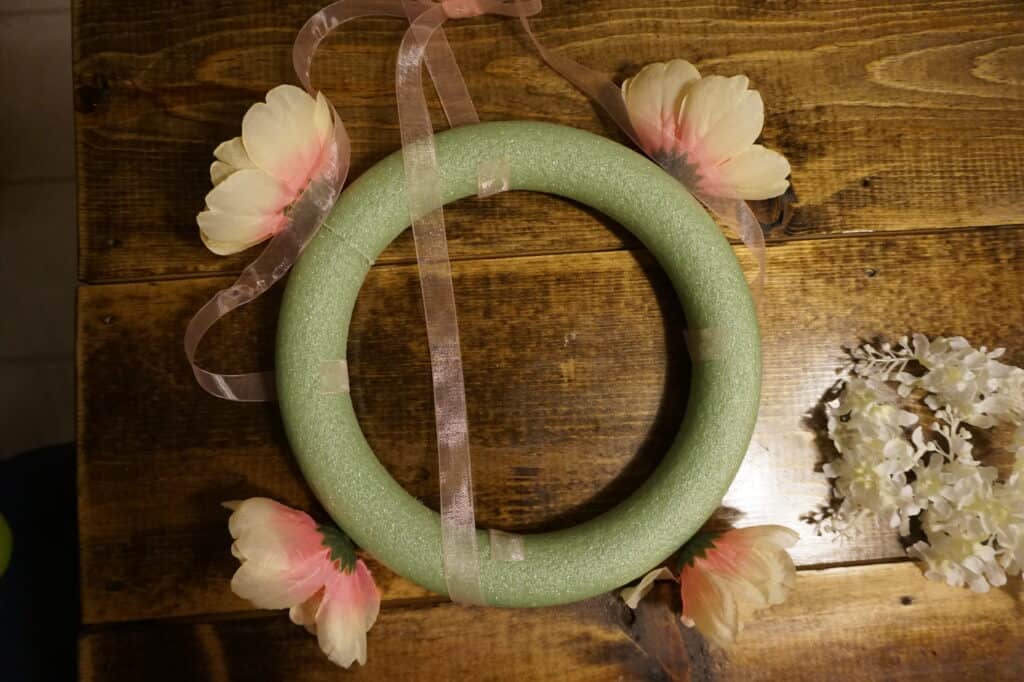 Step 6:
To make sure you have the bottom of your wreath covered, flip it upside down and set on a table or small box. Then continue to add flowers.
Step 7:
Once you're happy with how your mobile looks, it's time to hang it!
You can use a tack or small ceiling hook to ensure your mobile stays in place.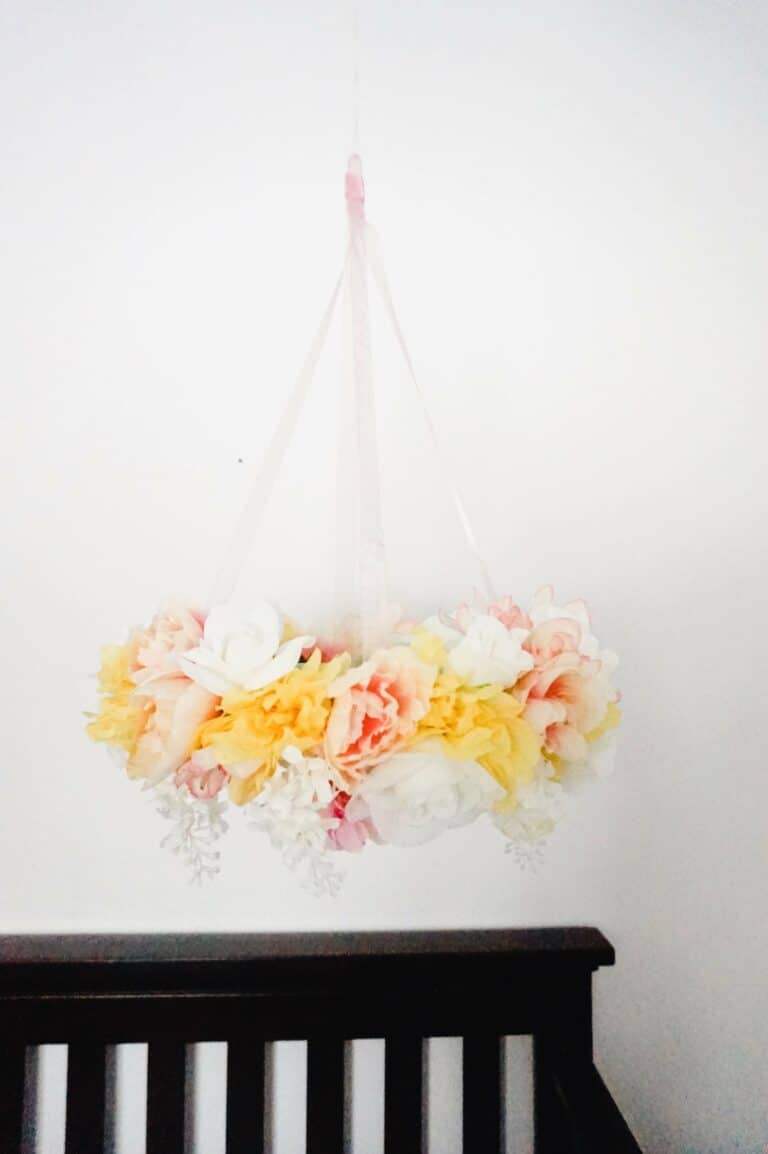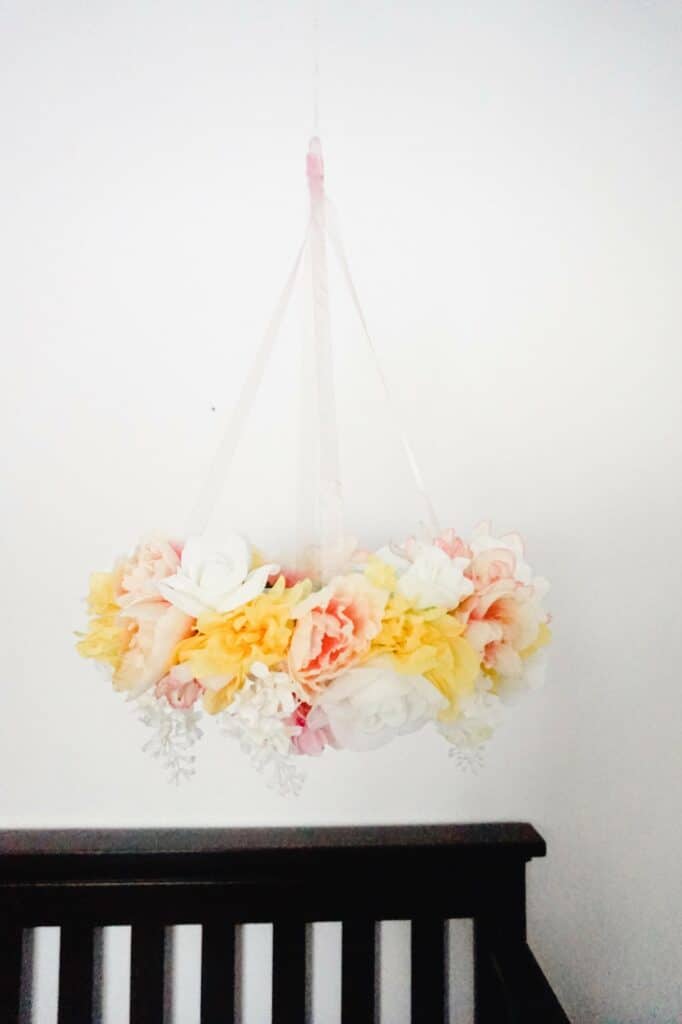 To get it to hang at the right height, simply use string or fishing line for a less visible look, or another piece of ribbon.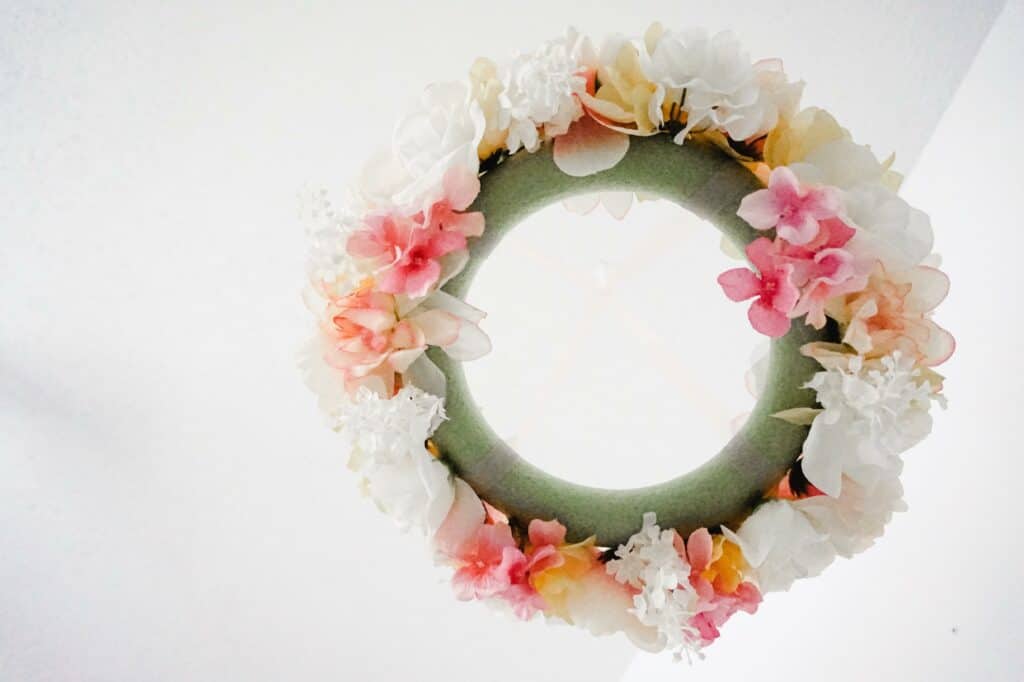 How to Make A Nursery Mobile On A Budget
I absolutely love how this sweet DIY floral mobile turned out! It really adds the little "extra" touch to sweet baby girl's nursery that I was looking for.
Plus, I was totally able to make this nursery mobile on a budget. A major benefit if you're tight on money or hoping to spend a little extra elsewhere in your baby's nursery.
If you give this DIY floral mobile tutorial a try, I'd love to see your results! Share them in the comments below or save this post for later!