17 IKEA Toy Storage Hacks – To Make Your Home Beautiful Again
Disclosure: This post may contain affiliate links, which means I may receive a small commission if you click a link and purchase something. Please check out my disclosure policy for more details. All opinions are my own!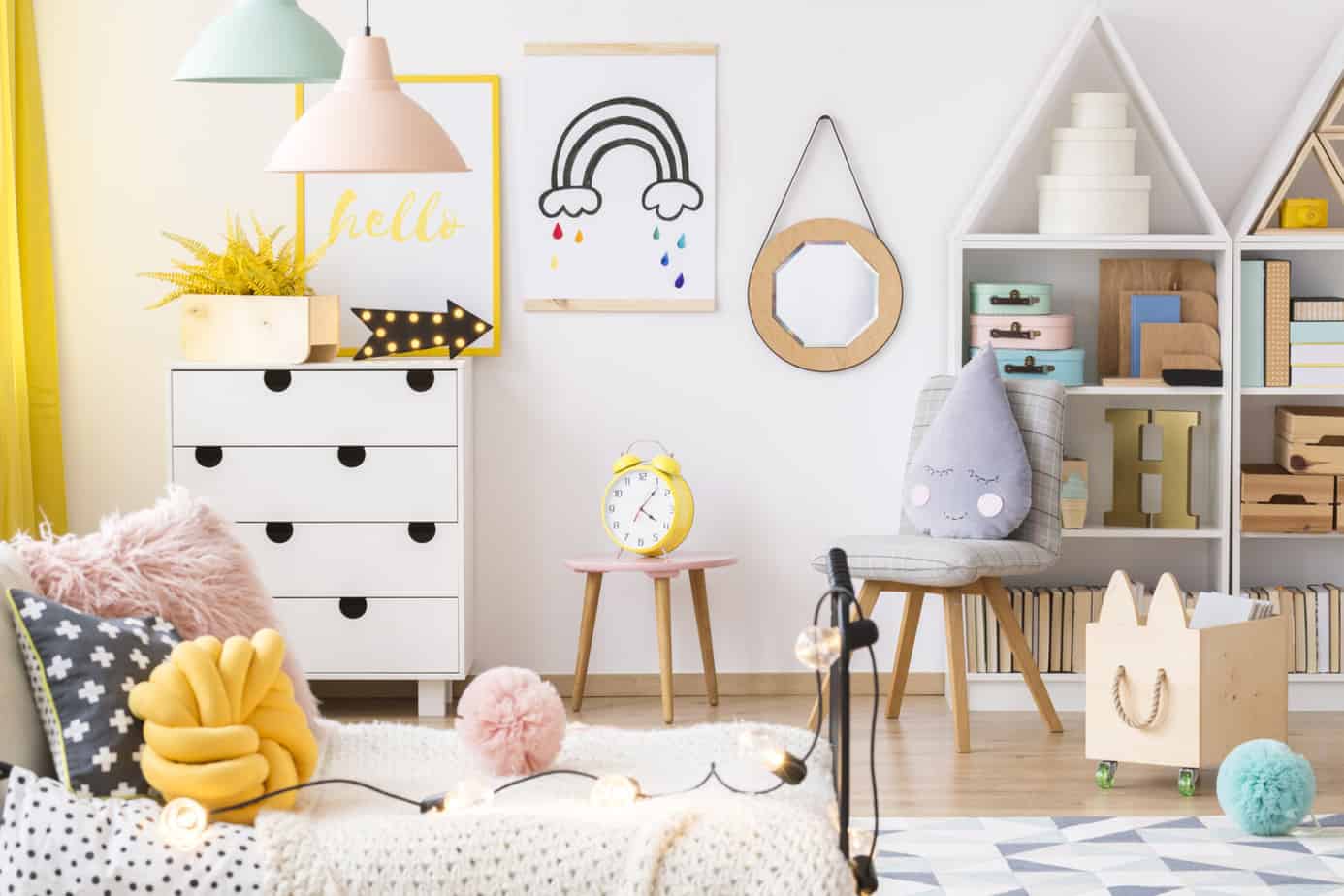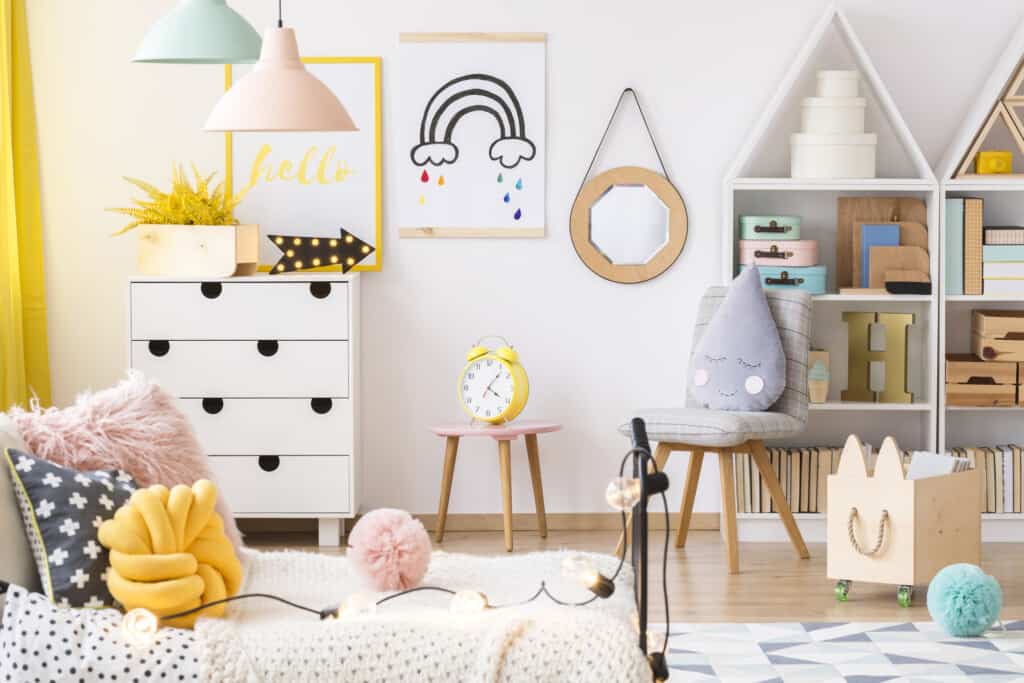 IKEA Hacks for Toy Storage & Organization
Remember when your house was clean and toys didn't exist to cover your floors and clutter your living room?
Of course, that was before you had the sweet sound of little feet and laughter all over your home too. So long story short, it's probably a good trade-off. 😉
But what if there was a way to organize toys in your home and make it actually look good? Even without a designated "playroom"?
I stumbled upon a few of these IKEA toy storage hacks the other day and let me tell you, I was SO impressed and excited to choose one of these IKEA DIY organization hacks for our home.
Here's the best IKEA Toy Storage Hacks to store all your kids' toys:
Related: Best IKEA Hacks for Kids
Related: Must See IKEA Nursery Hacks
IKEA vs. Amazon Products
Quick tip: Since the majority of these projects require IKEA furniture, you'll need to figure out how to actually get IKEA furniture to your home.
If you don't live near an IKEA store, you can absolutely choose to have these pieces shipped – but to be honest… sometimes the cost of shipping from IKEA can be well, A LOT.
Whenever possible, I've tried to find you the same (or a similar!) IKEA product on Amazon. (just look for the check mark ✔️ in each section!) with the potential for free 2-day shipping (Thanks, Amazon Prime!)
Pssst: if you haven't yet – get the free trial here and enjoy free shipping for 30 days!
IKEA Toy Storage Hacks
1. Storage Bookcase (Rustic Style)
Toys, bins, books – fill this classic rustic bookcase up! This simple IKEA toy storage hack gives any room a sleek and classic appearance (and makes cleaning up an easy task for your child to help with! Check out the full tutorial from Young House Love here!
✔️ Click here for a similar bookcase (free shipping with Prime!)

2. Closet Space for Toys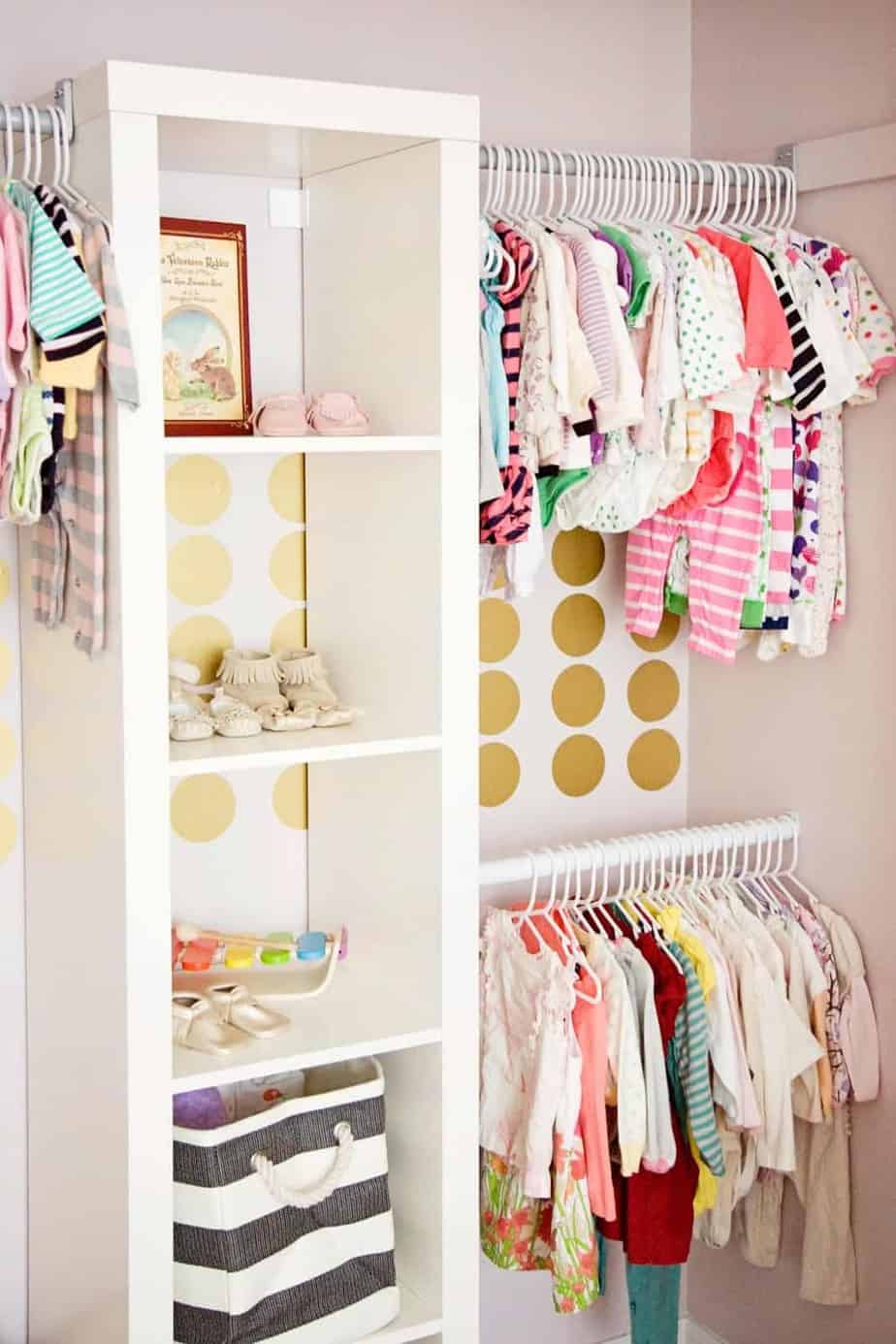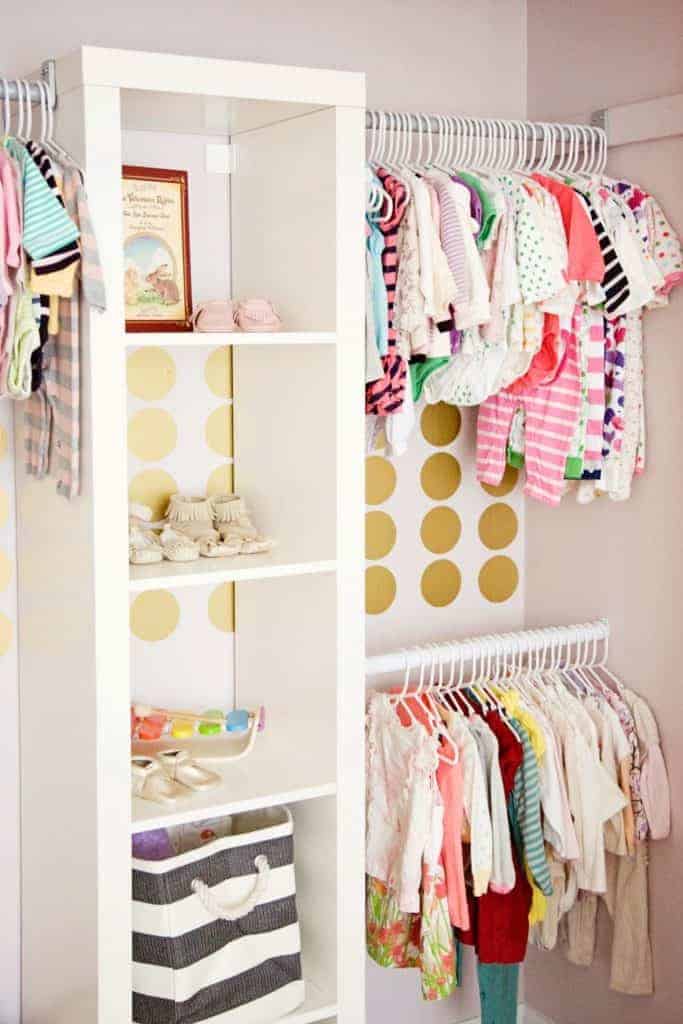 While organized clothes are great, the closet can be a fabulous place to hid your kids' toys and give you some great additional storage! Erinn at Strawberry Swing and Other Things put a few key IKEA pieces together to create this gorgeous multifunctional closet.
✔️ Click here for the Frugal Version of this IKEA setup!
3. Toy Table Storage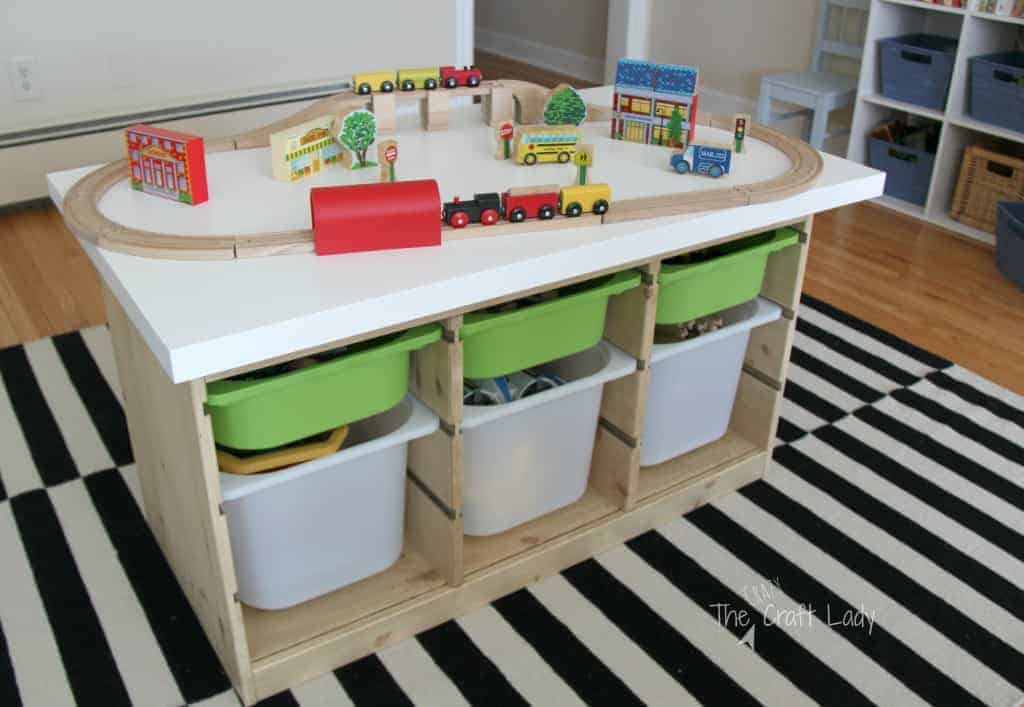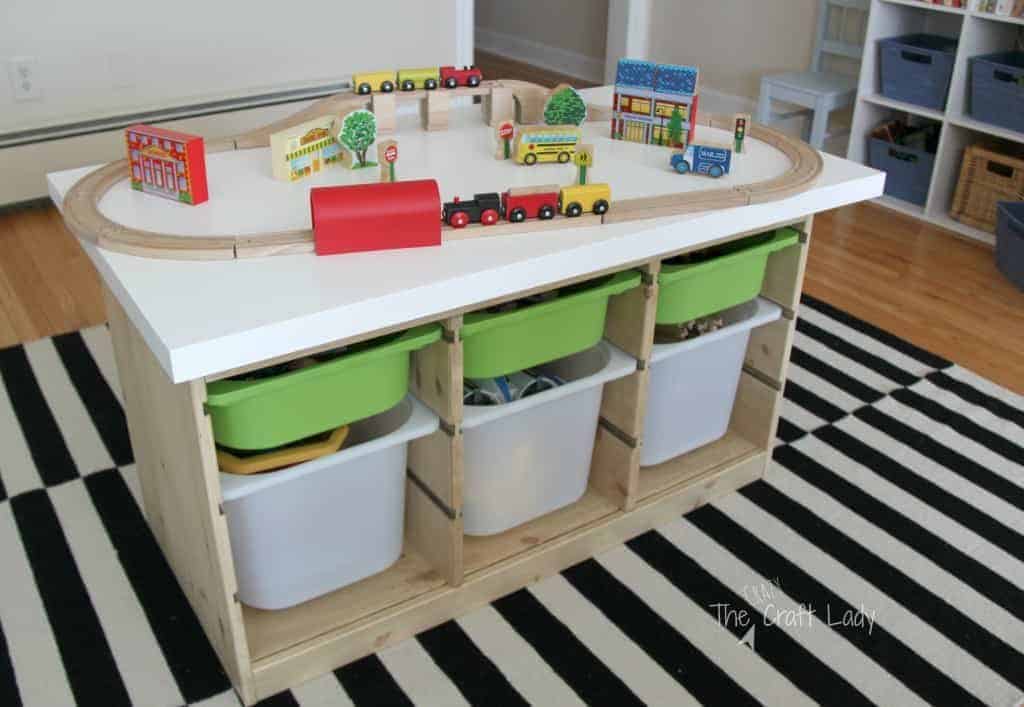 This IKEA toy storage hack is a must-see. Let your kids make crafts, play playdoh, or build a city (or train!) on the table. When it's time to put the toys away, your toddler can help slide the buckets out and fill them with toys. Then, slide them back and every thing looks good as new! Check it out here from the Crazy Craft Lady.
✔️ Save on shipping! Click here to find the Ikea Trofast Frame on Amazon!
4. Floating Wall Bookshelf – Cloud Style
Make your playroom complete with these adorable big clouds mounted on the wall to give you a great spot for book storage. All of a sudden your toddler or children's books are a part of the room's design and not sprawled across the room! Check out the tutorial on Petit and Small by DecoPeques!
5. Simple & Sweet Bookshelf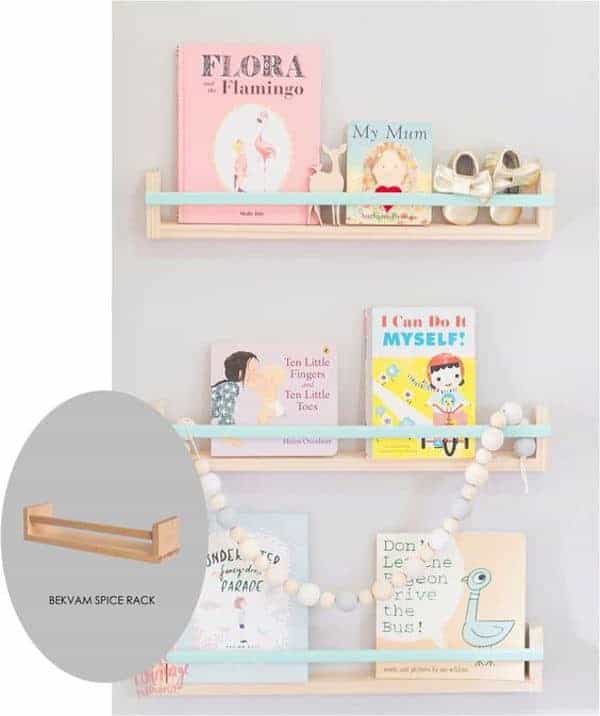 Books are a BIG deal in your kids' lives. So another bookshelf design by City Mom is absolutely welcomed. This super easy DIY IKEA toy storage hack is also incredibly affordable! As a bonus? Citymom.nl gives some great ideas for fun colors and designs that you can check out here!
✔️ Amazon – Ikea Bekvam Spice Rack, Birch, Set of 4
6. Window Seat Toy Storage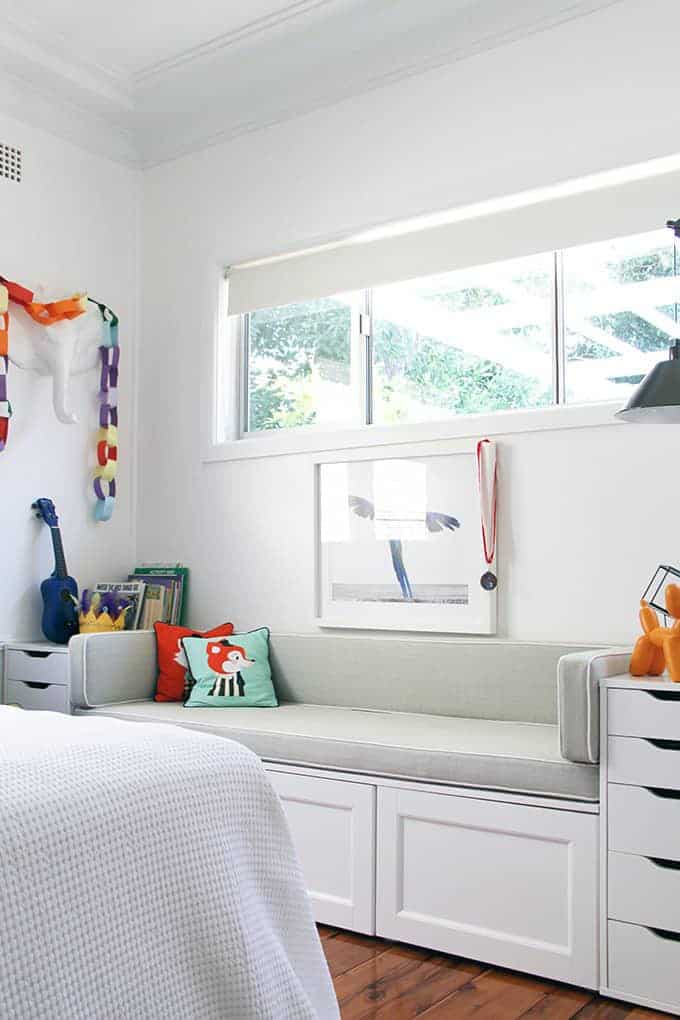 Whether you're looking for toy storage in your child's bedroom or the family room – a cozy bench seat is always a good idea. From reading stories or making memories on the bench to hiding all those toys away in the cleverly hidden drawers – this is one of the best MUST SEE IKEA toy storage hacks. Check out this perfect window seat by Viviane Panagos at ish & chi.
7. Organized Jars – for All the "Littles"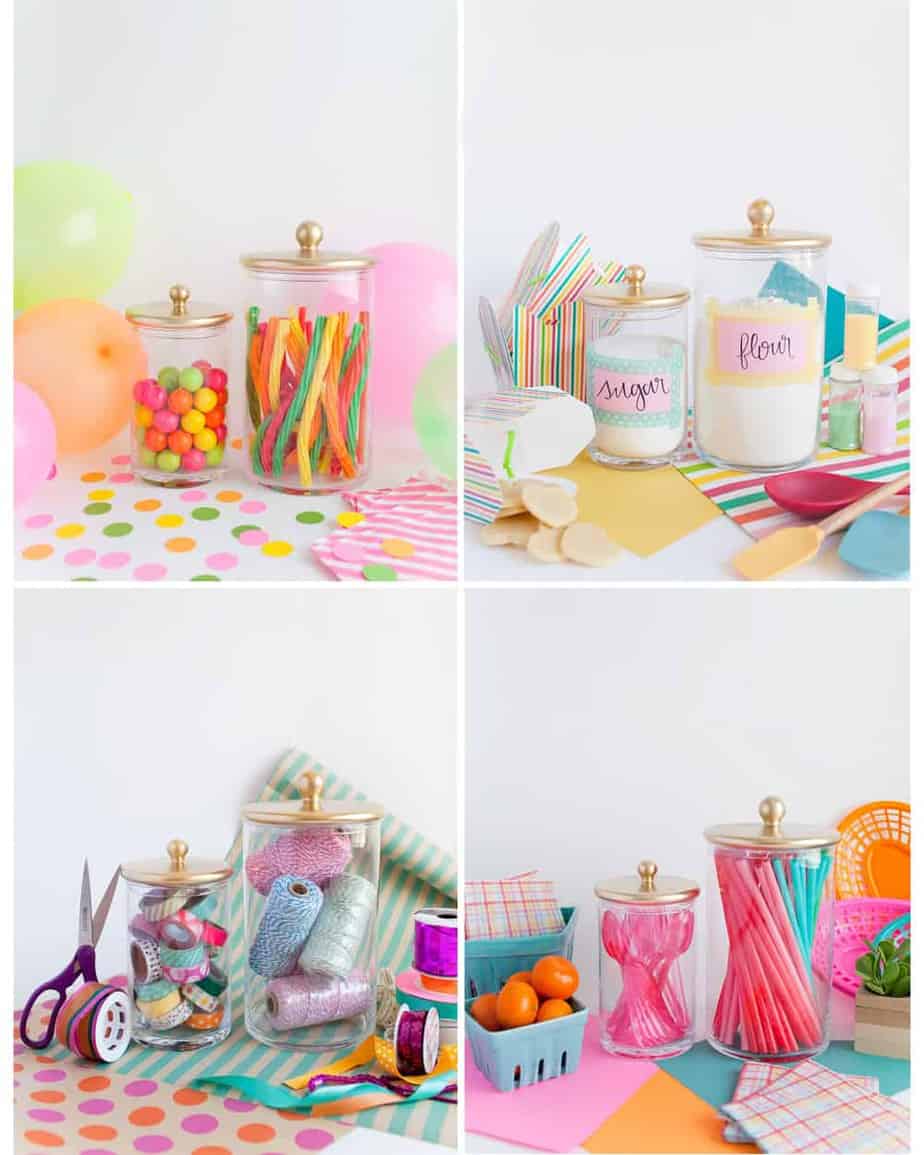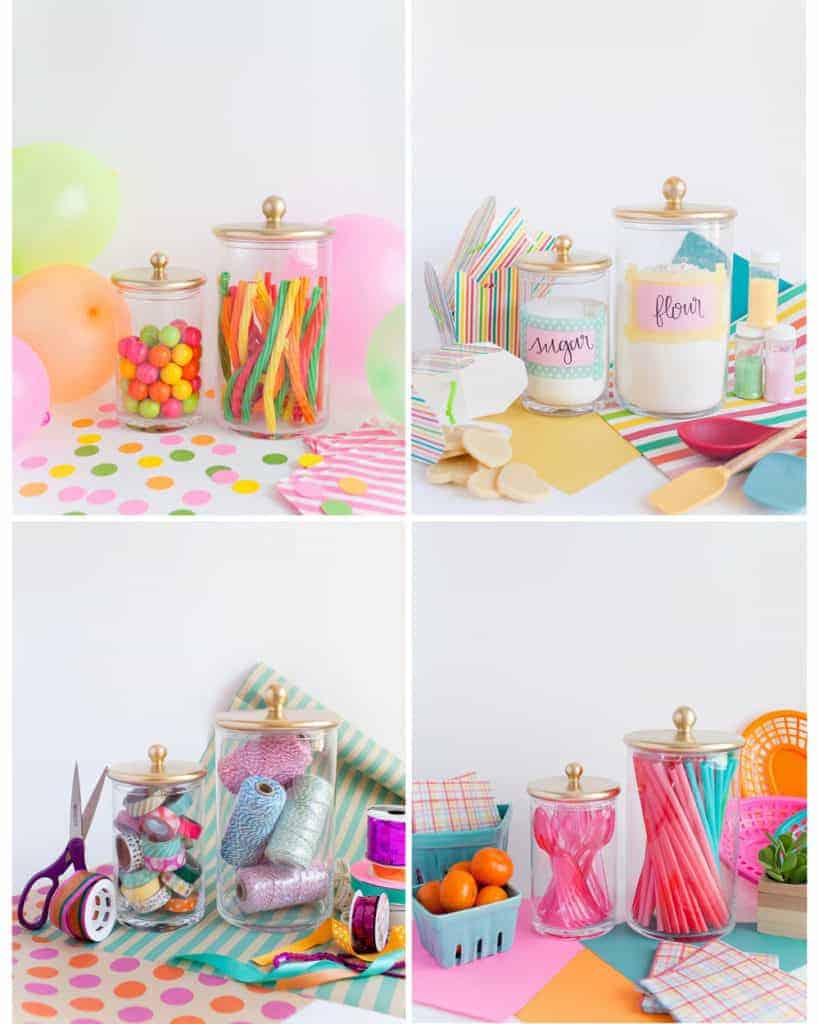 Markers, colored pencils, dinosaurs, cars, polly pockets, bows… the list of "little" toys that always seem to get lost are nothing short of perfect for this incredible IKEA toy storage hack. Make ordinary jars extraordinary by dressing them up and filling them with all the small toys. Organizing your child's toys can actually make their toys into part of the bedroom or play room's decor!
Check out the easiest how-to tutorial here at Tell, Love, & Party!
✔️ Or buy some already cute ones here!
8. Genius Under the Bed Storage
Instead of shoving everything under your child's bed, let one of the best IKEA toy storage hacks utilize your space better. You'll feel so much more organized by filling up the space under your child's bed with crates and bins that hold plenty of toys. Check out Corey's detailed tutorial here!
✔️ Click here for the IKEA Trofast Frame on Amazon
9. Dress Up Rack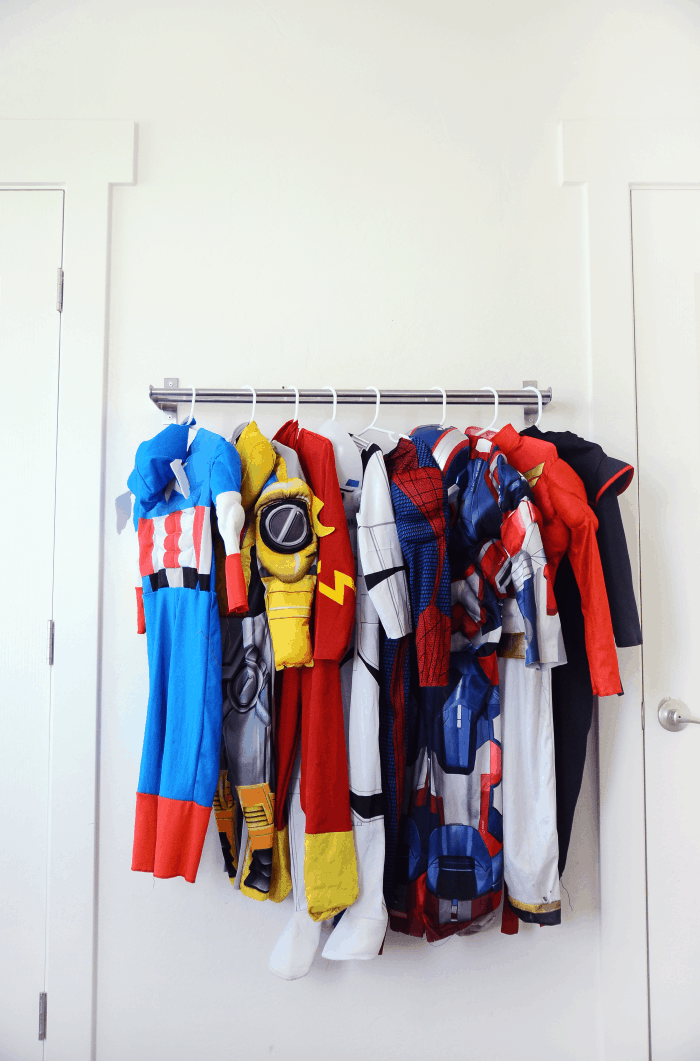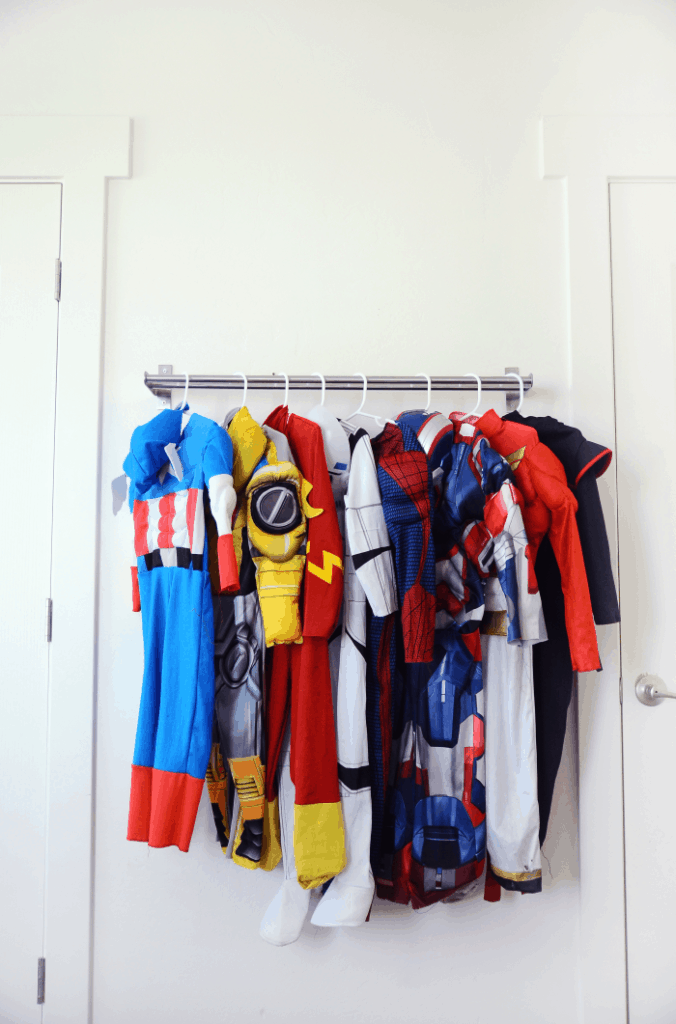 Make your kids' dress up station totally adorable by simply hanging everything up nicely on a sleek IKEA rod. Small Fry Blog has all the details here to see exactly how it's done!
✔️ Click here to find the rod on Amazon!
10. Toy Car Storage
How can you not love this?! This IKEA toy storage hack for cars is genius. I feel like it looks so cool and sleek – while totally serving a purpose! Organize all your kids' cars or other magnetic toys with these magnet bars. Check out the orignal story for creating these right here.
✔️ Click here to see the highly rated magnetic bar on Amazon
11. Toy Storage Bench
I might just have to start an IKEA toy storage hacks: bench edition. I LOVE these. So practical and so useful for organizing your kid's toys and games! Check out the full tutorial at I Heart Organizing.
✔️ Check out this frugal version of the bench by clicking here!
12. Storage Corner/Couch
Let's talk about practical spaces for a second. This IKEA hack helps you organize your child's toys (and keep them hidden), while giving your little one a fun place to sit and read or play. Love this idea from Ikea Hackers.
✔️ Pssst click here to get the IKEA Kallax used in this project on Amazon!
13. Lego Storage #1
Have you ever stepped on a lego? It totally sucks. So a cute lego storage system HAS to be a good idea, right? This is a must see IKEA hack that will save you from a few tears. Find the tutorial here at the Decorated Cookie.
✔️ You can find it on Amazon by clicking here! (Warning: it goes out of stock fast!)
14. Lego Storage #2
And just for good measure, we better add a second lego storage solution to our IKEA Toy Storage Hacks list. This one is also totally genius – you can find the tutorial here!
✔️ Click here for the frugal look a-like on Amazon!
15. Bath Toy Storage
I can't be the only one who struggles to store and organize bath toys. I want them hidden, but accessible – you know? Blue I Style Blog did just that with this genius Ikea toy storage hack! Check out her full tutorial here to organize your baby's bath toys in no time.
✔️ Check out the rail and similar white plastic containers here on Amazon!
16. Fun Nerf Gun Storage
If you have boys in your house, there's a good chance you have nerf guns. Side note: I had nerf guns in my house when I had a husband – before I had a son 😉 Finding a great place to store the nerf guns can be challenging, but if you're looking for a great storage solution She's Crafty has the answer!
✔️ Click here to check out the rail on Amazon!
17. Beautiful Storage Bins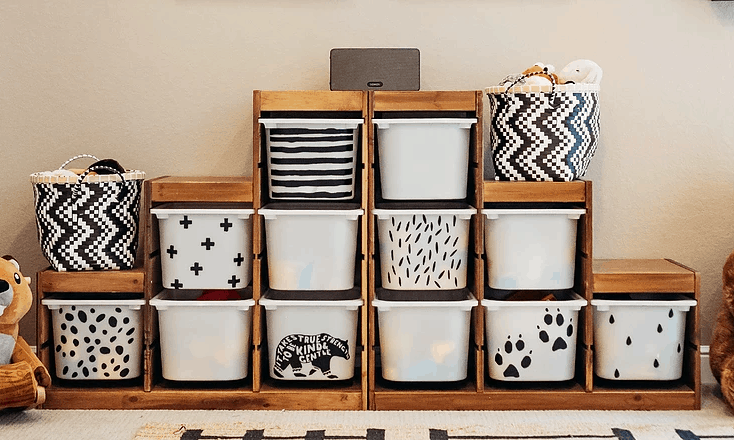 This just may be the prettiest IKEA toy storage hack yet. It looks gorgeous, yet would be able to hold SO MANY TOYS. Hand Makes Home has all the details on how to recreate this beautiful and fun toy storage solution right here – you don't want to miss it!
✔️ Click here to find the IKEA Trofast Systems on Amazon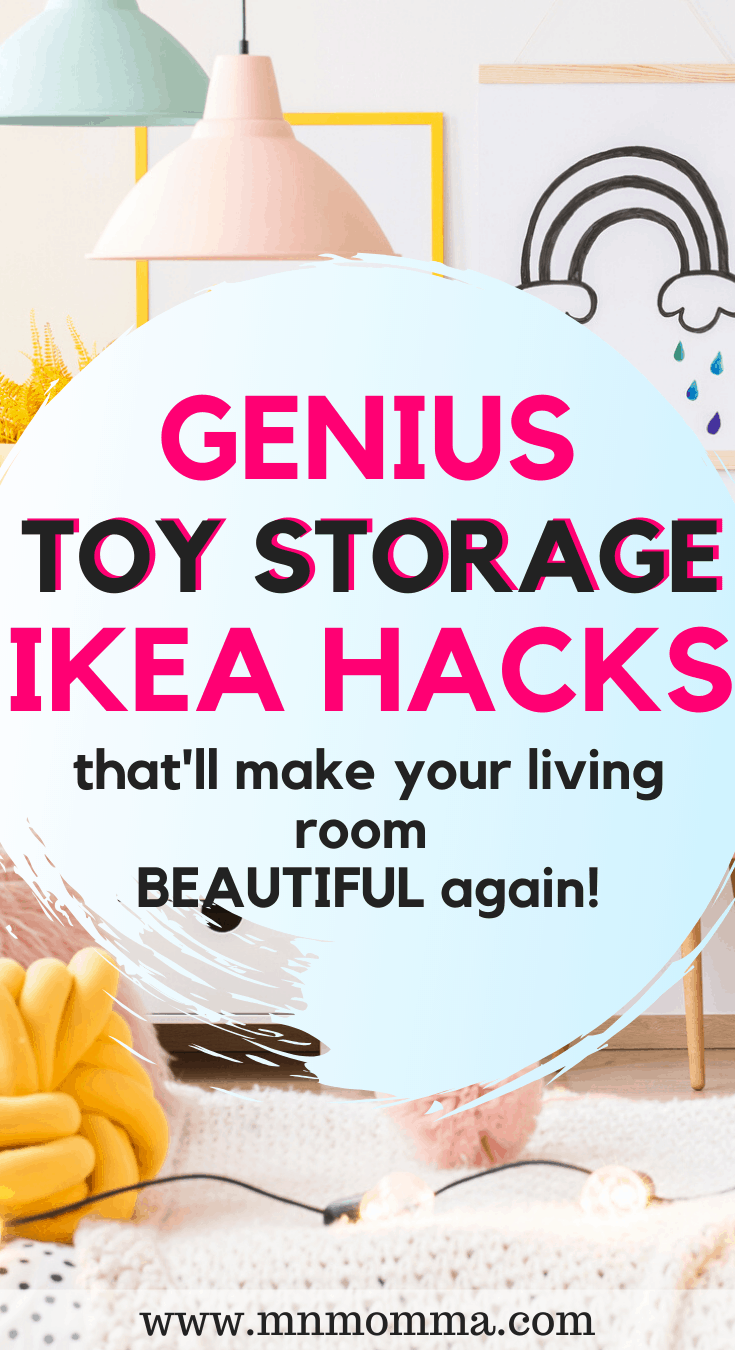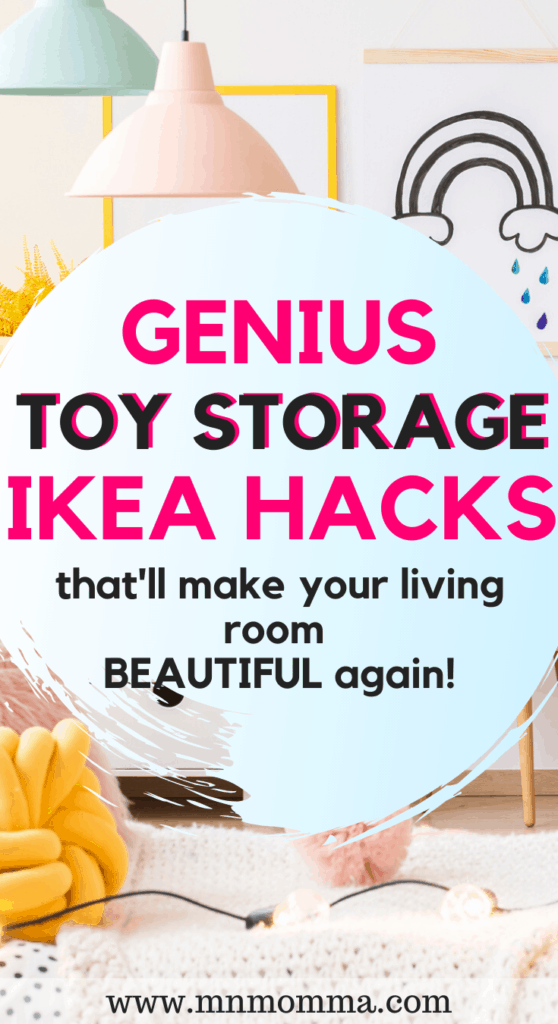 <— Don't want to lose this page? Pin it for later!
Organize Your Kids' Toys With These Hacks Today!
Are you inspired to get your baby, toddler, and big kids' toys organized now? I love that you no longer need to sacrifice your home's looks for your children to be able to have a space to play.
If you decide to try any of these DIY toy organization tricks, I'd love to see your best IKEA Toy Storage Hacks in the comments below!