21 Best Newborn Tips & Hacks to Save Your Sanity
Disclosure: This post may contain affiliate links, which means I may receive a small commission if you click a link and purchase something. Please check out my disclosure policy for more details. All opinions are my own!
Wouldn't it be great if there was a handbook filled with all the best newborn tips and tricks? Something like "the best newborn hacks"…
Unfortunately, it's not as easy as just handing a one size fits all cheatsheet to new parents and calling it good.
BUT…
We've compiled some of the best newborn hacks from moms around the world to help save you time and a little sanity too 😉
If you're looking specifically for breastfeeding and pumping hacks check out this post or grab your copy of Pumping 101 (this one includes a super helpful workbook)!
Also, since I'm an Amazon Prime lover (because I just want my package in 2 days!), I've linked that product or a similar one from Amazon.
Let's get started!
Best Newborn Hacks
1. Baby Onesie Hack – Using the Onesie Folds for a Blow Out
If you haven't seen this amazing trick yet – your mind is about to be blown. You know those cute little folds up by the baby's shoulders on a onesie? Those aren't just for looks.
If your baby has a blow out (aka a poopy diaper that's overflowing), just take those little tabs and fold them back over your baby's shoulders and slide the onesie off from the bottom. So easy! And so much better than trying to pull a gross onesie over your baby's clean head.
Bonus tip: roll the onesie down as you go. This helps keep any poop contained. Also – be sure to rinse the onesie and wash as soon as possible.
2. Diaper Color
Since we're on the topic of wet or poopy diapers, make sure you pay attention to the colored line down the front of your baby's diaper! The line is typically yellow when you first put a clean diaper on your baby and will change to blue if your baby has a wet diaper.
Can you say easy or what?
3. Diaper Bag with a Changing Pad
When getting a diaper bag, make sure you choose one with a changing pad included. It's amazing (and frustrating), how many placed still don't have diaper changing stations for babies. We absolutely love this diaper bag and the foldout changing pad couldn't be easier. 
If you already have a diaper bag you love that didn't come with a changing pad, just be sure to buy one like this and store it in your diaper bag.
4. How to Swaddle the Easy Way – Hello, Velcro!
Most baby's LOVE to be swaddled, but if you've never swaddled a baby before, it can seem a little intimidating. So you have two options. 1 – get to practicing that swaddle! 2 – go with the velcro.
These swaddles will make those 3am diaper changes so much easier! You won't be worried about if you folded the blanket right and you won't be fumbling around in the dark. 
5. Zipper Pajamas for Baby
You know how I just talked about fumbling around during the night? There's nothing worse than trying to button your baby back up and you just can seem to figure out the darn buttons because it's 2am, you're exhausted, and it's dark.
Save yourself a headache and get back to sleep faster by investing in a cute pair of jammies that zips up instead.
6. Middle of the Night Light
Unfortunately, your baby will probably not sleep through the night as soon as you bring him home. That being said, there are some things you can do to help your baby stay in a sleepy mode even during diaper changes or nighttime feeding sessions.
These baby night lights are dim and easy to turn on and off, helping your baby stay drowsy. (Pssst – they're also one of the top rated night lights for new babies and loved by tons of moms).
7. Sleep Sacks – Use Them!
Whether it's a velcro swaddle, a sleepsack, or eventually Merlin's Magic Sleepsuit (which saved our sanity and sleep – read about it here!)- don't be afraid to use sleeping tools for your baby! These tools were developed to help your baby feel secure and comfortable – so use them to your advantage.
8. Wake A Sleeping Baby
After all that talking about getting a baby to sleep, sometimes you have to wake them. This usually only happens during the first few days or weeks when your baby is exhausted and needs to wake up to eat.
Some of the best tips for waking a sleepy baby are:
Talk to your baby
Undress him/her – babies do not like to be stirred from their warm and cozy rest
Tickle your baby's feet
Change your baby's diaper
Wipe your baby's face with a cool cloth
9. Store & Label Clothes
Newborn's grow fast! Whether your little one started in newborn clothes or was in 3-6 months right away, you know that time goes too fast. Have a tote handy to put all the clothes your baby outgrows into. It's easiest if your totes are organized and labeled by size.
Also look for totes that are easy to slide under a bed or crib, or can be easily stored in a closet.
If you're interested in baby clothes storage and organization, you don't want to miss these adorable closet organizers.
10. Keep Track of Baby's Medication
If your baby has to have medication – it can be one more thing to keep track of. Thankfully there's an easy method by LoveZilla – just grab a sharpie, make yourself a little chart, and X off each dose that's been given.
*Nurse Tip: Unless directed by your doctor – make sure you always follow the instructions on medication and give for the FULL number of days/doses stated. Don't stop halfway through your medication just because you've started to feel better.
11. Portable Changing Station – for your Car or Living Room
Unfortunately, your sweet little bundle of joy isn't going to only poop in their nursery. Whether you're on the road or just upstairs, having a portable changing station can save you time and a potential blowout.
Creating an emergency diaper changing tote is so easy and cheap! This full DIY dollar store hack can be found here at Forks and Folly.
If you're looking to make a few of these, Amazon has a 3 pack for a great deal!
Another great car idea? These DIY toddler car kits!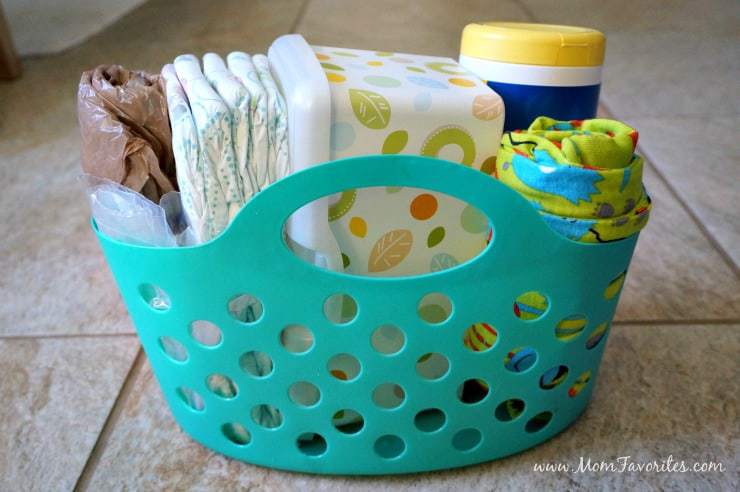 12. An Organized Diaper Bag – Finally!
Gone are the days of rummaging around your diaper bag looking for that pacifier or spare onesie you packed for blowouts. Instead, you can make your diaper bag incredibly organized with these cheap and effective plastic zipper bags.
Pssst. Keep one empty for dirty or wet clothes, trust me, you'll thank me one day!
Check out the 5-pack from Amazon.
For all the details check out Kid to Kid here!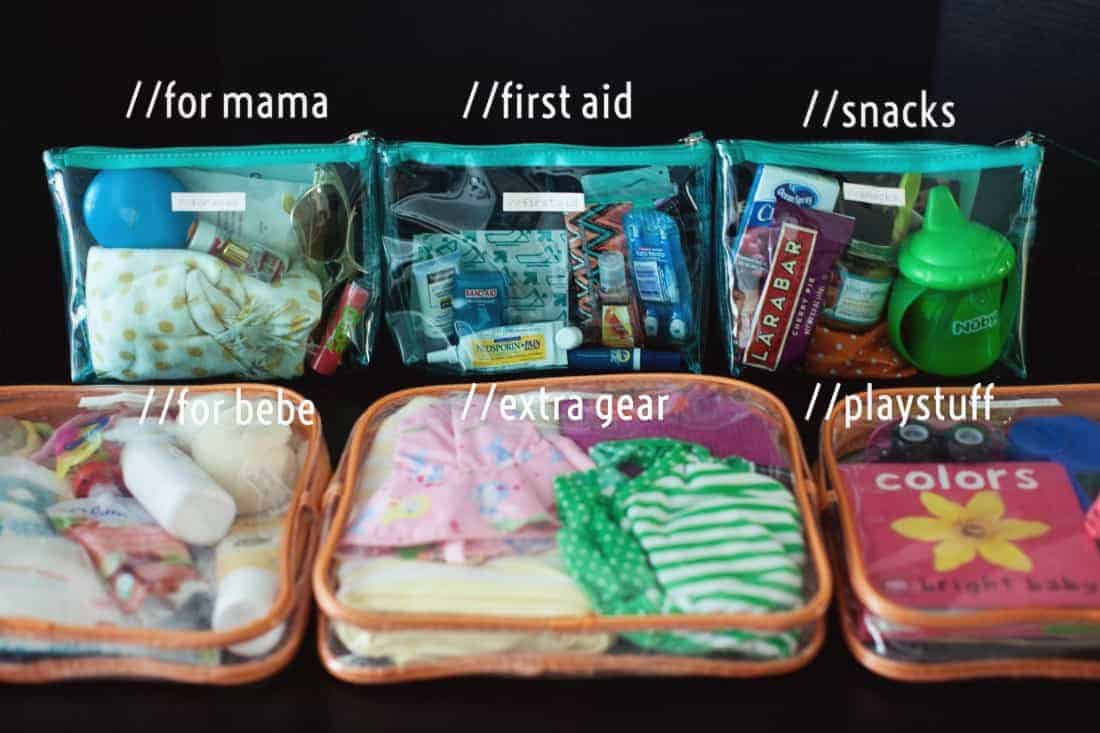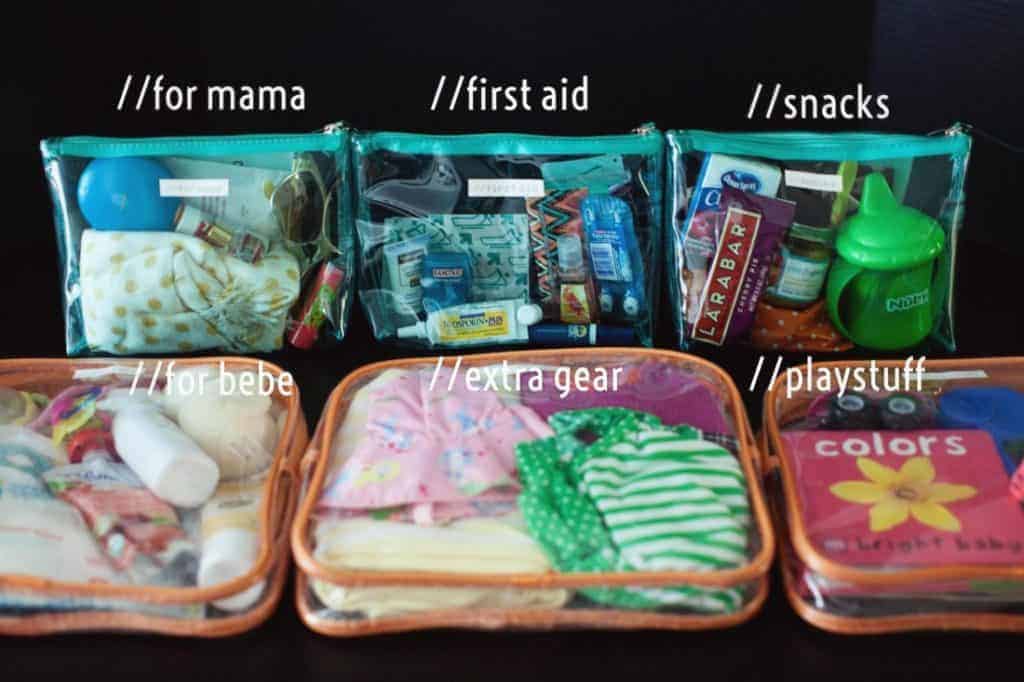 13. Bib Storage Command Hook for Bibs
When your baby's ready for solids, it can be a mess. Keeping bibs close will save you time and help keep your crazy kitchen organized.
Simply attach a plastic command strip hook to the back of your baby's high chair and you're good to go! Your baby's bib has an easy "home" and you'll never worry about one getting lost in your cupboard.
You can grab two of these from Amazon for a ridiculously low price right now.
Check out The Krazy Coupon Lady's hack here!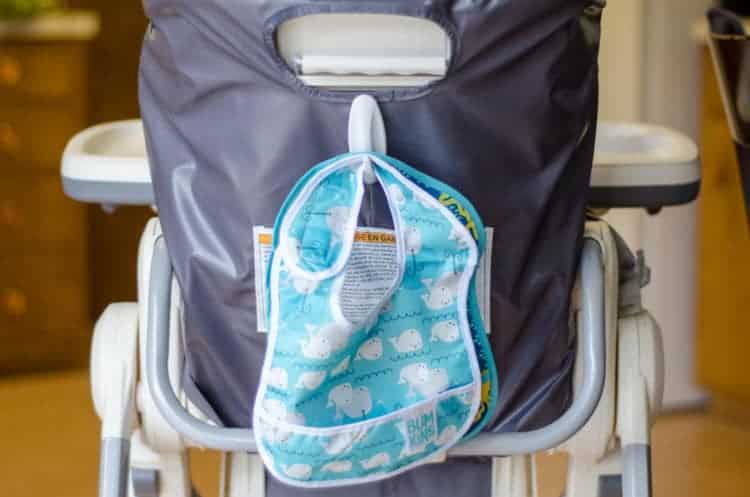 14. Make Cleanup Easy with an Old Shower Curtain
Remember how I mentioned that starting solids can lead to a mess? Well… if you don't believe me just feed your 7 month old spaghetti. I'd love to say that changes as your baby get's older, but then he'll want to try dropping his food to see what happens. Just you wait 😉
To save you time scrubbing your floors (and save your sanity!), just grab a shower curtain or paint drop cloth and put it under your baby's high chair. Trust me, cleaning up has never been this easy.
If you plan to try or currently use baby led weaning, then this tip will be life changing. 
Amazon offers a cheap paint drop cloth like this one for less than a cup of coffee!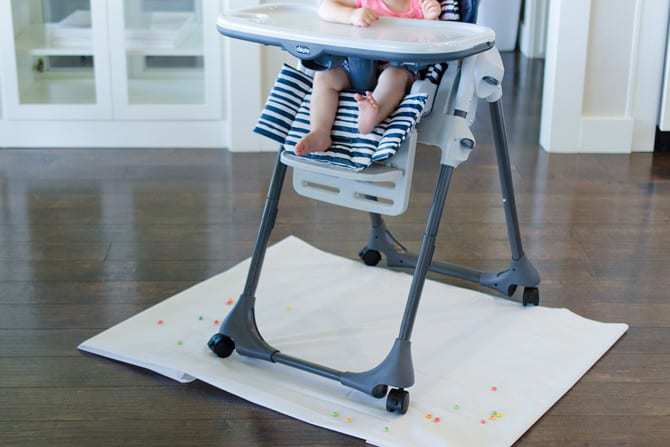 15. A Crumb Catcher for Baby
While we're on the topic of food, you can't miss these bibs! These Bibs are one of the best baby products we ever purchased.
While it's pretty self explanatory, the bib catches any food your baby would have otherwise dropped on herself and her outfit. Cleanup is also incredible easy as these unsnap and can be washed in the sink and left to dry quickly.
If your baby is really messy, or you just love her clothes too much to think about the possibility of ruining one, Bumkins Waterproof Sleeved Bib
is for you. We're talking a full upper body bib – sleeves and all!
**These bibs are sometimes hard to find in stock. These are a top rated, great alternative!
16. Keep Track of Your Baby's Feedings, Diapers, & Sleep With Ease!
You have enough to worry about as a new parent. Worrying about writing down when your baby last ate, how many wet diapers he had or how long his last nap was shouldn't have to be difficult!
Thankfully, with the FREE Medela App, it's super easy to keep track of all your baby's happenings. I know your phone is close by, so grab the app and make tracking easy!
You can download the Medela App here (Android or iPhone)!
17. The Easiest Way to Keep Track of Freezer Milk – This Milk Log!
Okay, so this newborn hack is for moms and baby. If you're choosing to breastfeed or pump breast milk, this milk log is going to be a life saver!
Just write down the date, time, and number of ounces you froze and easily keep track of how much milk you have available for your baby.
I can't tell you how many times I went out to our deep freeze and counted the ounces (sometimes less than 5 minutes apart! Hello mommy brain!).
You can get this milk inventory log free by subscribing to my newsletter!
18. All-In-One Baby Cover: Nursing Cover, Car Seat Cover, and More!
Stop wasting your time with a car seat cover, a nursing cover, a shopping cart cover, and a high chair cover. This cover does it all. So if you're hoping for one less thing to keep track of (and wash) – don't miss it! It also comes in some adorable colors and is SO soft.
If you're on a budget – check out this one – it's also a 4 in 1 baby cover!
19. Sterilizing – Quick Steam Bags for Bottles and Pump Parts
Whether you're a pumping mom or a formula feeding mom – you know the pains of constantly washing and sterilizing bottles and pump parts. You can easily save yourself some time by using Medela's Quick Steam Bags! Simply add the pump parts or bottles, put some warm water in, and throw it in the microwave.
The instructions state that these bags aren't just a one time use, but can be used up to 20 times.
20. Breastfeeding/Nursing Necklace
As your newborn gets a little older, her eyes will start to wander. She'll hear sounds and want to look or she'll see something out of the corner of her eye, and it's over! Your super easy breastfeeding session is now a fight to get your baby to concentrate. A nursing necklace can help keep your baby distracted towards you and help keep her hands busy why nursing.
Bonus: the necklace can also be used as a teether!
21. Learn Your Baby's Feeding Cues
Learning your baby's feeding cues is HUGE. You'll help prevent some excess crying and frustrations – for both baby and parents! Your baby will start to give you signs that she's hungry before actually crying.
Signs that your baby might be hungry include:
Licking his/her lips
"Rooting" – turning his/her head looking for the nipple
Opening his/her mouth
Stretching and wiggling
Moving his/her hands to her mouth or sucking on his/her fingers
For more on early feeding cues – check out this post!
Best Newborn Tips
While these newborn tips can't guarantee your baby will sleep through the night or never have a blow out, but they sure can't hurt!
Are there other newborn tips that you swear by that I forgot to mention? Let me know in the comments below!
And if tips and hacks are your thing these IKEA Nursery Hacks or IKEA Hacks for Kids might be just perfect for you!