2022 Prime Day Deals for Mom & Baby
Disclosure: This post may contain affiliate links, which means I may receive a small commission if you click a link and purchase something. Please check out my disclosure policy for more details. All opinions are my own!
Have you heard of Amazon Prime Day yet? It's a huge sale at Amazon that happens once a year, where they set tons of products at great prices.
I've found some great mom and baby products that are on sale this year and I'll be adding some of the best deals right here for you to check out!
But first, here's what you should know about Amazon Prime Day before you get shopping (don't have time for all the details? Skip straight to the deals here):
You must be a Prime member to get the deals (but a 30 day free trial still qualifies – sign up for yours here!)
Prime Day 2021 is going to be July 12 & 13 – you read that right. TWO days of sales!
Select "Watch Deal" for any of the items you're interested in to help keep track of your favorites!
Different products go on sale at different times, and some sell out fast! Depending on the product, you might have to be on your toes, have lucky timing, or set alerts
You can save even more with Prime Day with these tips
It can be addicting – consider yourself warned 😉
What Can You Get Early from Prime Day?
You can get some Amazon Prime Day Deals early like the following:
Best Amazon Deal Categories for New Moms
If you want to start browsing all the deals early yourself, you can search through all the Amazon deals and even break them down by category to make things easier.
One of my favorites ways to quickly sort through all the deals, and find the very best ones is to choose a category and then choose a high discount percent from the sidebar: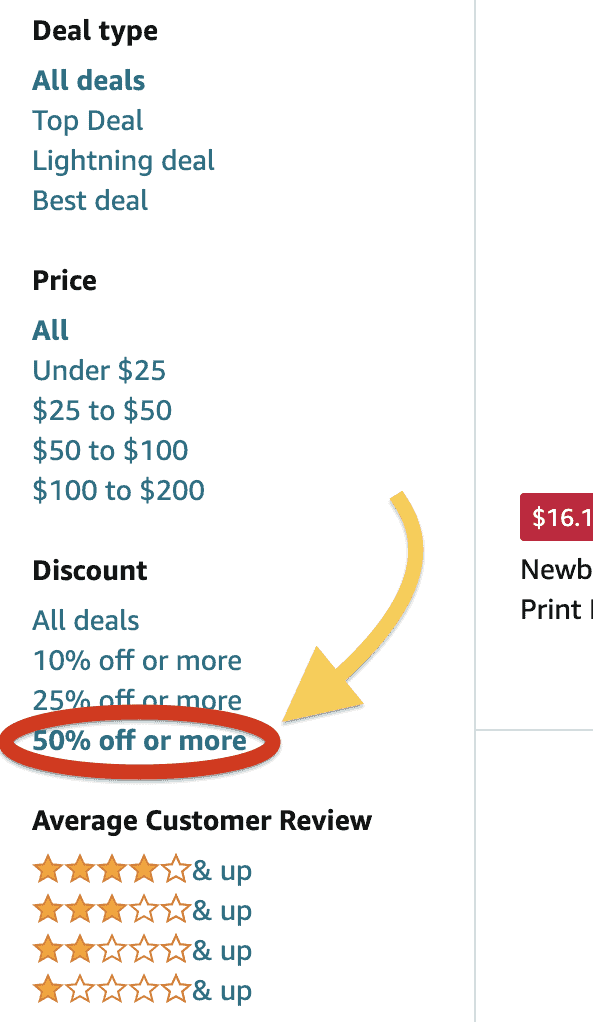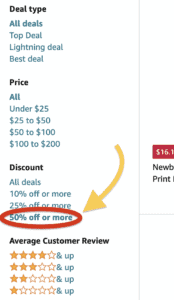 You can check out all the Prime Member Deals right here.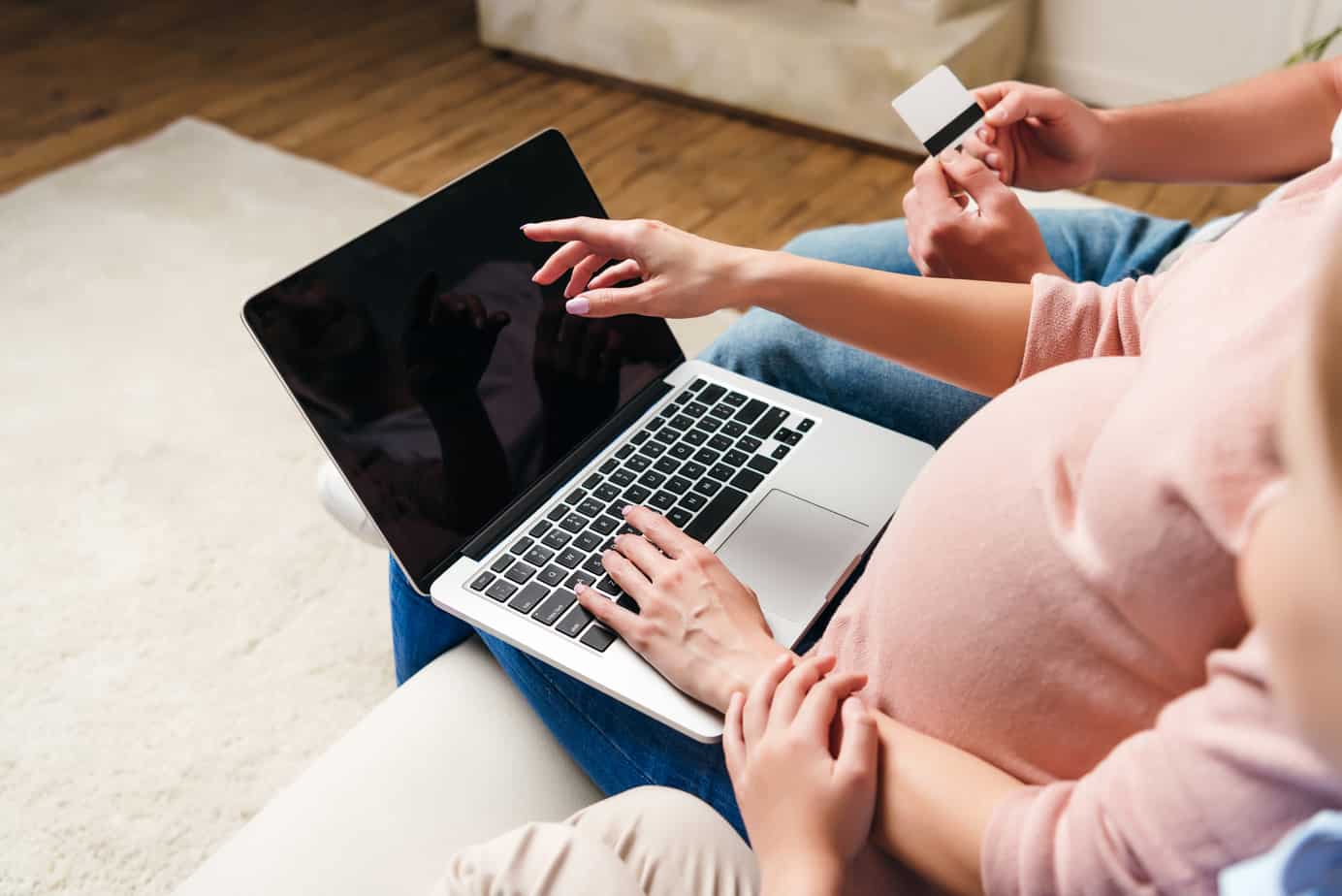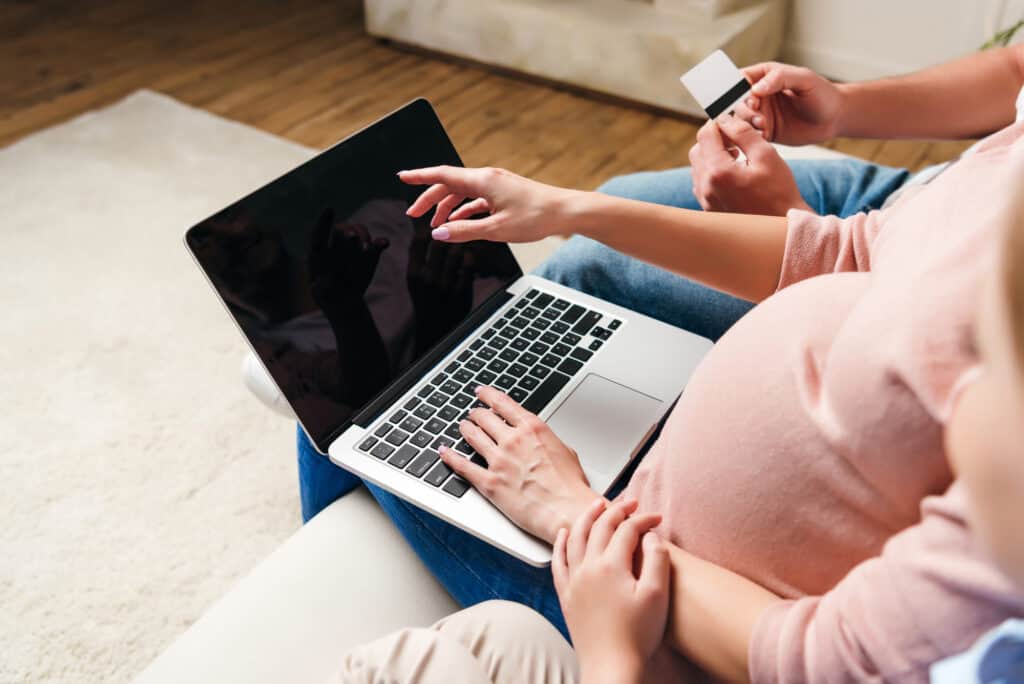 BABY & MOM DEALS (IN ORDER OF SALE TIME):
Okay, here we go! All the best Amazon Prime Day deals for moms and babies!
Note: While Amazon doesn't release all it's deals early, I'll be sure to share the ones I do know a few days in advance. As they continue to become available, I'll be sure to update this list throughout the day.
**Don't forget that items don't go on sale until set times. If you have some items you have your eye one, here's a tip: add them to your cart NOW so you can quickly get them when they go on sale!
HOT DEAL ALERT: I'll also add the fire emoji (🔥) when something is a hot deal! Not that the others aren't also awesome, but these are the ones you NEED to be checking out.
Here's Amazon Prime Day's Best Deals for Baby and Mom:
These items are on sale during Prime Day on Tuesday and Wednesday:
BABY/TODDLER DEALS:
FRIDABABY GEAR
FAVORITE BABY BOTTLES
PREGNANCY DEALS:
MOM DEALS:
Other Fun Prime Day Deals
Get Alerts With Amazon Alexa for Prime Day
Did you know that if you have certain items that you REALLY want on Prime Day and you have an Alexa device, you can set Alexa to notify you when they're on sale (so you don't miss anything!)?
If you're in a pinch, you can even tell Alexa to buy it for you.
So here's how it works:
Add items to your cart, wish list, saved for later on the Amazon App/website or on your Alexa device.
Alexa will notify you upto 24 hours before the item goes on sale! Tip: Just remember to ask Alexa "what are my notifications" if you see the yellow ring or notification pop up on your device.
You can then ask Alexa to buy the deal or notify you when the item goes live.
Extra Ways to Save on Amazon Prime this Year
A new way (at least to me) to earn a $10 credit is to use a Prime Stamp Card.
Simply activate your Prime Stamp Card and do the following actions from June 13-July 16:
You can also save more by unlocking over $60 in Amazon credits by doing different actions – you can check out all the possibilities here. These include:
Browsing offers
Completing actions
Redeeming rewards
Amazon Prime Day
Don't forget that you have to be a Prime member to have access to these deals. I used the 30 day free trial and couldn't give up the free 2 day shipping after it was over, so I became a member (but if you can, you're far more patient than me!).
Bonus Prime Membership Sign Up Tip:
I'll continue to add to this list as I find great deals on products that I think you'll love! Happy shopping!
P.S. Did you score something amazing that you just have to share? I'd love to hear about it in the comments below!