14 Brilliant IKEA Hacks for Kids (That You Can Totally Do Too!)
Disclosure: This post may contain affiliate links, which means I may receive a small commission if you click a link and purchase something. Please check out my disclosure policy for more details. All opinions are my own!
Have you been on the search for some incredible IKEA Hacks for Kids?
Check out these amazing IKEA hacks for your kids bedrooms or playroom. These are a great way to add a unique and creative touch – plus, the price tag is pretty tough to beat.
Some of these DIY IKEA hacks are also pretty easy, even if crafts are not your strong suit.
If you're searching for IKEA hacks to personalize your baby's nursery, jump over to my post for IKEA nursery hacks.
Related:
How to Get IKEA Stuff Without Paying Shipping
Unfortunately, if you don't live near an IKEA store, the cost of shipping ikea products can be a deal breaker.
For each hack, I've done my best to find you the same IKEA product on Amazon or a frugal look-a-like version to save you a little money!
If you're feeling inspired by these projects, don't forget to use Amazon Prime to get your free 2-day shipping (or just use the free trial and enjoy free shipping for 30 days!).
I always feel really motivated when I see incredible projects like these from ikea hackers and want to get started right away!
IKEA Hacks for Kids Bedroom, Playroom, and More
So here we go – the most beautiful, incredible, and awesome IKEA hacks for kids' rooms.
With so many great ideas, you just might find yourself having to pick and choose which project to start first!
1. Learning Tower Stool (aka the Help Stand) – For the Most Curious Kiddos
This might be the best of all the IKEA hacks for kids I've seen.
If you haven't heard of a helper stand before, they're made to give your young child easy access to helping in the kitchen and reaching items they normally couldn't – all while staying safe and secure with the railings around them.
I LOVE how practical this IKEA hack is, how much use it'll get, and the COST (is amazing!).
Sina from Happy Grey Lucky, created this awesome tutorial for a learning tower for your kids from a simple IKEA stool.
The entire project only cost her $38 including the IKEA items – seriously – so cool!
Check out the full tutorial right here!
Get the stool on Amazon with free shipping here!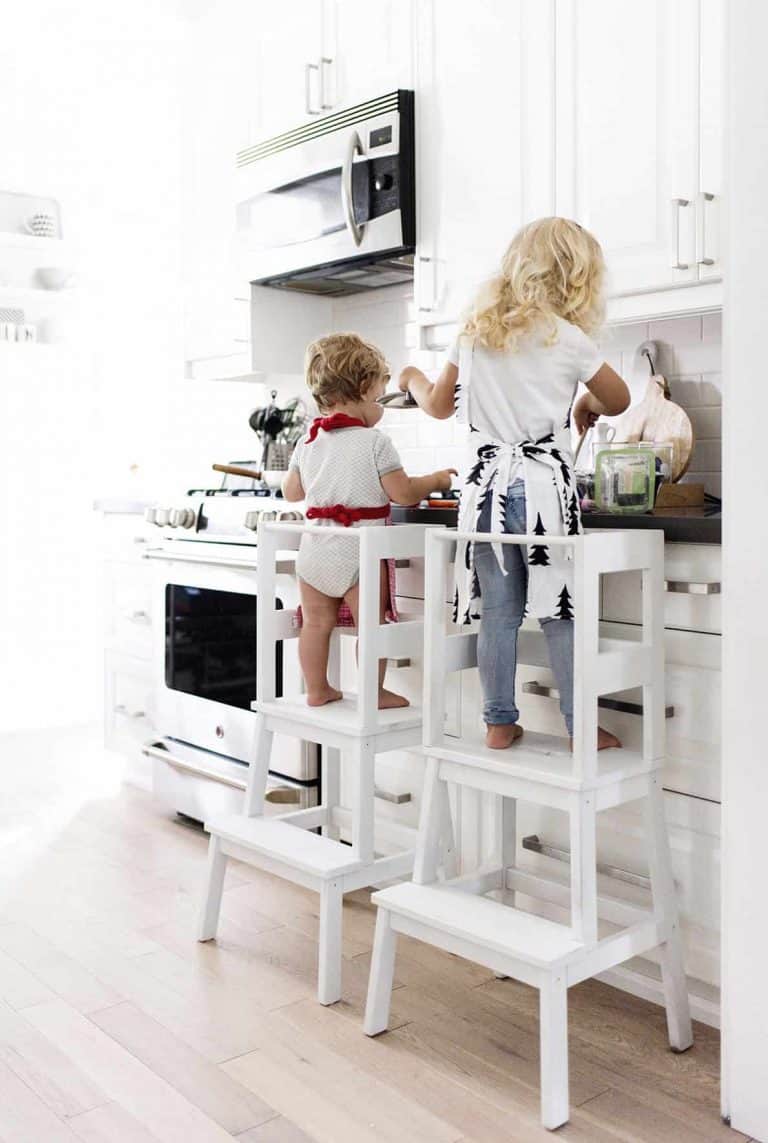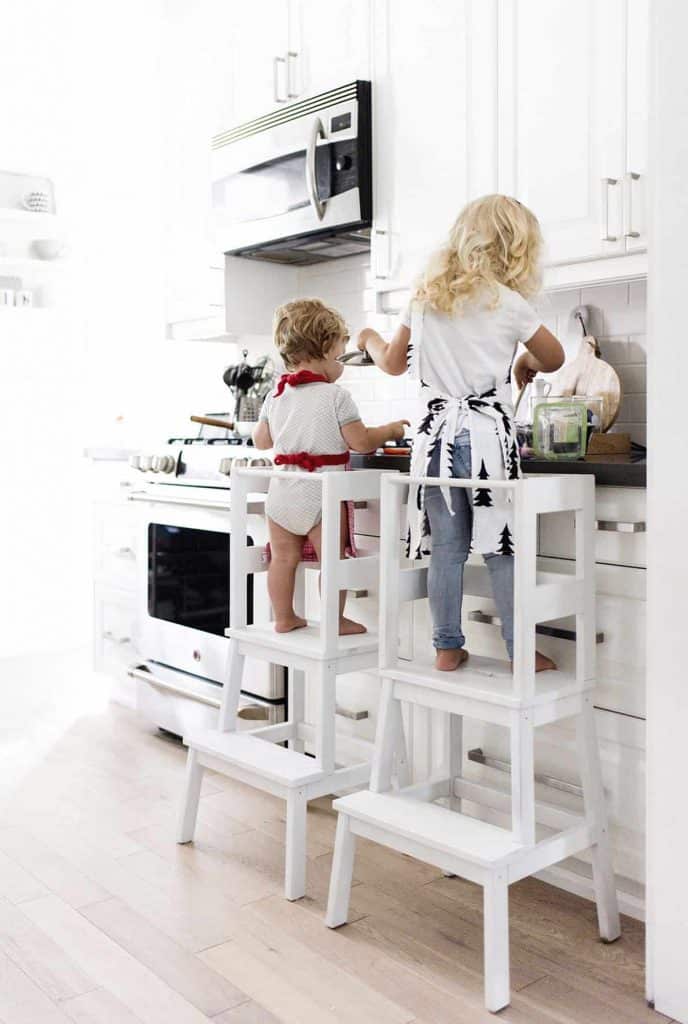 2. Lemonade/Ice Cream/Sushi Stand
How adorable is this little market stand?
Whether your little one is selling lemonade, ice cream, or grocery shopping, this stand is the cutest!
Casey from Little Lifelong Learners, knocked this playroom necessity out of the park.
Dress it up with a little paint or keep it classic and add it to your kids room.
Check out Casey's how to right here to make your own!
🛒 Click here to grab the IKEA crates you need from Amazon instead!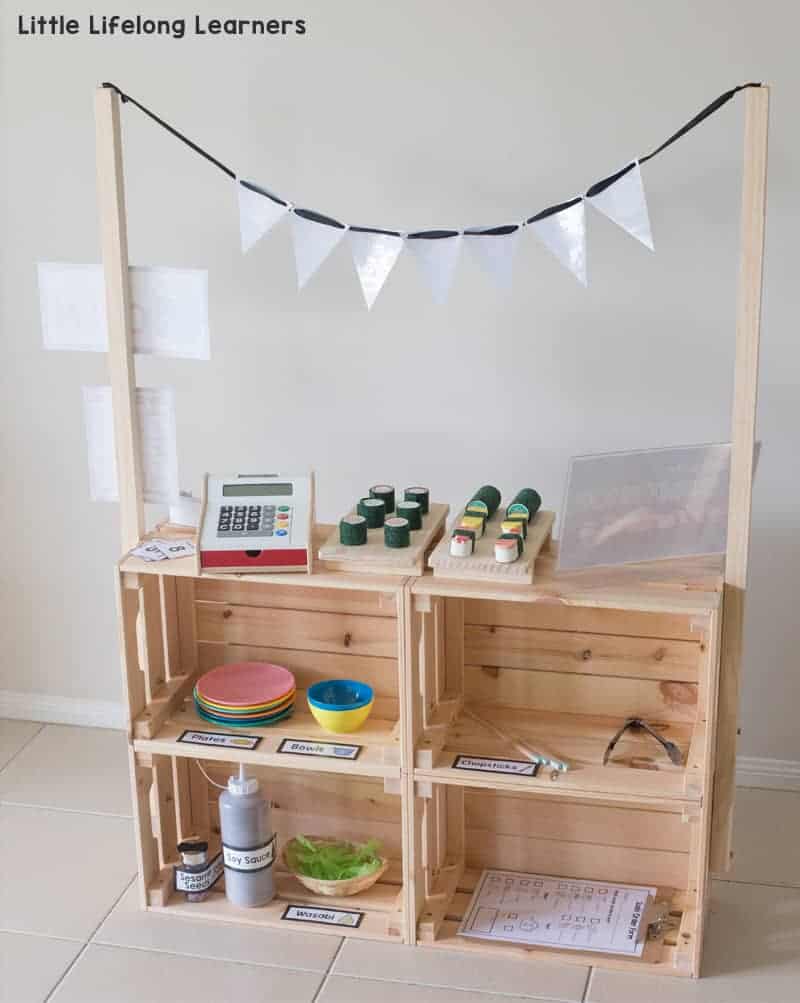 3. Rustic Storage Bookcase
Whether you choose to create a baby changing table or an awesome toy storage area – this is one of the most amazing hacks.
Young House Love shared their creative rustic design staged as a changing table, however, I can totally see this in a little boy's rustic themed bedroom or a little girl's fairy tale forest room filled with books and bins for toys and art supplies.
Check out the full tutorial here!
🛒 Here's a similar bookcase from Better Homes and Gardens on Amazon – free shipping with Prime!

4. IKEA Play Kitchen (A Gorgeous High End Kitchen For Kids!)
Sometimes your kids just beg and beg for a gorgeous, beautiful, kitchen remodel.
Oh wait, that's me.
But if I can't have gold fixtures, white subway tile, and a butcher block counter, at least my babies can have it, right?
This DIY project is the perfect way to give your kids a fun play area while simultaneously creating a beautiful space in the kid's room.
Check out this gorgeous IKEA kitchen set hack here on Craftykins where she uses the IKEA Duktig play kitchen as her base, with a little white paint, and a quick trip to the hardware store.
If butcher block isn't your style… consider adding marble contact paper to the "counters" and let the pretend play begin!
🛒 Find this IKEA kitchen set (pre-glam) on Amazon
5. Clean, Pretty, Closet Organization
This ikea kids' room hack makes great use of small spaces.
Organized clothes are nothing to scoff at. And storage solutions?
Sign. Me. Up.
Take for example, this gorgeous and fun closet! Erinn at Strawberry Swing and Other Things created this organized closet with a few key IKEA closet pieces and storage boxes.
As a bonus – you'll be able to fit more cute clothes, with the right organization system!
🛒 Click here for the Frugal Version of this IKEA setup!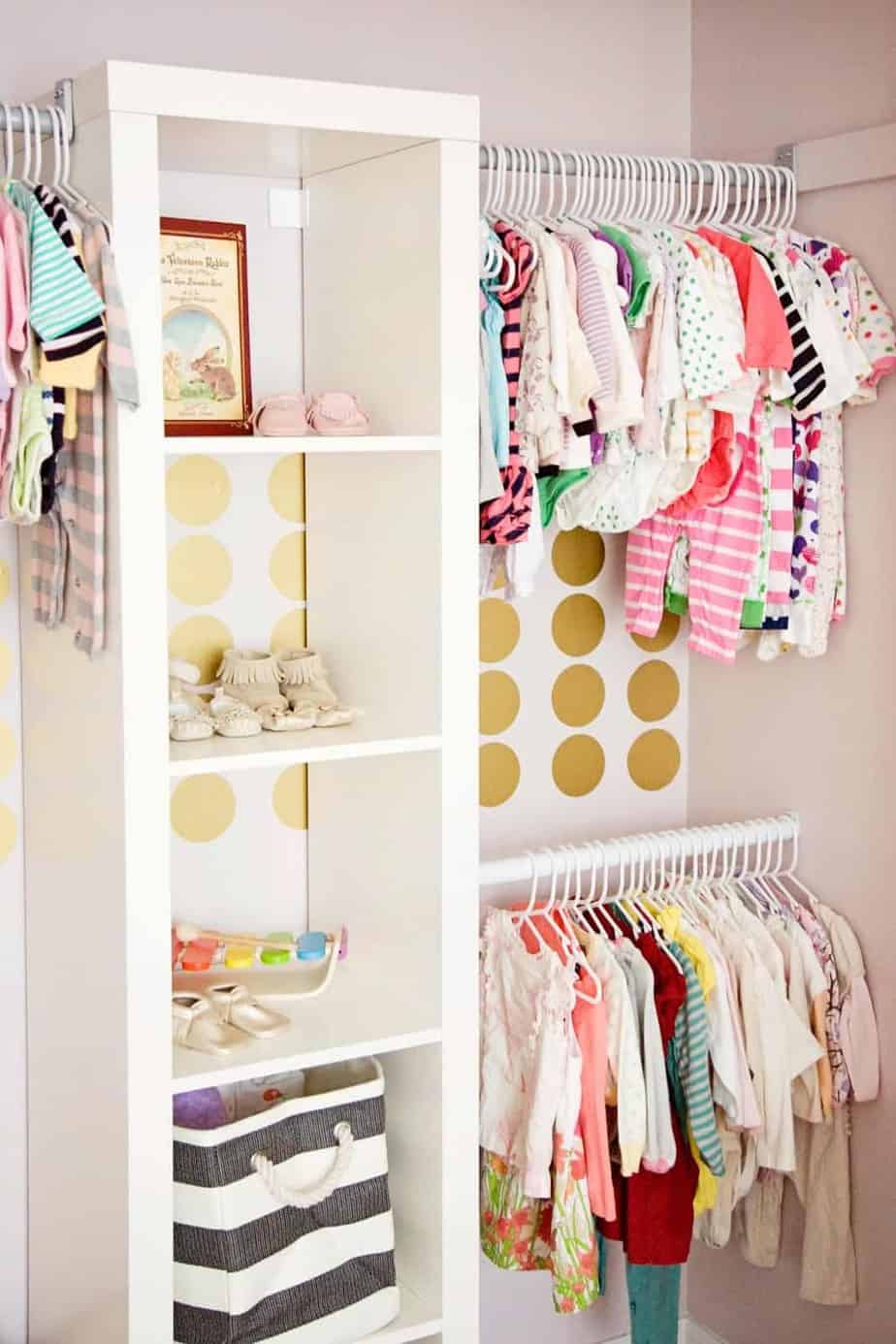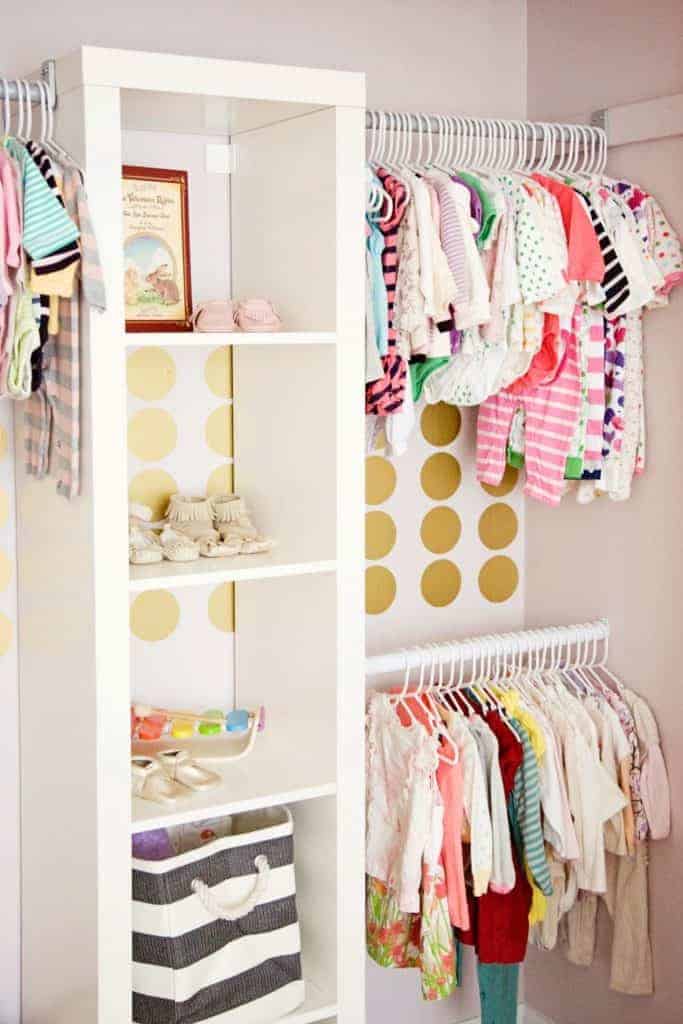 6. Train/Toy Table
Your kids will have a whole lot of fun with this train play table by the Crazy Craft Lady.
By using just a few key affordable ikea furniture pieces, your child's dreams will come true.
Maybe it's because I have a little boy who already loves "choo choos", or it's the clean organization and storage space it provides; but I think I need this in my basement – yesterday.
You won't even mind having your kid's trains or toys out with this cute IKEA hack. Check it out here!
🛒 Save on shipping! Find the Ikea Trofast Frame on Amazon here!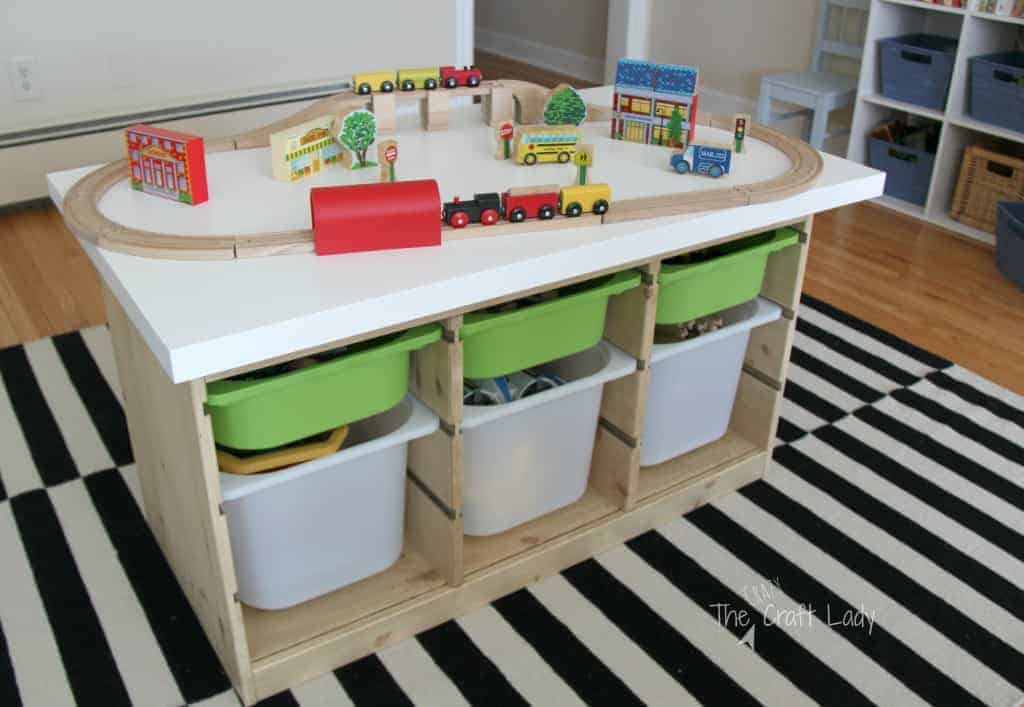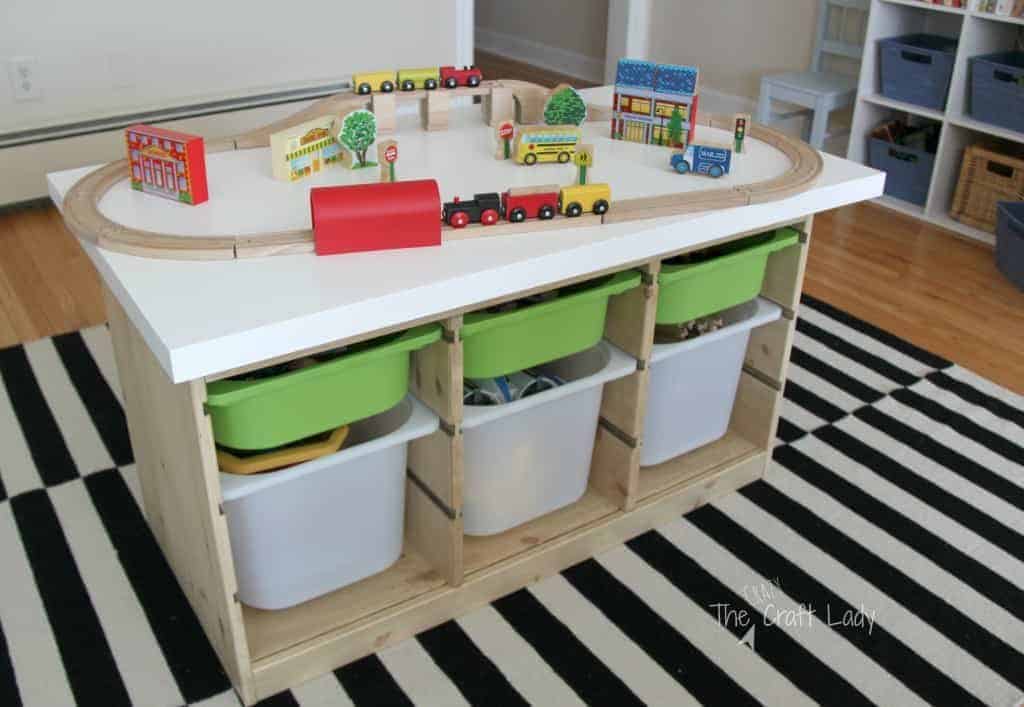 7. Floating Fluffy Clouds – Bookshelf
Whatever your bedroom or playroom theme is, these pretty fluffy cloud bookshelves can match it!
Why not use a great hack to make those books look extra cute.
This clever ikea hack is so simple, but adds a creative and unique flare to your child's room that you can't find with a regular bookshelf!
Check out the full tutorial on Petit and Small by DecoPeques!
8. The Clean Lines – Spice Rack Bookshelf
Books are so important to our little ones. Did you know that even having books in your house can help your child?
Check out this beautiful, simple, and totally customizable bookshelf by City Mom.
It's ridiculously easy to DIY and super affordable! Citymom.nl has tons of ideas for colors and design.
Check it out here!
🛒 Amazon – Ikea Bekvam Spice Rack, Birch, Set of 4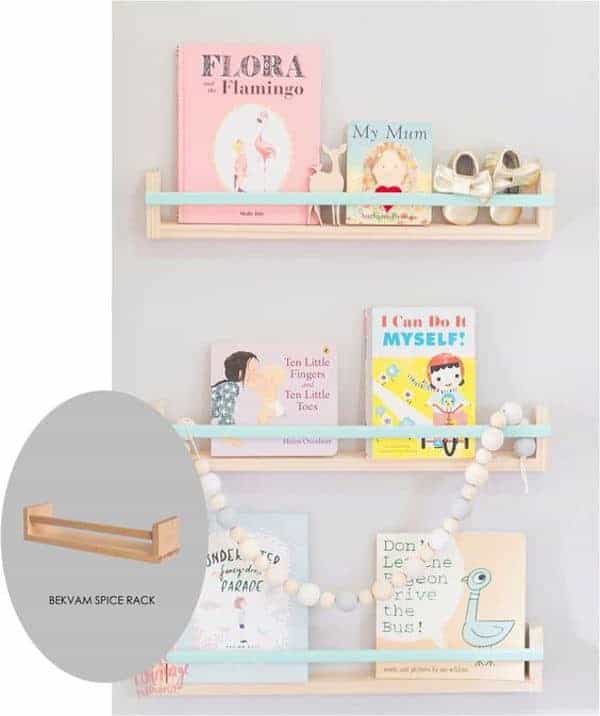 9. Cozy Reading Corner/Window Seat
I think I was made for this seat. How cozy and comfy can you get?!
I love the clean and cool vibe this reading corner gives off – almost like it's not even trying to be cool – you know?
Swoon.
This window seat is sure to make your child or teen want to climb up, settle in, and read a good book.
As long as momma doesn't settle in first ;).
Check out this perfect window seat by Viviane Panagos at ish & chi.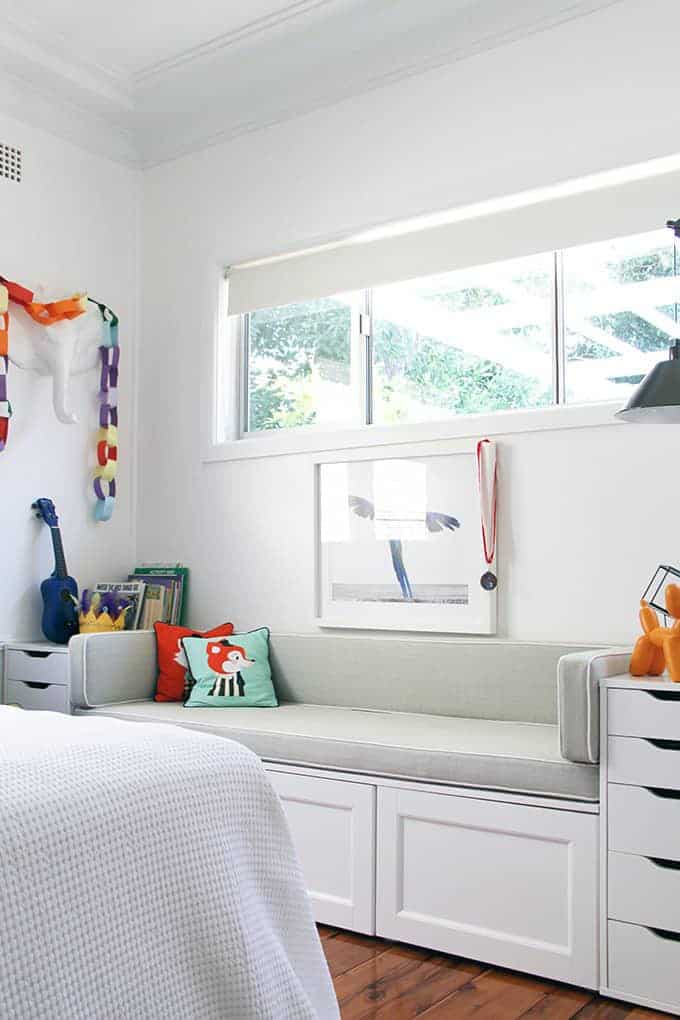 10. Organized Jars – for Every Thing!
Markers, colored pencils, dinosaurs, bows, craft supplies …
These jars were meant to be filled and organized with your stuff.
Whatever you've got, I'm pretty sure these perfect size jars can handle it and make your playroom look complete with just a bit of spray paint.
For the easiest how-to tutorial, look no further than here at Tell, Love, & Party!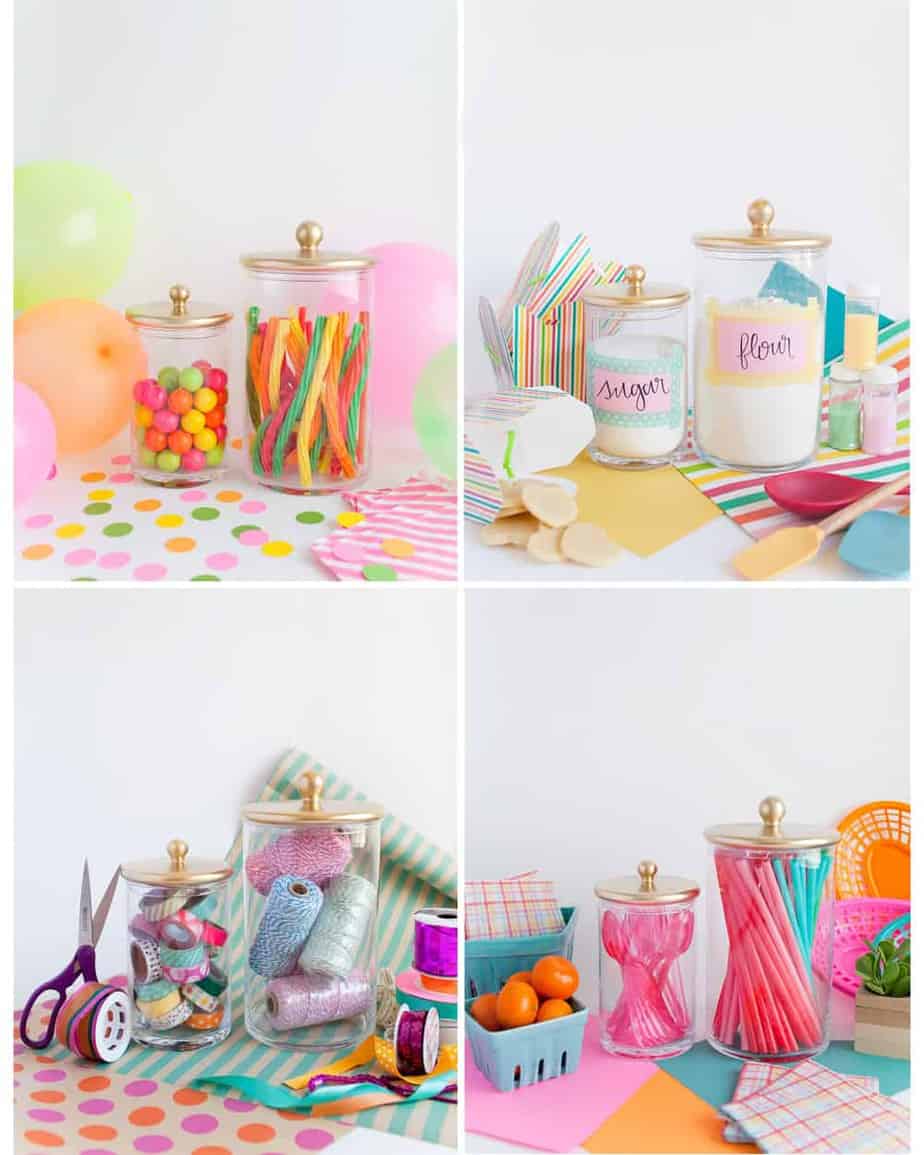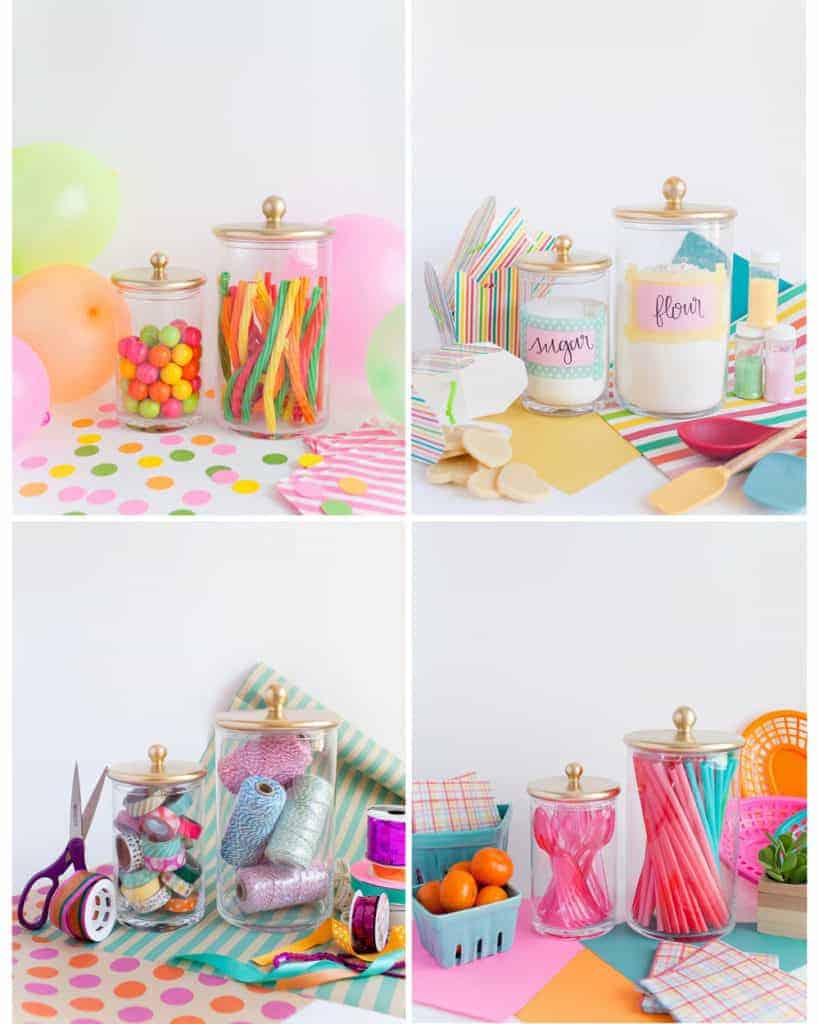 11. Kids Table
Sitting at the kid's table has never looked so cool, or so beautiful in your house! Whatever colors you choose, brighten up the IKEA Latte Table, with some pretty paint and cushions.
Consider making it a kids desk or activity table where all their best projects can be made.
I'm obsessed with these gold dipped chairs, but you could personalize this project further by adding chalkboard paint to the table top or different colours throughout.
Check out Cook Like A Champion for the details to make your own!
🛒 Grab the IKEA Latt Table & Chairs on Amazon for less than $50!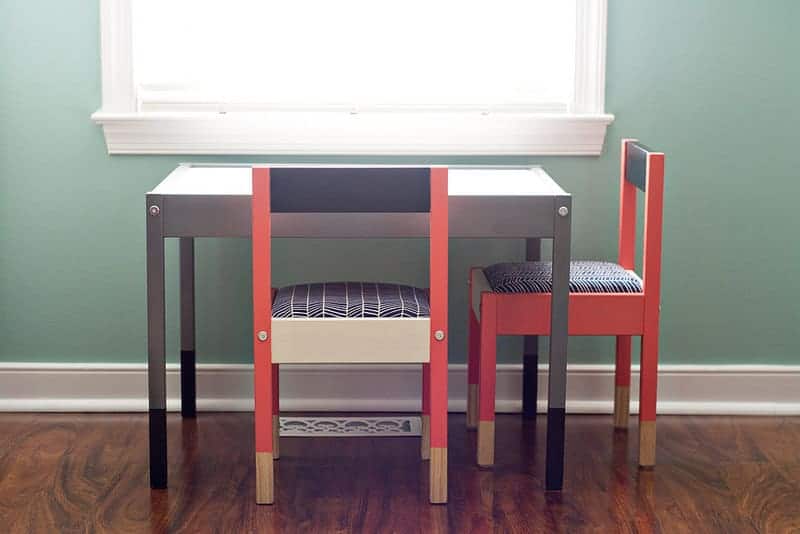 12. Playroom Pouf
Whether it goes in the bedroom or a playroom, a giant pillow that you can sit on or play on is a MUST!
Of all the IKEA hacks for kids – this one is so easy to customize.
Whether you're going for a gorgeous pouf or a wild and fun print – your room will feel more complete!
Not only did Kristi Murphy make this pouf fashionable, she also made it budget friendly!
Check out this budget friendly IKEA hack here on Kristi Murphy's site!
🛒 If DIY is not your style – Amazon has a ton of choices for less than $100!
13. Dreamy Dresser
Whether you're looking for IKEA hacks for kids or creating your baby's nursery – these dressers can be created to perfectly match your child's bedroom theme.
I'm swooning over my love for these pretty dressers!
You'll be amazed how little time seems to go by before your baby gets older and having something that's easy to update and grow with them like this piece of furniture is key.
Check out the tutorial here on Sarah Sherman Samuel's site!
🛒 Find the Tarva Dresser on Amazon
Here's another designer, Davia Carole Broberg's take on the gorgeous dresser!
14. Smooth Stepping Stools
If your younger children always want to help or just can't quite reach the sink yet – these adorable stools will come in handy.
Whether they're helping make supper or using the step stool to get involved in sensory play, their little feet need somewhere to stand.
You'll want to check out This Little Street's simple way to create your own for your little one. Find it here!
🛒 Amazon – IKEA BEKVAM Wooden Utility Step by Ikea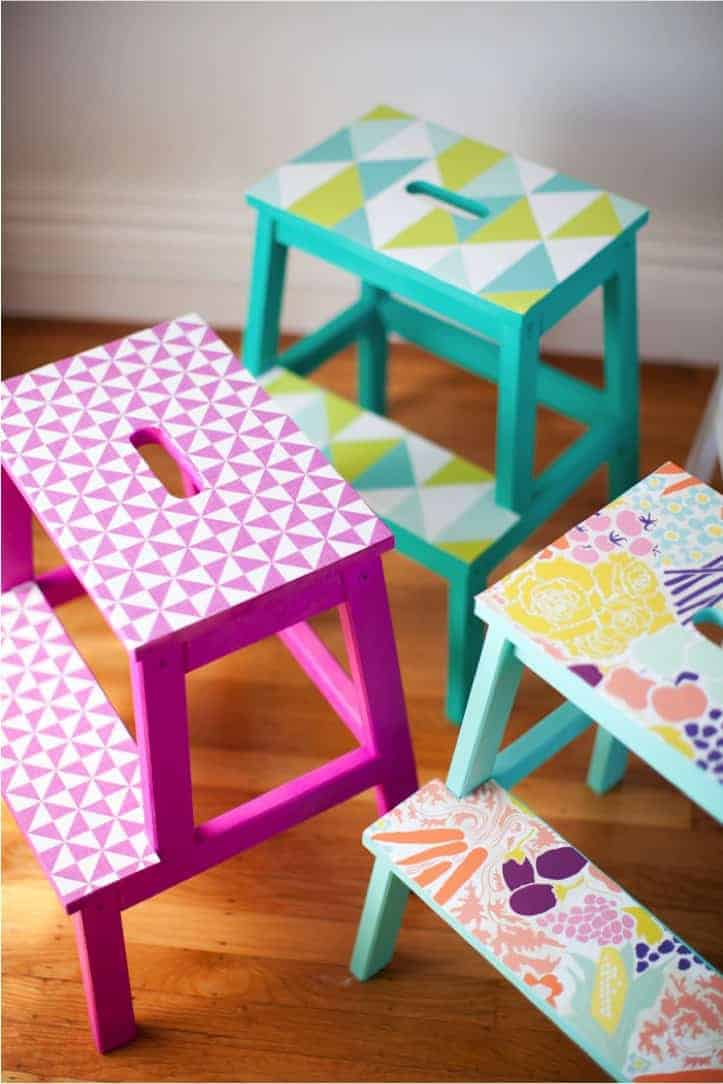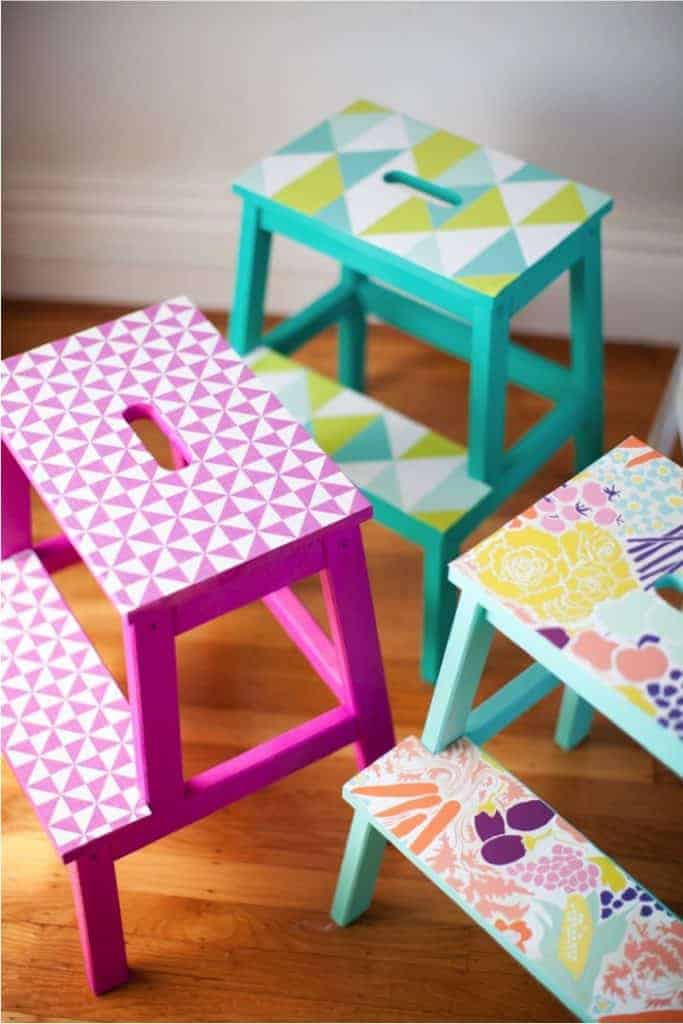 15. Smart Bedroom Storage
Doesn't it always seem like there's never enough space for all your kid's things?
Corey at Hey There Home, has totally solved this problem by creating extra storage space under her son's bed using some IKEA hacks for kids.
This incredibly smart storage solution provides lots of extra space for all your child's toys, projects, books, and even seasonal clothes.
Check out Corey's perfectly detailed tutorial using IKEA's trofast units to create your own space saving furniture. Check it out here!
IKEA Hacks for Kids
Now that you've got the ideas and some easy to follow tutorials – these IKEA hacks for kids will practically build themselves, right?
It's incredible how easy it is to breathe new life into simple IKEA products with some wood glue, creativity, a bit of paint, and some favourite ikea hacks.
If you're looking for more amazing IKEA hacks, check out these beautiful IKEA nursery hacks for your baby!