Maternity Outfits for Summer – Summer Pregnancy Outfits & Ideas
Disclosure: This post may contain affiliate links, which means I may receive a small commission if you click a link and purchase something. Please check out my disclosure policy for more details. All opinions are my own!
Just the idea of being pregnant in the summer can be enough to cause a mom-to-be a lot of dread.
The heat, the humidity, the clothes!
What's a pregnant mom to wear?!
My first two pregnancies took place over the winter and spring, but my last pregnancy was a summer one. And I was terrified of how hot I was going to be with my baby bump over the summer.
Thankfully, I actually loved my maternity wear in the summer months, and found it to be super cute and easy to style my growing bump.
Plus, I hardly bought any maternity clothes, a win win.
I don't have any promises that you won't still be hot, but there's a lot of affordable options for pregnant women looking for stylish and cute outfits in the middle of summer.
Before we get into pregnant outfit ideas for summer, let's talk about what are the best clothes to wear while pregnant in the summer.
Also, wondering if you can sun tan this summer while pregnant? (<—Don't miss this post.)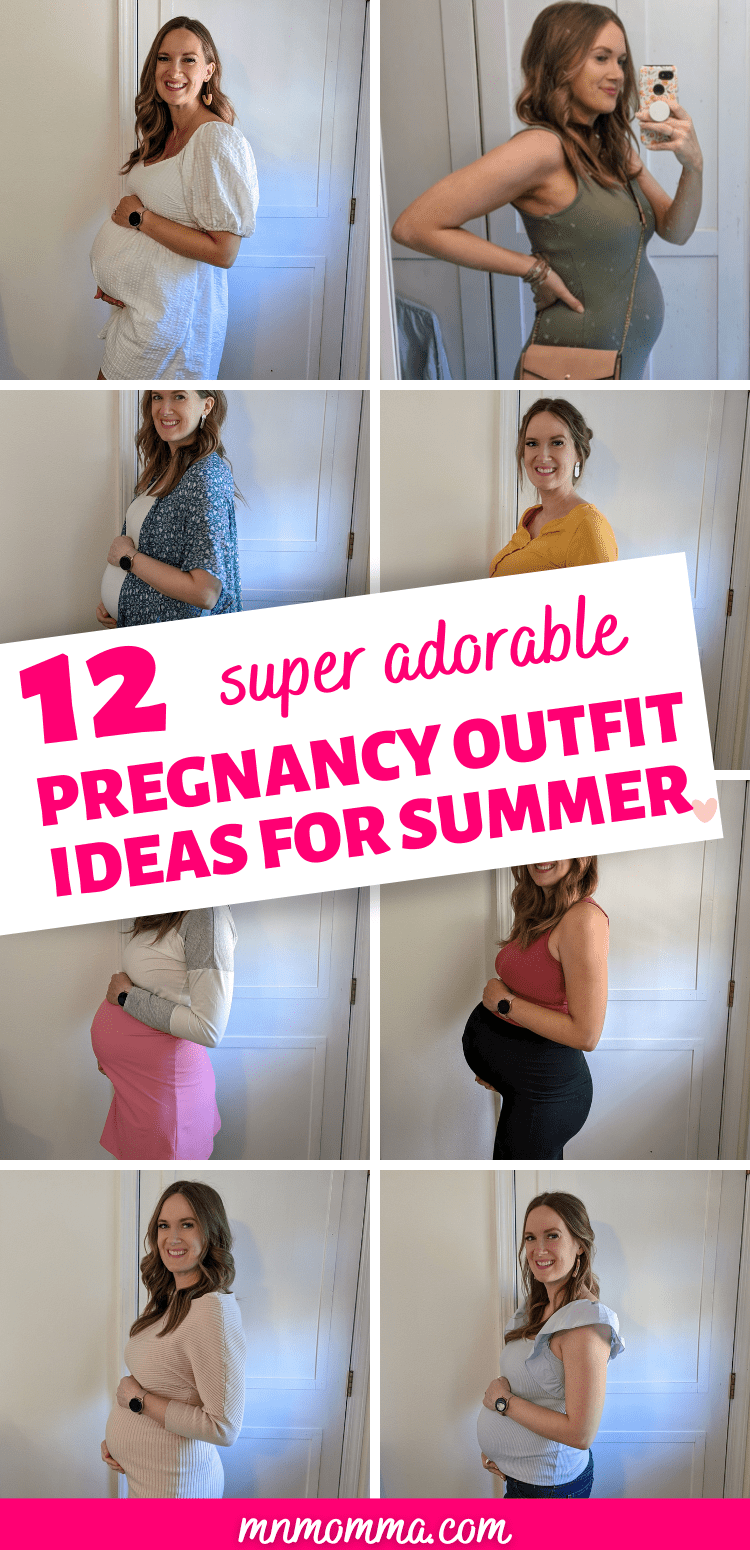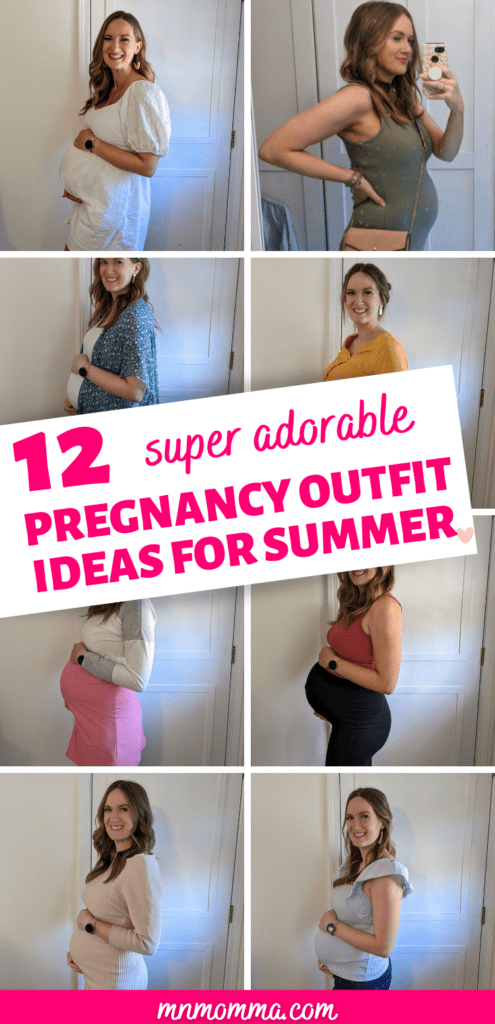 <— Pin it! Save this post for later
What Are The Best Clothes To Wear When Pregnant In The Summer
Being pregnant in the summer doesn't have to suck. By having a few key staples in your pregnancy wardrobe, you'll be able to pull off lots of cute and comfortable outfits.
Here's a few things to consider when you're thinking about creating your summer wardrobe while expecting:
Maternity Shorts: I mentioned that I didn't buy many maternity clothes, but a great pair of maternity shorts was a must for me.
Maternity Leggings: a comfy, quality, stretchy pair of leggings is a must have for all pregnant women – especially at the end of the day
Maxi Dresses: maxi dresses can be extremely versatile. If you want to show off your bump opt for a stretchy more fitted maxi dress, or for a more bohemian vibe, go for a pretty flowy one. These usually do not need to be maternity, and are usually a great choice for maternity photo shoots.
Shorter Dresses: flowy shorter dresses are a breath of fresh air during the warm weather. Just keep in mind that your growing belly will make the dress shorter, so be sure it's long enough to cover your bottom when you bend over.
Comfortable Shoes: many pregnant ladies experience swelling in their feet or hands during the last trimesters of pregnancy – especially in the summer heat. Grab a pair of comfy and supportive shoes that you love – consider sneakers or sandals.
Stretchy Skirts: stretchy skirts are a great way to elevate any maternity outfit. Just pull it over your bump and style with almost any top by tucking the top in, up, or tying it in a knot.
Things to Consider When Choosing the Best Summer Maternity Clothes
Aside from simply picking what looks cute for your maternity wardrobe, it's a good idea to keep in mind the fabric and fit of what you're choosing.
Go for lightweight fabrics that you won't get too hot in and are made from breathable material. You don't want to be wondering if you're sweating or if your water is breaking.
Also consider the stretchy-ness of what you're buying. Your pregnant belly may start to grow quickly as you approach the end of your third trimester and having clothes that are versatile and grow with you can be a huge stress reliever.
I also tried to consider how long I would wear each new article of clothing I considered buying. If I was 37 weeks pregnant, I had to really feel I needed something badly to get it. However, if it's your first pregnancy and you plan to have more children, consider buying quality items that are a classic style so you can wear them again.
Summer Maternity Fashion Ideas and A Little Inspiration
Here's 13 pregnancy outfit ideas and inspiration to get you started on your maternity summer wardrobe.
Pregnancy Outfit for Summer #1: A Cute

Bodycon Midi Dress

(can be worn multiple ways!
This was by far one of my favorite summer maternity outfits. The ribbed fabric did a great job showing off the bump, it had just the right amount of stretch, and I felt cute and classy in it – and not too hot!
I found this exact dress from a local boutique (non-maternity), but this one is super similar. you can find similar dresses without the notch here.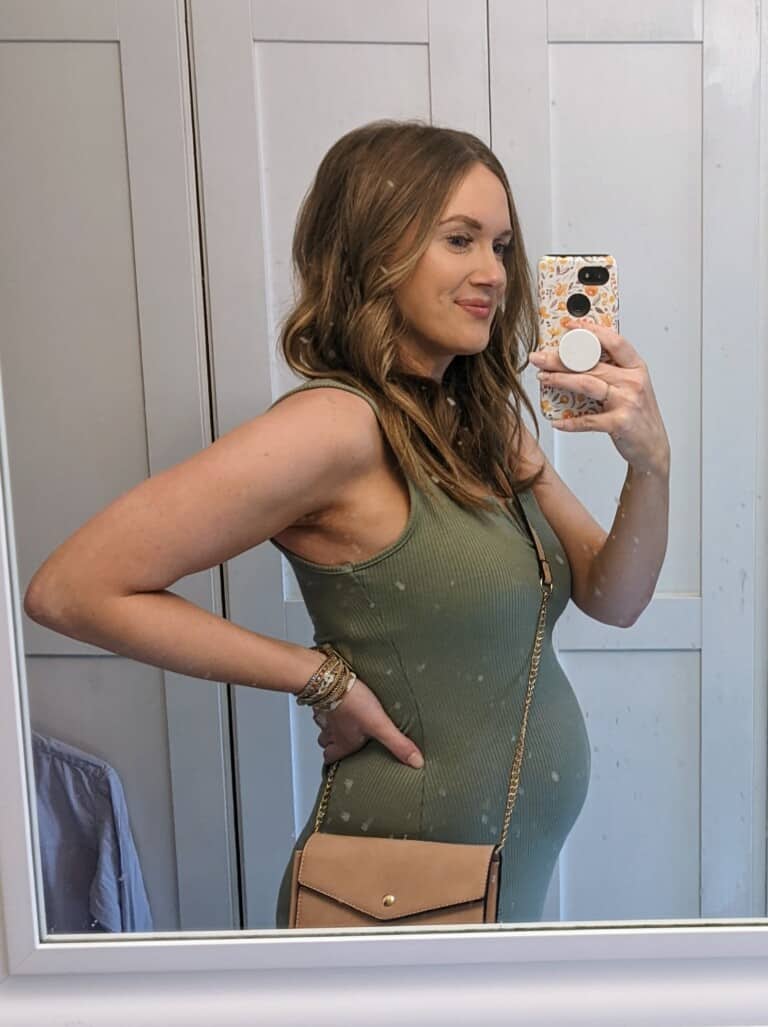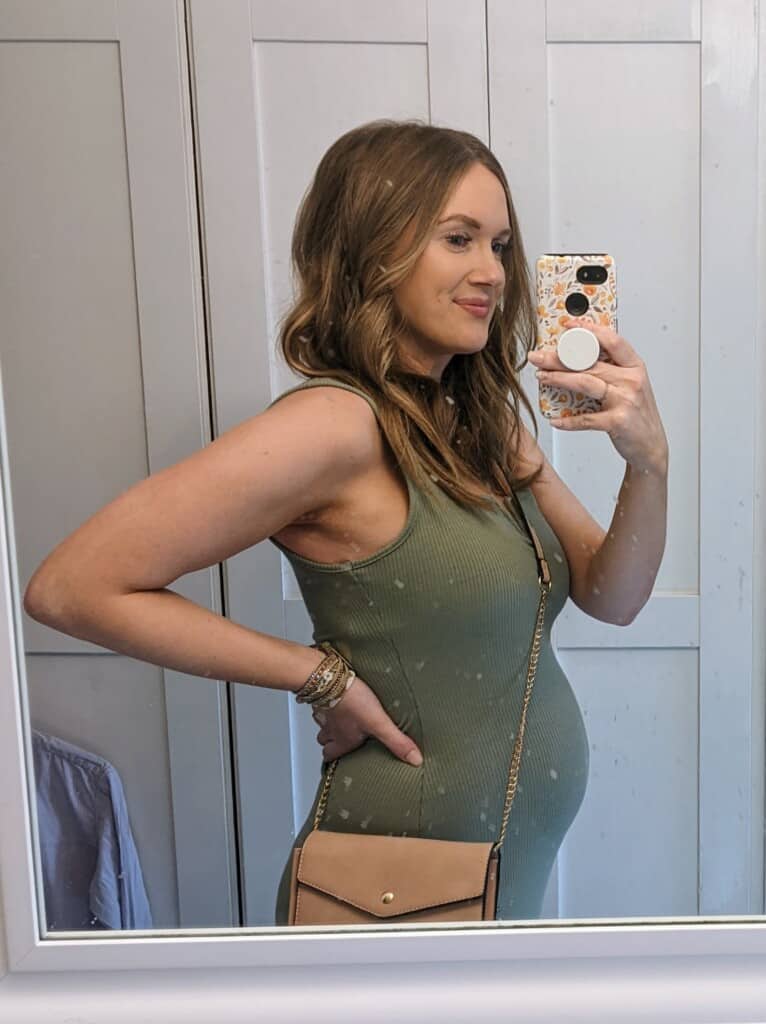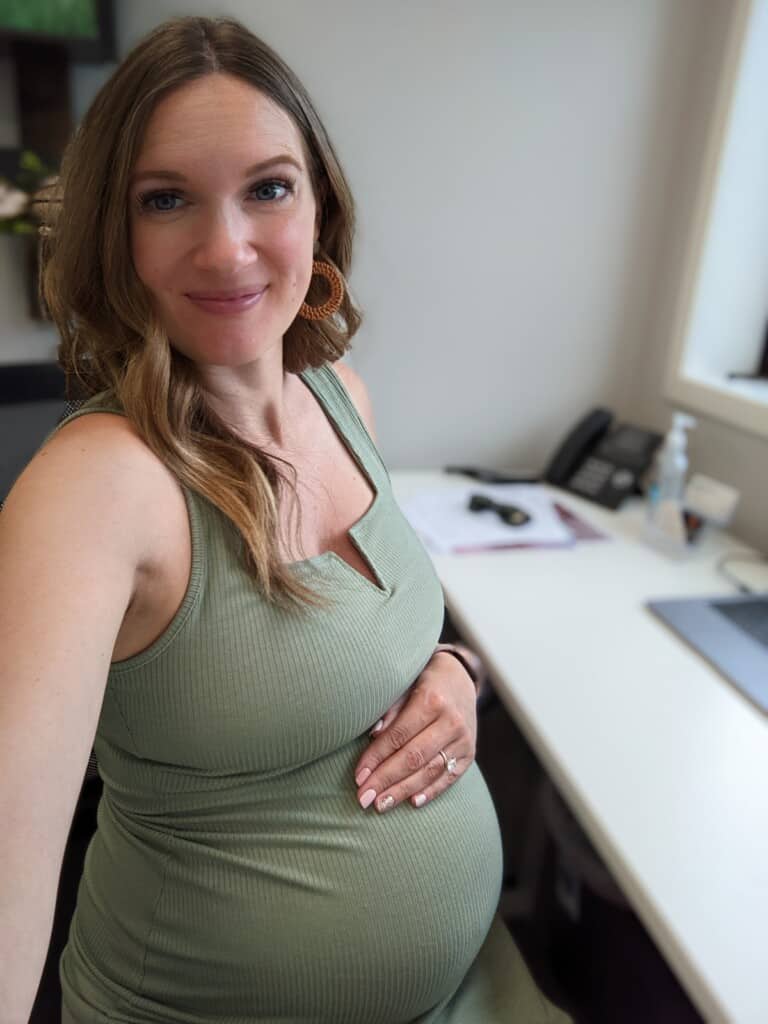 You can also see in the image below, you can easily add a sweater, t-shirt or sweatshirt over this dress to totally change the look.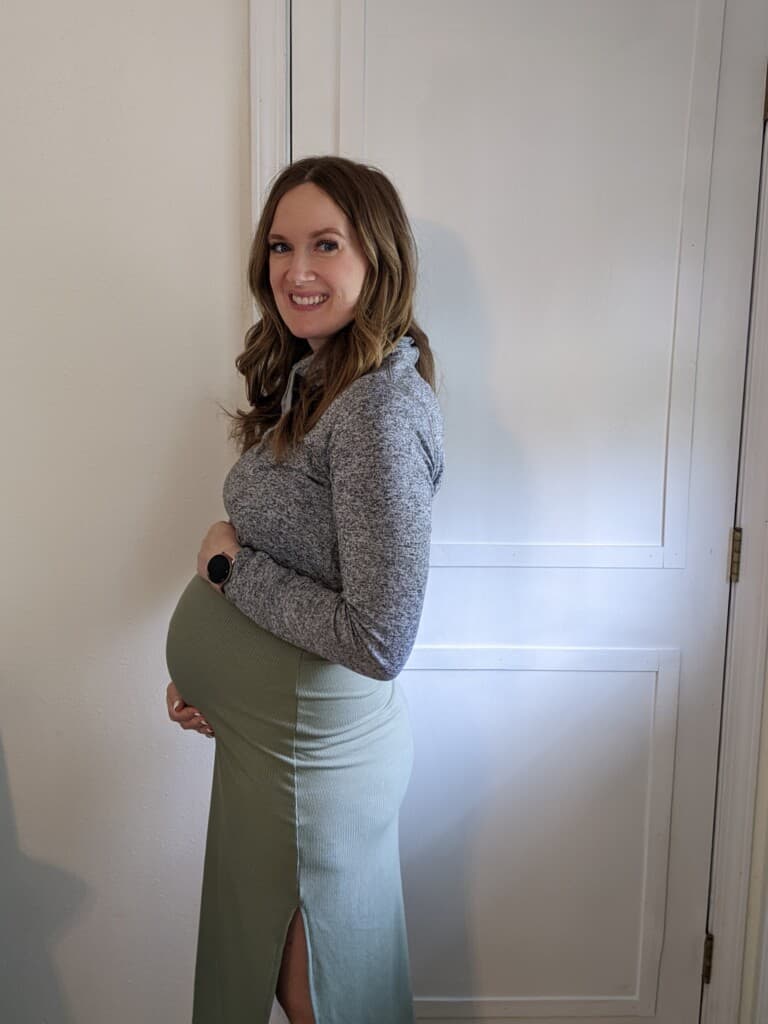 I LIVED in my athletic dresses last summer while pregnant. I absolutely loved the built in bra, how comfortable they were, how they stretched, and how breathable the dress was.
I highly recommend picking up one or two if you're expecting a baby in the summer.
You'll find some great options at Old Navy and Abercrombie right now.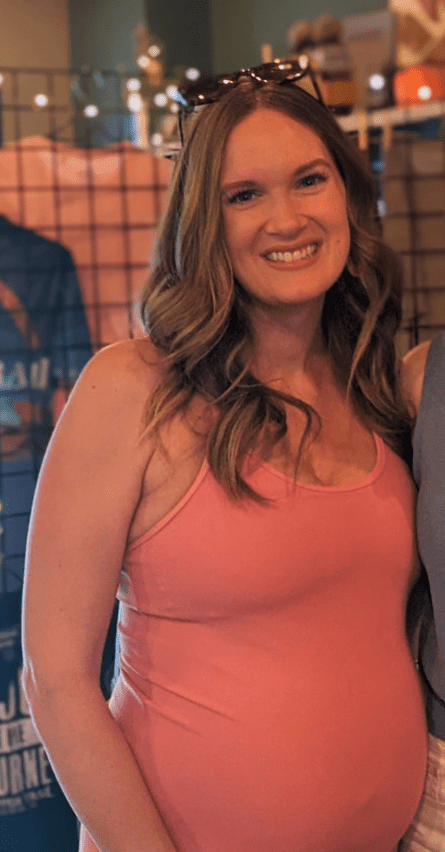 Just like the dress in outfit idea #1, I'd pair this with a cute long sleeve top for cooler spring days or early mornings.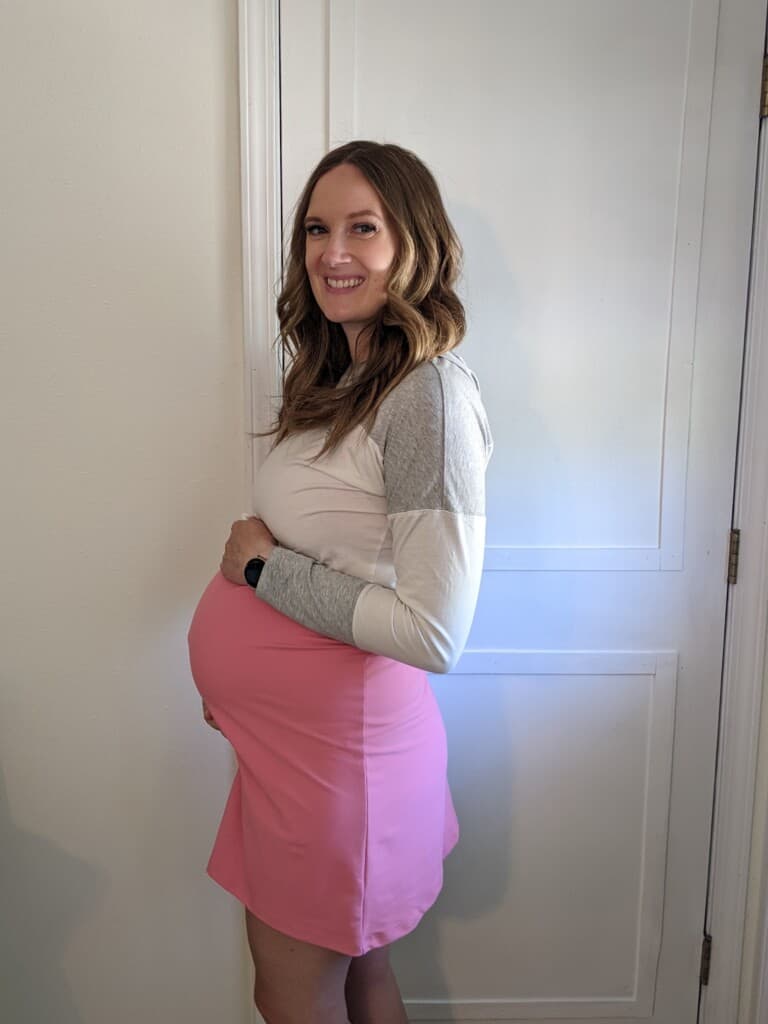 A stretchy fitted skirt will be a staple in your summer maternity wardrobe. I loved pairing it with a variety of tops from flowy to fitted.
A few options of how to style your top with a fitted skirt:
If it has buttons, like mine, unbutton the bottom buttons and tie in a knot above your belly.
Tie it in a knot at your belly
Not feeling the knot? Here's a hack: grab a kids hair tie that's the same color as your shirt, tie it together with the hair tie, and tuck it under.
For a different look, consider tucking the bottom up and under the band of your bra.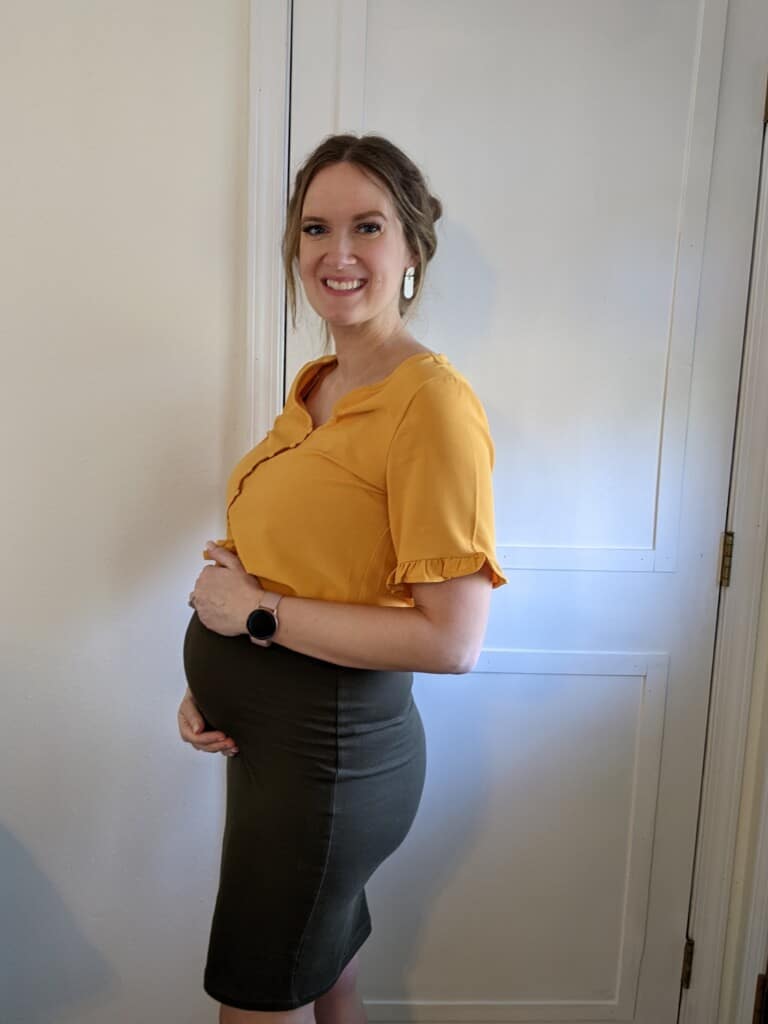 A cute fitted skirt to show off your growing bump and a stretchy tank makes for an adorable and breathable summer maternity outfit.
I wore this one on repeat – a lot!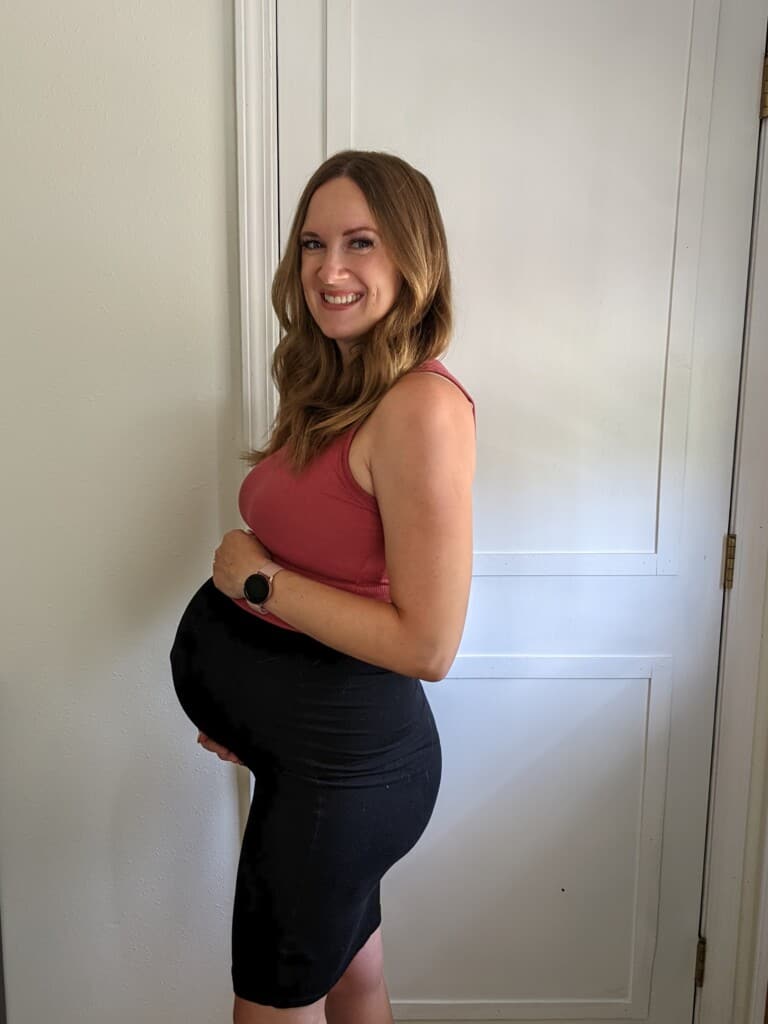 Pregnancy Outfit Idea for Summer #5:

Fitted Skirt

& T-Shirt
Rock a short sleeve graphic tee, college tee (Go NDSU Bison!), or any t-shirt with a fitted skirt.
Tie the t-shirt, tuck it up and under, or tie it in a knot with a hair tie.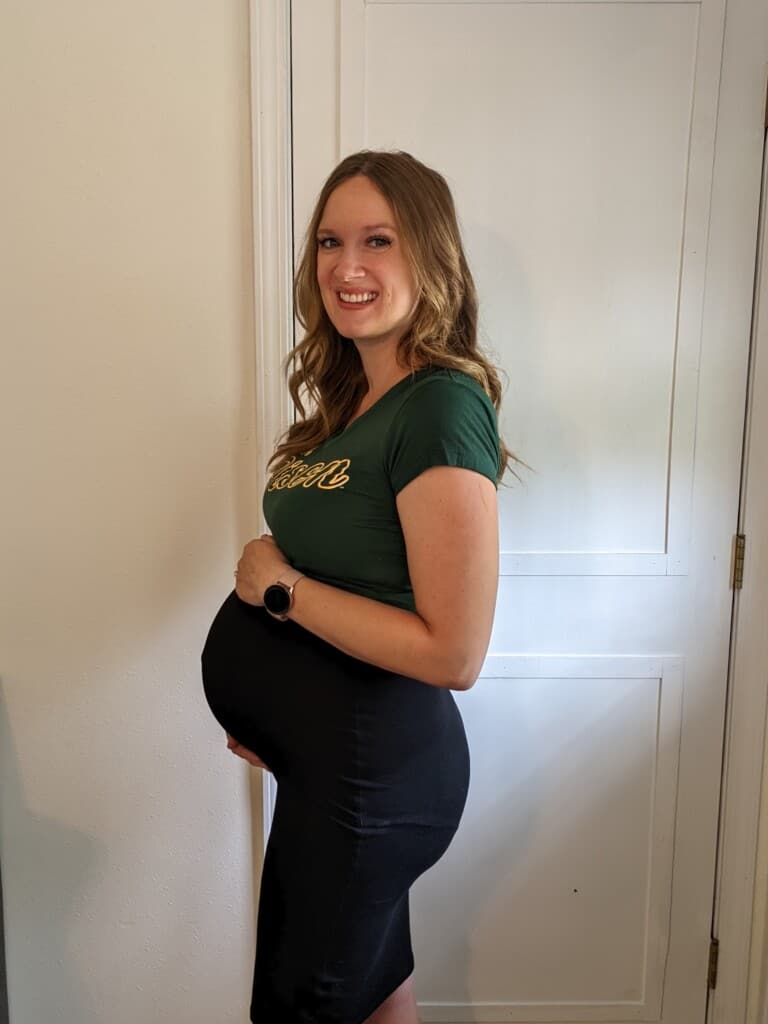 Pregnancy Outfit Idea for Summer #6: Flowy Dress
This babydoll non-maternity dress is a perfect choice for a summer pregnancy. It's sweet, breathable, and easy to grow with your bump.
These make them hands down, some of the best maternity summer dresses.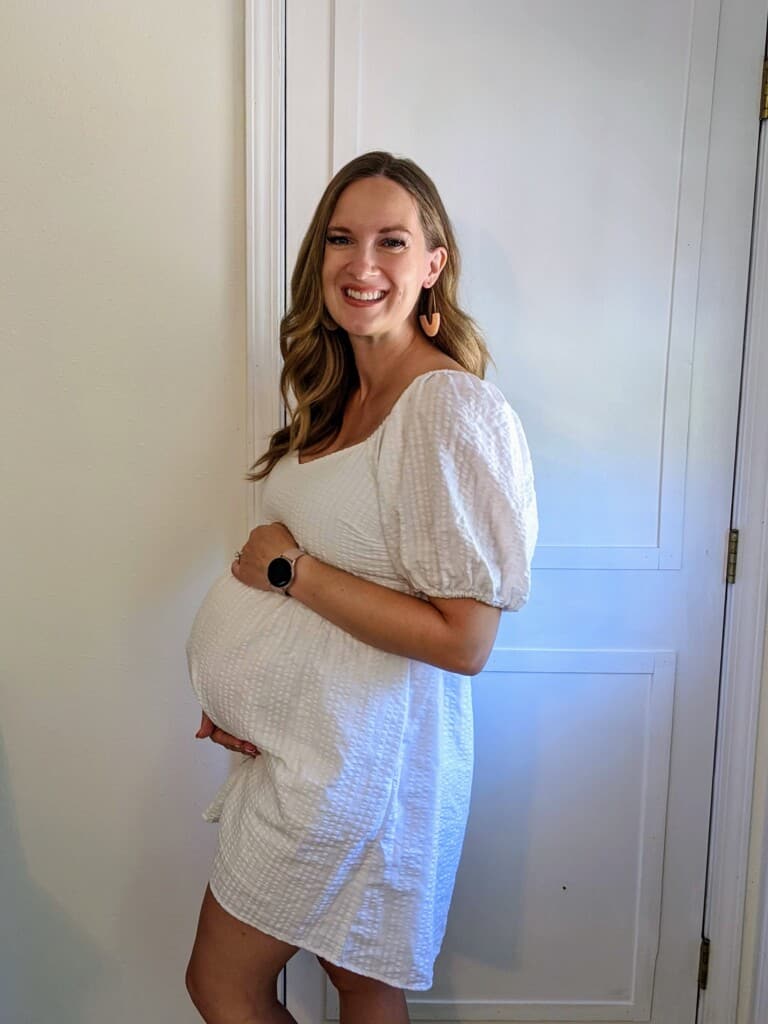 Grab a pair of maternity jeans you love and pair them with a cute fitted summery top or tank. This is a great outfit for a casual evening out in the warmer weather as an expecting momma!
I love the cute ruffle sleeve detail on this top too.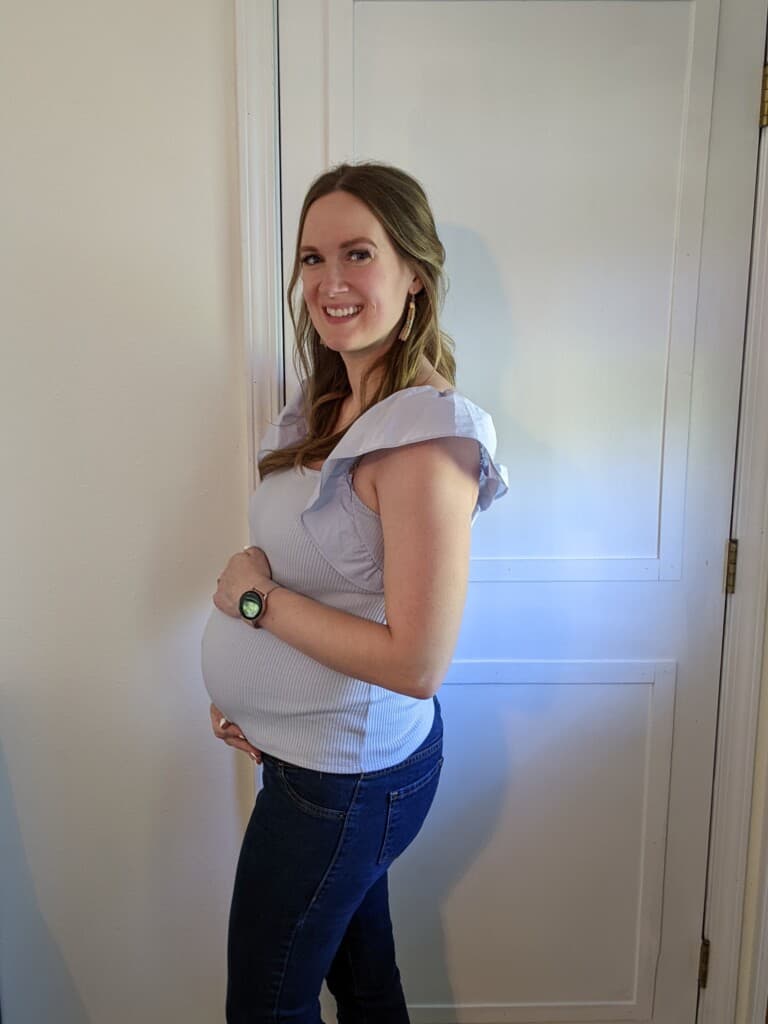 Dress up your regular maternity jeans and white v-neck with a cute and fun kimono.
You can always swap the jeans for a comfy pair of the best maternity leggings.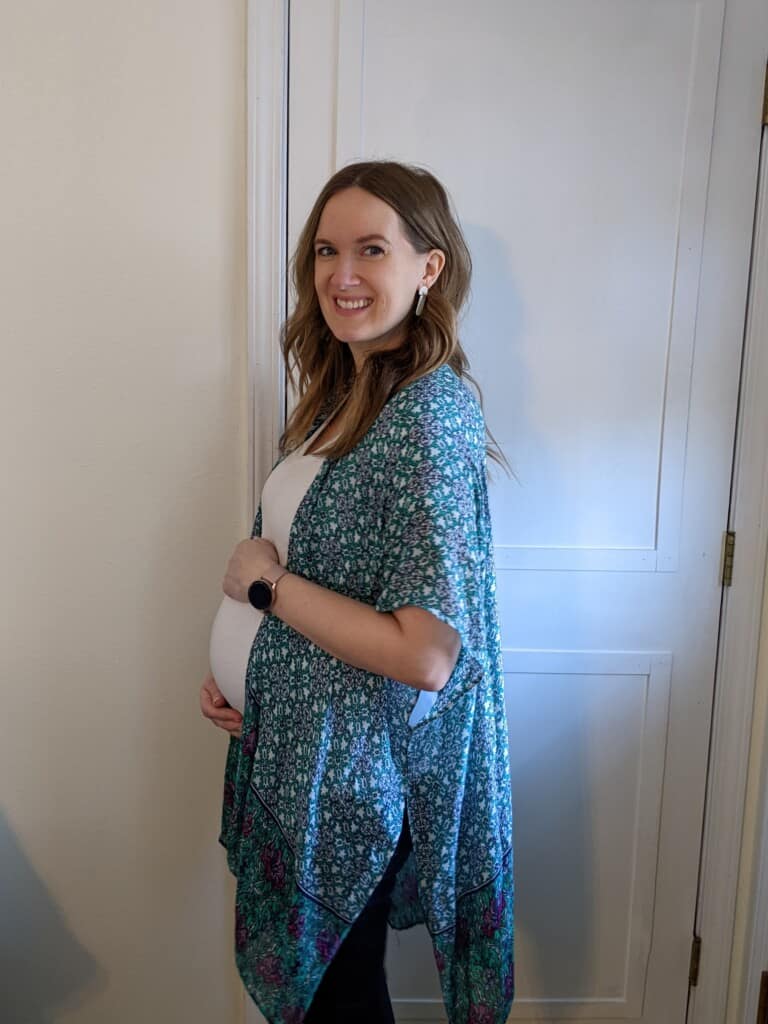 For family pictures or a dressier spring/summer/fall occasion, I love this off the shoulder sweater dress.
It shows off your bump so well and is so comfy!
This exact dress isn't available anymore, but here's a few similar options: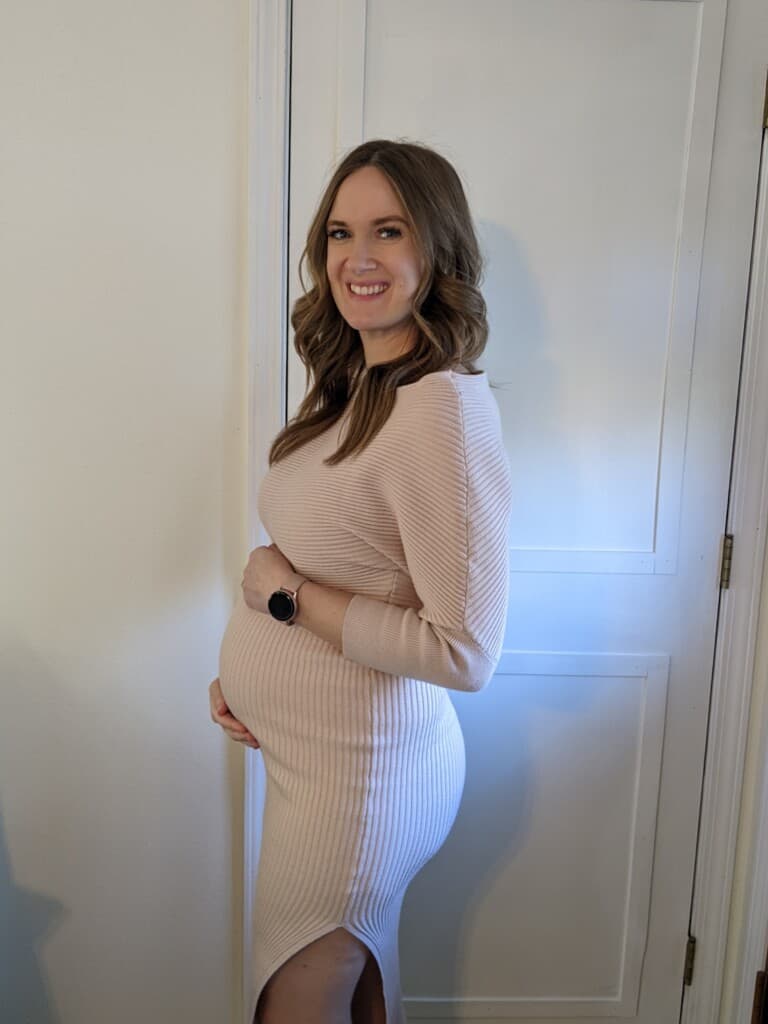 A ribbed button down dress, elevated with a cute belt above the belly can make for a great summer pregnancy outfit.
You can see below this would be a great option for wedding season.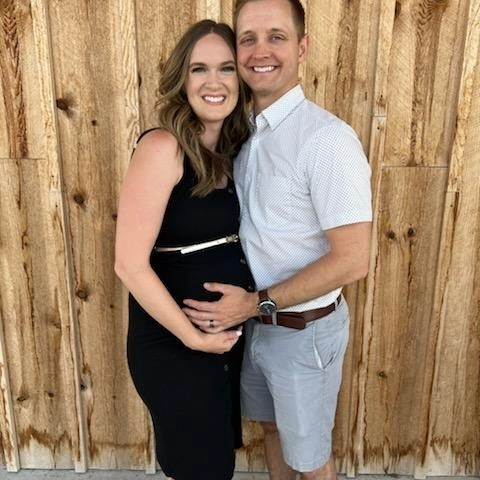 This non-maternity fitted tank and maternity shorts were a game changer in the summer. Perfect for hot days I needed to be more active with my big kids.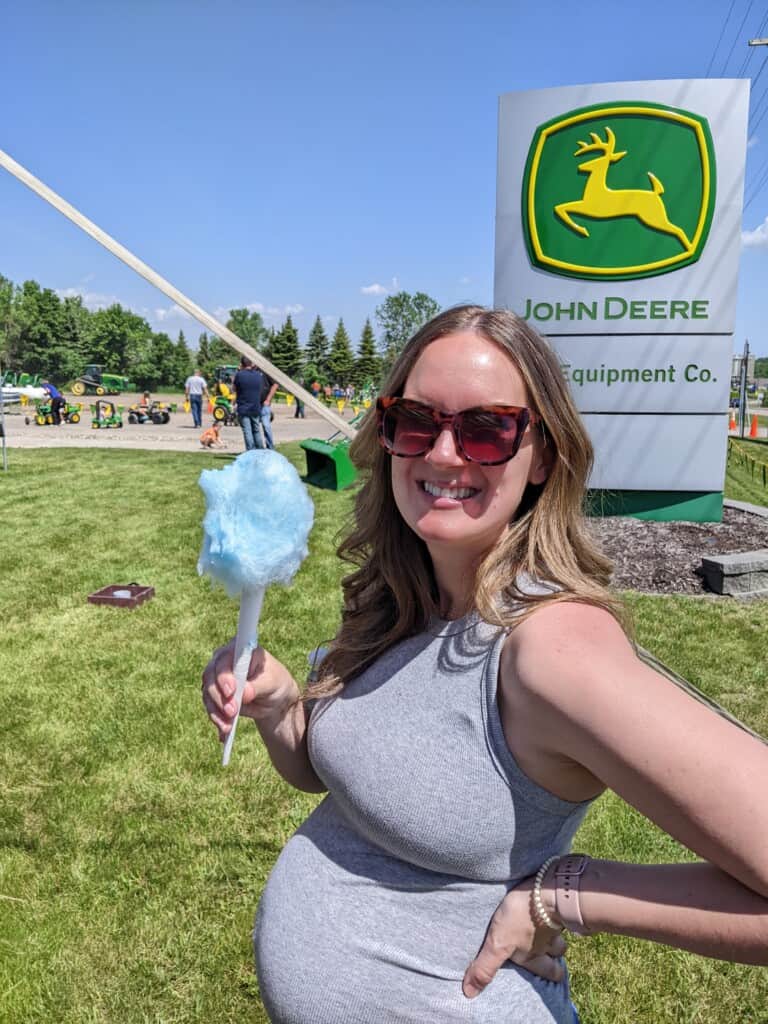 Same tank and a pair of Amazon shorts were so comfy postpartum as well!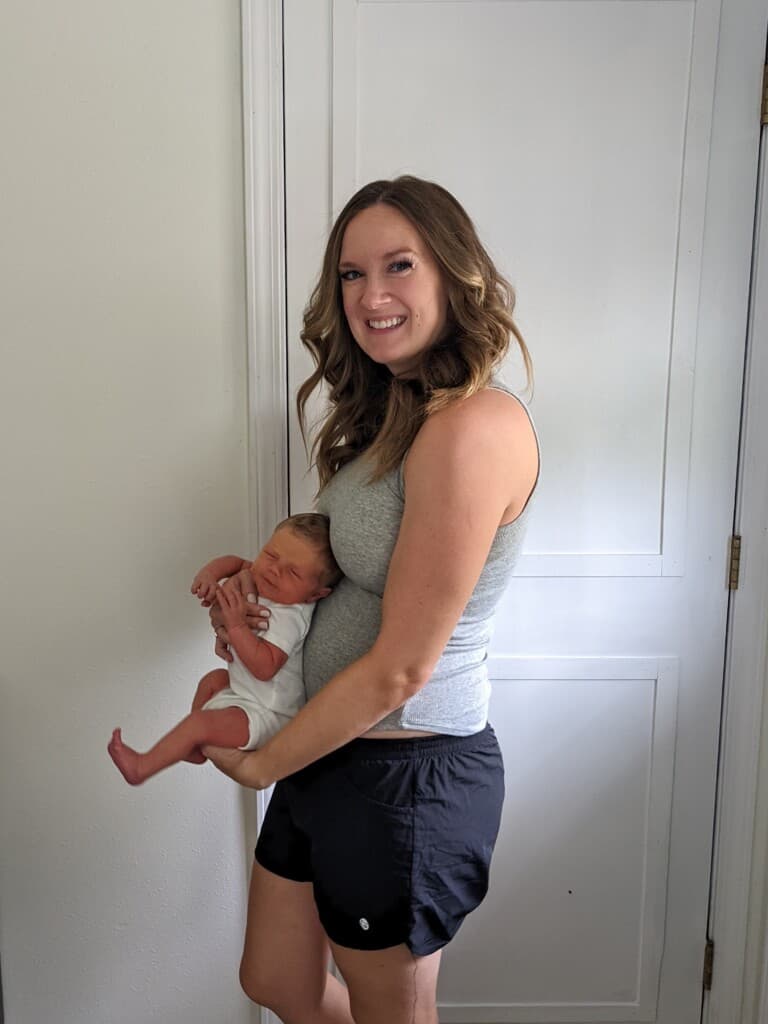 Summer Maternity Outfit Idea #12: Swimsuit
I tried SO many swimsuits last summer and so many failed me. From maternity to non-maternity, I just had a hard time finding any I loved.
Until this one.
This non-maternity wonderful suit has it all:
Affordable
Cute
Flattering
And grows with you!
Easy returns if needed
I highly recommend giving it a try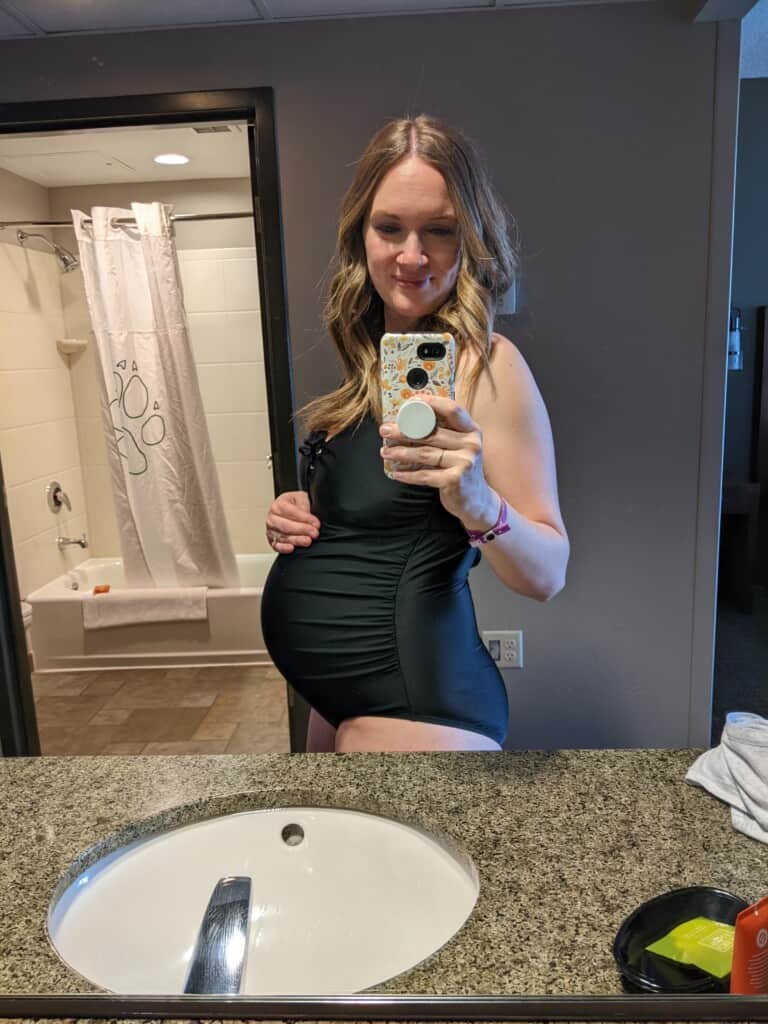 Where to Shop for Affordable Maternity Clothes in the Summer
Wondering where to shop for affordable maternity clothes? First, shop your closet and see what you currently have before heading out and being a whole new pregnancy wardrobe. Chances are good that you'll have a few tops or other flowy or stretchy pieces that you can wear well into your pregnancy and you can avoid buying too many new clothes.
If you are looking to pick a few things up, you'll find that these retailers typically have affordable pregnancy clothes:
What to Wear If You're in the First Trimester During the Summer
If you're in the first trimester of your pregnancy and noticing that your regular clothes are starting to feel a little tight, you have a few great options.
First, if you're ready to show off that cute little baby bump right away – go for it! There's no rule that says you have to be in the second trimester to show that you're pregnant.
Next, if your jeans are feeling just a little too tight, consider grabbing a belly band as an easy way to make them last a little longer before being maternity jeans.
Should You Go Up A Size In Maternity Clothes?
No, you should buy your regular size in maternity clothes.
Many women naturally wonder if their growing body means they need to go up a size in maternity clothes, but just remember that your changing body is exactly what maternity clothes were made for!
They have extra room in the belly, a little more stretch, and were made for a mom who's growing a new baby.
All that said, if it's maternity, you should be able to safely order your normal size. But if you're shopping non-maternity, you many need to go up a size to accommodate for your changing shape and growing belly.
Summer Pregnancy Outfit Inspiration
I hope you found some great summer outfit inspiration from this post and have so much fun dressing your bump this summer.
Remember that the best maternity clothes are ones that you feel confident and comfortable in. This can be a great time to try out a fun trend or grab some cute new maternity tops.
Don't miss these 17 tips for an easier pregnancy and your complete third trimester checklist!