29+ Best Baby Shower Game Ideas (That Don't Suck)
Disclosure: This post may contain affiliate links, which means I may receive a small commission if you click a link and purchase something. Please check out my disclosure policy for more details. All opinions are my own!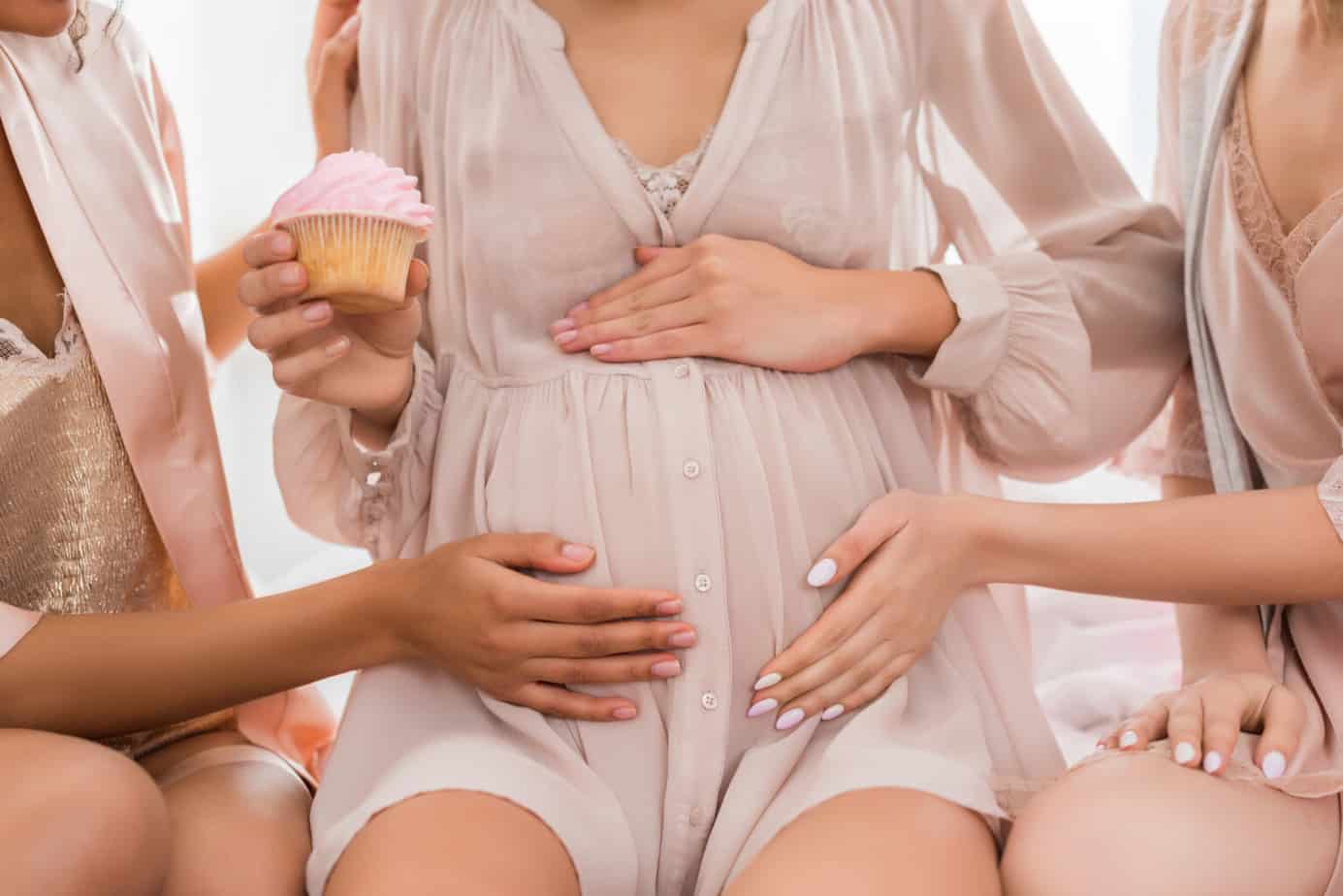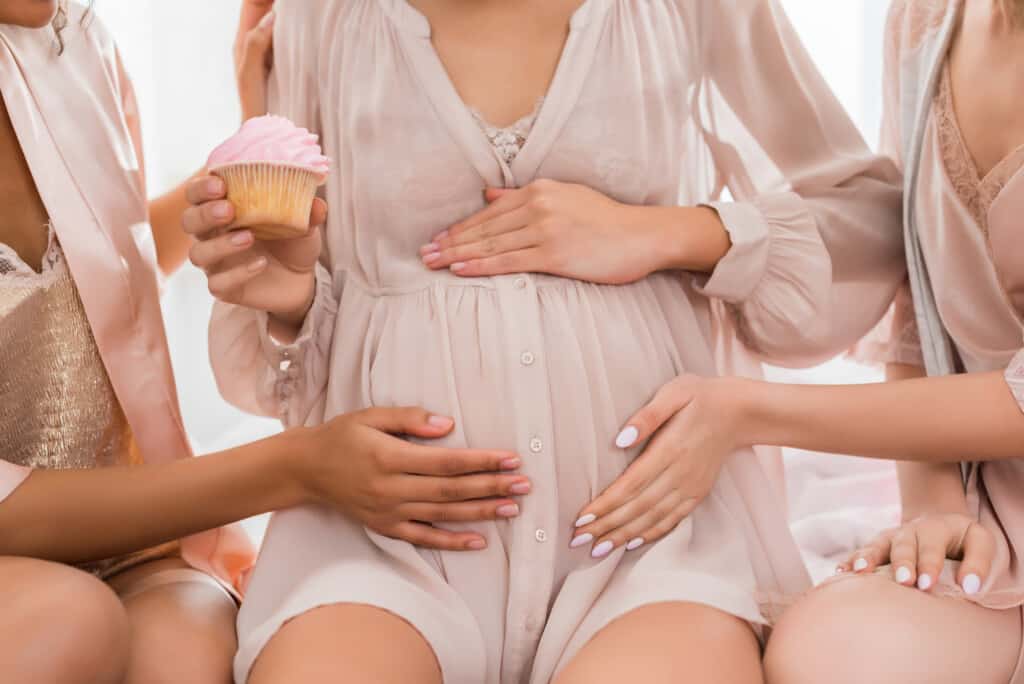 Best Baby Shower Games That Don't Suck (for large groups, small groups, and co-ed parties!)
I love baby shower games.
No, really. I do!
I always loved going to baby showers and playing games and eating the amazing baby shower treats.
Something about baby shower games and prizes makes it easy to get comfortable at the shower whether you know people or not.
On the other hand, I totally get if they're not your thing. Some of my best friends HATE baby shower/bridal shower games and while I thought they were crazy when they first told me, to be honest, I get it.
Sometimes baby shower games suck.
For real, the one where there's melted candy bars in diapers? Totally disgusting!
Regardless, if baby shower games are in your future – maybe you're the baby shower host or the mom to be who just needs some ideas – I've got a list of great baby shower game ideas that don't suck. I'll cover games for large groups, small groups, co-ed parties, and funny games. Trust me, you'll find something here that you'll love.
Also, if you're still looking for a great baby shower gift or just something to add on to your current gift, chances are good you don't want to miss the 10 Best Baby Shower Gifts Under $10 That She'll Thank You For Getting.
Pregnant? Don't miss this free Beginning Prenatal Class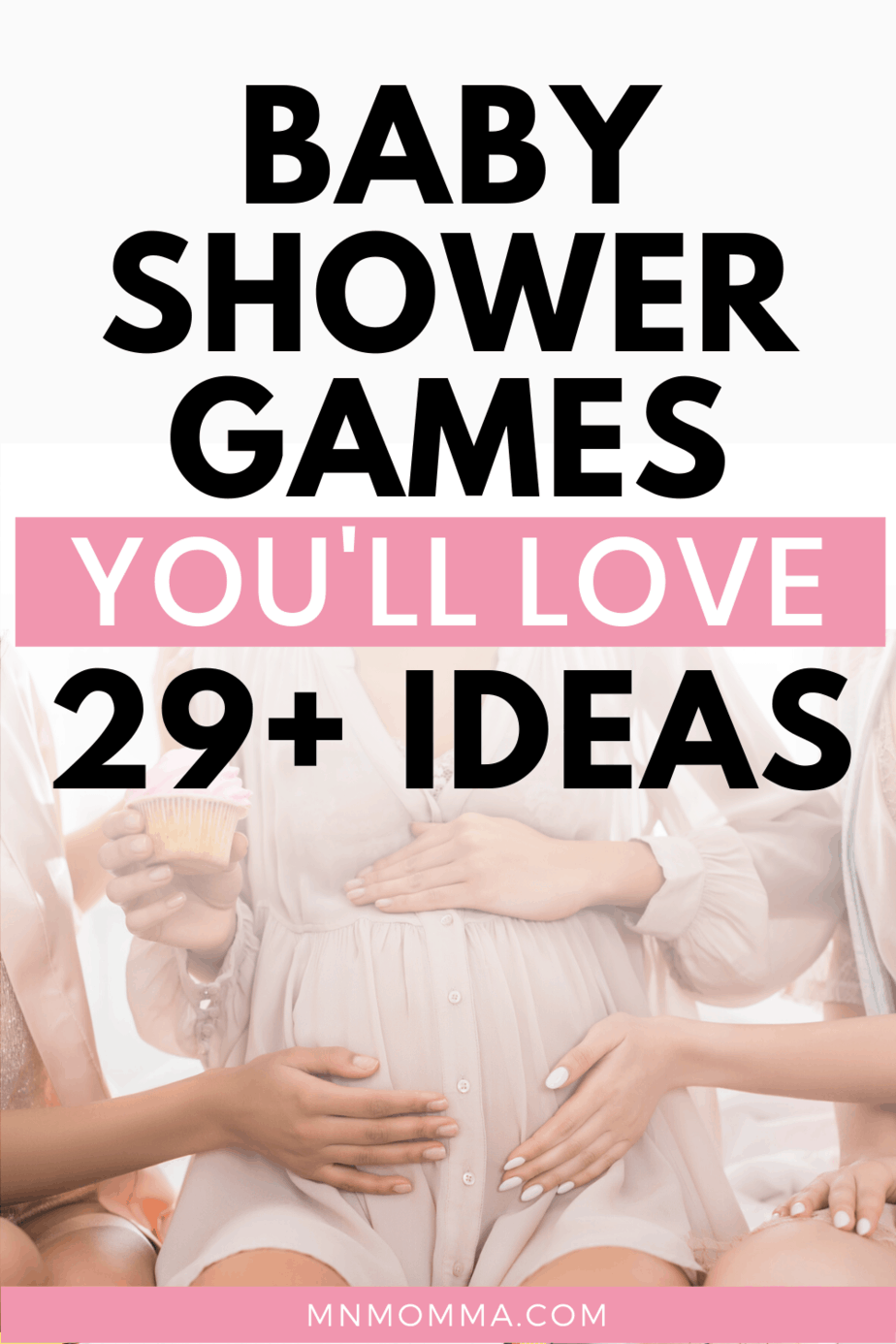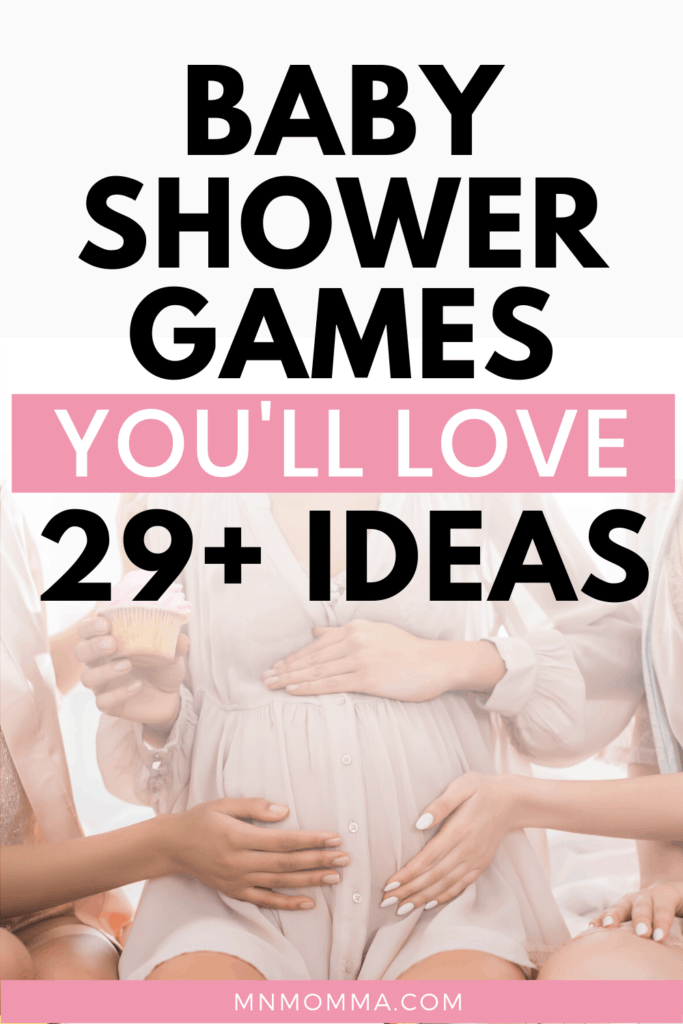 <— Pin it! Save this post for later, so you don't lose it!
Fun Baby Shower Games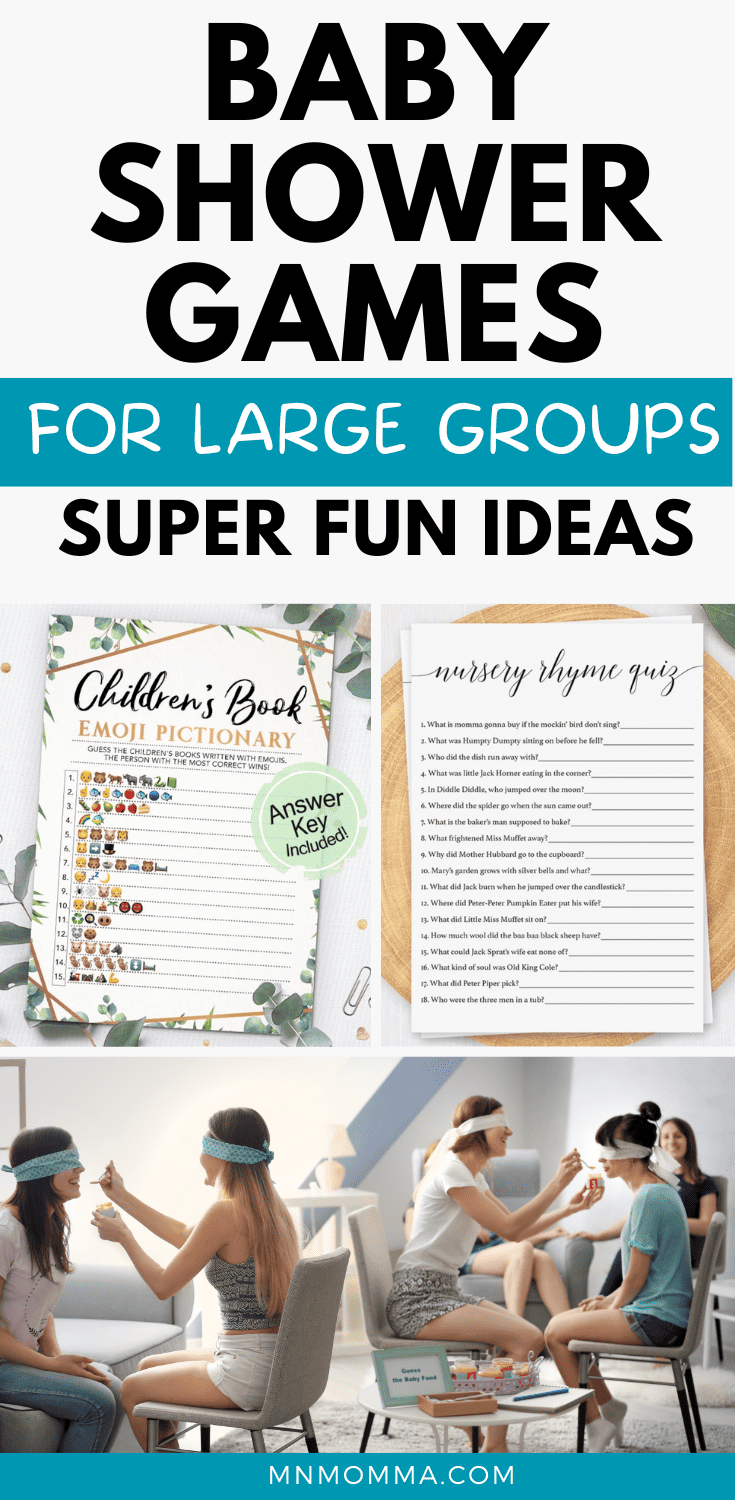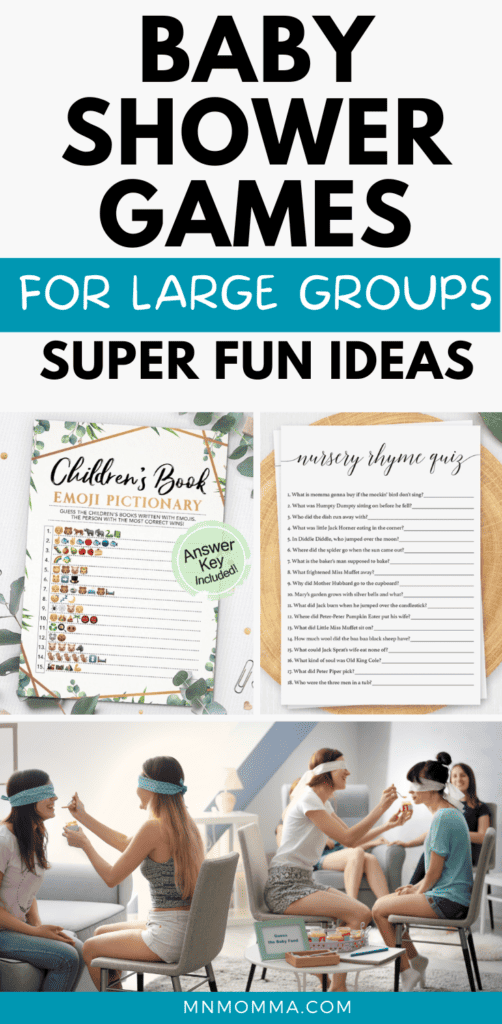 Baby Shower Games for Large Groups
1. Blindfolded Diaper Changing – Break into teams and complete the relay race of putting a diaper on a baby doll. The real challenge? Each player has to put the diaper on blindfolded.

2. Guess the Celebrity Baby Picture – Search google for celebrity baby pictures and print them off. See who can guess the most correctly by the end of the party (or in 5 minutes for a power round!). Alternative: use pictures of mom, dad, grandmas, grandpas, uncles, and aunts!

3. Baby Shower Nursery Rhyme Game – Can you guess the nursery rhyme? This cute printable gives all your guests the chance to play.

4. Baby Shower BINGO – This game gives your guests something to do while you're opening gifts. It also comes blank or prefilled if you really want to make things easy and less game-y for your guests 😉 Check it out here!

5. Baby Shower Pictionary – You'll need a couple of these big sticky paper pads for the wall and a set of baby-related words written on some scrap paper. Break up into 2 teams and see who really knows all the baby buzz words.

6. Children's Book Emoji Pictionary – I think this one is just too cute, fun, and a different baby shower game. It's also perfect for showers with large groups! See which guest can figure out all the children's book titles from only emojis! Check it out here!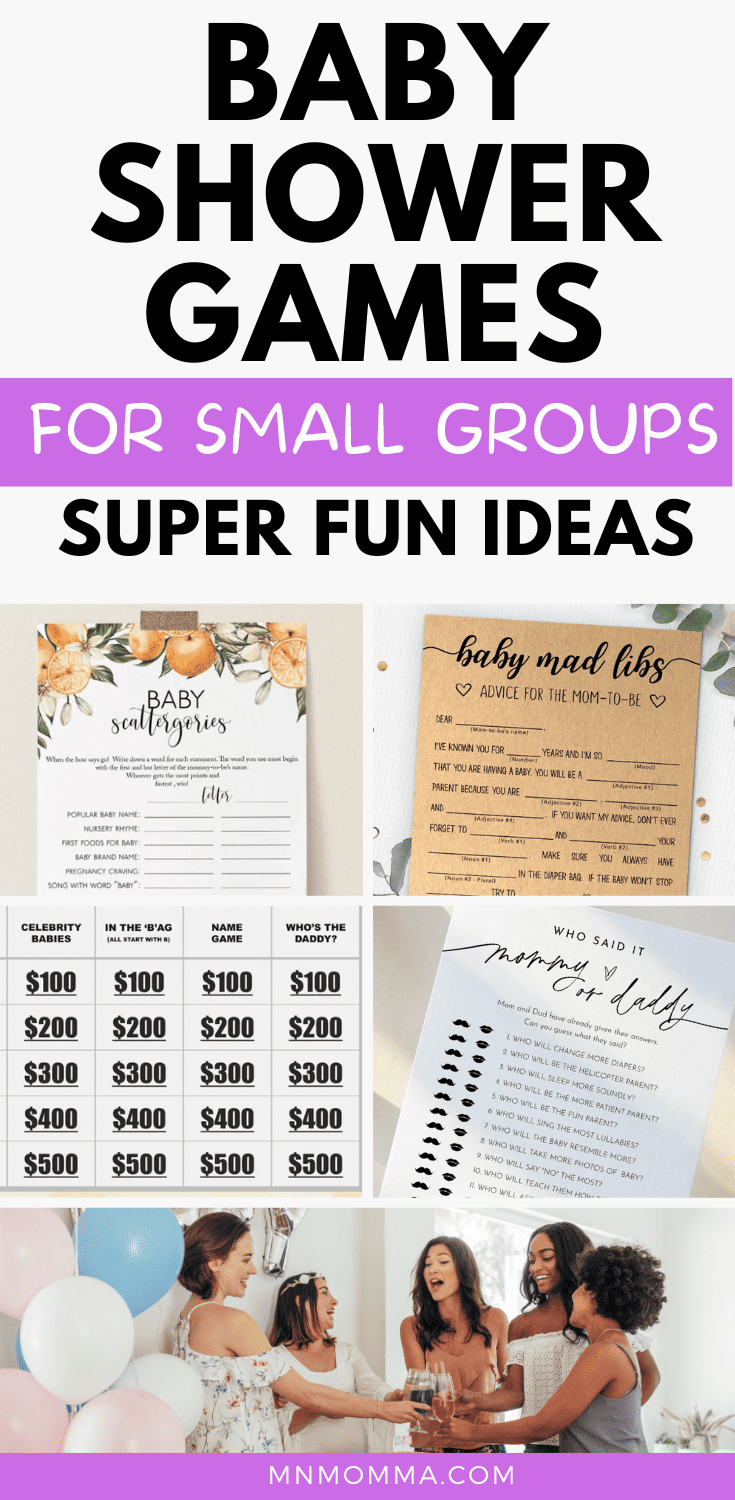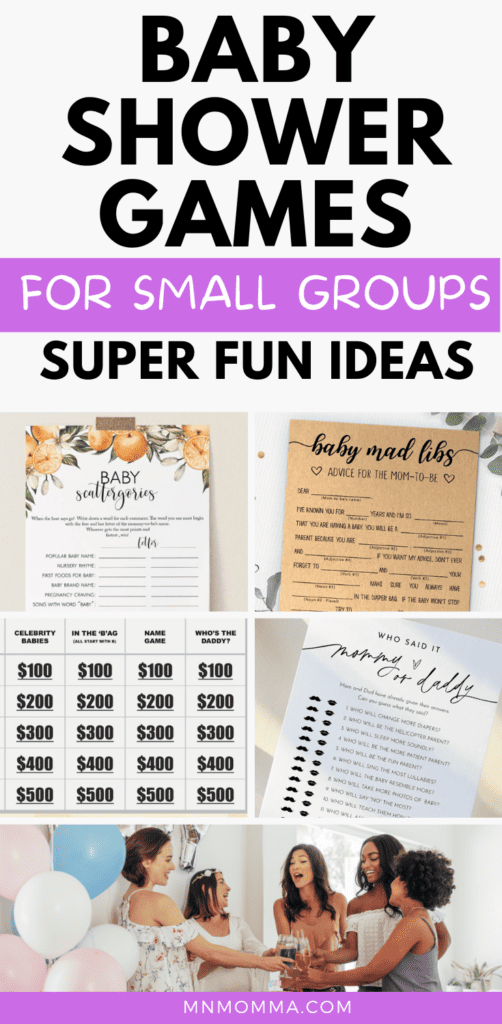 Baby Shower Games for Small Groups
7. Baby Shower Jeopardy – Create your own jeopardy board with baby related questions or save time and use this one connected to your tv!
8. Baby Shower Mad Libs – Give a noun, verb, number…. this game is easy to play and fun to read! Let mom keep the funny answers as a baby shower keepsake. Get a copy here!
9. Babies Against Parenthood Game – This is a FREE downloadable printable that's just like Cards Against Humanities. Prepare yourself for lots of laughs, but this game is probably best reserved in the category of baby shower games for small groups.
10. Baby Shower Scattergories – Maybe it's the nerd in me, but I LOVE Scattergories. Really! Set your guests up for a fun game of scattergories with this baby version.
11. Guess Who? – Is Dad really "more nervous about labor?"?! Guess who will do or say these baby things with this easy going, fun game. As a bonus – I love that this one is completely customizable to fit the mom and dad!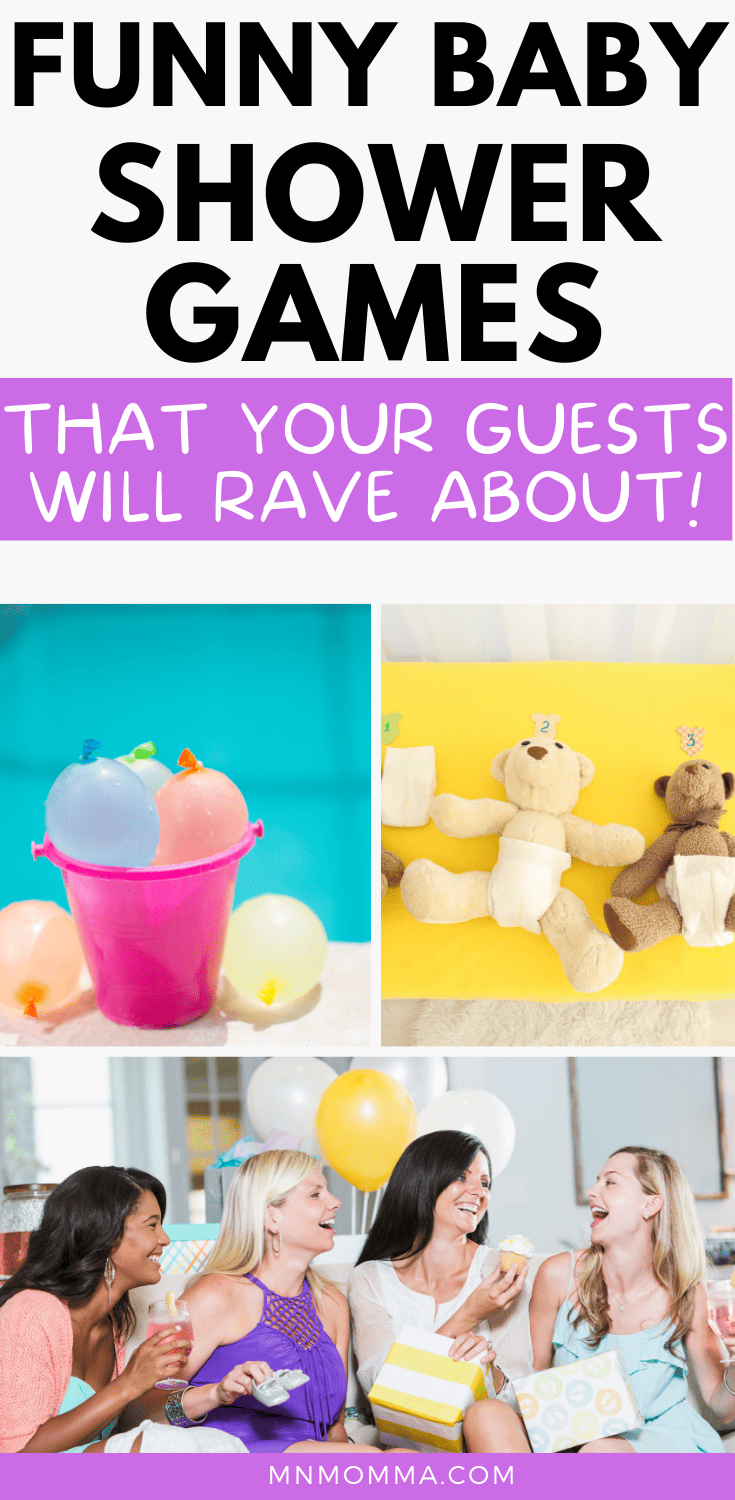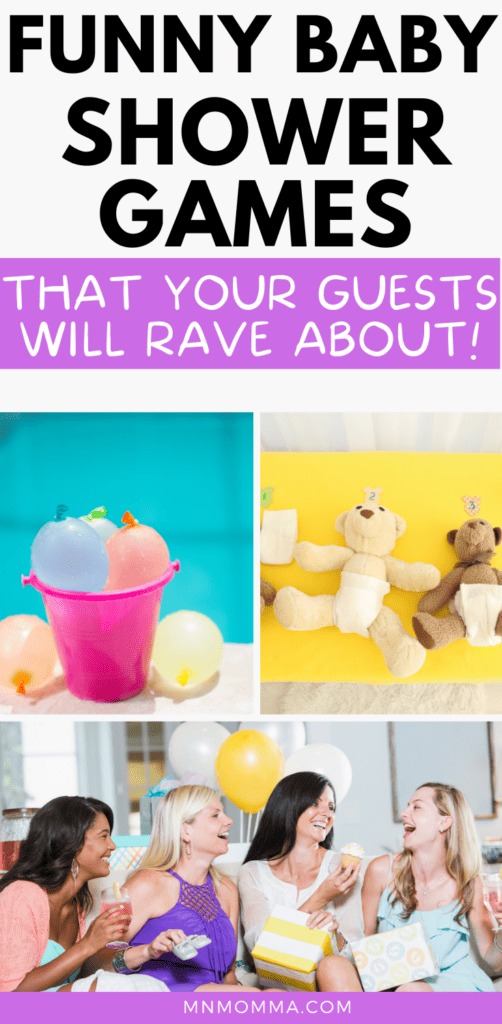 Funny Baby Shower Games
12. Don't Let Your Water Break Relay! – Break into teams and get ready for a relay race. Each team needs a bucket full of water balloons on one end and an empty bucket on the other end. Put a water balloon between your knees and start waddling to the other end to drop it in the bucket. If your water breaks, go back to the start and do it again with a new balloon! I highly recommend these water balloons (they're self-sealing and fill super quick!)
13. Dressing Baby – Teamwork – For this game, all your guests will pair up. The object of the game is to get your baby doll dressed from diaper to onesie (and beyond if you'd like!). Here's the catch – each teammate can only use ONE hand. One person is only allowed to use their right hand and their teammate is only allowed to use their left hand. The first duo finished is the winner!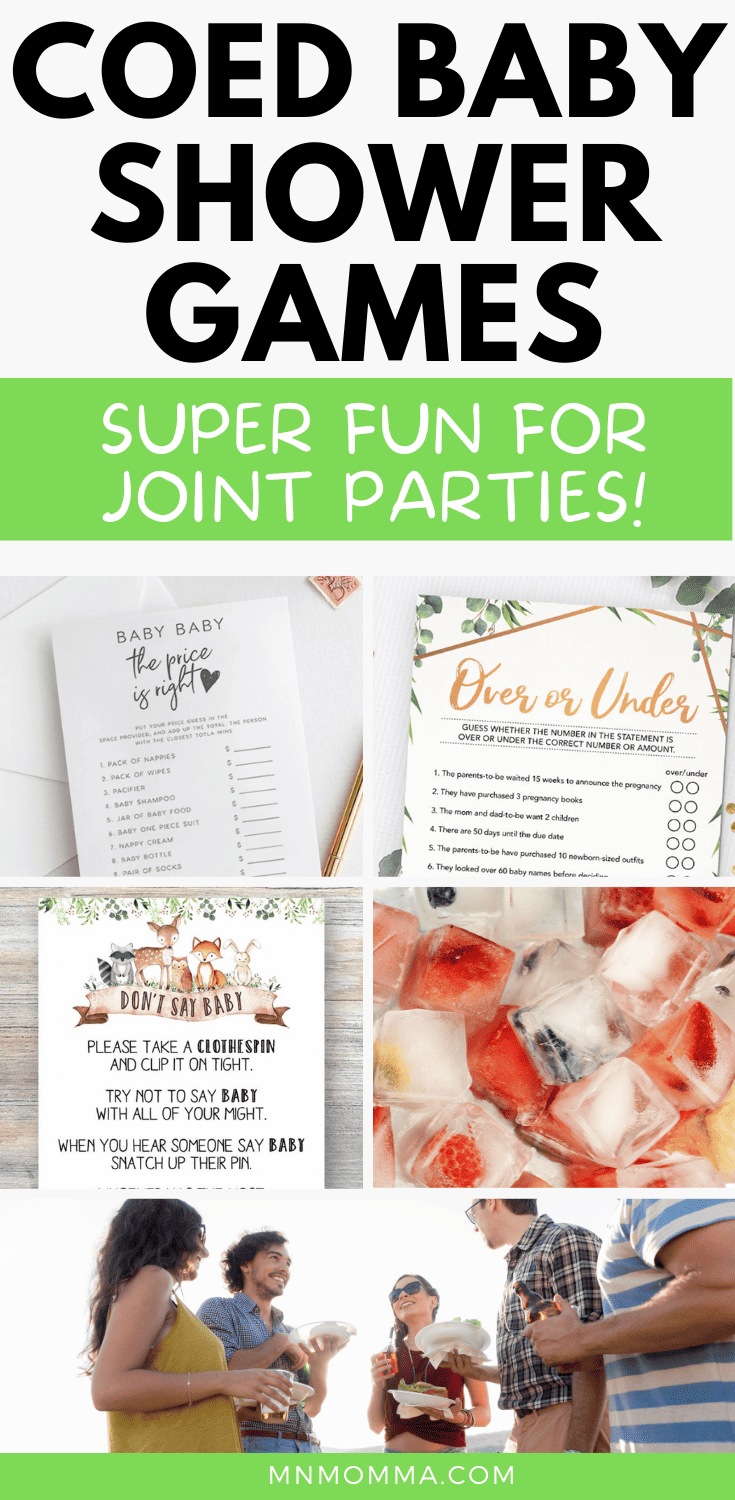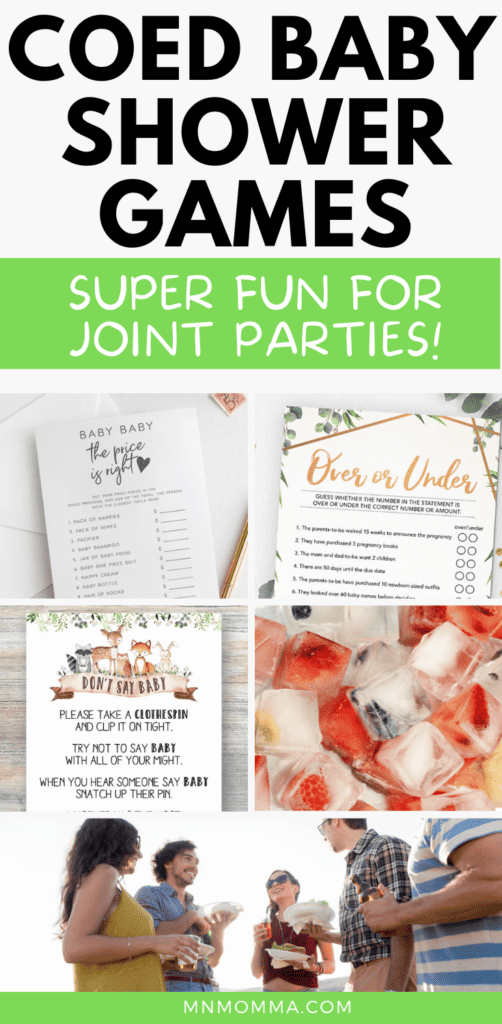 Coed Baby Shower Games
14. The Price Is Right – Find out prices of popular baby items such as diapers, wipes, formula, or shampoo and have guests see who get closest to the retail price without going over. Get a copy here!
15. Baby Pictionary – Split your guests into two teams to see who's the best at drawing and guessing popular baby items/topics. You'll need a couple of these big sticky paper pads for the wall and a set of pre-made baby-related words written on some scratch paper (or let your guests come up with them on their own).
16. Don't Say "Baby" – This game couldn't be more simple. When everyone gets to the baby shower, give them a clothespin. If someone says the word "baby" another guest that catches them can take their clothespin and add it to their own collection. Whoever has the most clothespins at the end of the party wins. For a cute sign to let guests know about the game – this one is a can't miss!
17. Over or Under – Is it really only 50 days to the due date?! Test out your guests to see who can come with the closest to guessing whether the truth to these 10 statements is "over" or "under". Check it out here!
18. Ice Ice Baby – This game takes almost no effort on your guests' part. Simply pop an ice cube in your drink (with one of these little babes frozen into it), and whoever's baby is free from the ice first is the winner!
19. Baby Name Race – See who can come up with one baby name for every letter of the alphabet first. You never know, you just might find something the mom to be has been looking for! Get it here!
20. Baby Catch Phase – Catch Phrase is another one of my favorite party games. For this game have a bucket filled with small pieces of paper with baby related phrases on them (rock a bye baby, baby shower, dream feed, etc.). Split into two teams and take turns getting your team to guess the phrase without saying the words included. Set a timer for 1 minute and whoever is the team the timer beeps on does not earn a point that round.
21. Diaper Toss – Before the mom and dad to be are pros at throwing diapers away, it's time to give everybody some practice with the diaper toss. Set up three different buckets with a variety of points and see who can score the most points tossing three diapers in the buckets.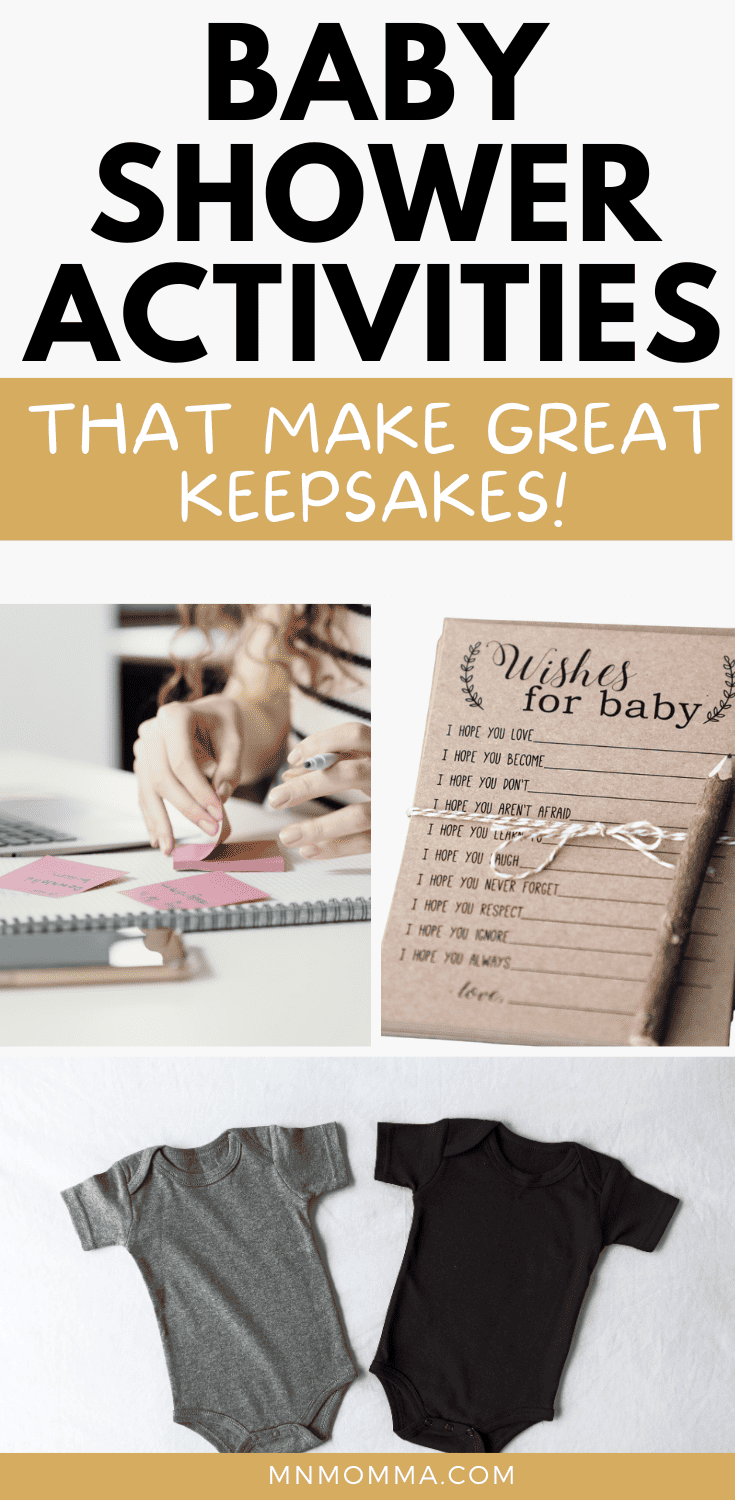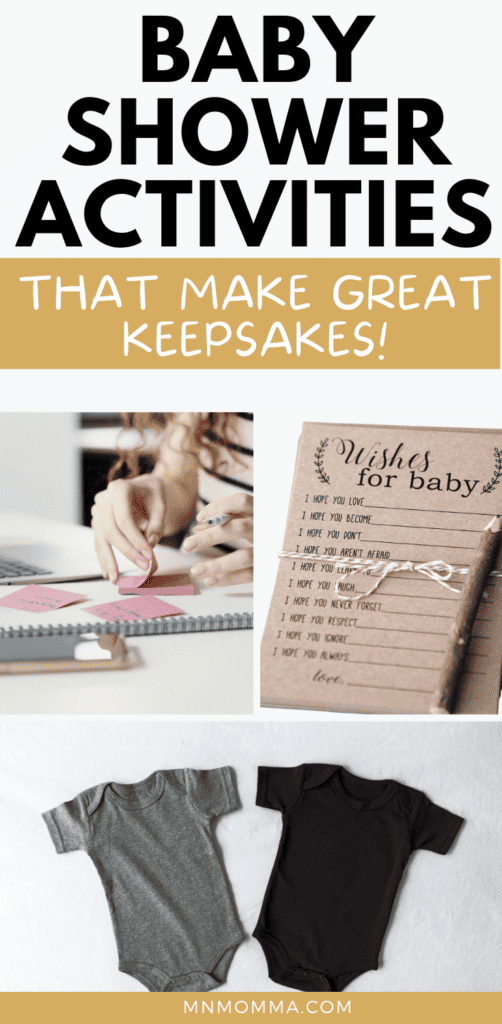 Baby Shower Activities
Okay, so maybe you prefer baby shower activities instead of baby shower games. These are great ideas that your guests can do throughout the baby shower without actually playing a "game". Some of these activities create sweet baby shower keepsakes as well!
22. Baby Predictions & Advice – Let your guests make predictions on the new baby's hair color, due date, etc. and give their best advice. Get there here!
23. Baby Wishes – One of the most treasured baby activities from my shower were these baby wishes. Let your guests share their sweet well wishes for the baby and mom and dad! Find the sweet card here!
24. Decorate a Onesie – Do you have creative guests? Let them create funny, sweet, and unique customized onesies for your little babe. Just grab some white onesies (this pack will probably be perfect for you) fabric markers, iron on letters/designs, or fusion sheets and let your guests create. Pro tip: if you're looking to get really great looking onesies out of the deal, you'll want to see this post.
25. Decorate a Headband or Hankerchief – Another baby shower activity for your guests is to decorate headbands or hankerchiefs for your little one. You can use the same fabric markers, iron on letters/designs, or fusion sheets as above!
26. Create Nursery Art – Grab a few blank canvases and let your guests start creating beautiful (or fun, depending on how artsy your friends are ;)) nursery art.
27. Who Knows Mommy Best? – What's Mommy's middle name? Where did Mommy and Daddy meet? Find out which guest knows Mommy best in these easy, get to know Mommy game. Check it out here!
28. Mommy or Daddy? – Who really suggested baby's name? Or was the easier baby? Let your guests guess Mommy or Daddy in this fun activity game. Get it here!
29. Baby Shower Baby Traits – Will baby get mommy's eyes? Daddy's awesome dance moves? Let your guests take a guess on who baby's traits will take after. Love this sweet one found here!

Woah! 29 Modern Baby Shower Games That Your Guests Will Love (Or At Least Not Hate)
Now that you have the list in front of you (and have hopefully picked out a few winners), it's time to take a big deep breath because half the planning is over, right? 😉
Whatever the theme of your baby shower, these baby shower games will help your guests loosen up, have fun, or simply give the mom to be a few sweet baby shower keepsakes.
Do you have favorite baby shower games or activities for large groups, coed groups, or small groups that aren't on this list? I'd love to hear about them in the comments below.
Related: How to Have A Virtual Baby Shower (When You Can't Get Together)
Are you a pregnant mom? Grab your free pregnancy checklists to get you through each trimester without missing a thing!