How to Choose A Baby Name: Tips for When You're Stuck
Disclosure: This post may contain affiliate links, which means I may receive a small commission if you click a link and purchase something. Please check out my disclosure policy for more details. All opinions are my own!
After looking through all the names in all the name books and all the baby websites, you've finally complied a list of baby names you like.
Now comes the hard part.
Picking the name for your baby.
But how do you choose just one?
I mean, how do you know which one is the ONE.
The perfect name for your sweet baby girl or boy.
If you've been feeling like you can't choose baby's name, I'll give you a few tips to help you on how to choose a baby name once and for all!
Related: Your Ultimate 1st Trimester Checklist (everything you should know!)
Related: 105+ Pregnancy Announcement Sayings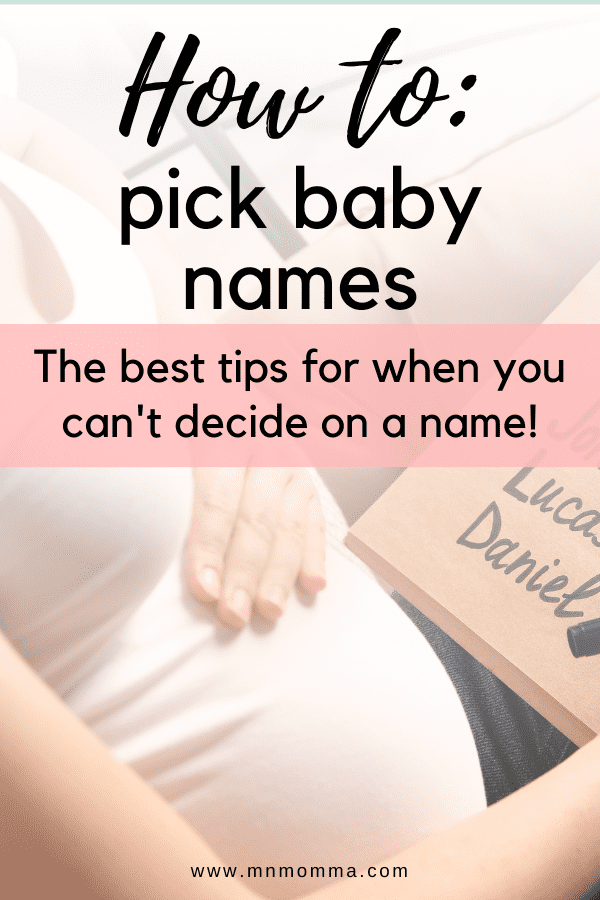 <— Pin it! Save this post for later!
Making Your Baby Name List
The first thing you need to do before narrowing down your top baby names is to actually make a list of your favorite baby names.
You might want to have certain categories like boy names, girl names, and middle names.
Think about if you have preferences to shorter names, a gender-neutral name, a familial name, or one from the current pop culture.
Remember this is likely your baby's name for the rest of their life and it's best if it's something you all love.
How to Choose a Baby Name
Check Out Your Family Tree
A sweet way to name your baby is to look to your family tree.
Family names are a super popular way to add a meaningful spin to your baby's name and may be a great way to honor a special family member.
By digging through older names in your family history, you can usually discover a unique name AND learn more about your family.
Plus if you end up choosing one from one of your past relatives, you could learn more about them and tell your little one some of their family's history when they are older.
Though this would probably only work if you're okay with naming your child after someone.
Look to Your Heritage
Learning your culture is not only interesting, it can be a great way to figure out a baby name!
Are you Irish or Norwegian?
Is there some Hispanic or Native American in your heritage?
Figure out what names are related to you and your partner's heritage and see which ones stick out to you.
You just might find some uncommon names that become the perfect baby name for your little one.
Learn the Meanings
Did you know that each name has a different meaning?
Checking out name meanings can be a fun way to feel more connected to the baby name you choose for your child.
Meanings for names can be anything from moon, tree, a color, and even characteristics like beautiful.
With each name on your list that you like, look up their meanings, and write it down next to them.
Does one of the names have a meaning that you really love?
Go Through Possible Nicknames
Another way to help figure out whether or not you want to choose a name is to go through possible nicknames that go with it.
Some boy and girl names with nicknames have super cute ones, but there may be some that you don't like at all.
If one of the names on your list is Robert, are you okay with people some day using the nickname Bob or Bert to refer to him?
So with every name on your list figure out the nicknames to see if you've found the right name for your baby.
Remember the Middle Name
Are you planning on using a middle name?
Is there one in particular you were planning on using?
If you are wanting a middle name along with the first name, it's a good idea to see how they sound together.
You don't want them to sound off when said together.
So if you already had an idea of a middle name, go ahead and use it with every name you like and see which combo sounds the best.
If none do, then get creative and find other middle names (or first names) you like until you find ones that sound good together!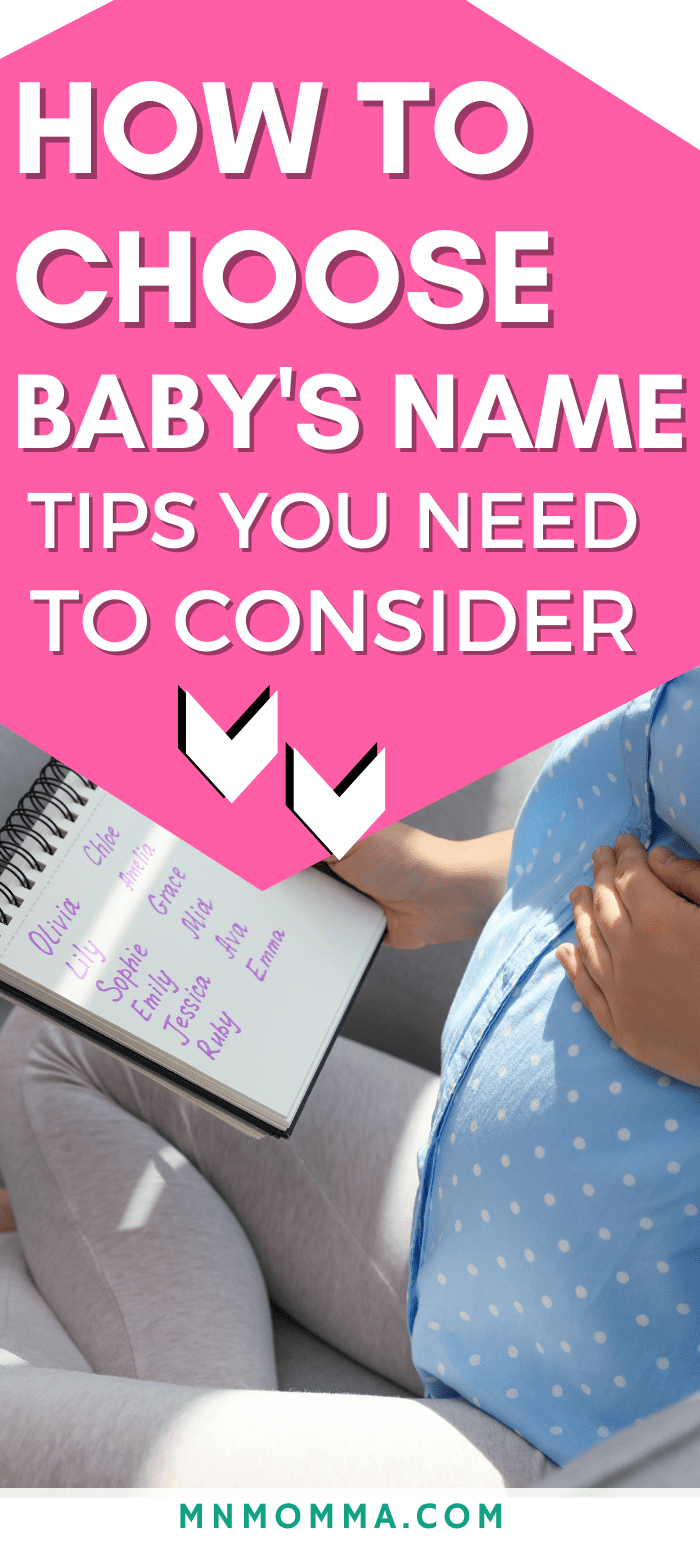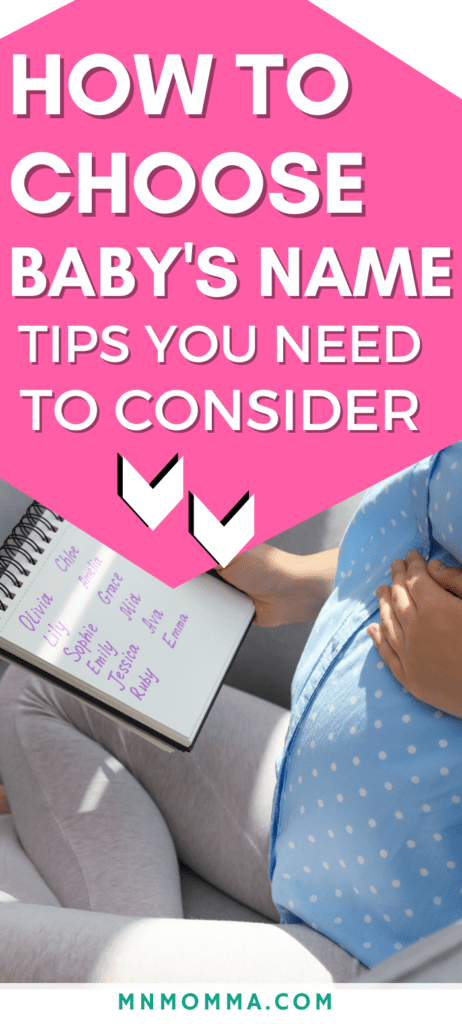 Things to Consider When Choosing a Baby Name
Along with the tips above there are still a couple things to keep in mind when choosing a baby name.
Some things to consider when choosing a baby name are:
The initials– Once you have a complete name choosen (with a first, middle, and last name) see what the initials look like to make sure they don't spell something weird. You don't want any inappropriate monograms or letters written on their papers in school.
How you're going to spell it– If you're going to spell the name in a different way to make it more unique, make sure it's unique and not funky looking. Unique names are great, but be careful how unique you go. Your 5 year old will still need to learn how to spell their own name 😉
How does the full name sound– When you have a full name you like, say the first, middle, and last name all together to see if it sounds good. Is it too clunky or hard to say. Some letters and sounds just don't go well together, so be sure to give your child's name a full test before committing to putting it on the birth certificate.
Is it a popular name – Is the name you like one that's really popular and all the moms are using? If it is, is that something you are okay with? Keep in mind that popular baby names are popular for a reason; because lots of people like them! And there's nothing wrong with that if you feel like it's the right baby name for your bundle of joy.
Other siblings names– If are you trying to keep a common theme with all your kids' names (all start with the same letter, every name is biblical, other kids' names are from the seasons, etc.) make sure this name ties into it as well.
Will it stand the test of time – is the baby name you chose a classic? Or a more unusual name? Maybe something more middle ground? Consider your baby boy or girl at all stages of life and how their name will sound. At the top of a resume? While they're learning to walk? Cheering for them at a basketball game? Getting married or becoming Grandpa Jack?
Don't Stress About It Too Much
Though it can be fun and exciting, it can also be stressful.
Is this the one?
What if they don't like their name?
What if we choose a name that ruins their life!?
But I'm here to tell you, please don't stress about it too much.
The name you choose won't ruin the baby's life and they won't hate you for whatever name you decide on.
If you're getting too stressed out about it, take a break looking at baby names a while and come back to it later.
You have 9 whole months until your due date.
And maybe even an extra couple of days once you're in the hospital to decide what name this new baby really looks like.
You'll have enough time.
When should I start looking for baby names?
Honestly, I think it's never too early to start looking for baby names!
But you should at least start when you're in the second trimester.
You don't want to be sitting in the hospital with NO names in mind trying to come up with a new name.
Picking out baby names can be really enjoyable but it can also be pretty difficult.
Maybe you like too many and can't choose or perhaps you and your partner are struggling to pick a baby name you BOTH like.
You want to make sure you have enough time and not feel too hurried to have to make a decision by starting too late.
What to do when you can't decide on a baby name?
A common issue that can come up when trying to choose a baby name is not being able to decide on one.
If it's because you have too many you like, go through the tips above to help you narrow one down.
But if it's because you and your partner can't agree on one, then I would recommend looking at some more baby names.
More often than not your partner is not gonna warm up to the name you like and you'll probably never like theirs either.
When we ran into those problem, we just ended up forgetting about those names and looking up more baby names to see if we could find other ones we liked.
So if you're going through this, don't worry!
You WILL find a name you both like, I promise.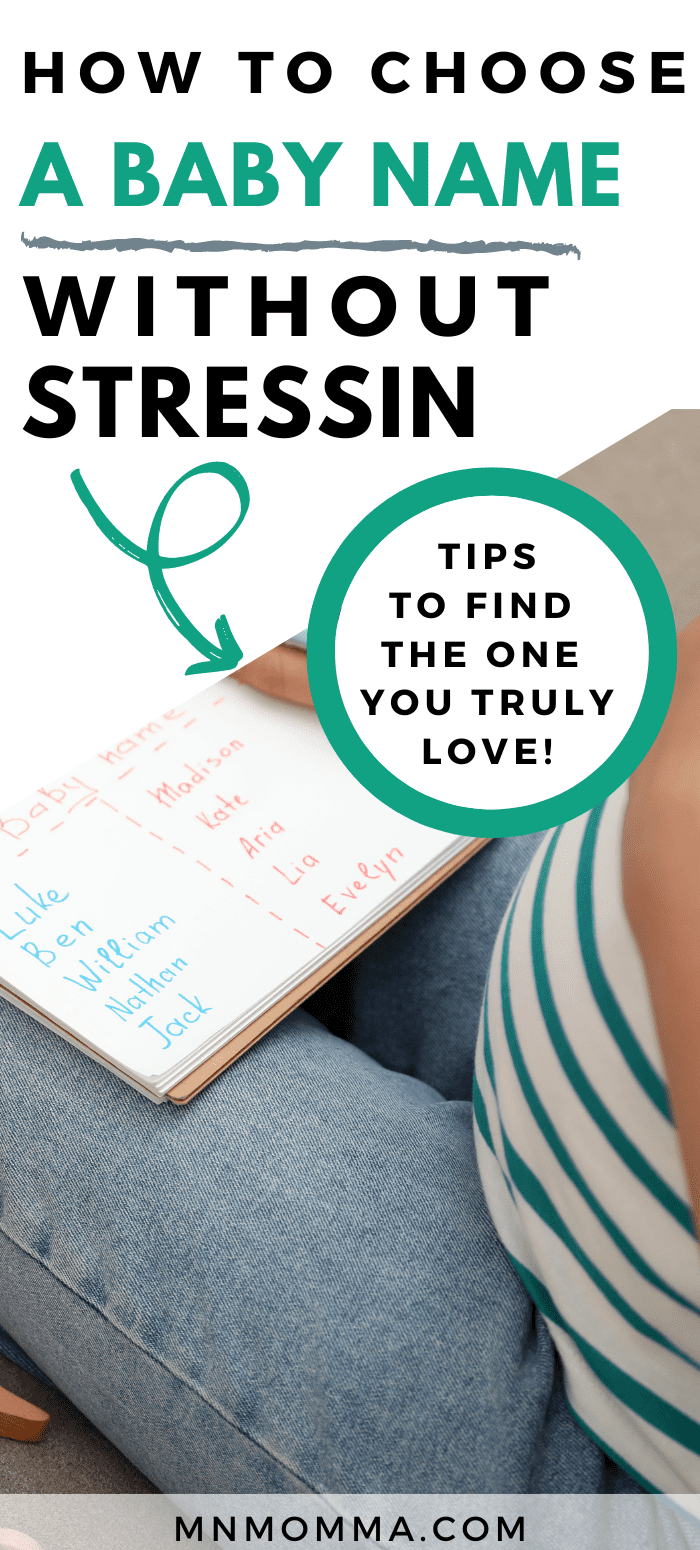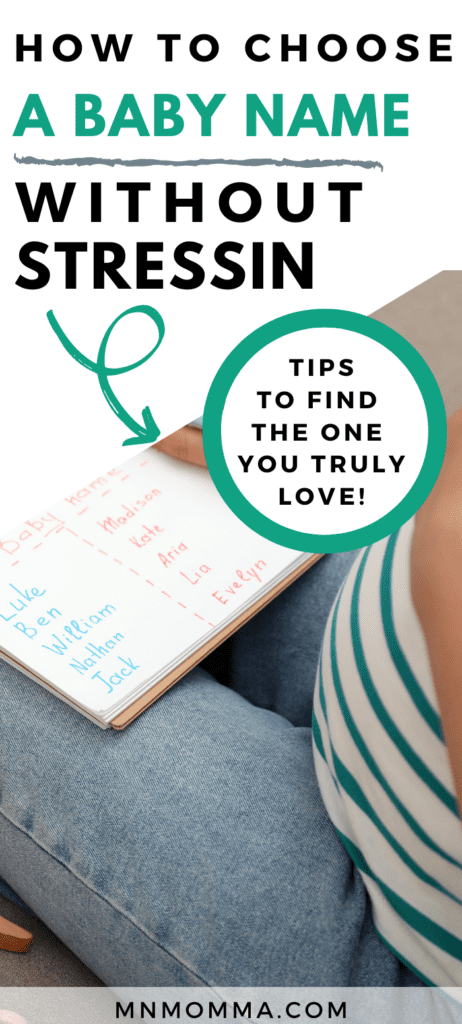 Need More Help on Where to Find Baby Names?
If you've already checked out your family tree and heritage, but just can't find anything you like, there's lots of places to look for more name ideas.
Here's a few of my favorites:
Grab a baby name book from the library (these are often sorted by types of names)
Try a baby name generator
Download an app for baby names (my favorites are the ones you can link with your spouse and you can both save your favorite names to see if you match!)
Do a Google or Etsy search of baby name announcements – do any of these names stand out to you?
With just a little research you should find helpful name ideas all over, just be sure to keep track of your favorites to make the naming process as painless as possible.
Should I Share My Baby Name With Others
This is a tricky one.
If you get positive feedback, sharing your unique baby name with others can be a great way to solidify your name choice.
However, if the person you've shared your son or daughter's name with makes a face or says something negative about the names you've chosen, it can cause hard feelings and may even ruin the name you thought you loved.
If you want to share your baby name with family and friends before baby is born, I recommend you do the following:
be genuinely open to feedback (or be firm that you don't want any negative feedback)
have a tough skin and be confident about your name choice, regardless of their reaction
keep the name to yourself until you've named baby, people tend to not share their negative a opinions on a name once baby is already named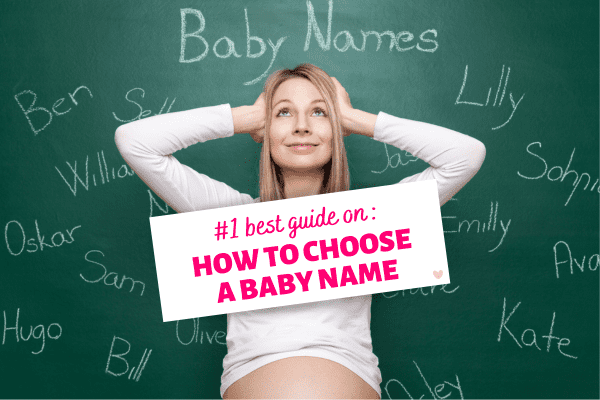 What If I Change My Mind Once I Meet My Baby
Don't be afraid to try out a different name or head back to the drawing board if your baby's new name doesn't seem to fit his or her personality or looks once you meet them.
Just because you thought your baby was going to be named your favorite name since childhood, doesn't mean you have to stick with it.
Be open to looking back at your baby name lists and seeing if another option feels more right.
Remember, you're the parents and baby naming is up to you!
The Best Way to Choose A Baby Name When You're Feeling Stuck
Naming your baby is a big decision that weighs heavily on a lot of people.
Whether you scoured a huge baby name book, used an online baby name generator, or looked through your family history – you've probably found at least a few awesome names that will make it on your list.
Hopefully these top tips have helped you narrow it down to finding the perfect name for your baby.