Disclosure: This post may contain affiliate links, which means I may receive a small commission if you click a link and purchase something. Please check out my disclosure policy for more details. All opinions are my own!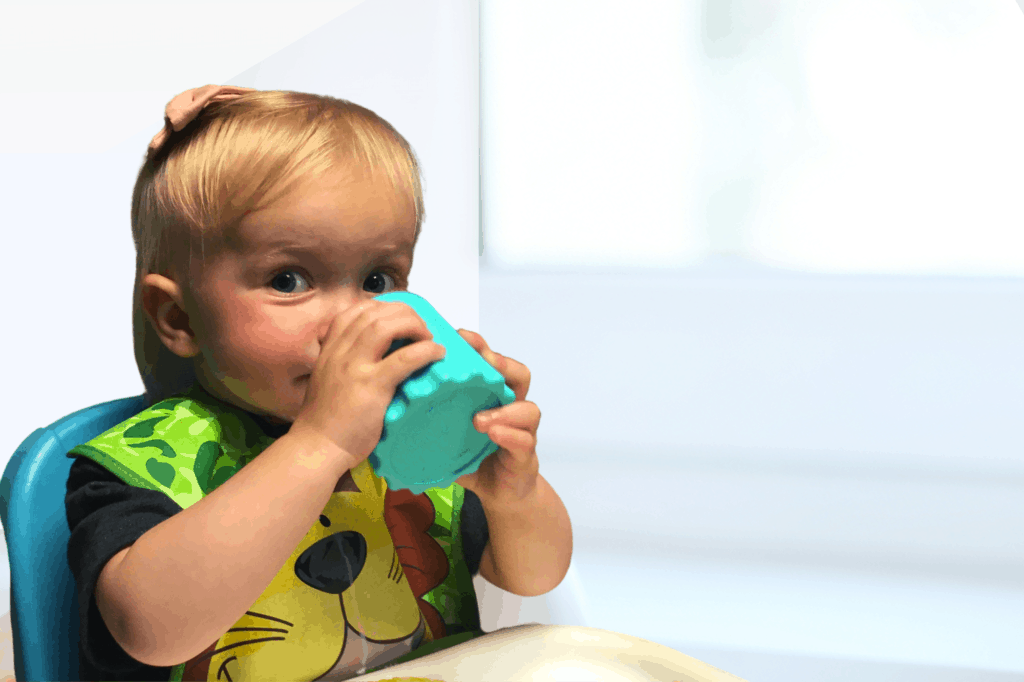 Teaching Your Baby To Drink From An Open Cup
That moment when your pediatrician asks if your baby drinks from an open cup yet:
Uhhh – what?! She's a baby?
She'll spill! She'll make a mess! There's no way!
Well – I have a secret for you, your baby CAN drink from an open cup, and there's a good chance he or she will be better at it than you think.
Our Pick
Tough to Tip Learning Cup
$11.99
These cups are perfect for little hands, especially for those learning to drink from an open cup.
The cups are difficult to tip, easy to grip, and a great price.
Buy Now
08/12/2020 02:22 pm
Why Should My Baby Use an Open Cup Instead of a Sippy Cup?
Sippy cups just seem like the natural right of passage, right? Well – many professionals say to skip them if possible!
According to the American Academy of Pediatrics, it's best to wean your baby from the bottle by 18 months of age, as it can cause tooth decay or the potential for drinking more fluids than needed.
In fact, skipping sippy cups all together is greatly encouraged in an article on the American Speech-Language-Hearing Association blog for 3 reasons:
Overusing a hard sippy cup spout can get in the way of development
It can impact speech and language development
It can change appropriate facial development
Now, do I think these things are going to happen because you used a sippy cup a few times? Of course not! I'm totally guilty of that.
However, it definitely made me want to look at some alternatives and see what all the hype was about a baby drinking from an open cup so young.
Alternatives to a Sippy Cup
If you can't quite jump on board with an open cup for your baby just yet (hello, spills galore!) – don't freak out.
Many speech and language pathologists recommend other types of cups for babies and toddlers that are much less likely to spill than a completely open cup.
If you're looking for some great alternatives to a sippy cup we love and highly recommend the 360 cup and our straw cup. Especially for those times your baby needs a drink on the go and it's not possible to do an open cup.
Our Pick
Our Pick
Munchkin Miracle 360 Trainer Cup
$9.82
These dentist recommended cups eliminate spills and automatically seal when you're done drinking.
The handles are great for little ones learning to drink from a cup!
Buy Now
08/12/2020 02:22 pm
What Open Cup Should You Get?
As you probably can guess, choosing the right open cup for your baby is essential.
I truly thought it would be SO hard to teach my baby to drink from an open cup, but – with the right cup – it was really simple.
You'll want to look for an open cup that has:
A weight base – so it doesn't tip as easily
Easy to grab sides for little hands
Durability, because chances are good it may drop a time or two
So what open cup do I recommend? We recently got this cup by eZtotZ, and we can't believe we waited until baby #2 to get it (to be honest, I don't even know if it existed with baby #1).
It checks all the boxes above and even our 3 year old likes to drink out of it – just for fun!
How to Teach Your Baby to Drink from an Open Cup
Okay, so now that you've got your open cup for baby, how do you actually teach your baby to drink from an open cup?
Starter Tips for Parents:
Try not to stress – messes will happen, but watch the progress!
Having a bib like this one has been a LIFE SAVER. It catches the milk that will probably be spilling down your baby's chin (at least in the beginning), so you're not worried about it ending up in her lap.
Attempt it in the kitchen only
Have an easy to wipe down high chair – like this one!
Practice in the bathtub
If baby doesn't catch on right away, stay positive. You want your baby to have a great experience and want to learn this. Not be afraid he'll upset you by trying.
How to Teach Your Baby To Drink From An Open Cup (step by step):
Start by putting your baby in their booster or high chair with a great bib. Trust me, you don't want your baby running around with a cup of water going everywhere!
Add a little bit of water to baby's open cup. Less water = less mess!
Let your baby hold the cup and help guide it to her mouth. Slowly!
Once the water reaches your baby's lips, see what she does! Some baby's will keep their mouths closed, while others have it wide open. Hold the cup where the water reaches baby's lips for a few seconds just to help her get used to it.
Model drinking from an open cup (your baby has probably seen you do this many times) and repeat!
Keep in mind that depending on your baby's age and development, he or she may pick up the process of drinking from an open cup very quickly or may need some more practice.
Chances are good it'll take a while for your baby to have absolutely no spills, but just keep practicing with him or her and it will come!
When Should I Start Teaching My Baby to Drink From An Open Cup
Figuring out when to start teaching your baby to drink from an open can be tricky. Many experts suggest starting at 6 months old, when babies can start having just a little bit of water added to their diet.
I'll admit, we didn't really start trying to teach drinking with an open cup regularly until after our babies were one. But it's definitely possible and encouraged by many experts to offer an open cup earlier!
Here's a great video of a mom teaching her baby how to drink from an open cup at 6 months old:
The Best Way to Transition Baby from Bottle to Open Cup
Whether you're breastfeeding or formula feeding, weaning your baby off a bottle by 18 months can be stressful.
By starting to introduce an open cup at 6 months your baby may be more comfortable and willing to give up a bottle than they otherwise might have been.
Have you transitioned your baby to an open cup yet? I'd love to hear about your favorites and how old your baby was when you started!
Related: Baby Led Weaning – 3 Months of 1st Foods
Related: How to Start Baby Led Weaning (And Why You'll Want To!)
Related: How to do Baby Led Weaning When Your Baby Goes to Daycare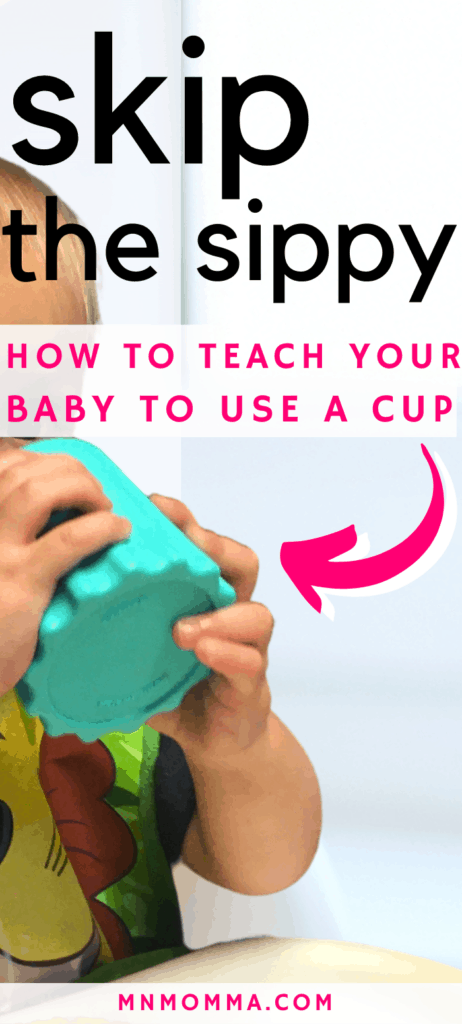 <— Don't want to lose this post? Save it by Pinning it for later!