Easy Toddler Car Kit (Essentials You Don't Want to be Caught Without!)
Disclosure: This post may contain affiliate links, which means I may receive a small commission if you click a link and purchase something. Please check out my disclosure policy for more details. All opinions are my own!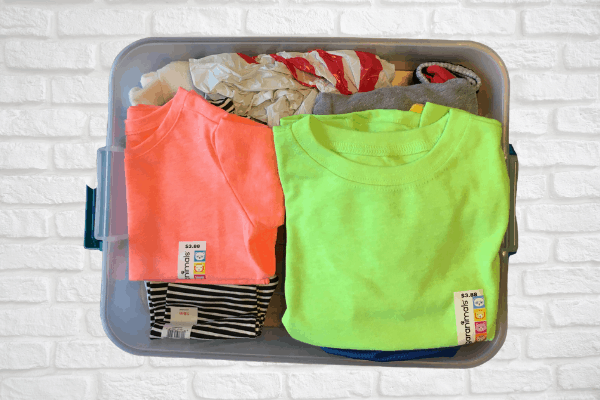 The Easy Toddler Essentials Car Kit You Need
Baby blowouts, toddler potty training accidents, spilling water or food all over pre-school clothes.
Been there?
These sorts of accidents were happening to me waaaay too often for awhile until my sister told me the EASIEST mom hack yet.
Say hello to the toddler car kit.
I'm honestly embarrassed we didn't do it sooner.
Or really, the baby car kit, preschool car kit, kindergarten car kit, mom life-saver car kit, you get the idea 😉
Why You Need A Toddler Car Kit
To be honest, the tipping point was when my toddler accidentally had a potty accident at the library.
Like one of those potty accidents that soaks into his shoes – poor buddy!
I had a newborn baby with me and had forgotten to pack an extra set of clothes for him in our diaper bag. 🤦‍♀️
Remember, this was April and I live in Minnesota – it was COLD.
So what's a mom to do?
After panicking in the (seriously amazing) mother's nursing/family room in our library.
I stripped him down, wrapped him in his baby sister's blanket, and walked like only a mom could with a half naked toddler in one arm and a new baby in her car seat in the other.
I almost made it to my car without anyone saying a word, when an older man commented, "it's pretty cold for those little feet!".
Ugggggh.
Needless to say, I got right on to making my toddler car kit.
Don't worry, that gentleman would be happy to know it's complete with socks 😉
So, without making you wait for your own potty accident extravaganza, I'll show you how to make the easiest little kit that fits in your vehicle so you're ready for any baby or toddler messes.
Related: How to Keep Your Toddler Busy ANYWHERE (and quiet!)
Related: 30+ Activities to Keep Your 3 Year Old Busy
Related: 30+ Activities For Your 1 Year Old (That You Can Do At Home!)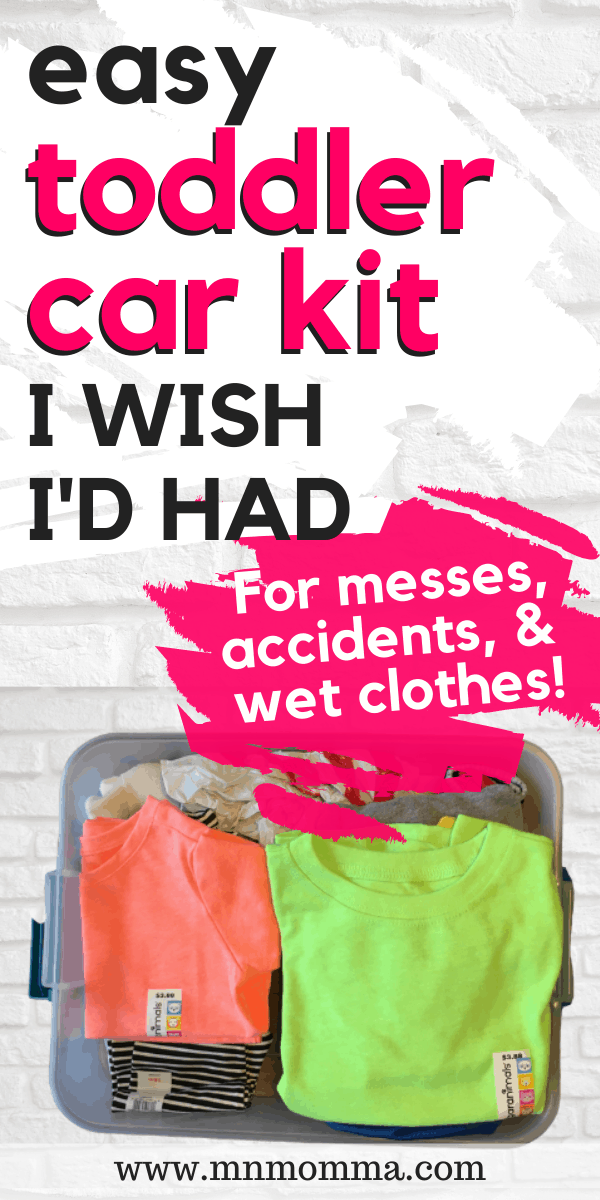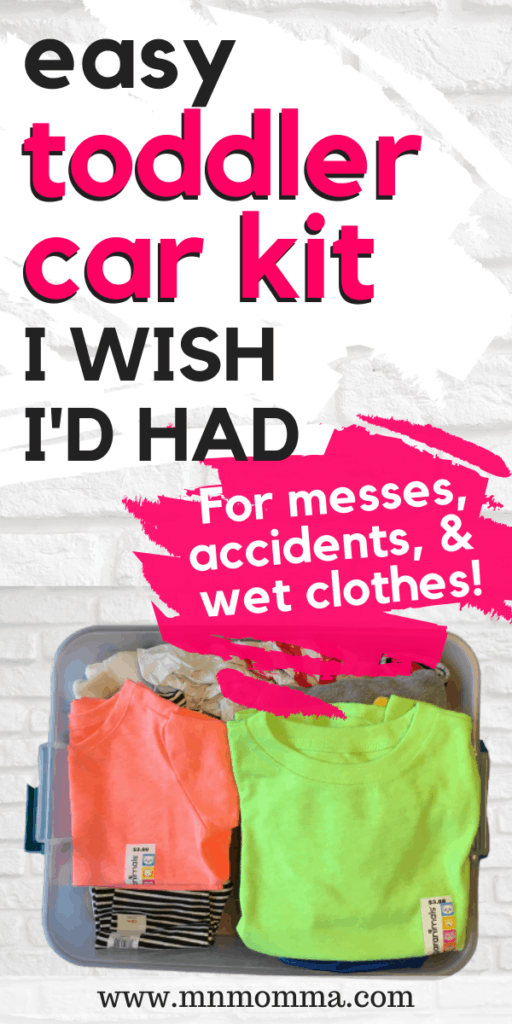 <— Don't want to lose this post? Pin it for later!
Toddler Car Kit Essentials
Okay, so now that you've decided to commit to making one of these super snazzy baby and toddler essential car kits – it's time to buy a tote and fill it up!
I recommend choosing a tote that's large enough to fit everything, but otherwise small and compact.
You don't want it to be something annoying that's hanging out in your car. The best option is to have one that easily slides under your seat!
Some people like to give each child their own small box, while I found it easy enough to just fit both my kids' essentials in one box.
I recommend one of these two options for your toddler essentials car kit:
Next, it's time to fill your box up!
Try to think of the essential baby or toddler products that you'd need if you forgot your diaper bag at home.
Here's what we like to include in our kids' car essentials basket:
Shirt
Pants
Socks
1-2 Diapers
Underwear
Plastic Bag (for dirty/wet clothes!)
While we don't include these extras in our toddlers essentials car kit, you certainly might want to:
Water bottle
Snacks
Wipes
Changing pad
Swim diaper
Sweatshirt
Bandaids
Books
Blanket
Sun Screen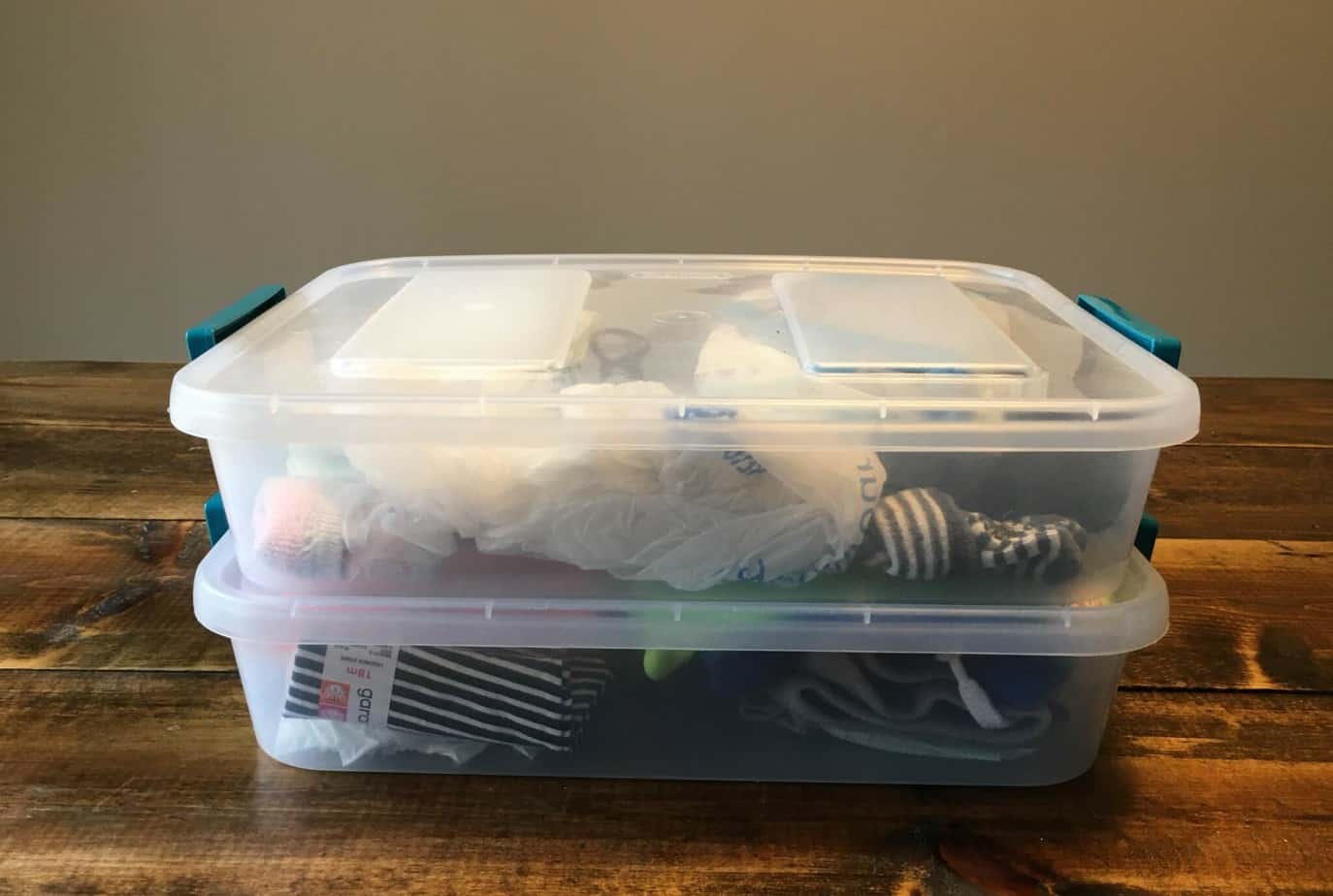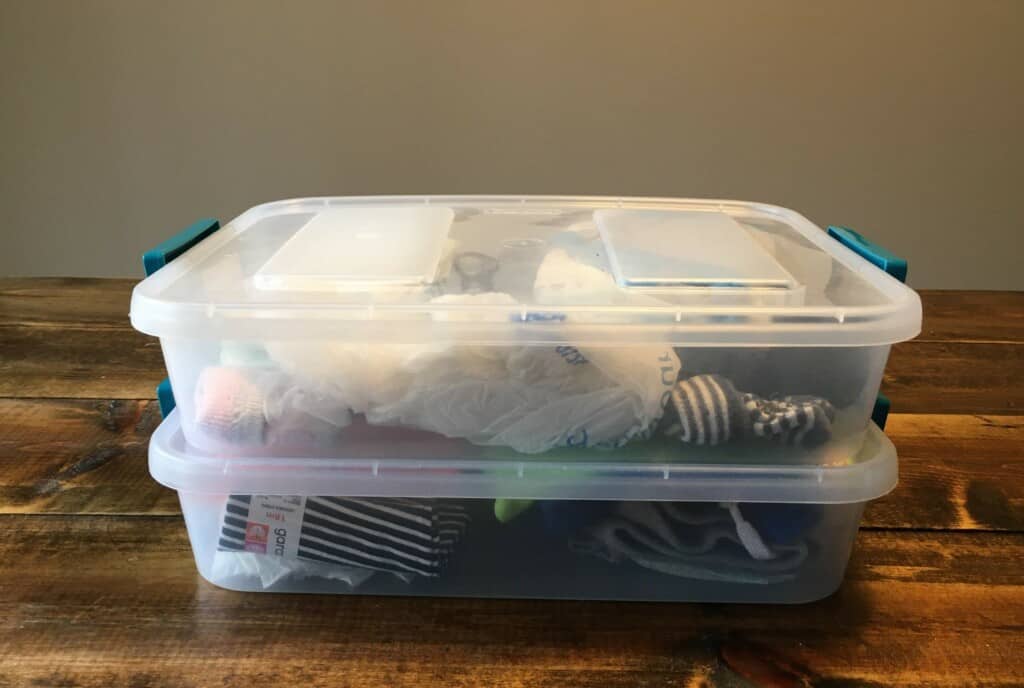 So I Have To Give Up A Cute Outfit to Sit in the Car?
Maybe this is a worry of yours, maybe it's not.
But for me, it killed me to think that one of my toddler or baby's cute outfits would basically never be seen by anyone or worn (unless they had an accident somewhere).
I also didn't want my kids in an outfit that I hated, even if they had an accident and it was only going to be for "a little while".
So here's my happy solution for you! Actually I have two suggestions:
Buy a cute, but super affordable outfit somewhere. I mean a little Walmart or Target shirt that costs a few dollars, a hand me down that you still like, or a garage sale deal
Buy a duplicate of one of your favorite outfits for your kids! You'll never feel like you're missing out on seeing them in it since they have another set!
Packing and Updating My Toddler Car Kit (Essentials Only!)
You might never end up using your toddler or baby car kit, but when you do need, it's a lifesaver.
Since you'll probably use it so infrequently, don't forget to update and change out the items inside it every few months as seasons change or your child grows and needs new sizes of clothing.
Also – if you decide to put snacks or water bottles inside your kit, you'll definitely want to swap those out!
Here's a Video of Me Packing & Updating My Toddler Car Kit for Summer: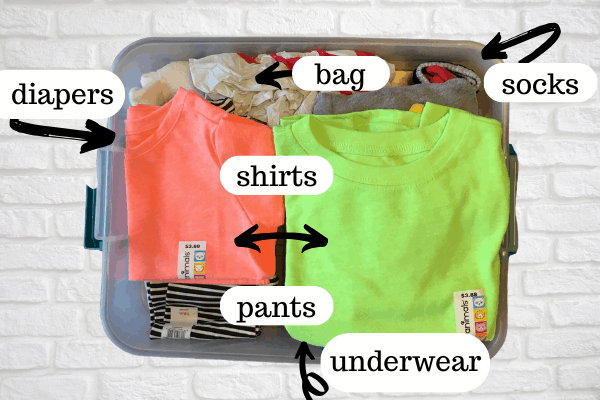 Toddler and Baby Essentials Car Kit
Do you have your own toddler essentials car kit? I'd love to hear more about what you pack in yours and how it's been helpful!