30 Indoor Activities for Your 1 Year Old (That You Can Do Right Now at Home!)
Disclosure: This post may contain affiliate links, which means I may receive a small commission if you click a link and purchase something. Please check out my disclosure policy for more details. All opinions are my own!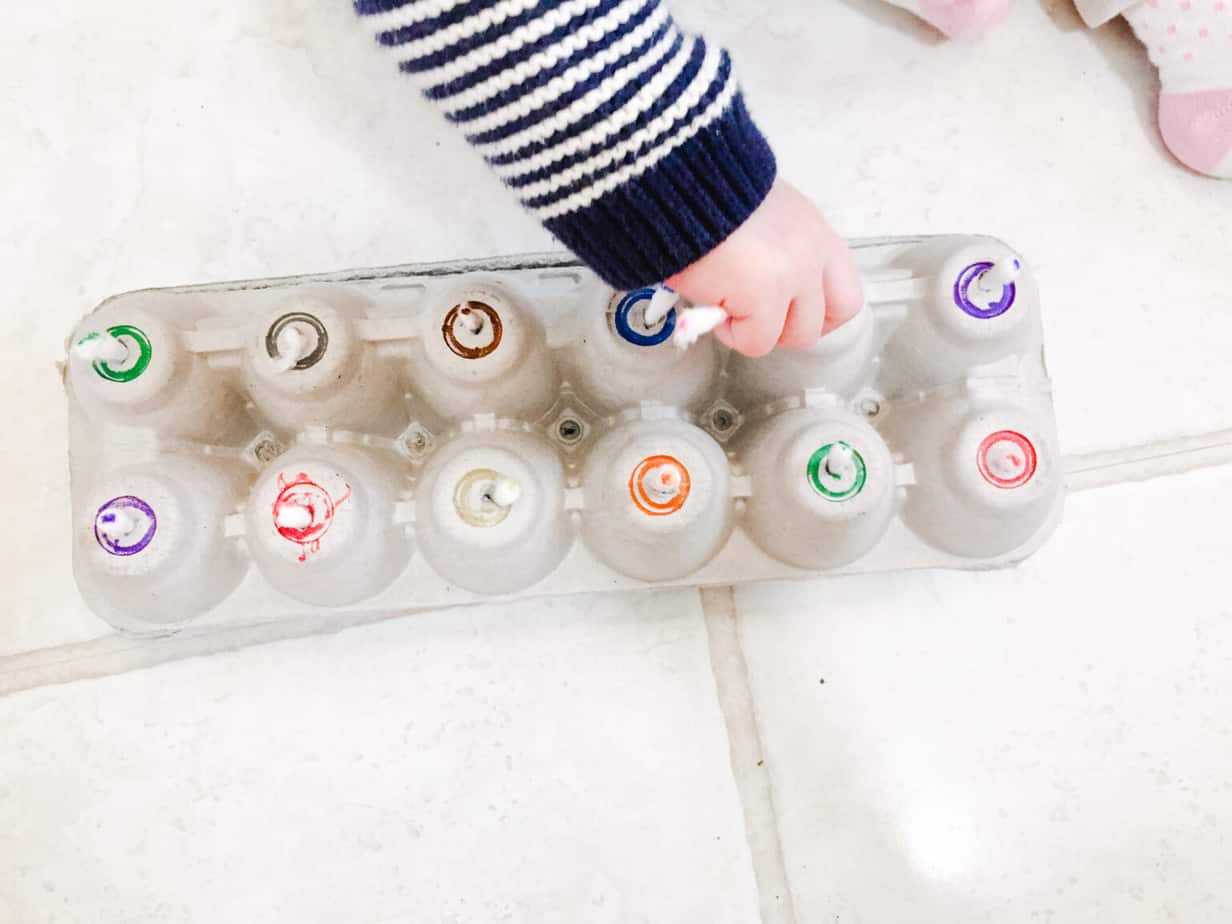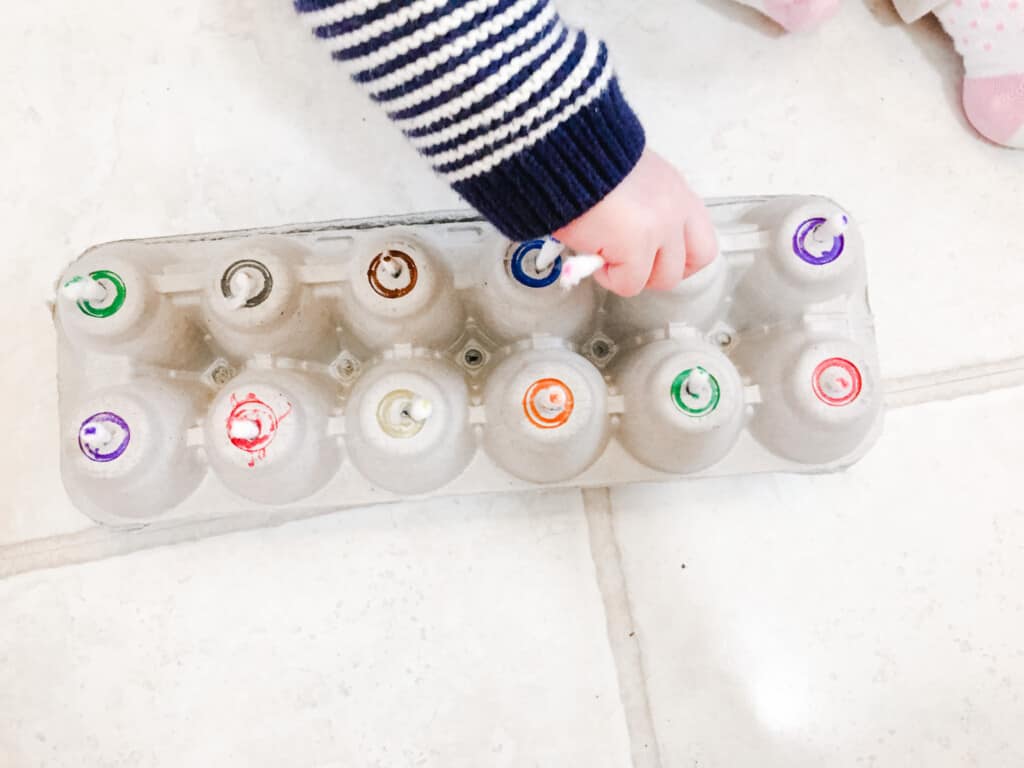 Ideas & Activities to Keep Your 1 Year Old Busy
Lately, my one year old has been attached to my hip! As much as I love being followed around hearing the sweetest little "momma, momma", sometimes I'm desperate for some new fun activities that will keep my 1 year old busy.
I mean besides letting my baby chase after our robot vacuum (who we truly LOVE and our kids call by name). Hey, it's still an activity, right? 😉
So, what did I do?
I searched google and Pinterest for the best activities for one year olds – that you can do at home and I've compiled the list here for you. We've tried so many of these, and they're great!
Oh, and the best part?
Most of these activities will use regular items that you already have at home. How great is that?
Related: 36+ Indoor Activities for your Busy 3 Year Old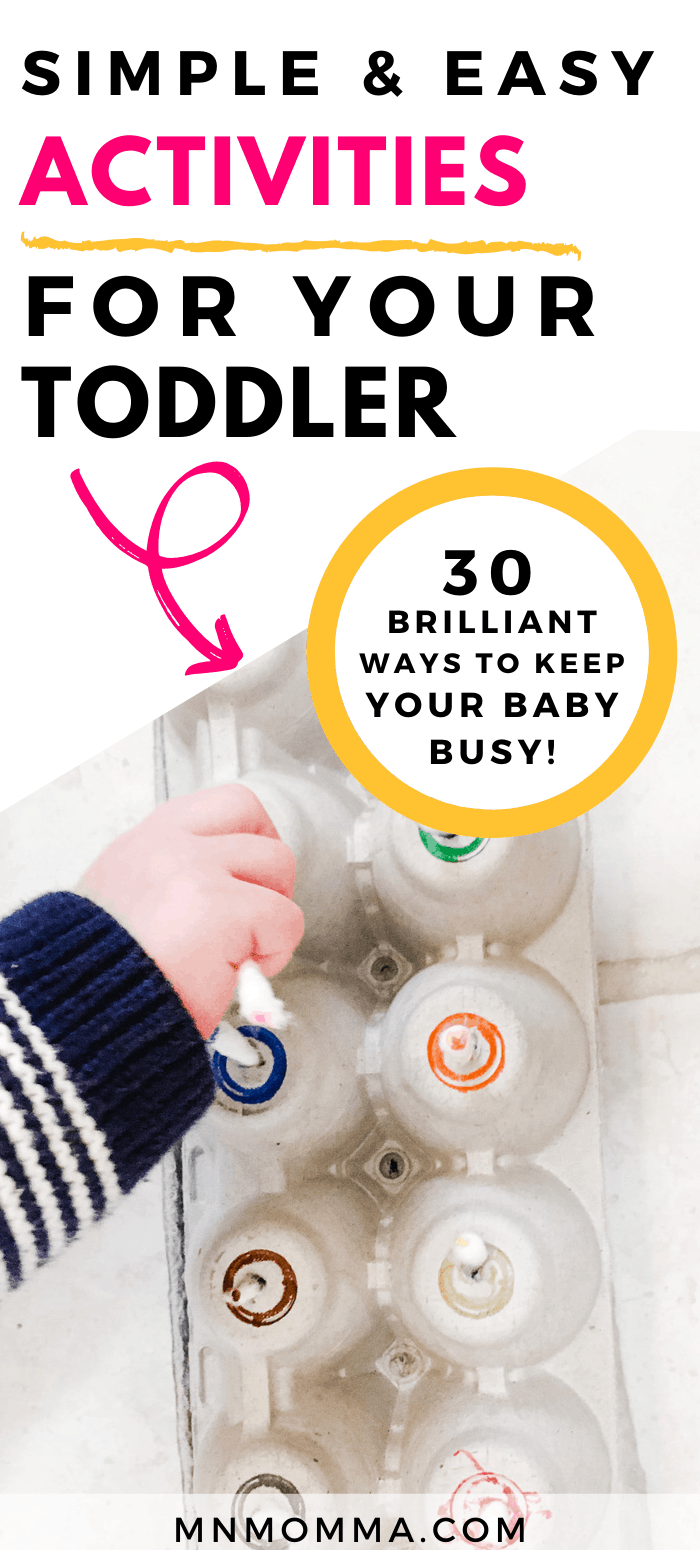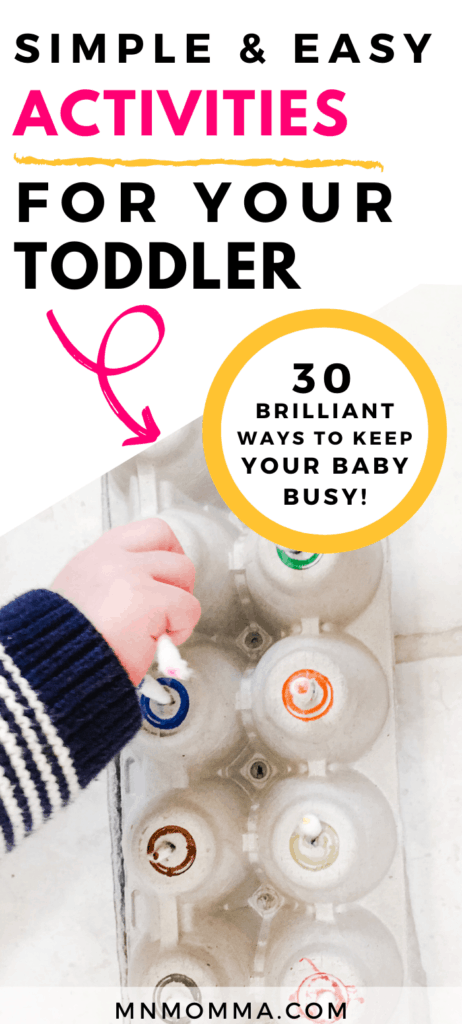 <— Don't want to lose this post? Pin it and save it for later!
30 Activities Your One-Year-Old Can Do At Home
1. Implement a Busy Bag – If you haven't made your baby a busy bag yet, age one is the perfect time to try it. Feel free to use your busy bag at home (especially if you're stuck inside), rather than only as an "on the go" option. Make your own following the directions for a busy bag here!
2. Mess Free Table Top Painting – This project is so EASY. What you'll need is a zip lock bag, a paper to go inside it, and a few paint colors. First, drop globs of paint on the paper and then slide it in the zip lock bag and seal it up. Let your baby smush and smudge and drag and draw all over the paper!
3. Card Slot Drop – Grab an old oatmeal container and cut a slit in the top. Give your one year old a deck of cards and show her how to slide the card and put it into the container. Little ones love this type of game!
4. Tape Pull – Grab a cardboard box or plastic wipes container and put different types of tape on it (masking tape, scotch tape, packing tape, etc.). Fold one end of the tape so there's a little tab your baby can grab. Let your baby spend time pulling the tape off the box
5. Cheerio Stacking – Cherrior stacking is a great activity to build fine motor skills. Now, I don't mean just building a cheerio tower. Instead, give your child a piece of dry spaghetti or a pipe cleaner and stick one end in some playdough. Show your baby how to add the cheerios to the stick and start stacking.
6. Play with Magnetic Letters – Let your one year old add magnetic letters to the fridge or squish them in some playdough.
7. Interactive Board Books – Board books are a great activity for one year olds. They're hard to ruin and easy for little hands to handle. Our favorites are interactive board books like this one!
8. Stacking Cups (Buy Some or Use What You Have!) – Buy a set of stacking cups or use some plastic ones at your house and show your one year old how to stack them. This will keep him busy while you cook!
9. Muffin Tin and Cupcake Liners – Use some of those cute cupcake liners (these reusable silicone ones are great for little hands!) you have lying around and let your baby put them in each of the muffin tin slots.
10. Muffin Tin Color Sorting – Muffin tin sorting is a fun and educational one year old activity you can do at home. Put a colored sticker in the bottom of each muffin tin spot and let your baby add a matching color pom pom or magnetic letter to each holder.
11. Envelope Opening – Do you have some extra envelopes or junk mail around? Open the mail for your baby, but let them pull the letter out. Using smaller pieces of paper in a larger envelope may make the activity easier for your baby.
12. Stacking Blocks – Grab some blocks (these squishy ones are great!) and show your baby how to make a tower.
13. Spaghetti Noodles in Playdough – Let your baby play with dry spaghetti noodles in playdough. Let your baby practice sticking one end of the noodle into the playdough.
14. Magnets on a Cookie Sheet – Use your letter magnets (or any other baby friendly magnet) and place them on a cookie sheet. It's like a fridge, but mobile and can sit on the floor with your babe!
15. Box Drop – Use an empty Kleenex box or wipes container and let your baby drop objects into it. Ideas include: dropping a card, bouncy balls, strips of colored paper, etc.
16. Popsicle Stick Drop – Find an empty paper towel roll or toilet paper roll and tape it to the wall. Give your little one some popsicle sticks and let her drop them through the tunnel!
17. Puzzles – Yes, one year olds can start doing puzzles! Find big chunky puzzles like these or ones with easy to grab pieces to get your little one started on puzzles.
18. Pom Pom Sorting – Grab a set of these fun pom poms and let your baby sort them by color. You can use buckets, cups, or muffin tins with a colored sticker or paper in them to show your baby which pom poms should go where.
19. Easter Egg Play Time – These Easter eggs are out at our house all year round. Just put them in an easy to grab bucket (we love this one made for baths), and let your one year old practice taking the eggs apart and putting them back together.
20. Dance Party – "Alexa, play children's songs" – trust me, Amazon Music and Alexa knows them all. It's time to dance it out and let your baby show you his best moves. If your baby isn't a dancer, help move his or her legs or dance together.
21. DIY Sensory Board – Did you know you can make your own sensory board? This can easily be done by using a piece of cardboard (from all those Amazon Prime boxes you have lying around) and a few different textures. Attach things like a piece of sandpaper, tissue paper, wrapping paper, bubble wrap, and a zipper to the cardboard and let your baby touch and feel to learn. That being said, I don't blame you if DIY isn't your thing and you want to buy an awesome pre-made one instead.
22. Q-Tip Push/Pull – Grab an empty egg carton and flip it upside down. Poke a hole in the bottom of each of the egg compartments and grab 12 Q-tips for your babe. Let her practice putting each one in the hole and taking them out. This is great for hand eye coordination. Pro Tip: Color around each hole and color one of the q-tips to match!
23. Dry Noodle Sensory Play – Put noodles of all kinds together in a big tote. Use measuring spoons, bowls, cups, and other kitchen utensils to let your 3-year-old dig and play. Tip: this toddler activity can be done with dry or cooked (and cooled) noodles for different textures!
24. Water Bottle Shakers – Grab old water bottles and add things to them like rice, dry noodles, or cheerios. You can even add some glitter or fun little trinkets to spice things up a little bit. Secure the cover on the water bottle and tape it shut – trust me, you don't want it spilling everywhere. Let your baby shake the bottle and practice making noise and music on his own!
25. Water Painting – This one year old activity project is SO EASY. Grab a piece of colored construction paper, a paint brush, and a little water. Let your baby paint with water without worrying about making a mess!
26. Baby Obstacle Course to Crawl Through – Get creative! Use pillows, a hula hoop, a fun toddler tent or climber, balls, or a jump rope. Set up a fun obstacle course to keep your toddler busy and tired out!
27. Make Music (Bucket Drums, Kleenex Guitars) – Flip over that bucket or clothes basket and let your toddler start drumming. Or grab an empty kleenex box, put a few rubber bands around it and add an empty toilet paper roll to the top. Voila! A homemade guitar for your little one to serenade you.
28. Ribbon Pull – Grab a piece of cardboard and cut small slits in it. Slide a piece of ribbon through the slit and tape it to the backside of the cardboard. Let your toddler practice pulling the ribbon
29. Bath Play Time – Someone once told me that if your child is having a tough day, put them in water or outside. My kiddos LOVE baths, so even if they're not dirty, give them a bath and let them play! These are some of our favorite bath toys, along with plastic cups for pouring, and dinosaurs.
30. Bath Letters Stick – Our little one loves playing with these bath letters. Whether she's stacking them, sticking them to the wall, or putting them in and out of buckets/cups, she loves it! Rumor has it that bath letters can also be used on your sliding glass doors!
12 Month Old Toddler Activities
These fun indoor activities for 12 month olds will help keep their little hands and growing brains busy even when you find yourself stuck inside and wondering what to do next.
Do you have other favorite indoor activities to do with your 1 year old? Or have you tried some of these? Let me know in the comments below!