22 Easy Breakfast Ideas for 1 to 2 Year Olds
Disclosure: This post may contain affiliate links, which means I may receive a small commission if you click a link and purchase something. Please check out my disclosure policy for more details. All opinions are my own!
Finding easy breakfast ideas for toddlers can feel exhausting.
It's easy to want to just serve the same meal every day (which I don't see a problem with!), but if you're looking to expand to some new foods for the most important meal of the day, this list of easy breakfast ideas for 1 and 2 year olds is just what you need.
This list includes quick breakfast ideas for the whole family.
Related: Best Baby Led Weaning Must Haves (2022 Guide)
Related: Best High Chair for Baby Led Weaning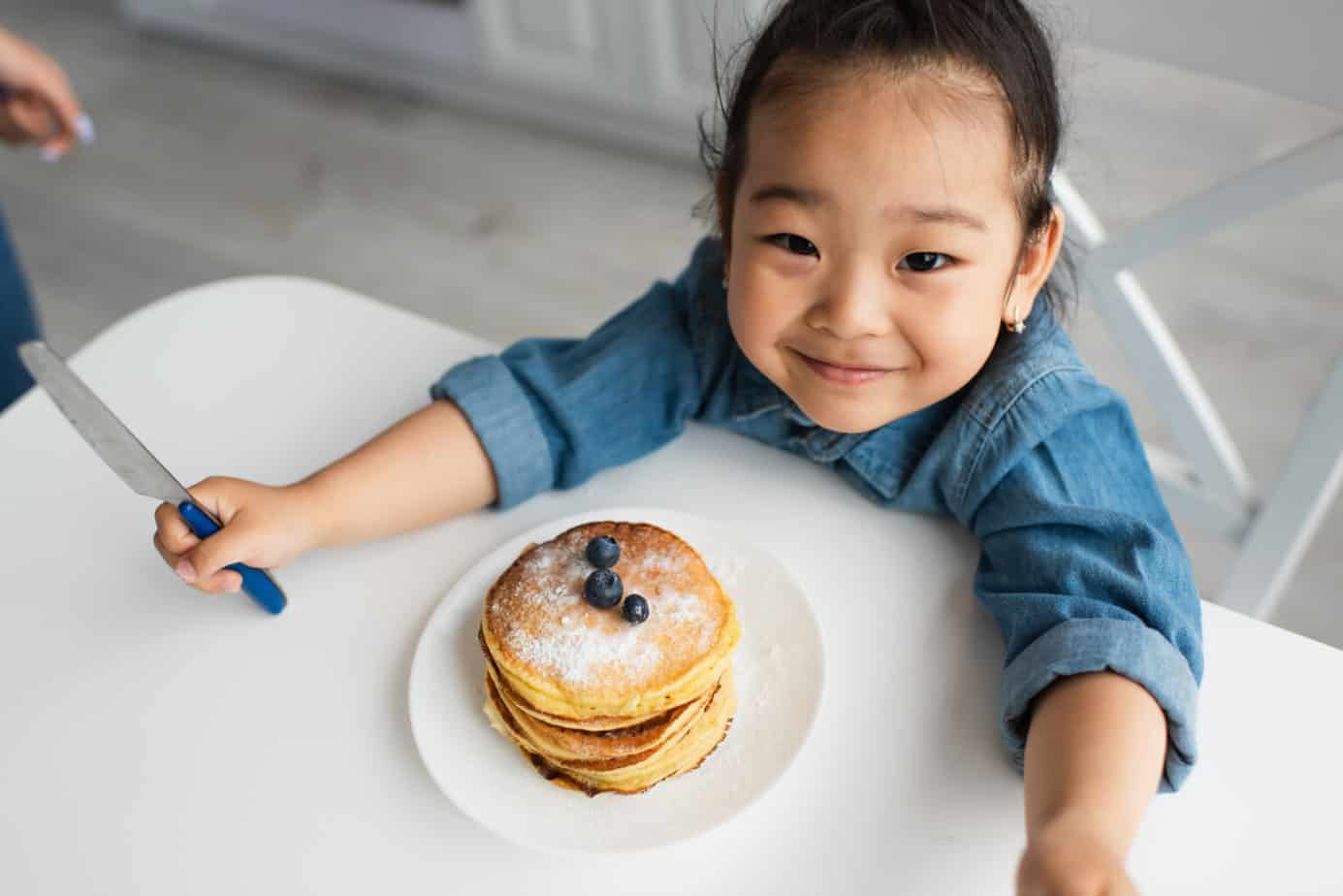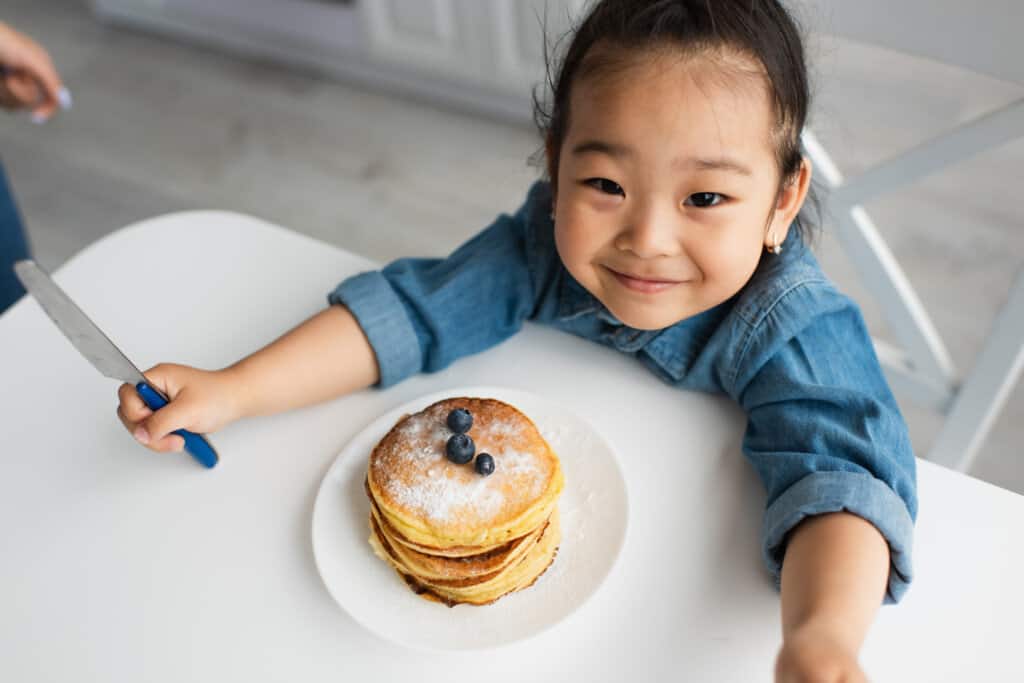 (Mostly) Healthy Breakfast Ideas for Toddlers
Finding quick and easy toddler breakfast ideas can stop you in your tracks and leave you grabbing the same old thing day after day. Thankfully, this list contains easy ideas give your child a balanced breakfast without stressing.
A few tips to remember:
Items on this list are for 1 to 2 year olds (or older) and are all solid food (with the exception of the smoothie ;))
If a recipe has honey in it, DO NOT give honey to a child under 1
Some list items include some of my favorite breakfast recipes
Offering a variety of food groups is great
Be aware of your child and his/her development to avoid any choking hazard
We love to live by Feeding Littles method for trying new foods. We don't force anyone to eat anything, and always try to offer a familiar food at each meal that we know they'll eat.
I encourage you to eat together as an entire family when possible. I know with quick breakfasts this may not always happen – but it's a great opportunity for your child to learn social habits and bond as a family.
1. Cereal
Cereal is a great classic breakfast option. No prep needed! Aim for cereals that are whole grain and low in sugar.
Here's some example of great cereal choices:
2. Hard-Boiled Eggs
Giving your 2 year old hard boiled eggs for breakfast has great health benefits. They're filled with protein and can help keep their tummy's full.
Check out this recipe for how to make super simple hard boiled eggs.
3. Overnight Oats
Overnight oats are a fun way for your 2 year old to get a nutritious breakfast. As an added bonus, overnight oats are a great way to help your toddler feel fuller longer.
Tips: chia seeds, fruit, or peanut butter can make a great addition to the oats. It's super easy to switch up this toddler breakfast idea to let your 2 year old experience fun new flavors.
Try this simple overnight oats recipe with yogurt and berries that your child will love. Remember: no honey for babies!
4. Peanut Butter Toast
This super simple idea is a toddler favorite. Tip: Use whole grain toast. Whole grains are a healthier alternative to white bread. Peanut butter is also a great healthy fat.
5. Egg and Cheese Quesadilla
Make a breakfast quesadilla. Start by scrambling an egg and adding some shredded cheese. Place the egg and cheese mixture between two tortillas and cook in a skillet until the quesadilla is golden brown. Cut into small pieces for easy eating.
6. French Toast Sticks
Cut a piece of bread into strips and dip into a mixture of beaten eggs and milk. Fry in a skillet until golden brown. Serve with a side of syrup or jam.
This is our favorite super simple french toast recipe
7. Oatmeal with Fruit
Cook oatmeal according to package instructions. Top with fresh or frozen fruit for a nutritious and delicious breakfast.
8. Yogurt Parfait
I love a yummy yogurt parfait for busy mornings where you might be on the run.
Use plain yogurt or greek yogurt. Layer yogurt, granola, and fresh or frozen fruit in a cup or bowl.
9. Pancakes
Make mini pancakes using a boxed mix or your favorite recipe. Serve with butter and syrup.
10. Smoothie
Smoothies can be very sugary, but by making your own at home you can curb some of the sugars and make sure you get plenty of nutritious fruits and vegetables in one drink.
Blend together yogurt, milk or orange juice (for vitamin c), and fresh or frozen fruit for a healthy and delicious breakfast.
If you want to expand to a green monster smoothie, it's a great idea to add some spinach!
11. Breakfast Burrito
Scramble an egg and add some shredded cheese. Place the egg and cheese mixture in a tortilla and roll up. Heat in a skillet until the burrito is golden brown. Cut into small pieces for easy eating.
12. Breakfast Sandwich
Toast an English muffin and top with a scrambled egg and cheese. Serve with a side of fresh fruit.
13. Bagel & Cream Cheese
There are so many different ways to make a bagel fun. Try mini bagels, use cream cheese, toast 'em, add jelly, you name it!
14. Muffins
Muffins are the best way to make for an easy to grab meal on the go. You can try a bran muffin, chocolate chip, blueberry, or apple cinnamon. Tip: Try making mini muffins to switch things up!
15. Apple Cinnamon flavored Cottage Cheese Breakfast Bowl
This apple cinnamon cottage cheese bowl is a great way to introduce cottage cheese to your toddler's breakfast.
Apple slices create a yummy familiar flavor and cottage cheese is known for being a great source of protein and full of good nutrients.
Find the full recipe here.
16.Avocado Toast
Avocado toast is one of the most fantastic healthy fats. Starting your baby on avocados at a young age can help him or her learn to enjoy them for years to come.
Even if you didn't start your baby with avocados, spreading it on toast can be a great option for toddlers learning to try a variety of foods.
Tip: Cut your toast into fun shapes.
17. Sliced Banana & String Cheese
Slices of banana make a great breakfast for little eaters. They can use them as finger food or practice using a fork. Add a little variety and fun to the bananas by switching up the texture and topping with rainbow sprinkles, chocolate chips, or granola.
18. Granola Bar
A super easy meal idea that you can make ahead yourself or buy a stash for the car for on the go breakfasts.
Here's a great recipe for making your own granola bar.
19. Waffles
Top your waffles with pure maple syrup or peanut butter for a yummy and filing treat.
20. Breakfast Cookies
There are so many breakfast cookies out there. Some with whole milk, others with oats, some with raisins, the sky's the limit! Here's a great banana oatmeal raisin cookie recipe your kids will love.
21. Scrambled Eggs
Scrambled eggs are are classic when it comes to good breakfast foods. Simply crack your eggs, add some whole milk, cheese, and maybe a little seasoning. Add it to the skillet and you'll have scrambled eggs in no time.
22. Banana Bread
We LOVE banana bread at our house. I almost always have frozen bananas in my freezer ready to go (but that could have to do with buying too many at the grocery store that started to turn brown ;))
You can make mini banana breads, muffin sized banana bread, chocolate chip banana bread – the list goes on and on!
Best Breakfast Items for Your Toddler
Now that you have some meal ideas for your 1 or 2 year old for breakfast, here's some breakfast items you might want to stock up on so breakfast goes smoothly for everyone (especially mom!).
Plates
Plastic plates and bowls will work best for little hands that just might knock the plate off of the table.
A pillowfort plate from Target are super cheap and come in cute colors that are perfect for toddler breakfast time.
Pro tip: a good way to prevent this is by using a suction cup plate or bowl.
Cups
I'm a huge advocate for using a weighted open cup for your toddler (you can read more about introducing an open cup here), but if you're not quite ready for that yet – try this best seller no spill cup.
Silverware
It might seem silly to give your 1 year old silverware, but even if they eat all their breakfast like finger food, it's important to give them the option to try and use silverware.
This set is easy to hold, dishwasher safe, and cute!
Bib
I highly recommend an easy to clean silicone bib like this one.
You'll want something that doesn't let crumbs in all the crevices and is easy to simply rinse off if needed.
High Chair/Booster
Make sure you have a good high chair or booster seat for your little kids. Here's a few things to consider when it comes to the proper chair to have:
Can your child comfortably reach their food?
Is your child sitting up high enough? Imagine eating your food with your elbows at shoulder height – not fun!
A foot rest. Toddlers should be able to comfortably rest their feet (not dangle) while eating.
Is it sturdy and safe?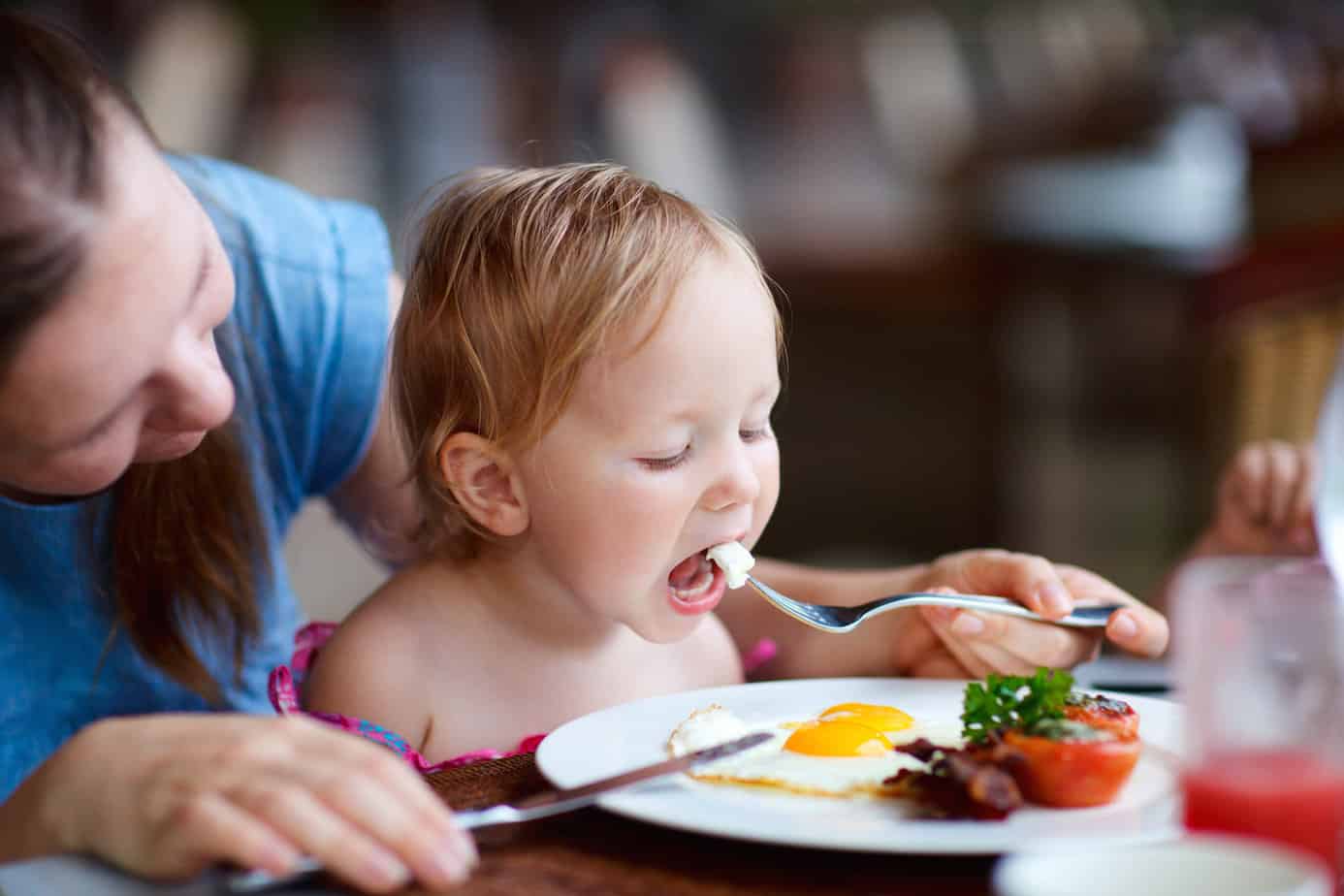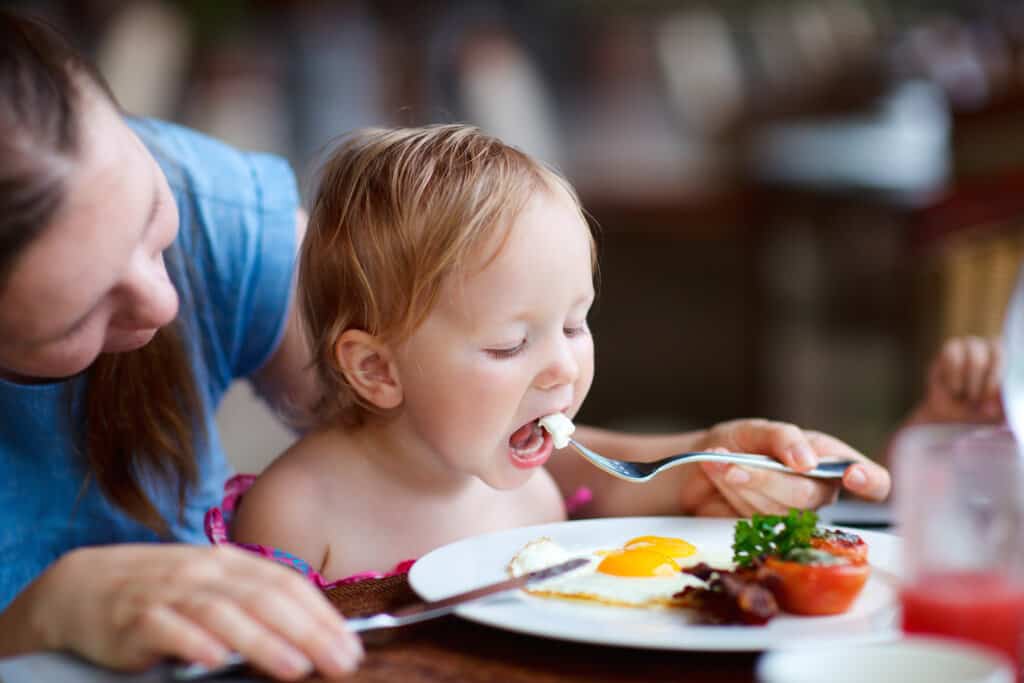 Little Kid Breakfast Ideas
Grab a glass of milk and give your child a variety of different flavors for breakfast with this list of (mostly) healthy toddler breakfast ideas.
Do you have other favorites not listed?
Let me know below!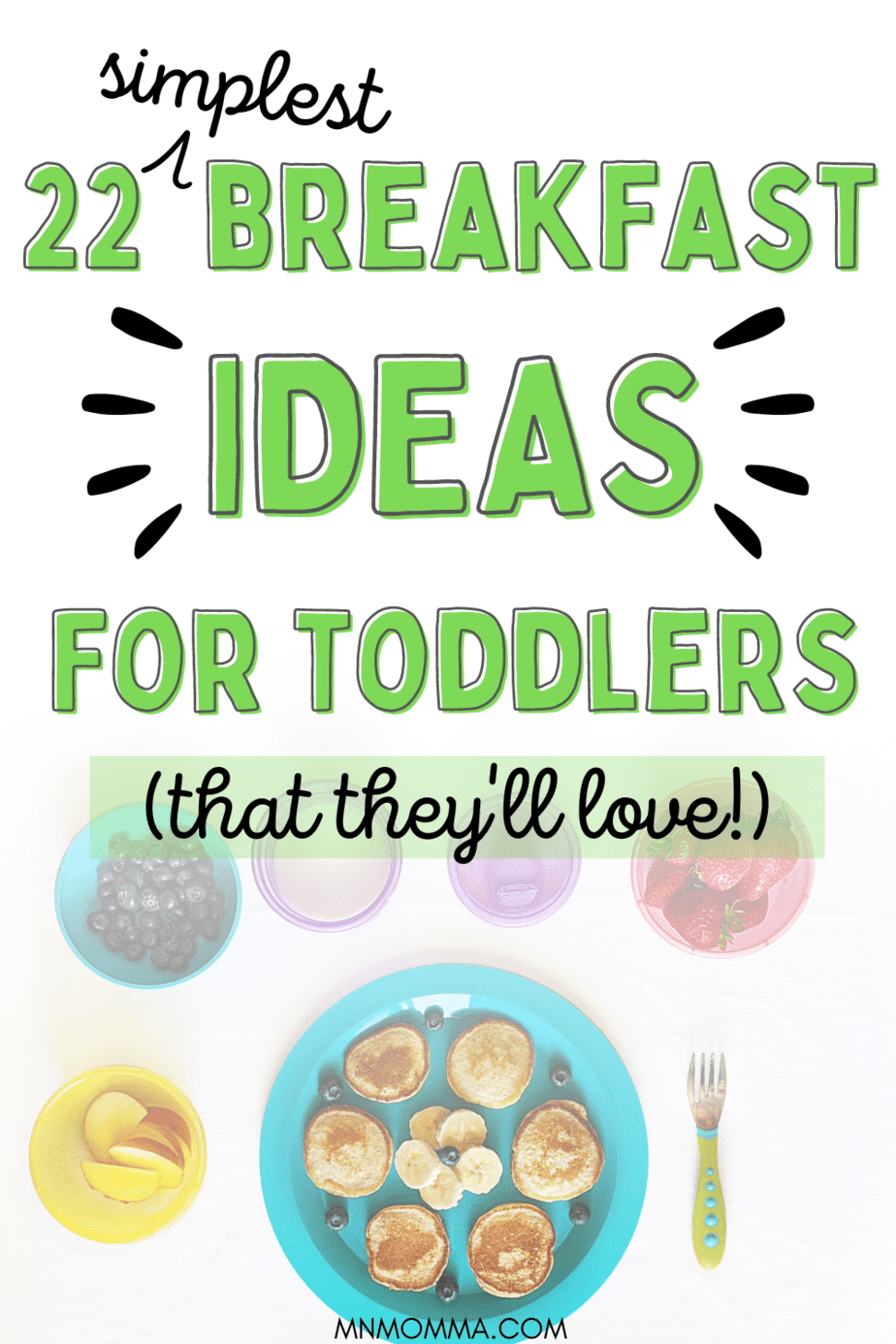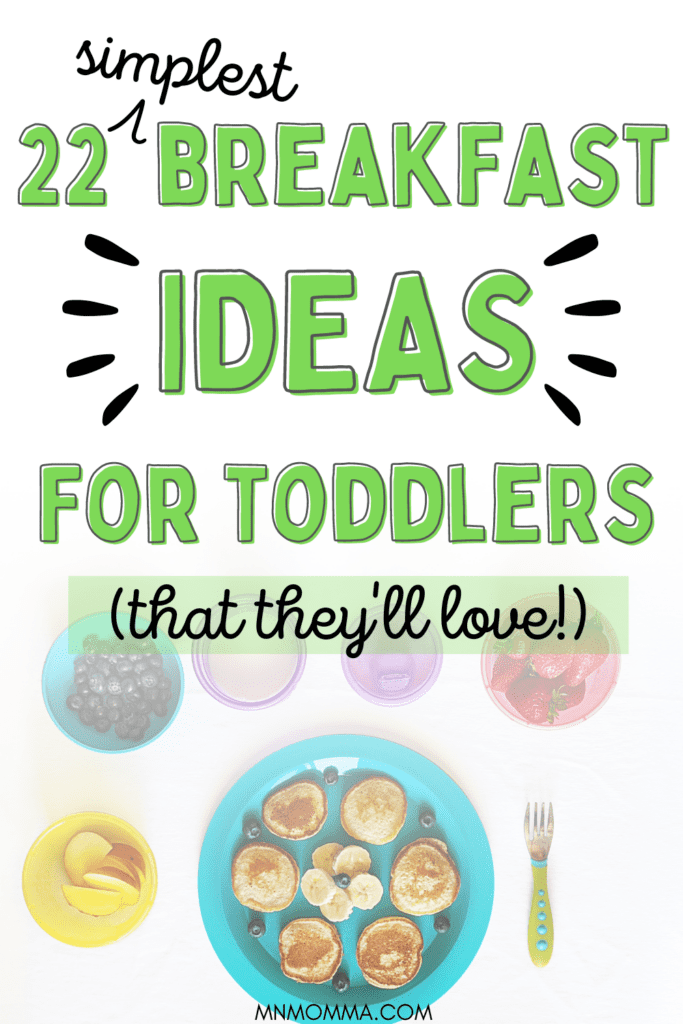 <—Pin it! Save this post for later.