20 New Sibling Gift Ideas from Baby
Disclosure: This post may contain affiliate links, which means I may receive a small commission if you click a link and purchase something. Please check out my disclosure policy for more details. All opinions are my own!
A brand new baby can have a big impact on older kids in the family.
One great way to help the new big brother or new big sister step into their new role is through a sweet gift from baby.
Whether you're hoping to mitigate possible feelings of jealously over the new baby or just want to make your big kids feel special, a gift from the new baby to her older siblings can have a big impact.
This list of great ideas ranges from gifts for toddlers to gifts for teenagers.
Related: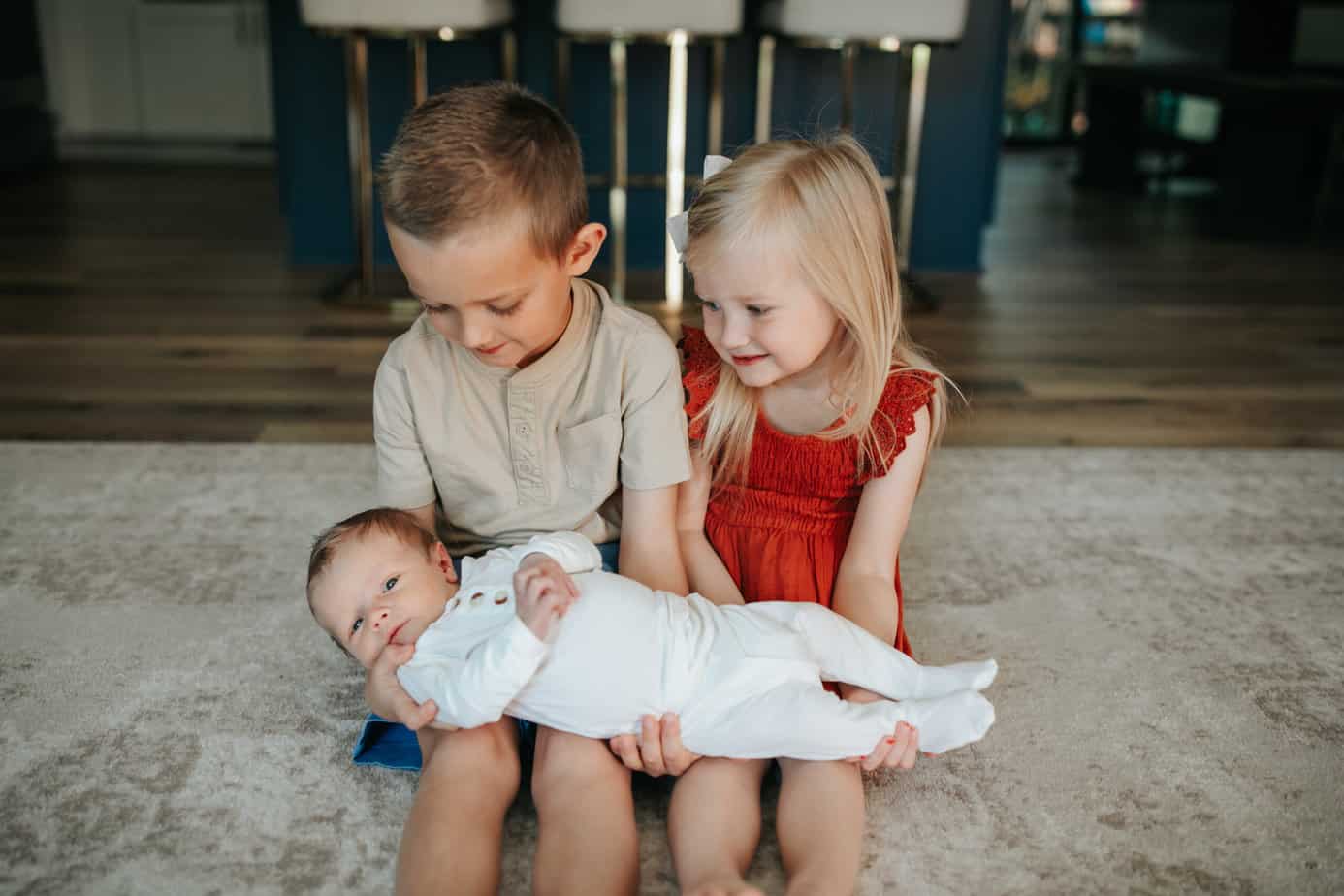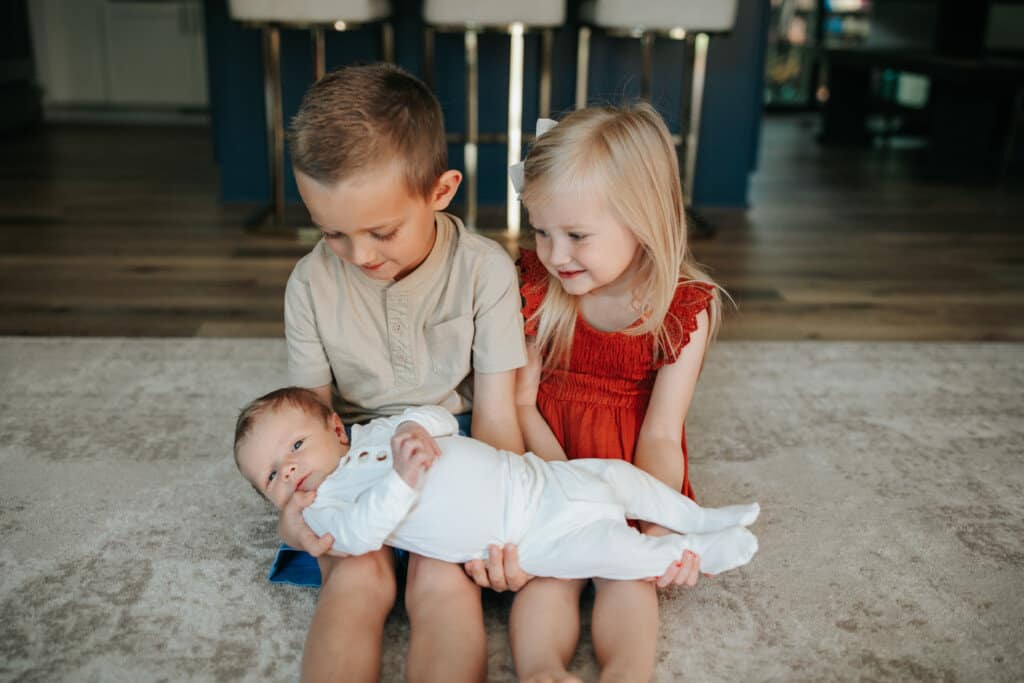 What Do You Give Older Siblings When A New Baby Is Born?
Figuring out what to give a big kid when they're expecting a new baby sibling can be tricky.
It's important to keep in mind your child's age, what they like, and what might be a special gift to them.
Gifts from a baby brother or baby sister do not have to be expensive, but can be a sentimental gift or a super fun gift.
Getting a new sibling is a big change, but you can help your child become a proud big brother or sister before baby is even born.
When to Give A Big Sister / Big Brother Present
You'll also want to decide when you'll give the baby's older siblings their new baby gift.
Do you plan to wait until the day baby is born and give it to them when they meet their new sibling?
Maybe you want to suggest these ideas when visitors come to meet your new addition?
Or, do you want to give it to them as soon as you announce that you're expecting?
Gifts for a Big Sister
You know your daughter best, so finding the best gifts for a big sister will depend on what she loves and her personality.
Here's some great ideas for that special day for your big girl:
1. Big Sister Books
The first time your child meets their new sibling is a big moment. And books are a great way to prep your child for this special occasion!
Books on being a big sister are a perfect gift for introducing your daughter to her new role.
She'll develop ideas on how she can help with her new baby brother or sister and begin to gain a sense of being proud about the baby's arrival and her growing family.
2. Big and Little Sister Shirts
A super fun and simple big sister gift is a big sister shirt.
She can wear it alone or match with her little brother or sister. They have so many cute options to help her be a proud older sister.
3. Big Sister Necklace or Bracelet
If your daughter loves jewelry and playing dress up, a special big sister necklace or bracelet is a great choice in making her feel extra special.
4. I Crown You Big Sister Gift Set
This Big Sister Princess gift set is so cute for a new big sister to be.
It includes a crown, doll, and book all about becoming a big sister. Your little princess will love this special gift just for her.
5. Super Big Sister Water Cup
This tumbler will let everyone know that your little girl is a SUPER big sister.
6. Big Sister Activity & Coloring Book
Becoming a big sister and welcoming a second child into the family can feel overwhelming.
This activity book is great for having a fun space to color and do activities all her own will be so helpful as she preps and welcomes her new baby sibling.
Gifts for a Big Brother
A big brother is an important part of the family!
Help your child get prepared for his older brother role with these gift ideas:
7. Big Brother Book
Becoming a big brother is a big deal.
And depending on the age of your son, he might not have thought much about adding a new family member.
That's where a big brother book can come in handy.
Books are one of the best big brother gift ideas out there.
They're a great, small gift that can go a long way in helping your son learn what his life might be like with a newborn baby in the house.
8. Big and Little Brother Shirts
As proud new big siblings, your other children are likely ready to show off their new brother or sister – and what better way to do that than with cute matching Big Brother and Little Brother (or sister!) shirts?
You'll find great options like:
"Best Big Brother" and "Best Little Brother"
"Big Bro" and "Little Bro"
"Promoted to Big Brother"
9. Big Brothers Are Superheroes Set
This adorable set for new big brothers includes a book about becoming a big brother, mask, and cape.
It's absolutely adorable for your little boy who loves superheroes and saving the day.
He'll be SO excited to be a big brother after seeing this!
10. Big Brother Dinosaur Stuffed Animal
"I'm a Big Brother!"
Sometimes a sweet a cuddly plush stuffed animal is the perfect big brother gift for the little boy in your life.
11. Big Brother Activity and Coloring Book
An activity and coloring book is a great gift idea for kids expecting a new baby sister or brother.
It'll help keep your younger kids or toddler busy when then new baby arrives, while also having a focus on becoming a big sibling.
12. Me & My Brother Picture Frame
This super sweet picture frame is perfect for your child's room to show off their new younger sibling.
13. Best Brother Ever Bracelet
This simple bracelet lets your son be reminded how special he is as the "best brother ever".
Big Sibling Gifts
14. New Baby Doll & Baby Carrier
A new baby doll is the perfect way to help your young children prep for baby.
They can use imaginative play to practice with a little baby and see what it might be like to have a new little sibling around the house.
This also helps them role play as mom or dad taking care of the new baby (and is super sweet to witness!).
15. Kids Camera
Giving your child his or her own camera is a great way to help get them excited for a new baby.
While play cameras that are toddler friendly would work best for younger children, older children might be able to have a fun polaroid camera to take their own photos of the new baby.
Trust me, the new toy camera in our home is always a popular item.
16. Teddy Bear
A new stuffed animal is perfect for creative play.
Whether your child pretends it's a baby or uses it for extra cuddles and snuggles during their bedtime routine – a new stuffed animal can be a great way to help your little one feel confident in their new role.
Gift Ideas for Teenage Siblings from Baby
An older sibling can have mixed feelings about a new baby joining the family.
Some might be thrilled and super excited, while others might feel awkward or uncomfortable with the new life change.
Whatever your teen is feeling, it's a great idea to check in with them and see how you can make the process of welcoming a new little brother or sister easier.
Consider the teenage siblings' interests and try to find a fun way to incorporate those into a gift from the new baby.
17. Future Big Sister Necklace
This sweet necklace can be a great gift idea for a teenage sibling from her new baby brother or sister.
18. Headphones
Let's face it, babies cry and sometimes your teen might be studying or just need a break.
Grab him or her a new pair of headphones to listen to music.
19. Movie Passes
Movie passes are a fun option as a gift from baby to your teenager.
This gives them a chance to hang out with friends and get out of the house if they want.
20. Fun Day Out Together
This is one of my favorite ideas.
Does your teen love the thrill of rides at an amusement park with dad?
Maybe a shopping trip with mom?
Plan a fun day out where you can spend quality time together, one on one, with your teen.
Matching Sibling Gifts
I'll be honest, I'm usually not a matchy match person. But every once in a while a great pair of matching sibling gifts just WORKS.
And when it comes to a pair, set, or many siblings – I absolutely love matching outfits that celebrate a new baby and his or her new proud big siblings.
You can even customize some of these to say each sibling's name and the new baby's name if you know it.
Here's some of my favorite matching (or coordinating) sibling gifts and outfits:
Baby Shower Gift Ideas For Siblings
An older sibling can sometimes feel left out with all the big hoopla over a new baby (which is definitely earned!).
Providing a great gift from your new addition to the older kiddos can be a meaningful way to help them with the arrival of a new baby.
Consider sweet, fun, or meaningful gifts that help your older kids feel excited and proud about the birth of a new baby in their family.
Even this little bit of extra for your older children can go a long way in building their relationship with their new baby.
Do you have more new sibling gift ideas from baby to share?
Preparing Your Big Kids for a New Baby
To prepare your child for a new baby, you'll want to go beyond a gift from baby.
Talking with your toddler or preschooler about a new baby is vital to reducing sibling jealousy and creating a smooth transition. Fun games and age appropriate language are a great place to start. If you're looking for guidance and fun, this New Sibling Kit is a great guide and will help your big kid become a proud big sibling in no time.
Shop the Post