How to Take Your Newborn Outside in the Summer
Disclosure: This post may contain affiliate links, which means I may receive a small commission if you click a link and purchase something. Please check out my disclosure policy for more details. All opinions are my own!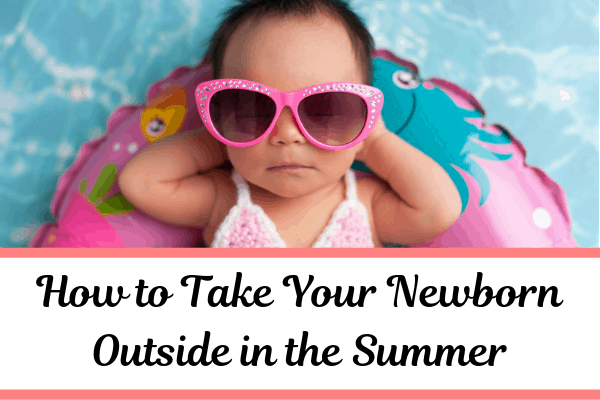 Tips to Safely Getting Yourself and Your Newborn Outside This Summer
If you haven't noticed yet, newborns don't exactly qualify as the best sunshine summertime buddies. Surviving summer with a newborn can be a challenge, but knowing the right (and wrong!) way to take a newborn outside in the summer can make the season so much more enjoyable!
Here's a few reasons you really need to read on…
#1: A newborn is too young for sunscreen, but his or her skin is too sensitive to be exposed to the sun for very long. Imagine how sad you'd feel if that sweet little skin got sunburnt!
#2: Your little babe can easily get overheated or dehydrated.
#3: Did you know that putting a blanket over your baby's stroller is a HUGE NO-NO? (I'll cover more on this below!)
As a mom who lives up north, I love to embrace my warm summers and feel that sunshine on my face. However, with my first baby – I felt like I hardly got to experience that since we were trying to keep him out of the sun's harmful rays!
Well, this time around I've got a new plan. And I want to share it with you:
This time, I'm going to soak up that summer sun and enjoy days outside with my baby and my toddler.
And be totally safe!
Here's some of my best tips for avoiding being stuck inside all summer, and safety enjoying the weather with your baby!
Related:
What You Need To Keep Your Baby Safe In The Sun
As I mentioned above, your newborn has such delicate skin that the sun can be a very real danger for them. Thankfully, several companies understand this, and have created some pretty amazing products to help.
Here's a few of the best products to help keep your baby safe in the sun this summer:
Backyard Patio Sun Shade
If you have any sort of backyard outdoor play space where you or your kids spend a lot of time, investing in a great patio sun shade might change your world.
I love that these sun shades help keep the area cooler and block more than 95% of harmful UV rays.
While it's a good idea to use other protectant measures as well, it's so nice to know your little one is protected from a high percentage of the sun's rays without you having to do anything after the sun shade is set up for the summer!
Baby Tent
For starters, grab this awesome outdoor baby tent. I shouldn't even call it a baby tent, because the whole family can enjoy it.
Since the UPF protection is 50+ , you'll be able to enjoy being outside while your little one is safely protected from the sun.
If you're looking for something a little smaller and at a lower price point, this baby beach tent is just what you need. It has just enough room for your infant to lay comfortably, while providing 50+ UPF protection and a net to keep bugs away.
Pool/Beach Tent
You can also grab your baby this awesome baby beach tent. Not only is it a UV protecting sun shade for your baby – it also has a small area in the middle for giving your baby her own "baby pool" that's totally shaded.
UPF Clothing
The next thing you need to invest in is some great uv protectant clothing (UPF) and a good hat for your baby.
Here's a few of my favorite beach outfits that have UPF protection for your baby:
Love this adorable 50+ UPF swimsuit (comes in sizes up to 2T)
This onesie style top has a stylish (and functional) hood that is just too cute! It's also got great sun protection of UPF 50+ (comes in sizes up to 3T)
One more super cute swimsuit with UPF 50+ (comes in sizes 0 months to 4T)
I love this highly rated (and reviewed) rashguard! It comes in a BUNCH of cute colors and has 50+ UPF protection (comes in sizes 6 months to 4T)
Car Sun Shades for Babies
These sun shades come as a pack of 4 and block 97% of harmful UV rays! They also do a great job of keeping your car cooler on those hot summer days.
Stroller Fans
Fan clips for your baby's stroller just might make a too hot day, into a baby safe day!
This stroller fan lasts 40 hours and is super versatile and easy to position to blow at your baby during walks. Just clip it to your stroller and you're good to go!
Baby Playard
This baby playard with sun shade is perfect for those 4th of July parties or summer afternoons outside. Your baby can be right next to you in a (pretty big!) play space, all while being protected from the sun. Psst – it blocks 98% of UV rays… not to bad!
Baby Dome
The Baby Dome is like a mini version of the baby playard above! While the UPF on this one is 20, it also has a netting that protects from bugs as well.
I LOVE that this baby dome is small enough so you can also use it as a safe place for baby inside as well as outside. You know…just in case you have a wild toddler running around or an older child playing with a toy with small pieces.
Sunscreen
If your baby is old enough, make sure you invest in some sun screen and apply it as directed on the bottle. Doctors suggest that babies under 6 months should NOT have sun screen, unless you have no other choice but to have them in the sun.
On the contrary, if your baby is older than 6 months, make sure you are liberally applying sun screen that's made for babies.
If you're looking for a sunscreen that's non-allergenic and tear free, while also being formulated without: PABA, phthalates, parabens, fragrances or nano-particles – check out this one recommended by doctors!
Beach Floaty
Bonus: For older babies (9+ months), a floaty like this cute one can be a great idea. Your baby can cool off while still being protected by the UPF 50+ sun protectant shade.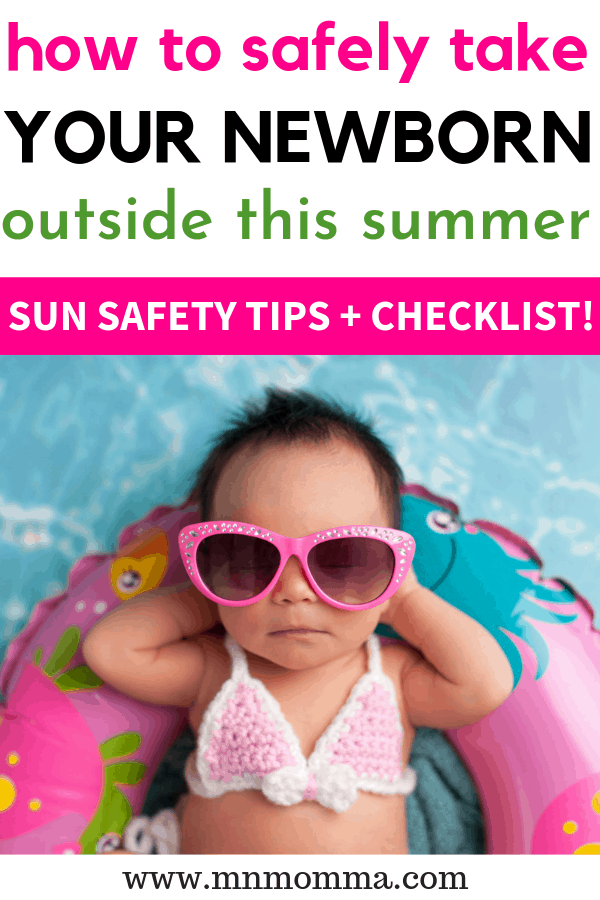 <— Want to save this info for later? Pin it!
Extra Tips for Keeping Baby Safe In The Sun
Aside from these awesome products, these extra tips will simply make life in the summer with a baby so much easier.
1. Spend time outside and go for walks after 2 p.m. – this is when the sun's rays aren't quite so extreme.
2. While your baby should be covered up to be protected from the sun, dress him in lightweight clothing so he doesn't get overheated. Cotton is a great fabric to use to prevent heat rash!
3. Remember that hat we talked about above? Keep an extra hat in your baby's diaper bag for times she'll be out in the sun.
4. Don't forget that breast milk is the best way for your newborn to stay hydrated. NOT water.
5. While baby naps comfortably inside the house, go soak up some sun yourself! Either have a baby monitor with you or be sure someone's inside to listen for your little one.
What NOT To Do:
1. Don't take your baby outside when it's over 80 degrees.
2. Don't assume that since the sun isn't out, that baby can't get a sunburn. The sun's rays can travel through the clouds.
3. Don't put a blanket over your baby's stroller. This could obstruct ventilation and hinder your baby's breathing or cause the temperature to get even hotter in the stroller by trapping it.
Taking Your Newborn Outside in the Summer: Signs Your Baby Could Be Overheated
With all this summer sun loving, you want to be careful that your baby doesn't get overheated. Here are some signs that your baby has had too much sun and could be overheated:
1. Irritability or extra cranky
2. Refusing to eat or drink
3. More lethargic
4. Baby looks flushed
5. Baby feels hotter than usual
Extreme signs that you need to take your baby in for immediate medical attention include:
Baby's more sleepy than usual
Baby's skin gets dry
Baby has rapid shallow breathing
Baby has a fever
Baby is vomiting
How to Take Your Newborn Outside in the Summer
Now that you have a list of great products to use to take your baby outside in the summer, along with knowing the signs of overheating, you'll be set to enjoy your summer outside with your newborn!