How to Keep Your Toddler Busy When A New Baby Arrives
Disclosure: This post may contain affiliate links, which means I may receive a small commission if you click a link and purchase something. Please check out my disclosure policy for more details. All opinions are my own!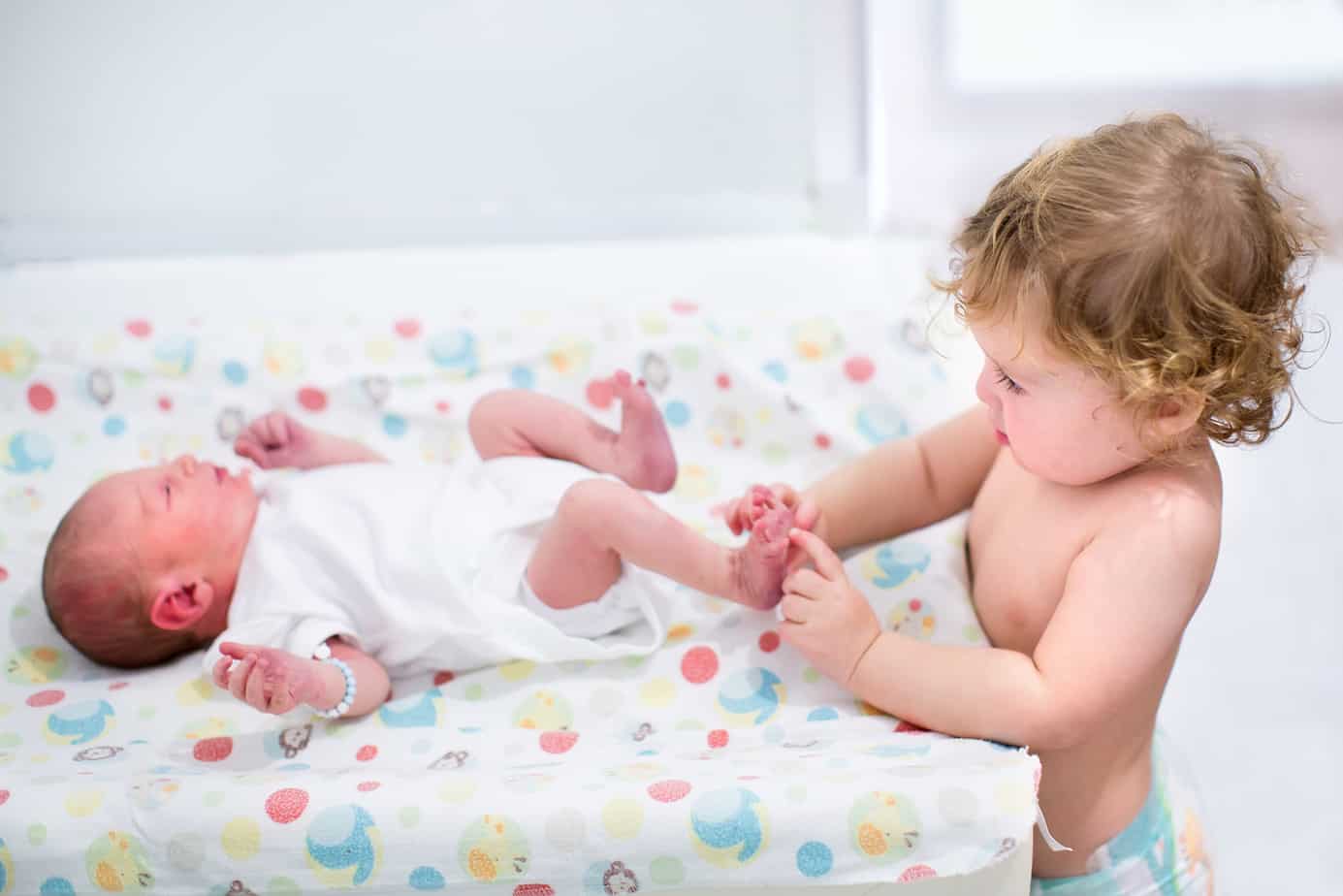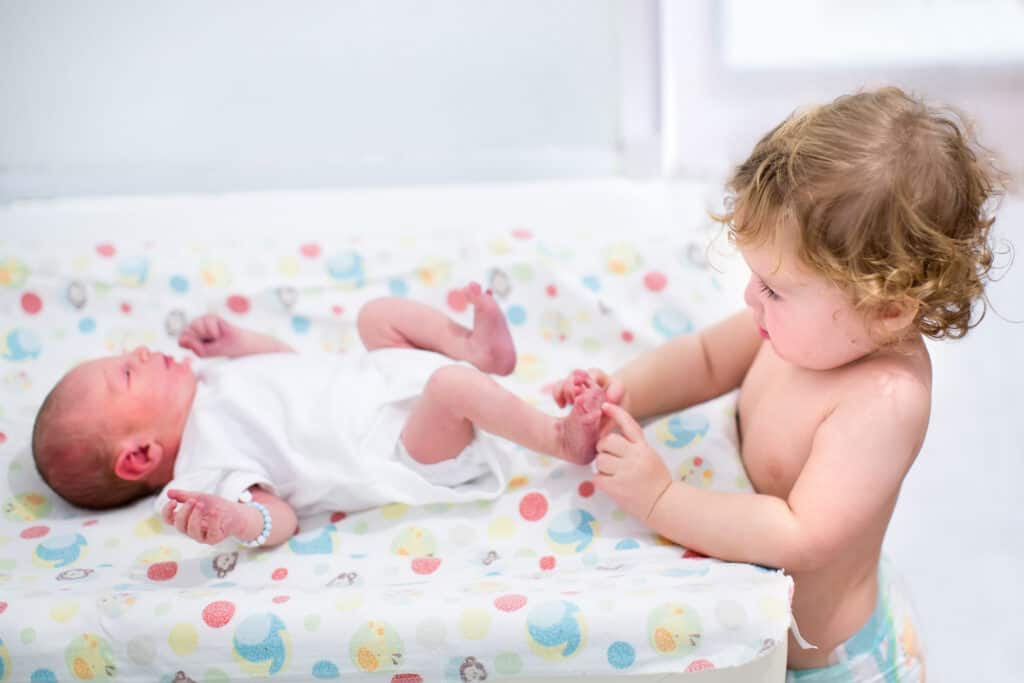 Introducing your toddler to their new baby brother or sister can be a BIG change for them (and you!). And trying to keep your toddler busy when a new baby arrives can sometimes be even harder.
A new baby will require that your attention be spread between your children, and if your toddler is anything like mine – chances are good you'll need to find a way to keep your toddler entertained while you're taking care of your new baby.
So what can you do to keep your toddler busy on his or her own?
One of my favorite ways is with a busy bag or busy basket! You can also utilize gifts from the new baby to their older sibling.
By the way – these make AWESOME gifts for moms/toddlers in the hospital with a new baby.
Related: 36 Indoor Activities to Keep Your 3 Year Old Busy
Related: 30+ Activities for Your 1 Year Old (That You Can Do At Home!)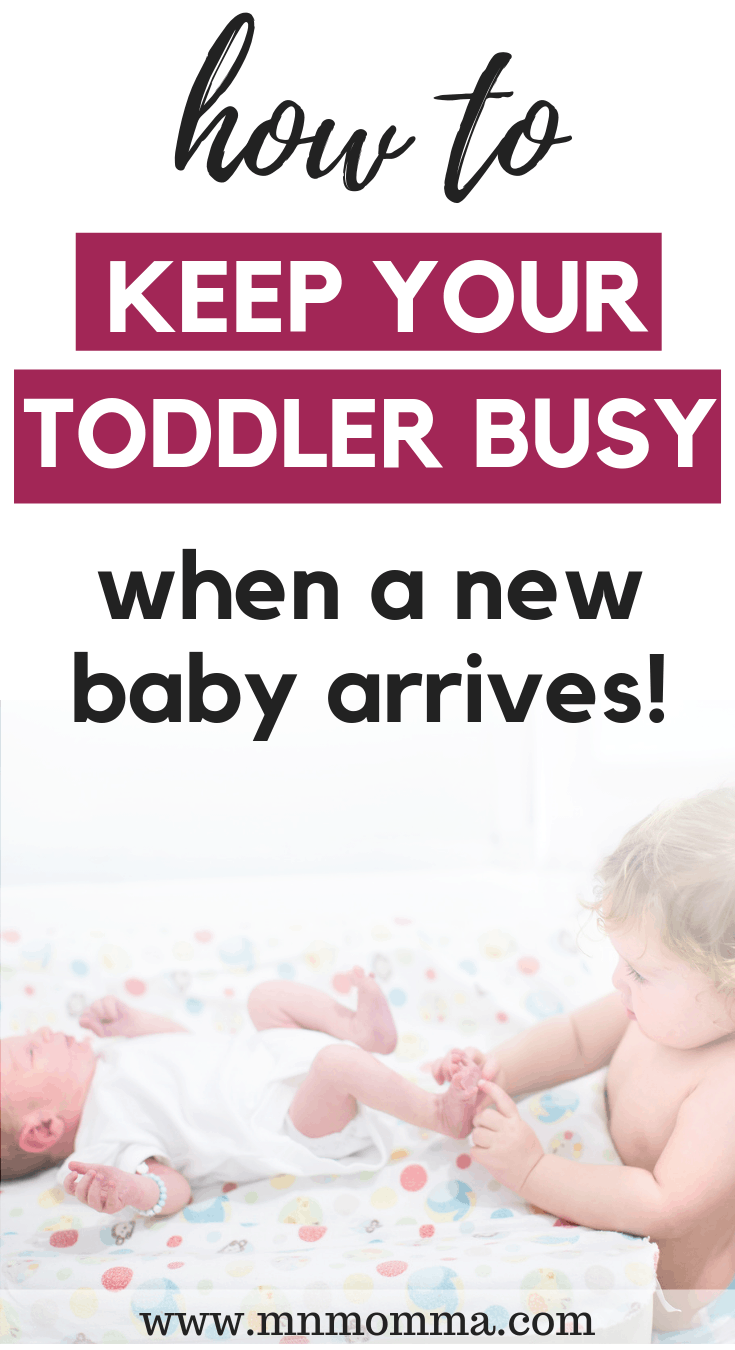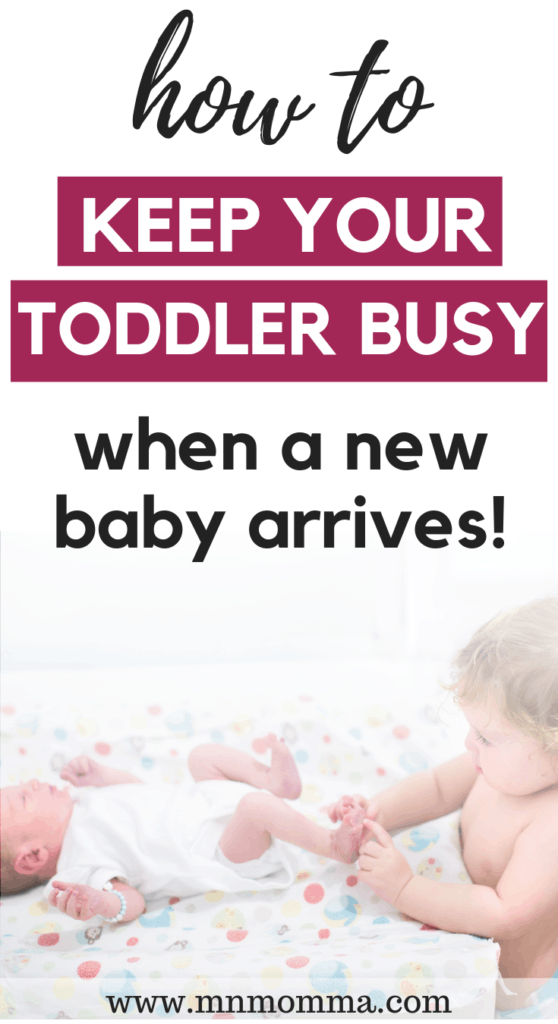 <—- Pin it! Save this post for later!
Giving a Toddler Busy Bag As A Gift
I want to start this post and acknowledge what an awesome gift our toddler "busy basket" was when our new baby was born!
A toddler busy basket or bag can be a HUGE help to parents as they navigate life with a newborn AND a toddler.
The busy basket allows parents to give their newborn the much needed attention he or she needs, while helping to keep their toddler happily occupied with a fun new gift:
A basket full of goodies to keep him or her busy!
I can't say it enough, if you're looking for a gift for an expecting mom of a toddler – definitely consider a busy basket (if you're looking for some other great gifts for mom – check these out for under $10!).
Keeping Your Toddler Busy When Baby Comes Home
Having a newborn is hard. Your body is tired, healing, and sleep deprived, you're trying to balance a new schedule, and you have a new little life to take care of.
Now add in that sweet (or crazy) toddler you also have at home?
Life with two little ones couldn't be sweeter, or tougher.
Whether he likes it or not, your toddler is now no longer the center of ALL the attention.
The new baby will need lots of care and suddenly, your time is split between children.
From breastfeeding, to changing dirty diapers (did your first poop this much?!), to having to bounce and hold and sing your infant to sleep – your toddler is going to need to find his source of entertainment elsewhere.
Cue – the busy bags or baskets!
What is A Toddler Busy Bag
A toddler busy bag is simply meant to keep your toddler busy.
Usually these are quiet activities that your toddler can do on his or her own and help to keep their attention while mom and dad are busy with a new baby or other task.
While your toddler busy bag can simply contain one "busy" activity, I find that they work best when the bag contains several activities for your toddler to choose from.
Busy bags should also keep your toddler in one place. This makes it easy to keep an eye on them during their activities.
What's In Our Toddler Busy Bag
1. Color Book & Crayons
In my opinion, color books and crayons are a MUST HAVE in every busy bag. They're some of the few items we never remove, because they're always easy and quiet!
I definitely suggest washable crayons and we've found that these are incredibly easy to get out of almost anything.
2. Water Wow!
The Water Wows are another staple in our busy bags.
They're simple enough for your toddler to do on his or her own, and honestly – really cool.
Your toddler is able to use water to "paint" the picture and even magically have hidden objects appear.
An extra bonus? The mess is pretty much non-existent.
3. Small Toys (cars, dinosaurs, Polly Pockets, etc.)
Small cars and toys like Polly Pockets or dinosaurs are a great addition to your busy bag and can give your child a great opportunity to expand their imagination every where you go.
A few tips to keep in mind:
Don't pack anything too small that could easily get lost or chocked on
Things with wheels will roll 😉 something to keep in mind if you're somewhere with a slope in the floor (ex: church)
Sewing or lacing sheets and projects are an awesome way to keep your toddler busy when a new baby arrives.
They take concentrations, coordination, and some fine motor skills. Even if your toddler isn't a pro right away, these simple activities can keep your toddler busy for quite some time!
5. Books
This lift the flap one is one of our son's favorite!
I recommend packing a few board books for your toddler! Something they like to look at that won't get damaged with little hands putting it in and out of their backpack.
Look and find or lift the flap books tend to help keep your toddler extra busy as this adds an "extra" activity to the books.
6. Safe Snacks
If you choose to pack snacks in your toddler's busy bag, make sure you choose something safe with a low risk of choking.
I also recommend something relatively clean to prevent a mess – remember, the busy bag is meant to help your toddler not require much interaction from you. 😉
We love using these snack catchers for our toddler's snacks.
Warning: they did take a little while for him to figure out the coordination of grabbing the snacks and pulling them out. But they did help prevent many spills!
How to Make A Busy Bag to Keep Your Toddler Entertained
Making a Busy Bag for your toddler is easy and can usually be done with things you have around the house!
In the case you decide to buy things for your toddler's busy bag, many items can be found at the dollar store or for relatively cheap.
The ONE item I recommend you spend a little more on is your child's backpack (aka the location for all their "busy" items").
You want this busy backpack to be easy for your child to maneuver (easy to open zippers or flaps), and of good quality so it won't break once it's loaded up with all kinds of goodies.
We love how cute this one is (it's a great price too!) and our toddler has a super easy time opening and closing the one we have (it's the same brand as this cute pig one below!):
I also love a backpack, because your toddler can be in charge of carrying it! Let's face it, you probably have your hands full enough 🙂
Additional Ideas to Put In Your Busy Bag
Stickers/Sticker Book
Paper
Beads/Pipe Cleaners
On the Go Puzzles – like this one
Keep Your Toddler Entertained by Rotating Your Busy Bag Items
One of the great parts about having a busy bag for your toddler is that you can always change out the items inside.
This helps keep the activities inside fresh and fun for your toddler!
Again, these can just be every day small toys or busy objects that you have around your house. You don't need to go buy special items to update your busy bag.
Try to rotate your busy bag items every 2 weeks, or weekly if you're really ambitious! 😉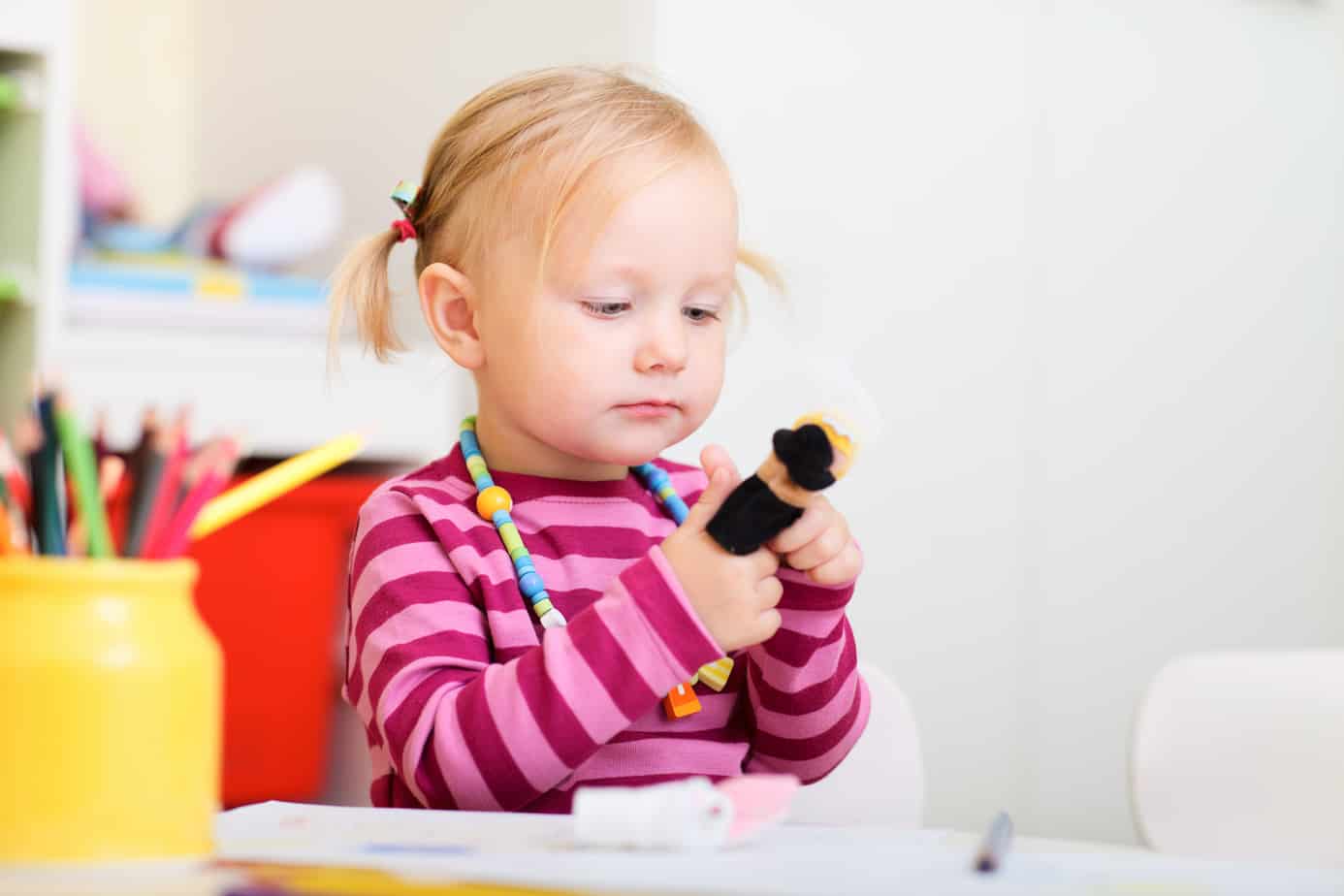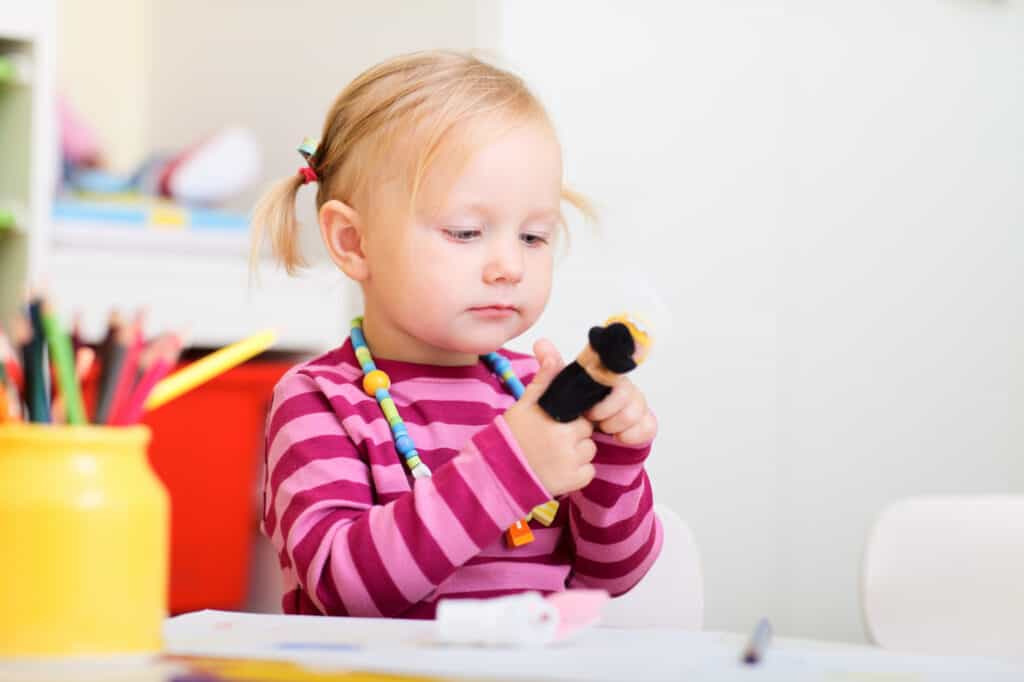 Where/When You can Use Your Toddler Busy Bag
One of the great parts about a toddler busy bag is that it can be taken almost anywhere, especially with a few minor adjustments!
Toddler Busy Bag for Church
Using our busy bag at church for the first time was life saver.
We made sure the items inside were only the quiet toys and our toddler loved having his own bag of goodies to pull from during church.
He would ask where his bag was and was able to find activities to keep him busy the whole hour.
Here's how we modified our busy bag for church:
What we took out: snacks (we have a personal preference for no snacks in church after a certain age), cars that roll easily
What we added: this awesome look and find Bible
Toddler Busy Bag at the Hospital (Meeting a New Sibling)
When mom's at the hospital having a baby, there can be a lot of time for your toddler to just "hang out".
This is where having a busy basket or bag is perfect! You don't have to distract him or her with a movie, instead they can find great things to do to help build fine motor skills or keep their brains busy.
Here's how our busy basket was modified for the hospital visit:
What could be added: Color Wonder finger paints, fruit snacks, magic paint with water books, Big Brother/Big Sister book
What could be taken out: anything that may have very small pieces (while baby may be too small to bother with these, other visitors (cousins, friends, etc.) may be too young to play with them)
Toddler Busy Bag While Breastfeeding
When you and your new baby get home, working on breastfeeding and the correct latch can take a lot of your attention.
Until you and baby have breastfeeding down pat, it can be helpful to give your toddler his or her busy bag to help them get through feedings.
Here's how our busy bag was modified for breastfeeding:
What was added: more independent activities like coloring
What was removed: activities that required extra help from mom (i.e. removing stickers from sticker page for young children)
Toddler Busy Bag at the Doctor
Whether it's a distraction from shots, or simply just to keep your toddler busy in the waiting room – bringing a busy bag while waiting for the doctor is a great idea!
Not only does this work well if your toddler is the one seeing the doctor, but it's also perfect for him or her as they wait during a siblings visit or even mom's postpartum visit!
Keeping Your Toddler Busy with A Busy Bag When You Have A New Baby
While we all want to enjoy playing and interacting with our toddlers, sometimes it's just not always realistic with a new baby around.
In cases like these it's great to encourage independent play with busy bags and busy baskets.
Thankfully, these bags are easy to create and can provide your child with some awesome educational (and fun!) opportunities!