Complete Guide to Baby Proofing (+Checklist)
Disclosure: This post may contain affiliate links, which means I may receive a small commission if you click a link and purchase something. Please check out my disclosure policy for more details. All opinions are my own!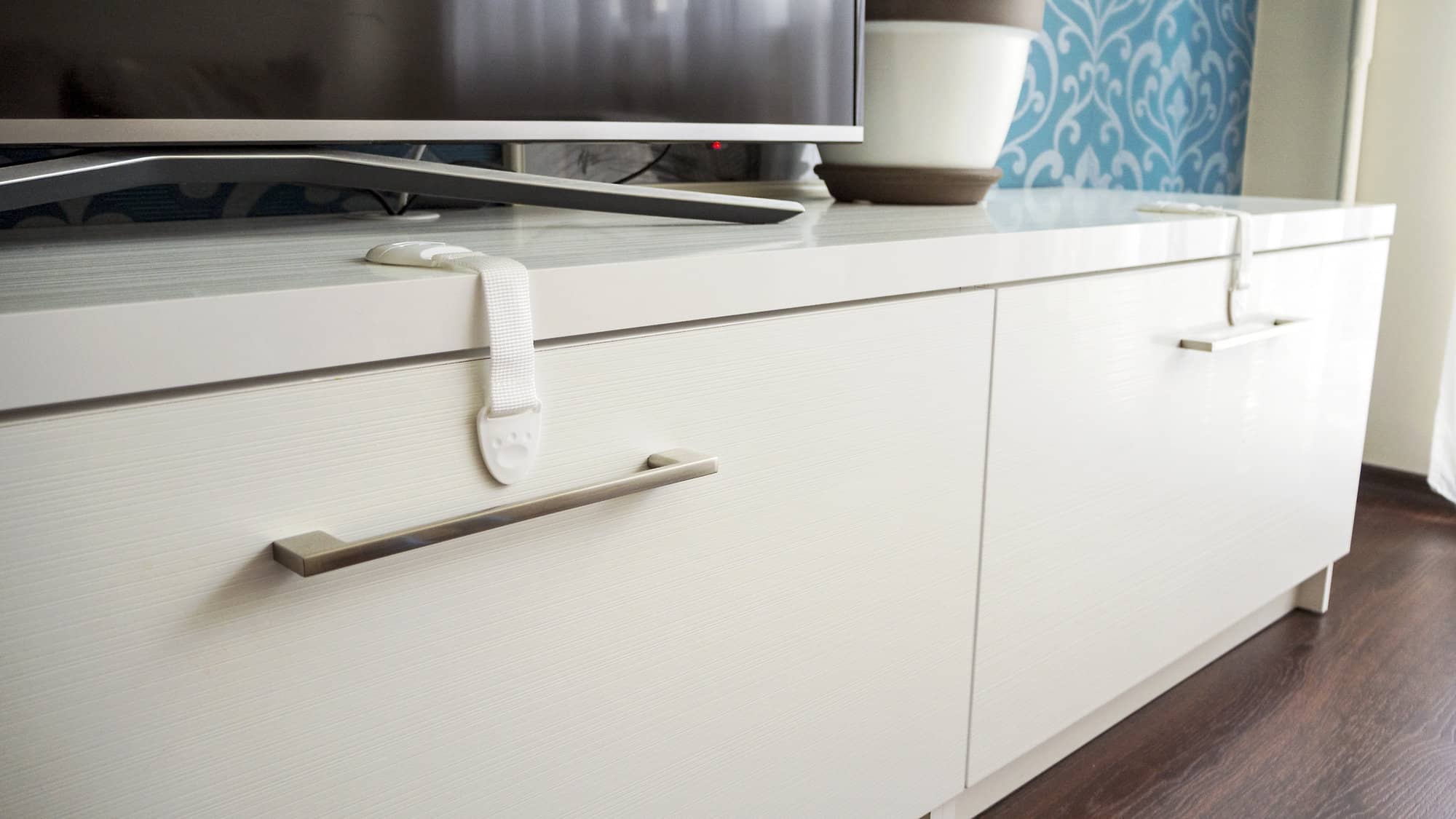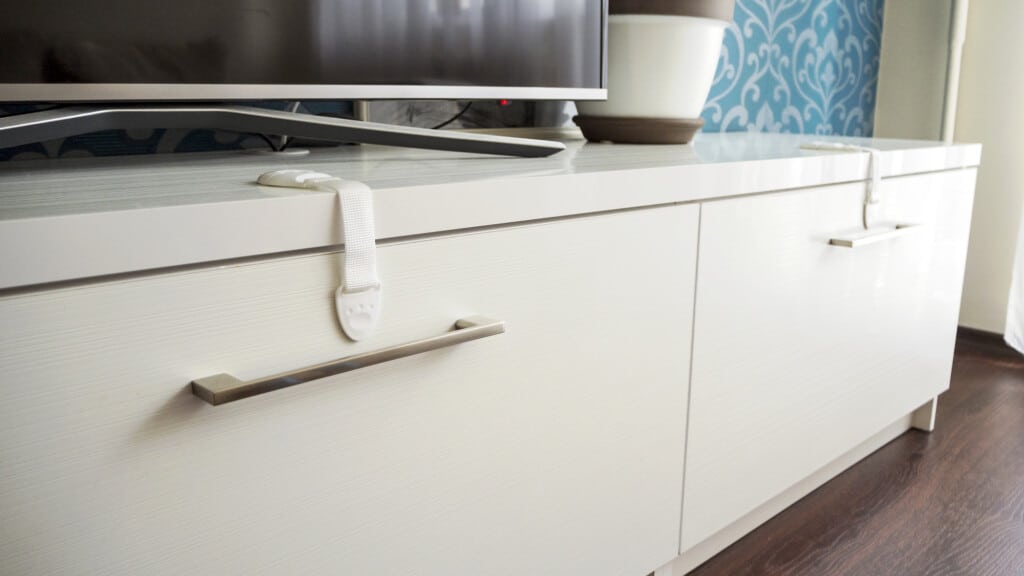 The Complete Guide to Baby Proofing Your Home
Did you just have a baby or – is your sweet little newborn not so little anymore, and now on the move? Chances are good, if that's the case, you need to figure out how to baby proof your house. And fast.
Well, I've got good news for you! I've broken down all the details on baby proofing and even created a handy baby proofing checklist for you to make sure you've got all the baby safety features covered.
So let's get started!
Related: New Baby Essentials
Related: 3rd Trimester Checklist
Related: How to Make A BETTER Amazon Baby Registry
When Should You Start Baby Proofing Your House?
There's a few different trains of thought when it comes to deciding "when" to start preparing your house for your busy baby.
While I've heard things from your 3rd trimester of pregnancy, to "wait and see baby's personality" to see the extent you need to baby proof – I personally think it's best to start baby proofing once your baby is mobile.
A mobile baby doesn't just mean walking. If your baby is crawling or even rolling to get around, I'd consider starting to baby proof NOW.
The first few months with a baby goes fast and you want to be sure you're ready once they really start moving!
Looking to get your free baby proofing checklist for your home? Fill out this form and get yours for FREE!
How to Baby Proof Your House
When it comes to baby proofing your house, you need to think about all the things your baby could possibly be getting in to – and in every room they could possibly get in to.
Baby Proofing Doors
While your baby likely won't be reaching up and opening any doors any time soon, there's a good chance that there are certain rooms you won't want your baby or toddler in.
Think: home office, cleaning closet, etc.
Make sure you get in the habit of keeping those doors closed now, so it's not a difficult transition later.
Keep in mind that when your baby becomes a toddler and develops better motor skills, she might become a pro at opening doors.
I highly recommend these door knob covers – they've worked like a charm for keeping our toddler from venturing to the basement without us.
Baby Proofing Outlets
Another basic to baby proofing your home, is making sure all your outlets are covered.
There are three different outlet covers you can consider based on your preference and needs.
Outlets are the perfect height to be problematic for your baby. Thankfully, you can fix this problem the best way: easy and cheap.
1. Outlet Plugs
If you're looking for the easiest and cheapest way to protect the outlets in your home, grab a pack of these outlet covers and plug them into all the outlets in every room your baby has the potential to be in.
One pack is a great price and should cover most of the outlets in your home.
These are also great for taking with you while traveling: grandparents house, a hotel, etc.
2. Sliding Outlet Covers
Sliding outlet covers are a great alternative to the original outlet plugs. To be honest, had I known about these before having my babies, I would have chosen these hands down.
While these outlet covers are more expensive than the plugs, if you only have a few rooms to do, you'll still get away pretty inexpensively.
Here's the benefits to choosing sliding outlet covers:
Automatically close when not in use
Children cannot remove these covers/permanent solution
Not a choking hazard
3. Box Outlet Covers
A box outlet cover is the third outlet covering option for parents trying to baby proof electrical outlets.
The box outlet cover is perfect for things that are plugged in almost all the time. This might include things like: your tv, a printer, coffee maker, etc.
The box covers the outlet completely so your baby cannot grab the plug and attempt to unplug anything. This specific box outlet cover also has a great space built in to shorten long cords so your baby won't get tangled.
Tamper Resistant Electrical Outlets
If you have a newer house or have recently renovated a room, you might have Tamper Resistant Electrical Outlets. While these are now a requirement in new homes, they are not completely child proof.
While they are not completely baby proof, the National Fire Protection Association does state that having tamper resistant outlets are a great way to help make your home safer for children.
You can read all the details about why you need to further safety proof your tamper resistant outlets here at Baby Safe Homes.
Baby Gates
Don't forget to add baby gates to your baby proofing checklist! Keeping your baby safely in (or out) of certain places is a must.
We currently have a baby gate on the bottom of our stairs, and another at the stairs on our deck.
There are a couple different options when it comes to choosing the right baby gate.
Here's what you'll need to consider:
Some baby gates attach to your railings or wall with hardware, while others are secured by compression (fittingly called a compression gate)
Whether you want your gate to have a door (adult or pet size) that opens vs. stepping over the gate
The height your gate needs to be
The width your gate needs to be
Personally, these are my favorite gates of each type:
Secure Furniture to the Wall
This baby proofing must makes my stomach feel so sick.
Did you know that…
Someone in the U.S. is injured every 17 minutes by a furniture, television, or appliance tip-over

according to the Consumer Product Safety Commission
That number is crazy!
As parents we all need to do the best we can to keep our children safe, and securing furniture with safety straps is one of the best ways to do that.
Chances are good, that in almost all of the rooms in your house, you have furniture that should be secured to the wall. This is a huge baby proofing MUST.
So I'll say it one more time: PLEASE please please be sure you secure your furniture to the wall.
So why do you need to secure your furniture to the wall?
First, babies are curious. They'll eventually pull, grab, reach, and climb. While these developments are great, it can become extremely dangerous when it comes to heavy pieces of furniture falling on babies or children.
Don't worry if your furniture doesn't come with wall anchors (a lot of it doesn't!). You can buy these highly rated anchors at a great price on Amazon and get them in 2 days with Prime shipping!
If you're wondering what furniture you need to anchor to the wall, how to do it, or any other questions about anchoring furniture – just click here to check out the Anchor It! website or watch the video below to learn how to anchor your dresser:
Tie Up Blind Cords or Strings
You know those handy strings and cords you have to make your rooms extra dark for baby to sleep? Those NEED to be baby proofed as well!
Be sure you look around your house for any long cords or strings that are hanging. Your baby can get caught in them and the results could be fatal.
Here's the two different types you can try:
These wind up without attaching to the wall – no hardware or tools needed!
These attach to your wall so you never have to worry about where they are!
Okay, now that the home basics are covered, let's talk about a few of the rooms in your home you might need to specifically focus on.
How to Baby Proof Your Living Room
Baby proofing your living room requires extra attention on certain items.
Baby Proofing Fireplace
If your living room has a fireplace, you'll want to be sure that your baby can't get to close.
As gorgeous as they are, fireplaces can pose lots of threats to baby safety: from the hard edges, to the warmth of the fire itself.
Here's a few baby safety products you'll want to consider for your fireplace:
Baby Proofing TV/Entertainment Center/Bookcase
Be sure that your TV and any other large pieces of furniture that could fall on your baby (entertainment center, bookcase, etc.) are secured and anchored to the wall.
If possible, consider mounting your TV – they make several inexpensive wall mounts (this one is really inexpensive and has worked great for us!).
If mounting your TV isn't an option, you'll need to be sure to pick up some wall mounting straps, like these, to make sure it won't tip forward on your baby or toddler.
Baby Proofing Corners
Look at your furniture for any corners that may need to be baby proofed. Think about your coffee tables, end tables, or fireplace corners.
Baby's get active and don't notice sharp or hard corners. You can buy these to help soften the injury if your baby happens to have a hard spill.
Psst for larger corners these soft pads are a great idea.
How to Baby Proof Your Kitchen
Ah – the kitchen! The place in your house with SO many drawers and cabinets that your baby can't WAIT to open and explore inside! This is also the place in your house that is likely to need some serious baby proofing.
Baby Proofing Drawers & Cabinets
The big thing is your kitchen is baby proofing drawers and cabinets. While some cabinets may be totally fine for your baby to play in (we like to keep the Tupperware cabinet unlocked :)), many others will need to be locked to keep baby safe.
They make several different types of baby locks for cabinets and drawers, but these are hands down our favorites. They aren't an eye sore and are hidden from view of any guests that come to your house!
I do recommend buying an extra key, just in case. You never know when your toddler might grab one and you'll never see it again.
Lock Up Trash, Chemicals, & Sharp Utensils
Be sure to lock up your trash and cleaning kitchen chemicals, or sharp utensils that your baby could get into.
Aside from the obvious culprits like knives, don't forget that basic things like pizza cutters or can openers are also dangerous for little ones.
Lock Your Oven & Secure Knobs
Ovens pose a treat for babies and toddlers. They can easily reach for the door or attempt to hang from it, which can cause it to open.
Many newer ovens come with an option to lock the door (however, some only work while your oven is NOT in use). Check out your oven's user guide to find out if you can lock yours.
Another option is to use these safety latches to be sure your oven doors (or other appliances) stay closed.
And if your oven has knobs on the front, using knob covers are a great option. I love that these are clear and less of an eye sore.
Low Hanging Counters/Island Overhangs
If you have low hanging counters or island overhangs just be aware of them. As your baby grows, sooner or later he or she is going to have a close encounter with that overhang.
You can use a cushioned edging to help ease the bump your toddler might get!
Lazy Susan
I never realized I'd need to baby proof my lazy susan. Then my baby pushed on the lazy susan and almost fell right in!
Now they sell a lock for your lazy susan – you can find it here.
Baby Proofing Stairs
If you have stairs at your house you'll want to be sure that they're baby proofed. Whether this is by closing the door to the stairs and using a child proof knob to keep it closed, or using a great baby gate – never let your stairs remain open to your baby.
Baby Proofing Bathroom
Baby proofing your bathroom is a final room you should pay close attention to.
Bathtime Safety
When it comes to baby's bath time there are two products I highly recommend to keep your baby safe in the bath.
The first is a facet cover. Until we got one of these I always panicked that my baby/toddler was going to hit his head. Make sure you look for one that has a good cushion and if it's cute – it's a bonus!
Second, is a nonslip baby bath mat. I actually give myself a facepalm any time we forget to put ours in the bath and my toddlers already in.
Finally, be sure to grab a bath thermometer to be sure that the bath doesn't get too hot for your baby. I love that this one has an alert if the water is too hot or too cold, a clock, and is also super cute!
Locking Toilet Bowl Cover
The last thing you want is your baby somehow falling into your toilet – uhhh, yuck!
If that never happens, you also don't want to lose your keys, jewelry, boatloads of toilet paper, or other things that your baby might decide to experiment with in the toilet.
In order to prevent ALL of these scenarios, just grab a lock for your toilet bowl cover.
Lock Away Cleaning Supplies & Medication
As always, be sure to lock away any and ALL bathroom cleaning supplies and medications. You don't want to be calling poison control or making a quick trip to the hospital (or even cleaning up a minor spill).
If you DO need to call poison control you can click here to go right to the website and use their online tool or call 1-800-222-1222 – don't forget it's FREE if you need to use it.
Baby Proofing When You're Renting
Thankfully, many of these products can be used to baby proof when you're renting too. If you have specific concerns about your apartment, be sure to talk to your pediatrician and contact your landlord to ask questions.
Make Your Home Safe For Baby
While baby proofing can seem overwhelming at first, making your home safe for your baby is SO important and you'll be so glad you did.
As your baby ages and learns more, you may be able to remove certain baby safety devices, or may need to add more. Just be sure to pay attention to your baby and their abilities.
Do you have more baby proofing ideas? Share them in the comments below!
Baby Proofing Checklist – PDF
Get your free baby proofing checklist PDF by filling out this form!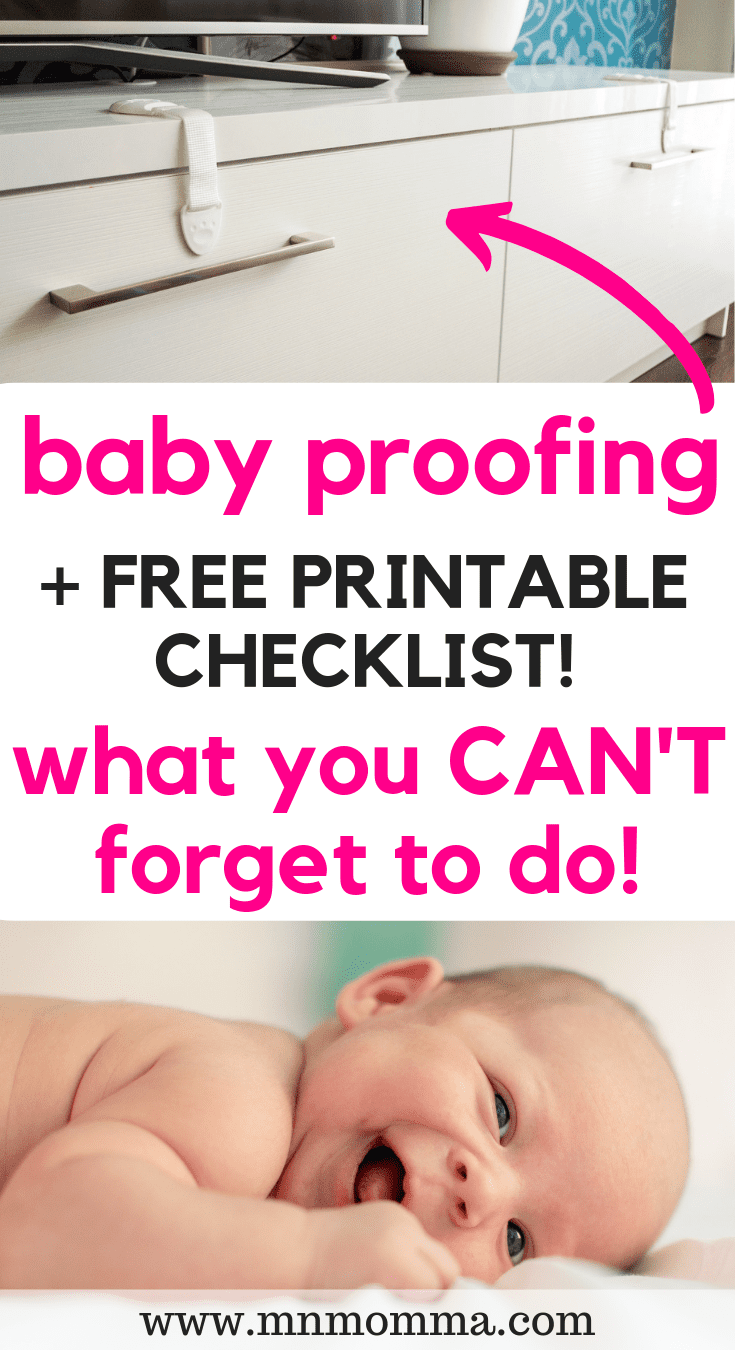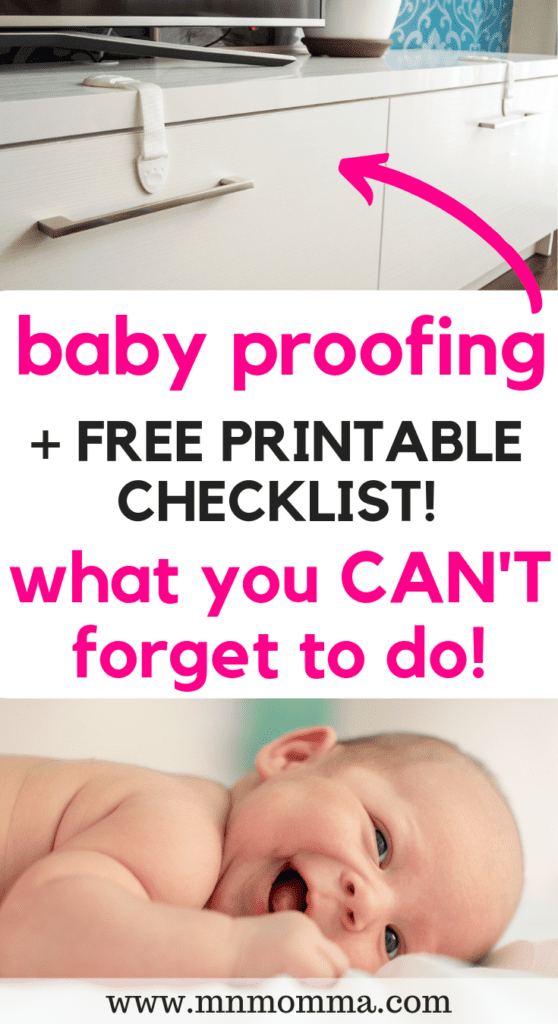 <— Save this post for later!