Spectra S2 Vs. Medela Pump in Style: Which Is Best?
Disclosure: This post may contain affiliate links, which means I may receive a small commission if you click a link and purchase something. Please check out my disclosure policy for more details. All opinions are my own!
Are you trying to decide between the top-rated Spectra S2 vs. the Medela Pump in Style Advanced?
I've got all the details and the opinions of real moms who've tried BOTH right here to help you make the decision on which breast pump is best for you. 
Let me tell you a little secret first:
Choosing a breast pump is hard, especially when you have it narrowed down to two great choices like the Spectra S2 and the Medela Pump in Style Advanced.
As a nurse, you might think I had an easy time decided, but trust me, I read all the reviews and asked ALL the moms I knew which they preferred.
So if you've struggled with choosing a pump, I hear you momma! That's why I wrote this article to help you weigh the pros and cons of these two great pumps.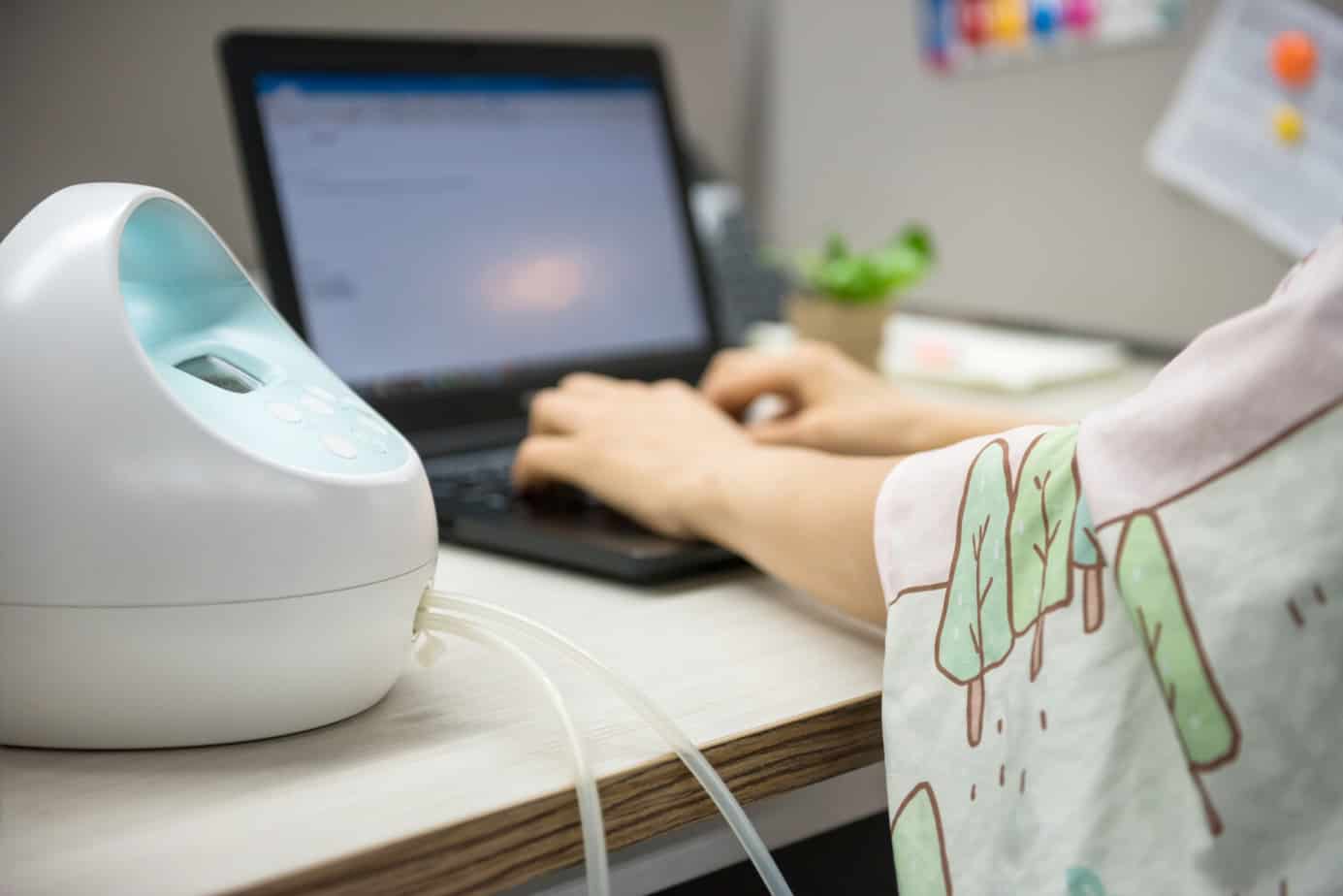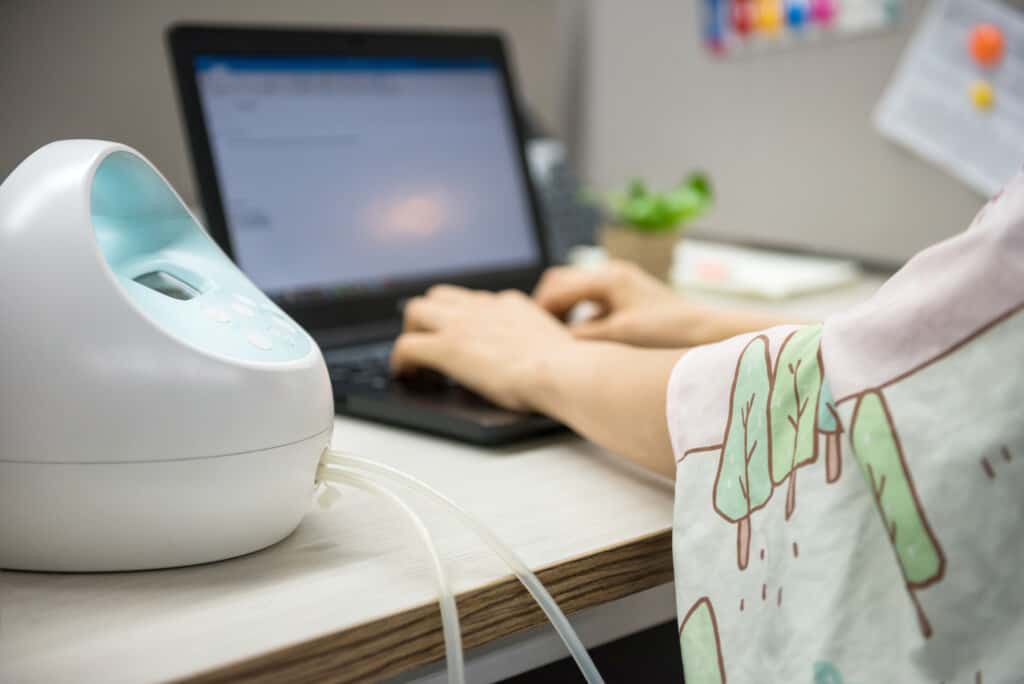 Comparing the Spectra S2 to the Medela Pump In Style (Side by Side)
One of the easiest ways to compare the two breast pumps is through a side by side comparison.
Check out the table below, for a quick side by side comparison of the Spectra S2 and the Medela Pump in Style Advance:
Spectra S2
Closed System
Double Electric Pump
3.3 lbs
No battery pack
Button setting
280 mmHG
No bag
No cooler
2 bottles
Nightlight
BPA free
2 year warrenty
Check Price
Medela Pump in Style
Open System
Double Electric Pump
7 lbs
8 AA batteries
Dial settings
250 mmHG
3 bag options
Cooler included
4 bottles
No light
BPA free
1 year warrenty
Check Price
Your Pumping Needs
Before deciding which breast pump to get, you'll need to think about your breast pumping needs and what you'll be using it for.
Are you planning to go back to work and need to pump multiple times a day?
Or are you hoping to pump only occasionally to build a milk freezer stash or have a date night out? 
Here's a few great resources to help you with getting started on your pumping journey:
Here's a few other questions to consider when deciding which breast pump is right for you:
-Do you need a single or double pump?
-Do you want a closed or open system?
-Noise Level: Do you need a quiet pump?
-Comfort: Can the pump be adjusted to be comfortable for you?
-Accessories: What does the pump come with? A bag? Bottles? An ice pack?
-Convenience: Is the pump easy to travel or move around with?
Key Features
Closed system for backflow protection
Hospital grade pump (Better Suction = Better at Removing Milk)
Customizable Settings
Quiet
Timer & Night Light
Battery Adapter (great for travel)
COmes in a breast pump bag
Comes with a travel cooler and bottles
2 phase expression w/ 1 touch letdown
Breast Pump Similarities
Both the Spectra S2 and the Medela Pump in Style offer moms a great opportunity to pump breast milk for their babies and have a lot of must-have features in common.
Both pumps are double pumps, but also offer the option to change into a single pump if needed.
Double pumps help you pump more milk and be more efficient, but you may choose to pump while simultaneously feeding your baby, which is when a single pump could be handy. 
In addition, both pumps have the ability to control the suction and speed of the pump. This helps you to pump more milk, by customizing your pumping experience to what works best for you.
Note: The Medela has one dial you can turn to adjust your pump settings, in addition to a letdown button. The Spectra offers two different controls by push button: one for suction and one for speed. 
Breast Pump Differences
The Spectra S2 and the Medela Pump in Style also have a few key differences.
One of the first and commonly discussed differences is that the Spectra S2 is a closed system.
So what does this mean?
A closed system prevents any bacteria from building up in your pump tubing which could result in mold.
Ideally, breast milk never enters the tubing anyway, but in a closed system, a barrier is in place that stops it, making sure the milk goes directly into the bottle.
For more on open and closed systems, you can read the article HERE.
Another key difference between the Spectra and Medela pump is the battery.
Both come with a cord to plug into the wall, but only the Medela Pump in Style comes with a battery pack. This can be exceptionally helpful for busy moms on the go who are hoping to pump in places where they may not have an outlet.
Note: You may be wondering what's the difference between the Spectra S1 and Spectra S2 and this is it: The Spectra S1 comes with a built-in rechargeable battery.
Finally, a third difference is in pump strength. While many moms may not notice the difference, choosing one pump over the other could have the potential to net you more breast milk.
The Spectra S2 is a hospital grade pump, meaning it has more power.
For a quick comparison, the maximum suction strength of the Spectra S2 is 280mmHg vs 250 mmHg for the Medela Pump in Style.
Pros of Each Pump
Spectra S2
✅Closed system for backflow protection
✅Hospital grade pump (Better Suction = Better at Removing Milk)
✅Customizable Settings
✅Quiet
✅Timer & a night light
Medela Pump In Style
✅Battery adaptor (great for travel)
✅Comes in a breast pump bag
✅Comes with a travel cooler and bottles
✅2 phase expression with 1 touch letdown
Cons of Each Pump
Spectra S2
➖No battery pack
➖No bag included
➖Accessory quality isn't as good as Medela
Medela Pump In Style
➖Louder
➖Open System
➖Not as powerful
Reviews & Ratings
Both breast pumps boast some great ratings.
Spectra S2
Amazon: 2,039 ratings – 4.3/5 stars
Target: 259 ratings – 4.5/5 stars
Medela Pump in Style
Amazon: 1,427 ratings – 4.1/5 stars
Target: 50 ratings – 4.5/5 stars
FAQ's
Can I use HSA/FSA to buy a breast pump? Does insurance cover breast pumps?
Most insurance companies do cover the cost of a breast pump for pregnant mothers.
They may have rules as to when you can receive your pump (such as after 34 weeks or once baby is born).
To determine whether your insurance covers the pump you can either give them a call or go through Aeroflow Breastpumps to let them do the calling for you.
Which breast pump is best?
As a mom who's used both (and liked both!), I currently recommend the Spectra S2 due to its closed system and quiet, powerful features.
How do I get started pumping?
Getting started pumping can be overwhelming.
Most moms will want to wait a few weeks to start using their breast pump while their supply regulates and they get used to breastfeeding their baby.
A great way to start is by pumping after you feed your baby first thing in the morning. You can find a complete how to get started pumping guide here.
What size flange should I use?
Choosing the correct size flange can make a big difference in how comfortable pumping is for you and how much breast milk you're able to pump.
Check out this visual by Medela or this post to determine what flange size you should be using. 
Are Spectra and Medela bottles interchangeable?
No, Spectra and Medela bottles are not interchangeable based on the size and shape of the neck of the bottles.
If you're hoping to use one bottle with the opposite pump you can buy adaptors like this one, to make it work. 
Which Breast Pump Should I Get?
Depending on your wants and needs both of these breast pumps are great options.
If you're a busy mom who is always pumping on the go and don't mind a slightly noisier breast pump, the Medela Pump in Style Advanced may be best for you.
If you're a mom who knows you'd like a more powerful, quiet, pump and don't mind having to buy a pump bag or a couple of additional accessories – I highly recommend the Spectra S2.
Which Pump Do I Use?
So which pump do I use personally?
With my first baby, I used the Medela Pump in Style Advance Backpack and it worked well, but to be honest – I didn't have anything to compare it to!
This time around, after lots of research I decided to choose the Spectra S2 and I LOVE it. I highly recommend it to all moms.
I used to struggle with pumping enough milk for my baby, but this time around I have more than enough milk for my second child.
The only negative I have personally experienced with it is the lack of a battery pack. I did, however, buy this car adaptor to be able to use it on the go.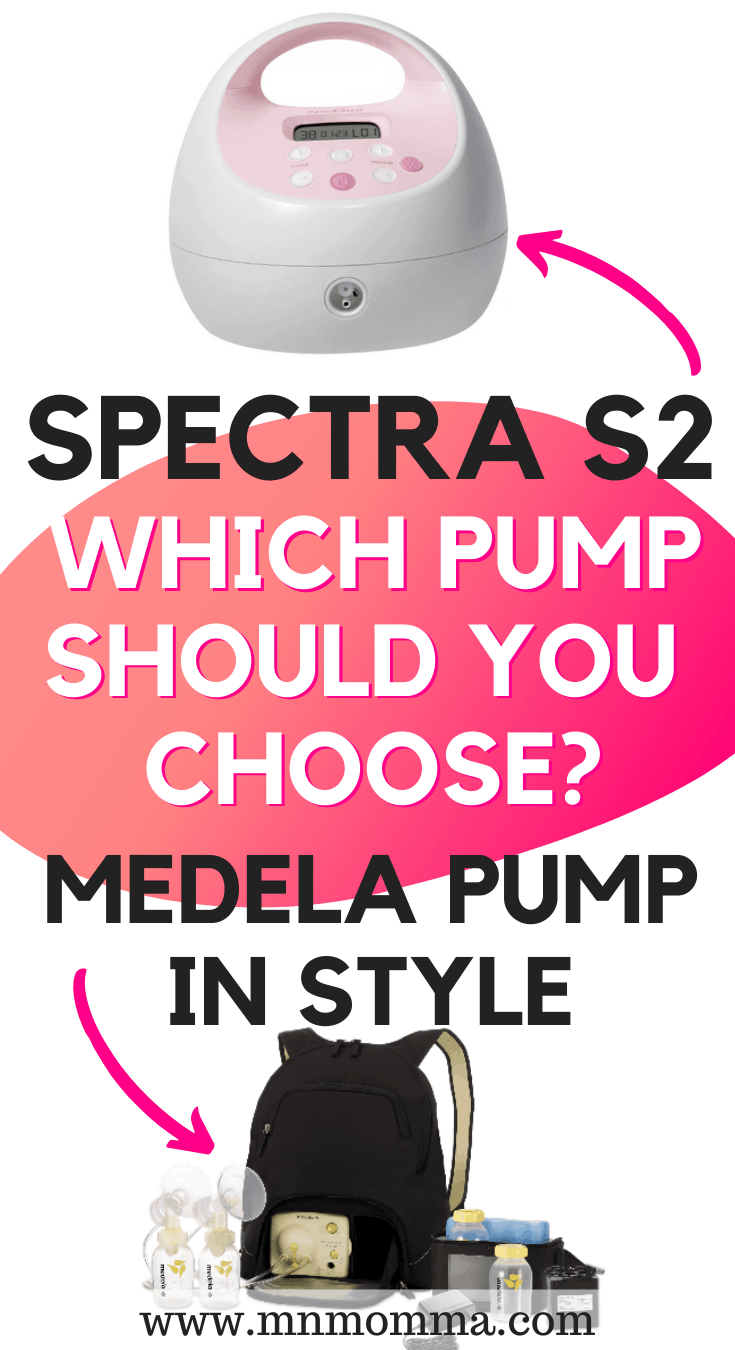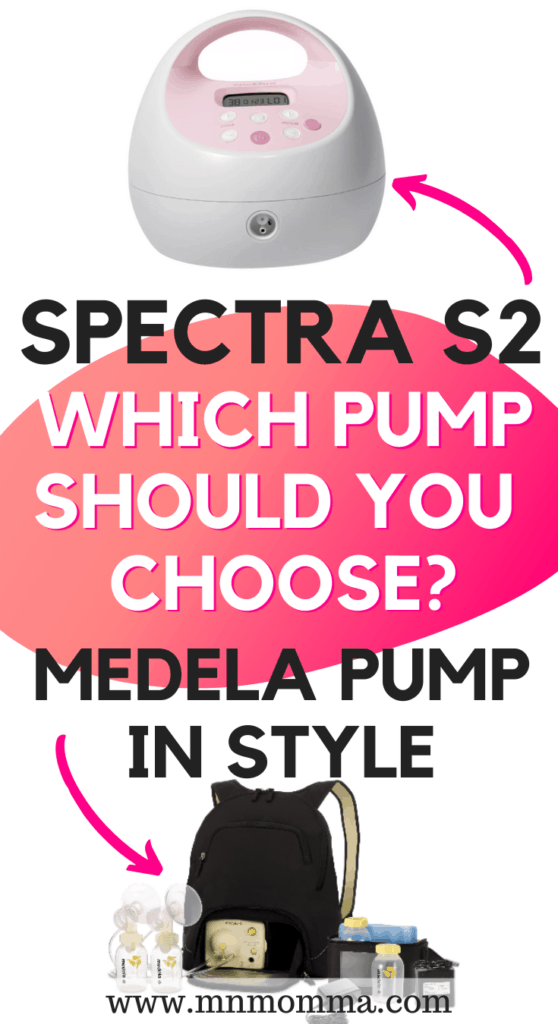 <— Save this for later! Pin it!