How to Handle Visitors After Baby Is Born – (Even If You Love Having Guests!)
Disclosure: This post may contain affiliate links, which means I may receive a small commission if you click a link and purchase something. Please check out my disclosure policy for more details. All opinions are my own!
Having people who would love to come visit you and baby in the hospital can be such a fun and exciting feeling, but sometimes it can feel like too much, especially if your visitors are unannounced.
Learning how to handle visitors after baby is born, even if you're like me and enjoy the them, can make a huge difference.
Even if you haven't had your baby yet, thinking about your rules for visiting baby before you give birth can make your postpartum experience so much better.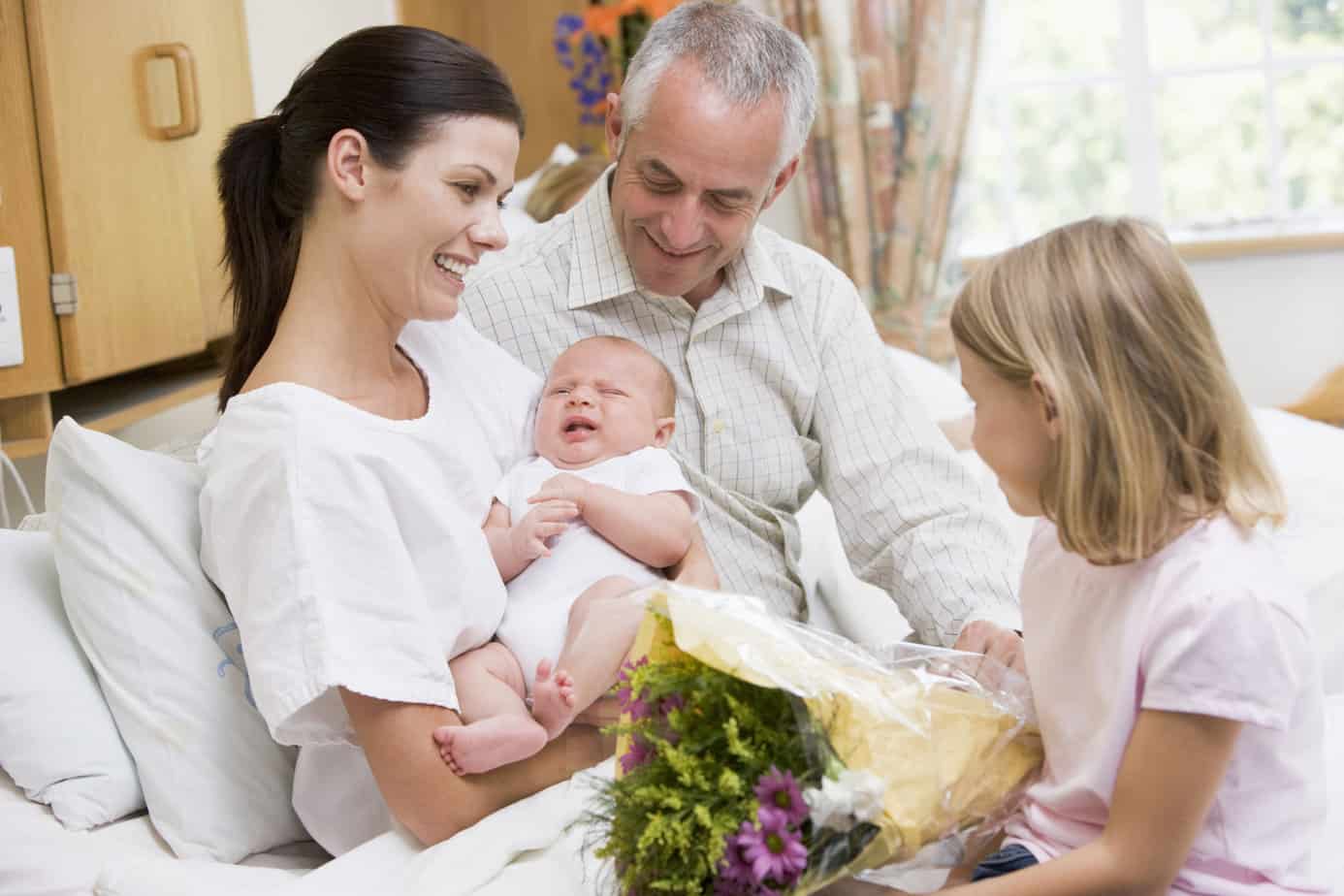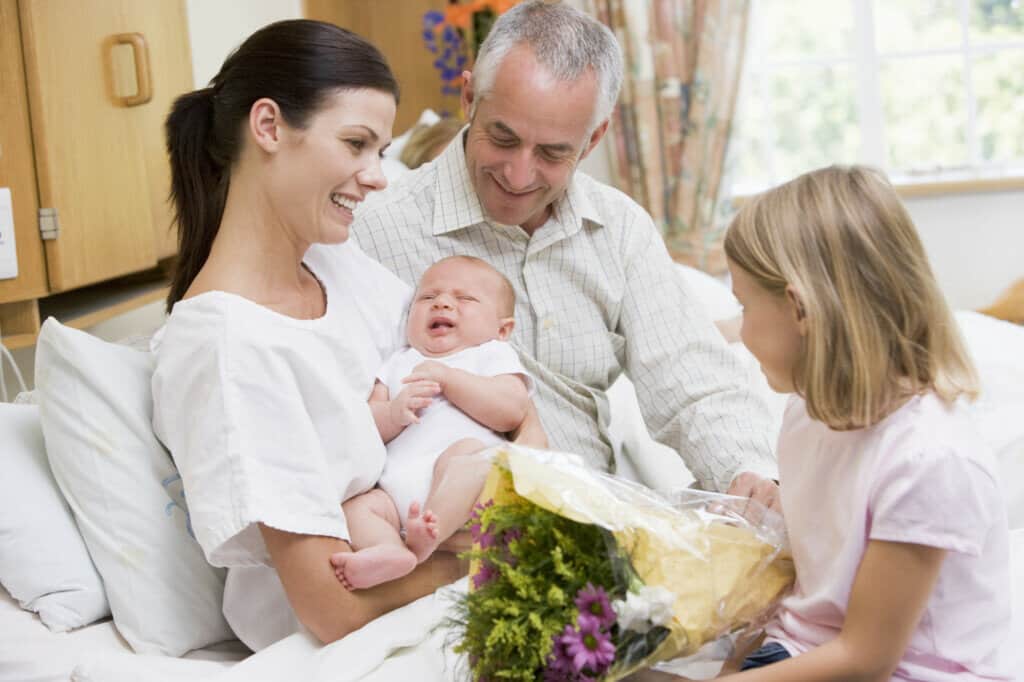 How to Not Stress About Visitors After Baby
Whether you're hoping to have visitors come straight to the hospital after baby is born, or you're anticipating their arrival once you get home, there are some great tricks and tips you can use to not stress about visitors after baby arrives.
Some new moms absolutely love having guests after baby, while others would rather be left alone for a few weeks, both are normal!
Just remember that you and your significant other get to set the rules and that you deserve recovery and bonding time with baby.
Set Expectations on Who Can Visit and When
Everyone loves meeting a new baby. But you can't forget about YOU.
YOU just birthed a baby.
And there's a good chance, you're still exhausted and recovering for quite awhile.
This means it's absolutely okay for you to say NO to visitors. AND to not feel bad about it.
Even before you give birth, I recommend you talk with your significant other about when you'd like to have visitors to see you and the baby.
Then, don't be afraid to share your expectations!
Feel free to make it clear that you do not want any visitors for:
the first couple of hours after birth
the first few days after birth
or the first few weeks
Feel free to adjust your wishes after baby is born as well. You don't know exactly how you're going to feel and you may wish to postpone visitors (or have them sooner!) depending on how things go and how you feel.
Rules for Visiting Baby
Now that we've talked about when people can come visit the baby, it's important to think about any rules you want to set for visiting you and baby.
Some rules that may be on your mind (these rules may not all fit your situation, but are good ones to think about!):
Please wash your hands/use hand sanitizer before touching baby
No kissing baby
Please ask before holding baby
Please do not visit baby if you're sick or you've been sick
Please wear a mask when visiting
Please do not hold baby if you've been smoking
Please call before visiting
You may be pretty relaxed about some of these rules, while others are absolutes. Be sure to let your visitors know what you expect when they come to see the baby, whether that's in the hospital or at home.
Rules for Visiting Baby Printable
Sometimes you don't get around to sharing your rules for visiting a newborn with all your guests.
And let's face it, sometimes you don't feel like saying it over and over.
You just had a baby, remember?
One of my favorite and easiest ways to share these rules is through a simple poster or printable rules for visiting baby.
You can hang this on the hospital door to your room, the door of your house, or frame it and keep it near where your visitors will be gathering (the hospital room table, kitchen table, entry way).
It's a great low pressure, simple reminder for all to keep baby safe from germs that could make him/her sick.
Choose your favorite print and get your visitor rules for visiting baby printable now by clicking here.
Don't Be Afraid to Ask for Help
Once your visitors have arrived, don't be afraid to ask for help.
Of course, your visitors are excited to see the new baby – but they should also be there visiting YOU.
Depending on the visitor and your comfort level, don't be afraid to ask your guest if they could:
Pick something up for your on their way
Hold baby while you take a quick shower
Watch baby while you sneak in a nap (a great option for your mom or mother in law who might be visiting and would love the extra baby snuggles!)
Play with big sibling while you breastfeed your newborn
Don't feel guilty asking for help or accepting it when people offer. Most of your guests want to help, they just may not know what you need.
Don't Worry About How Your House (or You!) Look
You just had a baby!
Your home may look chaotic and you may not have showered in a couple days.
And while I completely understand wanting to feel put together for visitors, please don't worry about the mess in your home or if you haven't done your makeup today.
Remember that the visitors are there to meet the new baby and help out if they can – not judge you on your home or your latest postpartum hairstyle.
Bonus Tip: Let the Nurse Be Your Bouncer
If you're still at the hospital, let your nurse help you manage your visitors.
If you're having a hard time saying no to guests, people are just showing up announced, or your visitors are staying too long, don't be afraid to let your postpartum nurse know and she can help!
Most OB nurses are fantastic at shooing people away if needed/requested by you.
Maybe you need to breastfeed, maybe you just need rest, maybe you're just ready for some alone time. Just let her know and she can help kindly let your guests know it's time to leave.
Check out this instagram post from Mommy Labor Nurse to see what I mean:
Visitors After Baby: How to Enjoy And Not Stress Your Guests
Did you love having visitors after you had your baby? Did you have any rules in place for your guests coming to meet the new baby?
Related: What No One Told Me About Postpartum Recovery (With Baby #2)
Related: 4 Postpartum Essentials You Need
Related: How to Survive Your Baby's 1st Cold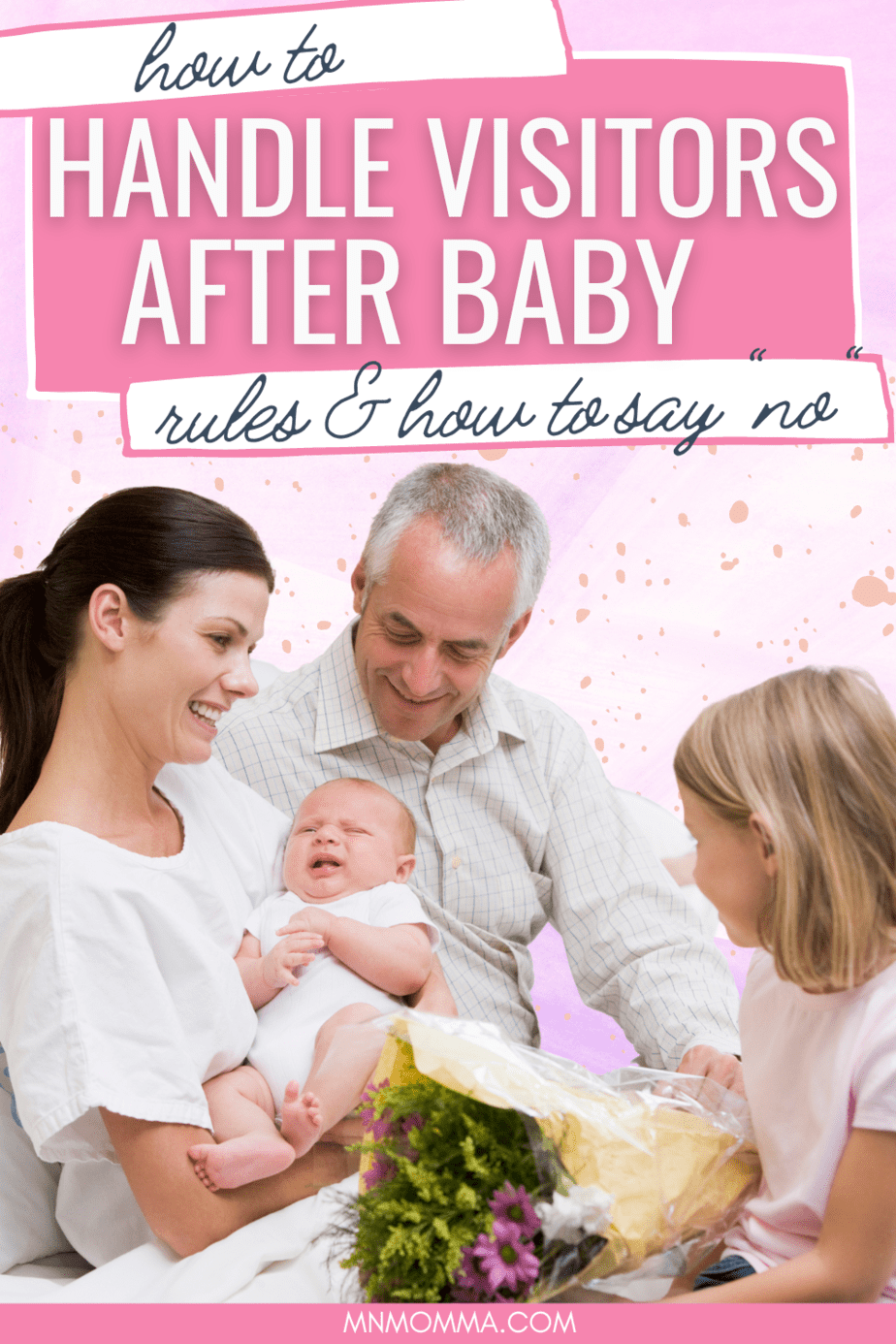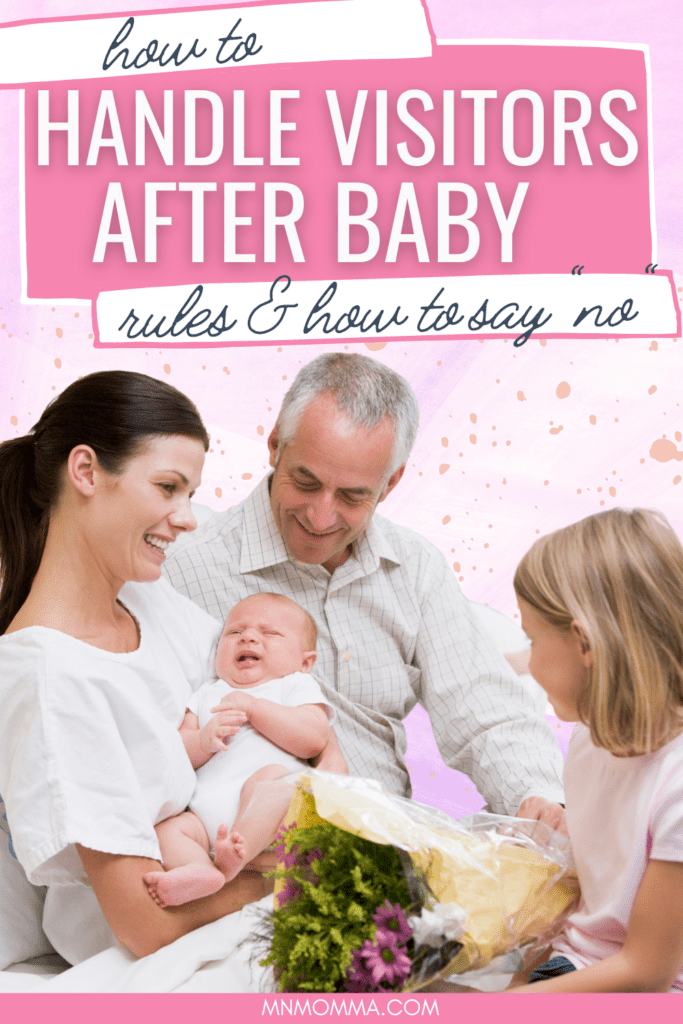 <— Save this pin for later!