55+ Easter Ideas for Babies & Toddlers for 2022
Disclosure: This post may contain affiliate links, which means I may receive a small commission if you click a link and purchase something. Please check out my disclosure policy for more details. All opinions are my own!
Best Easter Ideas that Aren't Candy!
Whether you just had a baby or you're trying to come up with some cute ideas for your toddler that don't include chocolate, this ultimate list of Easter ideas for babies and toddlers is perfect for you!
First things first, you're going to need an Easter basket for your sweet new baby.
And while I could totally recommend you grab one at Target or on Amazon to get it quick (this one is sweet and basic), I highly recommend you check out these baskets on Etsy. You can customize the baskets and get something you totally love that you won't mind pulling out of the closet year after year!
I'm currently loving on this one, and just hit add to cart!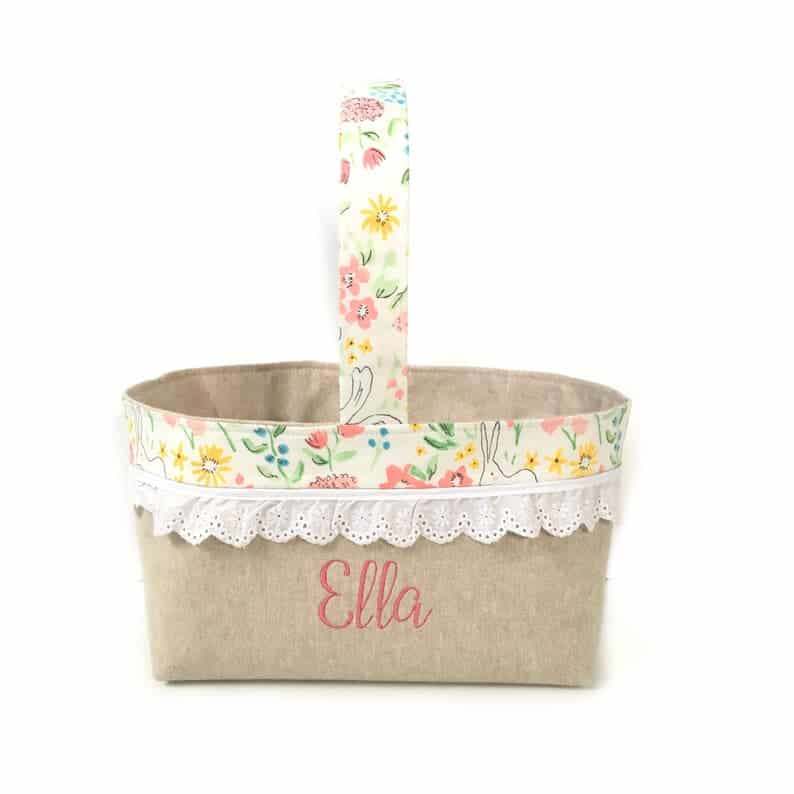 Okay, back to the fun Easter basket stuffers for babies and toddlers!
You'll find everything from fun to practical gifts. And…most of these Easter ideas are not food – which means they'll last a lot longer in your house.
✅ Mom-Approved Baby Easter Basket Stuffers
Here's a quick list of some of the top Easter basket stuffers for babies first Easter and even things your toddler will LOVE. The full list is below!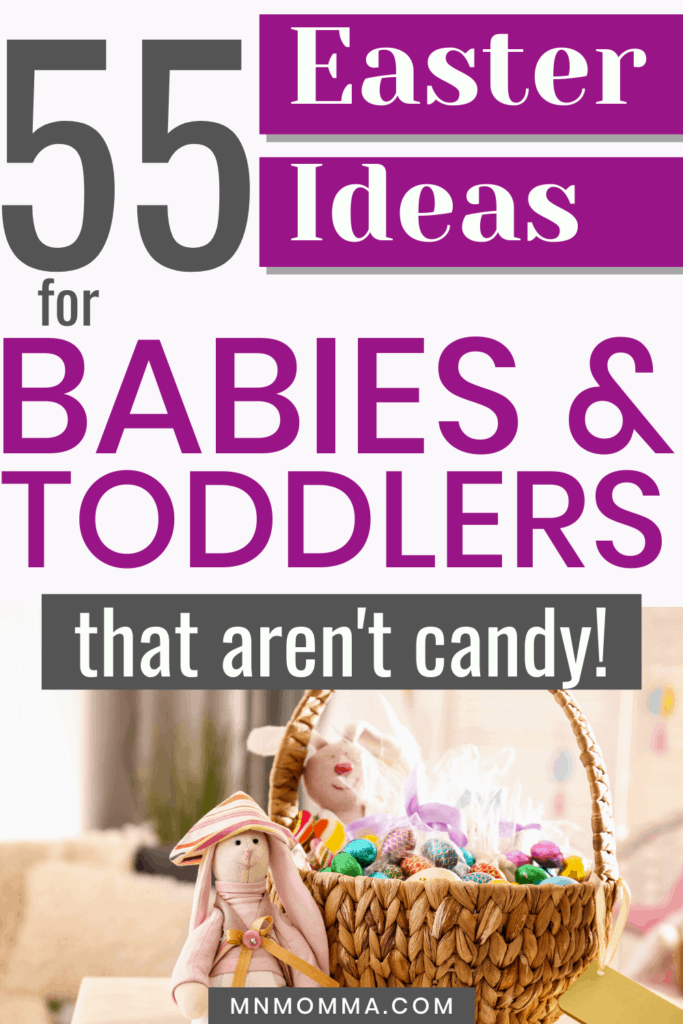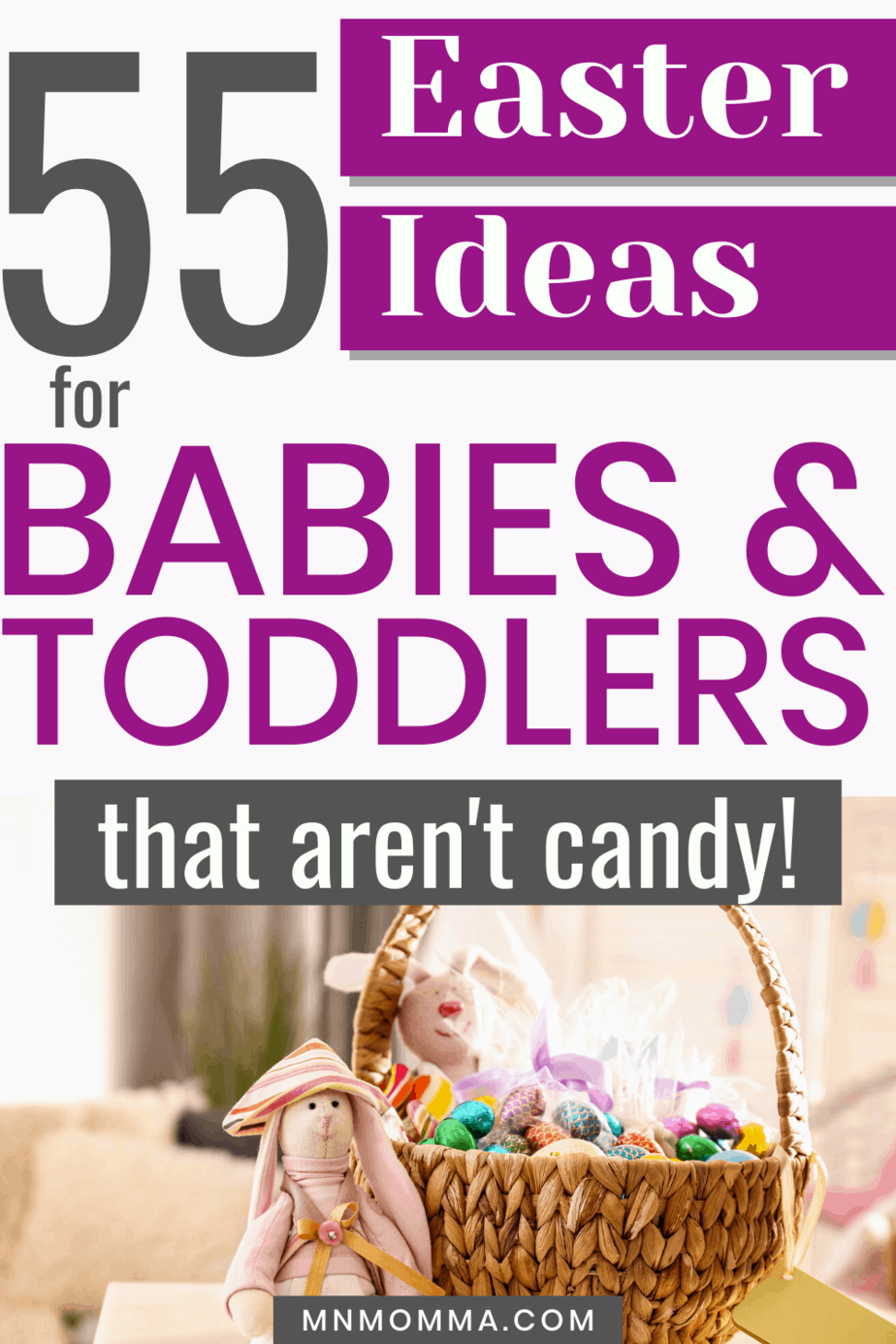 <— Don't forget these ideas! Pin it for later!
(Mostly) Healthy Easter Ideas for Babies & Toddlers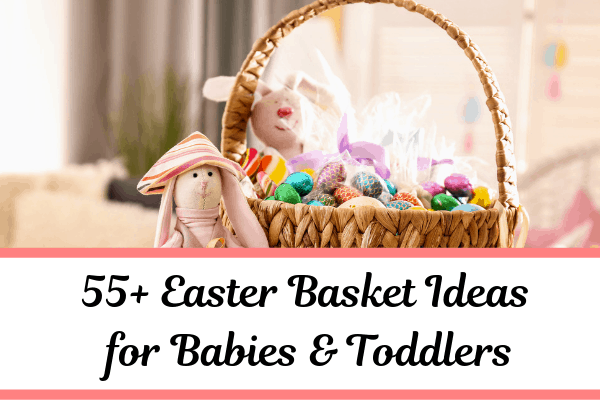 Easter Outfit
An Easter outfit is about as cute as it gets. From either a complete Easter dress or suit, to a cute Easter t-shirt. Check out Etsy and Amazon for some unique and customizable options!
New Jammies
I'm a momma who loves snuggling a baby in jammies. And new jammies? Oh, they're so cuddly!
Bandana Bib
Is your baby a drooler? Pick up some of these adorable bandana bibs while you can!
Headbands & Bows
Can a girl ever have to many headbands and bows to accessorize with?
Teethers
From the super popular Sophie Giraffe to my favorite berry pacifiers – your little one is bound to need one (or two!) of these.
Rattle
Did you know a rattle is still likely to be one of the first toys your baby can figure out and play with? Grab a cute one and stick it in baby's Easter basket!
Nose Frida
Okay, this Easter idea for baby may be more for you than your baby. But man – does it work wonders!
Swaddle Blanket
A soft, cozy swaddle all wrapped up is the perfect gift to throw in the back of baby's Easter basket.
Lovey
Depending on your baby's age, he or she may be ready for a lovey – find a cute one and add it to the fun!
Peek A Boo Elephant
I've had my eye on this sweet elephant for a while now. Just watch the video and I dare you to tell me it's not the cutest thing you've ever seen. My toddler LOVES that it plays peek a boo and he can't stop smiling around it.

Stuffed Animal
Can you have too many stuffed animals? Yes. Yes you can. BUT – if your little one hasn't acquired a big collection yet, one more doesn't hurt, right?
Yogurt Bites
Name brand or generic – these were one of our baby's favorite treats.
Puffs
Puffs are a great option for babies just starting to eat solids.
Sippy Cup
A fun sippy cup for your toddler can help encourage water drinking, while being stylish at the same time. We opt for the straw ones, like this, to help develop those motor skills!
Suction Cup Bowls
Tired of your baby's bowl tipping over – these suction cup bowls and plates might just be a lifesaver.
Board Bible
It's Easter and time to celebrate – I love this board book Bible – it even has lift the flaps!
Easter Board Books
They make some super cute Easter books – and when they're interactive? I love them even more for my little one!

Board Books
Did you know that the more books you have in your house, the more likely your child is to be a better reader? That's without even reading the books. So bring on the books!
Bubbles
Easter is a sign of spring and bubbles are perfect for that!
Pacifiers
If your baby uses a pacifier, this can be a great time to restock your stash.
Pacifier Clips
If you've been using a pacifier without a clip – trust me – it's time to invest. They have some adorable designs!
Car Seat Toys
Make riding in the car more fun for your baby with an attachable car seat toy.
Washable Crayons
I've learned quickly with young toddlers crayons can break pretty easily. I've found the best luck with these triangular shaped ones!
Water Wow
These are an all time favorite of ours. We use them for church, in the car, anywhere! They are virtually mess free and help provide lots of entertainment for little ones!
Tooth brush
If you have a baby – try the banana toothbrush. It doubles as a teether too! We found that as our baby grew to be a toddler however, he much preferred a fun toothbrush like this.
Swim Diapers
While you can choose disposable swim diapers, I found I love the reusable ones with snaps – like this one!
Easter Baskets for Babies and Toddlers
Do you have more ideas for your baby or toddler's Easter basket? I'd love to see the pictures or hear your ideas in the comments below!