Milk Snob – The Wrap Review
Disclosure: This post may contain affiliate links, which means I may receive a small commission if you click a link and purchase something. Please check out my disclosure policy for more details. All opinions are my own!
Do you baby wear your baby or do you plan to? Here's your complete Milk Snob Wrap Review.
After the birth of my first baby, we had a more structured baby carrier (this one actually!) that we really did love.
However, I always wanted a baby wrap. You know, one of those adorable ones that held your baby close and you were hands free? The babies always looked so snuggly and the mommas always made it look SO EASY.
Unfortunately, I had heard from a momma or two that the wraps can be difficult to tie, can be uncomfortable, or made them worry about their baby's safety.
All totally legitimate worries if you ask me.
All that being said, I was determined to find a wrap for baby #2 that was adorable, yet easy to use, and safe for baby!
Cue, Milk Snob's The Wrap.
If you're a mom who's looked at nursing covers before, I'm guessing you've heard of Milk Snob. If not, they're an awesome company that became popular for their breastfeeding nursing covers. Little did I know, that now they also sell baby wraps!
Related: Best Baby Carriers For 2 Different Budgets!
Related: 13 Things I Wish I Had With My 1st Baby
Just as a heads up: in exchange for my honest review, Milk Snob provided me with The Wrap SOHO.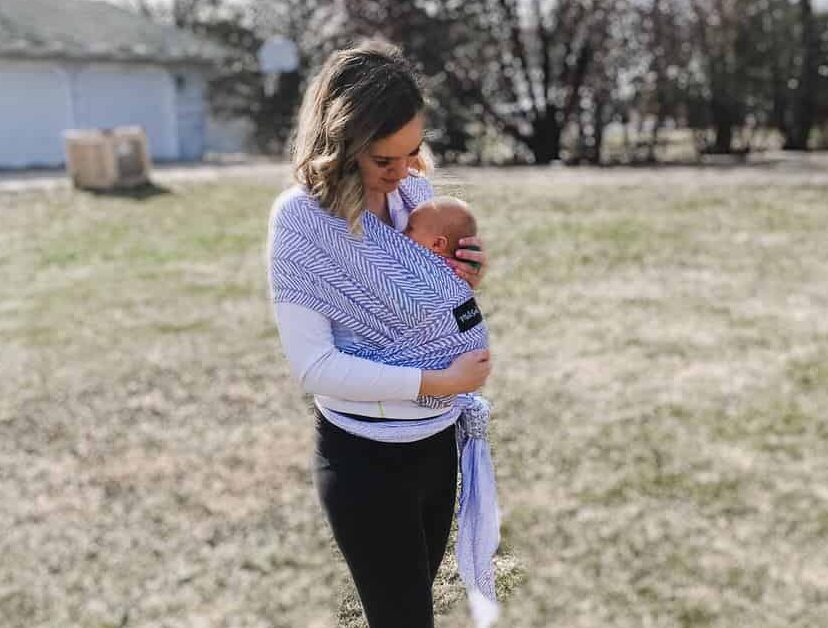 A Review of Milk Snob's Baby Wrap – SOHO
Fabric/Material
The fabric: breathable rayon blend
The Milk Snob Wrap has a super soft fabric I just love. Running my fingers over it during my pregnancy, I was never once worried it was scratch or irritate my baby's skin or my own.
As an added bonus, the fabric is lightweight and feels like it will easily withstand summer with a newborn.
If you've ever had a newborn before, you know you can become warm toting them around, especially close to you and in the summer heat. This wrap should keep you cool while still helping you feel like your baby is secure!
Fit
As with most wraps, Milk Snob's baby wrap is labeled as a one size fits all.
Depending on how tight you wrap the wrap (woah, that's weird to say), you'll end up with a tail at the end of your wrap. This isn't a problem. You can simply tuck it into itself or let it hang depending on the look you want.
The comfortable, stretchy fabric also makes the fit easy as you can pull it tight without the wrap feeling uncomfortable.
After using the wrap several times with my newborn, my FAVORITE feature is the ability for the wrap to extend over your shoulders, like a t-shirt.
While my newborn doesn't weigh much right now, wearing the wrap this way spreads out her weight and I truly feel like I'm almost not wearing her at all! It's genius and I totally LOVE it.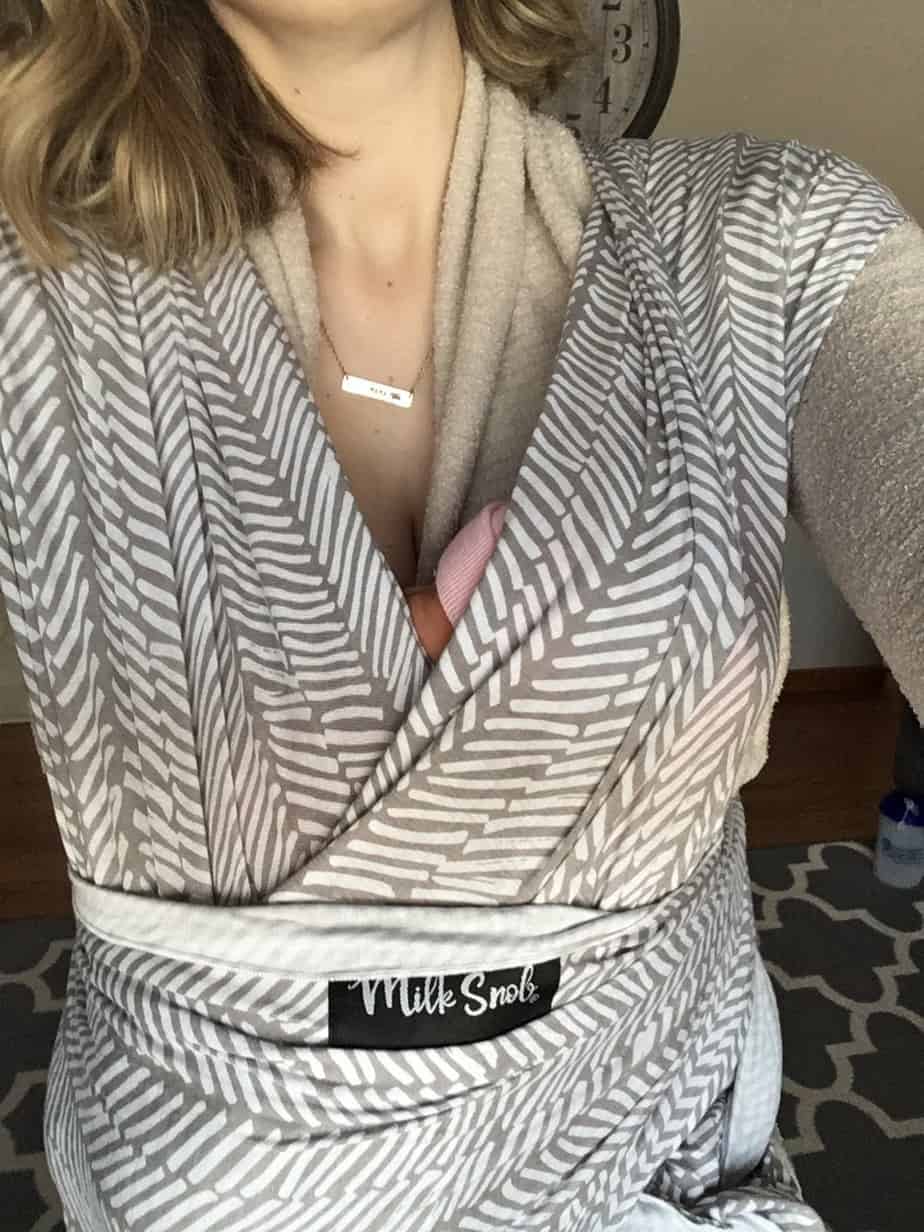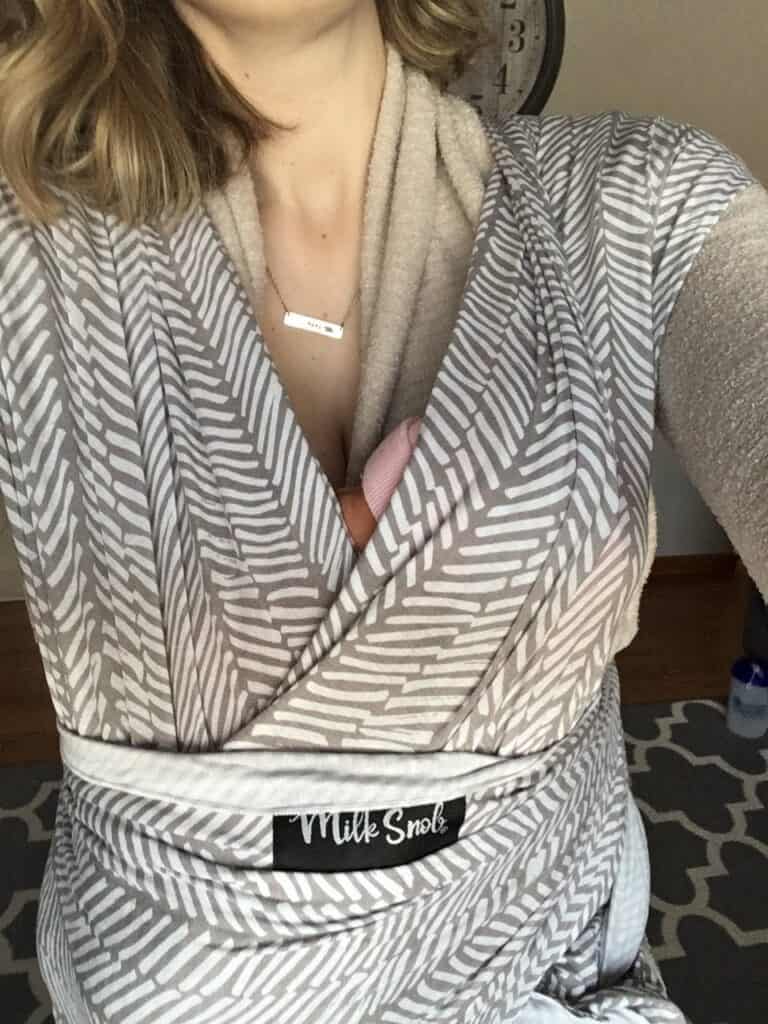 Easy to Use?
The first time I used the wrap, I needed to look at the diagram to figure out how in the heck to put this thing on, and then how to fit my baby safely in it!
However, the next time I used it, I could easily remember the proper way to wrap it and plop my baby inside. I still looked over the instructions to make sure my baby has proper air flow, but otherwise it was a breeze.
While the wrap is long, it can pretty easily be folded or wrapped up to throw in your diaper bag to use on the go.
https://www.instagram.com/stories/highlights/18056371192037294/
Price
Milk Snob The Wrap – $58
The price of the Milk Snob Wrap is right in the middle. You can find wraps for less than $30 or over $100.
Would I Buy It?
Now the real test. Would I buy the baby wrap if I were you? Here's the extra details you should know about my consensus on this cute product:
The first time I wore my baby in the Milk Snob Wrap, I felt like she got uncomfortable quickly and was sliding down.
However, after our initial try, every other use has been great! I got better at tying the wrap and positioning my baby, which in turn made both her and I more comfortable.
She spent well over an hour snuggled up close to me, and I was truly hands free playing with my toddler outside. It was amazing!
As a bonus, the fabric is great and wearing your baby has major benefits.
So…. YES!
I would definitely put the Milk Snob Wrap on my baby want list and am so glad I have it for baby #2.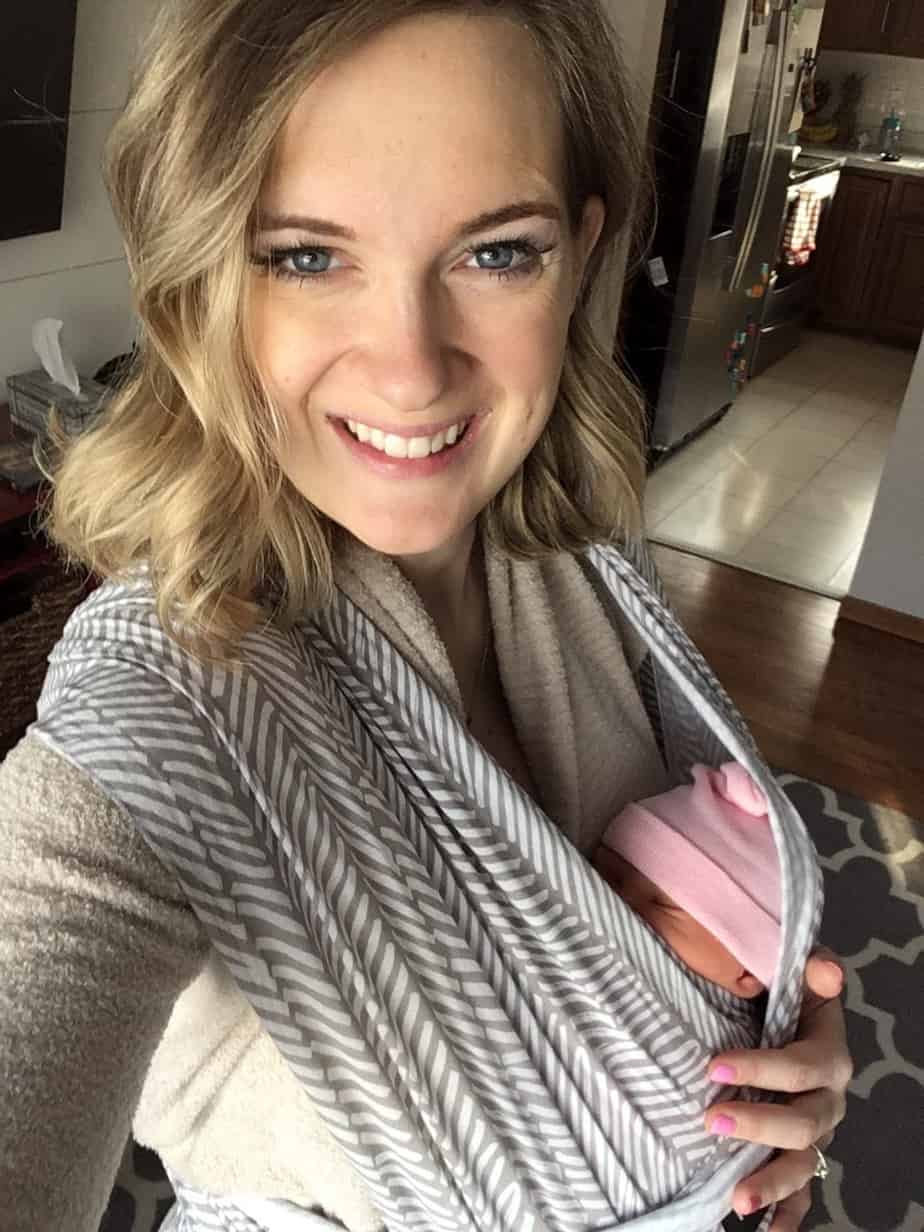 Why Baby Wear?