Date Night In Box Review: Aloha Themed
Disclosure: This post may contain affiliate links, which means I may receive a small commission if you click a link and purchase something. Please check out my disclosure policy for more details. All opinions are my own!
Our first Date Night In Box review is here!
As a busy mom, I don't have to tell you how hard it can be to get time with your significant other, let alone a date night.
I also know I don't have to tell you how important it really is to have that time together.
Well mommas, dating your spouse has never been easier thanks to these new subscription boxes.
Haven't heard of a Date Night In box, yet? Here's what you're missing.
Date Night In boxes are a subscription couples can sign up for to receive an entire date night – planned and ready – each month. The box will come with activities, a snack, a music playlist, and a booklet full of date night ideas.
Each Date Night In box has a theme – and for our very first experience we received an Aloha! themed box. As I mentioned, this was our first box and we were really excited to try it out no matter what the theme.
We received this Date Night In Box free of charge for our honest review of the box. All opinions are our own.
What Was Included In the Date Night In Box
Our Date Night In Box included much more than I was expecting.
The first thing you'll notice when you get your box is your theme. The box is cute and a fun surprise to see what you get that month! I noticed the box also had a scent to it. This one was very sweet and tropical – perfect for the Aloha! theme.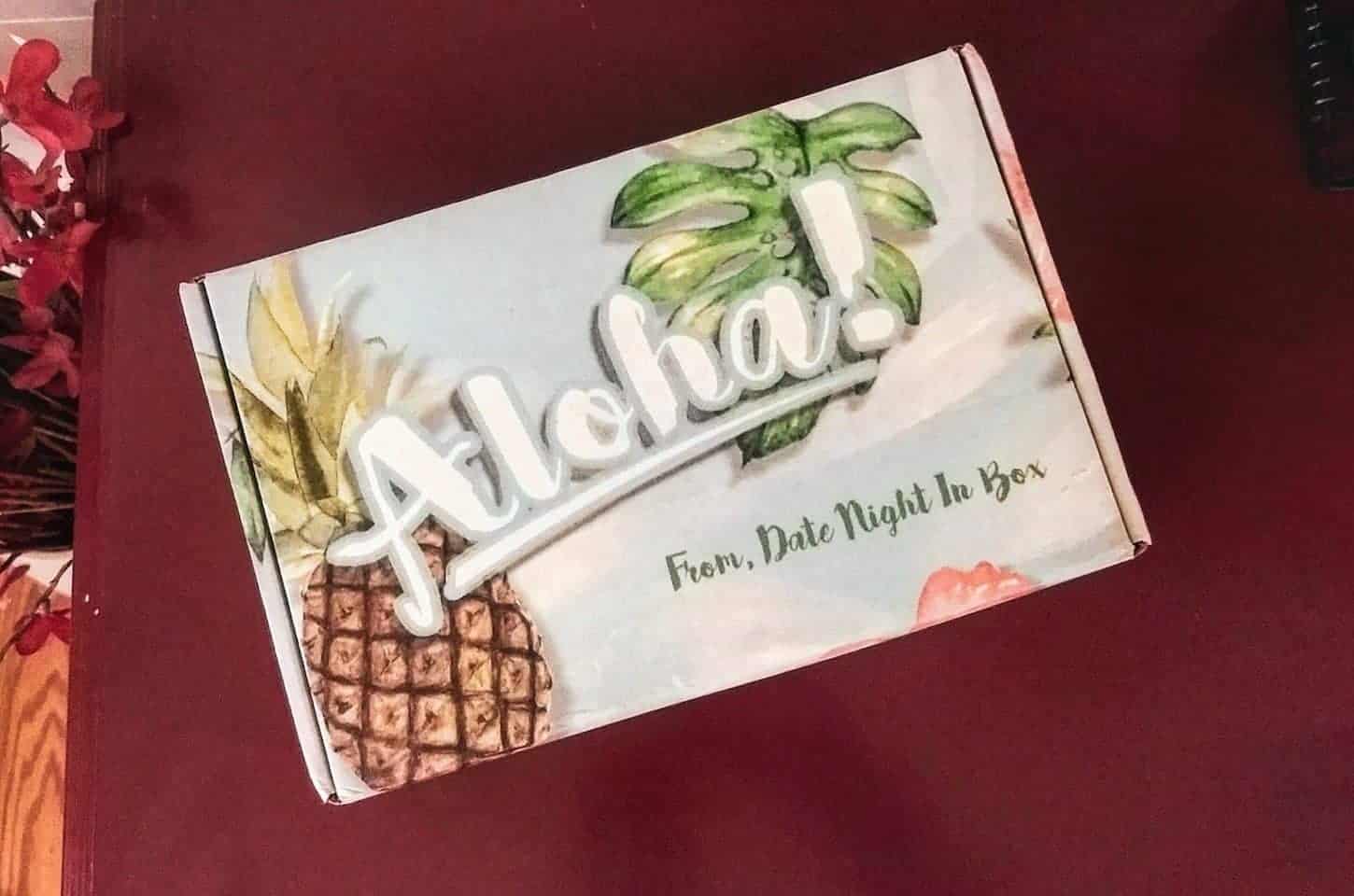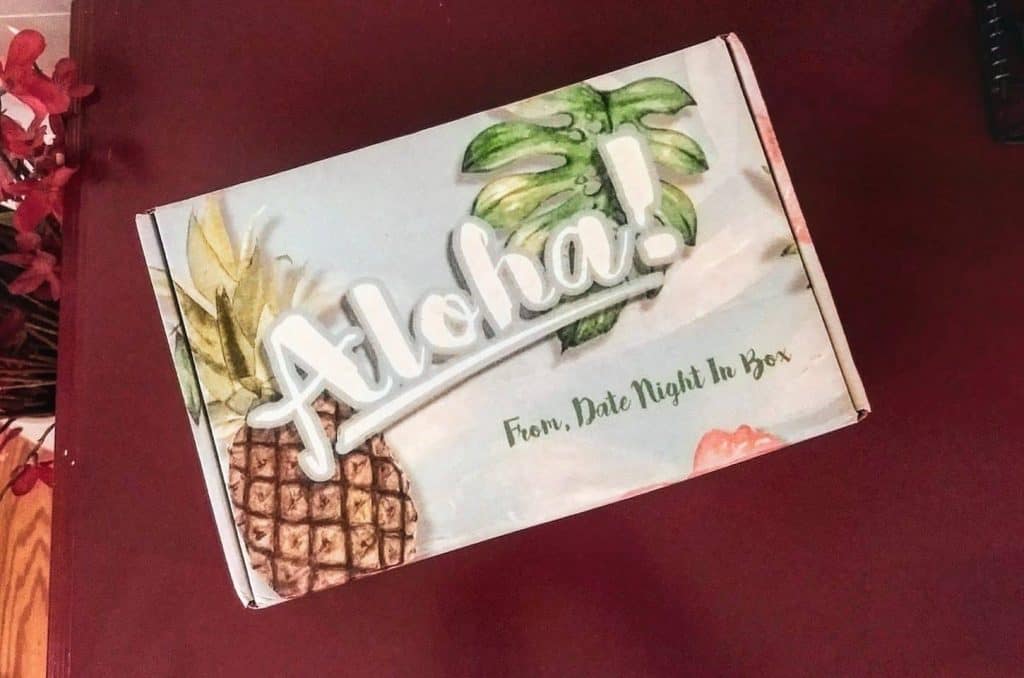 Date Night In Guide
Every Date Night In box also includes a guide booklet. I was expecting a small one page sheet – but it was so much more! The guide really makes you feel like they thought of everything for your date!
So here's what was really in the guide booklet.
Optional meal and cocktails/mocktails ideas and recipes (you have to make these yourself – ingredients not included)
A link to your themed Spotify Date Night In playlist
Discussion prompts
Directions for the games/activities
Movie ideas to keep the night going (theme related)
Snacks
Tropical Drink Kit – The tropical drink kit was adorable. It included two mojito drink mixes, floral cups, cute straws.
2 bags of Hawaiin Sweet Maui Onion Chips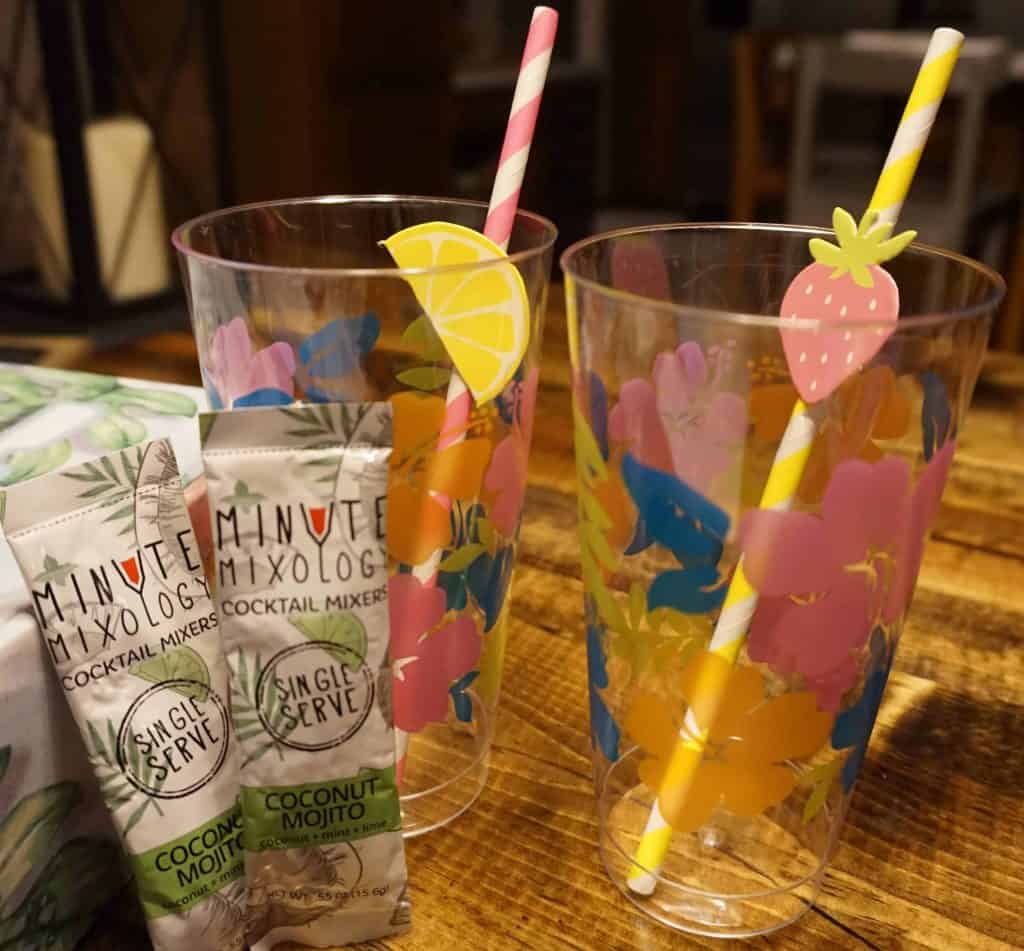 Candle
The candle included was the reason the box smelled so sweet! I can see where some might think the smell was a little much, but we enjoyed it! It was fun to light the candle, play the music, and help set a special atmosphere for our date night.
Games
There were three games included in our Date Night In box.
Lei It On Me. Lei It On Me was all about writing down answers to fun questions about your significant other and seeing if your answers would match. If they didn't, you also got to write down a penalty that your better half would have to do as soon as the game was over.
Aloha BINGO. The BINGO cards were adorable and came with floral marking spaces to keep track.
Konane (Hawaiian Checkers). Konane was described as "Hawaiian checkers". It was fun and simple to learn. The box included all the game pieces and the game board.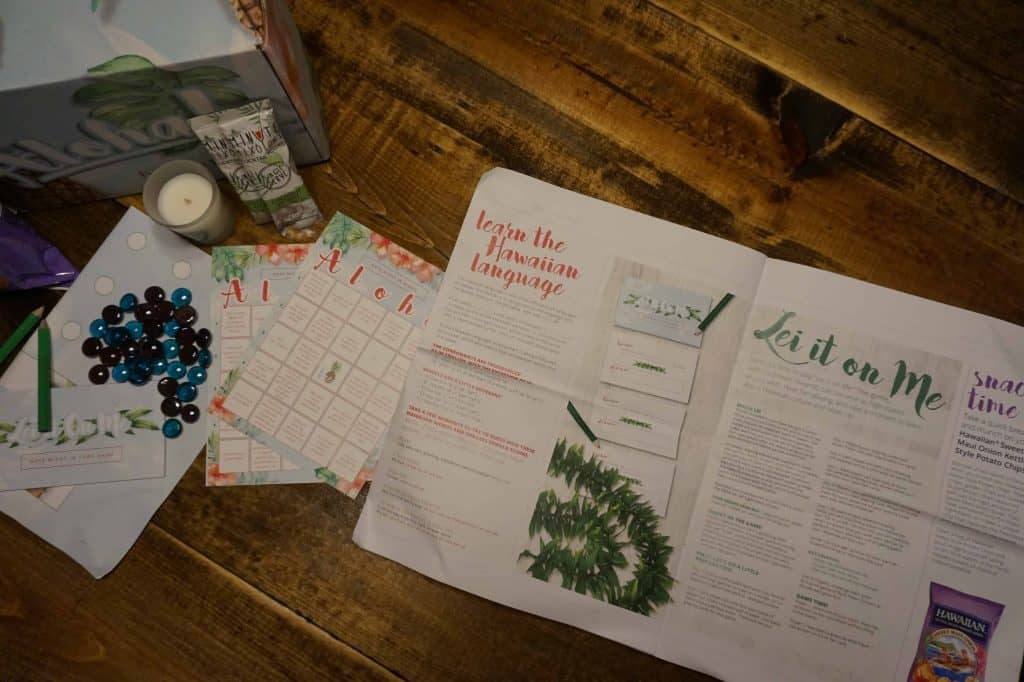 Unboxing Video
If you want to watch me unbox our first Date Night In Box, check it out here!
Our Favorite Parts from Our Date Night In Box
After our Date Night In was over we talked about our favorite parts.
I thought the Spotify playlist was awesome. I loved the background music and it was so much fun to have something that matched the date theme – but was still romantic.
By far the best part of our date was the Lei It On Me game. We both had a blast! I'll be honest and admit that I was a little surprised. We are definitely a couple that loves to play games together, but I never thought Lei It On Me would be our favorite.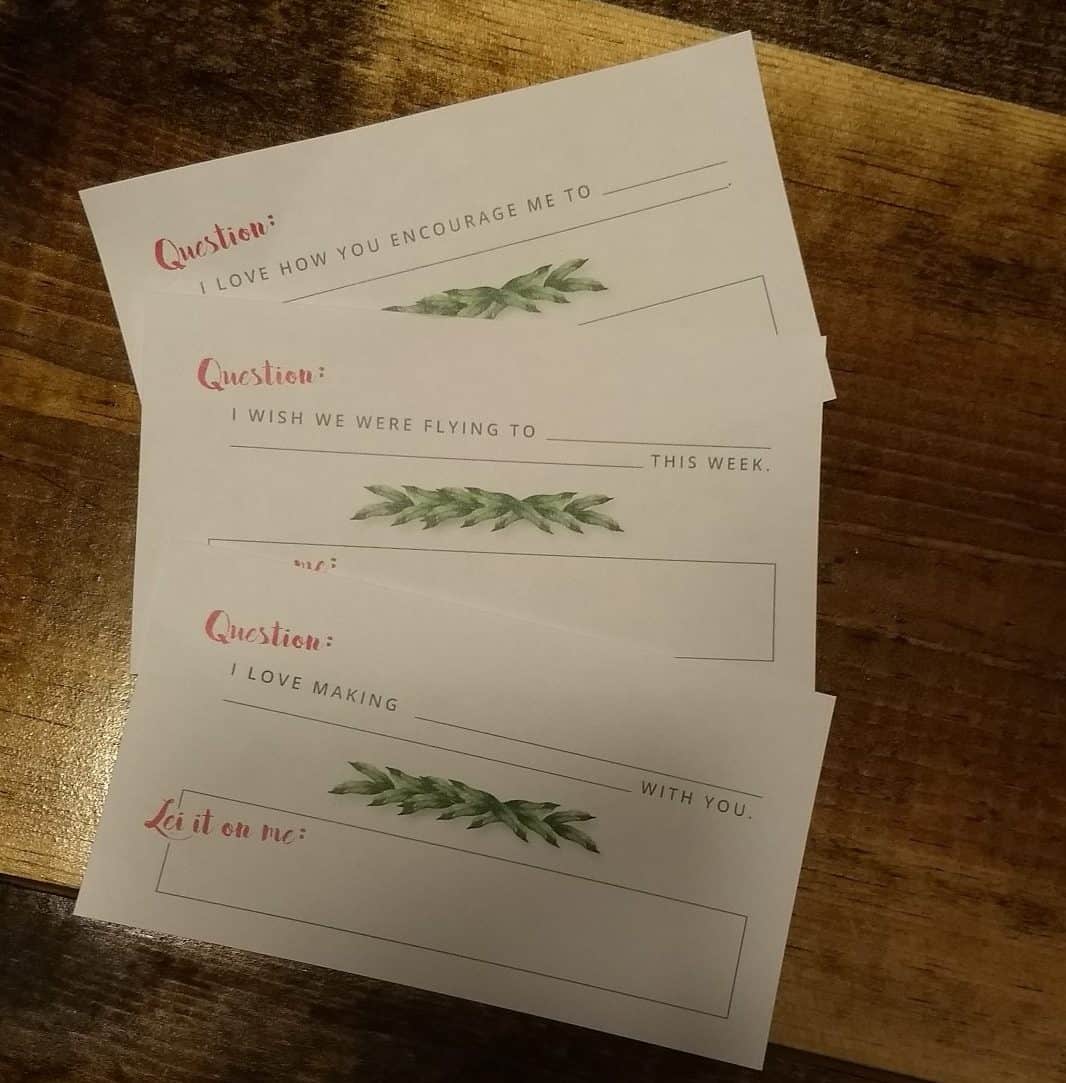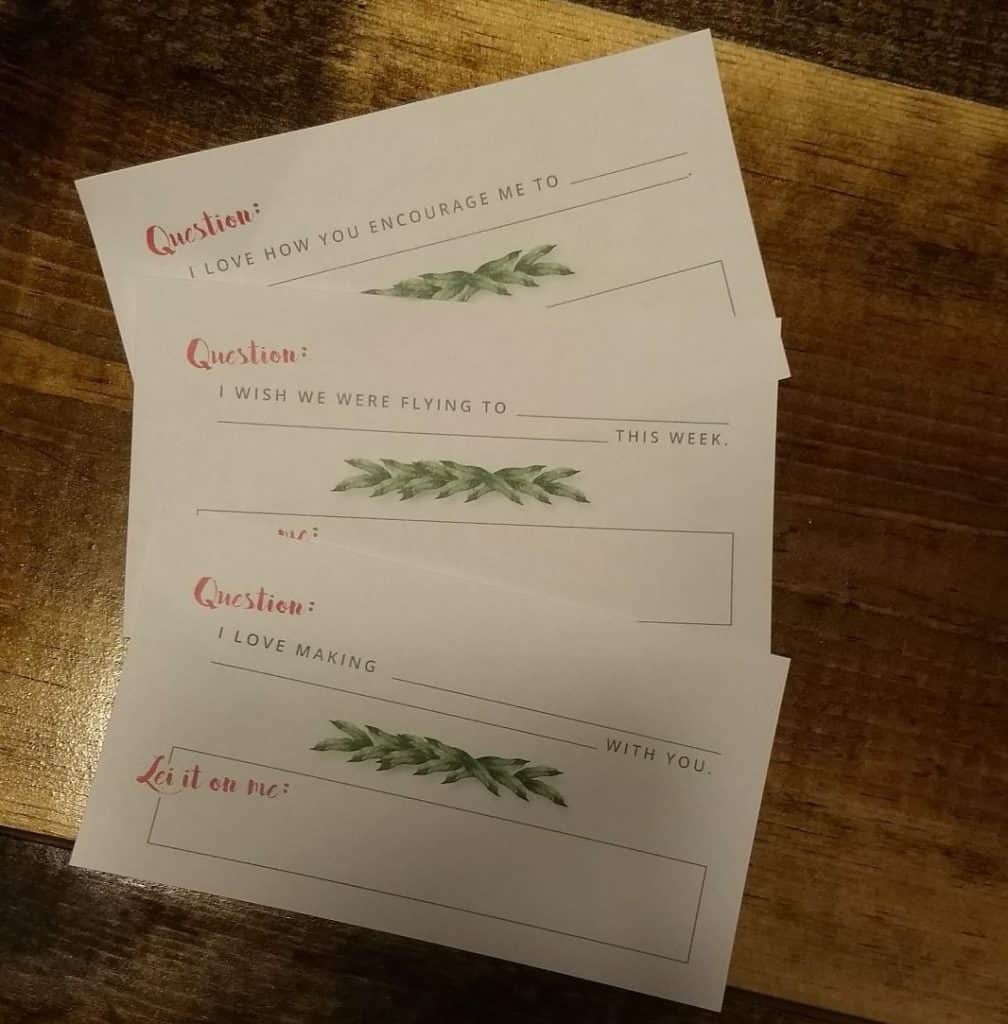 We laughed at our silly responses for some questions, and reveled in the sweeter answers. The punishments were also pretty fun to dole out – changing dirty diapers was definitely mentioned once or twice.
We also loved the food ideas and cocktails/mocktails. We didn't have time to make them this time, but we definitely will in the future!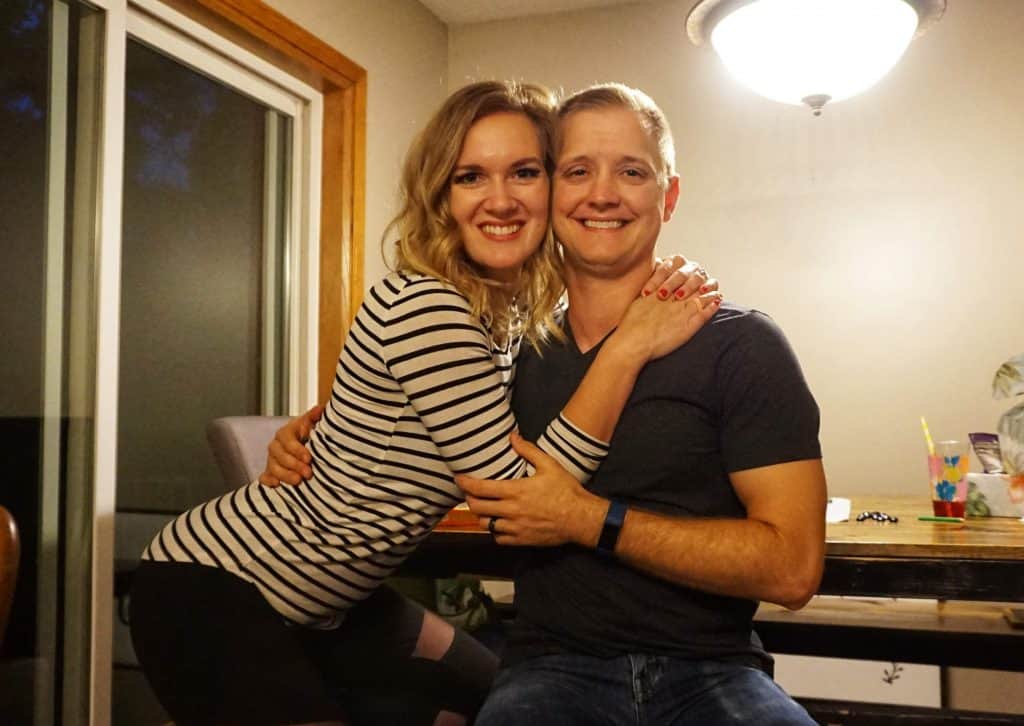 What Wasn't Our Style from our Date Night In Box
Discussion prompts. To be honest, we kind of skipped right over them. But if you're looking for a more in depth date night, they could definitely be beneficial. We found we got to talk about some sweet (and silly) things during the games we played anyway.
The snack. I hate to say this – because the snack is so perfect for the theme – but I wasn't a huge fan of it. I can be pretty picky and mojitos aren't my favorite. My husband loved both the chips and drink, so it's really just a personal taste preference.
Is A Date Night In Box for You?
Hopefully this Date Night In Box Review has helped you decide if a Date Night In box is for you!
There are some pretty great benefits:
No Planning
Surprise Date for Both of You! – I love this! It's like a surprise party that no one had to plan and you both get to enjoy it 😉
No Babysitter Needed – send your babies to bed and enjoy some time without have to leave home
Dress Up or Get Cozy – you're staying home, so the dress code is totally up to you
Everything Is Included – sure there are some optional extras, but everything you need is included. Our game even included pencils!
Date Night In Boxes are $34.99/month if you go month to month. You can also choose 3, 6, or 9 month subscription plans. Just as a heads up, if you choose anything more than month to month, you'll receive a month free!
Just use code: ONEFREE
(Pssst – this code is good for all types of Night In Boxes – see below for the other two types offered!)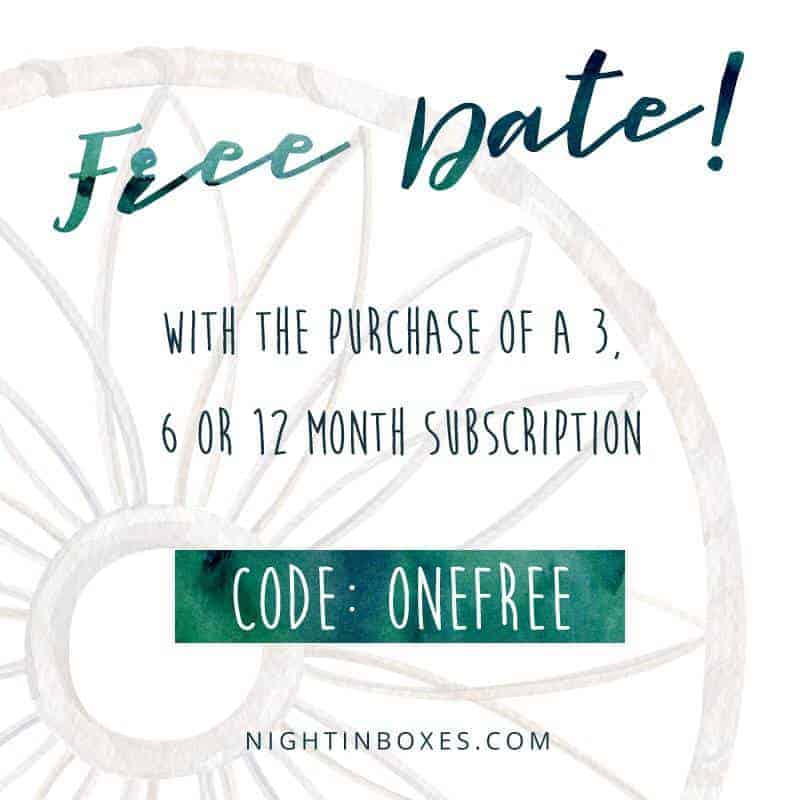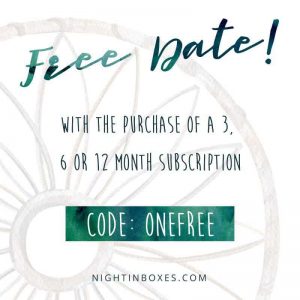 While you may be able to plan the date and go pick up everything included in the box for less than that – your time is definitely worth something. Don't forget that you don't have to plan, you don't have to go out and look for the supplies, and you don't have to leave home.
Convenience definitely has it's benefits.
Other Night In Boxes
Night In Boxes also have other options besides a date night. You can choose from Faith Night In or Kids Night In. I haven't had the opportunity to try either of these yet, but hopefully we'll get to in the near future.
I'd love to hear if you've tried these or other subscription boxes!