Top Ways To Save Money – Mom Tips for Saving Big!
Disclosure: This post may contain affiliate links, which means I may receive a small commission if you click a link and purchase something. Please check out my disclosure policy for more details. All opinions are my own!
I have a confession. I love Baby GAP, I can't get enough Freshly Picked, and Target will forever be my weakness. So how do moms get everything you need (and some things you want!) without breaking the bank? Here's my top tips for ways to save money at some of your favorite stores.

Oh, and make sure you don't miss my free quick guide tips to saving money below!


Top Ways to Save Money – #1 Use Your Resources
There are tons of ways to save money out there that don't involve checking the paper and clipping coupons. And if you're not using them, you could be missing out on a big savings potential!
What it is: Ibotta is a cash back app for your phone. 
Why it's great: Unlike your regular coupons, Ibotta requires no coupon cutting and no prepping before your shopping trip. Everything can be done after you've purchased your groceries or household items. The Ibotta app is completely free and you get a welcome bonus of $10 just for joining!
How does it work: After you've made your purchases, save your receipt! You'll open the Ibotta app and search for the items you bought (either through the search bar or by browsing). Select the deals you want and hit redeem. You'll have to scan your receipt and the barcode on the items you purchased. Once approved, you'll see the money hit your account!
Tips: I suggest you browse through Ibotta before going to the store. While you certainly don't have to, it helps to know what items or brands there are discounts for (some items are "any brand" which can really work to your advantage!). There are also only certain stores that Ibotta covers – so be sure to check that before you head to the store.

What it is: Ebates is a cashback program (you can grab the app or use in online). If you shop online, this is easily in the top of the best ways to save money. 
Why it's great: If you're an online shopper, Ebates is the answer to your prayers. Ebates offers cash back on tons of online purchases and is ridiculously easy to use (and totally free!). There are tons of retailers covered by Ebates and just for joining, Ebates also gives you $10!
How does it work: Just go to your Ebates app or the website before making your online purchases. Type in the retailer you're buying from and go to their site through Ebates. That's it! You'll typically see your cash back added to your account in less than 24 hours. Ebates sends you a check every 3 months.
Tips: Download the toolbar add-on to get alerted every time you shop a retailer! This way you don't have to always think about going to Ebates first and you'll never miss out on a deal.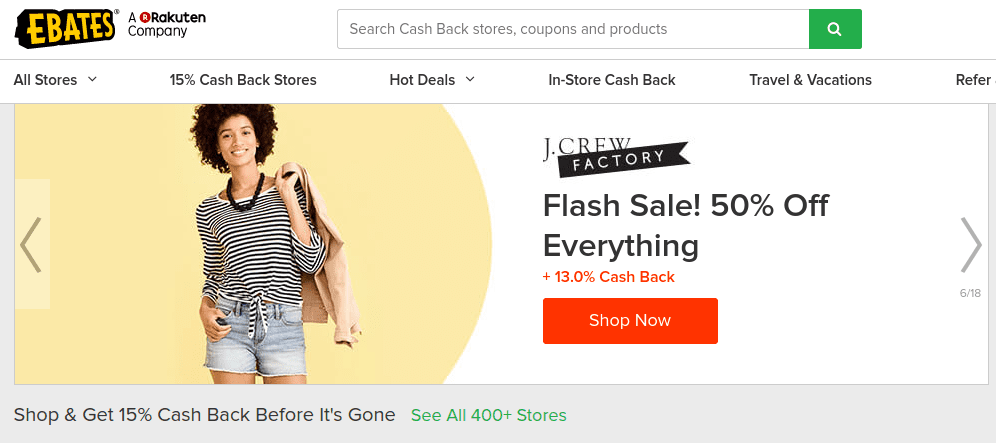 What it is: Target Cartwheel is a coupon app located in your regular Target app (you can grab the app or use in online if you don't have a smartphone)
Why it's great: Target Cartwheel is impeccably easy to use – just grab your phone and search. My favorite feature is simply scanning the barcode of the items in your cart and if there's a coupon for it, it'll pop up!
How does it work: Go to your Target app and select Cartwheel Offers. You can choose to browse through the offers by category, use the search bar, or scan an item's barcode. Once you find your items just click the + sign and add it to your list! When it's time to checkout, just click on wallet at the bottom of the app. Your cashier will scan the barcode and you're good to go! Money saved! If you're doing it through your computer, just hit checkout and print your barcode (all of your offers that you added will be included in the one barcode). Take the barcode to your store and start saving!
Tips: Use Cartwheel in conjunction with your Target RedCard. You'll save 5% on every purchase, in addition to the Target Cartwheel deals you've added. If you shop online use your RedCard to get free shipping (and ebates for extra cashback). What I love about the Target RedCard, is that it's offered as either a debit or credit card. Here's my suggestion: If you're trying to watch your budget, I'd recommend the debit card. If you're hoping to build credit and are able to fully pay your bill each month, go ahead and get the credit card.


Top Ways to Save Money – #2 Shop the Deals

If you're really looking at ways to save money, the best thing you can do is combine your cash back and couponing options with shopping the deals at the right time. Let's talk about the best shopping deals and when you should be making your purchases. 
Target
Remember me talking about how much I love Target? When it comes to baby supplies and needs, Target is my go to. With their CartWheel deals and regular sales, Target offers so many ways to save money. Example #1 their frequent baby sale. Target offers a baby sale every couple months and you need to be taking advantage of it. Target offers several baby deals throughout the year, but one of the most popular is getting a $20 gift card when you spend $100 on baby essentials. This is the time to stock up, especially on diapers! Your baby will be in diapers for quite some time, so get a variety of sizes and buy them in the largest quantities you can (a higher quantity per box will be a better deal).
Don't forget that you can combine any Target sale with your RedCard deal of 5% off.
So here's how to get your diapers for more than 20% off
Shop the baby essentials sale and combine it with your RedCard. If you're really looking to save, buy the Target brand diapers. We have not had any issues with the Up & Up diapers, but if you prefer a different brand those are usually included in the deal as well. Remember to buy your diapers in bulk if you can, you'll save more and have to buy them less often!
I'm a numbers lover, so let me show you the difference this strategy can make! If you're really looking at the best ways to save money, breaking down your purchases like this can make a huge difference. 

Ordering 5 packs of Up & Up diapers (880 – size 1) or 3 packs of name brand (828 – size 1)

Regular Price = $109.95 (Up & Up); $137.97 (name brand)

RedCard + Baby Sale = $84.45 (Up & Up); $111.07 (name brand) – after the giftcard*

*You can't use the giftcard on your current purchase – so save your giftcard for your next diaper purchase and you'll feel like you're saving even more!
What is it? ThredUP is an online secondhand clothing retailer and is one of the best ways to save money on clothing. 
Why's it great? ThredUP offers secondhand name brand clothes at reasonable prices! You can choose from a variety of categories and filters – allowing you to buy clothing that still has the tags on it and has never been worn. You'll also receive $10 to spend when you sign up for your first order (with my $10, I bought 3 shirts for my baby and still had money left over!).
Tips: Always shop with a coupon code! ThredUP runs codes and sales almost constantly. If you have the mobile app, you'll also get notifications when they have a new coupon code available. Be sure to also use your filters to find the brands, size, and clothing condition that you're looking for quickly – the quantity of options can become a little overwhelming.
For details on how I saved over $100 on my baby's name brand clothes be sure to read my post about ThredUP.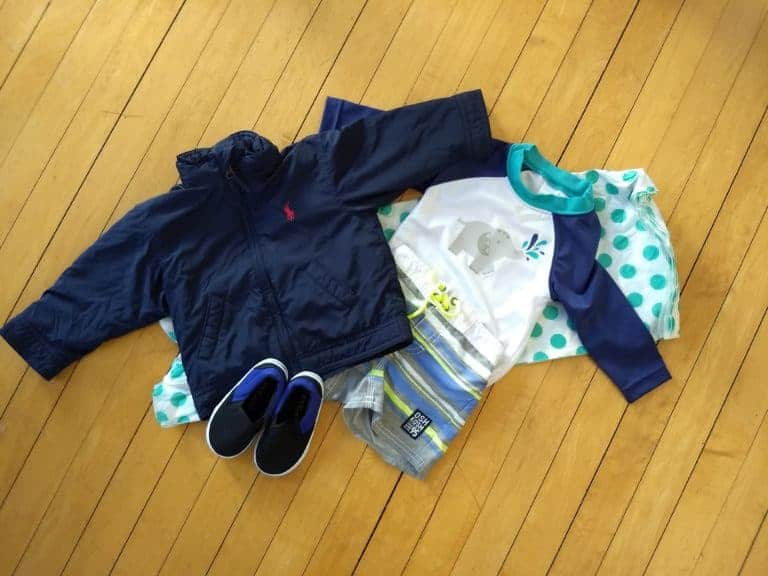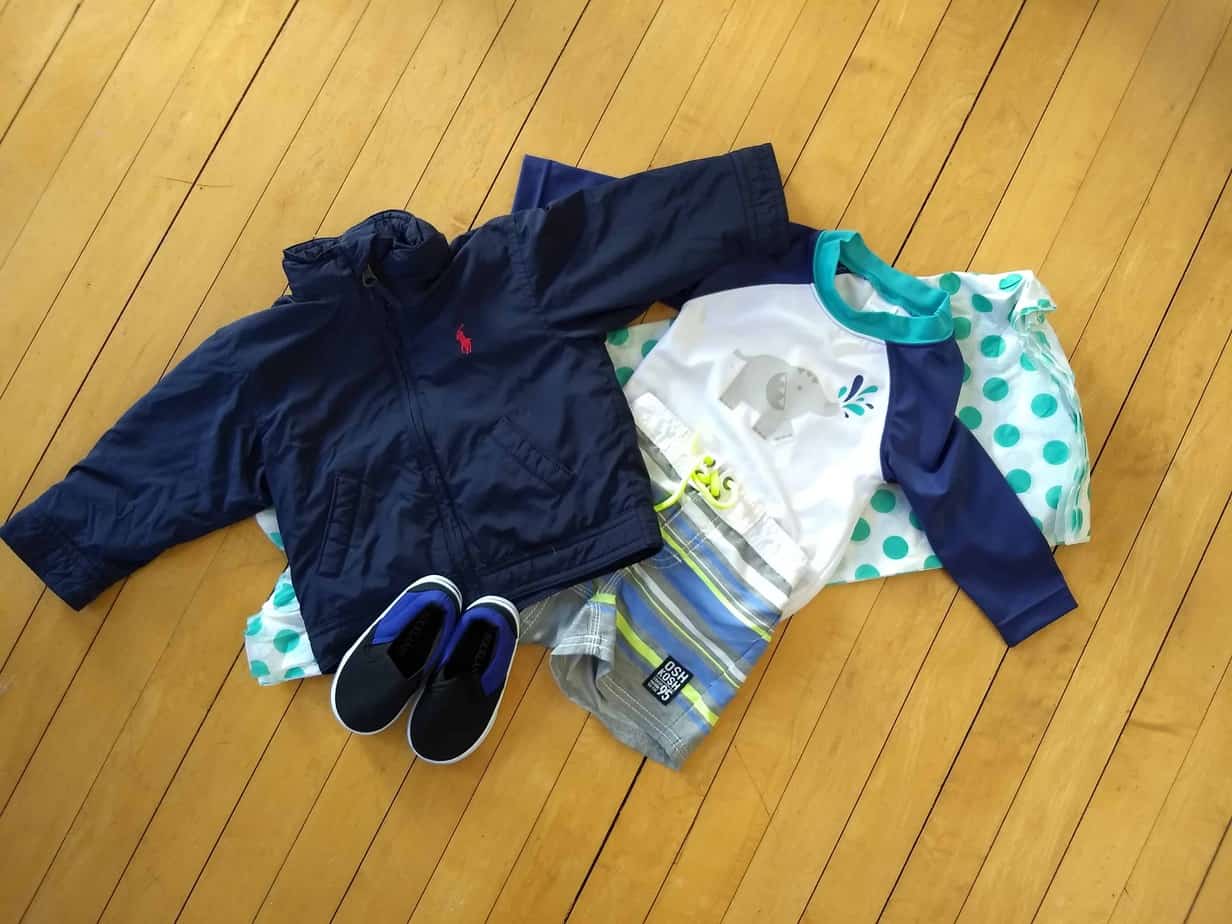 Believe it or not, GAP offers some fabulous deals on kids clothing. I love the cute styles and great quality clothing they offer, especially for little ones.
Why's it great? The GAP card allows you to earn points on your card from the purchases you make at GAP. These points eventually become money you can use on your GAP purchases! GAP card members also get an extra 10% off every Tuesday – so make sure you're shopping on Tuesdays (use code TUESDAYS online)!
Tips: If you don't already get GAP e-mails, make sure you subscribe to them. GAP runs a lot of sales and this is the best way to know about them. If you wait they'll often run 40% off everything, including sale items. Don't be too quick though. You don't want to get these sales confused with the ones that are "upto 40% off". I'll be honest, I hate those. So when you do get the good sale days, combine them with your extra 10% off (on Tuesdays) and you'll be in business. Last week, I purchased baby clothes for 70% off! If you're patient and shop the deals, waiting can definitely pay off.
If you love your baby in cute little moccasins, you have to try these. 
Why's it great? Freshly Picked moccasins are not only great quality, but they also offer the cutest styles and designs. I love the soft sole moccasins, which are idea for little ones just learning to crawl or walk. Soft soles let your baby's feet grow and develop the way they should. Tips: There's three great ways to save with Freshly Picked.
Freshly Picked runs a ½ yearly sale twice a year, and you don't want to miss it. Everything is usually 20% off. The sale going on now, so don't miss out!

The Fringe. Freshly Picked offers a fabulous new program called The Fringe. If you're a fringe member you'll get 20% off everything, free shipping, and free VIP early access to new releases and promotions. The Fringe is $10/monthly, but you get a $10 credit each month that rolls over every month if you don't use it. So basically, if you're going to make a purchase, The Fringe is definitely worth your time!

Stack 'em. If you use your Fringe membership and shop the sale, you'll be saving double! The Fringe's 20% off can be used on anything, anytime.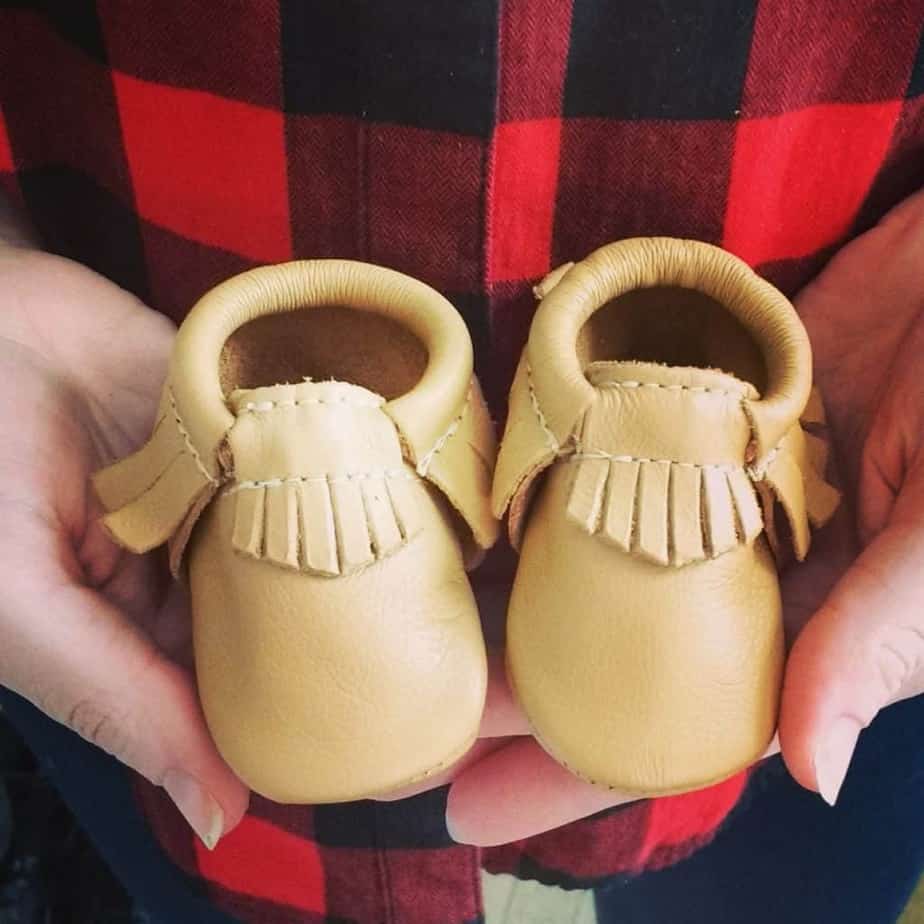 Best Ways to Save Money
Do you have any other favorite ways to save money? Comment below and let me know if I missed any! Otherwise – happy shopping!
Be sure to check out my 5 extra bonus tips to save money located in my resource library!