38 Coed Baby Shower Prizes Your Guests Will Love
Disclosure: This post may contain affiliate links, which means I may receive a small commission if you click a link and purchase something. Please check out my disclosure policy for more details. All opinions are my own!
Planning a coed baby shower and looking for the perfect baby shower prizes that will leave your guests raving about your event?
Look no further!
We've compiled a list of over 30 fantastic and fun prize ideas that will have your guests eagerly participating in your baby shower games and celebrating the parents-to-be in style.
Related: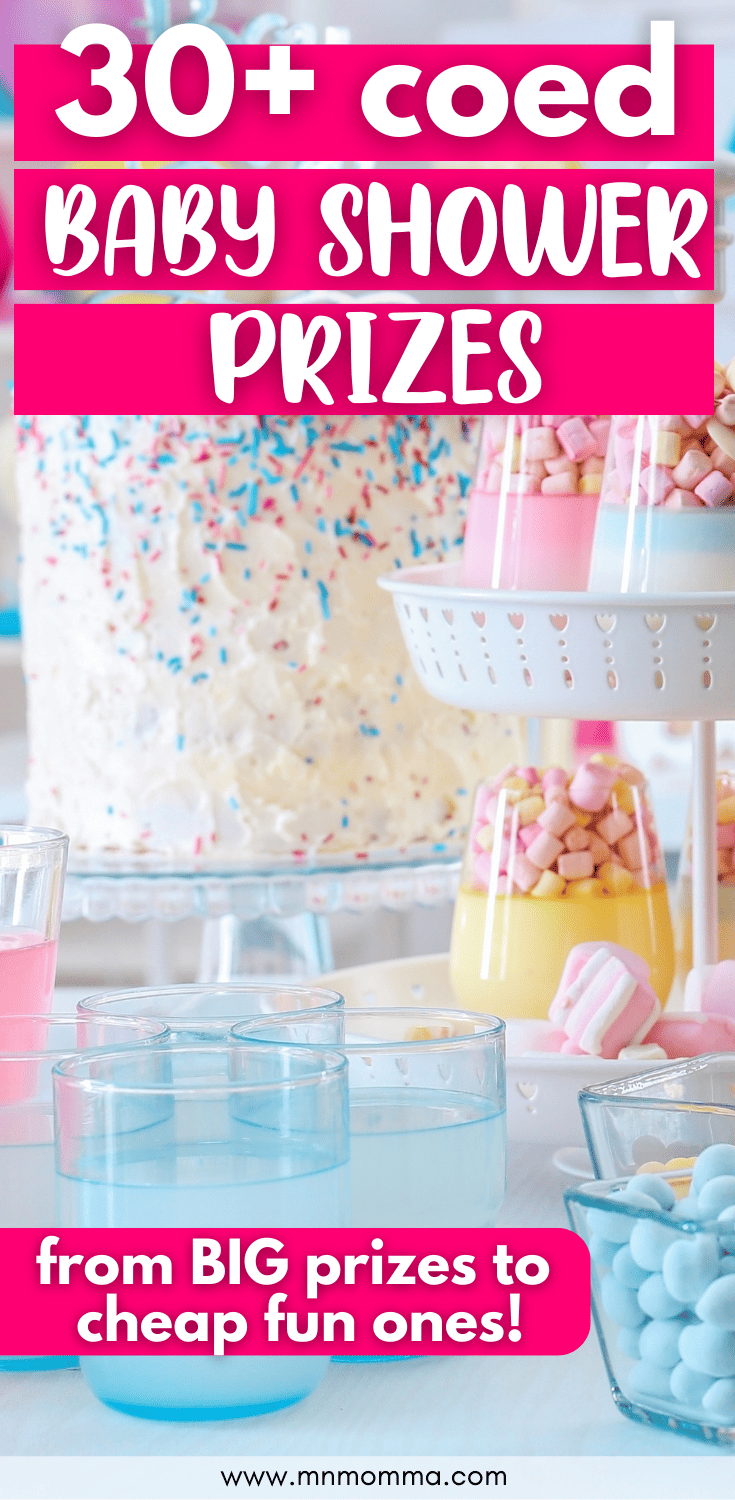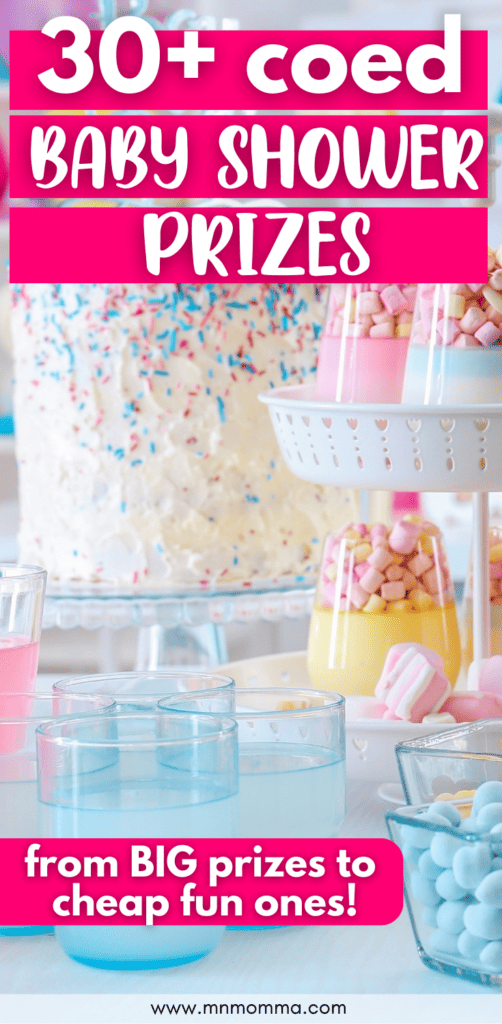 <— Pin it! Save this post for later!
Best Co-ed Baby Shower Game Gifts
1. Gift Cards
Nothing says "great prize" like a variety of gift cards. Here's some popular ideas:
2. Baby Shower Favors
Create custom baby shower favors for your guests to take home as a reminder of your special day.
3. Gift Baskets
Assemble themed gift baskets with goodies like body wash, bath salts, and an essential oil diffuser for a spa day at home.
4. Lottery Tickets
Your guests might just win big with scratch cards or lottery tickets.
5. Garden-Themed Prizes
For a garden-themed baby shower, consider potted plants or gardening tools.
6. Hand Lotions
Keep hands soft and moisturized with luxurious hand lotions.
7. Baby Bottles
Fill baby bottles with candy or small trinkets for a playful twist.
8. Wine Glasses
Toast to new parents with elegant wine glasses.
9. Coffee Beans 
For the coffee lovers, a bag of gourmet coffee beans can be a great way to incentivize your party guests to participate in the fun games.
10. Coffee Mug 
Along with coffee beans, a personalized coffee mug is a great idea for all the coffee fanatics out there.
11. Bath/Shower Bombs
Bath bombs don't have to be just for women. They make a variety of types of bath or shower bombs that can be used for your whole guest list. So pamper your guests with some relaxing bath bombs.
12. Movie Theater Experience
Movie tickets and snacks for a night at the cinema.
13. Hot Dogs and BBQ Sauce
Create a gourmet BBQ package with gourmet BBQ sauce and hot dogs.
14. Essential Oil Diffuser 
Promote relaxation with an essential oil diffuser.
15. Lip Balm/Lip Gloss
Lip balm or gloss can seem like it might appeal to female guests more – but it's actually a super useful gift for everyone. EVERYBODY is always losing chapstick and could use a new one!
16. Cookie/Brownie Mix in a Mason Jar
Giving cookie or brownie mix in a jar is a super fun way to give something sweet to your guests.
17. Photo Frames
​Basic frames are a great option for all guests. Bonus points if you include a photo with it!
18. Chocolate
​Fancy chocolate or the mom and dad's favorite kind – chocolate is a tried and true option.
19. Plants
Have a green thumb? Giving a sweet plant is a great gift for your guests to take home!
Artificial or real, it's up to you, but these are SO cute and require no watering 😉
20. Bottle of Wine/Beer
A fun prize for a baby bottle game, is to give the winner a wine or beer bottle as their take home prize.
21. Tumbler
Whether your guests are coffee drinkers or not, a tumbler can be used for all drinks in all weather.
22. Tile Slim
For your more tech savvy co-ed guests, the tile slim is a fun and easy gift idea.
23. Tech Key Chain Bottle Opener
This keychain is more than meets the eye – it has a phone charger and bottle opener all in one.
24. Scratch Offs
Scratch offs are one of those unique baby shower game prizes that everyone loves. Use them as door prizes or for your party game winners.
25. Pens
Not just a crappy old pen – but one of those good ones that everyone fights over. You know what we mean.
26. Candles or Pura Refills
An amazing smelling candle or Pura refills are a great go to gift for coed baby shower games.
27. Cooking Utensils
A new spatula or whisk? Or a fun food cutter? I'm in. 
28. Soap
Don't think that good smelling gifts are only for the women at your baby shower. A great smelling soap can be a perfect coed shower prize as well.
29. Socks
Everyone loves a great pair of cozy, new socks.
30. Devotionals/Journals
From devotionals to gratitude journals and beyond, a nice new journal can make a great gift for men and women at a coed baby shower.
31. Electric Lighter
Electric lighters are pretty cool. Just plug them in to recharge and you're set!
32. Portable Speaker
A small portable speaker is great for a summer day on the deck or taking on vacation. It's small size also makes it less expensive and smaller – making it much easier to gift as a baby shower prize for your guests!
33. Sweater Shaver
This might seem silly, but sweater shavers are SO practical and something a lot of your guests probably don't already have.
34. Manicure Kit
Yes – a manicure set can totally be for men too! Go for a neutral case and you'll be all set. 
35. Face Mask
Face masks aren't just for girls nights. Whether it's dry skin or just refreshing your skin, everyone could relax with a great face mask.
36. Under Eye Gel Mask
Another way to relax, especially with all the talk about being up all hours taking care of a new baby.
37. Mints/Gum
Small packs of mints or gum make super easy and cheap baby shower prizes. As a plus – who couldn't use another pack of gum?
38. Personal Trimmer
​A personal trimmer may feel just that – a little personal…but they're really handy for on the go touch ups for both men and women.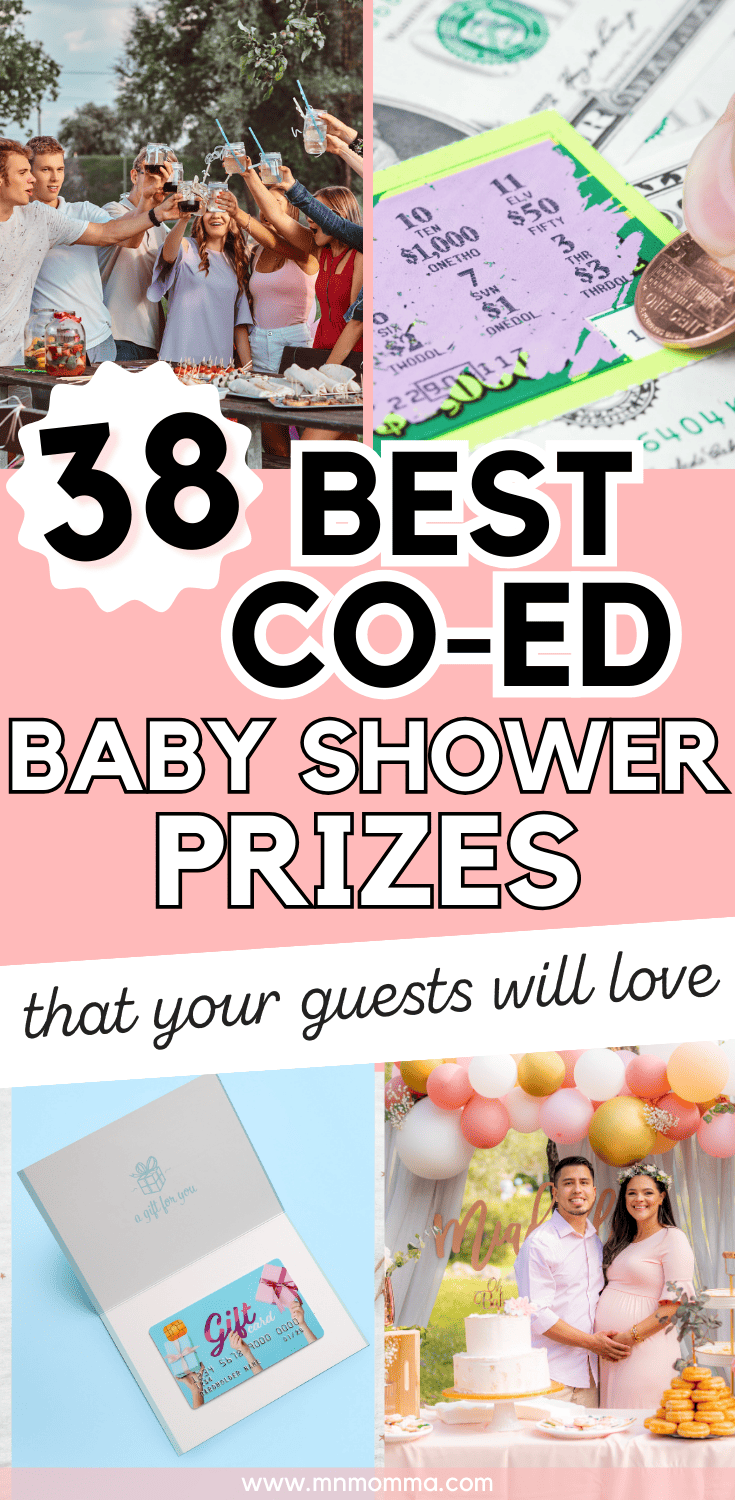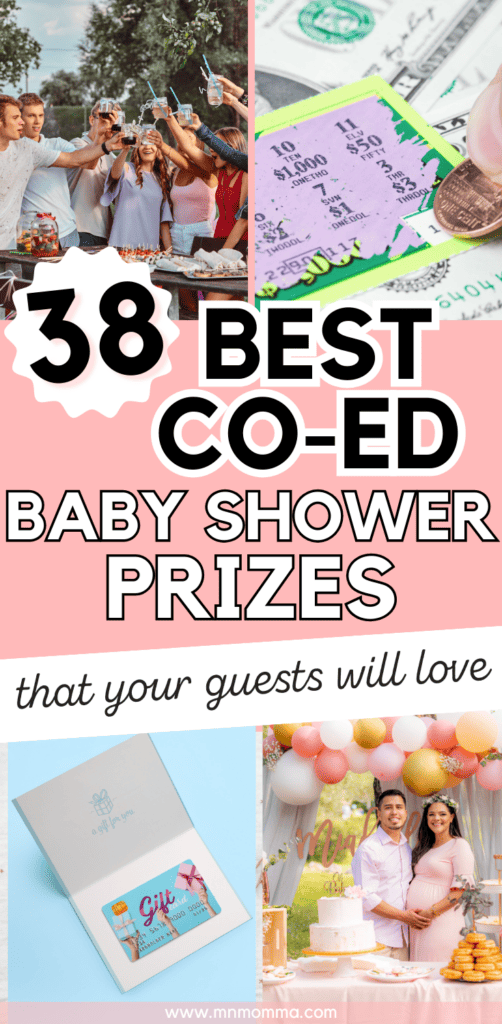 Buying Gifts for Your Co-Ed Baby Shower
​When it comes to buying gifts for your coed baby shower, it's important to think about how many gifts you should buy.
Think about the number of games you'll play and what you'll do if there's a tie.
Are you doing diaper raffle prizes with a grand prize?
Or just The Price is Right baby style with one winner and a runner up prize?
However you choose to organize your baby shower game gifts for winners, you'll be sure to have some awesome prizes with the ideas above.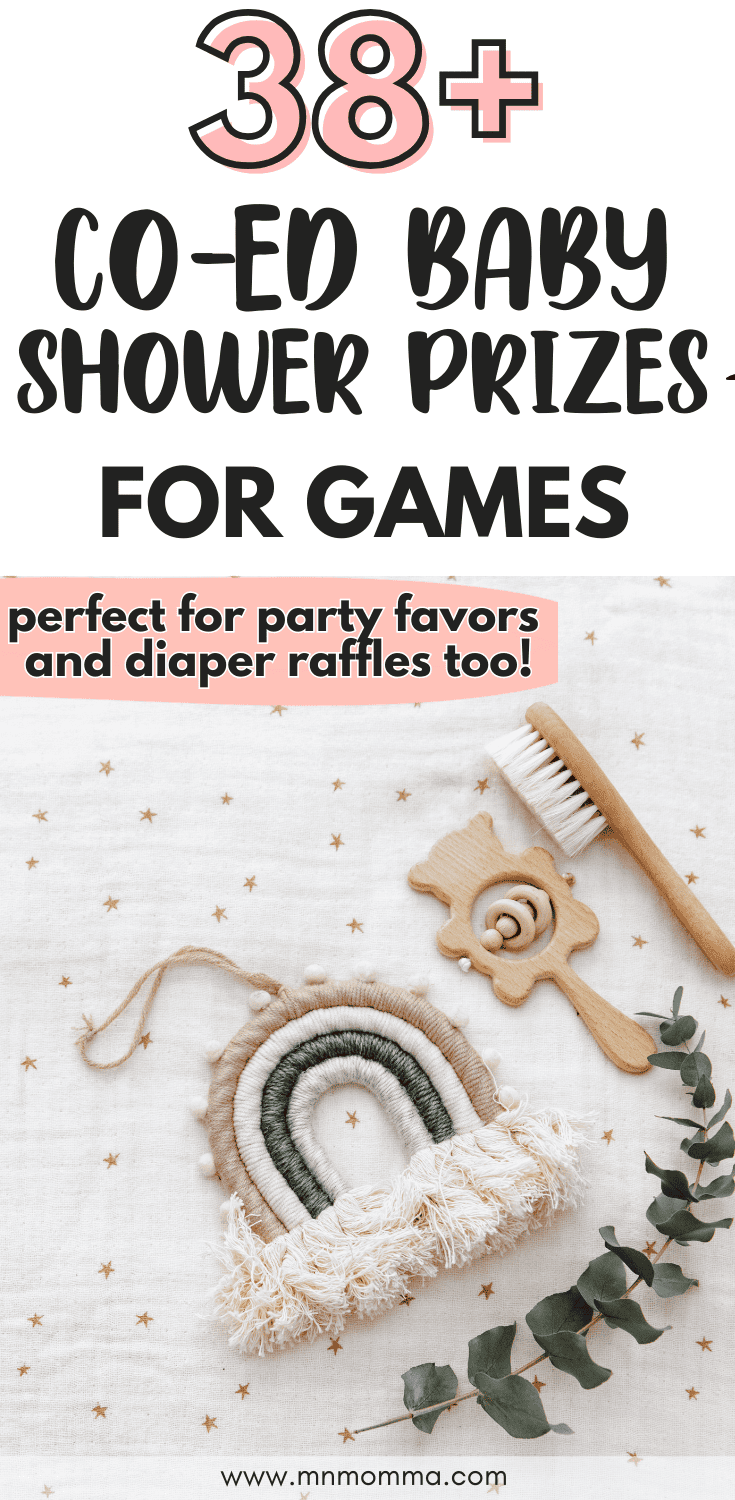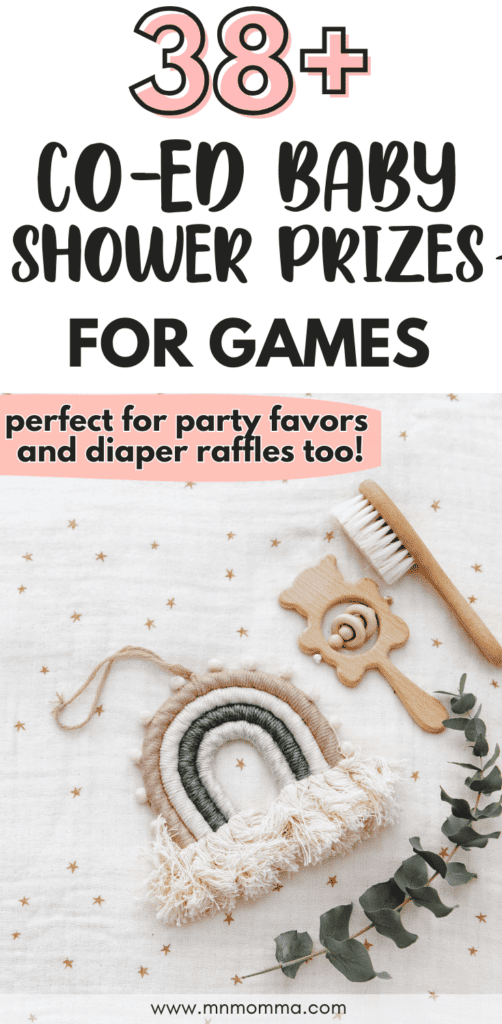 Fun Baby Shower Prizes for a Coed Party
Did you have a coed baby shower?
If so, I'd love to hear what prizes you gave away to your game winners.