30 Best Baby Shower Prizes for Games (That Your Party Guests Will Love)
Disclosure: This post may contain affiliate links, which means I may receive a small commission if you click a link and purchase something. Please check out my disclosure policy for more details. All opinions are my own!
Finding gifts for baby shower games can be challenging. You want something fun, practical, and usually not too expensive.
You certainly don't have to give away baby shower prizes for games, but it can be a great incentive for your guests to play hard and have fun 😉
This list of baby shower prizes for guests is perfect whether you are planning a virtual baby shower or an in person one.
If you're looking for the best games to go with your great prizes – check out this list of fun baby shower games.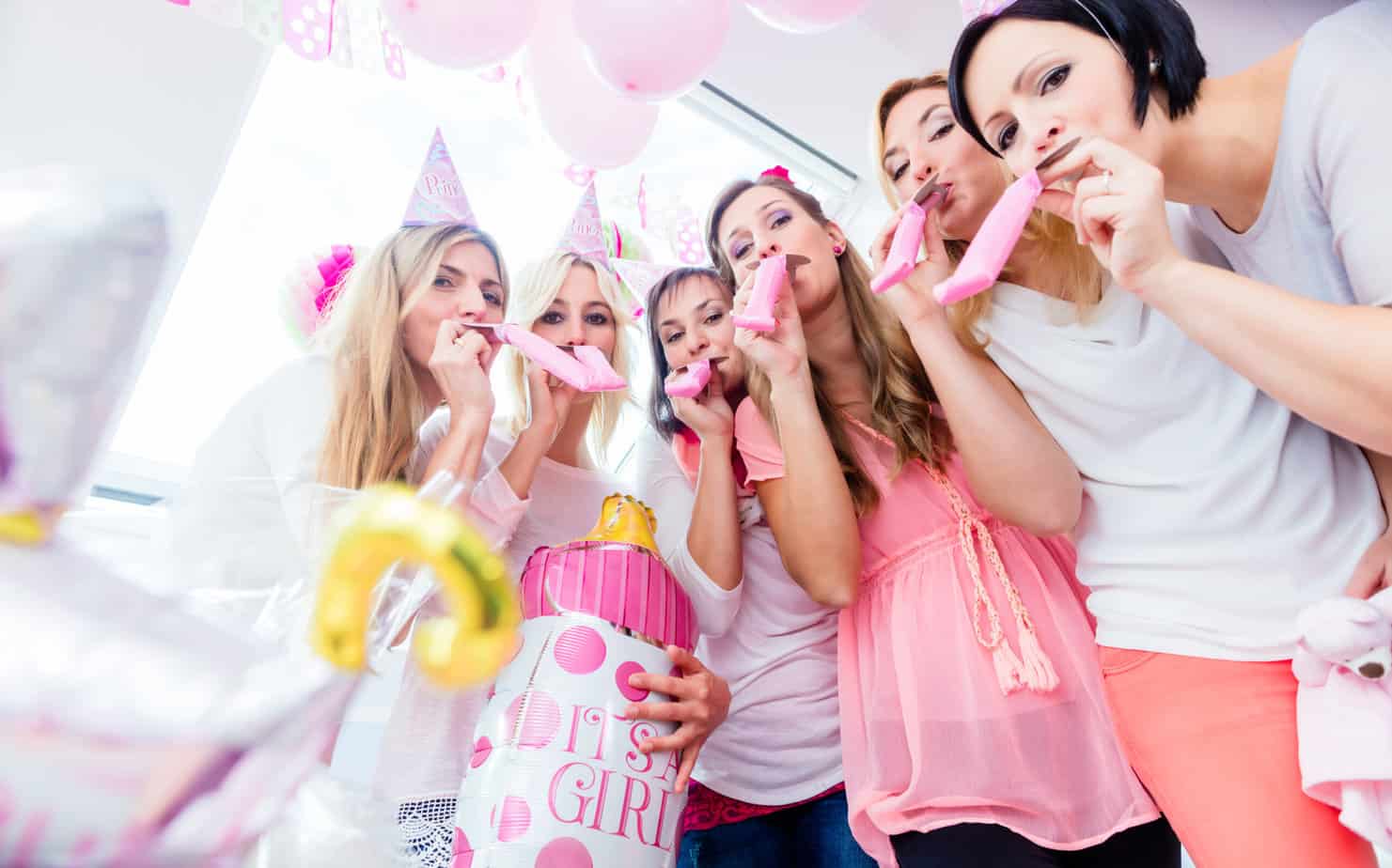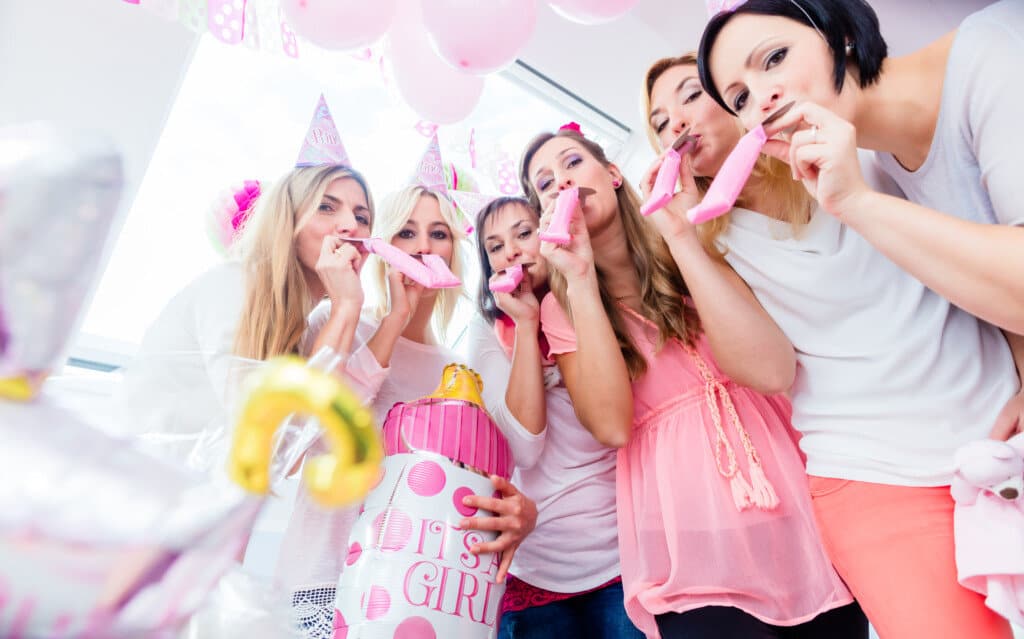 How Much To Spend On Baby Shower Prizes
Your baby shower guests aren't expecting you to break the bank when it comes to prizes for games.
Simple gifts such as lip balm, gift cards, and other easy ideas is more than enough for most party goers. I like to think anywhere from $5- $10 is plenty for a game winner.
If you decide you want to have a diaper raffle or giveaway a larger door prize, you might choose to spend around $20 for the prize winner and create a fun gift basket.
Remember, while giving prizes at a baby shower is a great way to make your guests feel valued, the real reason behind the shower is to celebrate the soon to be mom, the new parents, and their baby; so if you need to skip prizes all together due to your baby shower budget, that's totally okay.
Which Baby Shower Games Do You Give Prizes For?
This is completely up to you, but the easiest decision is to say that all games have 1 winner. You may choose fewer if it's just a baby sprinkle (2nd+ time mom), but even little prizes are fun!
Here's a few popular baby shower party games you might give prizes out for and when:
Ice Cube Game: Freeze a little plastic babies in ice cubes. Whoever's ice (water) "breaks" first, is the winner and gets a great prize!
Blindfolded Diapering: Grab a baby doll and the winner is whoever can change baby's "dirty diaper" the fastest while being blindfolded. (You can also do this as a relay with teams – first team done wins!)
Baby Bottle Guess the Number: Have each guest guess how many m&ms are in a baby bottle and write it on a piece of paper. The closest guess wins!
Don't Say Baby: In this super simple game, the party guests with the most close pins (aka a diaper pin) wins a great gift.
Name the Baby Animals: Use a list of animals and have each guest write the baby version of that animal – whoever is the first person to get the most correct answers wins.
Baby BINGO: Pass out a set of blank BINGO cards and let the game begin. When it's time to open gifts, the baby shower game winners are whoever gets their first BINGO based on what gifts the new mom opens.
Baby Photos: Ask the guest list and both parents to send you their baby photos before the party and guess who is who.
Baby Items Game: Bring out a diaper bag full of new baby gear. Let guests look for a few minutes and take it away. Give each guest a sheet of paper and whoever remembers the most items the fastest will win a fun prize.
How Many Baby Shower Prizes Do I Need
The best way to determine how many baby shower prizes you need is to write down all the games you plan to play, in addition to a diaper raffle and door prize if you're choosing to do those.
I highly recommend you plan for one prize for all the winners of baby shower games, raffles, and door prizes + a couple extras in case of a tie (otherwise you'll need to plan a fun game or idea for any tie breakers).
# Games + # Raffle Winner + # Door Prizes + 2 (if giving gifts for ties) = total number of gifts
Inexpensive Baby Shower Prizes
If you're planning to have quite a few games, choosing inexpensive baby shower gifts is probably a great idea.
These can be smaller prizes, usually under $10 baby shower gifts.
I like to remind myself that just because these are cheap baby shower prizes, doesn't mean they aren't still great and a useful gift.
If you're looking for a higher end option for a more expensive prize, I'll include those as well.
1. Lip Balm / Lip Gloss
Lip balm is a great easy option on it's own or in a gift basket. Who couldn't use a refresh for that lip balm they can't find in their purse?
Luxury Version: This is my very favorite luxury version. Gives you gorgeous looking lips that fight dryness.
2. Coffee Mug
A simple well loved coffee mug is always a good idea. You can include a hot chocolate bomb or coffee beans as well!
Luxury Version: A Yeti Insulated Travel Mug or the Stanley Water Cup (frequently sold out!)
3. Sugar Scrub
This Shea Sugar Scrub has over 100,000 reviews on Amazon and is under $10.
Luxury Version: This sugar scrub boasts a great scent and has rave reviews.
4. Coffee Beans
Whether it's Starbucks Coffee Beans or the Amazon brand of coffee, most adults love coffee for their morning routine.
5. Kitchen Towels
I know, kitchen towels seems totally lame. BUT, they're practical and some people LOVE them. I mean, I could probably get on board with winning fast drying premium dish towels.
6. Picture Frames
I think we can all admit we need to print more pictures. Having a picture frame to put your pictures in makes that all the more likely.
7. Nail File / Kit
A nail file and kit is super convenient and something you probably wouldn't buy for yourself – making it a great, inexpensive prize.
8. Cookie/Brownie Mix in a Jar
Make your own cookies or brownies in a jar, or let someone else do the work for you with these cute pre-made mixes from Etsy.
9. Chocolate
Fancy chocolate, Reece's Peanut Butter Cups, M&Ms, whatever kind of chocolate you like would make a great, super simple baby shower game prize.
10. Knotted Headband
Knotted headbands are so popular lately. These popular ones aren't knotted, but are SO cute. Just add a twist and they're extra stylish.
11. Bath Bomb
A relaxing bath bomb is a simple gift that people love. And who knew you could find so many different types!
Check these out:
12. Adult Coloring Book
Adults coloring books can be a relaxing and fun activity. Add some fun pens or pencils to spruce up this winner's prize.
13. Candle
Grab a yummy smelling candle or a super cozy scent.
Luxury: Pura Scents are super popular right now. Clean ingredients and pet and family safe.
14. Bath Salts
Bath salts are a great gift for party guests.
15. Fresh Flowers
Who doesn't love fresh flowers? This is a great option if flowers are in season where you live!
Also, did you know you could order fresh flowers from Amazon? You can! 😉
Virtual Baby Shower Prize Ideas
Whether it's due to sickness or distance, sometimes virtual baby showers are a necessity.
But can you still give prizes for games with a virtual baby shower?
Of course you can!
You can either choose to ship one of the other prizes listed (bonus if you get free shipping!) or choose a gift card that you can send instantly to their email or through the mail.
16. Gift cards
Gift cards are a great option for all showers. They may seem like a super easy gift (and they are!), but they're also extremely useful and appreciated by all guests.
Amazon and Target are among the most popular gift card choices.
Good Prizes for Baby Shower Games
Sometimes you want to have a big prize or might be doing fewer games so you want a few more expensive prizes. These prizes
17. Photo Frames
Digital photo frames are still a popular choice to actually see and share all the photos you take on your phone.
18. Bottles of Wine
Bottles of wine is a classic choice for a prize winner.
19. Plants
House plants have become super popular. Giving an easy to care for or pretty plant is a great shower prize.
20. Movie Basket
If you're going for larger prizes, sometimes it just makes sense to put prize baskets together based on a theme. For this movie theme, you could combine movie tickets, popcorn, candy, etc.
21. Spa Basket
A spa basket will definitely be a coveted prize at your baby shower. From loofahs, to bath bombs, to lotions, and even a gift card to local spa – there are lots of options when making a relaxing spa gift basket.
22. Wine Glasses & A Bottle of Wine
Add on to just the bottle of wine with some great wine glasses.
Coed Baby Shower Gift Ideas
A co-ed baby shower is becoming more and more common. This means you might want to consider baby shower prizes for men or more unique baby shower game prizes.
Here's some great ideas for party favors for the guys that attend your baby shower.
23. Lottery Tickets
Lottery tickets are a super fun choice for men or women. There's a thrill that they might be the big winner.
24. Tumblers
Grab some gender neutral tumblers that everyone's sure to love.
25. Tile Slim
A tile slim is small little square that can be slid into a wallet, attached to a phone or laptop, or on anything else you need to keep track of.
This is one of the coolest shower party prizes you'll probably find – and it's a great gift for men or women! It's a keychain that has a phone charger and bottle opener all in one.
Check out more coed baby shower prize ideas here.
Diaper Raffle Prizes
In a diaper raffle, each guest who wants to participate brings a pack (or packs) of diapers. For each diaper pack they bring, they're given a raffle ticket to win a prize.
The diaper raffle prize will usually be your biggest prize of the party, usually at least $25-$50. You can also add in extra smaller prizes if you're planning for a lot of guests at the baby shower and want to have more winners.
Wondering what kind of diaper raffle gifts you could give? Here's a few ideas:
Gift Card to a popular restaurant or spa
The Best Gifts for Baby Shower Games
Another way to think of the best baby shower game prizes is as baby shower favors. You can skip them all together, but they're often a fun way to show your appreciation for the shower guests.
Related: The Best Baby Shower Thank You Card Ideas (& What to Write!)
SHOP THE POST
Best Baby Shower Game Prizes: