7 Crucial Tips for Surviving the First Trimester
Disclosure: This post may contain affiliate links, which means I may receive a small commission if you click a link and purchase something. Please check out my disclosure policy for more details. All opinions are my own!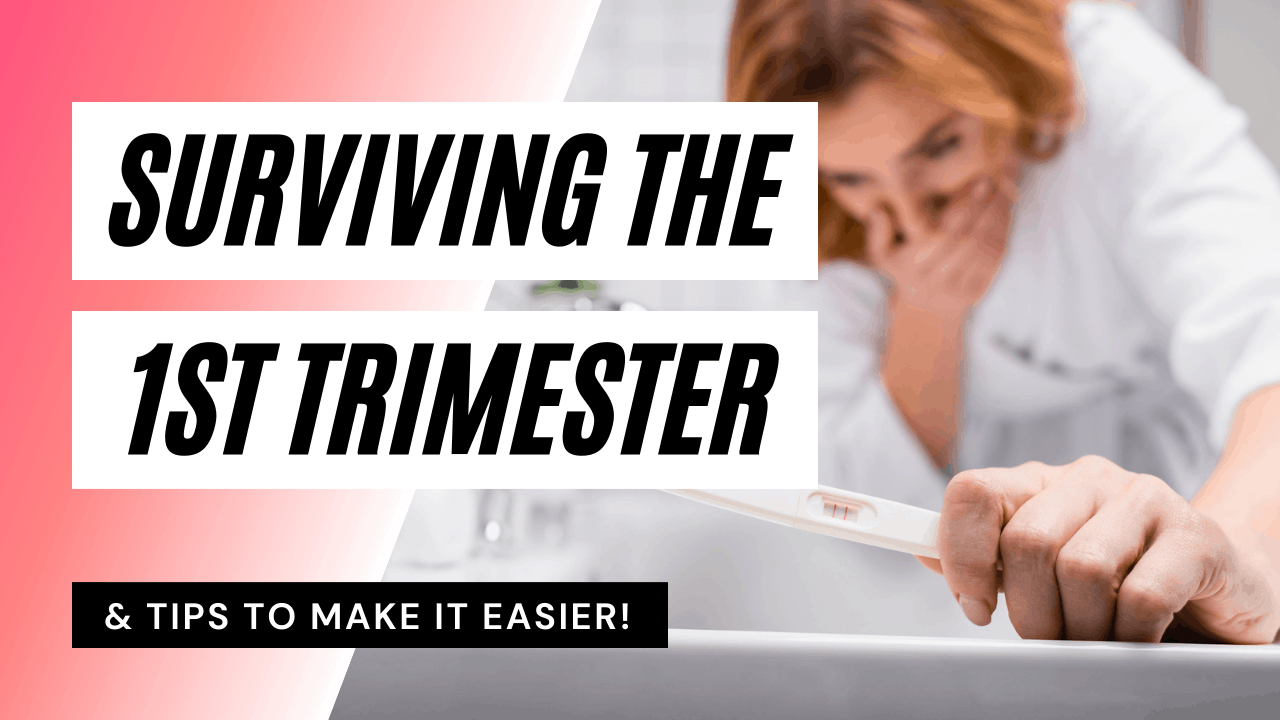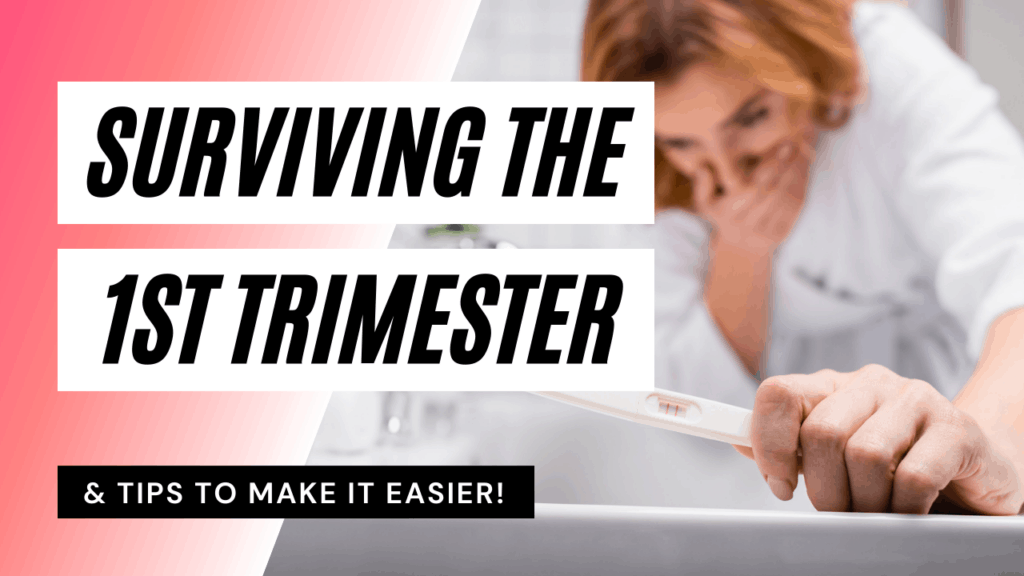 Tips to Feel Better During Your First Trimester
You're nauseous all morning and exhausted by 6 pm… there's a good chance you're trying to survive the first trimester of pregnancy.
Since you've probably already covered the basics of wondering "I'm pregnant, what should I do next?" it's time to focus on taking care of you and trying to successfully make it through this first trimester.
You're probably wondering, are the first 12 weeks the hardest?
They might be…they might not be. But they are HARD.
The good news? There's a few tricks you can try that moms guarantee will help you star to feel better.
The best news? For almost all women it gets better by the second trimester, you just have to get there! Having a pregnancy planner was a huge help for me to find excitement even on hard days.
Related: Is Morning Sickness Ruining Your Teeth?
Related: 17 Pregnancy Hacks You Need to See
How to Survive the First Trimester
A few of the hardest parts of the first trimester are:
Morning Sickness – or all day nausea 😉
Exhaustion/Fatigue – feeling just SOOOOO tired
Tender Breasts – walking down the stairs has never hurt like THIS
Food Aversions – just swing back and read #1 again
Mood Swings – sorry hubby!
Constipation/Diarrhea
Peeing ALL THE TIME
You can read more about each of these individually and more of the earliest signs of pregnancy, but we'll cover these biggest pains of the first trimester, and I'll give you my best tips to combat them!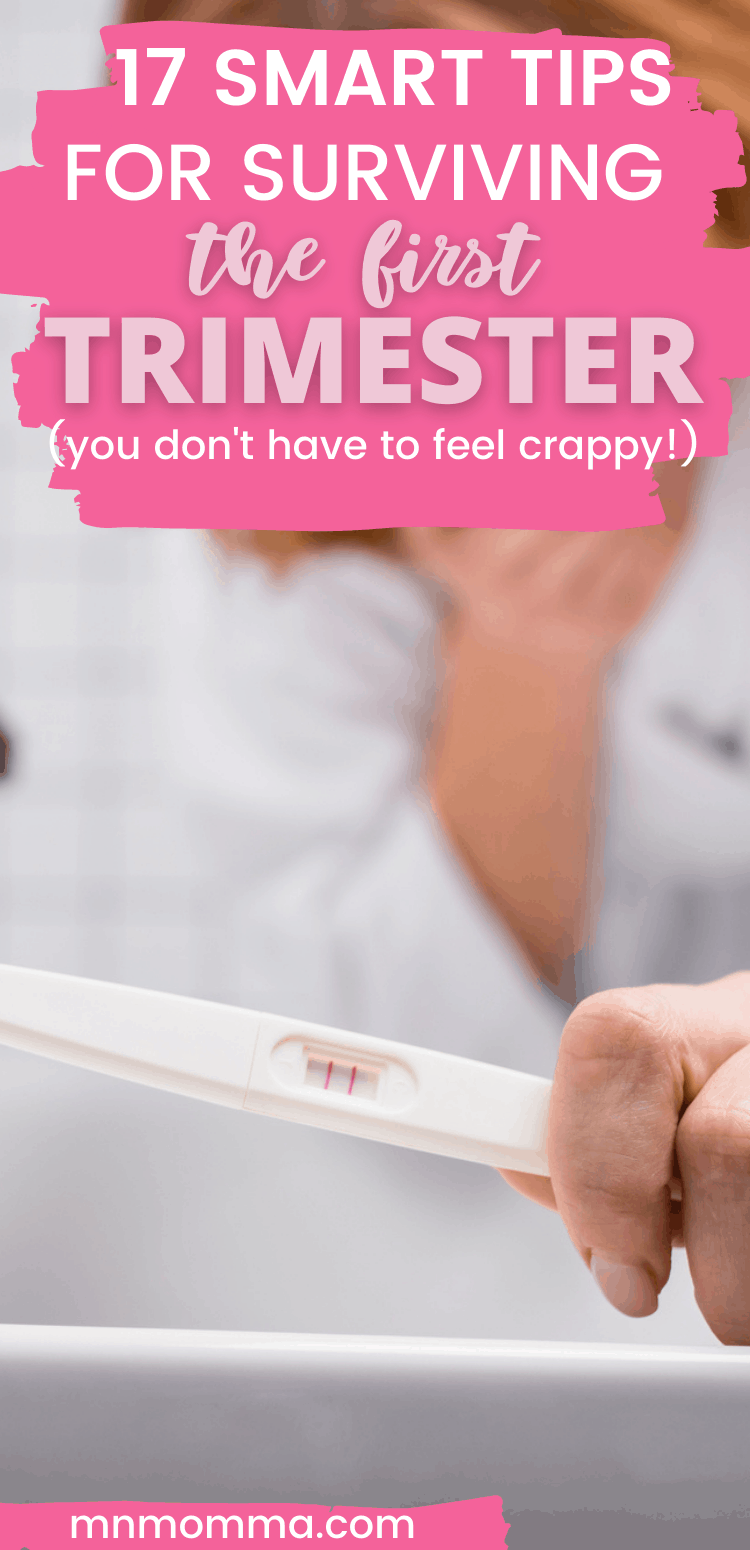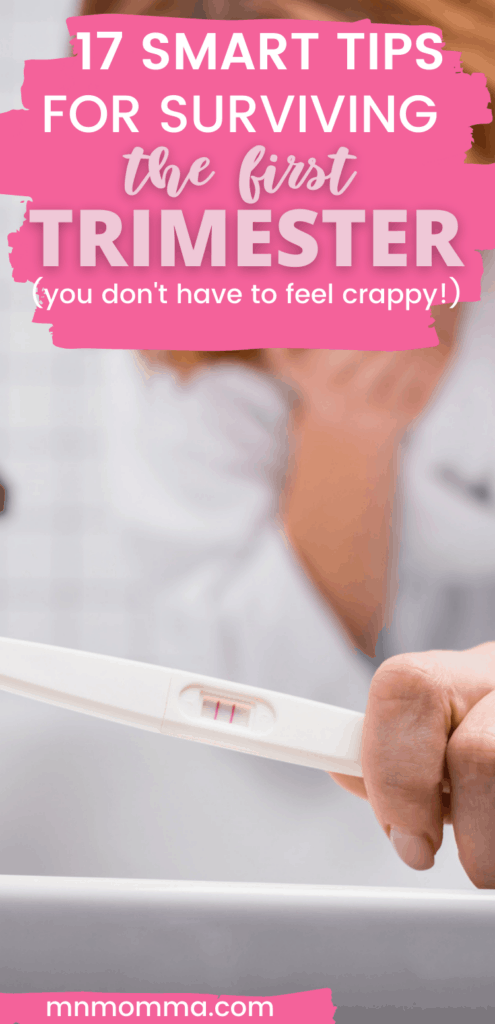 <—-Save this pin for later!
Morning Sickness Remedies
You might be asking yourself when does morning sickness start? Or if it's pretty clear it's already started, you want all the morning sickness remedies right now!
There are several ways to relieve morning sickness, from natural remedies to pharmaceutical ones – and we'll touch on them all:
1. PREGGIE POPS
Preggie Pops are suckers for moms battling morning sickness or nausea. The flavors are picked specifically to help fight nausea and include:
Sour Raspberry
Green Apple
Tangerine
Sour Lemon
Why do they work? Hard candies are slower to dissolve and don't hit your stomach as quickly as regular food does. This helps you (hopefully) keep them down and relieve your morning sickness!
2. LEMON DROPS
Lemon drops are just the preggy pops that you've known all your life! They're a cheaper alternative (with a few less fun flavors). Lemon is a stomach-soothing flavor to help reduce nausea!
3. CRACKERS BY YOUR BED
Saltine Crackers
Buy Now
We earn a commission if you click this link and make a purchase at no additional cost to you.
06/06/2023 11:39 am GMT
An age-old trick to treating morning sickness and nausea is to have something in your belly before you get out of bed. How do you do this? Simply keep some crackers in your nightstand and eat a few before getting out of bed and moving for the day.
4. CHANGE YOUR VITAMIN TIME (OR TRY GUMMIES!)
This lesser-known trick is one that saved me during my first pregnancy. Start taking your pre-natal vitamins at a different time!
If you're sick in the morning, try taking your vitamin with lunch or supper instead to see if that helps – it just might be all you need to feel better.
My OB also recommended trying a gummy prenatal vitamin, like these, to fight off nausea.
Some pregnant moms are able to handle the gummies much better and typically the flavors are ones that help reduce nausea! They also taste so much better!
5. DRINK MORE WATER
50 oz Stainless Steel Tumbler - Water Bottle
36 Hours Cold – Large Insulated Mug for Cold and Hot Drinks, Dishwasher Safe. Great water bottle for staying hydrated all day!
Buy Now
We earn a commission if you click this link and make a purchase at no additional cost to you.
06/06/2023 07:04 pm GMT
Staying hydrated can help reduce your morning sickness and pregnancy nausea.
Try to find a large water bottle and encourage yourself to drink water often. Set a goal for yourself and keep going! Tip: set reminders on your watch or phone to help you not forget to chug that water.
If you really can't stand the taste of water, add lemon (a nausea fighting agent!) or other fruits to a diffusing water bottle like this one.
6. Get Medications Prescribed
Is nothing helping with stubborn pregnancy nausea? Don't be afraid to let your doctor know and see if they'll prescribe you with something to help. This can be a life-changer for some expecting moms.
Don't force yourself to struggle through the pain and discomfort, talk to you doctor and see if they can help.
Pregnancy Exhaustion/Fatigue Remedies
The early pregnancy exhaustion is REAL. You feel like you didn't do anything, but you're falling asleep on the couch by 6pm!
What gives?!
Well, you're growing a baby and your body is changing and the hormones are raging. Here's what you can do to feel better:
1. SLEEP WITH EXTRA PILLOWS
While pregnancy pillows can work miracles (and there's a good chance you'll want one when you get further along!) they can get expensive.
Grab a good body pillow or other extra pillows from around the house. Tuck one pillow under your belly if you feel you need it and another one between your legs for added comfort.
Just getting more comfortable and restful sleep at night can help tremendously throughout your day.
2. SQUEEZE A PRENATAL WORKOUT IN
You're already tired and now you're reading that you should work out?
Believe it or not, working out can help you to feel better and can give you the energy to keep going! There are tons of perks to working out while pregnant.
A workout during the day can also lead to better sleep at night – which is always a win win!
If you're looking for a great, SAFE, workout plan for pregnancy– don't miss the Belly Only Pregnancy Program!
3. REST WHEN YOU NEED IT
Go easy on yourself. If you're too tired, take a nap, kick your feet up, and relax.
Don't forget that you're already doing a big thing by growing a baby and your body is going through lots of changes – even if you can't see them on the outside yet.
Tender Breasts While Pregnant
Breasts starting to feel tender or different already? That's the pregnancy hormones getting to work! Try to wear a comfortable and support bra. Many expecting moms find that one with without an underwire can be the best.
As a bigger busted momma, I was never comfortable wearing a bra without an underwire – until I found this one. It's super soft, and feels like a regular bra – I highly, highly recommend you give it a try!
Top Pick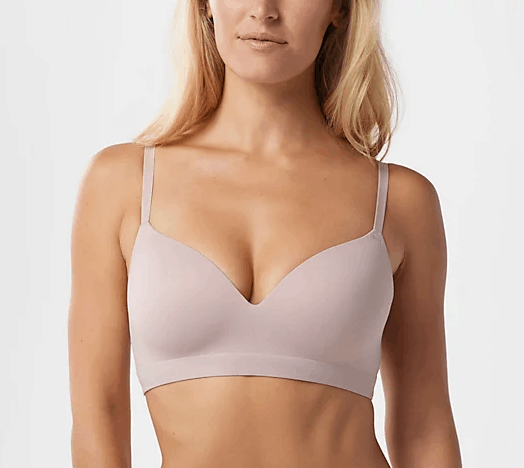 Soma Wireless Bra
Hands down the softest and most supportive wireless bra out there. This is a must have staple for your closet.
Buy Now
We earn a commission if you click this link and make a purchase at no additional cost to you.
Mood Swings
Surviving the first trimester of pregnancy includes surviving all the emotions and mood swings that come along with it.
You're tired, stressed, have lots of hormones going on, and have big life changes about to happen – it would be weird if you weren't feeling anything!
So what can you do about your pregnancy mood swings? The American Pregnancy Association has some great tips for feeling better and more in control of your emotions:
Self care – meditation, massage,
Go for a walk
Eat healthy
Exercise
Take a break from the activity and breathe
Get plenty of sleep/take a nap
Do yoga
Spend quality time with a loved one
If your mood swings are severe or last more than two weeks, it's recommended you talk with your doctor about them, or consider seeing a counselor.
Constipation/Diarrhea
Changes in your bowel happens such as constipation or diarrhea can actually be an early sign of pregnancy. To combat it, start by making sure you're drinking enough water and eating healthy, balanced meals.
If constipation is the issue, be sure to exercise or go for a walk throughout the day. This can help to get your digestive system moving and working well.
Next, talk with your doctor. They may prescribe a pregnancy friendly medication to help you get back on track.
What to do About Frequent Bathroom Trips
You're pregnant and now you can't stop waking up during the night to go to the bathroom. Or you're running out of meetings because you just can't hold it anymore!
And what's worse? No one even knows your pregnant yet, so you just look like some crazy lady who should have peed before things got started…
So what can you do to eliminate the urge to go to the bathroom as often? Here's a few tips that might help:
Cut back on coffee, tea, or pop/soda
Limit your fluid intake before bed
Start practicing Kegal Exercises
Pregnancy Hacks to Survive the First Trimester
These pregnancy tips to survive the first trimester should help you feel better and get excited for what's to come!
For more information on the first trimester check out:
What You Should Know About Weight Gain During Pregnancy