Disclosure: This post may contain affiliate links, which means I may receive a small commission if you click a link and purchase something. Please check out my disclosure policy for more details. All opinions are my own!
Woohoo! I'm Pregnant, Now What?
Congratulations! Pregnancy is an incredible journey, but it can be a little overwhelming to think about what to do after getting your positive result.
These 6 steps will guide you through the first things you should do as soon as you get that positive pregnancy test. And I mean as soon as possible… without making yourself feel any added stress – is that possible? 😉
Let's get started!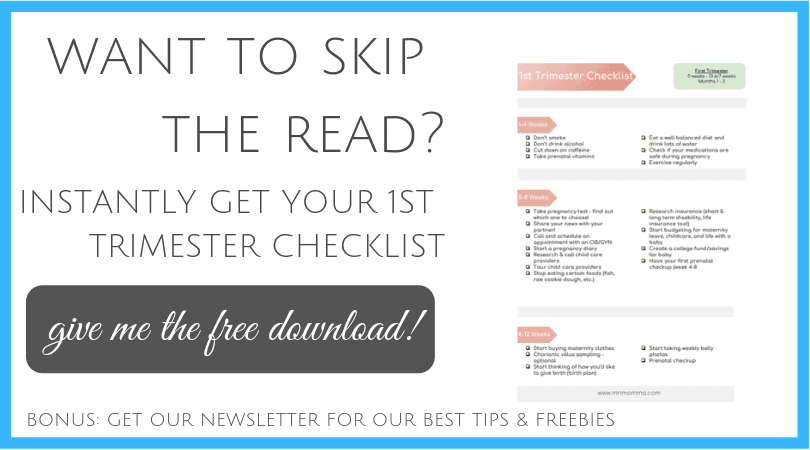 What To Do As Soon As You Find Out You're Pregnant
Tell Your Husband
To me this was one of the most exciting parts. Typically your husband gets to surprise you with a proposal, but this time, you get to surprise him! If you took your pregnancy test with your husband in the room (or even in your house), you might have been so excited you just blurted it out to him immediately.
If you got your positive result when your husband wasn't around, then it's time to share the news! If you want to get creative and share the news in a creative way, I have a Pinterest board full of ideas for you.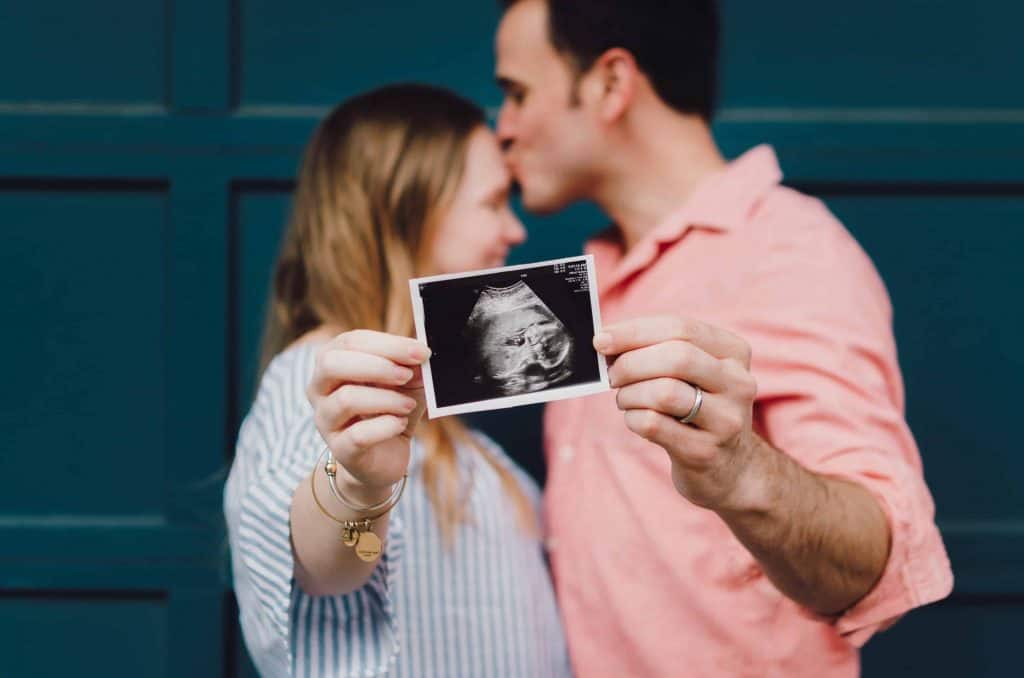 Decide When You'll Share the Big News
Once your significant other knows the big news, it's time to talk about when others will know it too. This is very personal decision.
Some couples shout it from the rooftops immediately, while others keep it to themselves until the first trimester is over. The reasons to wait can be anything, but often many times it's due to the fear of miscarriage or loss.
After the first trimester this risk decreases greatly and many couples feel more comfortable sharing their big news. However and whenever you decide to share is up to you, but make sure you're both on the same page!
Prenatal Vitamins
If you haven't already been taking them pre-pregnancy, you want to be sure that you're taking a prenatal vitamin.
Prenatal vitamins offer several benefits for you and your baby during pregnancy. One of these benefits is high levels of folic acid (most women do not get enough in their diet) that your baby needs to help prevent spina bifida.
If you're pregnant with multiples you may need a higher dose of folic acid, but your OB will let you know.
The other key difference between most regular vitamins and a prenatal vitamin is an increase in iron. The increase in iron also helps with your baby's growth and development.
Some prenatal vitamins also contain omega-3 fatty acids, Vitamin D, and calcium. Studies have shown that these may also help your baby's development.
I really wanted a prenatal vitamin that had these omega-3s in them so I chose Nature Made Prenatal Multivitamin & DHA Dietary Supplement Softgels. These are a little more expensive, so prior to becoming pregnant I took a prenatal vitamin that did not include DHA, but did have high levels of folic acid.
Prenatal Vitamins and Morning Sickness
If your prenatal vitamin is making you feel sick try these tricks:
Change the time you take your prenatal vitamin – if you take it when you get up in the morning, try switching the time to before or after supper.
Check Your Insurance
If you know your insurance well you might already know which doctors, clinics, and hospitals are "in-network" for you. If you don't, give your insurance company a call and find out. Simply tell them, "I'm pregnant, now what do I do next?" and they'll be happy (hopefully!) to guide you through the process.
To save money and make sure you're getting the most from your insurance, you'll want to be sure to find a provider and hospital that your insurance company covers that you're also comfortable with.
It can be helpful to look at your insurance plan as well to see how much you should expect to pay for your birth. This includes looking at your deductible, asking questions about what's covered and what's not, and looking at your out of pocket max.
You'll also want to find out how to add your baby to your insurance plan once he/she is born. Having a baby qualifies as a "life event" allowing you to change your plan to a family plan mid-year. Most insurance companies give you 30 days after your baby is born to add him/her to your plan, so you don't need to worry about calling your insurance company while you're in the hospital.
Down the road, you'll want to think about whether you plan to breastfeed or not. Keep in mind that your insurance will also provide you with a free breast pump – here's the easiest way to get yours.
Call Your OB
Calling a clinic and getting set up with a doctor can seem intimidating. What do you say? Hey, I'm pregnant, now what? What if you don't know who you want as your OB?
Don't fret – this is fun! Even if you've decided to wait and not tell anyone you're pregnant yet, you get to break your silence and tell someone!
The receptionist or nurse will guide you through getting registered and ask you simple questions like "when was the first day of your last menstrual cycle?", "have you taken a pregnancy test?", and "who would you like to see?".
If you don't have a provider in mind, the receptionist or nurse will usually give you a little background on each and help you choose. If you end up not being happy with your provider, you can switch! Some women like to meet a few first and then decide.
Depending on the provider you see, you might go in to take a pregnancy test and have an appointment right away, or they may wait until you are around 10 weeks pregnant to see you for the first time. Some providers may also do an ultrasound right away, while others wait until 20 weeks.
Start Calling for Childcare!
I know what you're thinking – I'm pregnant, now what am I going to do for childcare? If you plan to send your baby to daycare – whether it's a center or in home – it's time to start looking! Sometimes it can be extremely difficult to find childcare that is taking infants and one that you feel comfortable sending your baby to.
So what can you do?
If you start as early as you can, you'll be more likely to find a great place for your little one. Ask for recommendations from friends and coworkers and start calling!
It's a good idea to create a list of questions that are important to you and make you feel comfortable. It can be so hard to leave your little one, but you'll feel so much more comfortable if you have your questions answered and you have a good feeling about where your baby is going. Today's Parent has a great list of questions to ask (and a free printable!) right here.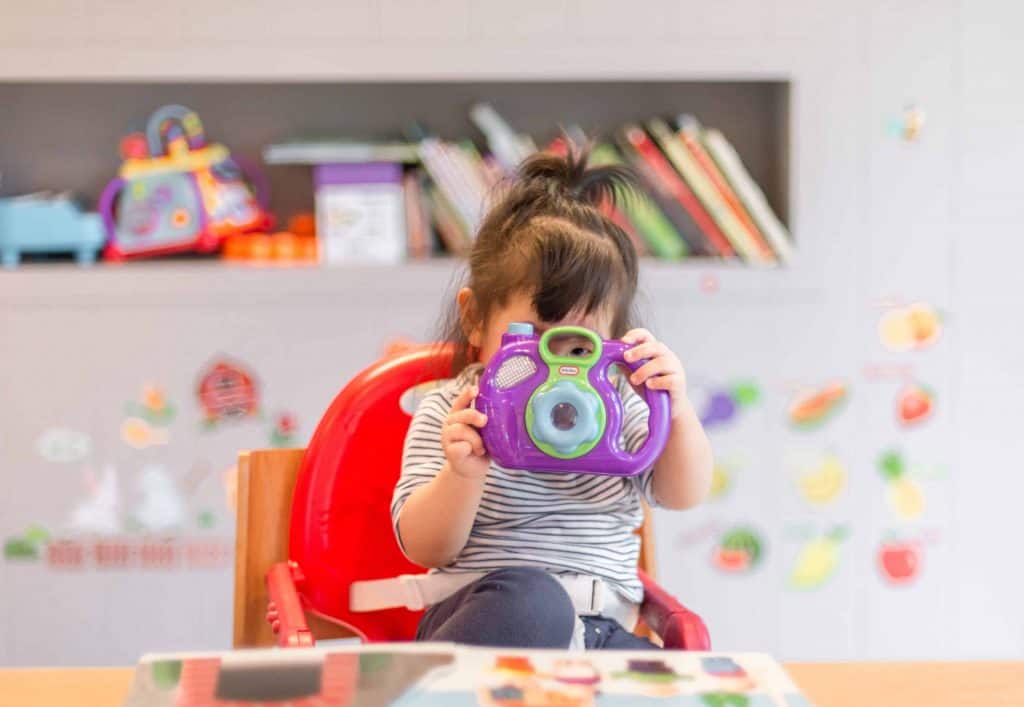 Okay, done. I'm Pregnant, Now What Do I Do Next?
Enjoy your pregnancy! You may likely be hitting some rocky territory soon, such as morning sickness or feeling more tired than usual. Remember this is normal and for many women it passes after the first trimester. Do your best to enjoy this time bonding with your little one and preparing for the exciting time ahead!
Related: Week by Week Pregnancy Checklist: First Trimester