LIIFT4: A Real Review from an Honest Mom (Who's NOT Paid By Beachbody!)
Disclosure: This post may contain affiliate links, which means I may receive a small commission if you click a link and purchase something. Please check out my disclosure policy for more details. All opinions are my own!
Honest Review of LIIFT4
Let me start by saying, if you're looking for an honest review of Beachbody's LIIFT4 workout program from someone who IS NOT a Beachbody Coach, then you're in the right place.
I was so tired of looking up every Beachbdoy workout program, only to find the top 20 results littered with articles from Beachbody Coaches, who make money by saying the workouts are awesome.
I wanted to hear from a regular person what kind of results they had from LIIFT4 and if it was really worth the 8 weeks I was about to put into it. Was that too much to ask?
So, to save you from ending up googling "LIIFT4 review reddit", here's your full LIIFT4 review from someone who isn't a beachbody coach.
I also should warn you that my results are without the use of Shakeology or any of their nutrition programs.
While you have access to reading the nutrition programs with Beachbody on Demand, I've just never found myself wanting to do them. I'm a big believer that I can manage my diet myself and that all foods are okay in moderation and balancing your diet.
My husband and I spend our own money yearly for the Beachbody on Demand service (about $100), so I don't get any kickback if you decide to try out this program. I just want you to get a real, unbiased review of LIIFT4.
Just one more reminder: I am not a Beachbody Coach, so I can't answer any questions about the business or coaching side of things. What I can tell you is that this program gave my husband and I some amazing results in just 8 weeks!
Find out more below.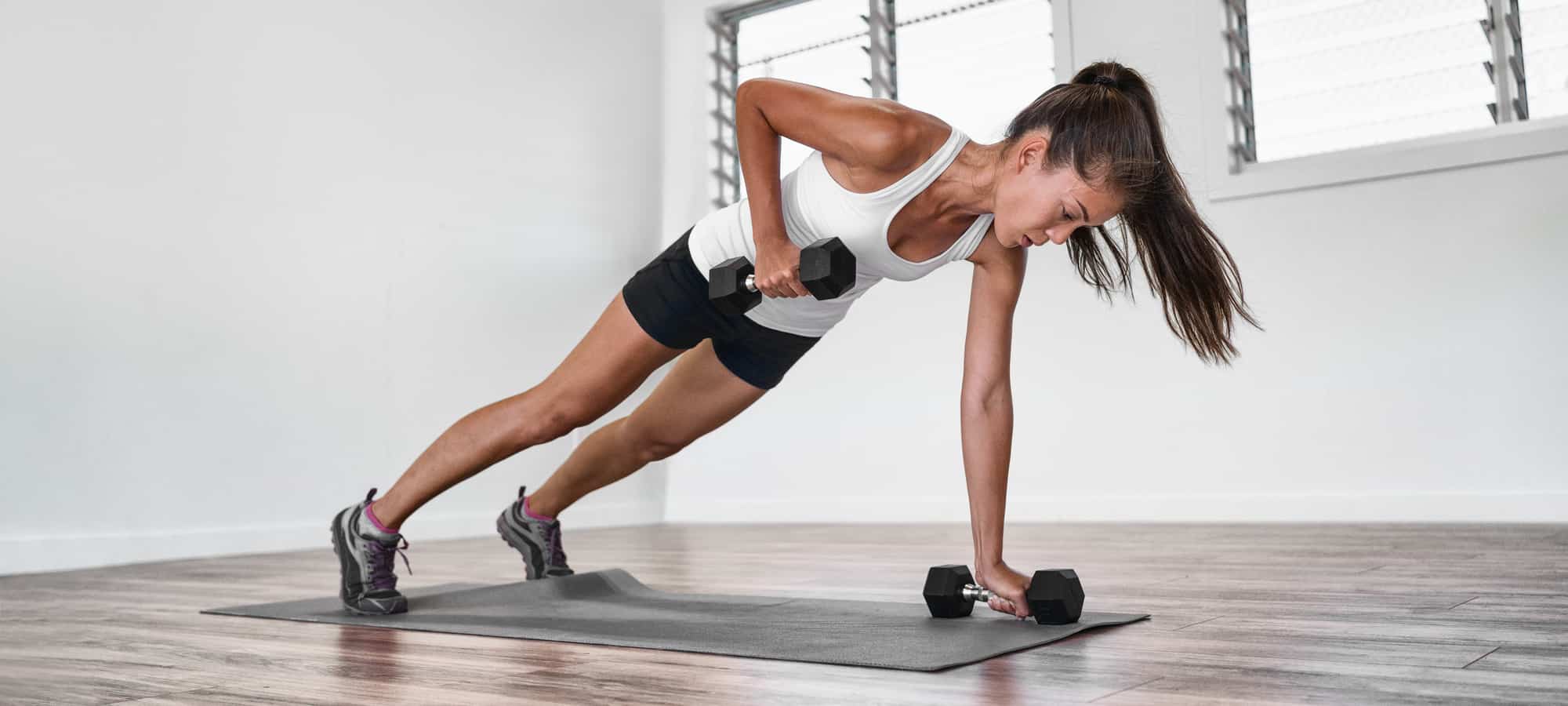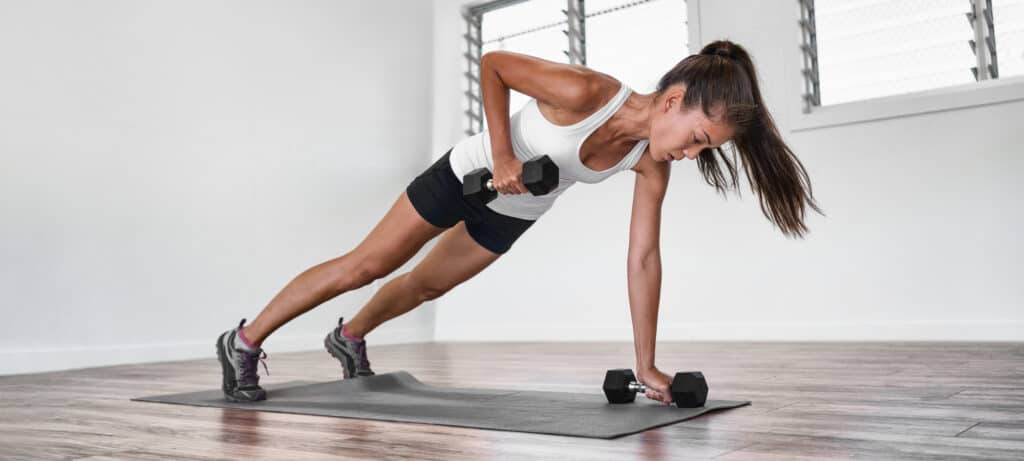 What is LIIFT4
LIIFT4 = Lift, HIIT, Rest, Repeat (for 4 days/week)
Don't ask me how that exactly equals LIIFT4, but we'll just go with it.
LIIFT4 is a Beachbody cardio and weight lifting workout program that focuses on weight loss and muscle building. Similar to most of Beachbody's programs, LIIFT4 is made up of two parts: LIIFT4 and nutrition (Shakeology), which are both optional to purchase separately or together.
LIIFT4 is 8 weeks long each and 4 different workouts each week, leaving 3 rest days. All the workouts are between 30 and 40 minutes long.
Here's Beachbody's official "Intro to LIIFT4" to give you an idea of what you'd be doing:
LIIFT4 Schedule
The LIIFT4 workout program is laid out with a workout 4 days/week. 2 days on, 1 rest day, 2 days on, 2 rest days. For the first six weeks, here's how they break down your lifting muscle groups:
Day 1: Chest/Triceps
Day 2: Back/Biceps
Day 3: REST
Day 4: Shoulders
Day 5: Legs
Day 6: REST
Day 7: REST
It's important to know that every day ends with a core/ab workout and MOST days have a HIIT cardio component.
Each week you'll have:
2 days of LIIFT 50/50 integrated with one of the above muscle groups: you'll do all your lifting at the beginning of the workout and all your cardio HIIT at the end.
1 day of Circuit: no HIIT, but a burnout round.
1 day of LIIFT Intervals: 2 weighted exercises, followed by 1 HIIT exercise for three rounds. Then repeat two more times, with different exercises.
Equipment Needed
Equipment needed: a mat, dumbbells or resistance bands, and a foam roller
As far as equipment goes, Beachbody will tell you that to participate in LIIFT4 you should have a mat, dumbbells or resistance bands, and a foam roller.
Bare minimum? You need dumbbells – a lighter pair and a heavier pair.
To be honest, I don't even remember them using a foam roller, so I think it's safe to say it wasn't a BIG part of the program.
Positives of LIIFT4
I really love LIIFT4. It's easily secured a spot in my top (if not, THE top) Beachbody workouts we've ever done for two reasons: it's only 4 days a week, and it's the best results I've EVER had from a program.
There's a new workout every day (32 different ones), and despite their longer length (as opposed to some shorter 20-30 minute workouts), I feel like they go by fairly quickly. Every day is focused on some type of lifting, which I far prefer to pure cardio-only days. You can track your weights and watch your strength improve over time.
As a busy family with kids, working out only 4 days a week was amazing. Some people may choose to compliment the workout with a run on the off days, but we enjoyed our rest days and still saw great results.
The instructor, Joel, is funny. Even if just in the way you might smile and shake your head kind of way. BUT, even if he's not your cup of tea, he keeps the workouts moving. If there's something I HATE about certain programs, it's too much talking and time wasting between sets or exercises. LIIFT4 moves at a great pace.
Finally, let's talk core. For the first time in my life, LIIFT4 gave me a 6-pack. Whaaaat?! I am a core lover, and LIIFT4 makes sure every workout spends some time on your core and abdominal muscles.
Every time I do the program again, I am incredibly impressed (and somewhat ticked that no other program has give me quite as good of results).
Negatives of LIIFT4
One of the downfalls to LIIFT4 is you may need a lot of dumbbells. As you progress through the program, you'll want to push yourself to the next level and dumbbells can be expensive. There were a few times we found ourselves wishing we had a set in between or above what we had available.
Also – push-ups. I HATE push-ups you guys.
Finally, you can't buy LIIFT4 as a DVD set. To us, this didn't matter, but to some people it might. LIIFT4 is not available on DVD and only available on Beachbody on Demand.
Is LIIFT4 A Good Workout? (Would I Actually Recommend It?)
Yes! Hands down, I would recommend LIIFT4 to someone looking to get stronger and leaner. I've completed several Beachbody programs, tried others I wasn't a fan of, done in-person workout classes at my local gym, and tried online Youtube workouts – but LIIFT4 (and it's great results) is hands down one of my favorite.
LIIFT4 is labeled as intermediate to advanced. There is a modifier, but if you're new to working out you might want to start elsewhere (they've recently added just a week long program B4-LIIFT4) to get your body ready.
I would recommend this program to anyone who is looking for a fitness challenge and a new workout routine. It's great that there are different levels of intensity so you can start out modifying if necessary.
Does LIIFT4 Work?
As I mentioned above, yes – I absolutely believe that LIIFT4 works if you put the time in and push yourself.
Whether you see toning, weight loss, or muscle building will be up to you however and there are many factors such as your consistency, how you eat, and whether you give it your all during the workouts.
Is LIIFT4 Good for Weight Loss?
LIIFT4 contains HIIT components in combination with weight lifting that could absolutely help you lose weight.
HIIT is fast way to burn calories and get great cardio through high intensity intervals.
Building muscle has also been shown to increase your metabolic rate, allowing you to burn calories even after the workout is finished.
However, depending on your body composition, your eating habits, and how dedicated you are to the program your results may vary.
LIIFT4 Results
I can't be the only one who looks up a programs results before committing to giving it a try?
I'll be honest here, I don't weigh myself often anymore. I base my fitness on how I feel and how my clothes fit. Which isn't quite as fun as having some hard, fast numbers for you here.
Overall, I lost a couple pounds, gained more muscle than I've ever had (including ab muscles), and felt stronger than ever.
Keep in mind, I do not do any of the nutrition programs, I just focus on generally eating well and enjoying foods in moderation.
Where Can You Try or Sign Up for LIIFT4
While LIIFT4 is not available on DVD, you can stream it easily online.
Beachbody on Demand offers a free 14-day trial, so I highly recommend logging on and giving it a try to see if the workout style is right for you. If you like it, you can sign up for a 3, 6, or 12-month membership (12-month is the best bang for your buck!).
Unbiased LIIFT4 Review
Beachbody LIIFT4 Review – Is it worth the money? If you're a busy mom and want to get in shape, this is the workout for you. The workouts are 40 minutes or less and ONLY 4 days a week which makes it easy to fit into any schedule even with children at home. You can even let them join in on the fun!
By the end of the 8 weeks, you'll be feeling stronger and healthier without spending every day at the gym. I'd love to hear if you've tried LIIFT4 and what you thought in the comments below!
Related: Why Busy Moms Need HIIT
Related: My Super Honest Review of MBF/MBFA
Related: An Unbiased Review of 9 Week Control Freak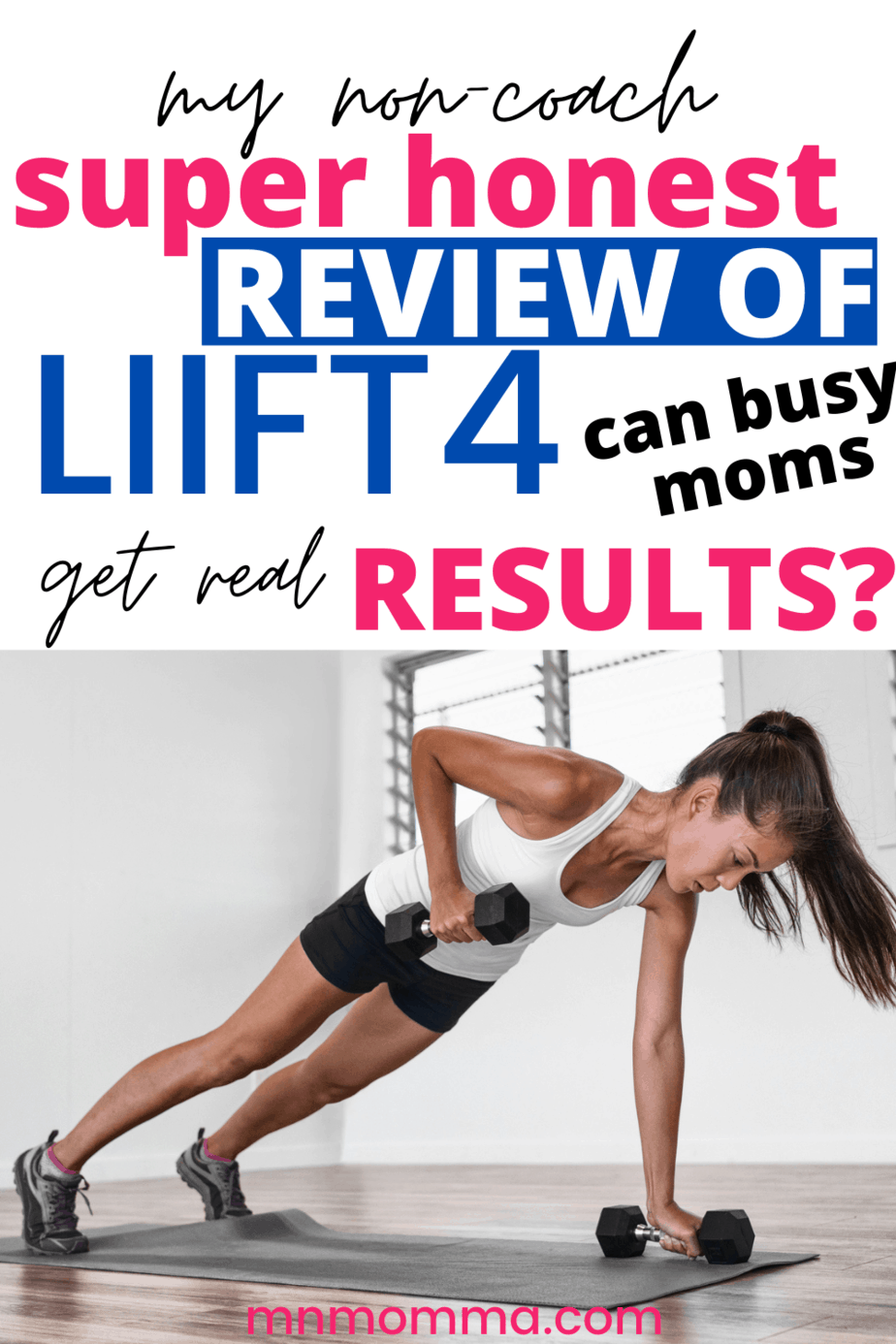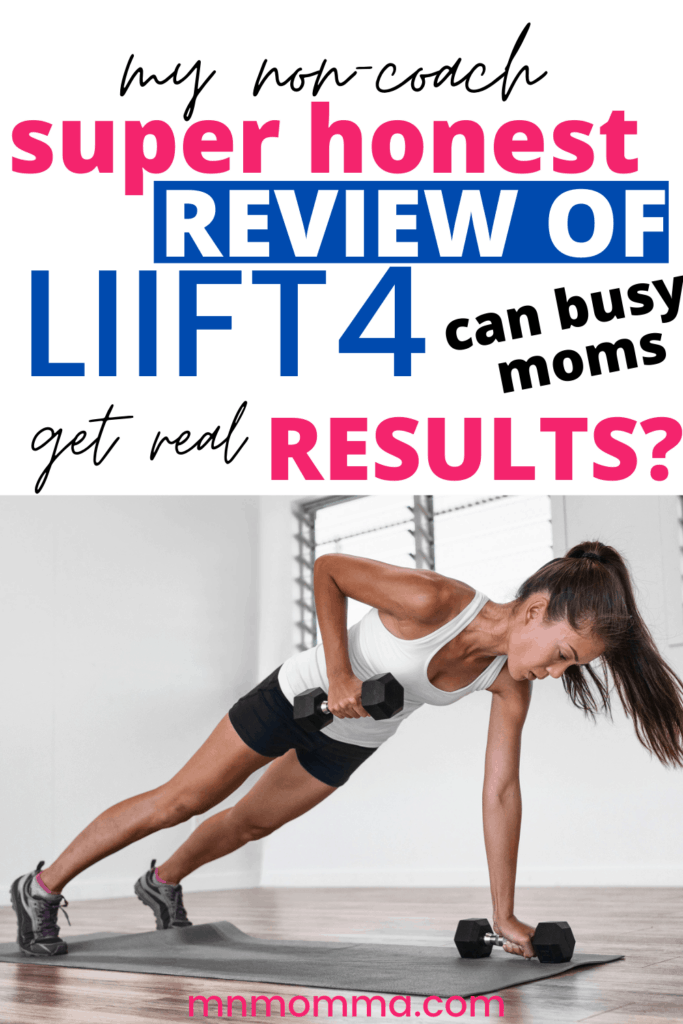 <— Pin it! Save this post for later!