8 Best Baby Teething Products (That Are Also Multi-Purpose!)
Disclosure: This post may contain affiliate links, which means I may receive a small commission if you click a link and purchase something. Please check out my disclosure policy for more details. All opinions are my own!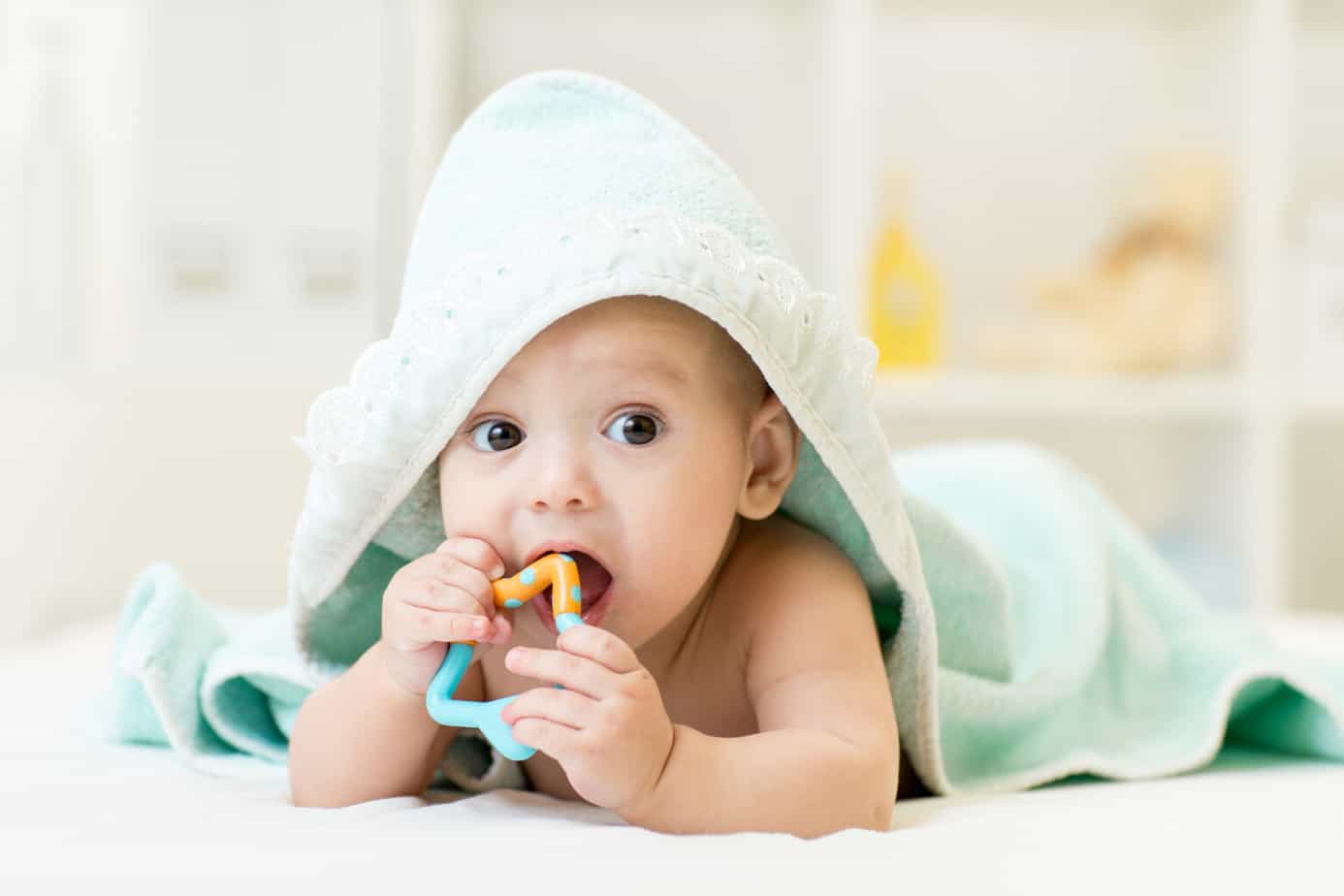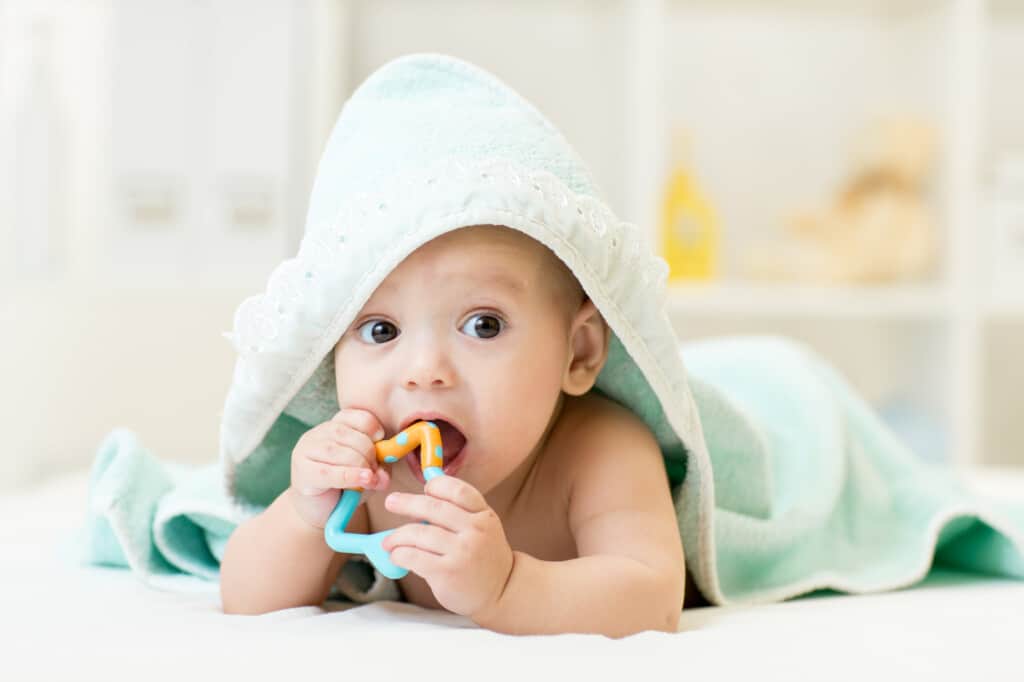 Teethers to Help Sooth Your Uncomfortable Baby
With that title, I'm sure you're not surprised to hear that we're still teething at our house. That means the best teething products seem to be all we can talk about.
It's funny what parenting does to you in regards to your "adult conversations".
Anyway, things are finally under control and our little one's big front teeth have popped through – woohoo!
He's still drooling like crazy and loves to chew on whatever he can get his hands on, but his pain has drastically decreased. Now that's something every mom can get behind!
Here's a few of my favorite products that have helped us through this last week. The best perk? You might already have these items around your home!
8 Best Baby Teething Products
1. Baby Banana Toothbrush
The Baby Banana Toothbrush. I'm sure you've seen this one before, and if your little one already has a tooth, you just might already own this!
As soon as your little one starts getting teeth, you should be brushing those little teeth. Our little guy absolutely loves getting his teeth brushed with this toothbrush.
The bristles are made to help massage sore gums and the banana shape is baby friendly!
Our baby spent all morning holding tight to his toothbrush – don't be surprised to see lots of extra drool if your little one loves this for teething.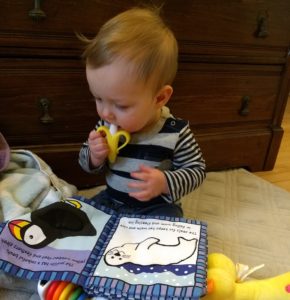 2. RaZbaby RaZ-Berry Teether
The RaZbaby RaZ-Berry Silicone Teether. This teether is adorable, has great bumps on it for your baby's gums, and is easy for your little one to hold!
You can check out more details on why I love this cute pacifier here. Did I mention cute? Definitely check this one out!
3. Baby Bandana Bib Set
A Baby Bandana Bib Set. Our baby has always been a baby who spits up a lot, so we've had these bibs since he was 3 months old.
The material has never irritated his skin and he doesn't object to wearing the bib. I love how soft these bibs are and how nicely they wash.
Plus, I love how trendy they are and the neutral colors and cute patterns go with almost all of his clothes (I absolutely love the red buffalo plaid and the deer patterns).
As far as teething goes – all that drooling can leave your little one's outfit soaking wet. Soon, not only are their clothes wet, but so is their chest. This can result in tears from your little one, and even has the potential to produce a rash.
Invest in some of these cute bandana bibs and you won't have to worry about all those inevitable outfit changes.
We never use these bibs for actual food and always take them off before our baby takes a nap.
If you're crafty, you can definitely try your hand at making your own.
4. Medicine
Try Infants' Motrin Concentrated Drops, for infants 6 months and older. If your little one is in pain, as a momma all you want to do is help him or her.
Ibuprofen (Motrin) typically helps to reduce the swelling and inflammation in teething babies better than Tylenol.
It's important to ask your doctor before using medication for your little one. Not only will they verify that it's okay to use, but they will also be able to give you the correct dosage for your child.
Keep in mind that many medications will give you a weight and age next to the dosage. Most medications should be given based off your child's weight.
One your baby is given a dose, they should start feeling some teething relief within an hour! What a relief for everyone!
5. Cold, Wet Washcloth
One of the best tips to soothe your baby's hurting gums is to wet a washcloth (these are great, organic cotton ones) and put it in the fridge. Let your baby gnaw on the washcloth to relieve his or her sore mouth.
6. Wood Teething Toy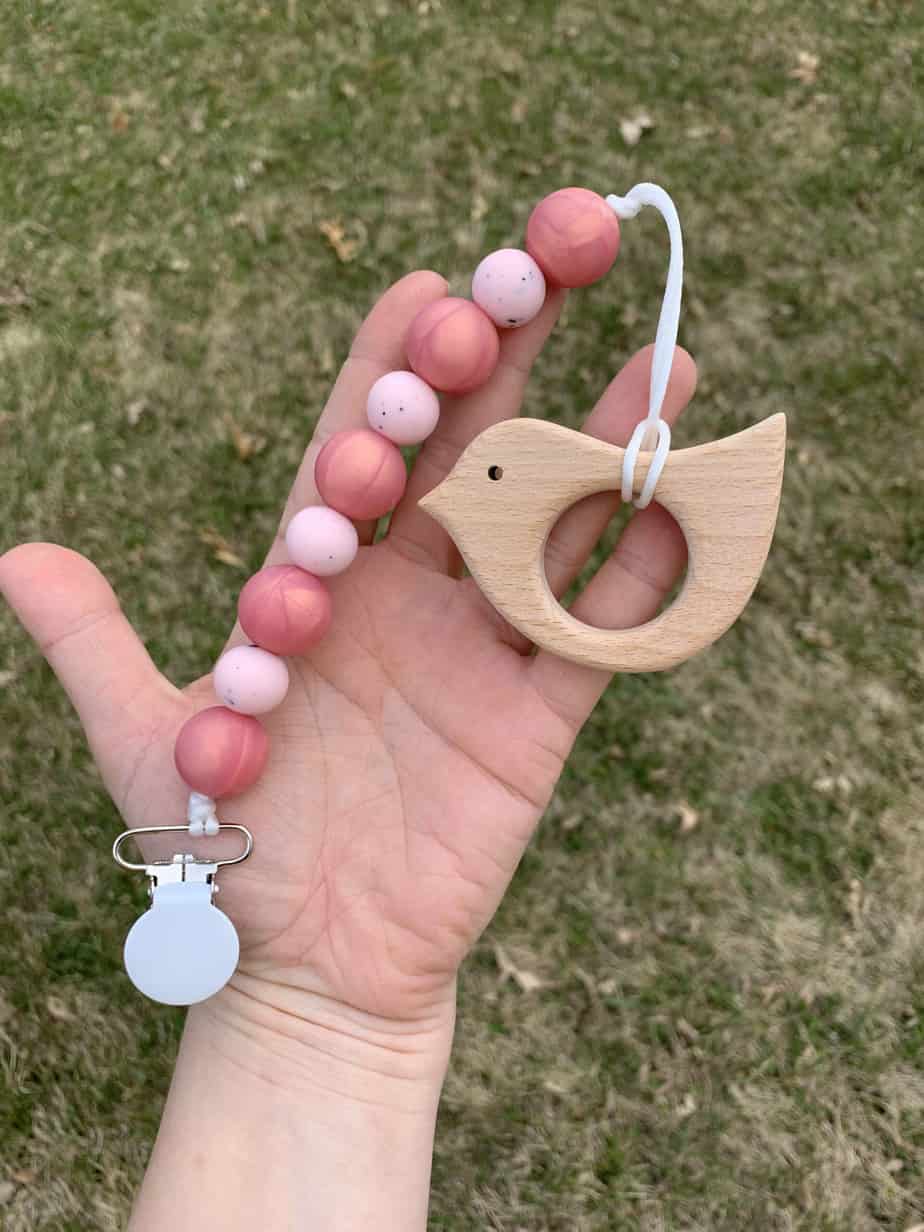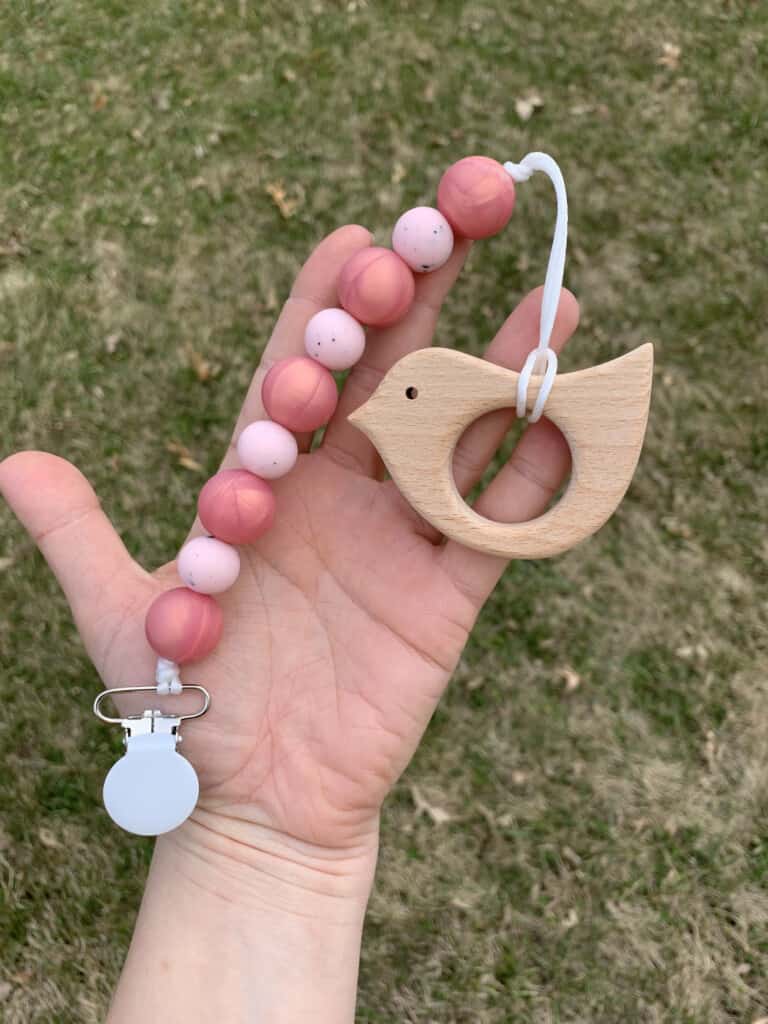 Okay, so what's the deal with wood teething toys? Are they safe? Why would babies having a piece of wood help their teething at all?
Well, as long as the wood is a special type that's safely made so it won't splinter and there are no chemicals it's made with that could hurt baby, you should be good to go! The hard wood feels good on baby's gums.
So where's the double use? Well, these teething toys are super cute, can be attached to baby's outfit, and keep baby's hands busy!
I ordered this one for my little miss and we absolutely loved it!
7. Fresh Food Feeder
These little fresh food feeders are perfect for filling with breast milk, ice, or fruit! On top of the yummy food and nutrients your baby will get, the cold mesh will feel good and help to soothe his or her gums.
8. Silicone Teethers with Bristles
These silicone teethers are soft, flexible, AND have extra bristles on them for baby to help calm sore and inflamed gums. These can be put in the freezer or fridge, are so easy for baby to hold on to, and come with a carrying case to keep them from getting super gross.
What About All Those Baby Teething Gels?
I can't tell you how many baby teething gels I looked at when my kids were going through serious teething. However, my pediatrician and the American Academy of Pediatrics do not recommend using baby teething gels.
If it's something you're considering, talk with your pediatrician or family doctor before you give your baby anything.
Best Teething Products for Baby (That Might Already Be At Your House!)
These baby teething products might already be in your home, so don't be afraid to try them! Do you have other tried and true baby teethers that you swear by?
We're crossing our fingers that our little one's teething continues to get better. Hopefully these products will help you and your little one get through the days to come!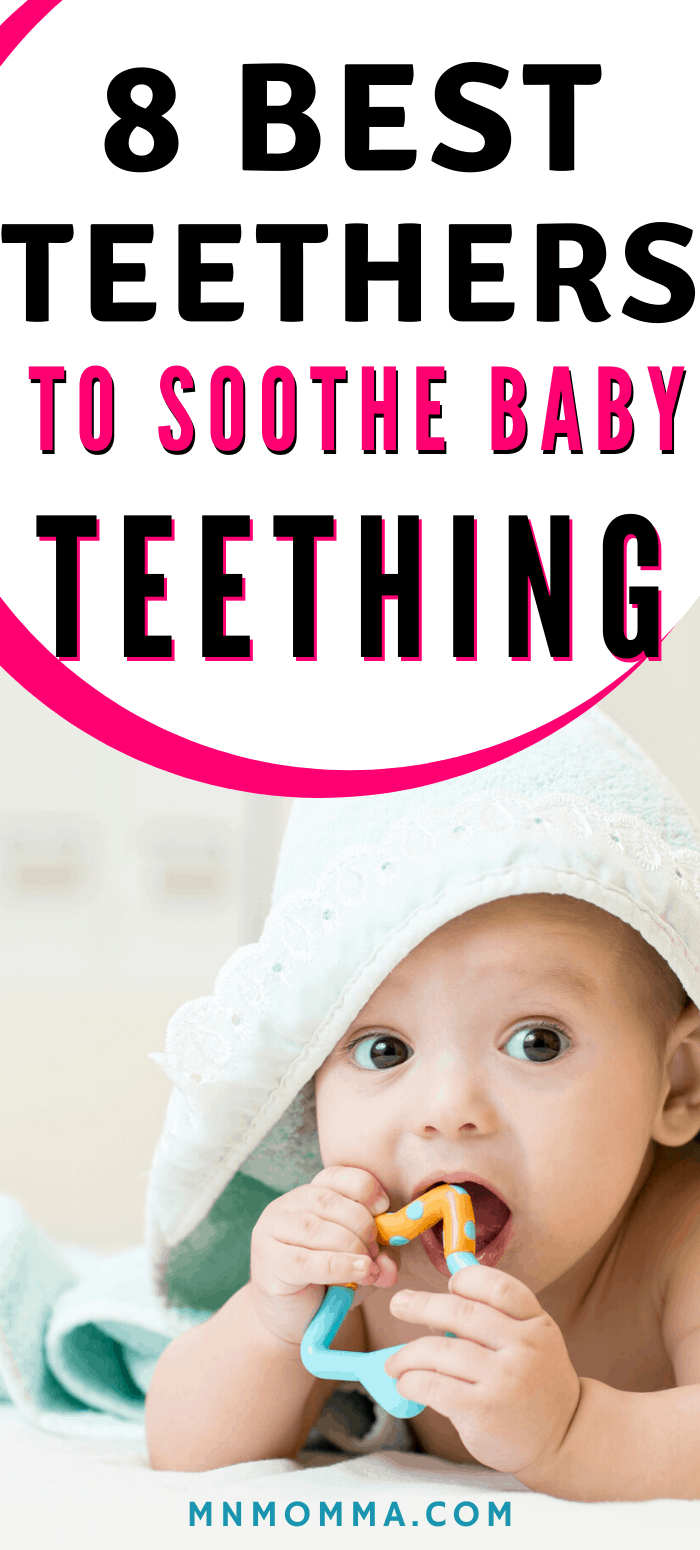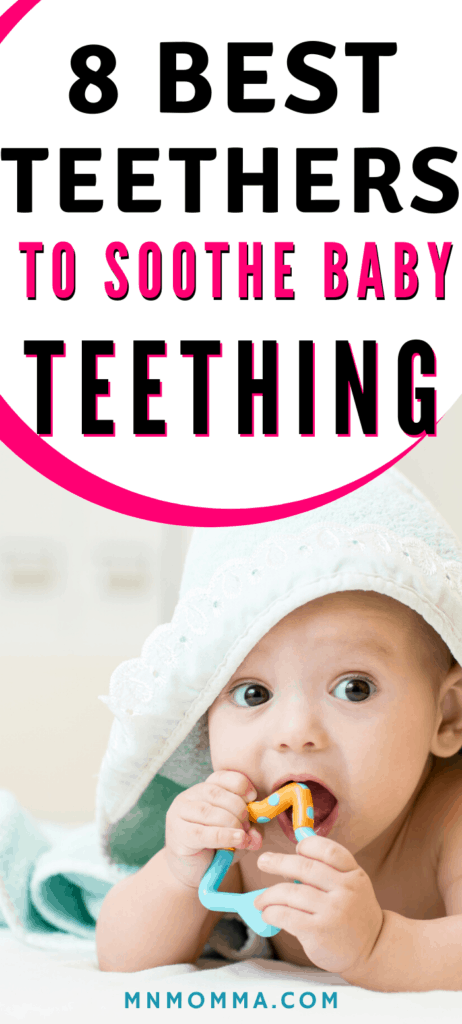 <— Save this post for later! Pin it!