10 Best DIY Birthday Card Ideas for Dad from Daughter
Disclosure: This post may contain affiliate links, which means I may receive a small commission if you click a link and purchase something. Please check out my disclosure policy for more details. All opinions are my own!
Dads hold a special place in our hearts, and what better way to show our love and appreciation than by creating heartfelt, homemade cards?
In this post, I'll share the best DIY birthday card ideas that daughters can make for their dads.
These ideas are so creative and fun, but also offer the sweetest personal touch that will make dad's big day even more special.
Keep in mind that SO many homemade Father's Day cards can double as birthday cards for dad with just a few tweaks of the wording.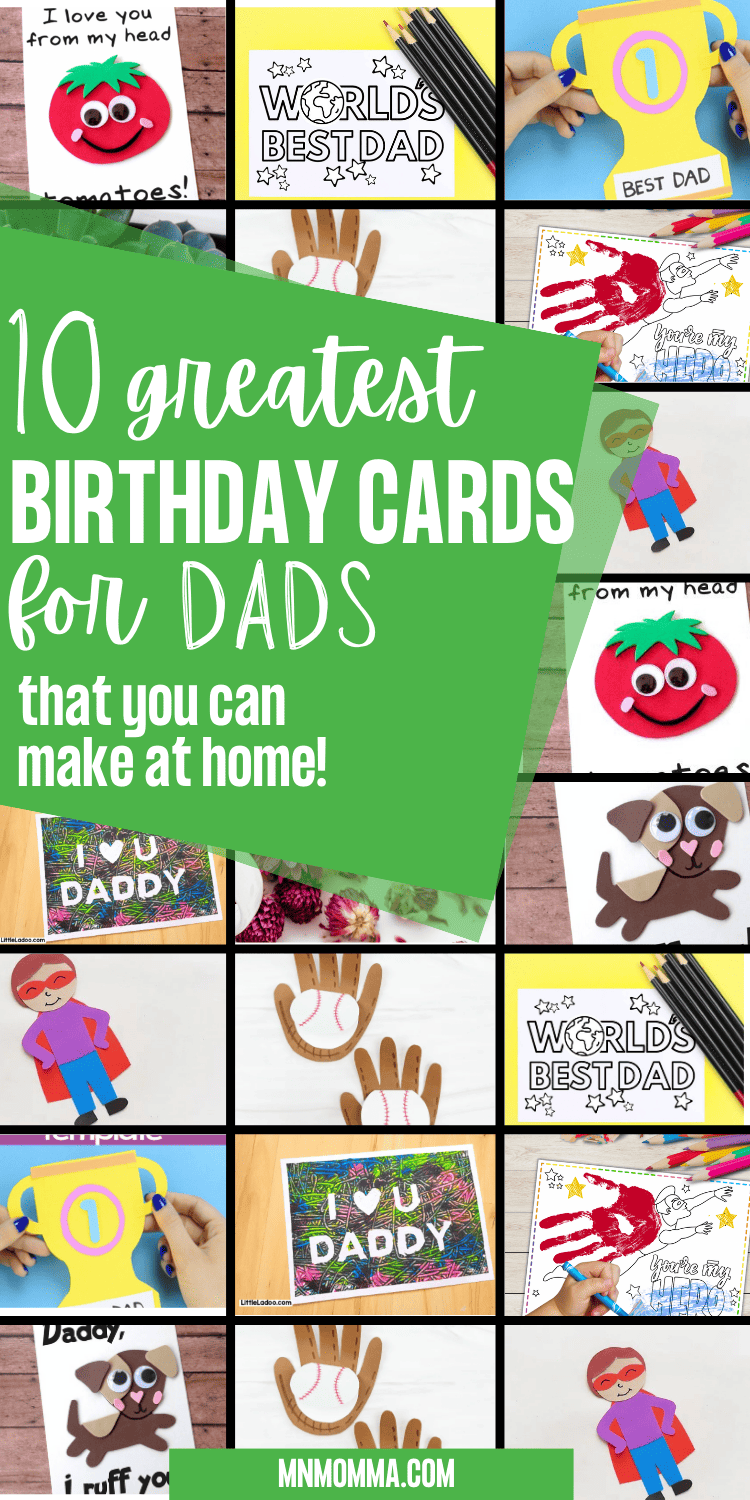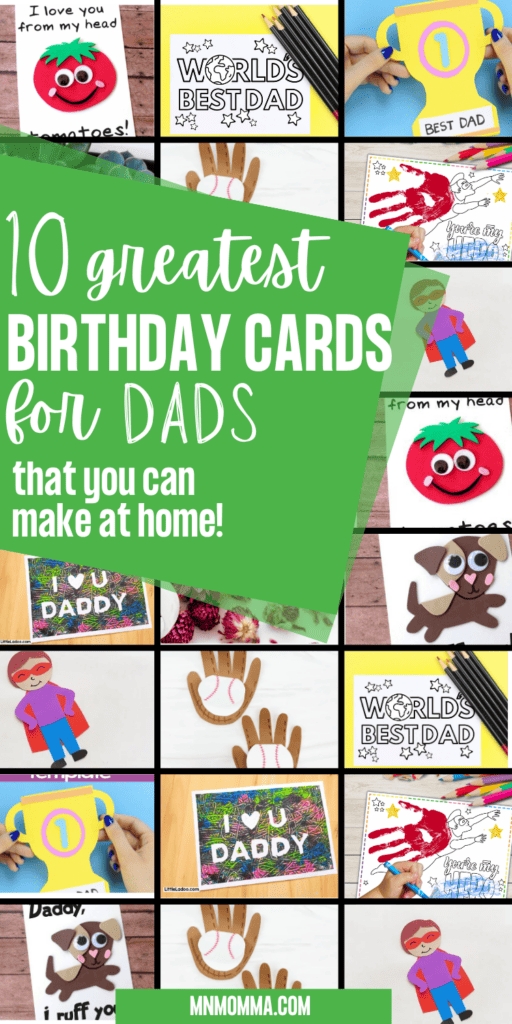 <— Pin it! Save this post for later!
Homemade Birthday Card Ideas for Dads
Handmade birthday cards for dad from his daughter are the perfect gift and a great way to show dad how much he means to the whole family.
The best part?
You can get really creative with fun googly eyes, paints, prints, and more, OR make a homemade printable card if crafts aren't your thing.
Here's a great list of DIY birthday card ideas for daughters to give Daddy.
1. Hooked on Daddy Card
Some googly eyes and acrylic paint can go a long way when it comes to homemade gift cards for Dad!
If the man in your life is a fisherman, than this adorable card is perfect for him for Father's Day or Dad's birthday.
Get the full instructions on how to make this cute card here.
2. Super Dad Card
This Super Dad craft can be added to the front of Dad's birthday card to make it SO darn cute!
Your child can customize the colors and facial expressions to really bring out Dad's best qualities 😉
For the free templates head over to twincitiesfrugalmom.com.
3. Handprint Baseball Card
I absolutely adore this handprint baseball card for dad's birthday.
If the father figures in your life are sports fanatics this is the perfect way to incorporate a sweet and sentimental card (the little handprint), with something they really love (baseball!).
As a bonus, it opens up and your son or daughter can add a personal message just for dad!
Not sure what to write? Check out the FAQ below for great ideas of what to write in dad's card.
For this simple, yet sporty card, check out the instructions and get the free printable at simpleeverydaymom.com.
4. I Ruff You Dad
Does Dad love dogs? How about puns?
Both?
Then you're in luck with this super adorable card for dad's special occasion.
Check out the directions for this fun craft for dad's special day here.
5. Trophy Card
This #1 dad trophy card was originally meant as a diy father's day card, but can make an awesome birthday card for dad as well!
It's a fun way to give a meaningful and unique gift and tell dad what makes him the BEST dad ever.
Get the trophy card template here.
6. Marble Run/Finger Paint "I Love You Daddy" Card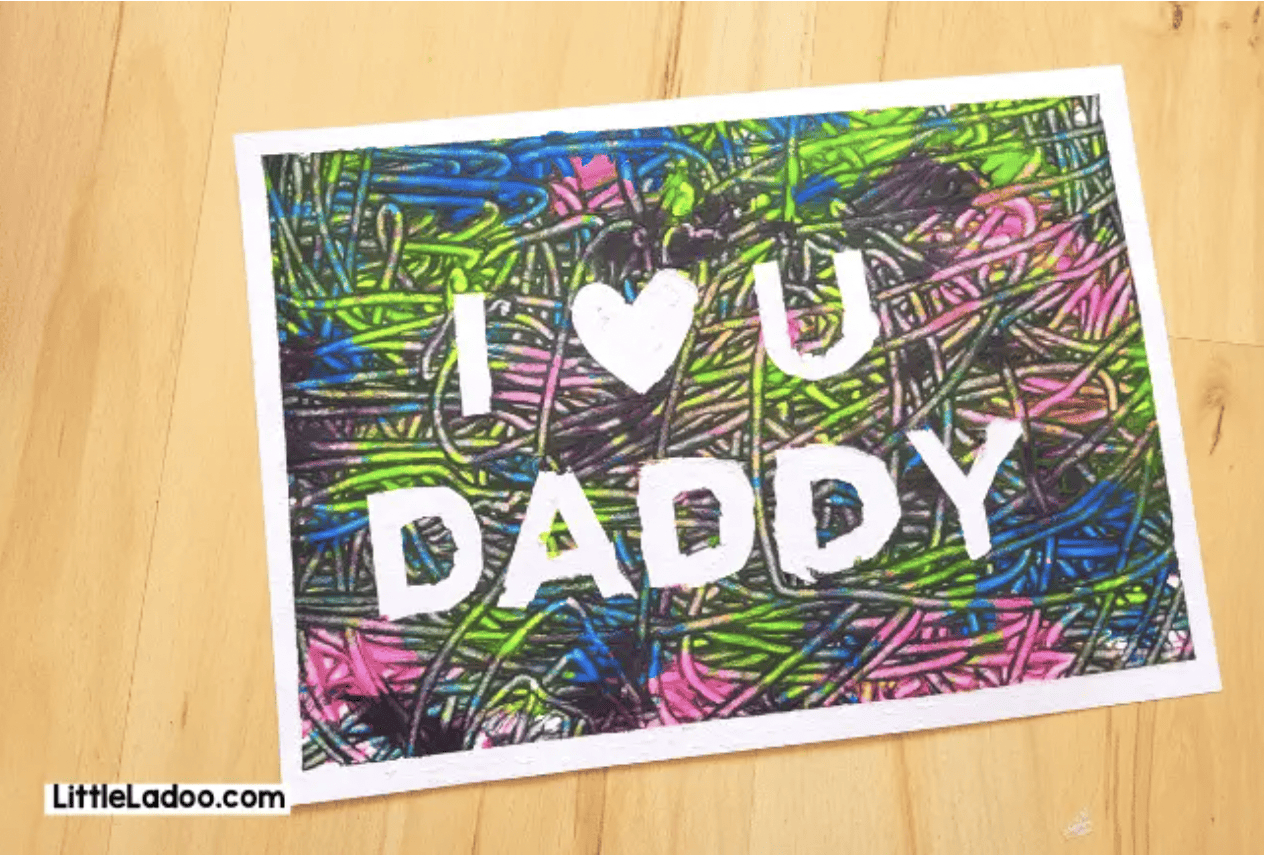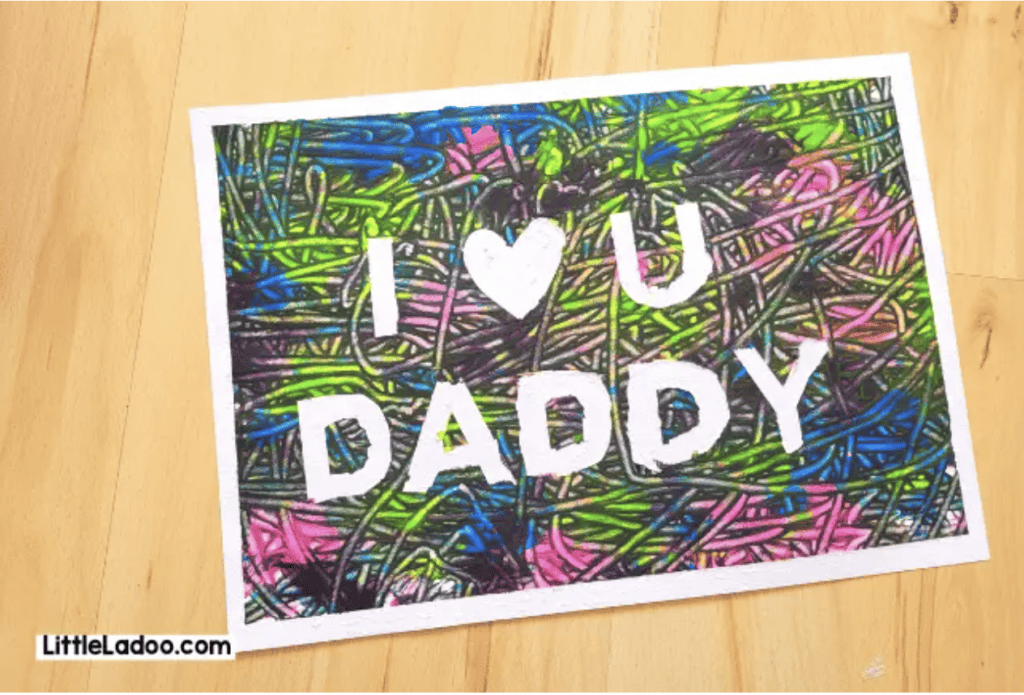 This diy card can takes a little extra parent help to make, but is so fun if you don't mind a little mess.
Add a special message such as "I Love You Daddy" to the card with tape, and paint!
This tutorial uses marbles to paint, but if you have younger kids, you could just let them finger paint all over the paper for a fun and unique card for dad!
7. Printable Cards for Dad (Father's Day or Birthday)
These printable cards are perfect if you're looking for a creative and easy card for dad (and are kind of last minute ;)).
Just print out your favorite (she has three choices you can click on at Crafts By Amanda!), and let your child color and decorate for dad.
Want to take it up a level?
Frame it for dad so he can put it up in his office and show off the heartfelt card from his favorite daughter or son.
8. Super Hero Dad Handprint Craft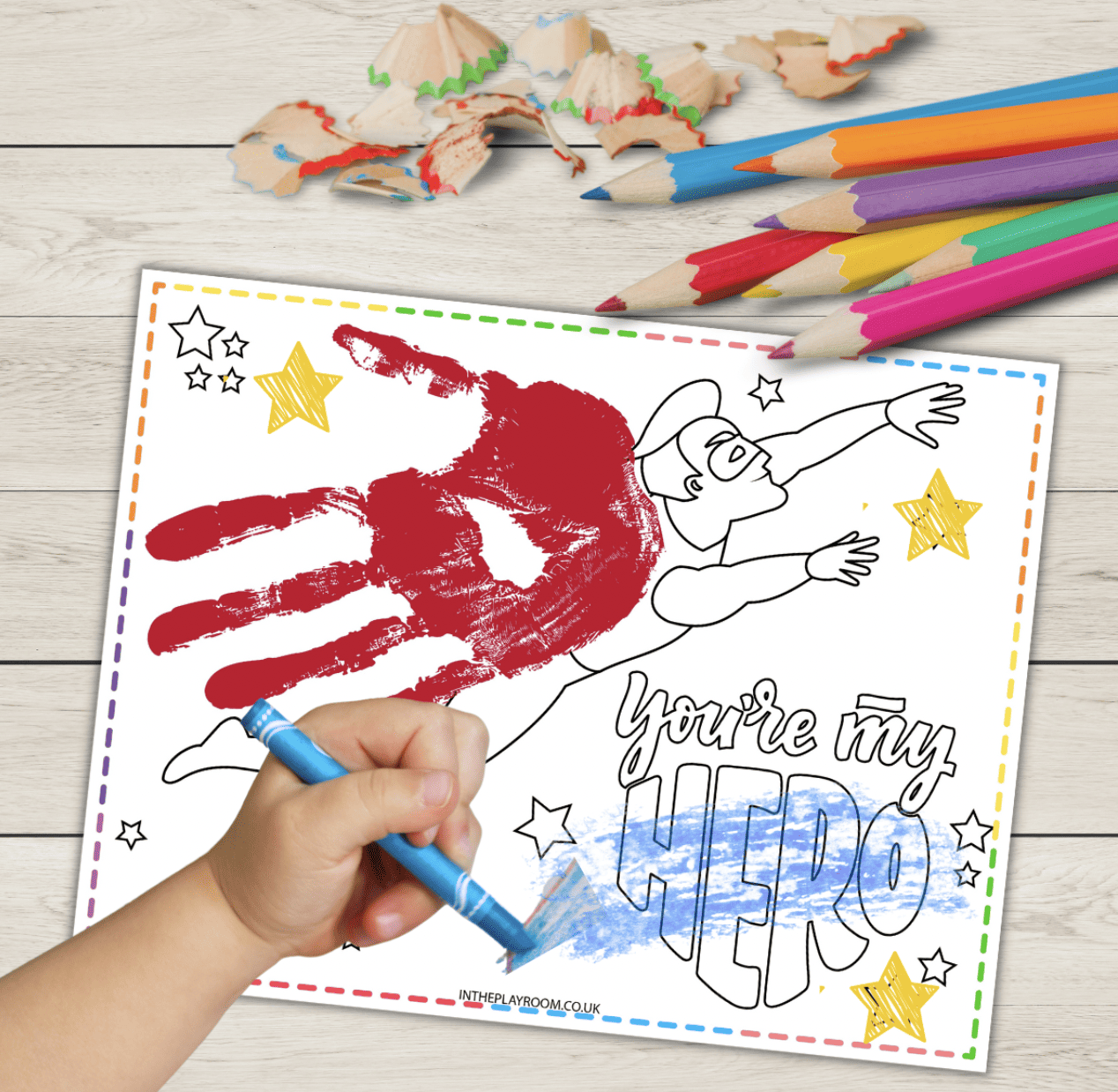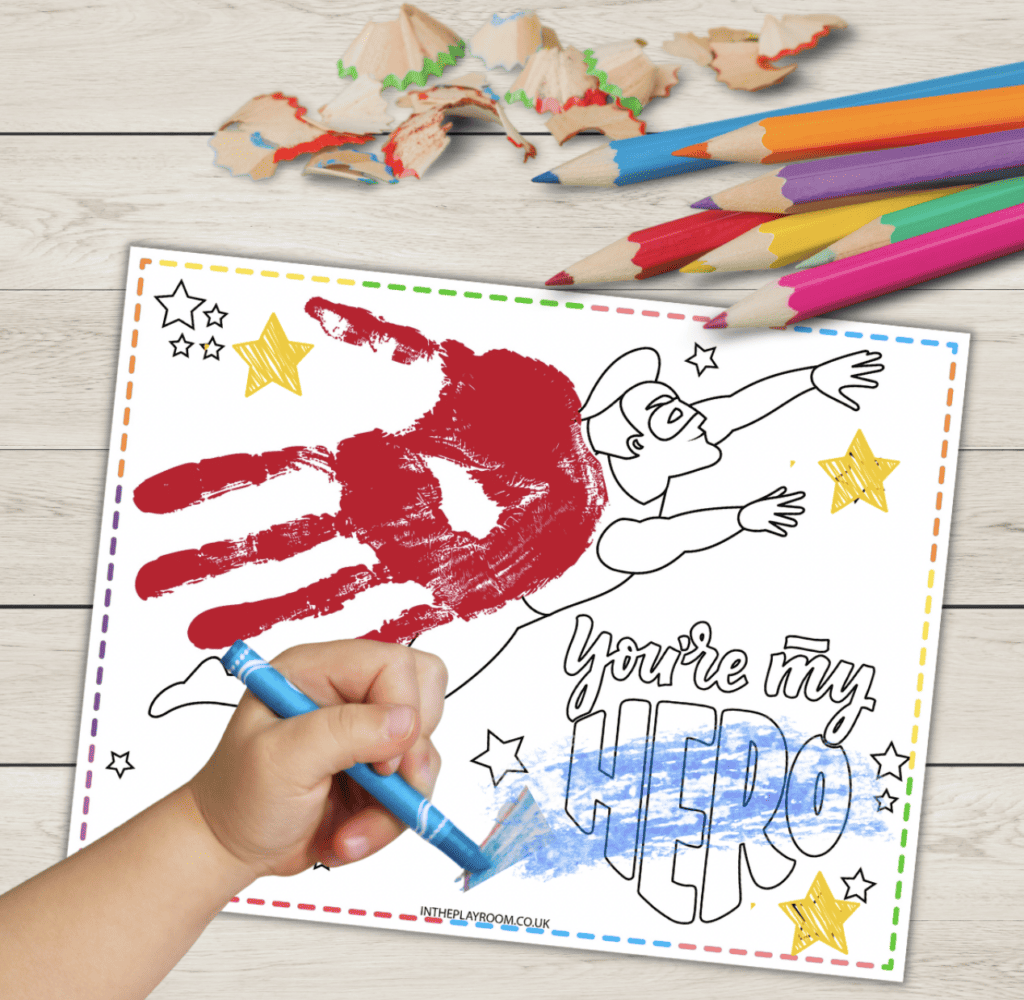 This takes a generic father's day card to the next level by adding a cute and fun handprint!
Dad's are our super heroes, and this is the perfect time to let them know with the best dad card around.
Get the printable at In The Playroom.
9. I Love You From My Head Tomatoes
This card's pun is perfect for the dad in your life who LOVES all the silly dad jokes.
It's totally adorable, and is a simple craft card you can do in a morning with your kids.
Get the full instructions at Thrifty Jinxy.
10. Handprint Grill Card
If dad is always out grilling, he's going to love this DIY card.
Give your grill master this fun and creative card and watch him light up with happiness.
As a bonus?
You get to save it as a keepsake to remember how little your kids hands were at one time. So sweet!
You'll just need some colored paper, scissors, your favorite little hands to trace, glue, and a sweet message for the inside – and you're all set.
Get all the directions at Our Kids Things.
FAQ
Check out these frequently asked questions on making a do it yourself birthday card to dad.
What can I write in my dad's birthday card?
Wondering what to put in your dad's birthday card? From super simple and sweet, to longer and poetic – here's some great ideas:
Happy birthday! Today is a special day because it's all about you, the best dad in the world. I wanted to take a moment to let you know just how much you mean to me and how grateful I am to have you as my dad.
You're not just my dad, you're my hero, my role model, and my biggest supporter. You make every day brighter with your love, kindness, and silly jokes that always make me giggle. I cherish the time we spend together, whether it's playing catch, going on adventures, or just snuggling up for a good bedtime story.
You teach me so many important things, like how to be brave, how to be kind to others, and how to always believe in myself. You're always there to listen, to lend a helping hand, and to give the best bear hugs when I need them the most.
Today, I wanted to give you something special, something that comes from my heart. So, I made this card just for you. I hope it brings a smile to your face and reminds you of how much you are loved.
Thank you, Dad, for everything you do. You're my rock, my superhero, and my best friend. I can't imagine my life without you. On your birthday, I wish you all the happiness, joy, and love in the world.
Happy birthday, Dad! I love you to the moon and back.
You're the best Daddy in the world, happy birthday!
You are the best daddy in the whole wide world, and I love you more than words can say.
How can I make a birthday card at home?
Making a birthday card at home for the dad in your life doesn't have to be complicated.
You can use everyday things you have around the house (like markers and paper), you can create a fun card craft, or you can use a premade father's day template from Canva or design your own!
Is there an app to make birthday cards?
Wondering if there's a quick app you can use to make homemade birthday cards and avoid buying another overpriced one at the store?
The answer is yes! There are several apps available that allow you to create and personalize birthday cards.
Some popular options include Canva, Adobe Spark Post, and Ink Cards.
These apps provide a variety of templates, designs, and customization options to help you create fun and unique birthday cards right from your mobile device, that actually look good too!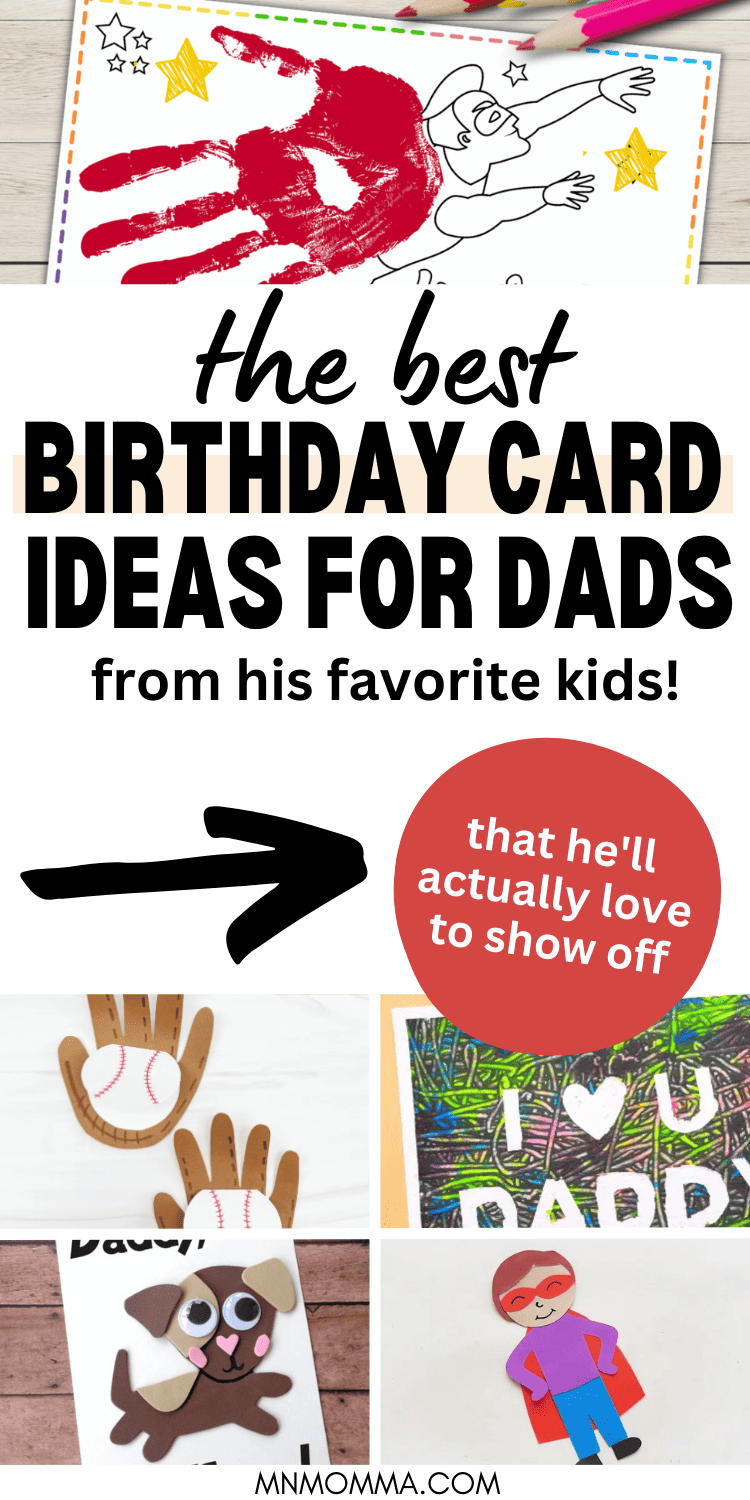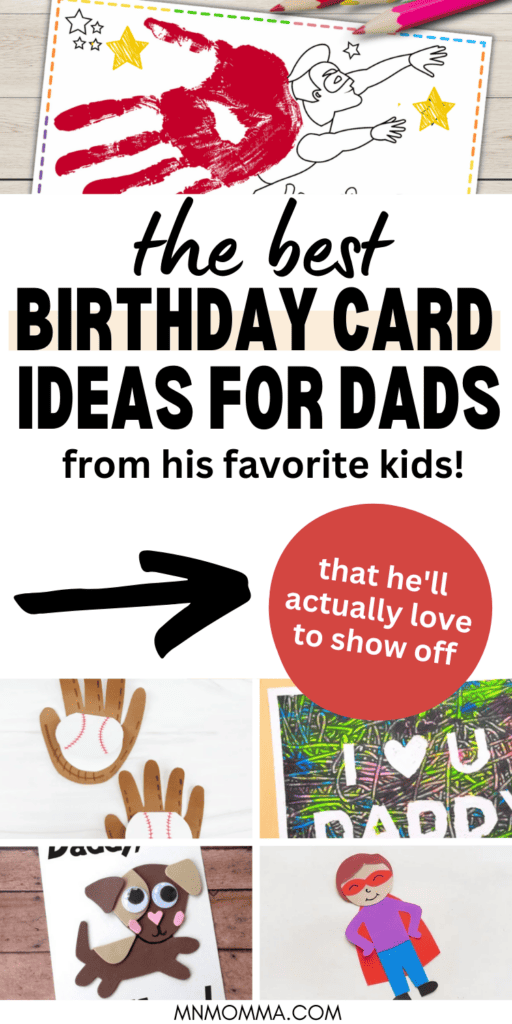 Best DIY Birthday Cards from Daughter to Dad
Homemade birthday cards for dad offer a personal touch that store-bought cards simply can't match. 
These DIY creations allow daughters to express their love, appreciation, and creativity in a unique and heartfelt way.
Whether it's a simple handmade card, a card featuring dad's favorite team, or a card filled with a kid's handprint, the end result is always a beautiful and meaningful card that will make dad feel truly special on his birthday (or even as a happy Father's Day).