An Honest Review of the Momcozy M5 Wearable Breast Pump
Disclosure: This post may contain affiliate links, which means I may receive a small commission if you click a link and purchase something. Please check out my disclosure policy for more details. All opinions are my own!
The MomCozy breast pumps are known to be a more affordable option of wearable pumps for busy moms.
But how does their new, hands-free breast pump stack up?
Here's my super honest MomCozy M5 pump review.
Spoiler alert: I love it – but there's a few things you need to know.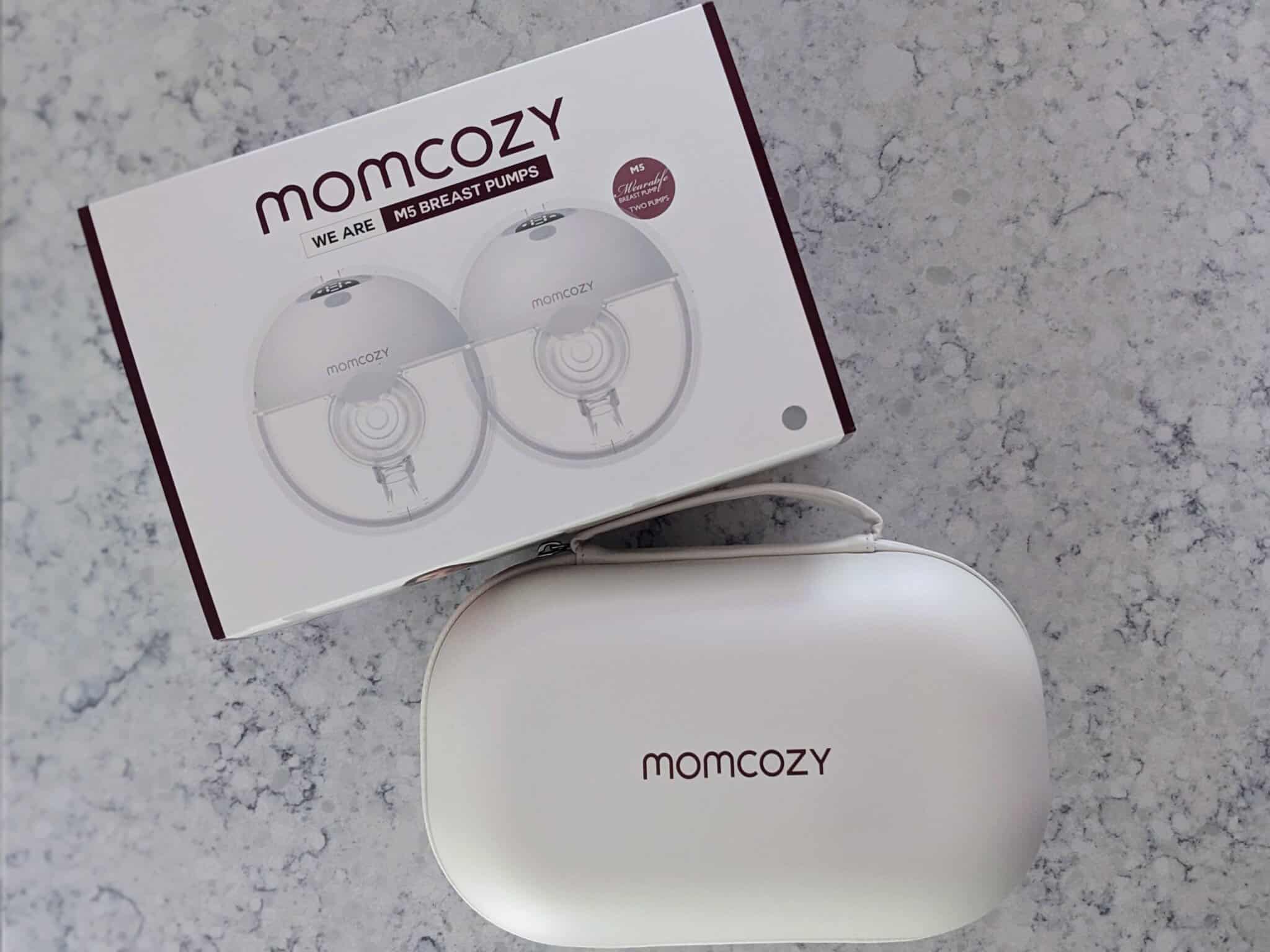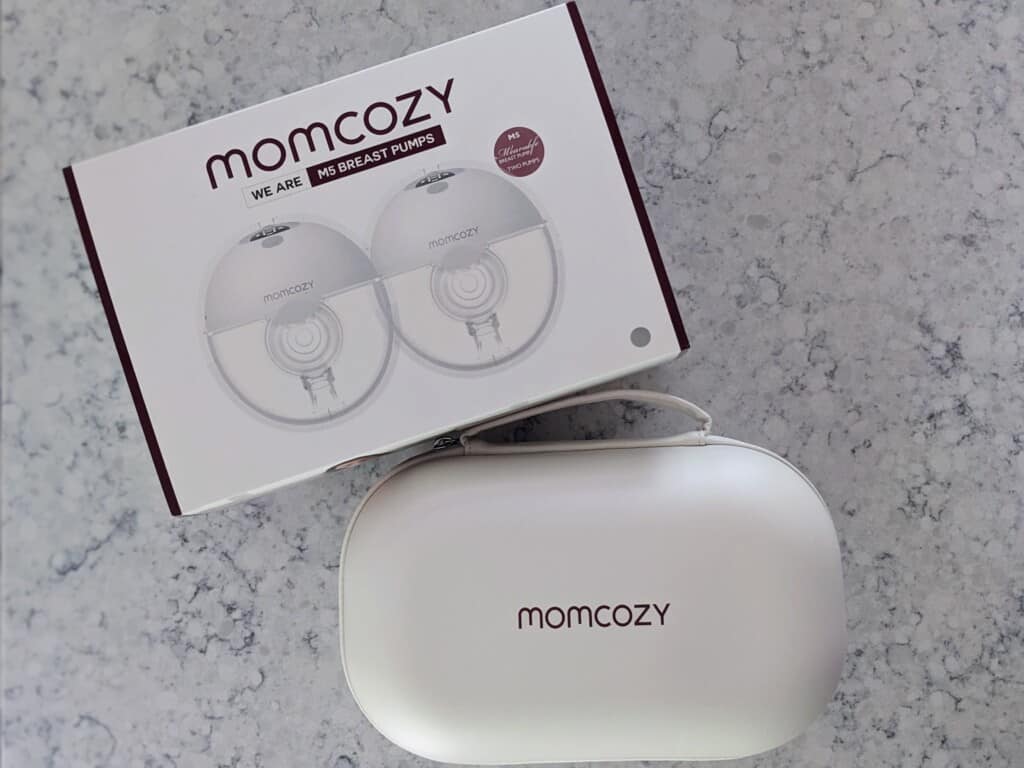 What is MomCozy?
Momcozy is a brand that focuses on products for new and expecting moms and has been around since 2017.
They sell nursing bras, bottle warmers, maternity clothes, diapers, travel gear, and SO much more.
However, most notably, is their breast pumps – and for pretty good reason.
In a world full of new, expensive breast pumps with tons of features, MomCozy's breast pumps have been a great affordable option for many new moms.
This review is specifically about the Momcozy M5 Wireless Pump.
My Personal Experience With the M5 Breast Pump
<– Pin it! Save this post for later.
I'm a mom of 3 kids, the youngest of whom is almost 1, who keep me on my toes and are SO busy.
I also work a full time job and run this blog, so I KNEW I needed a breast pump with a little more versatility than my old Medela or Spectra (both of which had to be plugged into the wall).
I only pump when I'm away from my baby, which is roughly 3 times a day/5 days a week.
I didn't want to spend a fortune on a wearable pump, wanted something easy to travel with, and one that actually worked well for my body (I'm a "just enough-er" when it comes to pumping breast milk).
Cue – the MomCozy pumps.
So here's how my M5 Pump experience went:
Unboxing the M5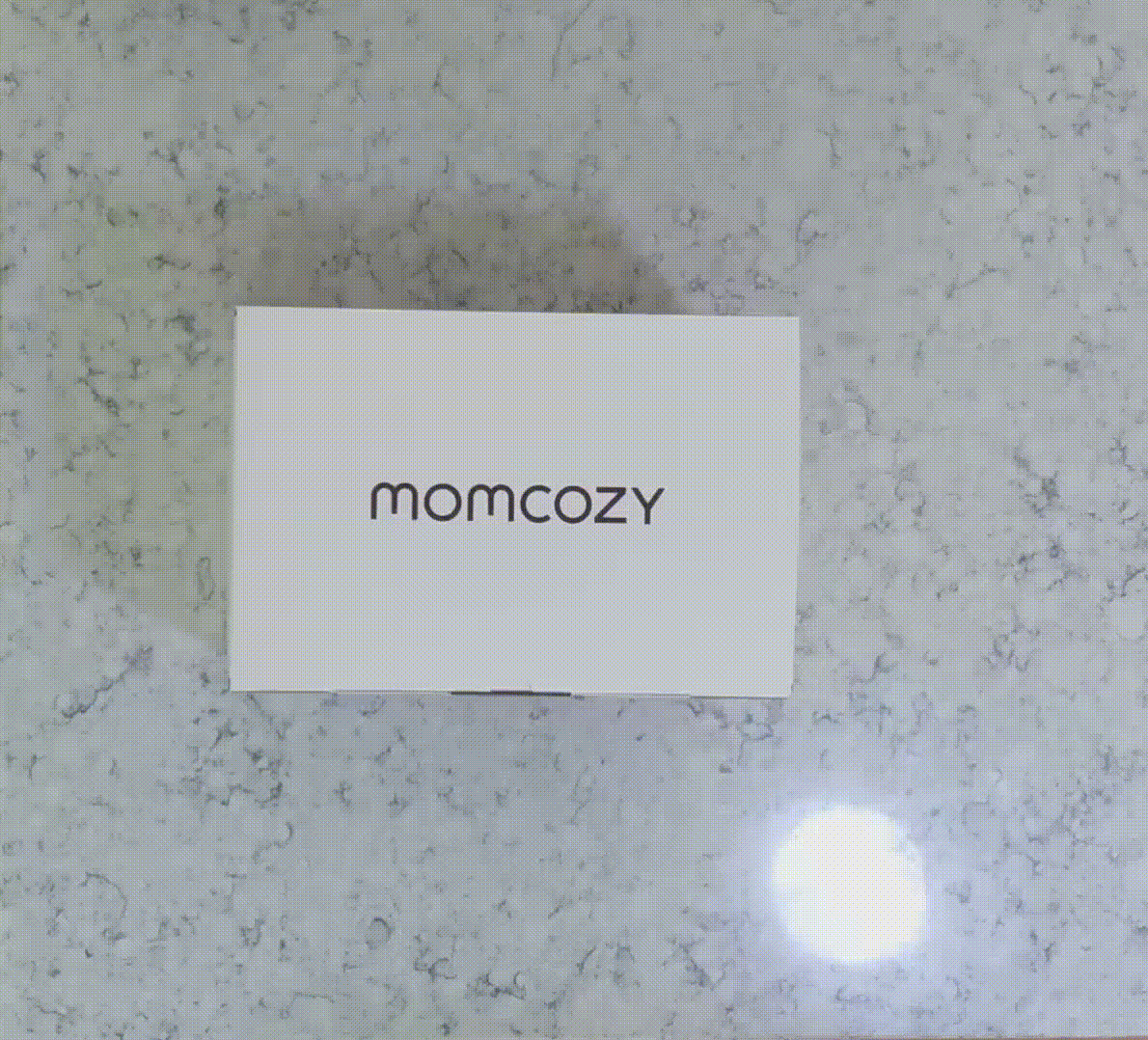 First, let's talk unboxing.
This very easily was the best breast pump I've ever unboxed.
It was beautiful and I was impressed as I pulled each item out of the box and saw more.
Instead of a traditional pump, the MomCozy M5 was beautifully packaged in a slick carrying case.
Inside the zippered case were the two individual (compact design) cups and motors, a cover for each cup, and another zippered section that included cleaning tools, extra pump parts, AND multiple sized flange inserts.
I was shocked and so giddy at everything included, which earned MomCozy extra points in my book on this new pump.
I felt they were really looking after pumping moms and making sure we were SET.
Using the M5 Pump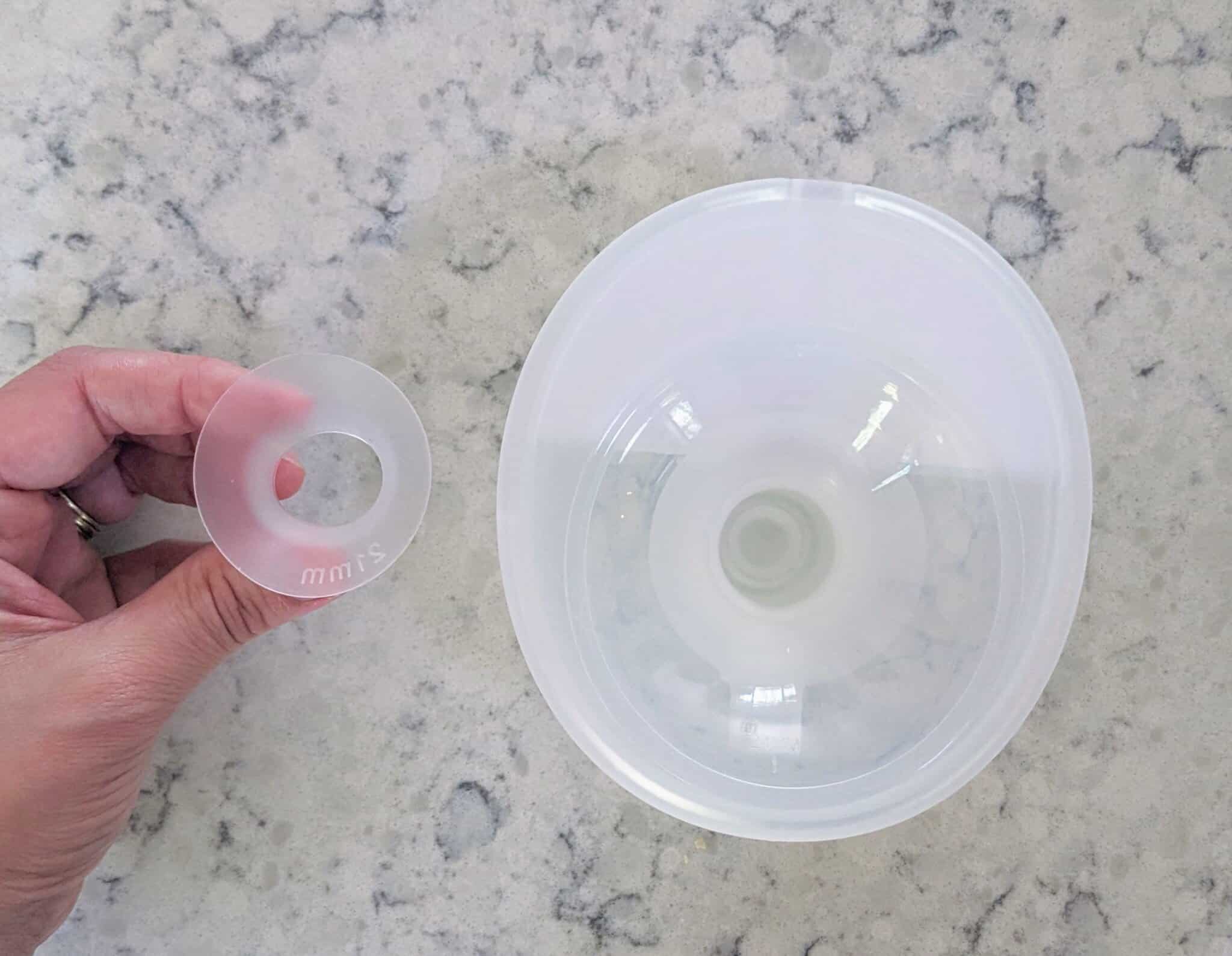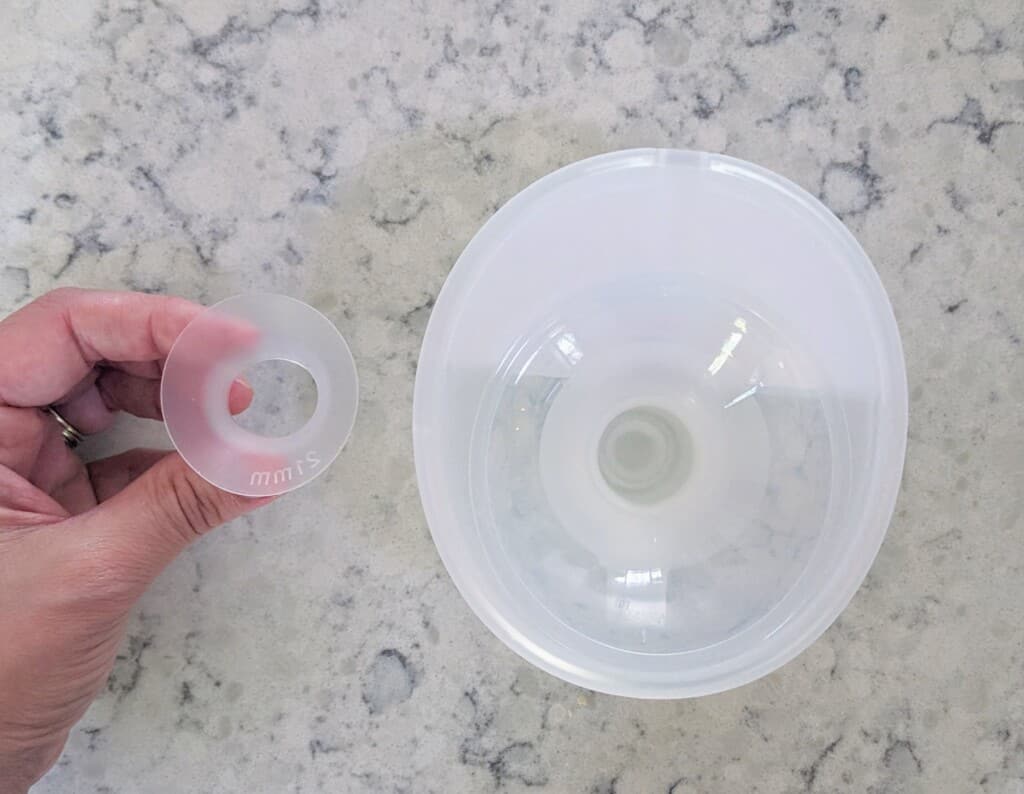 As always for me, I had to add the flange inserts to the pump so it would fit me properly and prevent nipple damage.
This was super easy since there were so many sizes to choose from included with the pump.
Next, the motors were charged so it was just figuring out the right pump settings for the M5 and seeing how my body reacted to it. Just like the MomCozy S12 pro there are three modes: stimulation, expression, and mixed. And 9 different levels on each to choose from.
For me, the best results were to use the stimulations mode for about 2 minutes on level 5, and then the expression mode on level 3 for the rest of my pump session.
I'm usually someone who feels like they can pump at a pretty high level, but I definitely leveled down for the M5.
This was something I was surprisingly happy about, as I'd rather be able to go higher if needed, as opposed to feeling like I'm already at the top of the pump's strength.
The lcd screen and buttons are easy to access and very simple. My only complaint being I wish I could have looked at the pump and seen how many minutes I had been pumping for – unfortunately, it would shows the level at which you're pumping.
The pump does however auto shutoff after 30 minutes, which is my usual pump session, so I didn't worry too much about not tracking the time.
So what were my results?
As I previously said, I'm a "just enough-er". And this pump delivered. I pumped for 30 minutes (my usual time) and got my standard 4-5 ounces between both sides.
To those with larger supplies, this might not seem like a lot, but I was very happy to get my regular output from an easy to wear portable breast pump.
As a previous lover of the S12 Pro, I'm VERY happy to report that the M5 is much more discrete.
Without the large motors sticking the top of the pump, the M5 can hide more easily under your shirt and make pumping in public places or on the go FAR less noticeable – something I really loved.
There's also only 3 parts to wash with this pump, which is a huge win in my books and makes me want to make this my wearable primary pump.
With the exception of not being able to see how long I'd been pumping for, I felt like the M5 was the answer to any complaints I'd had about the S12 Pro.
It's an awesome little pump and one I feel is the best option for moms willing to spend a little more than the cost of the standard MomCozy pumps, but are still not looking for something outrageous.
What I Didn't Love About the Momcozy M5 Pump
Okay, so while I mentioned that this pump is a favorite of mine, I want to mention a few things I didn't love about:
No pump timer – I really like to look at my breast pump and see how many minutes I've been pumping for. Yes, I can track this myself, but I'd rather not think about and have the pump do it for me. Unfortunately, the display size is far too small to accommodate the pumping time along with the pump settings. This is a sacrifice I'm willing to take, however, due to the motor sitting right next to the collection cup to create a sleek design.
Noise – I'll always dream of a truly silent pump. This one, just like every other pump makes noise, but it certainly isn't a deal breaker.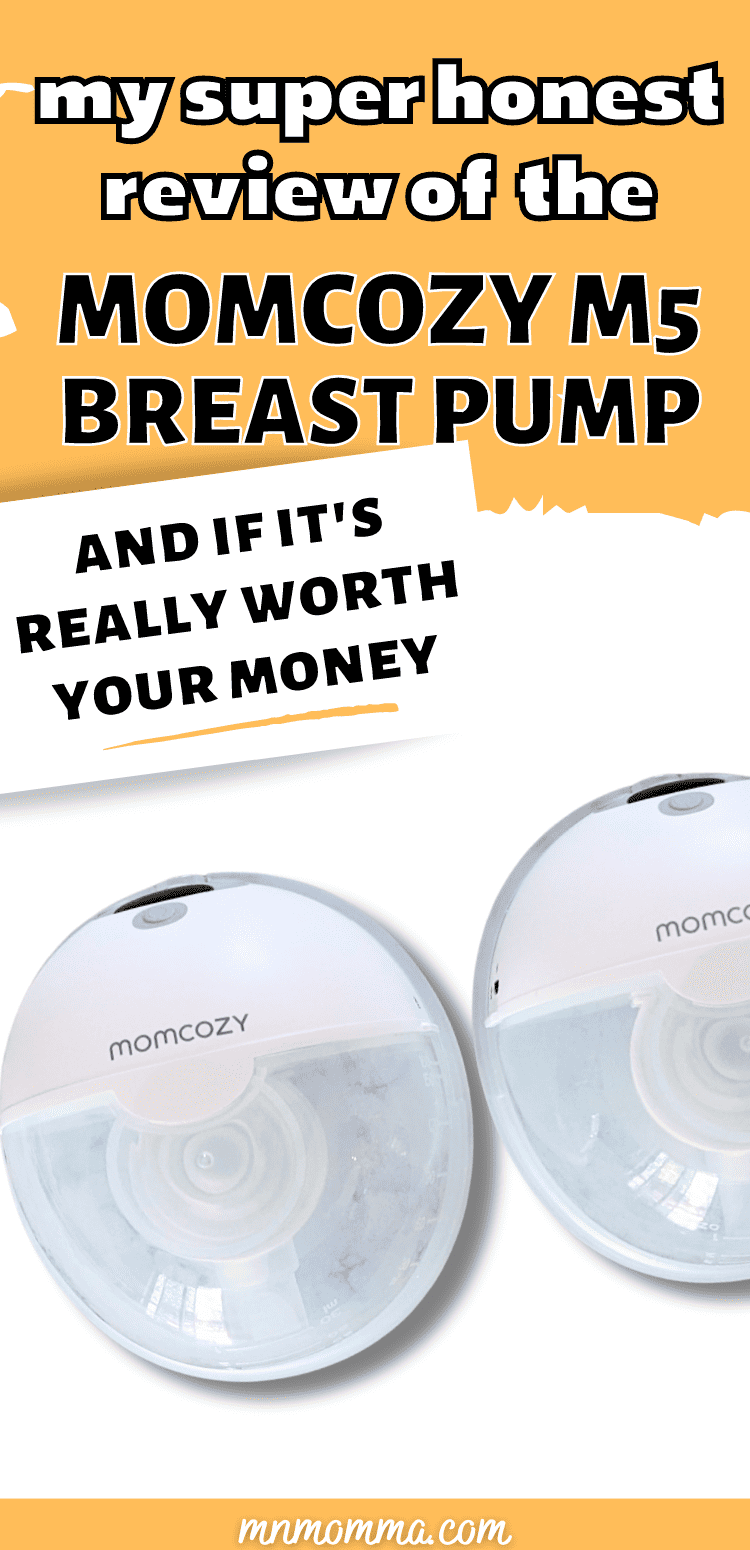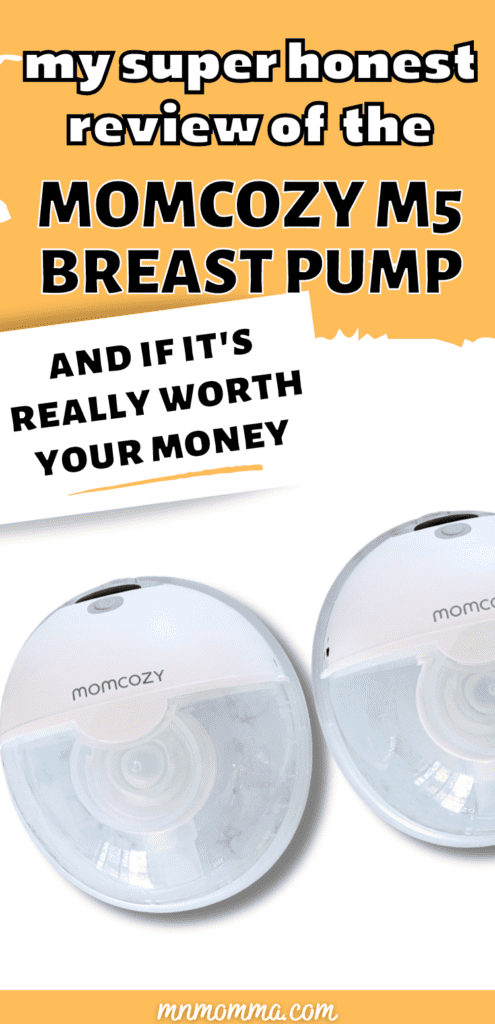 Pros and Cons of the Momcozy M5 Hands-free Breast Pumps
Here's a round up list of the pros and cons of the new MomCozy M5 Electric Pump:
Pros of the M5
Hands free: this pump is wireless and easily portable. As a busy, working mom of 3, you can't beat this.
Hospital grade pump: stronger suction options to pump breast milk more comfortably and efficiently = more milk in less time
Discrete and sleek design: the new design of the M5 is perfect. It's sleek without any protruding parts to get in the way.
Comfort: no more painful pumping. The silicone flange provides comfort while pumping in one of 3 different modes (stimulation/ massage mode, expression, and mixed), and 9 adjustable suction levels in each mode.
Ease of use: With only 4 buttons, this pump is incredibly easy to use. Line it up, turn it on, set your settings, and you're off.
Auto shut off after 30 minutes and timer on each pump
Pump parts: there are 3 pump parts to wash with each cup. This makes cleanup quicker and assembly faster and easier.
Ability to use one pump at a time or both makes it easy to feed baby while simultaneously pumping on one side.
Flange slope at 105°. The curve makes it not compress milk ducts to avoid missing blocking your milk ducts and giving you a better breast milk flow.
Collection cups have spouts making it easy to pour breast milk into a reusable container or bottle.
Affordable: even being more expensive than MomCozy's other pumps, the M5 is much more affordable for busy moms as opposed to similar big brand portable pumps (Willow or Elvie pump).
Cons of the M5
No timer: there's no timer on the pump to see how long you've been pumping for
Cost of the Momcozy Pump
The cost the Momcozy M5 is $199.99 for the set of two pumps (the double).
The price for the single pump (just one sided) is $119.99.
Coupon Code for Momcozy
If you're looking for a coupon code or discount for the Momcozy pump, you're in luck!
Go to the momcozy website and use code: mnmomma for 15% off any momcozy products.
What is the difference between Momcozy S12 Pro and the M5?
There are a few different options when it comes to a momcozy wearable breast pump; but most moms want to know what the difference is between the popular S12 Pro and M5. As a mom who's had the opportunity to test out both, here's what I think:
M5 is more discrete with inset motor
M5 comes with more "extras" (flange inserts, carrying case, cleaning tools, etc.)
S12 Pro has a better LCD display
Best Nursing Bra to Wear With Momcozy M5
With any portable breast pump, you want to be sure you're wearing a tighter fitting nursing bra without wires or padding.
This is a super popular option from Kindred Bravely:
If you're looking for a more budget friendly alternative, check out these pumping bras from Amazon:
Should You Buy The Momcozy M5 Breast Pump
Yes! I absolutely think the MomCozy M5 Breast Pump is a great buy for pumping moms looking for an affordable wearable pump.
Its hands-free, discrete design, and extras included with the pump make this the best wearable breast pump I've tried yet.
Where to Buy The Momcozy M5 Pump
You can buy the Momcozy M5 on Amazon or the MomCozy website.
Be sure to use code mnmomma on the MomCozy website to save 15%.
Momcozy M5 Breast Pump Tips
To have the best success with the MomCozy M5, try using these wearable pump tips:
Check your nipple size and wear the correct flange (or flange insert)
Always lean forward when removing the pumps to avoid spilling any milk
Be careful when bending over. Think *good posture* when leaning down to get something as it's possible to spill 😉 Even the best hands-free pumps can still spill if you bend over too far
When starting with a new pump, add a few extra minutes to your pumping session than you would with traditional breast pumps until you see how your body reacts. Not all pumps work great for every person.
Check your pump parts regularly for wear and tear and replace your pump parts as needed. Some spare parts are included with the M5.
Momcozy Breast Pump Settings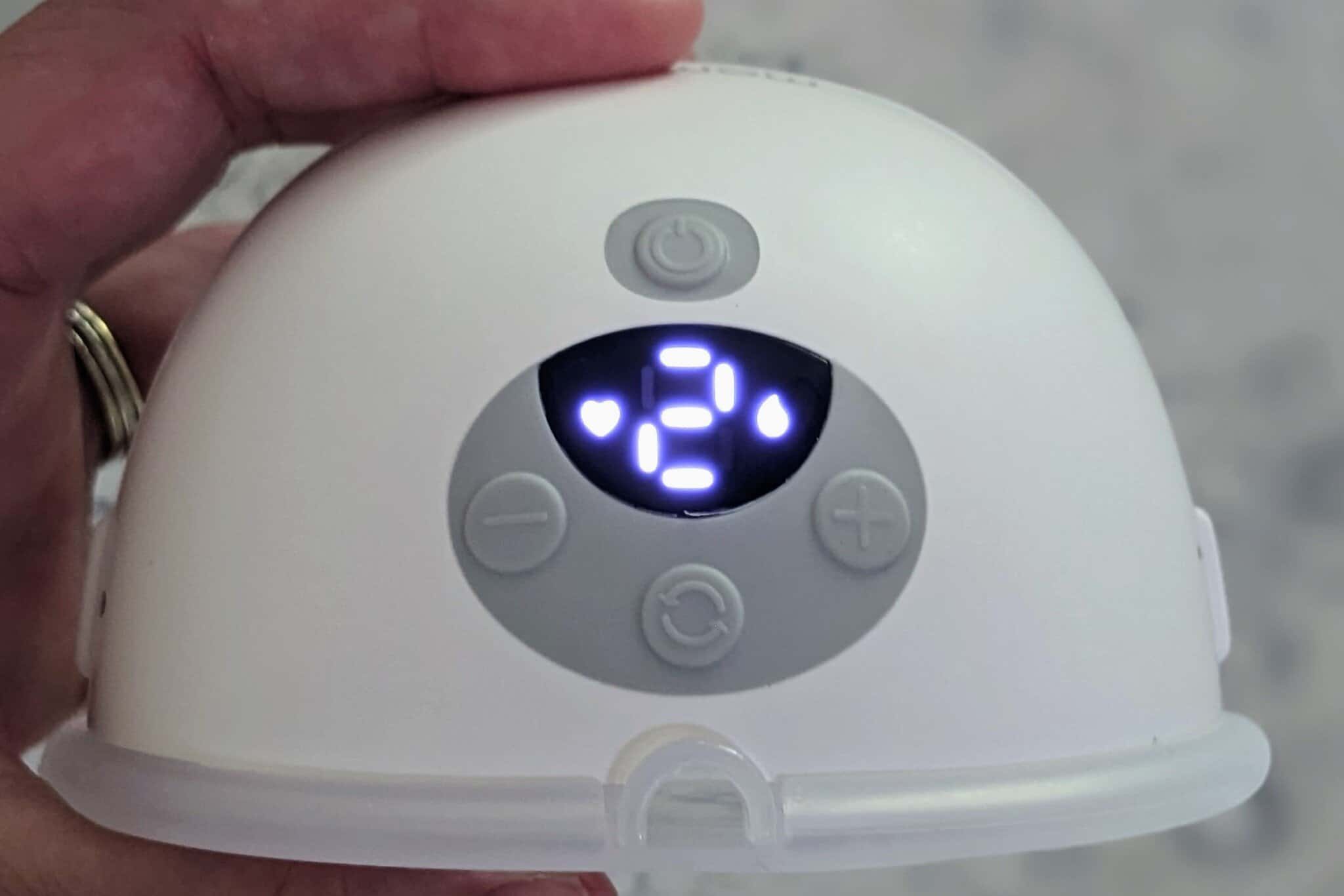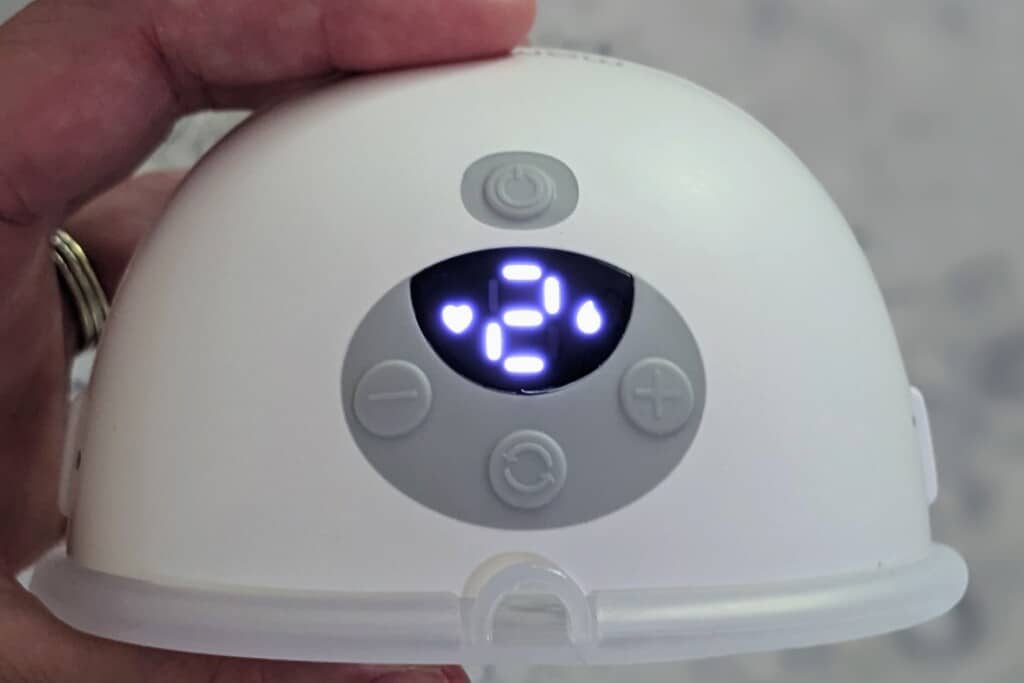 The Momcozy M5 has 3 pumping modes and 9 levels of intensity to find your perfect fit.
The modes are:
Letdown (aka Massage Mode or stimulation mode) – quick bursts — Heart icon
Expression (aka normal mode) – slower longer pulls – Droplet icon
Mixed – a combination of the letdown and expression mode. It gives quick bursts follow by one longer pull – Heart & Droplet icon together
Which Settings to Use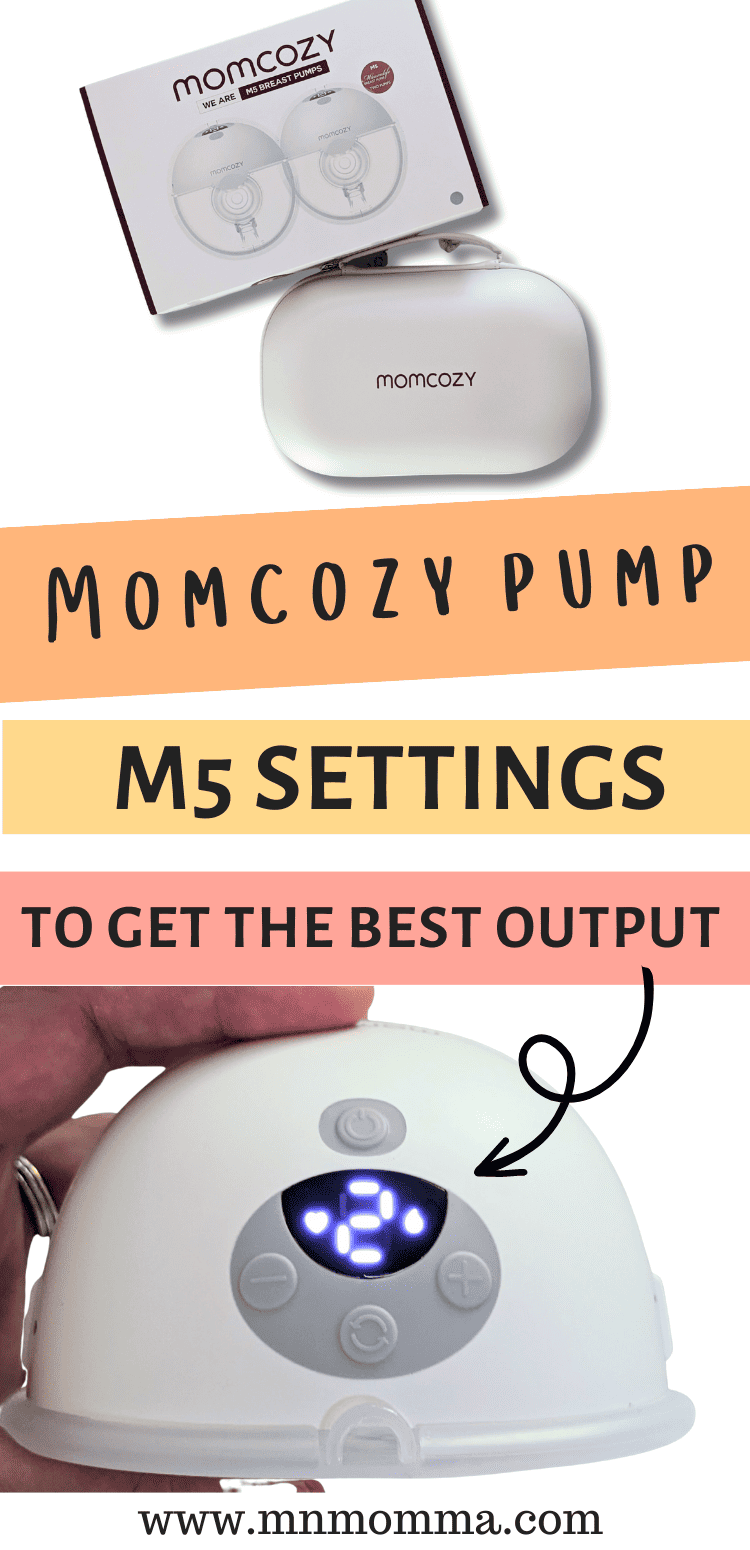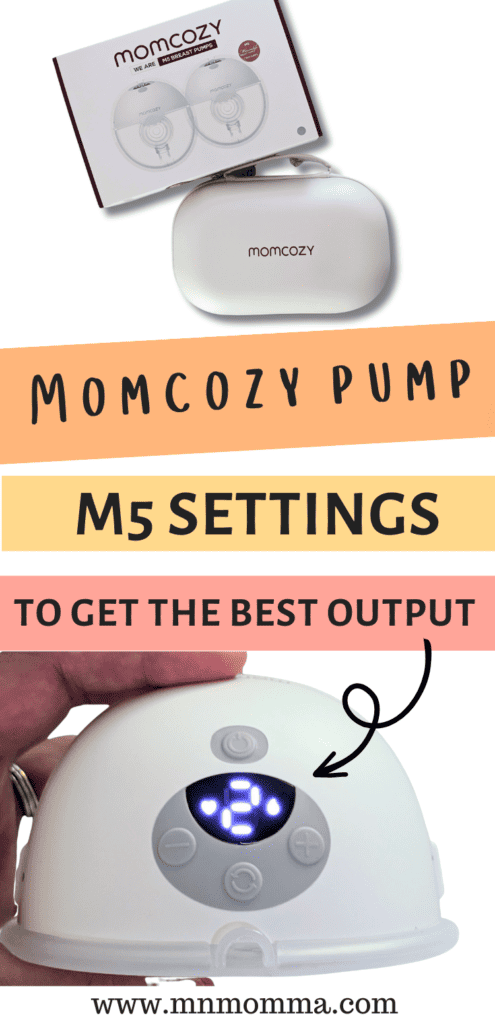 Knowing which settings to set your wearable pump to can be intimidating.
Just go back to the basics and remember what each setting is for:
letdown mode: meant to feel like your baby just starting to breastfeed or nurse and frequently used to help start a letdown
expression mode: used once you've had a letdown and to keep removing breast milk
If you try something and it's not working, don't be afraid to switch it up and pump completely on one setting or another, or try the mixed mode.
When it comes to intensity the best advice I've heard is to go up to the level where it just starts to hurt or feel uncomfortable, AND THEN go down one level.
You should be pumping at a high enough level for your body to react and produce breast milk, but still not be in pain.
If you're still not sure where to start, I recommend you try the traditional method of using the stimulation mode until you have a letdown, and then use the expression mode.
Once you stop seeing/feeling milk come out, try the letdown mode once more to see if you can trigger one more letdown before ending your pumping session.
What's Included with the MomCozy M5 Pump
The MomCozy M5 comes with a lot of great accessories. Here's what's included with the M5 double:
M5 breast pumps
Dust cover for each pump
24 mm flange (x2)
27 mm flange (x2)
17, 19, 21 mm flange inserts (x2)
Spare duckbill valve (x2)
Bra adjuster buckle (x2)
USB cable (x2)
2 different cleaning brushes
Storage bag for each pump
Zippered storage case
FAQ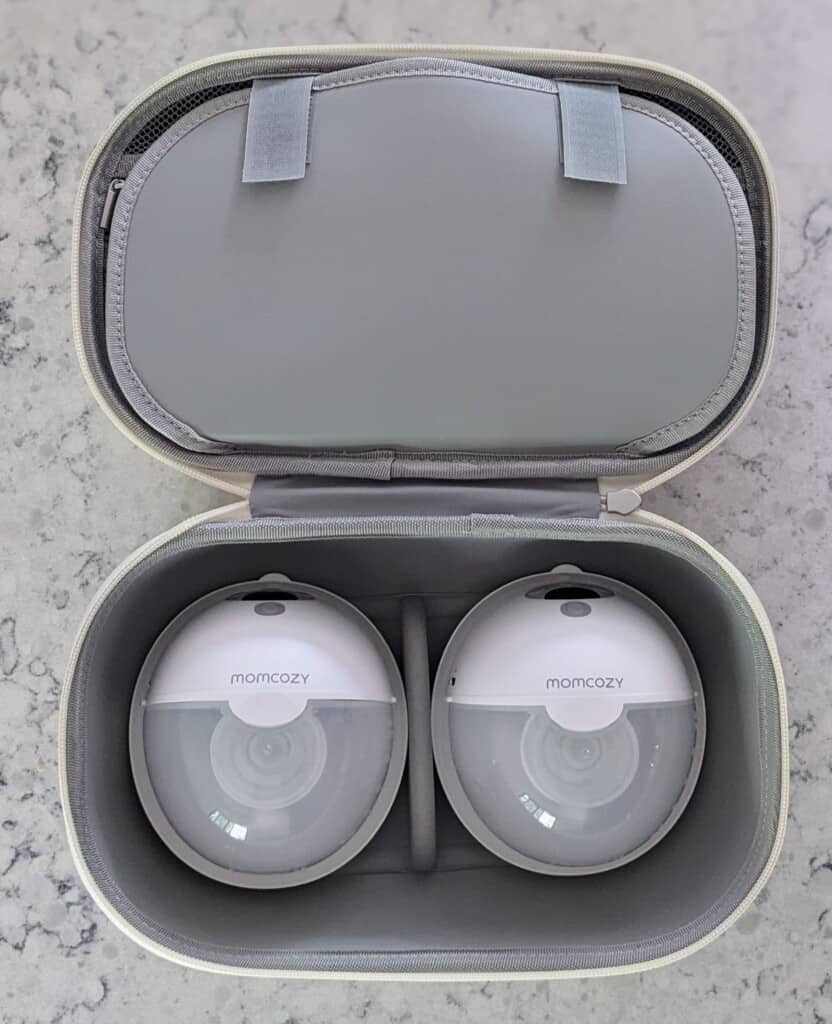 Which one is better Momcozy or Willow Pump or Elvie?
​The Willow Go and Elvie Stride pumps have become increasingly popular as well.
These well known brands are typically more expensive than the Momcozy pumps and come with a few more features, such as a connected app or being able to pump directly into breast milk bags.
Of course, those features also come at a price – making the best wearable breast pump whichever one meets your needs.
Feel like you need to be able to control your pump with your phone? Then the Momcozy isn't the best choice for you.
But if you're looking for a great, sleek wearable pump at a more affordable price, you can't beat the Momcozy M5.
Can I use Momcozy as my main pump?
Some moms are able to successfully use a wireless Momcozy pump as their main pump.
However, if you're pumping frequently, it isn't recommended to use a wearable pump as your primary pump as they're known to leave breast milk behind.
The best option is to see how your body reacts to a wearable pump, and if you're fully emptying (or pretty darn close), you'll likely be okay to use the Momcozy as your main pump. If you're not, try to use your wearable pump for on the go needs and then use your traditional pump (I love and recommend the Baby Buddha) during other times.
How long do Momcozy pumps last?
The MomCozy M5 pump just came out this summer, so no one has been using it longterm at this point.
That said, MomCozy does provide a one year warranty for their products
When did Momcozy M5 come out?
The Momcozy M5 was released on June 8, 2023.
How long does the Momcozy M5 battery last?
The Momcozy M5 battery lasts about 100-120 minutes and takes roughly 2 hours to fully charge. Depending on the length of your pumping sessions, you can expect to get between 4-8 sessions out of each charge.
How strong is Momcozy M5 suction?
The Momcozy M5's suction strength isn't listed on MomCozy's website, however, it comes with 9 levels of suction in each mode.
Personally, it feels stronger than the S12 pro to me, which has a suction strength of 280-300 mmHG.
Where Can You Get Replacement Parts for Momcozy Pumps
You can grab replacement parts for the Momcozy pumps on the Momcozy website (use discount code: mnmomma). Your initial purchase will include one set of spare parts as well!
What's the Best Momcozy Breast Pump?
The best Momcozy pump is the one that works best for you!
The one that's the most comfortable and is able to remove the most milk in the shortest amount of time. Personally, after now trying the S9 Pro, the S12 Pro, and the M5 I found that the M5 was my favorite due to the sleek design and strong suction.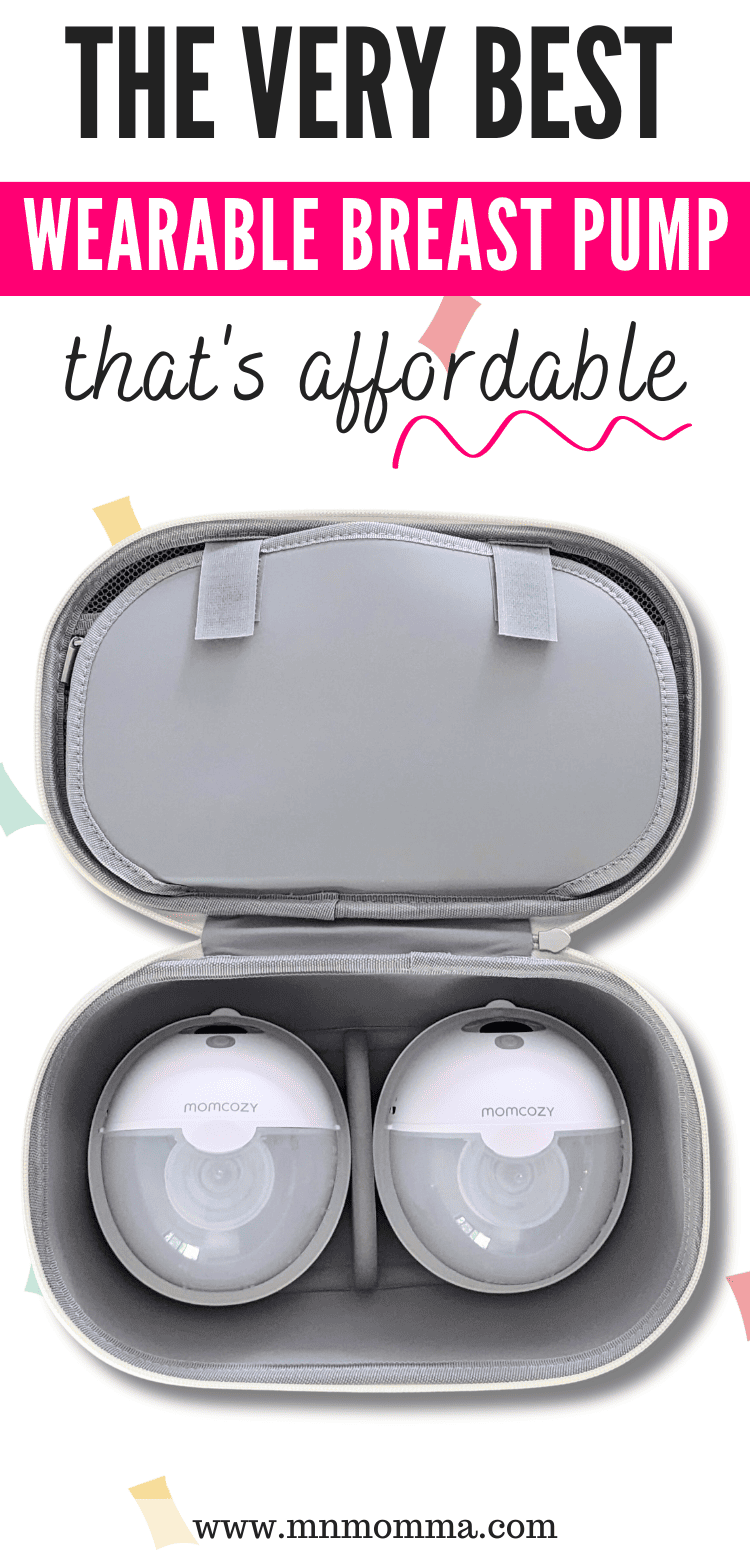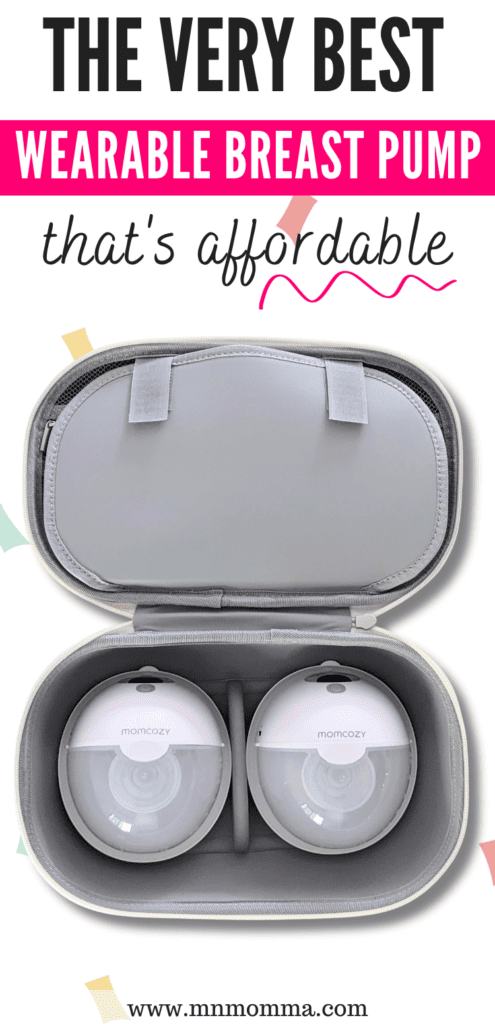 Momcozy M5 Wearable Breast Pump Reviews
After having the opportunity to give the M5 breast pump a try while my baby was at daycare, I'd 10/10 recommend it as a portable breast pump to any of my friends and family.
It's been easy to use, more discrete than most, AND I'm still successfully removing enough breast milk for baby.
If you've tried a Momcozy wireless breast pump, I'd love to hear your thoughts too!