My Honest Review of the Momcozy S12 Pro Breast Pump
Disclosure: This post may contain affiliate links, which means I may receive a small commission if you click a link and purchase something. Please check out my disclosure policy for more details. All opinions are my own!
Finding the best breast pump is a challenge.
Some people respond better to stronger suction, some nursing moms need vibration, and others just need a consistent lightweight electric breast pump that's easy to use.
I've used many breast pumps with the course of my 3 children, but let me tell you – having a wearable breast pump with NO cords or wires has been awesome.
Like, life changing, able to live your crazy busy life, good.
So which breast pump should you choose?
I recently got one of the new Momcozy wearable pumps and I'll cut right to the chase – I'm pretty sure I love it.
It's portable, easy to charge, and after a few days of pumping with it, it seems to pump breast milk really well!
This is my totally honest Momcozy S12 Pro review – keep reading for all the details on these little electric pumps!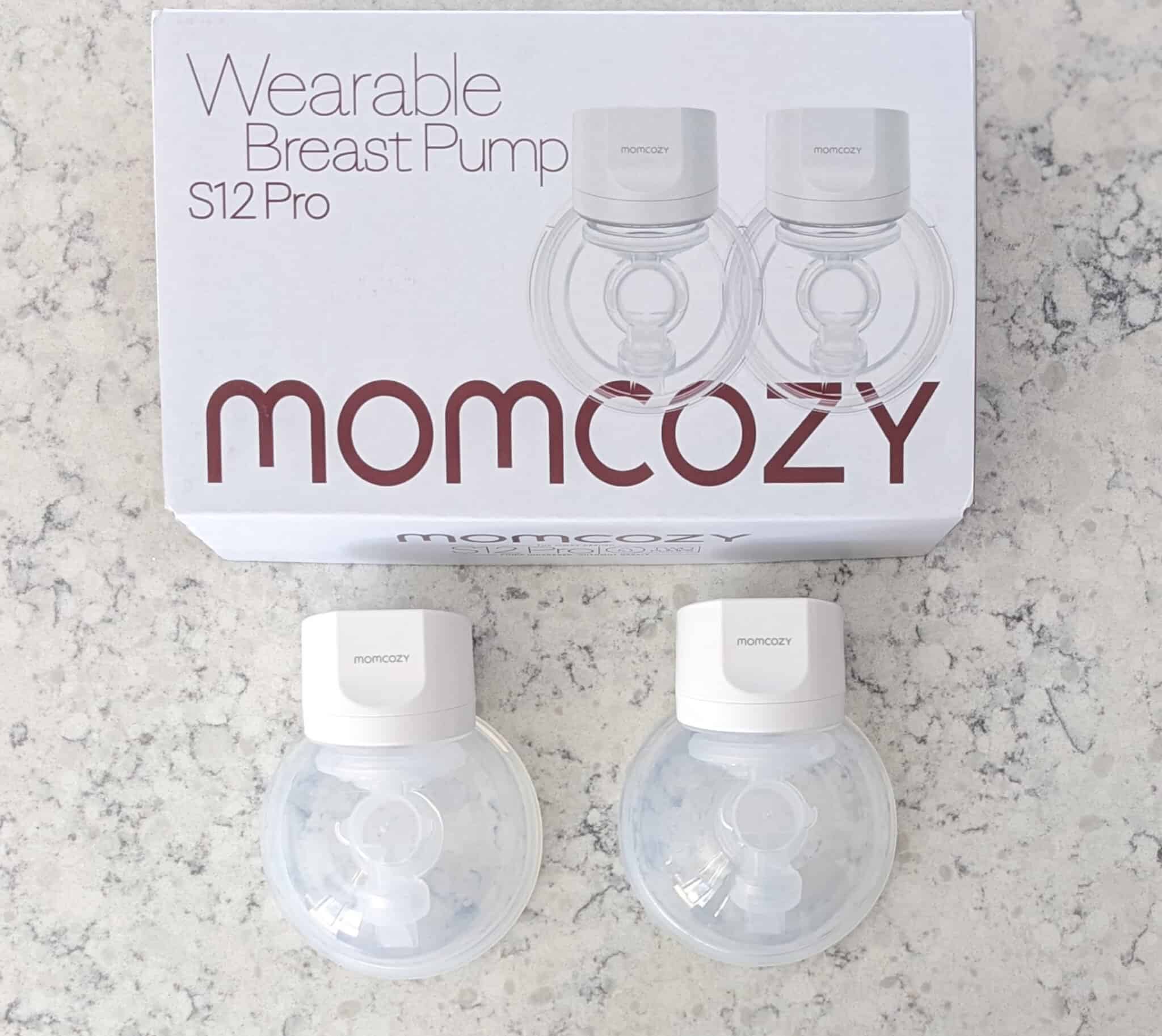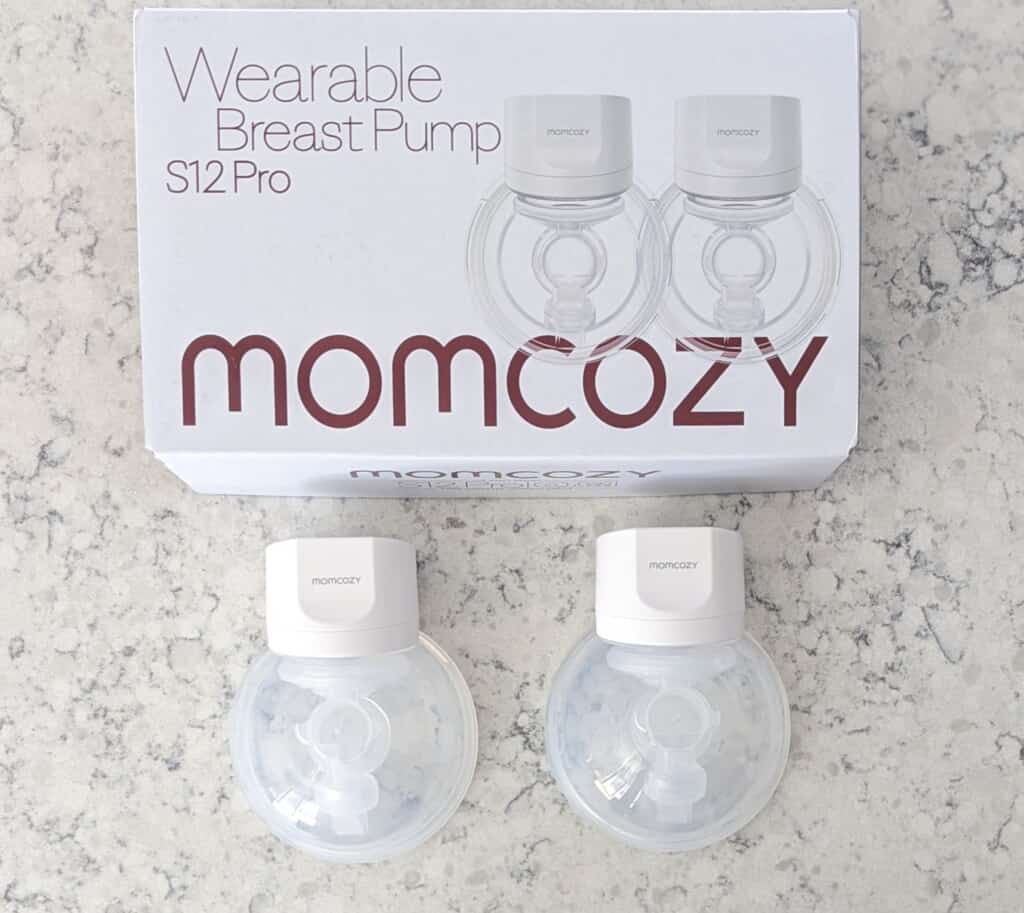 What is the Momcozy Breast Pump?
Momcozy is a brand that sells breast pumps, nursing bras, bottle warmers, maternity clothes, baby monitors, and probably more by the time I get this post finished.
There's also been a few versions of their portable breast pump.
This review is specifically about the Momcozy S12 Pro Wireless Pump.
My Personal Experience With the S12 Pro Breast Pump
As a busy mom who's been back to work for a few months, I needed a breast pump that was easy to transport, quick to express milk, and actually worked well for my body (I'm a "just enough-er" when it comes to pumping breast milk).
I breastfeed my baby when I'm home and I pump three times a day while I'm working.
So how did the Momcozy S12 Pro stack up?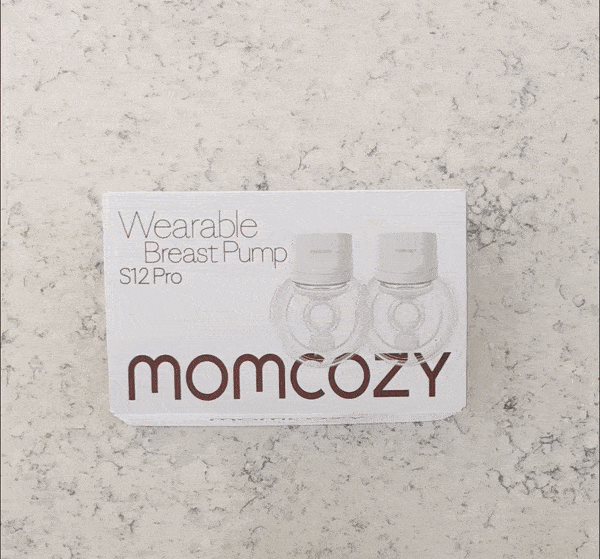 First, I had to add some flange inserts to make sure the pump fit me right as it only comes with a 24 mm flange. This was no big deal to me as I'm used to adjusting my breast pumps to make sure they fit right (be sure to check yours too so you're not in pain and pumping the most milk you can!).
Next, I set up the double pump and started to play with the S12 pro settings to see what would work best for me. There are three modes: stimulation, expression, and mixed. And 9 di
Which I thought was great!
For me, the best results were to use the stimulations mode for about 3 minutes on level 7, and then the expression mode on level 5 for the rest of my pump session.
The lcd screen is super sleek and easy to access for adjustments.
As I mentioned before, I'm ALWAYS a "just enough-er", so I pumped for my typical 30 minutes and got my usual 4-5 ounces.
While this isn't a large amount to some moms, I was thrilled that the wearable pump provided me with the same amount of breast milk as I usually got.
I do want to note that while the S12 Pro is super convenient to use for a pumping session, it is not very discrete. I'm larger busted and I feel like it's quite obvious that something is off.
If you're self conscious or more private about your pumping, you'll either want to skip using this pump in public places or be sure you're wearing a larger sweater or jacket over it.
That said – it really doesn't bother me, I'm just happy to be able to move and pump at the same time.
I think the S12 pro is great product and easily the best option for moms on a budget who don't want to spend the money on a more expensive pump like the Willow or Elvie breast pump.
What I Didn't Love About the Momcozy S12 Pro Pump
While I really liked this pump and I'm debating adding it as my primary pump, there were a few things that threw me off:
Charging the battery – This is a minor inconvenience, but I wish the pump came with a charger that had space for two usb plugins, like this one. Instead, I was using two outlets to charge the pair of pumps. *The wireless pump comes with the charging cords, but not the actually port to plug it in to your outlet.
Noise – Let's face it, breast pumps make noise and the Momcozy is no louder than any other pump I've used. However, since each side is controlled separately, the noise from one can easily get "off" from the noise of the other. This is totally normal for a pair of wearable pumps that aren't connected, but was definitely something I had to get used to.
Pros and Cons of the Momcozy S12 Pro Hands-free Breast Pumps
Check out these positives and negatives of the new Momcozy S12 Pro pump:
Pros of the S12 Pro
Hands free: this pump is wireless and easily portable. As a busy mom of 3, this is hands down my favorite feature
Hospital grade pump: strong breast pump suction options to pump breast milk efficiently = more milk in less time
Comfort: say goodbye to painful pumps. The silicone flange provides comfort while pumping in addition to 3 different modes (stimulation/ massage mode, expression, and mixed), and 9 different adjustable suction levels.
Ease of use: Just line up the pump, hit the on button, and you're ready to go. With only 4 buttons and a memory function that remembers your settings, this pump is simple and easy to use.
Auto shut off after 30 minutes and timer on each pump
Ability to use one pump at a time or both makes it easy to feed baby while simultaneously pumping on one side.
Upgraded Double-sealed flange design reduces spilling
Collection cups have spouts making it easy to pour breast milk into a reusable container or bottle.
Sleek LCD screen comes as a full-screen design with easy to read battery level
Affordable: when it comes to wearable breast pumps, this pump is much more affordable for busy moms as opposed to similar big brand portable pumps (Willow or Elvie pump).
Cons of the S12 Pro
Does not come with a wall charger (only the cord)
Pump parts: there are 5 parts to wash and reassemble with each pump. While this isn't many, it's more than you might have with traditional pumps like the medela pump or the spectra.
Not discrete. If you're hoping to "secretly pump" this probably isn't the pump for you.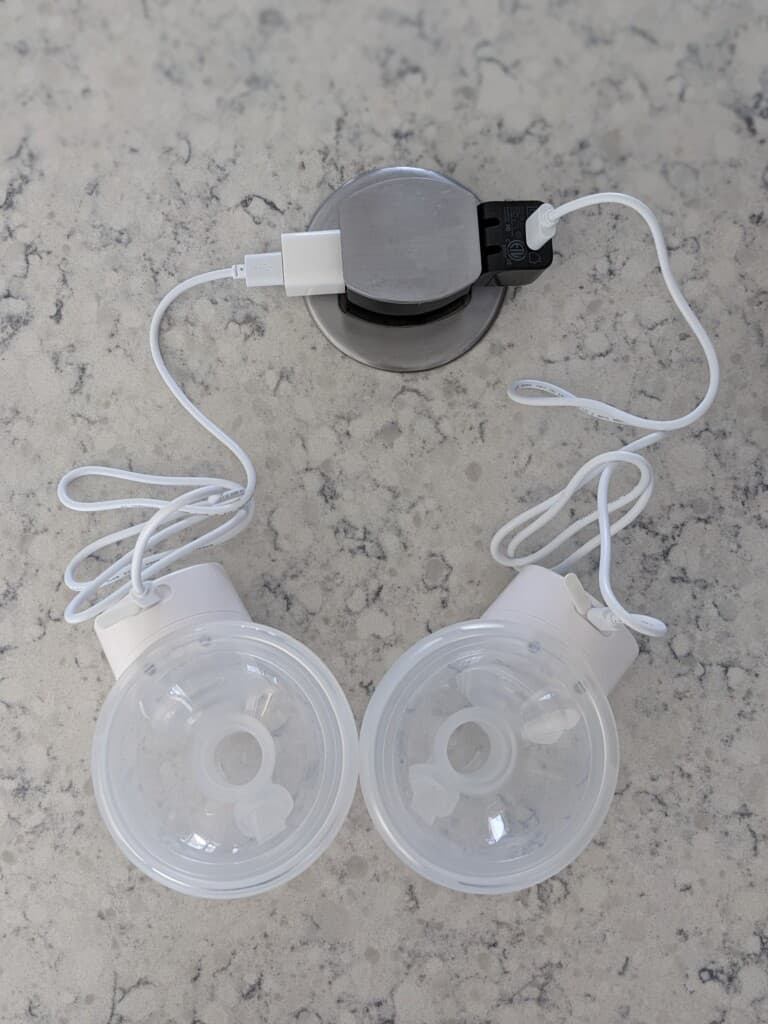 Cost of the Momcozy Pump
The cost the Momcozy S12 Pro is $139.99 for the set of two pumps (the double).
The price for the single pump (just one sided) is $74.99.
Coupon Code for Momcozy
If you're looking for a coupon code or discount for the Momcozy pump use these on Amazon:
S12pro
Code: mnmommaS12
S9pro
Code: mnmommaS9
Bottle Warmer:
Code: mnmommabm
OR
Go to the momcozy website and use code: mnmomma for 15% off any momcozy products.
What is the difference between Momcozy S12 and S12 Pro?
There are a few different options when it comes to a momcozy wearable breast pump; but most moms want to know what the difference is between the S12 and the S12 Pro.
Here's a few key differences that the pro version offers as compared to the regular S12:
Longer battery life
Faster charging – get approximately 140 minutes of power out of a 1.5 hour charge
Double sealed flange
3 modes (stimulation + expression + mixed) and 9 adjustable suction strength settings
Upgrade LED screen with timer to keep track of the pumping time
Best Nursing Bra to Wear With Momcozy S12 Pro Pump
While using a portable breast pump, it's best to wear a tighter fitting nursing bra without wires or padding.
Here's a popular option from Kindred Bravely:
And another great option for those on a budget from Amazon:
Should You Buy The Momcozy S12 Pro Breast Pump
Yes! I absolutely think the Momcozy S12 Pro is a good buy for most pumping moms.
Its hands-free design and affordable price make this the best wearable breast pump I've tried.
Where to Buy The Momcozy S12 Pro Pump
You can buy the Momcozy S12 Pro on Amazon or the MomCozy website.
Be sure to use code mnmommaS12 on Amazon to save 10% or mnmomma on the MomCozy website to save 15%.
Momcozy S12 Breast Pump Tips
When using the S12 Pro pump, here's some pumping tips that can help you have the most success:
Be sure you're using the correct flange sizes
Always lean forward when removing the pumps to not spill any milk
Be careful when bending over, even great hands-free pumps can still spill if you bend over too far
Pump a few extra minutes longer than you would with traditional breast pumps until you see how your body reacts. Not all pumps work great for every person.
Check your pump parts regularly for wear and tear and replace your pump parts as needed.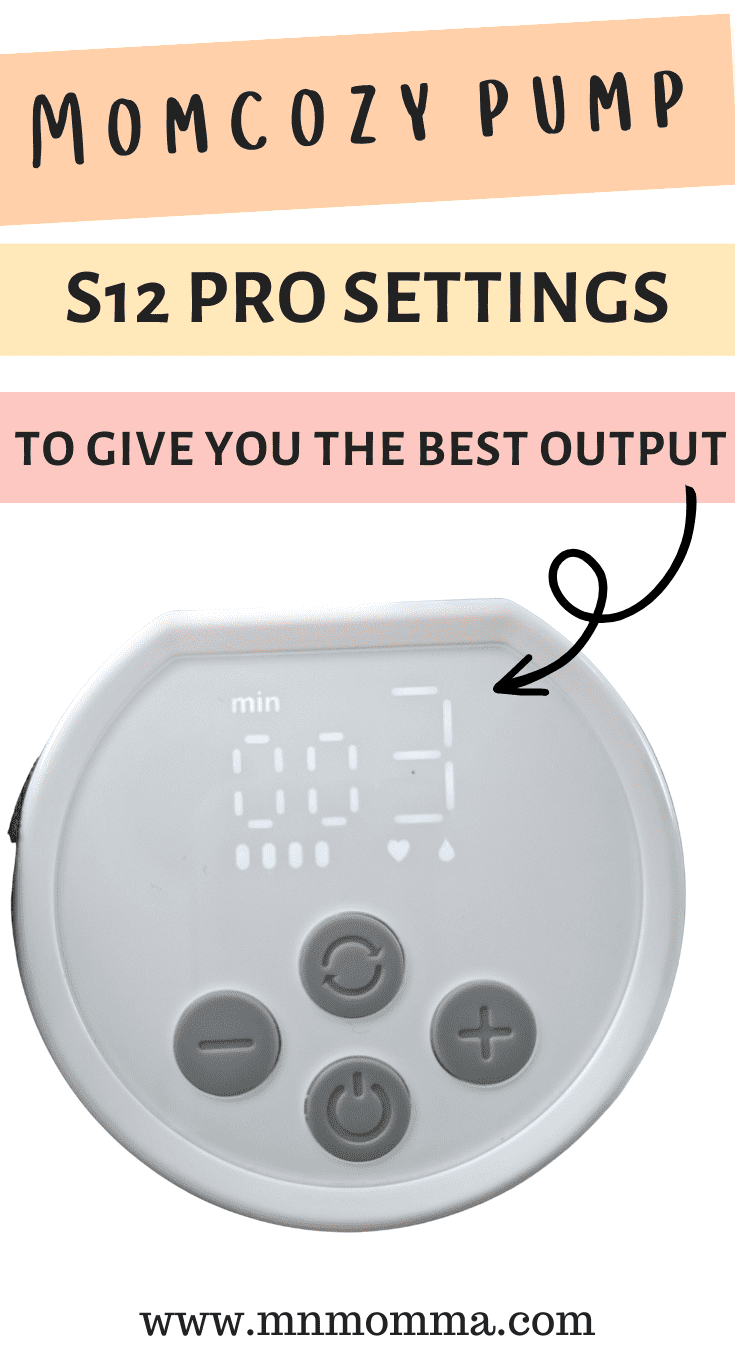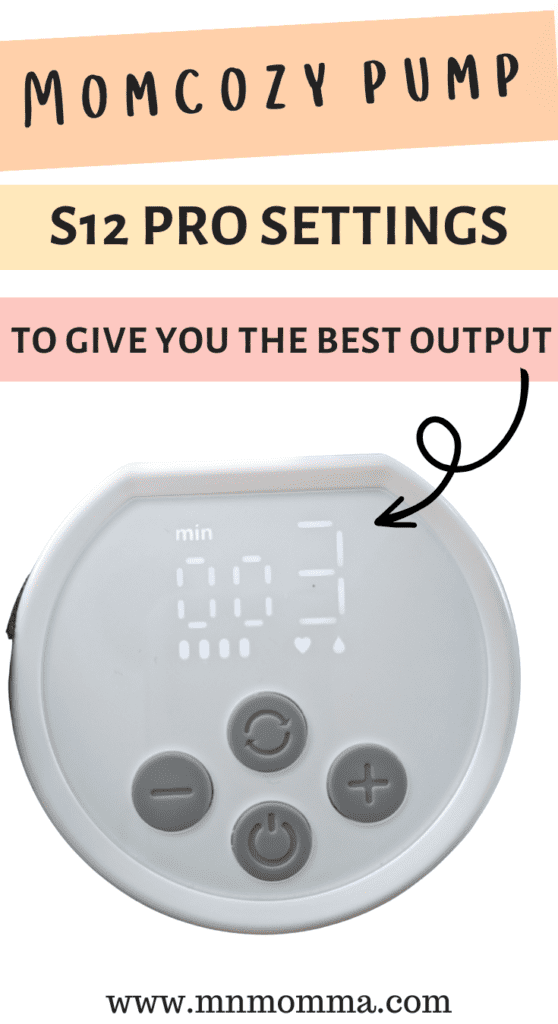 Momcozy Breast Pump Settings
The Momcozy S12 Pro has 3 pumping modes and 9 levels of intensity.
The modes are:
Heart – letdown mode/massage mode/stimulation mode – quick bursts
Droplet – normal mode/expression mode – slower longer pulls
Heart & Droplet (see below)- this mode is a combination of the stimulation and expression mode. It gives quick bursts follow by one longer pull
If you've never used a breast pump before it can be tricky to know which settings to use.
The stimulation mode is meant to feel like your baby just starting to breastfeed or nurse and frequently used to help start a letdown.
The expression mode is usually used once you've had a letdown and to keep removing breast milk.
Some moms will notice that they move milk more effectively using just stimulation, just expression, or a combination of both modes.
You may need to try out different combinations of the modes and levels of intensity to determine what works best for you.
If you're at a loss of where to start, I recommend you try the traditional method of using the stimulation mode until you have a letdown, followed by the expression mode.
Once you've stopped removing milk, try the stimulation mode once more to see if you can trigger one more letdown before ending your pumping session.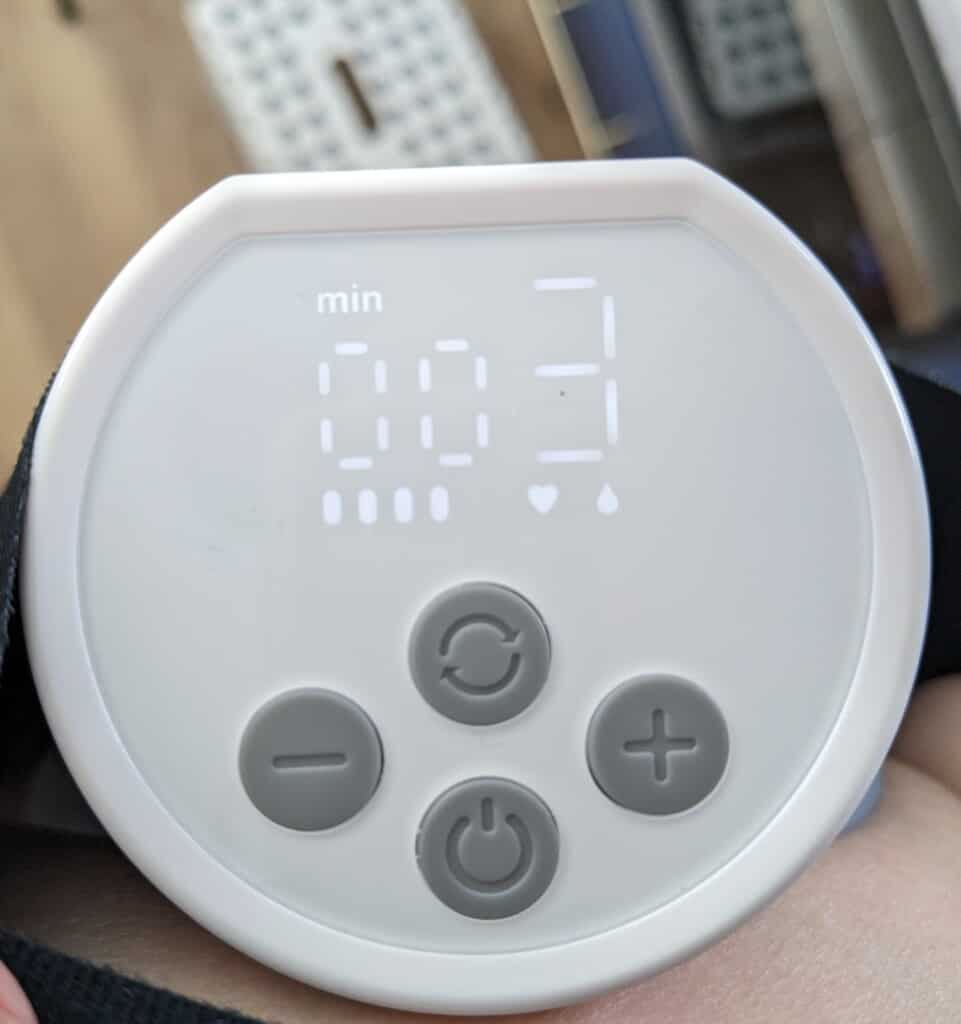 How the S12 Pro Pump Compares to Other Pumps
There are tons of breast pumps on the market to choose from and compare with the Momcozy S12 Pro.
Some of the more expensive wearable pumps on the market have things that the S12 Pro doesn't such as:
Connected app
Pumping right into bags
Being fully leak-proof (even while bending over)
However, if you aren't passionate about these difference, I feel as though the lower price point of the S12 Pro makes it the best choice for pumping mothers who are looking for a wireless pump that works great.
FAQ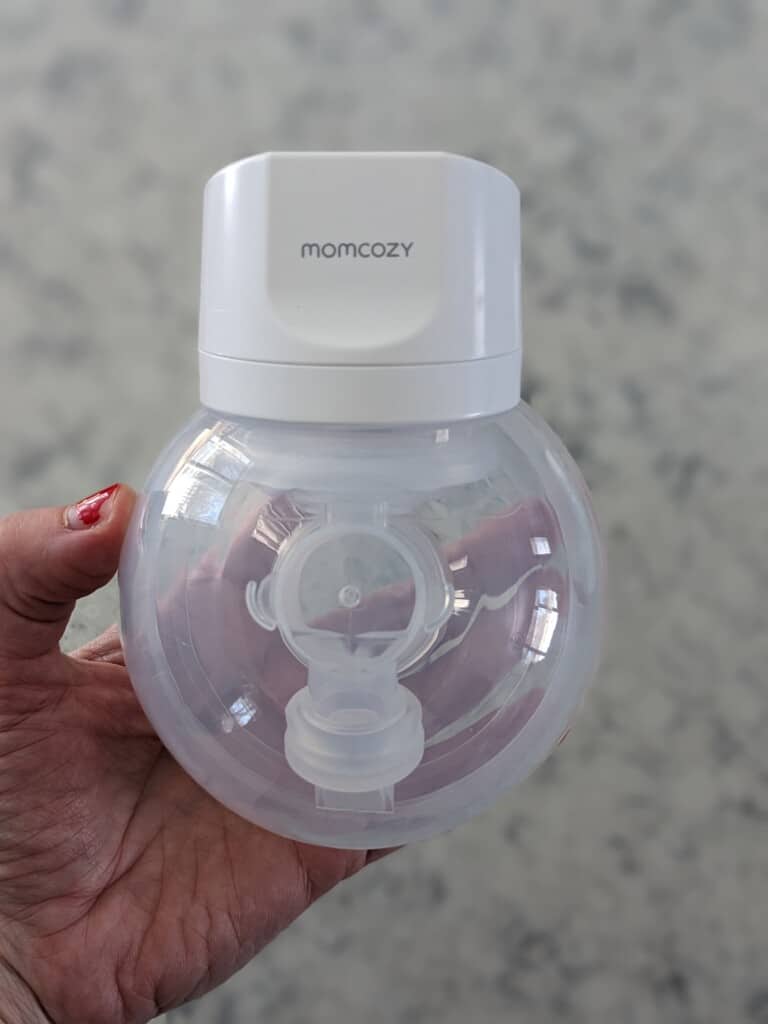 How long does the Momcozy S12 Pro battery last?
The Momcozy S12 Pro battery should last about 140 minutes. Depending on the length of time you pump for his can range from 4-9 pumping sessions.
How strong is Momcozy S12 Pro suction?
The Momcozy S12 Pro is a hospital grade pump. It has a suction power of 280~300mmHg.
Is The Momcozy Breast Pump Hands Free?
Yes! The Momcozy Breast pump is hands free, and it's amazing to be able to walk around while pumping. I highly recommend a wireless breast pump for busy moms.
Where Can You Get Replacement Parts for Momcozy Pumps
You can grab replacement parts for the Momcozy pumps on the Momcozy website (use discount code: mnmomma).
You can also find some 3rd party replacement parts on Amazon, just be sure you check for compatibility.
Is the Momcozy S12 Pro noisy?
Wondering how loud the S12 pro is?
The Momcozy website states that the noise produced is less than 50dB.
You can absolutely hear it, but if you're wearing a sweater or sweatshirt over the pump, it'll certainly dampen the noise and make it harder for others to hear you pumping.
Which one is better Momcozy or Willow Pump or Elvie?
If you've been looking at wearable pumps, you've probably seen the Willow Go and Elvie pumps and wondering how they compare to the S12 Pro from Momcozy.
All are wearable, wireless pumps, but the Willow and Elvie come with more bells and whistles than the Momcozy pump.
They both include an app to use while pumping, while the S12 does not. There's also options to buy ones that are completely spill proof, and come with larger containers.
Overall, the Elvie and Willow Pumps are more expensive than the Momcozy S12 Pro, so you'll need to weigh which option fits into your budget. They are all wireless and portable and can effectively remove breast milk.
Momcozy S12 Pro vs M1
The Momcozy M1 is more compact and doesn't have a motor that sticks out the top, but rather fits right into the pump.
Both pumps have 3 modes for pumping and 9 intensity levels.
The M1 has a 27mm Flange with 24mm & 21mm inserts; while the S12 Pro comes in a 24mm or 27 mm, with the ability to add inserts as needed.
The M1 pump has a usage of 90-150 minutes; whereas the S12 Pro is about 140 minutes.
What's the Best Momcozy Breast Pump?
The best Momcozy pump is the one that works best for you!
The one that's the most comfortable and is able to remove the most milk in the shortest amount of time. Personally, after trying both the S9 Pro and the S12 Pro, I found that the S12 Pro was the winner for me.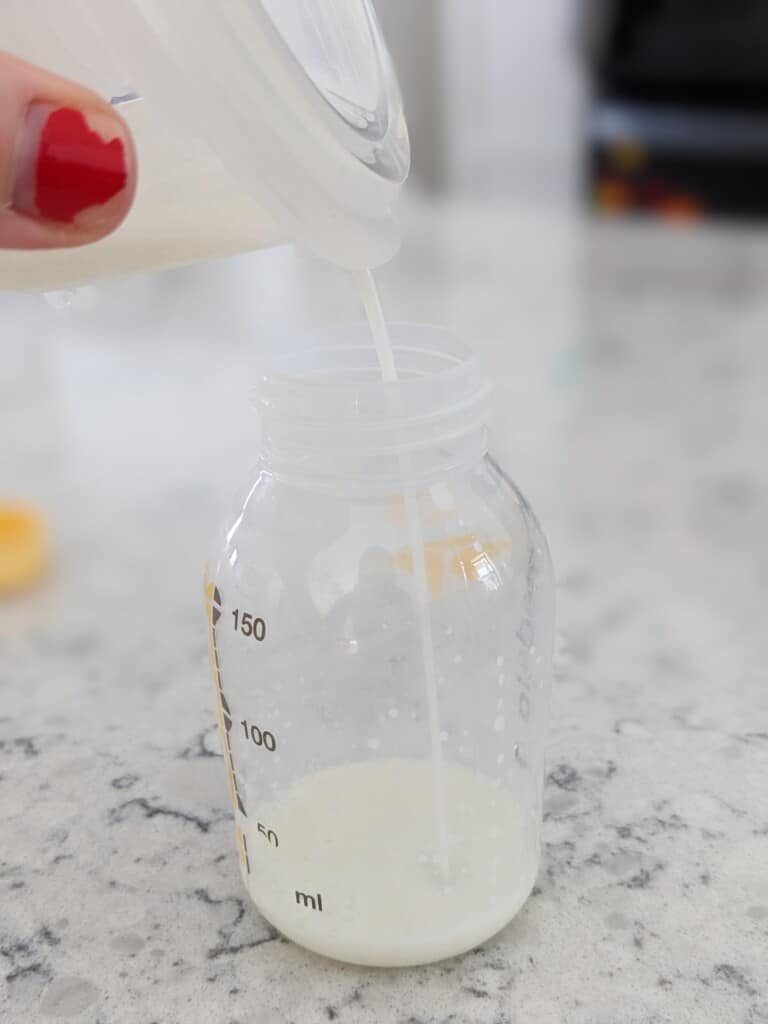 Momcozy S12 Pro Wearable Breast Pump Reviews
After a few weeks of trying the momcozy S12 pro for my at work pumping sessions, I'd absolutely recommend it as a portable pump for busy moms.
It's been comfortable, easy to use, and I'm removing the same amount of milk that I was from traditional breast pumps.
Related: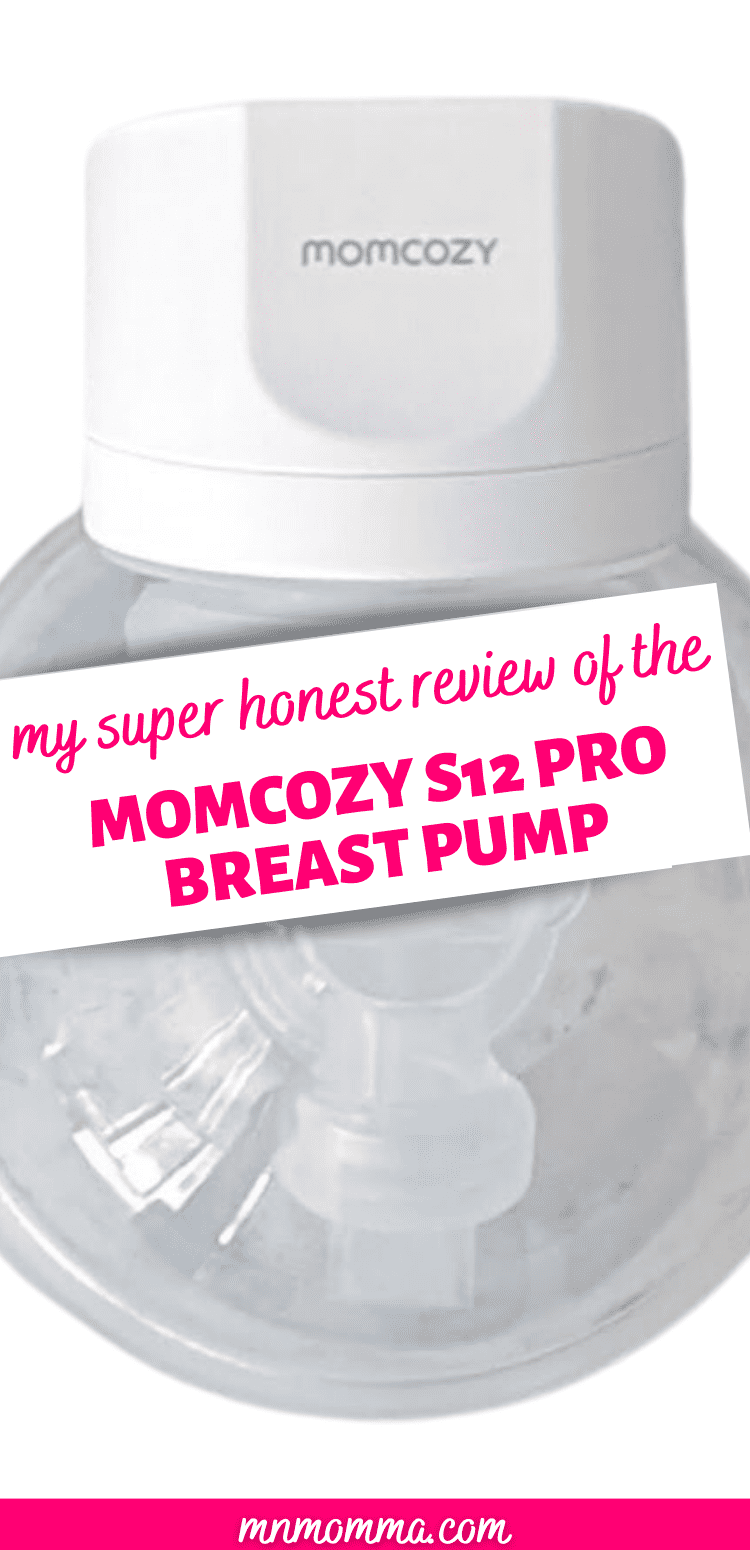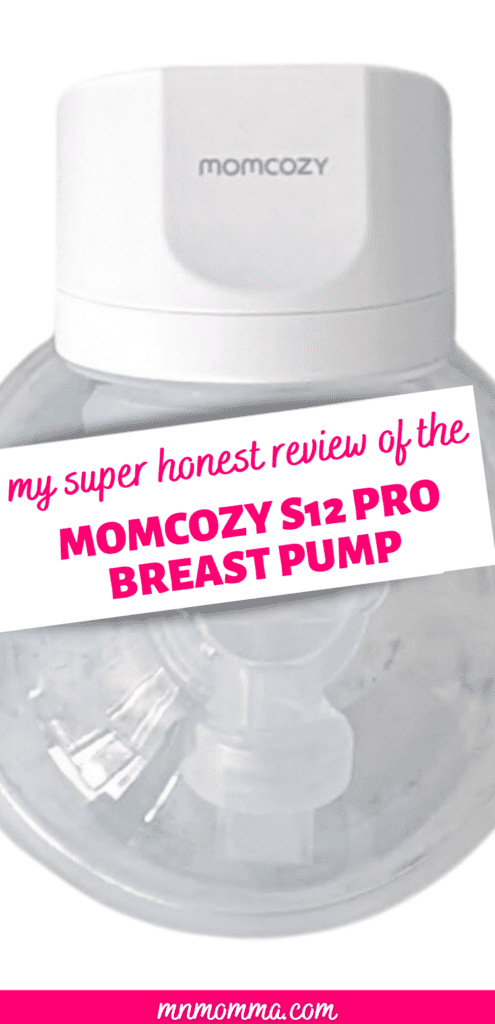 <—Pin it! Save this post for later!