Start Your Blog in Less Than 15 Minutes
Disclosure: This post may contain affiliate links, which means I may receive a small commission if you click a link and purchase something. Please check out my disclosure policy for more details. All opinions are my own!
If you've thought about starting a blog – woohoo! I'm so happy you're ready to share your love of – anything – with the world! You might think that there's already a lot of information out there about your niche, but I promise, no one can write it the way you can. No one has your personality or your experience with the subject. Write about something you're passionate about, and you'll have plenty to post and share (I honestly keep a running list of everything I want to share with you all – there's so much good stuff)!
Back to this post though. If you're here, it's because you've seriously contemplated starting a blog and I want to propel you forward – to actually starting! If you're hoping to just write a blog to journal or update your family on your life, you don't need a fancy web host. However, if you want more control over your site's appearance and be able to monetize your blog you should invest in a good web host. If you do your homework and your web host is a good one, you'll have so much less to worry about.
My number one recommended web host is Blue Host. I have not had any issues with them and the price was low, but enough to keep me accountable in working on my blog. In addition to the perks I already listed above, Blue Host offers 24/7 support for any questions that come up and a 30 day money back guarantee if you decide it's not for you. As a bonus, the cost is super low, starting at $3.95/month! I suggest choosing the 12 month plan. It's a little more expensive at $5.45/month, which is still a good deal, but gives you a chance to not commit to as long in case you decide blogging isn't for you.
Okay, so let's get started!
Step 1:
Click here to go to Blue Host and get your $3.95/month deal! Here's what the site should look like. Click "Get Started Now".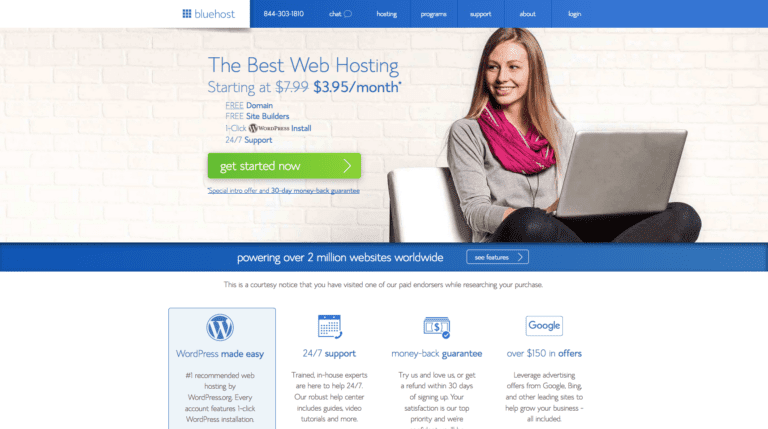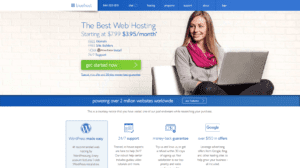 Step 2:
The next page is where you'll select your plan. If you're just starting out I suggest choosing the basic plan. It's the best price and should have more than you'll need to get started. You can always upgrade later if you need.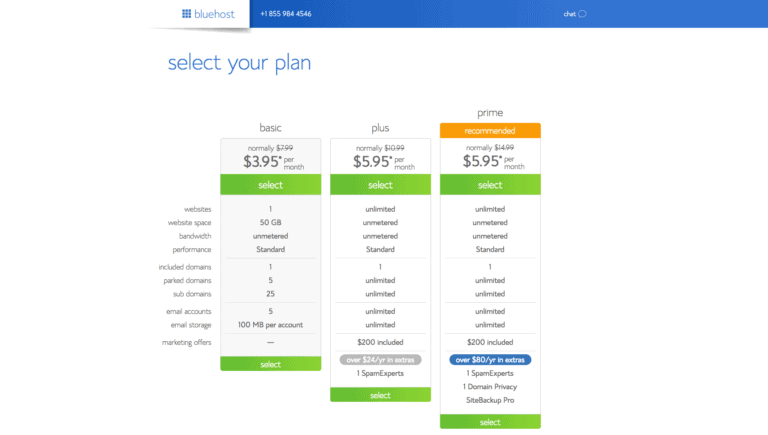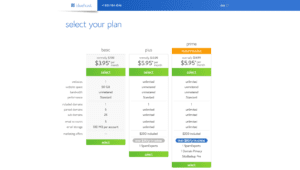 Step 3:
Choose your domain name! This part should be fun. Do you have that great name thought up? Type it in here. If possible I suggest using the ".com", as it's what most people are familiar with when typing in a web url.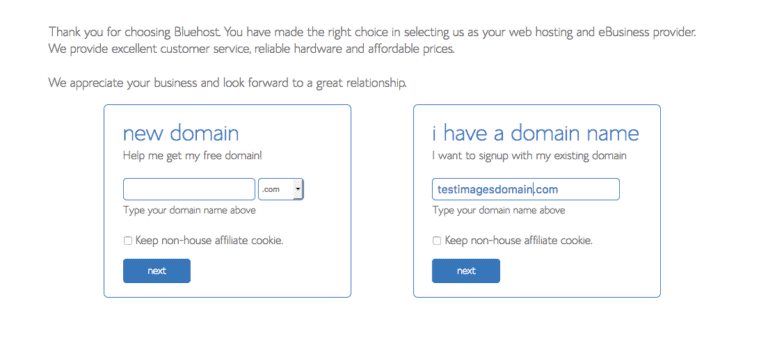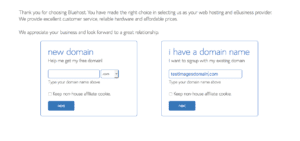 Step 4:
Fill out your account information. Here's where you can select extra package information if you'd like. Blue host will sometimes offer a backup bundle for free, which is a great benefit to your site!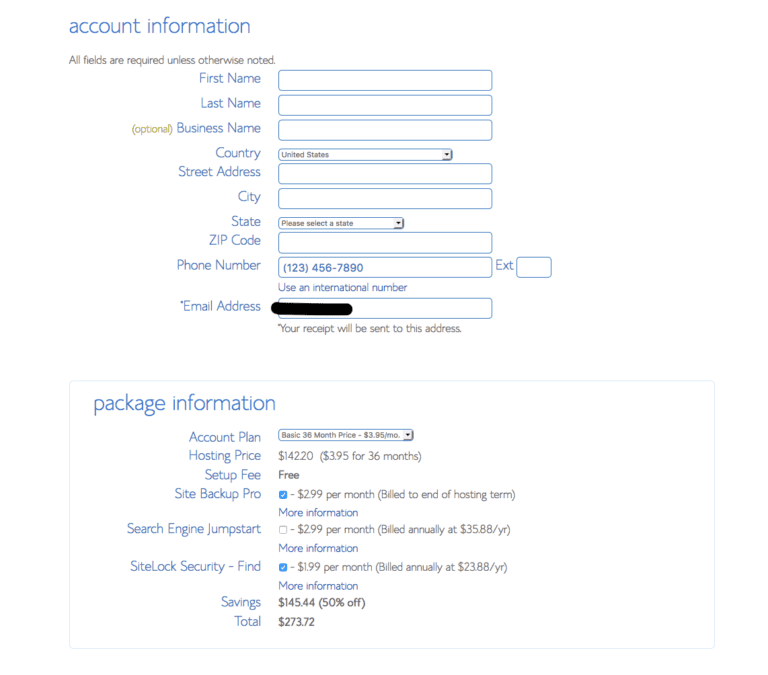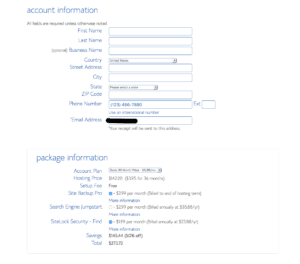 Step 5:
Enter your payment information and hit submit! Next you'll choose a password and you're in!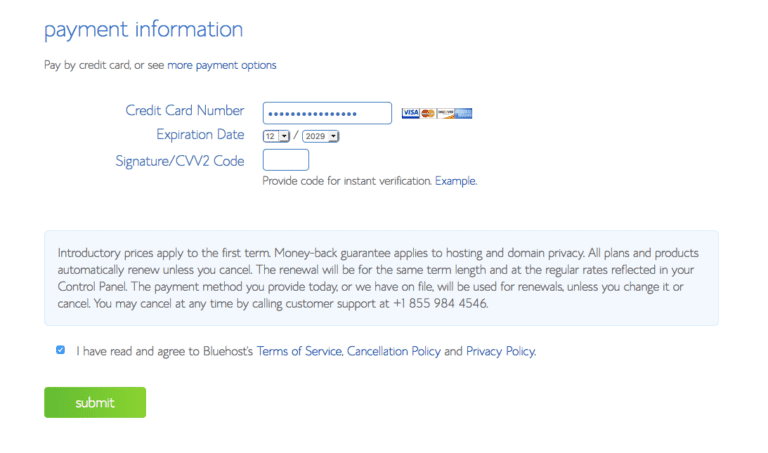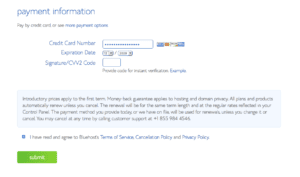 Step 6:
Now you get to the fun of designing. Choose your theme. Pick a style that looks good to you. A clean, clear, easy to read style is typically seen as more professional. You can always change your theme later, so don't stress!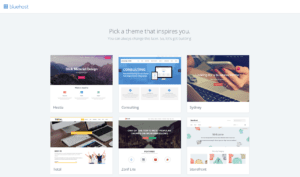 Step 7:
After you choose your theme, it's time to set up WordPress (the place you'll do you're blogging). I suggest choosing a business account, but this can also be changed later if needed.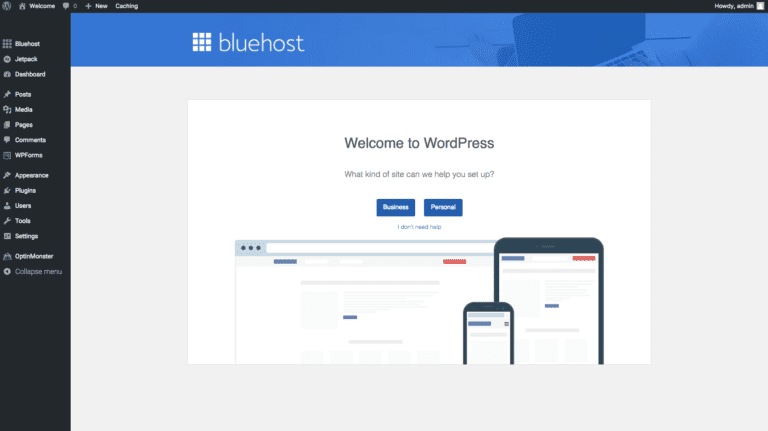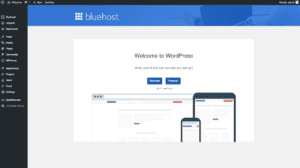 Step 8:
Now that you're in WordPress, it's time to start creating some blog posts and getting things started! When you're all ready press "Launch" and the world will see your site! It's up to you how soon you choose to launch. I launched my site with only a "Welcome" post created, but quickly got 15 more posts up before the end of my first month. Other bloggers will write 20 posts before they choose to launch. Do what feels best to you and enjoy! You have your very own URL, congrats!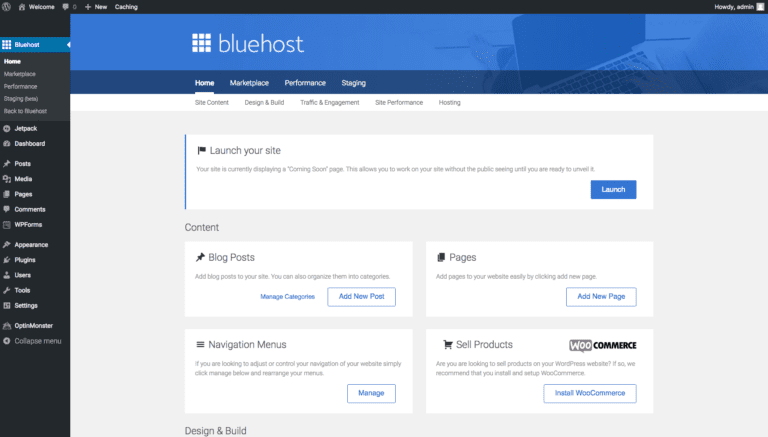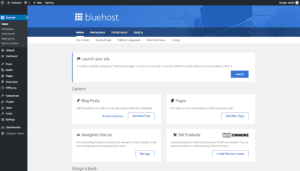 If you have more questions Blue Host has a great help center that contains frequently asked questions about domains, email, WordPress, and more!