19 Cute Halloween Costume Ideas for Pregnant Moms
Disclosure: This post may contain affiliate links, which means I may receive a small commission if you click a link and purchase something. Please check out my disclosure policy for more details. All opinions are my own!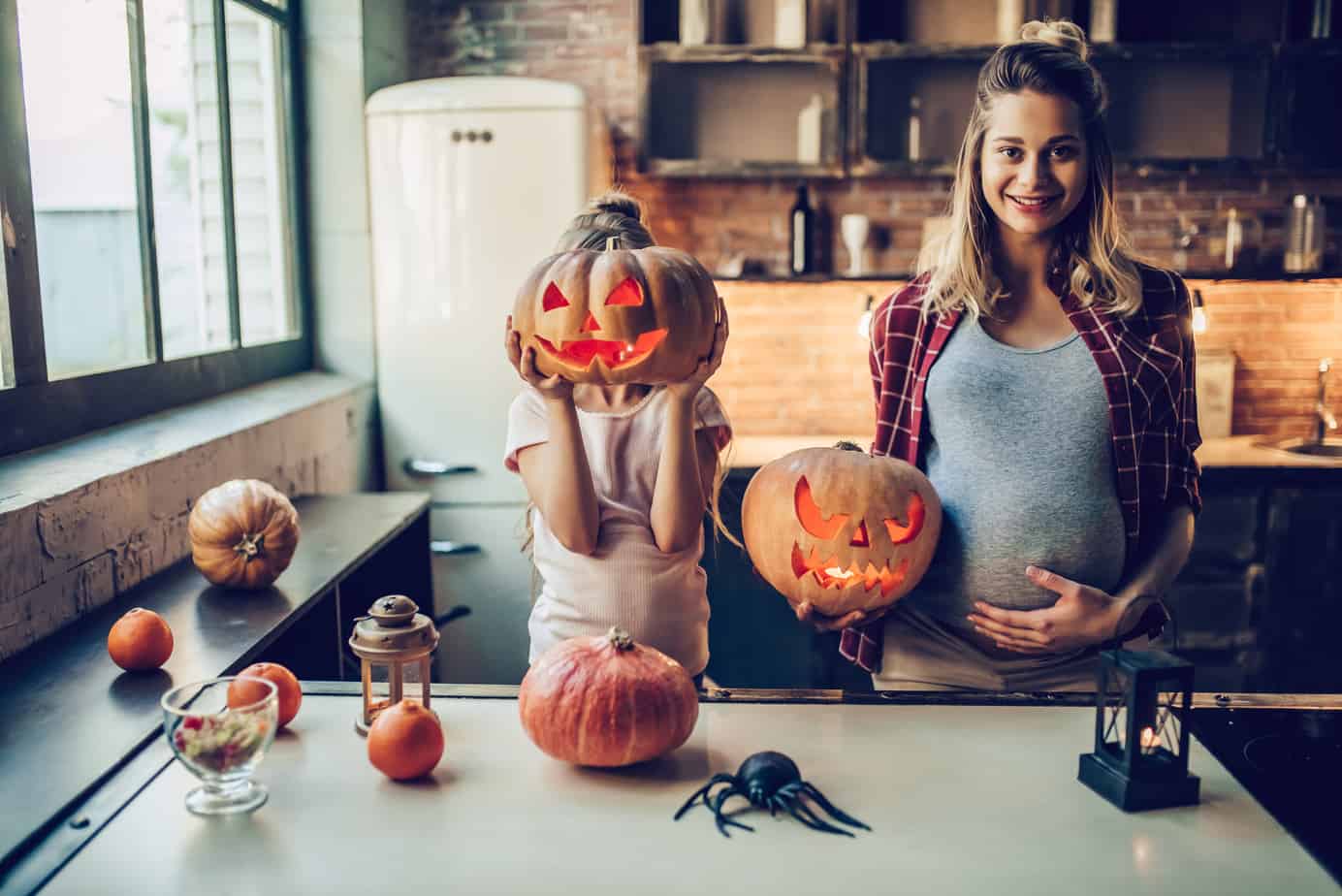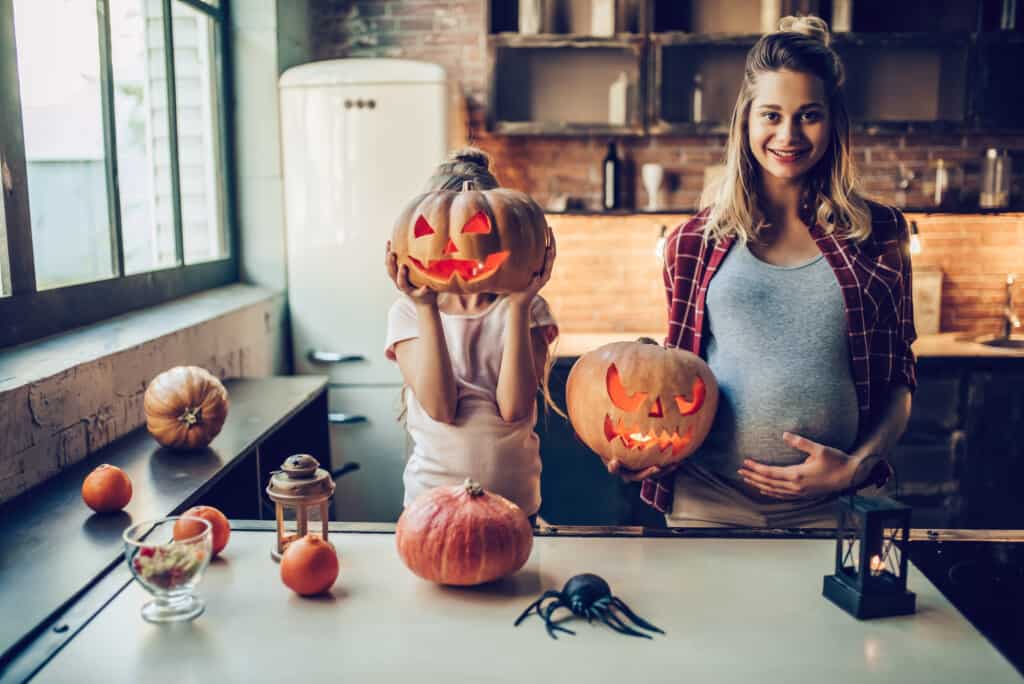 Pregnancy Halloween Costume Ideas
Halloween is right around the corner, and since soon to be mommas should never be left out, let's talk about pregnant Halloween costumes!
Okay, I get it, I really do.
For some women the last thing you feel like doing is putting on a pregnant Halloween costume.
But getting dressed up – whether it's with your kids, or just your spouse and going to a costume party can be a fun change of pace!
Let's be honest, how often are you going to have a belly that you are wanting to draw attention to? 😉
If I didn't convince you and you're still in the "I'm pregnant and a pregnant Halloween costume is not happening", I hope you still enjoy the night dressed as a cozy warm pregnant mommy relaxing on the couch.
That's still a pregnant Halloween costume, right?
Okay, you're here, so you're obviously at least considering the idea of a pregnant Halloween costume.
If you're looking for the easiest pregnant Halloween costume – t-shirt edition, these are a can't miss!
Whether you're announcing your pregnancy with your fabulous costume or about ready to pop. Check out these cute pregnancy Halloween costumes!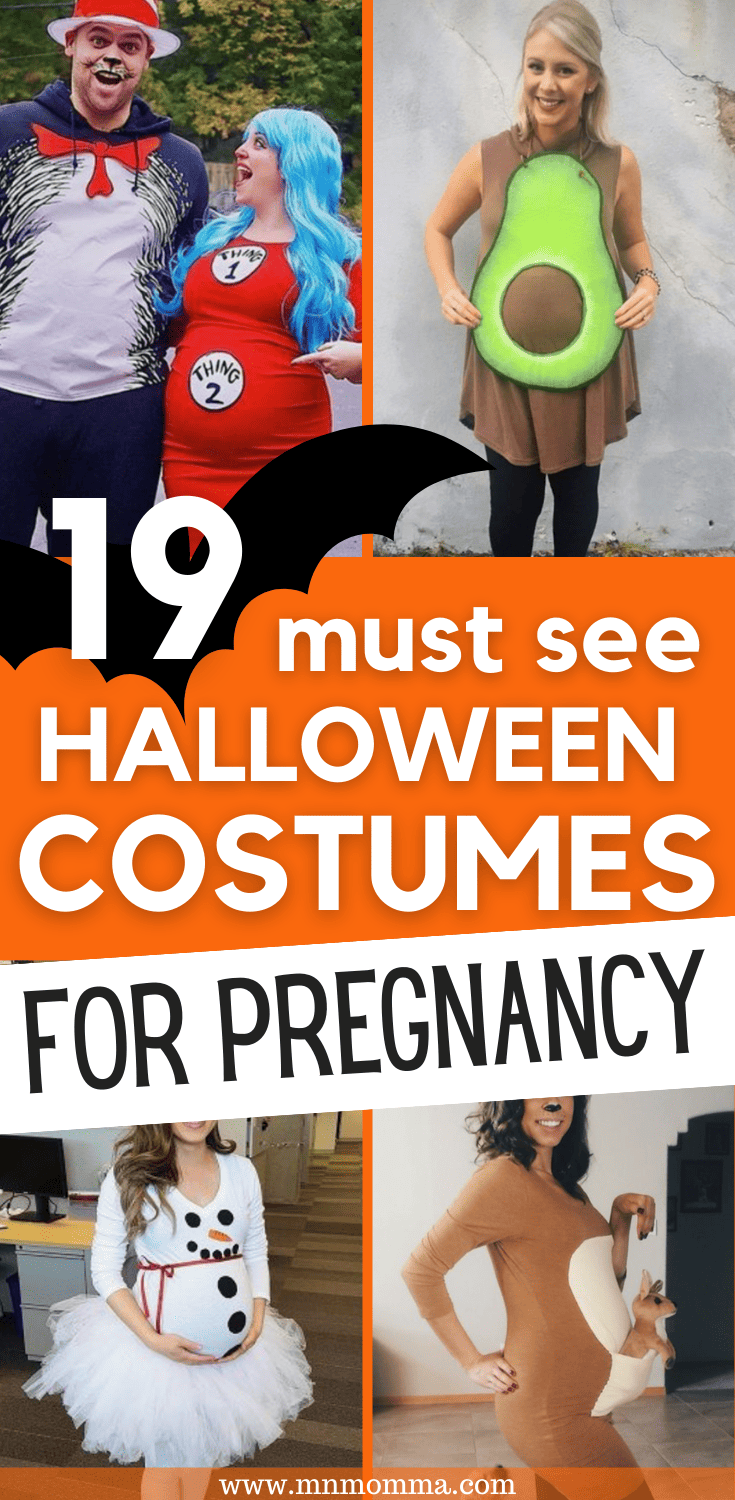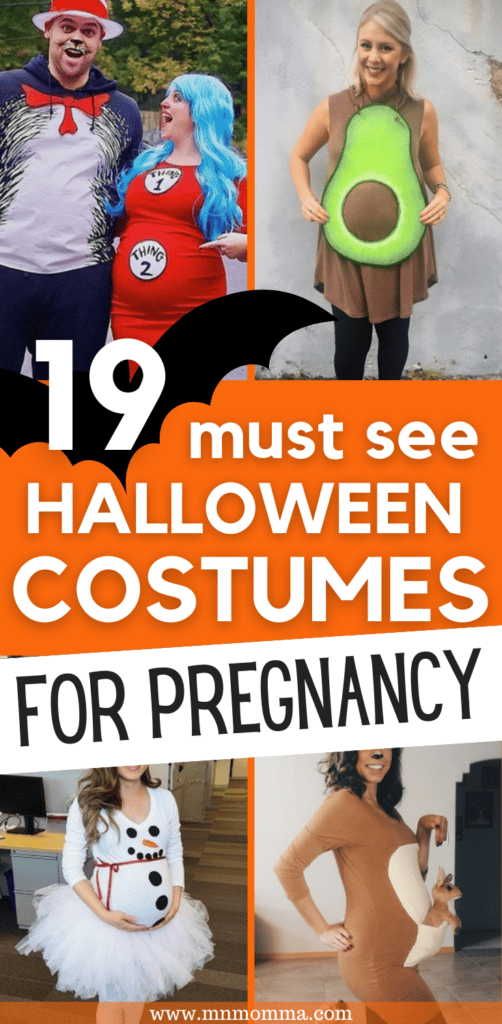 <— Want to get back to this post easily? Pin it for later!
10 Easy Halloween Costume Ideas for Pregnant Moms
1. An Adorable Kangaroo and her Joey
I love this adorable pregnancy costume!
2. DIY Bubble Gum Machine
Life With My Littles gives the easiest rundown on how to DIY your own Bubble Gum Machine pregnancy costume – check it out here!
3. Snowman
Whether you want to mix a couple Holidays together by going as a snowman for Halloween, or you're going to a winter holiday party – this pregnancy costume is cute and easy to DIY.
4. Witch
Say hello, to one of the easiest pregnancy costumes. Recreate this classic witch costume with a hat and black dress for a super simple and quick pregnancy costume.
Pssst – if you're in a pinch, this witch's hat has free two day shipping.
5. You and Your Little Pumpkin
This costume for a pregnant woman could be worn almost anywhere for an easy and simple look. It's also another one that's really easy to make (or buy!).
Buy the shirt right here!
6. Three Peas In A Pod
Britni Harris made her bump one of the three peas in a pod for this fun costume!
7. Avocado
Have you noticed that for some reason avocados are super popular right now? This pregnancy costume would be relatively easy to DIY and could fit almost any size bump!
8. Deviled Egg
Isn't this cute?! You can find the full and super easy DIY deviled egg pregnancy costume right here at C.R.A.F.T.
9. Where's Waldo?
This Where's Waldo costume would be so easy and fun to recreate. Check out exactly how to make your own Where's Waldo pregnancy costume right here.
10. The Mummy
Wrap your baby up nice and warm as a mummy this Halloween!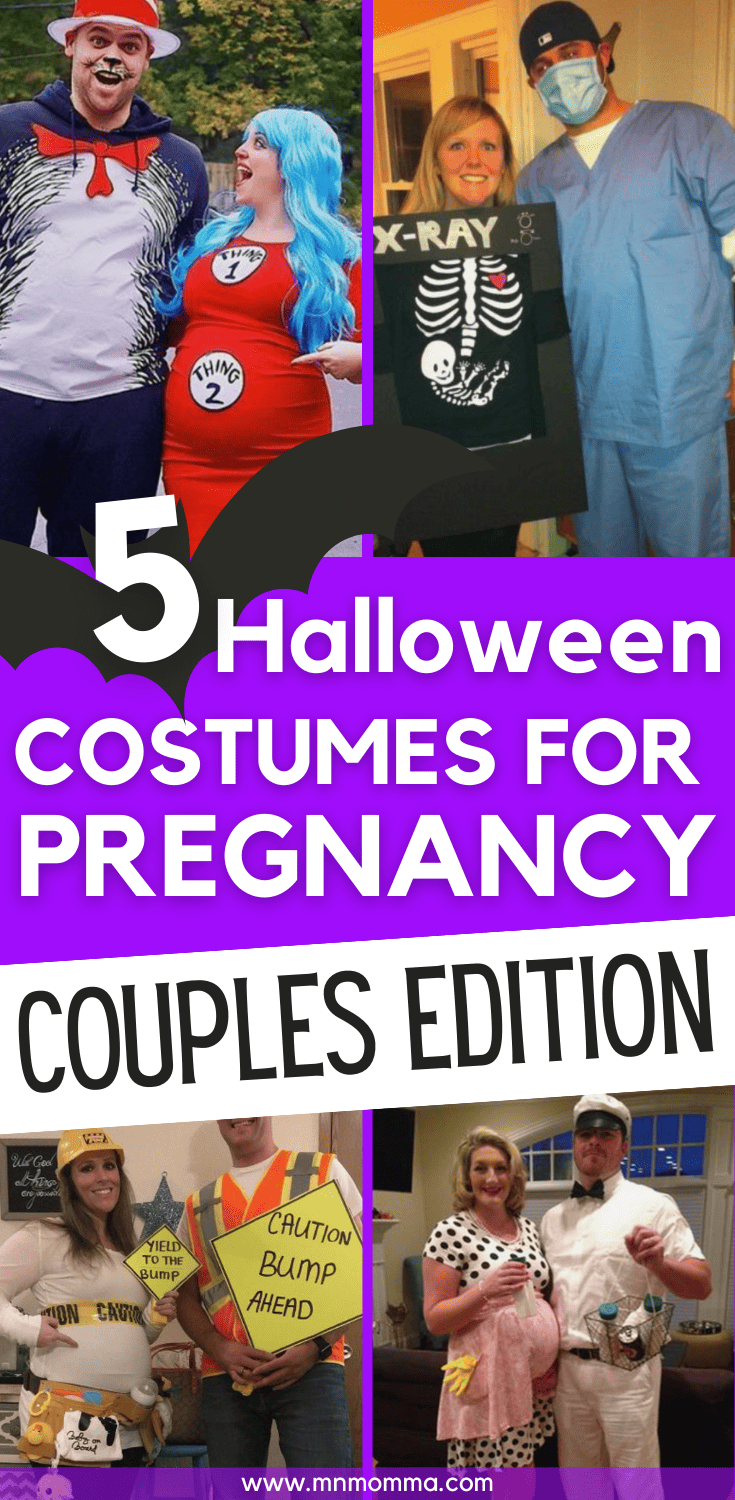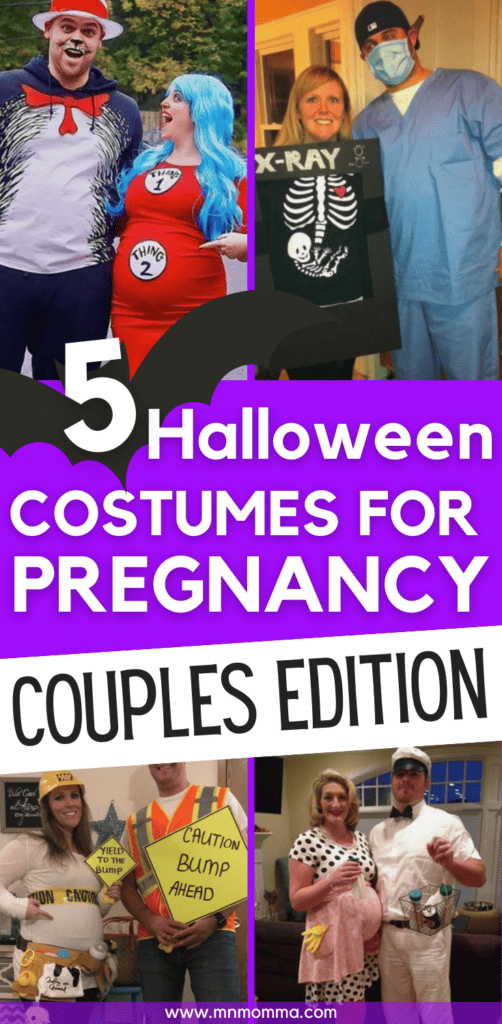 Pregnant Halloween Costumes for Couples
1. A Housewife and the Milkman
2. Doctor & an X-Ray
3. Caution! Bump Ahead!
4. Thing 1 & Thing 2 (+ The Cat In The Hat!)
5. A Bun in the Oven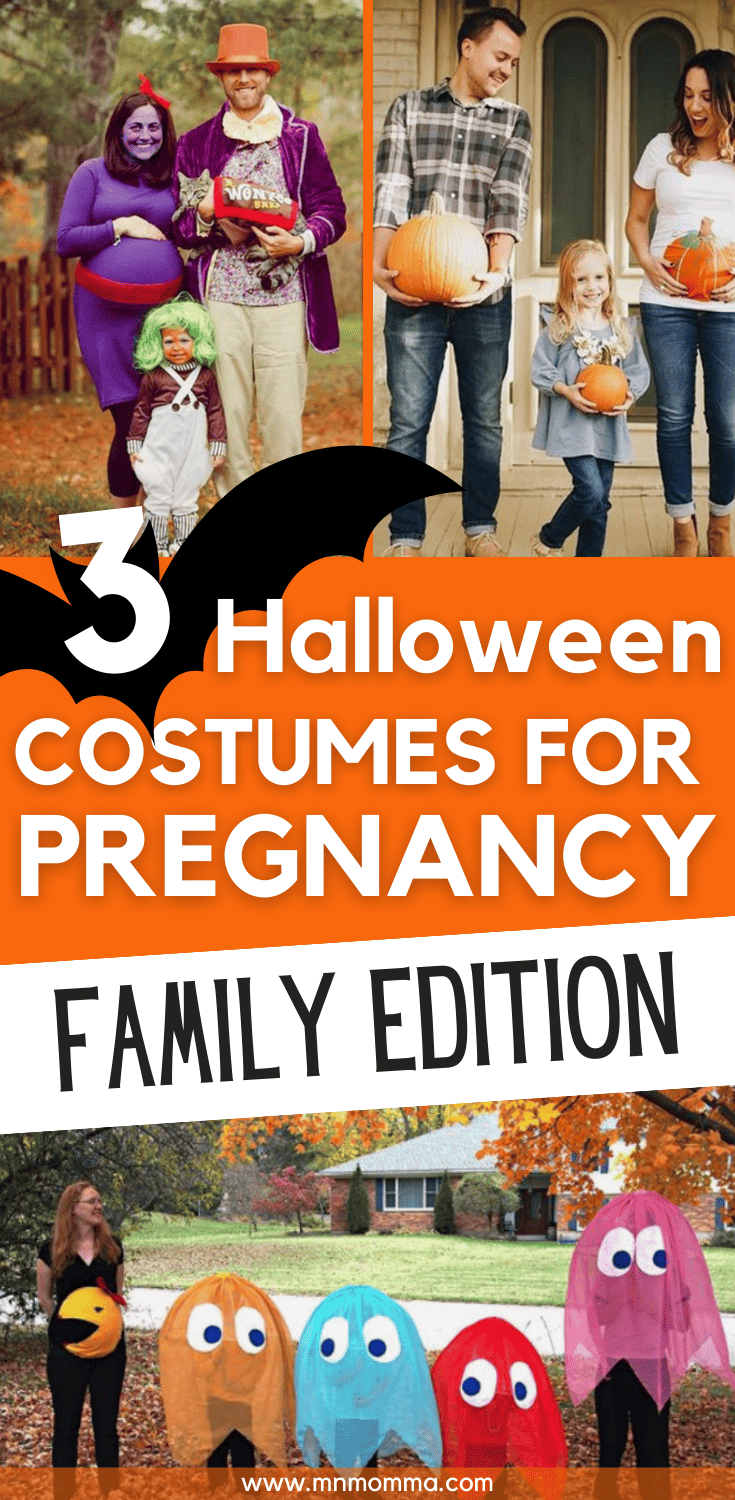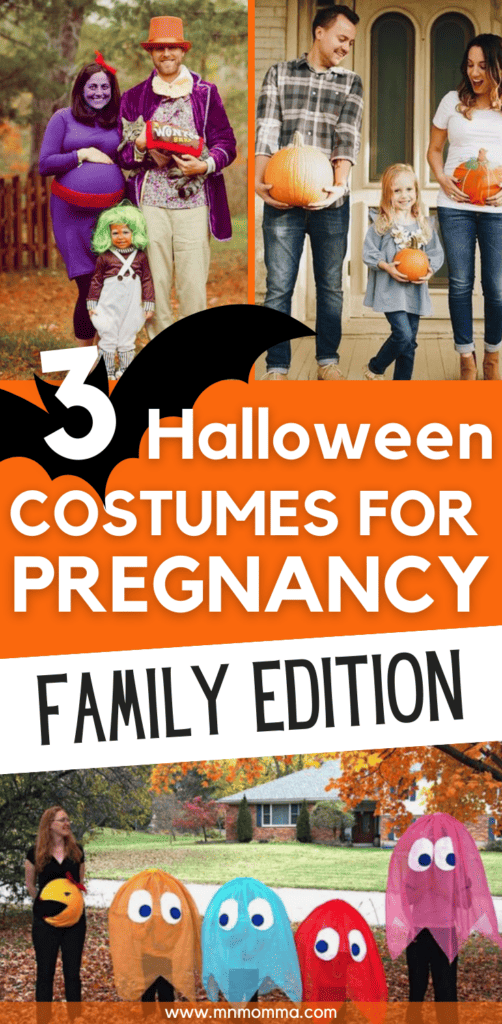 Pregnant Halloween Costumes for Your Family
1. Winnie the Pooh & Friends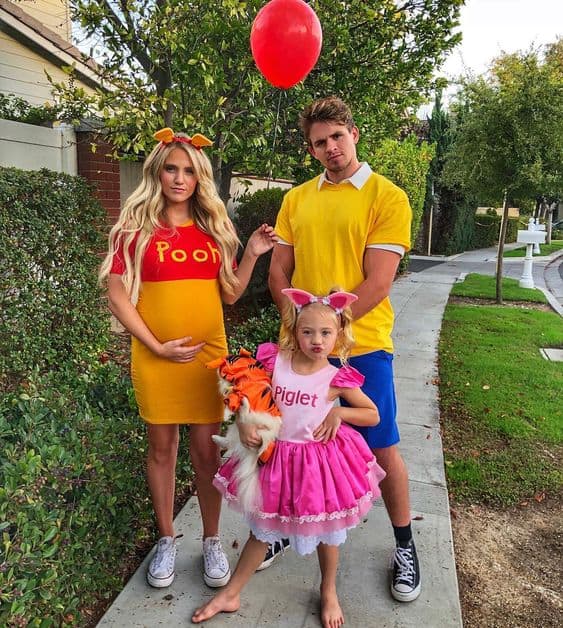 Cole LaBrant's instagram sports his wife in her adorable Winnie the Pooh outfit, himself as Christopher Robin, and their daughter as Piglet.
2. Pumpkin Patch
This family will be adding one more pumpkin to their patch!
3. Willy Wonka and the Chocolate Factory
This one is SO good. If you're dedicated to Halloween or looking to win a best family costume contest – this Willy Wonka and the Chocolate Factory costume from Angela just might be the ticket! See what I did there? 😉
4. Pac-Man
Got a bigger family? This pac-man family costume might be the perfect one for you and your growing family!
Check out more great family Halloween costumes right here!
Halloween Costumes for Pregnant Women
Hopefully these Halloween costumes inspired you to create your own DIY Pregnancy Costume. I'd love to know your favorites or hear of a fun costume idea you used while pregnant!
Related: The Easiest Pregnancy Halloween Costume: T-shirt Edition
🎥 Check out the Web Story for the Best Pregnant Halloween Costumes
Want more pregnancy tips and info? Sign up for my newsletter below and get your 3 trimesters of free pregnancy checklists!