All About Mom Questions: Mother's Day Interview (Free Printable!)
Disclosure: This post may contain affiliate links, which means I may receive a small commission if you click a link and purchase something. Please check out my disclosure policy for more details. All opinions are my own!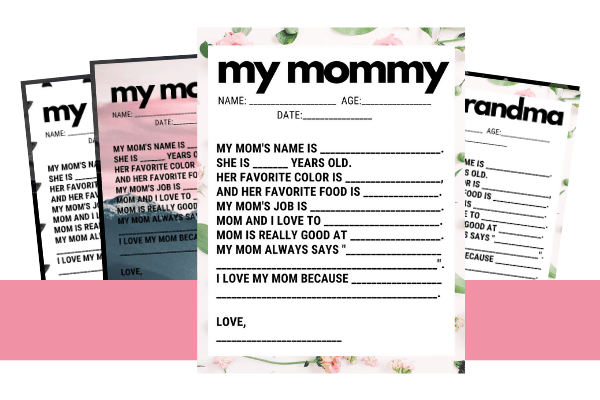 Mother's Day Interview for Kids
Are you looking for the perfect gift for the mom in your life?
What if I told you, you could give mom something so sweet and sentimental that she might cry, or she'll be crying from a really good laugh, AND it's free?
This Mother's Day All About My Mom Printable is hands down, one of the easiest, BEST, and most well loved ideas ever.
It's just something to add that perfect touch of sweetness and make Mom's heart grow three sizes.
Or maybe shed a few happy tears. 😉
Well, wait no more – grab this these free mother's day printables at the bottom of this post.
What Makes a Mom Interview So Special?
Think an interview about a woman who already knows all the answers is lame?
Think again.
Aside from the All About My Mom Questions being a fun way to connect with your kids, it's also a great way to give a heartfelt homemade gift.
Moms LOVE to hear how their young children (and even older ones!) would answer simple questions in their own words about them.
Kids say the darnedest things and having their answers to fun questions will bring a smile to the whole families face.
Giving your mom a sweet gift like this also creates a keepsake that she can look back on for years, especially if you keep up the tradition and have your children answer the questions year after year.
She can even make a printable book out of the All About Mom interviews to treasure.
In addition, a mom interview truly just takes your time. Remember, it's a free printable questionnaire after all!
Sure, you can dress it up with cardstock, a picture of mom, or add another gift to it – but it's really about helping your kids take the time to think about mom and answer questions about her.
So trust me, she's not going to care at all that this gift didn't cost you any money.
What Questions are in an All About Mom Questionnaire?
All About Mom printables are filled with simple and fun questions all about your mom.
You might see some variations of the following questions:
What's mom's name?
How old is your mom?
What's mom's job?
What's mom's favorite color?
What's mom's favorite food?
What does mom say all the time?
What do you love about your mom?
What do you and your mom do together?
How to Complete the Mom Questionnaire
So how do the All About My Mom free printables work?
EASY.
First, load up your printer with paper (I recommend white cardstock for the best results).
Then download your printouts at the bottom of this page and click print on your favorite one.
Next have your kids fill out the Mother's Day All About Mom worksheet.
You'll find these can be so much fun and give your child a great opportunity to show their funny thoughts and ideas about their mom (or mother figure) on this special day.
Older kids will be able to do this by themselves, but younger children can also participate!
Just have dad or another adult ask your younger kids questions and write down their answer.
Don't forget to have them sign their own name at the bottom and add a picture of their mom to the back of the paper for extra fun.
Mom Interview – Printable Designs
These All About Mom printables come in several different designs and styles to fit your moms likes and interests (and your printer ink level ;)).
Just download the printable pdfs at the bottom of this page, choose one of the different options you'd like to print (or print them all) and you're all set!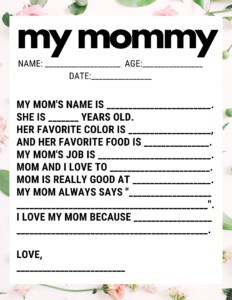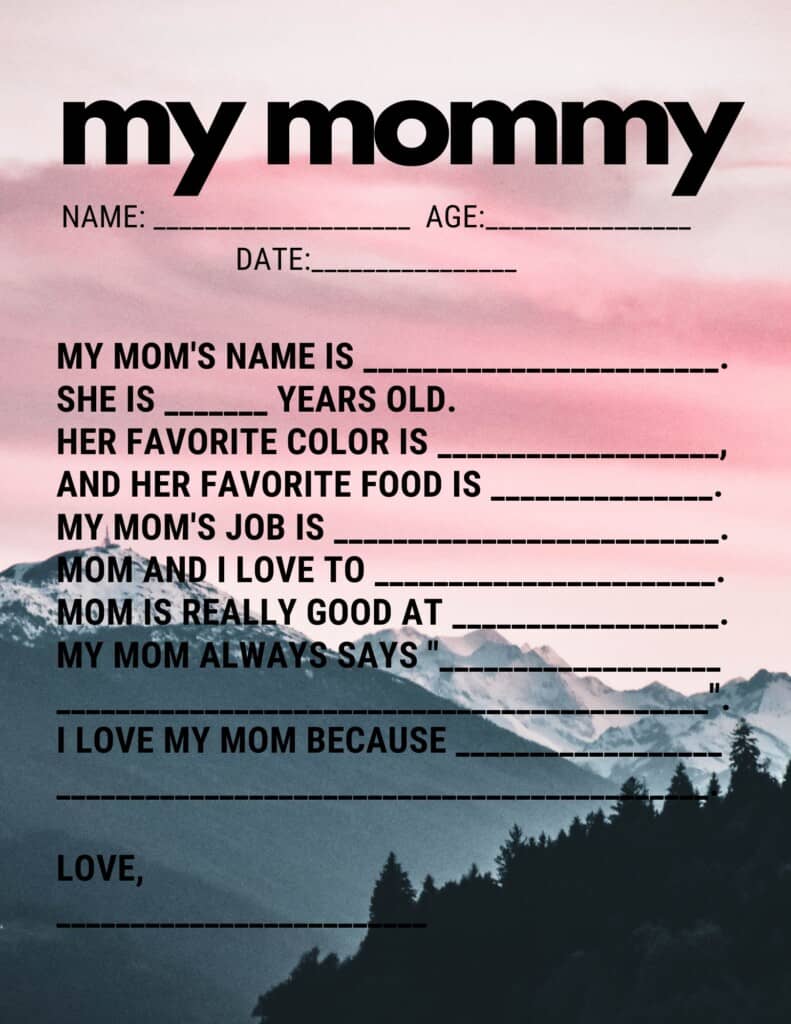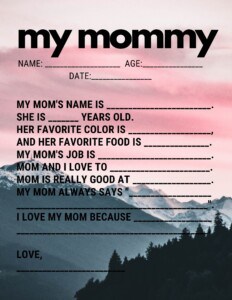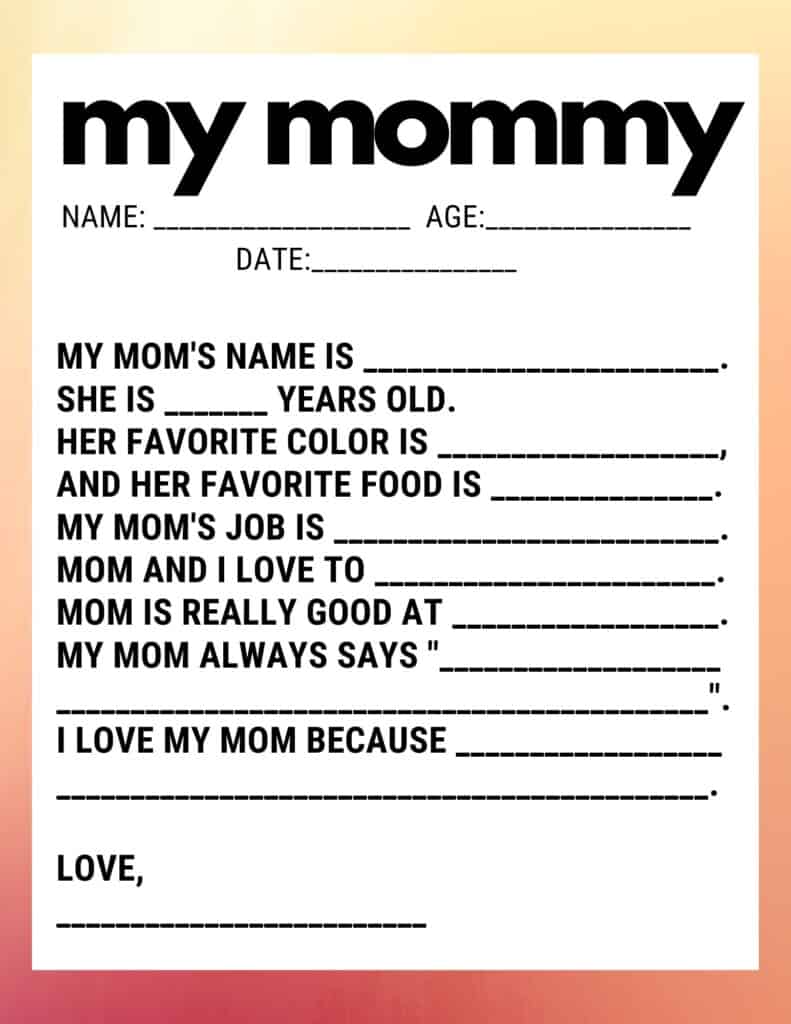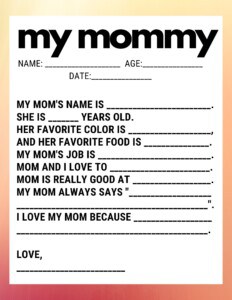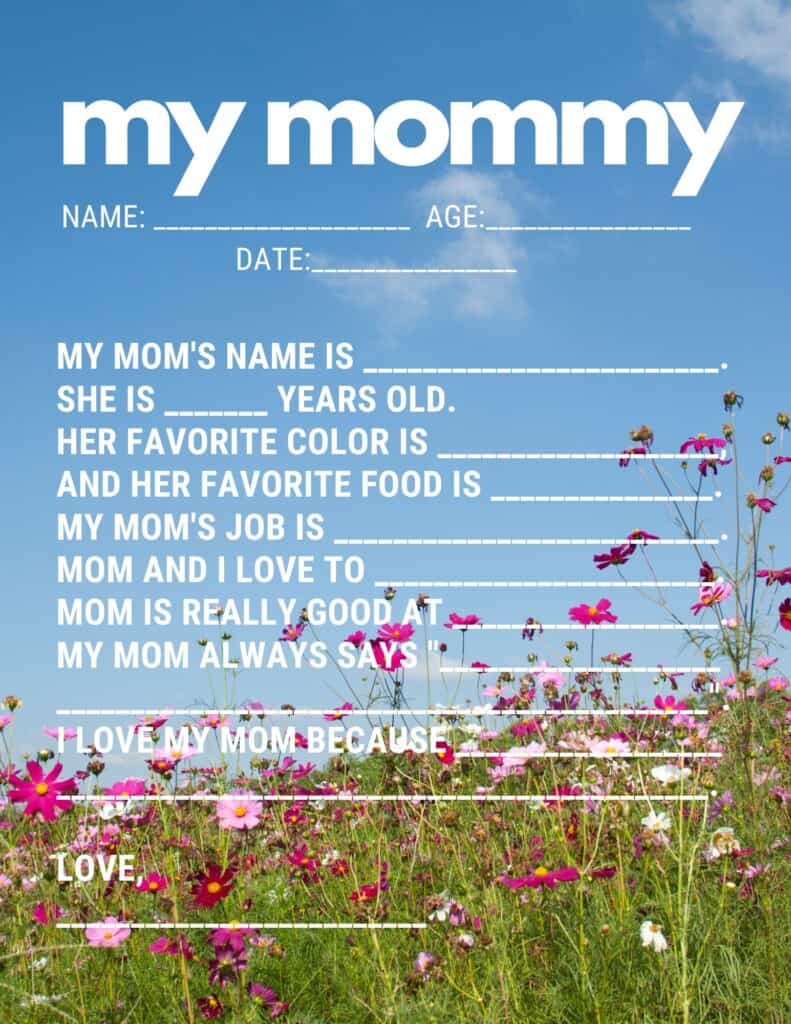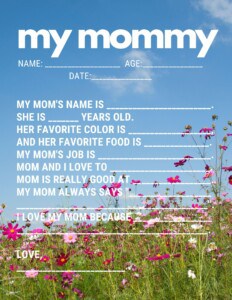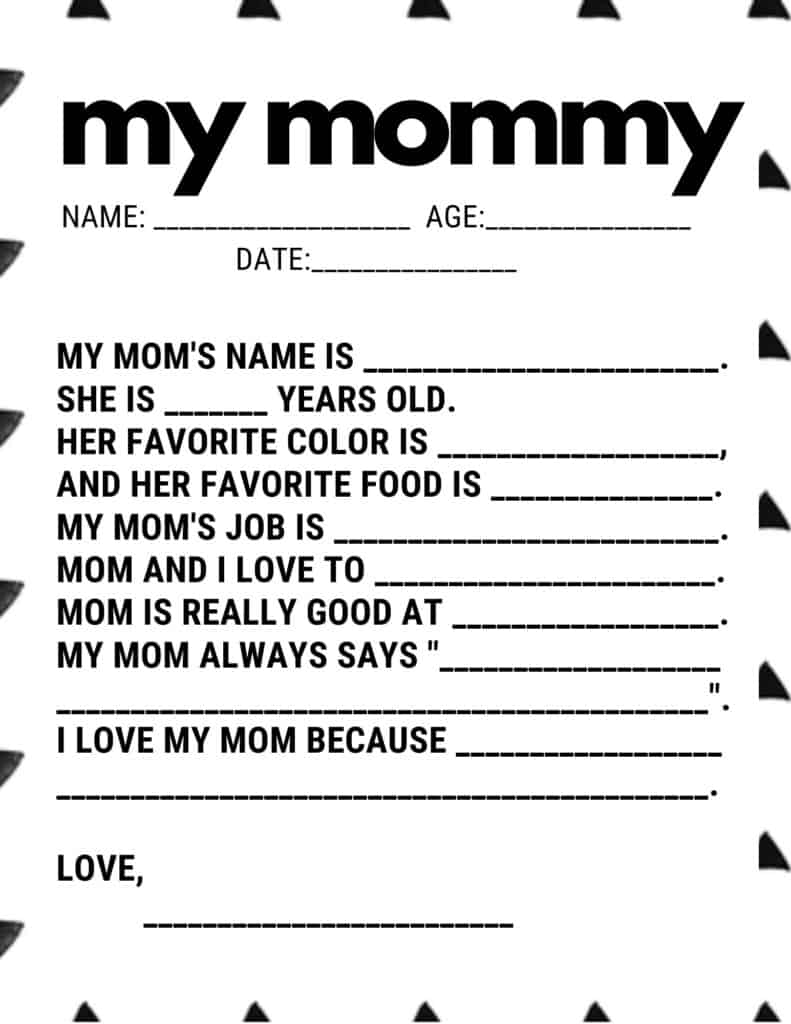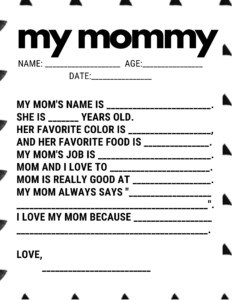 The last option is a great way to use a classic black and white (and is a more ink friendly version!).
What to Add to My All About Mom Printable Gift?
If you're wanting to add more to your All About Mom Questions, you could consider the following:
Frame it! Grab a frame and take your printable up a notch
Use your printable as a card to go with another Mother's Day gift she'll love
Color a picture to go with the mom questions printable and make it a fun keepsake
Fillable All About Mom Printable
Don't have access to a printer?
Even if you don't have a printer, you can STILL give the mom in your life this great gift.
Consider heading to the library to use the printer or complete this fun mother's day questionnaire virtually.
Do it virtually with this all about mom fillable pdf.
Just click the link from a mobile device or your desktop, click download, and click into the boxes to enter your child's responses.
Be sure to save your document and send or email it to mom!
Grandma Printable
Grandmas are super special people too, and might be honored on Mother's Day as well!
Because we love grandmas too, here's an All About My Grandma Printable you can create for her. Trust us, she's bound to love this extra special gift.
Here's the Grandma version: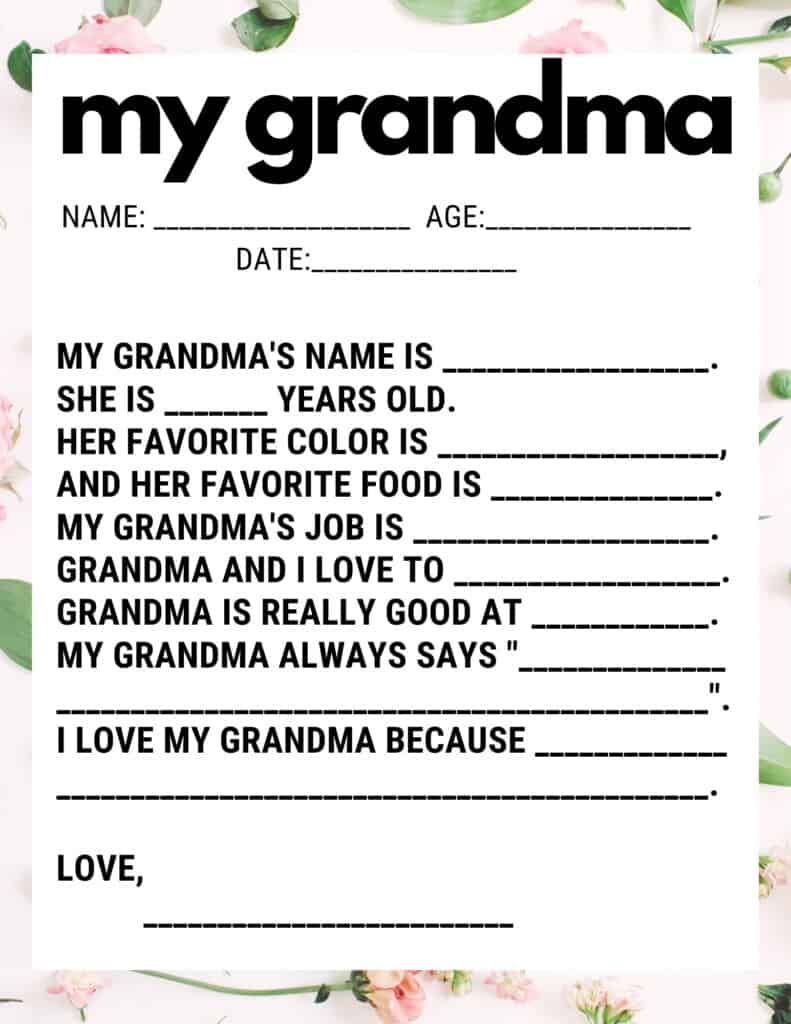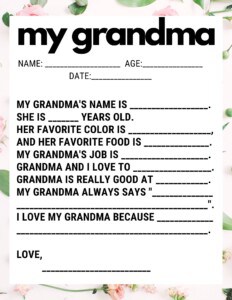 Mother's Day Interview Questions
Whether you've been planning these mother's day ideas all year, or you're looking for a last minute mother's day gift, I hope you you make mom's day with these free Mother's Day interview questions.
While this post is all about moms, you can find the Father's Day Questionnaire right over here 😉
Just a friendly reminder that you can print several of these and have them available for classroom use or your own personal use. However, they are not for resale.
Happy Mother's Day!
Print your mothers day kid questions by entering your email address below, getting the digital files, clicking the download links, and ask your little ones a lot of fun questions all about Mom! ❤️
P.S. These are the cutest keepsake to look back on, so print a few for years to come – or check back again next year for more!
Related: Inexpensive Gifts the Pregnant Mom in Your Life Actually Wants!
Related: Cool Gifts for New & Expecting Dad's (Perfect for Father's Day!)
Related: Father's Day Interview for Kids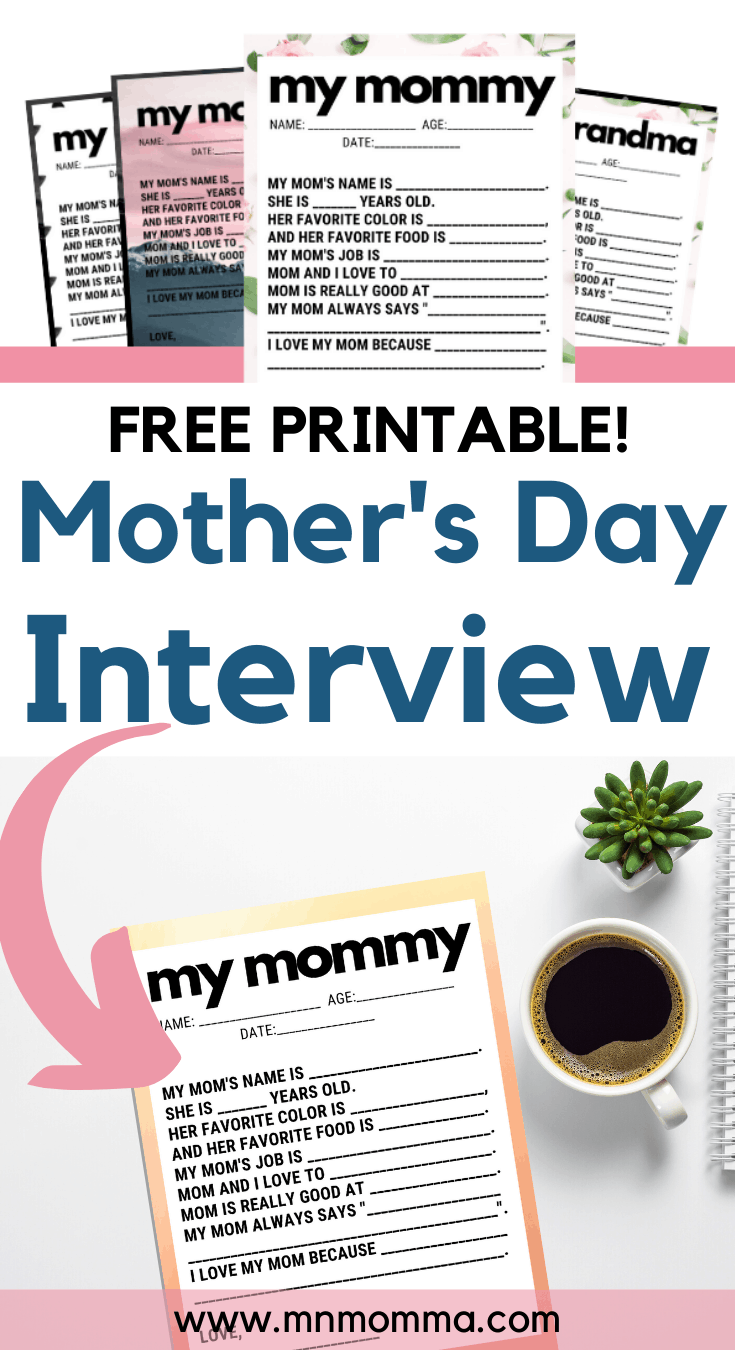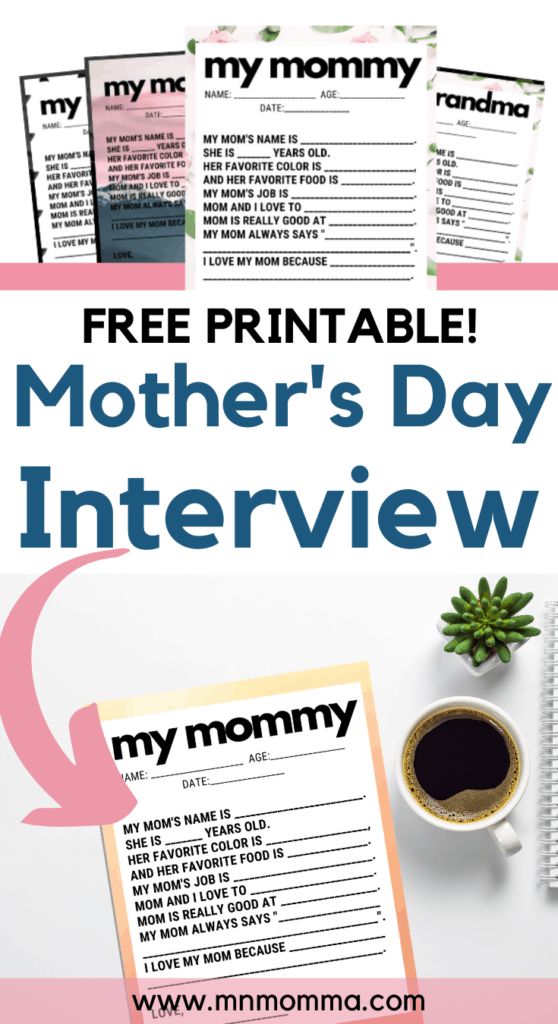 <— Love it? Pin it for later!