Easy, Postpartum Basket You Can Make at Home: Be Ready for Baby's Big Arrival!
Disclosure: This post may contain affiliate links, which means I may receive a small commission if you click a link and purchase something. Please check out my disclosure policy for more details. All opinions are my own!
How to Make Your Own Postpartum Basket/Care Kit

With my second baby due soon, I've started to gather the best postpartum products and create a postpartum care kit for my bathroom. Does this mean I've officially hit the nesting stage? If so, I'm totally okay with that.
I like to think I was moderately prepared with my first baby as I had some of the postpartum supplies, but I never knew that putting it all in an easy kit would make things so much easier (and more organized!).
Here's my cute postpartum care kit and what inside!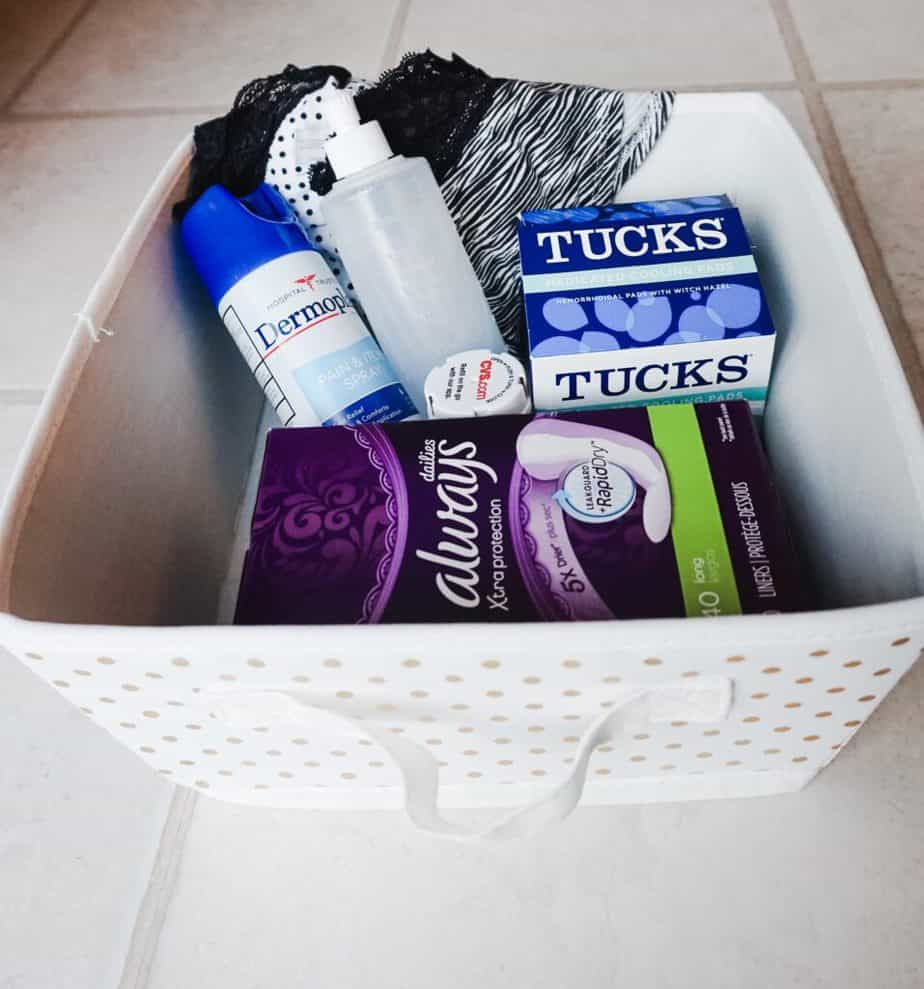 Related: 4 Must Have Postpartum Essentials
Related: How to Solve Common Postpartum Problems
While you're prepping your postpartum care kit – be sure to check it off your third trimester to do list. I've got a pretty and simple (FREE) printable that you'll love!
What's in My Postpartum Care Kit?
Basket or Tote
I love an adorable basket or tote. There's something about your postpartum basket being cute that just makes the whole (sometimes gross) healing process seem better.
Look for a tote you don't mind reusing again after it's done holding your postpartum supplies. I plan to put mine in my little girl's nursery to hold diapering supplies.
When choosing your tote, think about shape and size as well. You'll want something that you'll have easy access to in the bathroom, and don't mind leaving out those first couple weeks.
If possible, try to have a spot you can easily put it away if you do decide you don't want certain company seeing your postpartum care kit.
Here's a great little tote from Amazon that should be easy to stash away when you're not using it.
If you're looking for the exact one I used – it's this adorable polka dot one from Target!
Pads
Big pads, thin pads, ALL THE PADS.
The first few days at home you'll likely still be leaking quite a bit of blood. However, as the postpartum weeks go on, your flow should get less and less.
For this reason, be sure that you have your postpartum kit filled with a few different sizes of pads.
*Keep in mind that if you're soaking a pad an hour or have large clots (like the size of a golf ball) – you're bleeding too much. Be sure to call your doctor right away.**
Underwear
When you're newly postpartum – chances are good you might need a quick change of underwear during the day.
Whether you waited too long to change your pad, or it just snuck around the pad – you never know what might happen with that pesky bleeding during postpartum.
Instead of shouting to your husband to bring you a new pair, or trying to waddle to your closet, it's a great idea to have a few extra pairs of underwear tucked in your postpartum kit.
Trust me, you'll thank me later.
Dermaplast
Dermaplast was a life saver for me after having my first baby.
So what is it?
Dermaplast is a numbing spray that you can use after you have a baby to feel better down there.
It's cooling and numbing.
You can spray it right on your body or on top of your pad.
This might be something you don't have to buy before you deliver – as some hospitals will provide you with one to take home. However, if you would rather be safe and know you'll have it waiting for you at home, it's pretty inexpensive.
You can grab it right here with two day shipping from Amazon Prime.
Witch Hazel Pads
To me, witch hazel pads go hand in hand with dermaplast. They're like pb & j!
Witch hazel pads are round, wet, cool, pads that help you feel better. So how do they work?
Witch hazel pads help reduce inflammation and swelling by releasing natural chemicals.
The best way to use witch hazel pads is by layering them on top of your pad. You'll be feeling some relief as soon as you pull those pretty mesh undies up!
Witch hazel pads are another product that your hospital may have in stock for you to take home. You can always call ahead of time or ask during your hospital tour to check and be sure.
If your hospital doesn't offer them – you can always get them fast from Amazon right here!
Cleansing Bottle
A cleansing bottle is a MUST HAVE postpartum product.
After you have your baby, wiping with toilet paper is no longer an option – at least for a few days.
You'll use the cleansing bottle to gently spray your bottom after using the bathroom instead of wiping. You can still use toilet paper to dab away the wet, but the spray bottle will be doing most of the work for you as far as cleaning up goes.
Also be sure to add nice warm water to the bottle – it'll feel the best!
When you're looking at getting a postpartum spray bottle, you'll have two options.
The first option is the simple bottle that your hospital will almost always give you to take home. And it looks like this:
If they don't give you one of these bottles, or you're looking for more to have stashed in separate bathrooms, Amazon offers a 3 back for a super low price that you can find right here.
The second option is the Mom Washer Peri Bottle. Which looks like this:
As you can tell, it's definitely a little more sophisticated in appearance and the reviews are amazing.
Moms rave that the Mom Washer Peri Bottle is so simple to use, and gives you a lot better accuracy when trying to clean up down there.
The other selling point?
This postpartum spray bottle has 10 little holes instead of one larger squirter – so the spraying action is much more gentle overall.
Trust me, any mom who's had a baby before can certainly appreciate that benefit after just having a baby!
Medicine
Did you take home some medication from the hospital?
Chances are good your doctor gave you some pain medication (even just Tylenol or Ibuprofen) and a stool softener to help you during your postpartum weeks.
Keep in mind that some new moms have a harder time than others when it comes to having a bowel movement after delivery. This means you may never need to touch those stool softeners, but they can be great to have handy just in case.
For more on stool softeners and that first bowel movement postpartum – check out this article from What To Expect.
Moist Wipes/Gauze
If you had a C-section, your doctor may recommend some additional products for your postpartum care kit.
For instance, gauze may be used to help keep your incision clean and dry.
You'll also want to keep in mind that just because you didn't deliver vaginally, doesn't mean that you won't bleed. Moist wipes can be helpful for wiping and cleaning up after using the bathroom.
Why You Need A Postpartum Care Kit
Preparing your postpartum care kit before your baby arrives can be a life saver. When you get home from the hospital, the last thing you want to worry about is having all your postpartum essentials ready to go.
Just use this easy post to create your own postpartum care kit and check something else off your third trimester checklist!
Is there anything you'd add to your postpartum care kit that I missed? Let me know in the comments below!